LinkedIn is undoubtedly the most popular social network for connecting with clients and building your network.
Its power as a robust social media marketing platform and its vast professional network benefit you in hunting ideal e-commerce prospects on LinkedIn.
Wondering how to find new clients on LinkedIn? Below we've created an in-depth guide to attracting qualified prospects on this social networking site:
Why Should You Use LinkedIn for Your eCommerce Business?
LinkedIn is packed with the opportunity to connect and build robust networks. The business-oriented social network helps you connect and create professional relationships.
LinkedIn provides professionals the opportunity to reconnect with industry-related colleagues or previous co-workers. Consequently, it allows you to discover and generate new leads and potential clients to grow your brand.
Furthermore, it helps you identify vendors and suppliers, helping you expand your business. A bonus is networking with them opens you to a new audience and improves your chances of finding qualified clients.
In addition, LinkedIn provides you with social media marketing services, including LinkedIn Ads, to connect with top-notch prospects. The social network also helps you rank higher in search engines, thus making your brand discoverable.
That's not all!
Read also: Why You Need Octopus CRM for Lead Generation
Here's an in-depth look into the numerous benefits of LinkedIn for your growing e-commerce business:
Share Your Story with the World
A LinkedIn business profile allows you to reflect your business' story, mission and vision, values, and USP.
The more compelling and relatable your brand's story, the better attention you can grab and the deeper connection you can build.
Grow Your Brand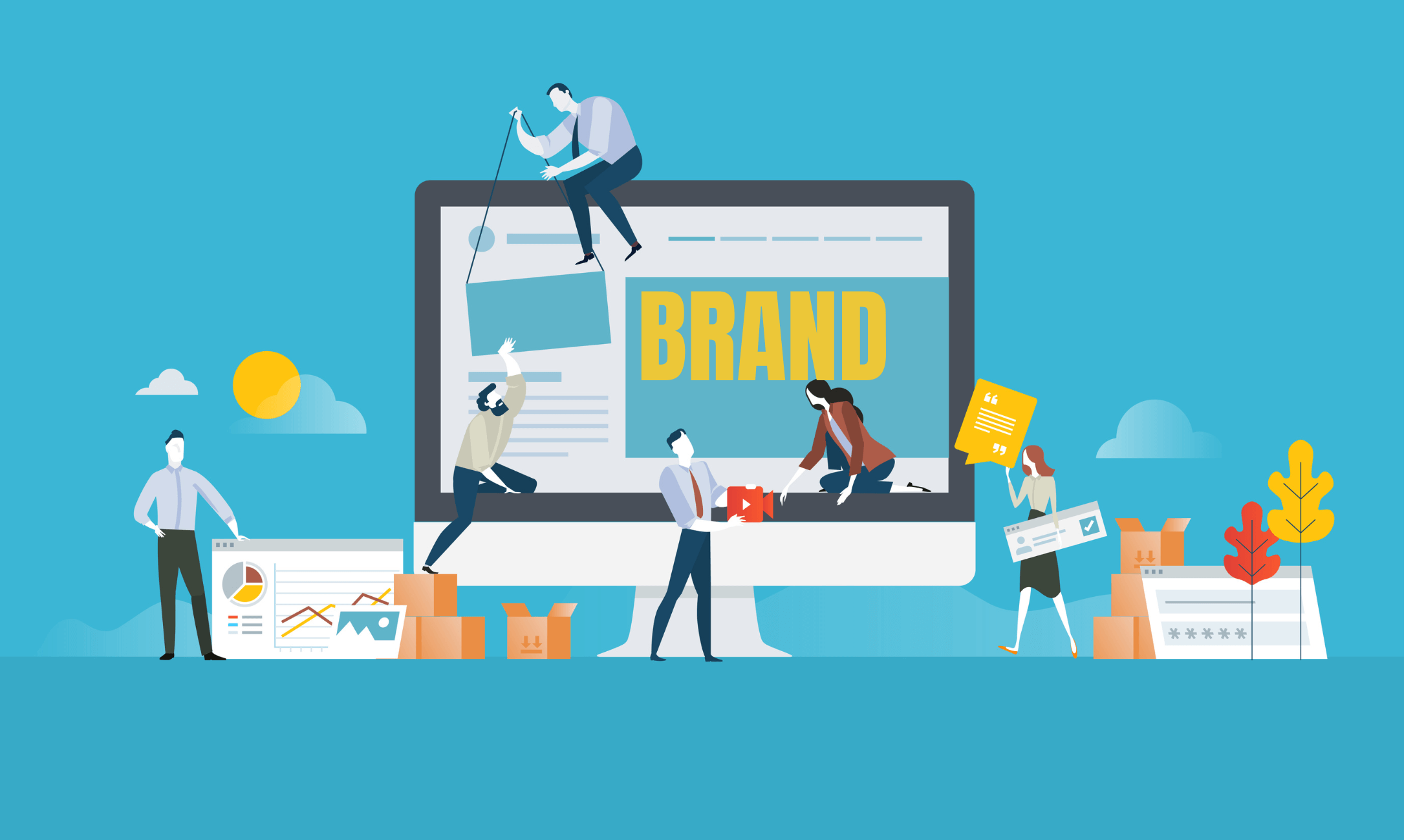 LinkedIn provides startups and small businesses with a new and effective avenue for online exposure.
Creating an optimized LinkedIn business page helps increase brand awareness and visibility, allowing you to attract new clients and grow sales.
Enjoy Search Engine Exposure
SEO is crucial for e-commerce stores, allowing them to rank high in search results and attract buyers.
LinkedIn offers a fantastic channel through which customers can find your business and buy your products or services.
Establish Yourself as a Brand Expert
LinkedIn allows users to publish high-value posts and articles, enabling you to position yourself as a brand expert.
As a result, you can create buzz about your products while becoming an industry expert. You can also build brand trust and improve your brand image!
Furthermore, creating digestible and shareable content promotes brand visibility and eases finding top-notch prospects.
Excellent Advertising and Marketing Opportunity
LinkedIn offers numerous tools, such as Company Pages and LinkedIn Ads, for e-commerce brands to convert the social networking platform into an effective sales channel.
Stay Relevant
"LinkedIn Today" LinkedIn features aggregated content from the social network and provides users with holistic information on different topics.
You can get featured in this tab and attract new clients by creating high-quality content.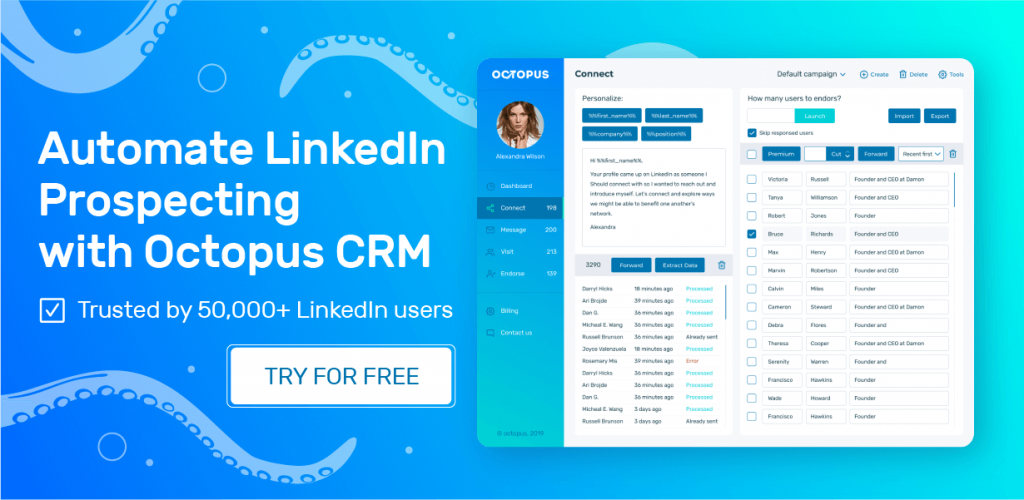 How to Find eCommerce Clients on LinkedIn? [Step-By-Step]
Learn how to connect with qualified prospects and e-commerce owners on LinkedIn by following these steps:
Step 1: Create a Killer LinkedIn Business Page
Unsurprisingly, you can't engage with clients if you don't have a LinkedIn profile.
Start your e-commerce prospect-hunting journey by crafting a stunning LinkedIn business page and adding relevant information to the page. Next, optimize your LinkedIn profiles by integrating links to your landing page, social media channels, and business contacts.
Ideally, your profile should boast the following primary features:
A vivid and professional logo

A short yet sweet bio describing your brand's services

An eye-catching customer banner that communicates your brand's offerings

A strong and attractive portfolio that displays how your services benefit clients
Furthermore, you can captivate prospects and encourage them to convert by displaying customer testimonials and reviews. Consequently, you can build brand trust and awareness to attract new customers. Ensure you update your business page to look professional, erase outdated information, and captivate new clients.
Step 2: Define Your Target Audience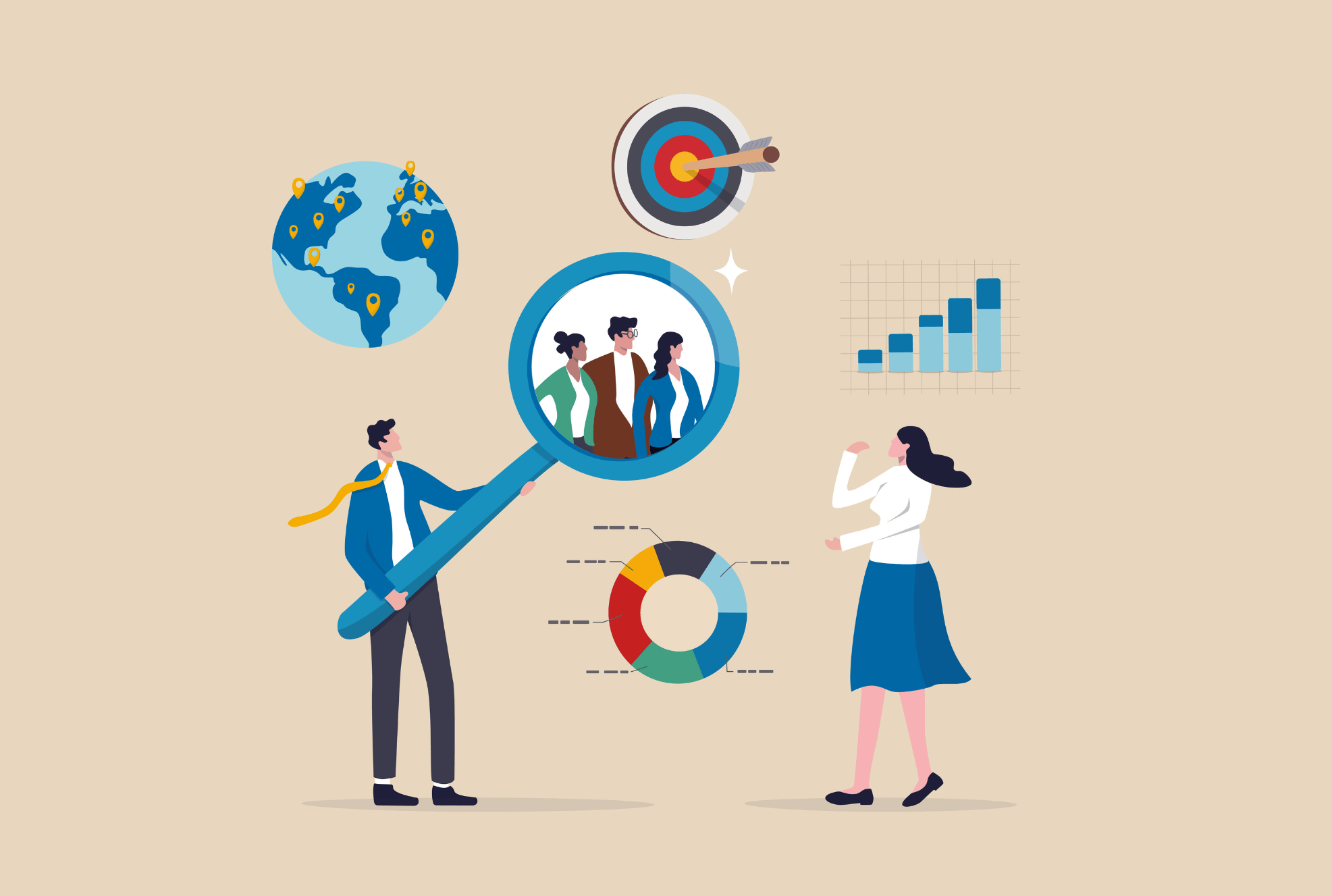 The better you understand your ideal customer, the easier it will be to attract new customers. However, you'll struggle to create an effective marketing strategy without knowing your audience.
Therefore, the more you know who your clients are, the better you can tweak your business profile to reflect your audience's needs. You'll also find it easier to curate a lead-generation strategy that promises success.
A fantastic way to create your ideal customer persona is by visiting your competitor's website and identifying what they're doing right. With your ICP, you can easily attract qualified traffic and drive conversions by solving their pain points and meeting their needs.
Step 3: Leverage In-person Connections
It's no secret that capturing and retaining warm leads is more straightforward than cold ones. Thus, when you hold or participate in a conference, live Zoom call, or work event, follow up by sending people a brief yet personalized note.
Remember to add how you met or a common interest to lay the groundwork for an organic and long-lasting relationship. Additionally, consider networking with people who might not match your ideal customer persona.
Step 4: Build Your Network
LinkedIn is all about networking! Once you connect with existing clients or prospects, it's time to start talking.
Here's the best part: once you start building your network, LinkedIn will suggest relevant profiles to help you further develop your connections. While reaching out, remember to include a personalized and friendly introductory note.
A warm pitch will make a lasting impression and increase clients' likelihood of visiting your profile. As a result, they might click on your e-commerce website and surf through your products or services.
Furthermore, LinkedIn allows you to stay in touch with clients by sending follow-up messages, connecting via email, or asking for recommendations.
Step 5: Use LinkedIn Automation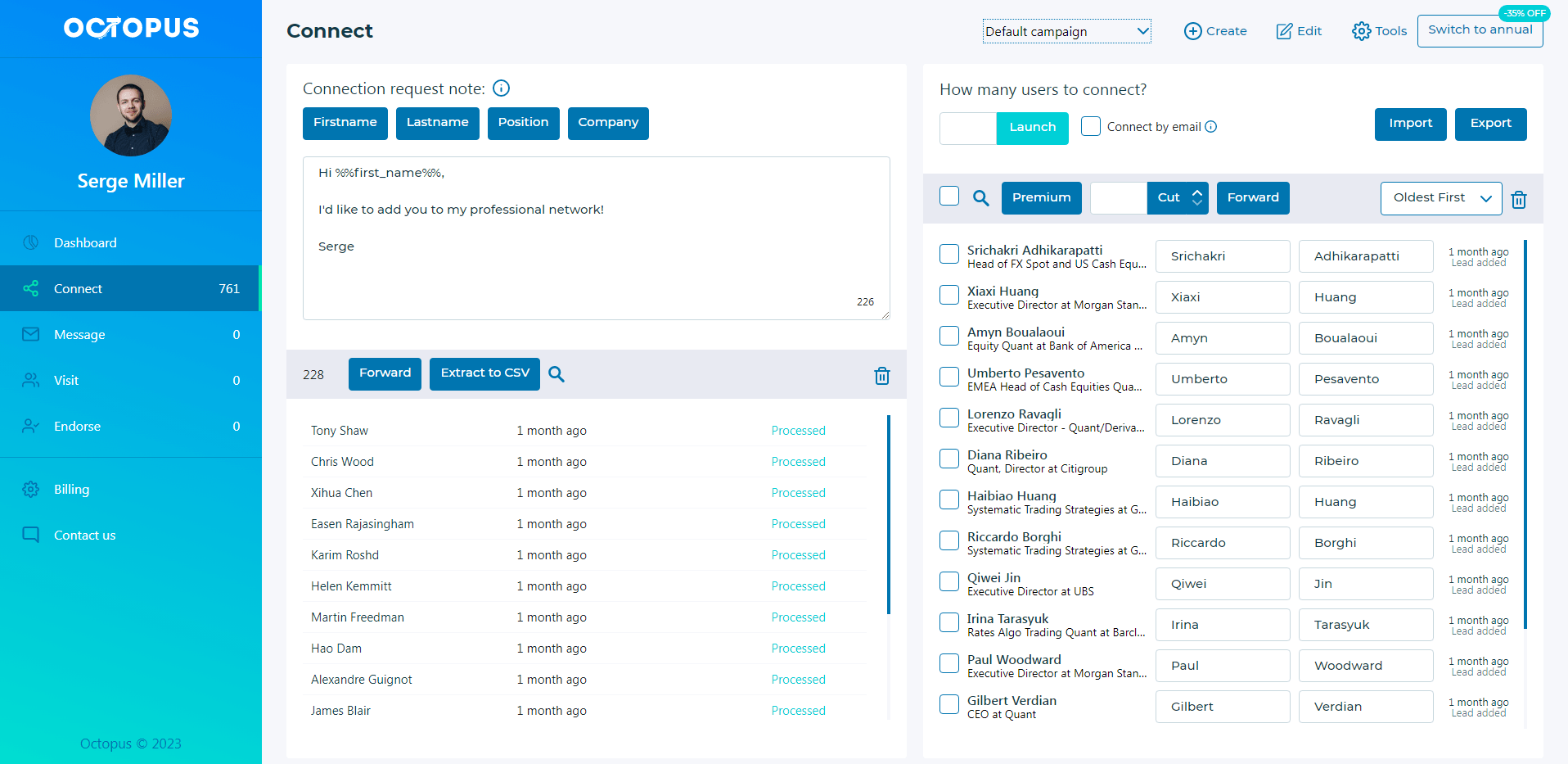 LinkedIn can streamline your sales funnel by converting leads into revenue-generating customers. But this requires effort and time investment.
What if there was a more straightforward, effective way to achieve this? That's where the best LinkedIn automation tools come into the picture!
These high-quality tools help automate repetitive tasks, saving time and improving efficiency. For instance, you offer digital marketing services for small and mid-sized New York businesses. You want to connect with clients in neighborhood areas to grow e-commerce sales.
Within seconds, LinkedIn provides you with hundreds of companies in the surrounding area. Unfortunately, engaging with them can take countless hours. But with LinkedIn automation, you can send friendly and personalized messages.
What's more? You can schedule send messages to different customer personas based on predefined requirements. Additionally, Octopus CRM LinkedIn automation tool, will let you endorse or view multiple profiles to grab the prospect's attention and invoke curiosity.
Not only that, but these tools will generate in-depth reports of your campaigns to ease measuring effectiveness and areas of improvement.
Step 6: Join and Engage in LinkedIn Groups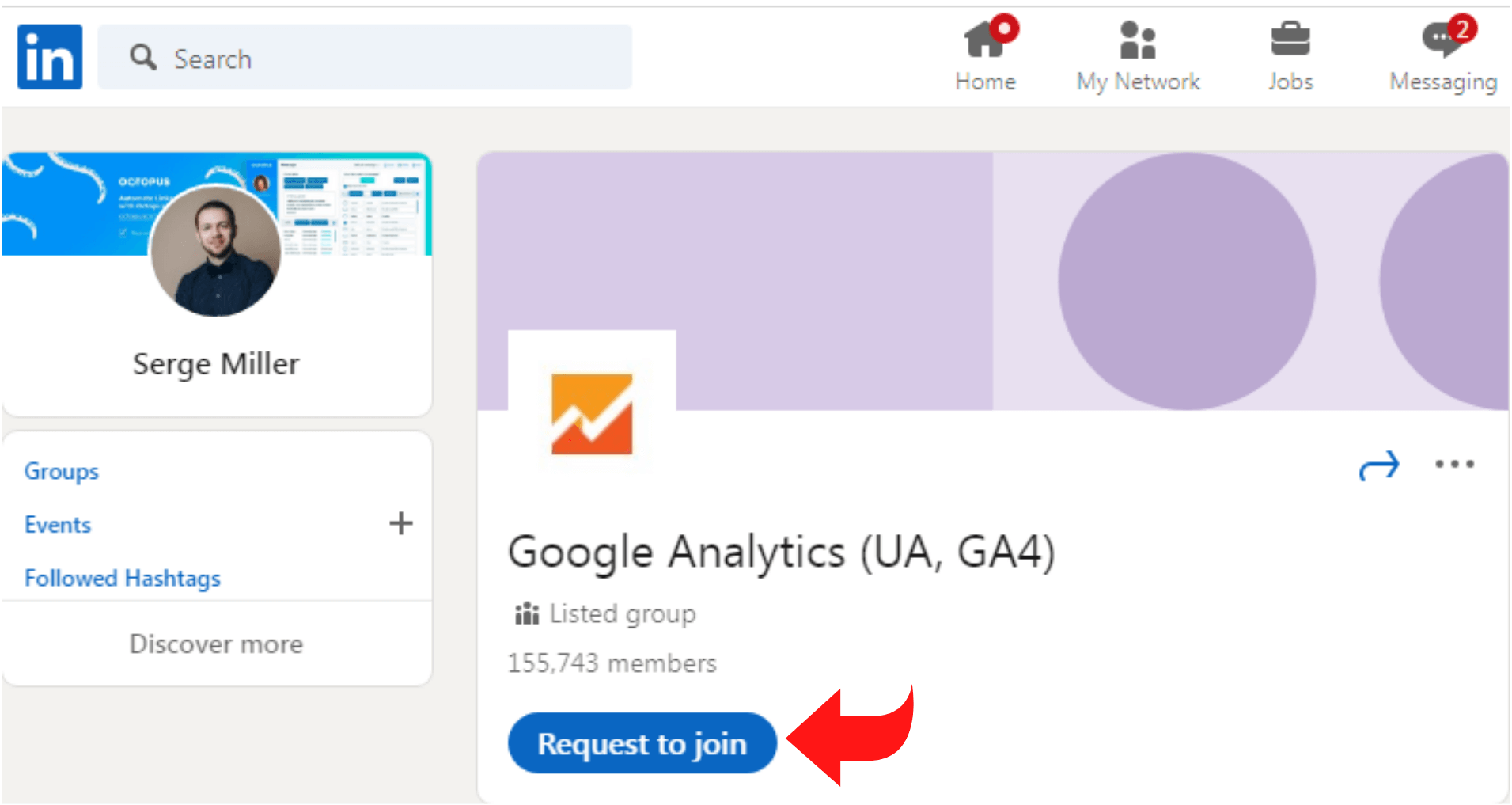 Another fantastic way to build your professional network on LinkedIn is by joining industry-relevant or niche-related groups. Engaging in LinkedIn groups enables you to interact with potential clients proactively.
In addition, it helps you learn more about your target audience's interests, pain points, and topics that entice them. You can also create posts that attract responses or start discussions in the comment sections to establish yourself as a brand authority.
Besides this, LinkedIn allows you to create your group to captivate ideal prospects and showcase your expertise. You'll also be able to subtly promote your products or services without sounding spammy.
Step 7: Post High-Quality Content
It goes without saying creating high-value content is central to your LinkedIn lead-generation strategy. Without high-quality content that positions you as a thought leader and helps engage clients, all your efforts will go down the drain.
Your content marketing strategy must include optimizing your profile, publishing high-quality articles that spark discussions, starting group conversations, and distributing ads. Remember to check out LinkedIn's rules before you begin creating blogs.
Here are several best practices to keep in mind:
Limit your articles to 1000 to 1500 words to effectively engage your target audience

Write industry-relevant or niche-relevant posts to attract new readers and ignite conversations

Invest in SEO to rank higher in

LinkedIn's algorithm

Curate a consistent publishing schedule

Engage with customers in a timely fashion to establish yourself as a brand authority
Step 8: Ensure Consistency
Your success on LinkedIn depends entirely on your dedication to building an organic community and the platform as an extension of your brand personality.
With continuous efforts, growth, and the consistent addition of targeted connections to your network, you can convert a steady stream of prospects to grow your sales.
Conclusion
Hopefully, you've learned the eight straightforward yet practical steps to hunting qualified e-commerce clients on LinkedIn. Once you capture prospects, remember to stay in touch to create long-lasting relationships, whether congratulating on a new job or wishing someone a happy birthday.
Furthermore, use the strategies we've discussed to convert more prospects into revenue-generating customers and boost sales! You can leverage high-quality sales automation tools, like Octopus CRM, to streamline your lead-generation strategy and automate mundane tasks.
You can even send mass messages to first-degree connections or schedule personalized connection requests to diversify your network and boost sales!