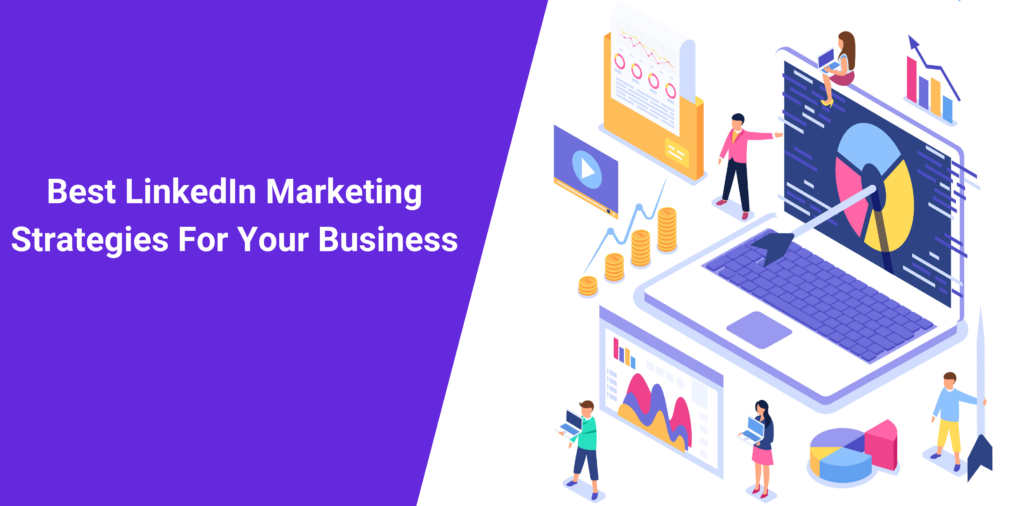 Best LinkedIn Marketing Strategies For Your Business
LinkedIn is used by many businesses to connect with potential clients, engage with them, and boost sales. But when you're thinking about your LinkedIn marketing strategy, you need to make sure you've got everything covered.
Here are some of our top tips for improving your LinkedIn strategy, so you can start seeing results as quickly as possible.
1. Connect with your audience on LinkedIn (with a personalized note)
First and foremost, if you want to make LinkedIn work for your business, you need to find your target audience on the platform. And to do this, you need to make sure you're sending out connection requests on a daily basis.
You can do this gradually. For example, if you start by sending out 20 connection requests a day, you can slowly increase it to up to 100.
After your request has been accepted, make sure you send a thank you message and then deliver a quick follow up in a few business days. Make sure the message isn't too salely, though! This can make it much easier to convert connections into clients.
However, doing everything manually will take ages and why spend time if you can automate? There are tools like Octopus CRM that allows automating this process, which could save you valuable hours that could be spent boosting engagement in other ways.
2. Export Data of your 1st level connections and Use in Email Marketing or Retargeting
Another useful tool that can help give your marketing efforts a boost is exporting your 1st level connection's data, including their email addresses, and using it to try and engage with them outside of LinkedIn.
LinkedIn itself no longer offers this function to its users. However, with Octopus CRM, you can export all the data you need and upload it into your email marketing platform. This data can then be used in your email marketing and retargeting campaigns.
The data can also be exported to your Facebook ad campaigns via Octopus CRM, as part of your LinkedIn social media strategy.
This can be then be used to target your connections on the site, either through retargeting ads, or to remind your audience about your business and the products or services you offer.
When you're sending out emails or promoting your business on social media, remember to avoid sounding too salesly. For the best results, try and share useful information, such as marketing tips or other content that would be of interest to your target audience.
3. Regularly Publish Articles on LinkedIn Pulse
Publishing articles on LinkedIn Pulse can be an extremely powerful marketing strategy. There are over 260 million active users on LinkedIn every month, and this is something that can be used to your advantage.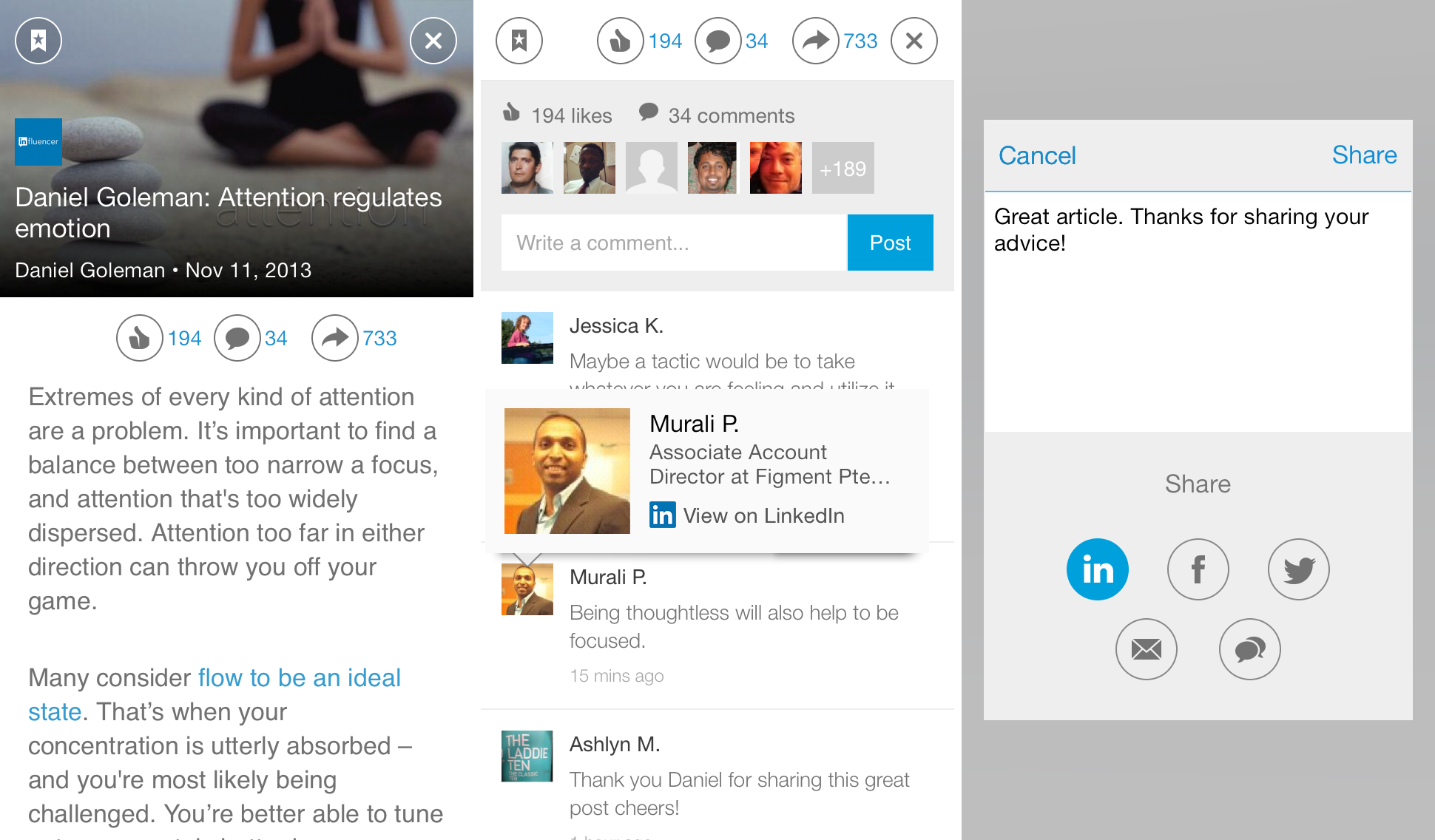 This is a platform that can be used to reach a larger audience and generate new leads. You can use it to promote content to your existing network, as well as other professionals. It even promises to match the topics you've written about with users who've shown an interest in it.
Plus, if your readers enjoy the article you have written, they are able to share it on other social networking sites, like Facebook and Twitter. This gives you even more exposure, so much so that you might even gain more followers on your LinkedIn account.
Since being introduced, the response to the article publishing tool on LinkedIn has been very enthusiastic, to say the least. So far, there have been over 1 million posts on the platform. And the numbers show no sign of slowing any time soon.
So, how do you get started?
First, you need to check if your account has been approved for publishing content. To do this, go onto your main page. If there's a grey pencil icon on the top of your page – next to the status box – then you have access to the feature. If not, you will need to email the support team to gain access.
To start publishing, click on the pencil icon and select "create a post". You will then be given a blank blog post which can be used to create your headline and text. Make sure that your headline is enticing to the potential reader and that your post is interesting and high-quality.
Here are some further tips to help you make the most of this marketing technique:
Use LinkedIn analytics to check how successful your articles are
When posting, test out different times of day to publish your article to see if it makes a difference to your engagement levels
Make sure that your content is relevant and valuable to your target reader
Try and include images and videos to break up the text
Before you publish your post, always preview it to make sure the layout is correct
4. Create, Optimize and Promote Your Company Page
When you create a LinkedIn Company Page, it's important to remember that it's a key part of your marketing efforts. And making sure that it's properly optimized and promoted will help you to be more visible on LinkedIn, as well as on other search engines.
Some of the ways you can optimize your page include:
Identify keywords and phrases that will make you more searchable and use them in your company description, title, and your list of specialities
Link your page to your website, blog, social media profiles, newsletters, and any other platform you use
Make sure that you are publishing relevant content on a regular basis, as this boosts engagement, which makes you more visible on search engines
Use the "companies to track" feature to analyze your competitor's pages so that you can compare their metrics to your own – you can then see what tactics they are using that work so that you can use them in your own marketing strategy
After you've created and optimized your page, the next step is to promote it, gain followers, and grow your audience. By doing this, as well as being able to reach out to more people, it also makes your company more credible and more likely to appear in the search results.
Start off by asking all of your colleagues, employees, subscribers, website visitors, existing customers, collaborators, and business associates to follow your page. Then, make sure you add a "follow" button to all of your business pages, newsletters, and email signatures.
5. Start Marketing in LinkedIn Groups
LinkedIn Groups can be a great marketing tool that you can use to boost engagement and grow your business following. There are many benefits from this LinkedIn business marketing strategy, but in order for it to be effective, you need to make sure you're using it well.
To start with, you need to ensure that you're doing enough research when using groups. If you want to achieve the best results, you first need to check the groups that are available and choose the most relevant ones.
Think about the following:
How many admins are there?
How well is the group being managed?
Is the information in "About This Group" informative?
Are any of the group members already in your network?
Read the message you get when joining the group: is it clear and concise?
Vetting groups before joining them will make you much less likely to be swamped by spam posts and messages. There's also a much higher chance that there will be serious members in it, who are actually looking to connect and engage with other members.
Once you've joined the right groups, the next thing you need to consider is how you're actually going to engage with other users.
To get the most out of this, try and engage with others as much as you can. Scroll through the newsfeed and see who's sharing information or articles.
Take some time to read them, look at the users' profiles, and then respond to the content or article. You can even speak to the author directly if you want. You can do this by commenting, liking, or sharing the post, or by asking relevant, thoughtful questions.
6. Publish LinkedIn Posts at least Twice a Week
Being able to create interesting content is great for boosting your engagement levels. Some of the ways you can get your content to stand out are:
Use short, concise video content
When using text posts, make sure they're attention-grabbing, not too long, and will make the reader want to engage
Add some personality to your posts and make sure they know you're a real person
Try and avoid using too many links in your posts
Use LinkedIn's native content system to produce short stories with a hook
Always remember, you need to post regularly on LinkedIn for it to have an impact. Try and aim for at least two posts a week, and you'll start to notice an increase in your engagement levels.
Consistency is key with this. And remember, you need to utilize everything we've mentioned in this article regularly.
With automation tools like Octopus CRM, you can reduce your manual work by up to 90%. This frees up time, so you'll be able to focus on increasing your engagement in other ways, like using LinkedIn Groups, publishing articles regularly, and posting on your timeline.
When you use all of these strategies together, you will start to see results.