Did you come here looking for career or business growth with LinkedIn industry insights? You're in for a treat! Say hello to the LinkedIn industry lists guide, your personal roadmap to success.
Imagine this guide as your GPS for LinkedIn success, helping you find the right connections and guiding you toward your goals. Whether you're an experienced professional or a newbie, this guide is tailored to make your journey smoother.
Remember, it's not just about adding contacts; it's about using LinkedIn's industry lists to build a network that really propels your business or career forward.
What Exactly Is the LinkedIn Industry List?
Ever wondered why you're on LinkedIn? You've likely asked yourself this question before. When you created your LinkedIn account, it was probably for one or more of the following reasons:
To land your dream job.
To find leads or clients.
To expand your customer base.
To connect with new potential clients.
To showcase your product to customers.
To boost your sales.
To build your personal or product brand.
To demonstrate your skills.
To get insights into the industries available on LinkedIn.
Today, our focus rests on the last point in the above list.
But what exactly is the LinkedIn industry list? The answer is right in the question itself. It's a comprehensive compilation of various industries present on LinkedIn.
You might occasionally struggle to locate a specific industry on LinkedIn, but it's no secret that this list is impressively exhaustive.
Remember, when selecting your LinkedIn industry, you're setting up the stage to market your product effectively and highlight your exceptional skills. It's no coincidence that LinkedIn prompts you to identify your industry during account setup. This initial step lays the foundation for optimizing your profile.
Changing Your Industry on Your Profile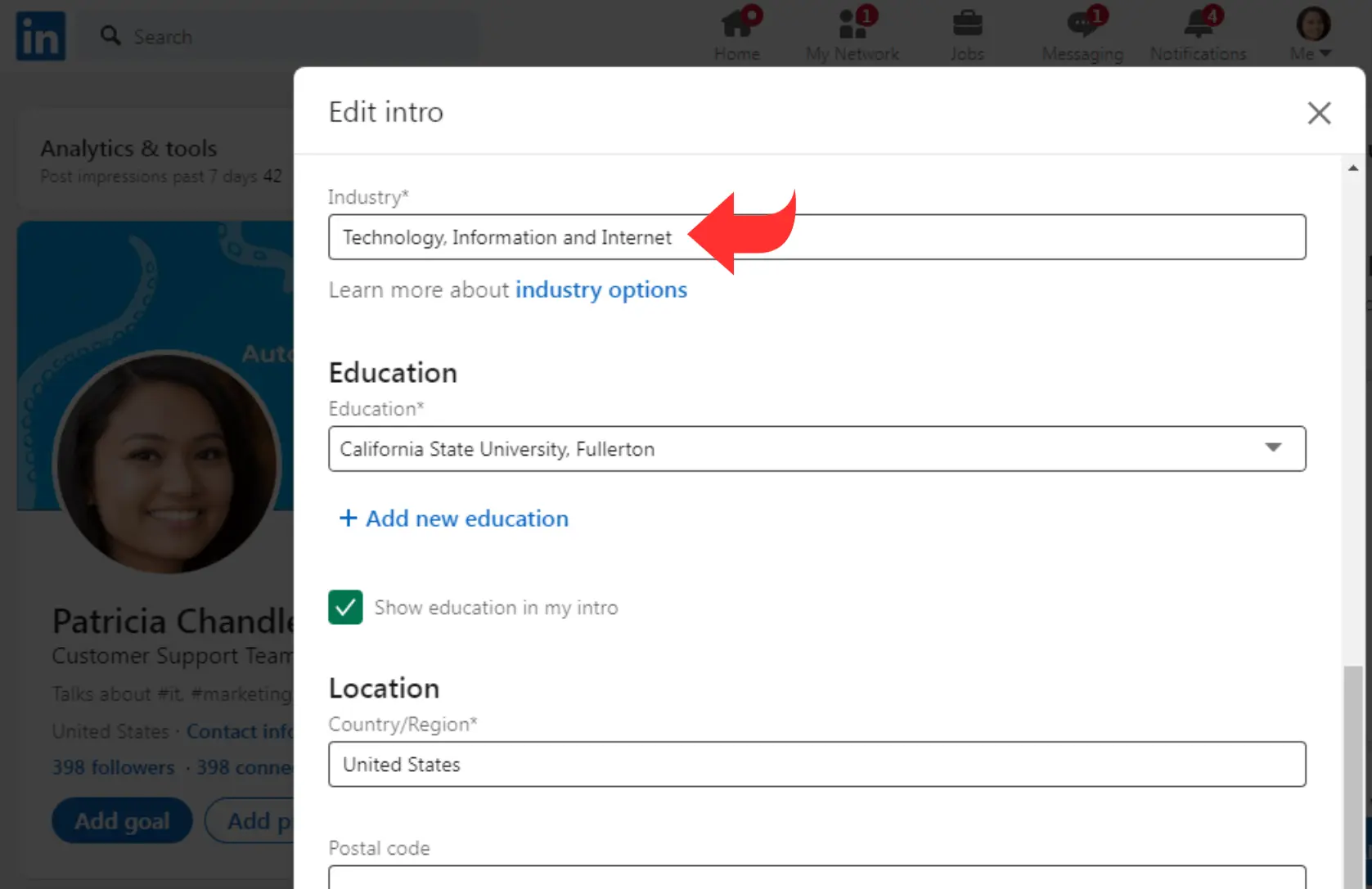 Easy-Peasy!
Don't forget that your chosen field isn't set in stone. You're never bound to a single sector throughout your professional journey — change is your ally, not your adversary.
If you've already fine-tuned your LinkedIn profile and wish to modify your industry, here's how to go about it:
Click your profile image at the top right corner of the screen.
Locate the little pencil atop your profile page.
Scroll down to find "Industry".
Define your chosen industry.
Simple, right?
Well, flexibility is your friend here. As you can see, it is super easy to tweak any aspect of your LinkedIn profile or account at any time. It is a good idea to update your profile because doing so increases your visibility to potential customers.
Of course, the LinkedIn industry list isn't short on options (it boasts nearly 149 industries). But which sectors are the hottest, you wonder? Let's have a look!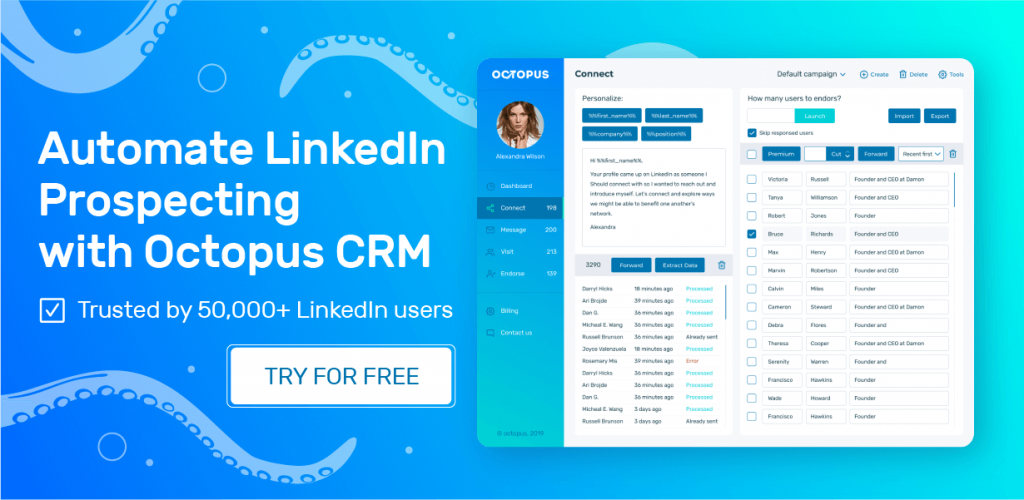 LinkedIn's Top 7 Industries
While listing down every industry on LinkedIn can be a delightful prospect, it can be an exhaustive experience, as mentioned earlier. So let's narrow down to the 7 most dominant industries on LinkedIn, the crème de la crème:
Information Technology and Services.
Hospital & Health Care.
Construction.
Retail.
Education Management.
Financial Services.
Accounting.
Remember, these industries reign supreme on LinkedIn. However, the absence of your industry from this list doesn't mean it is insignificant. It simply means there is a greater concentration of professionals in certain fields. And when you start exploring niche industries for potential leads, the results might pleasantly surprise you.
It is worth noting that the combined users of these top four industries alone make up around 29% of the entire LinkedIn user base. That's an impressive number, ensuring your search will be anything but futile.
LinkedIn Industry List: Unveiling the Purpose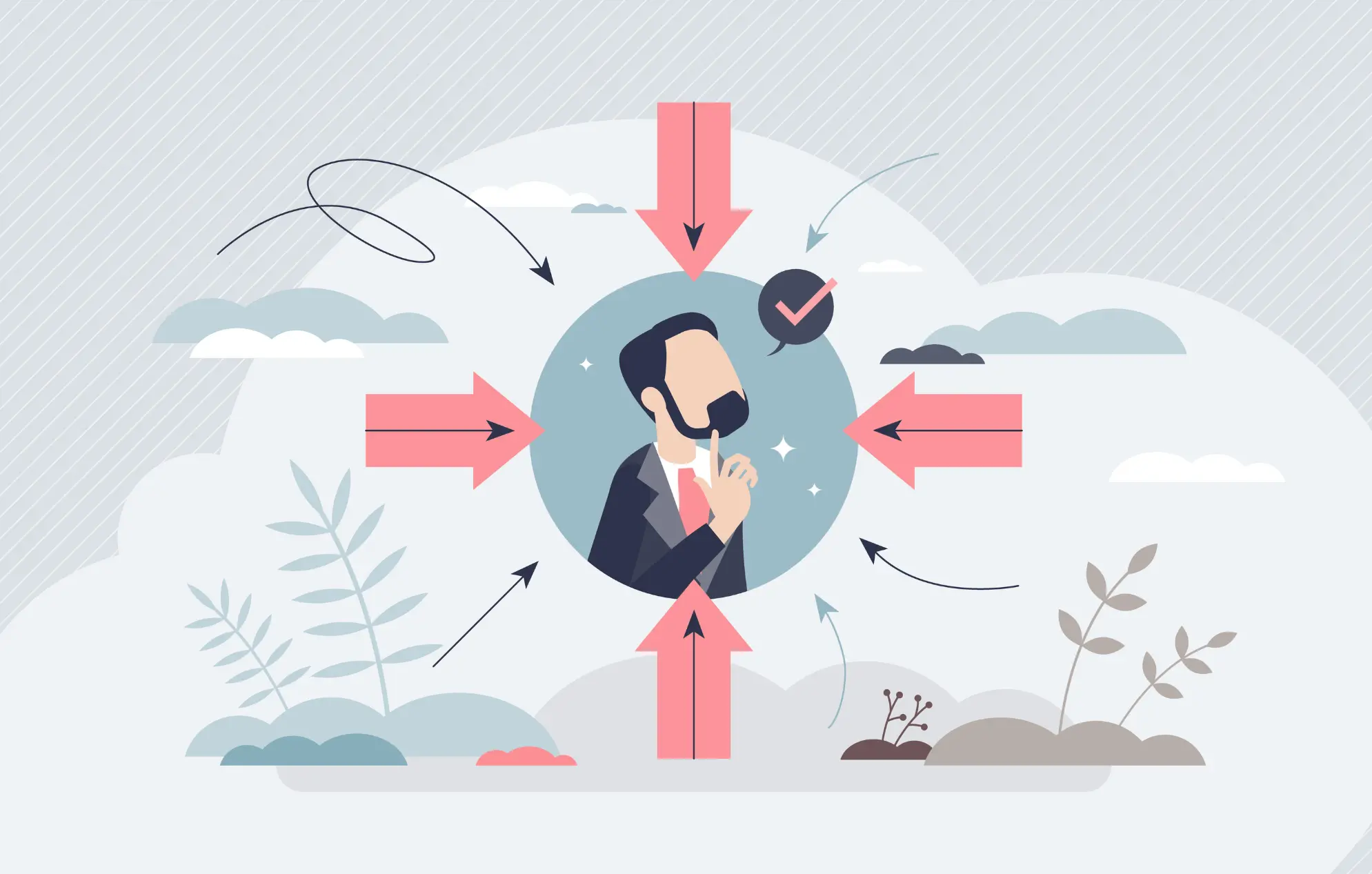 Sure, learning about the various LinkedIn industries is valuable, but what's the endgame?
Well, these industries primarily help you with your prospecting campaigns (though their uses aren't confined to prospecting alone).
As you know, creating a sales or marketing strategy hinges on creating the indispensable buyer persona. You've heard this term repeatedly, and for good reason — it's your ideal customer profile, the individual who'll happily embrace your product or service.
As such, it is a good idea to spend time developing your buyer persona and address their needs. Here's what creating a buyer persona involves:
Determining their age.
Identifying gender.
Defining their expertise.
Outlining marital status (if relevant).
Pinpointing their role within a company.
Locating where your potential client resides.
Adding any other useful information.
It's important to know the industries your potential customers are involved in. This helps you sell your products or services more effectively.
Tapping Into Industry Sectors on LinkedIn – A Game Plan
As we mentioned earlier, industry types are like treasure troves for finding potential clients. When you want to focus on a certain group, you can look at the industries they're in to understand what they need. And guess what? LinkedIn is like a dream place for marketers. It's where you can stand out from the competition and make your brand shine.
Keep in mind that even though this list might have changed over time, its purpose for finding potential clients remains the same. You should leverage it as much as possible because it really affects how you sell your products or services.
What's more, it opens up opportunities for meaningful conversations. Remember, connecting with others in your field for teamwork or sharing ideas is vital for success.
And don't forget, making your profile better is essential for getting noticed on LinkedIn. In doing so, picking the right industry is key because it shows others what you're really good at.
On the other hand, if you're looking for a job or you're trying to find talented people for a job, targeting specific industries helps you find the right people. This is a must for your business to succeed.
Read also: Why You Need Octopus CRM for Recruiters
Picking the Perfect Industry: Is There One?
Here's the deal — there's no holy grail industry on LinkedIn. However, working within a robust sector improves your visibility, particularly among potential B2B prospects. At the same time, it is essential to brace yourself for tough competition in popular domains.
So, how do you win clients ahead of the competition?
First and foremost, be yourself and focus on optimizing your profile. These initial steps increase your visibility amongst your audience. Why? Because trust is paramount on LinkedIn. When you're selling on this platform, the right strategies will make it easy to engage directly with decision-makers.
However, before this phase, you must have a complete profile, filled with all essential information. Once you've achieved this milestone, publishing content comes into play. Remember, sharing your expertise through content on LinkedIn is a form of inbound marketing.
Don't forget that LinkedIn is full of people who have a big impact, such as leaders, influencers, or role models. They're seen as trustworthy because they've proven themselves over time. When you look at the people they're connected with, you can see how trust is at the core of their relationships.
What Is the Complete List of Industries on LinkedIn?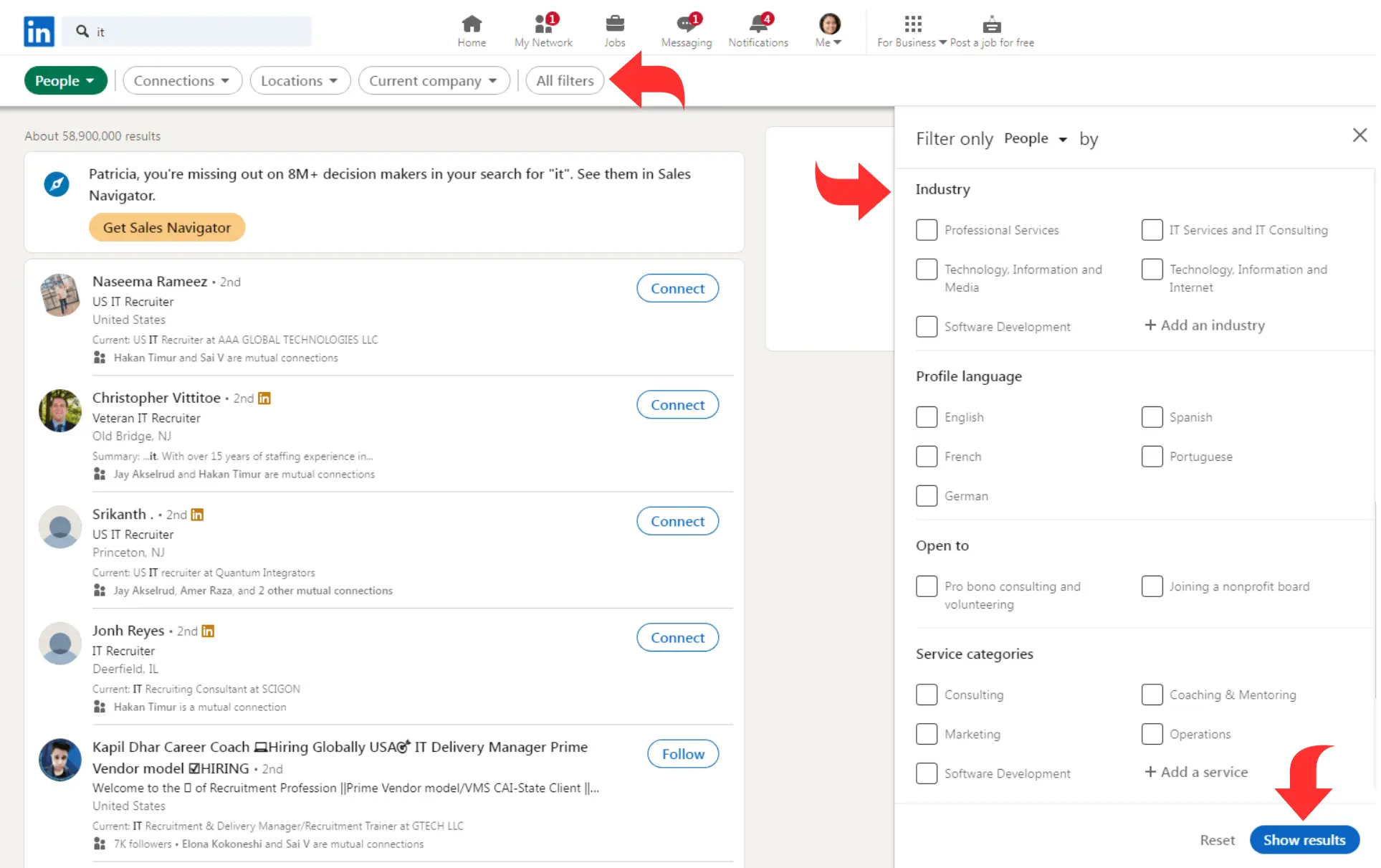 Want to look at all the different industries on LinkedIn (without any specific order)? Here's the complete list for you:
Information Technology and Services
Financial Services
Healthcare
Education
Marketing and Advertising
Manufacturing
Retail
Telecommunications
Real Estate
Media and Entertainment
Nonprofit Organization Management
Construction
Automotive
Hospitality
Consumer Goods
Energy
Pharmaceuticals
Government Administration
Legal Services
Logistics and Supply Chain
Environmental Services
Consulting
Architecture and Planning
Human Resources
Aerospace
Insurance
Biotechnology
Food and Beverages
Design
Utilities
Sports
Travel and Tourism
Agriculture
E-commerce
Art and Culture
Social Services
Publishing
Fitness and Wellness
Investment Banking
Venture Capital and Private Equity
Renewable Energy
Chemicals
Computer Software
Pharmaceuticals
Health and Wellness
Pharmaceuticals
Luxury Goods and Jewelry
Higher Education
Online Media
Computer Hardware
Market Research
Computer Networking
Internet
Management Consulting
Mechanical or Industrial Engineering
Outsourcing/Offshoring
Program Development
Professional Training and Coaching
Public Relations and Communications
Research
Staffing and Recruiting
Textiles
Warehousing
Animation
Business Supplies and Equipment
Civic and Social Organization
Computer and Network Security
Consumer Electronics
Cosmetics
Dairy
Defense and Space
Events Services
Facilities Services
Farming
Financial Services
Fishery
Fundraising
Gambling and Casinos
Glass, Ceramics, and Concrete
Graphic Design
Import and Export
Individual and Family Services
Information Services
Internet
Investment Management
Law Practice
Libraries
Machinery
Maritime
Market Research
Mining and Metals
Motion Pictures and Film
Museums and Institutions
Nanotechnology
Newspapers
Nonprofit Organization Management
Oil and Energy
Online Media
Package/Freight Delivery
Packaging and Containers
Paper and Forest Products
Performing Arts
Pharmaceuticals
Philanthropy
Photography
Plastics
Political Organization
Primary/Secondary Education
Printing
Professional Training and Coaching
Program Development
Public Policy
Public Relations and Communications
Publishing
Railroad Manufacture
Ranching
Real Estate
Recreational Facilities and Services
Religious Institutions
Renewables and Environment
Research
Restaurants
Retail
Security and Investigations
Shipbuilding
Sporting Goods
Sports
Staffing and Recruiting
Supermarkets
Telecommunications
Textiles
Think Tanks
Tobacco
Translation and Localization
Transportation/Trucking/Railroad
Utilities
Venture Capital and Private Equity
Veterinary
Warehousing
Wholesale
Wine and Spirits
Wireless
Writing and Editing
Yoga and Wellness
Virtual Reality (VR) and Augmented Reality (AR)
Sustainable Agriculture
Waste Management
Personal Development and Coaching
Elderly Care
What Are the 5 Less Famous LinkedIn Industries?
The Underdogs: Some industries are not as well-known as others that get a lot of attention. This doesn't mean they're not important — numbers just play a part. Connecting with people in a specialized industry might be a bit harder, but it's definitely possible. Here are five less popular LinkedIn industries that could catch you by surprise:
Judiciary.
Alternative Dispute Resolution.
Dairy.
Shipbuilding.
Nanotechnology.
How to Use LinkedIn Ads with Industry Sectors?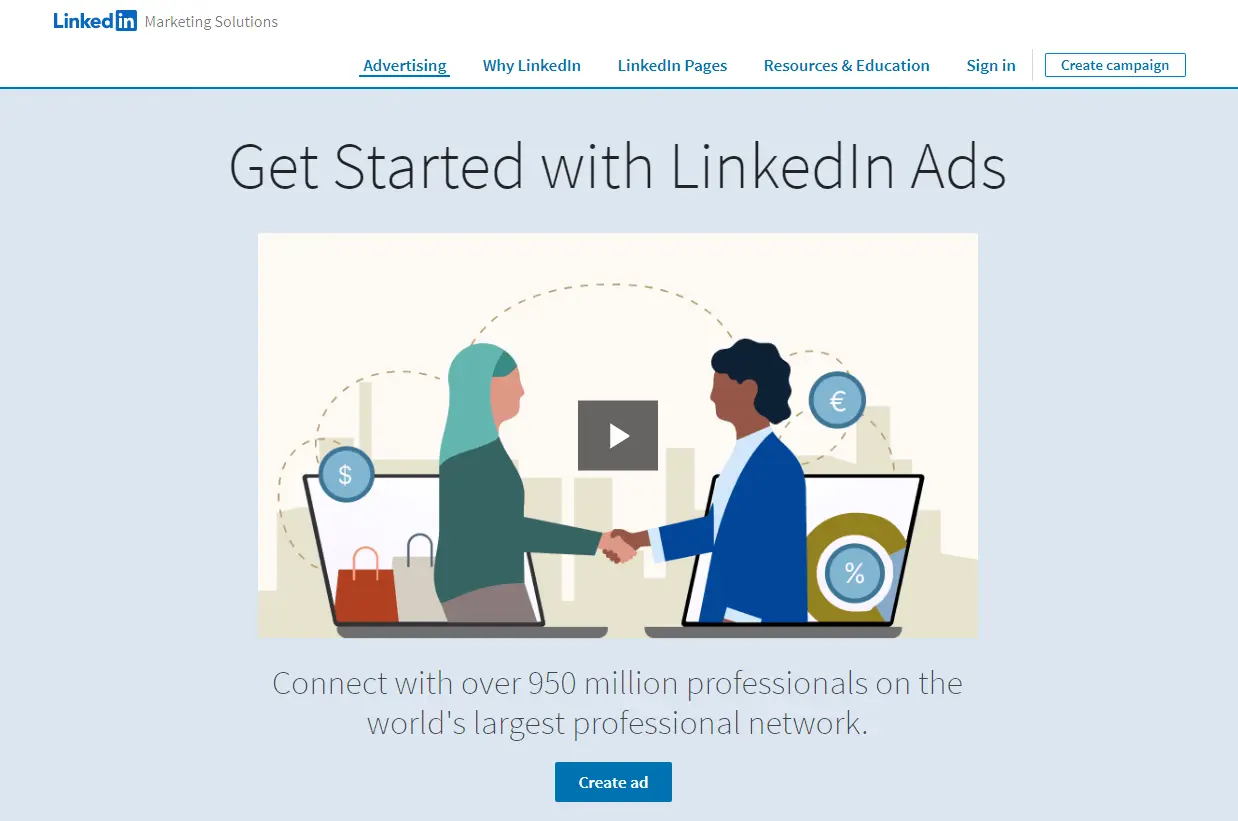 LinkedIn Ads allow you to reach out to your audience based on many different criteria, including industry sectors. Here's how you achieve it:
Log in to your LinkedIn Ads account and initiate a new campaign.
Select your campaign's objective and your preferred ad format.
As you delve into audience targeting, head over to the "demographics" section.
Opt for "Industries" and subsequently select "Select from List of industries".
The stage is now yours to choose the industry sector to target.
Having set your targeting, proceed to create your ad and launch your campaign.
LinkedIn: More Than a Networking Haven
At this point, you probably realize that LinkedIn is more than just a way to connect with others — it's a platform with a lot of possibilities. It's like a path that helps you build relationships not only in your field but also outside it (unless you're new to LinkedIn, but we're guessing you're not).
But wait, there's more to LinkedIn than meets the eye. It's not only for networking; it's also a place where you can sell things, do outreach marketing, show ads, find leads, and avail yourself of new chances for growth and success. All it takes is your dedication to spending time on the platform.
Optimizing for Excellence
Looking to fine-tune your business and elevate your sales on LinkedIn? Here's your roadmap:
Define your buyer persona.
Optimize your profile (remember, an impeccable professional profile is pivotal).
Develop exceptional copywriting skills.
Implement efficient prospecting with smart segmentation.
With the right approach and efforts, you'll gradually succeed in growing your career or business through LinkedIn.
Conclusion
As we come to the end of this informative journey, take a moment to think about what you've learned. You have got a better understanding of the different industries on LinkedIn, especially the ones that are most important. These insights are useful and deserve a recap to make sure you're making the most of your time and effort.
You know that LinkedIn encompasses a roster of 149 industries. Notably, the top 5 include:
Information Technology and Services.
Hospital & Health Care.
Construction.
Retail.
Education Management.
It is vital to understand how valuable it is to link your profile with your industry. This proactive move makes it easier for recruiters and collaborators who have similar interests to find you. Also, keep in mind that LinkedIn is a fantastic platform for marketing and showcasing what you do.