Research shows that over 95% of recruiters use LinkedIn to seek qualified candidates. If that's you, you're probably drowning under the sea of CVs and the pressure of spotting the ideal hire. 
What if there was a way to finish this task in less time but more efficiently? Sounds like a dream come true, right? Well, it is! 
Today, we'll discuss how LinkedIn automation tools can help recruiters save time and cost and why Octopus CRM is your best bet for finding quality candidates:
What is LinkedIn Automation?
LinkedIn automation tools augment and improve hiring processes by streamlining your recruiting workflow and mimicking human-like actions. 
Furthermore, these tools eliminate repetitive and time-consuming tasks, which allow you to focus on priority tasks. Don't believe us? According to research, HR managers who use automation software save two days per week! Here's what LinkedIn recruiting automation tools will do for you:
Send personalized invitations to your target audience 

Automate customized private messages to engage your LinkedIn contacts 

Export a target group to use them as your target market for ads

Scrape relevant data from a candidate's profile

Auto-like or endorse profiles from your connections
Importance of LinkedIn Automation for Recruiters
Now, let's dive into why LinkedIn is essential for your recruitment lifecycle:
It Connects You with the Right People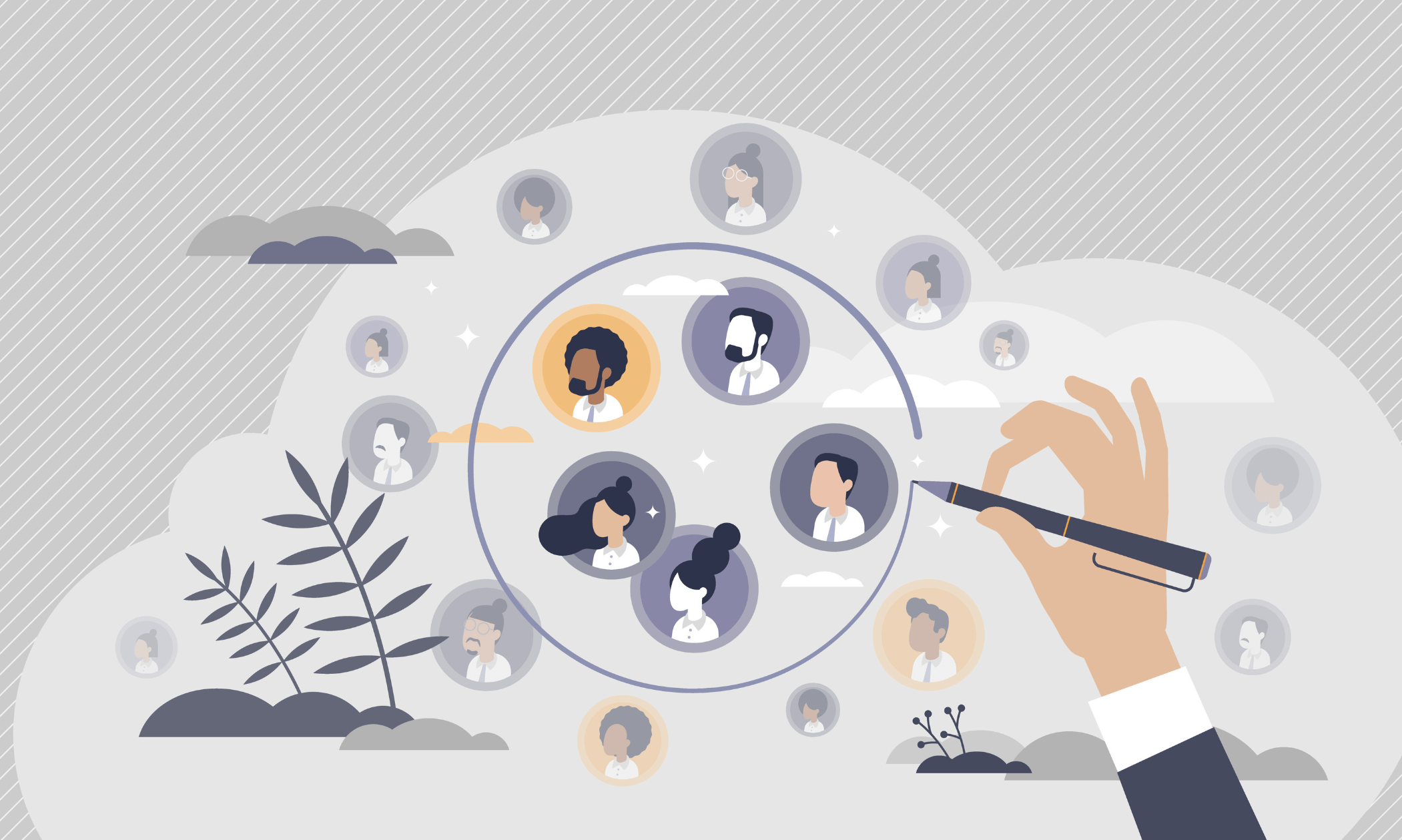 LinkedIn offers users various data points and filters they can use to spot prospects that match their target audience. That sounds awesome until you're on your fourth coffee day, trying to keep your eyes open. 
In short, recruiting the perfect candidates can be tiring and boring. Not to mention, it takes the average recruiter one minute to send a connection request to a single prospective customer- that's over four grueling hours per week to send a mere 50 connections daily. Therefore, manual outreach is also time-consuming. 
On the other hand, the best LinkedIn automation tools can help you customize your recruiting process. Thus, allowing you to save time and focus on other tasks while the tool scrapes for profiles that match your target audience. Here's what data the automation platform pulls out for you:
Candidates Name

Company Name 

Job Title

Target City

Shared Connections
After that, simply automate connection request messages to reach out to potential hires. 
It Enables You to Tap Into a Massive Network of Candidates
Part of recruitment is learning to build a robust network with like-minded professionals. Maintaining a large pool of contacts empowers you to tap into a read-made network whenever you seek new company hires. But what if networking isn't your strongest suit?
That's where LinkedIn automation tools come in to save the day! These revolutionary tools help you grow your professional network and foster deep relationships by automating daily tasks, from sending catchy and personalized direct messages to endorsing skills.
It Helps You Save Time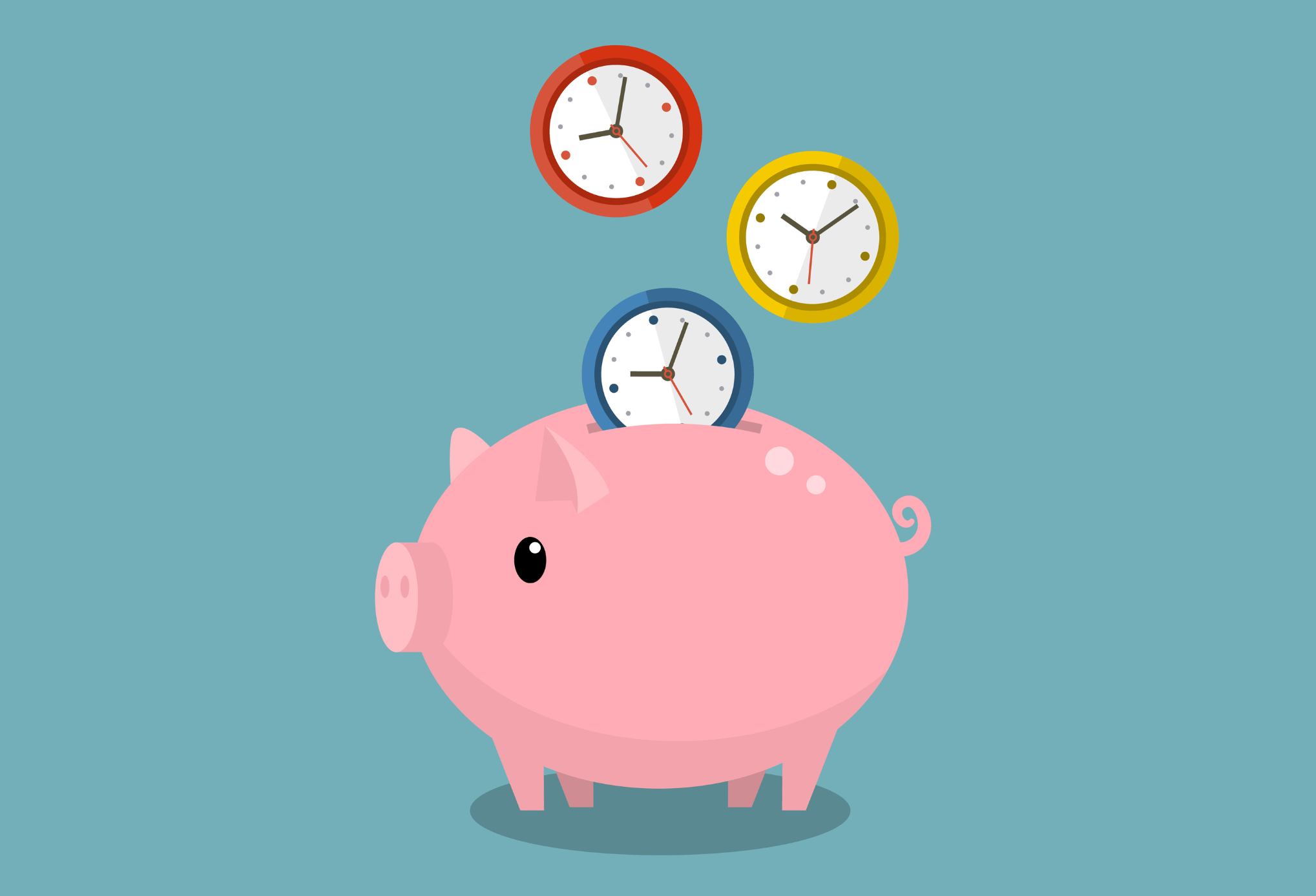 Automating different steps of the hiring procedure, such as pre-screening candidates, pre-employment assessments, candidate engagement, and workflow automation, can help recruiters save time. 
Streamlining the recruiting process allows you to close positions faster and more efficiently.
It Allows You to Improve Productivity 
Automating your recruitment workflow helps you work effectively and hunt better choices in a shorter time. In fact, up to 80% of businesses agree that sourcing and recruitment automation boosts their productivity.
Automation of the hiring process, like scheduling follow-ups, allows you to focus on essential tasks, such as nurturing your candidates. 
Related article: Best Recruitment Automation Tools
It Allows You to Hire for Multiple Roles Simultaneously 
Since the average time-to-fill is 42 days, recruiters can no longer afford to hire one employee at a time. 
Using a state-of-the-art recruitment LinkedIn automation tool helps you increase bandwidths, scrape the needed data effectively, and increase productivity. As a result, recruiters can fulfill empty positions quickly. 
A bonus of reducing recruitment cycles is that you can lower the hire cost, often amounting to tens to hundreds of dollars per employee.
It Enhances the Candidate Experience 
Every candidate wants the same thing: an engaging experience, fast hiring decisions, and quicker responses. LinkedIn automation tools can trigger personalized and relevant interaction with potential employees at different touch points. 
As a result, recruiters can build a deep relationship with applicants while they enjoy quicker responses, reduced waiting times, and a streamlined application procedure.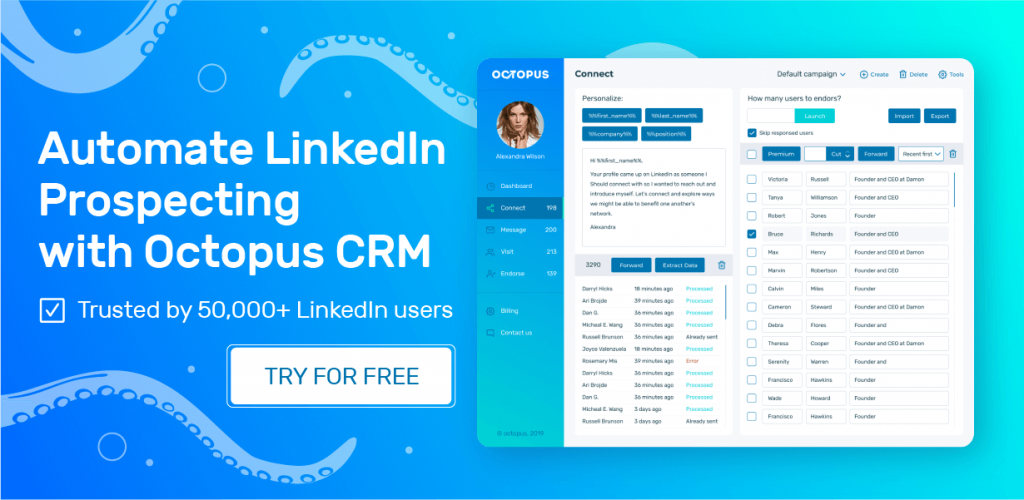 What is the Octopus CRM LinkedIn Automation Tool Used for?
By now, you know that LinkedIn automation tools are a must. The next question is, "How do I choose the right one?" Simple: you use Octopus CRM!
Let's take a deeper look into this innovative LinkedIn automation tool:
A Quick Overview of Octopus CRM 
Octopus CRM is a powerful and user-friendly LinkedIn automation tool that helps you automate repetitive tasks. The platform improves your workflow and productivity by reducing time spent on time-consuming recruiting processes.
What makes Octopus CRM stand out is its revolutionary features, such as customized sales funnel, automated invitation and thank you messages, and the ability to nurture prospects. The best part? This tool is compatible with all LinkedIn accounts!
What Can You Do with Octopus CRM
Wondering how Octopus CRM can help you? Here's what this automation software allows you to do:
The Benefits of Using Octopus CRM LinkedIn Automation Tool for Recruiters
Octopus CRM facilitates your recruiting efforts by providing the following twelve fantastic benefits:
Acts as a One-Stop-Solution for Recruiters
Octopus CRM is a solid automation tool that automatically helps recruiters send messages and connection requests. You can use this easy-to-use software with any LinkedIn account to filter through thousands of profiles.
Ultimately, you receive a list of potential hires that you can use to target leads, nurture them, and schedule a follow-up meeting. Furthermore, this all-in-one platform allows you to:
Access an interactive dashboard 

Enjoy multi-account management 

Nurture leads 

Track conversions

Unlock analytics and statistics 
Helps Automate Redundant Tasks
Spend a couple of minutes hunting potential hires by streamlining your recruiting process with Octopus CRM. 
This robust tool automates redundant tasks, including sending connection requests, viewing profiles, endorsing profiles, and more!
Provides Multi-Purpose CRM Page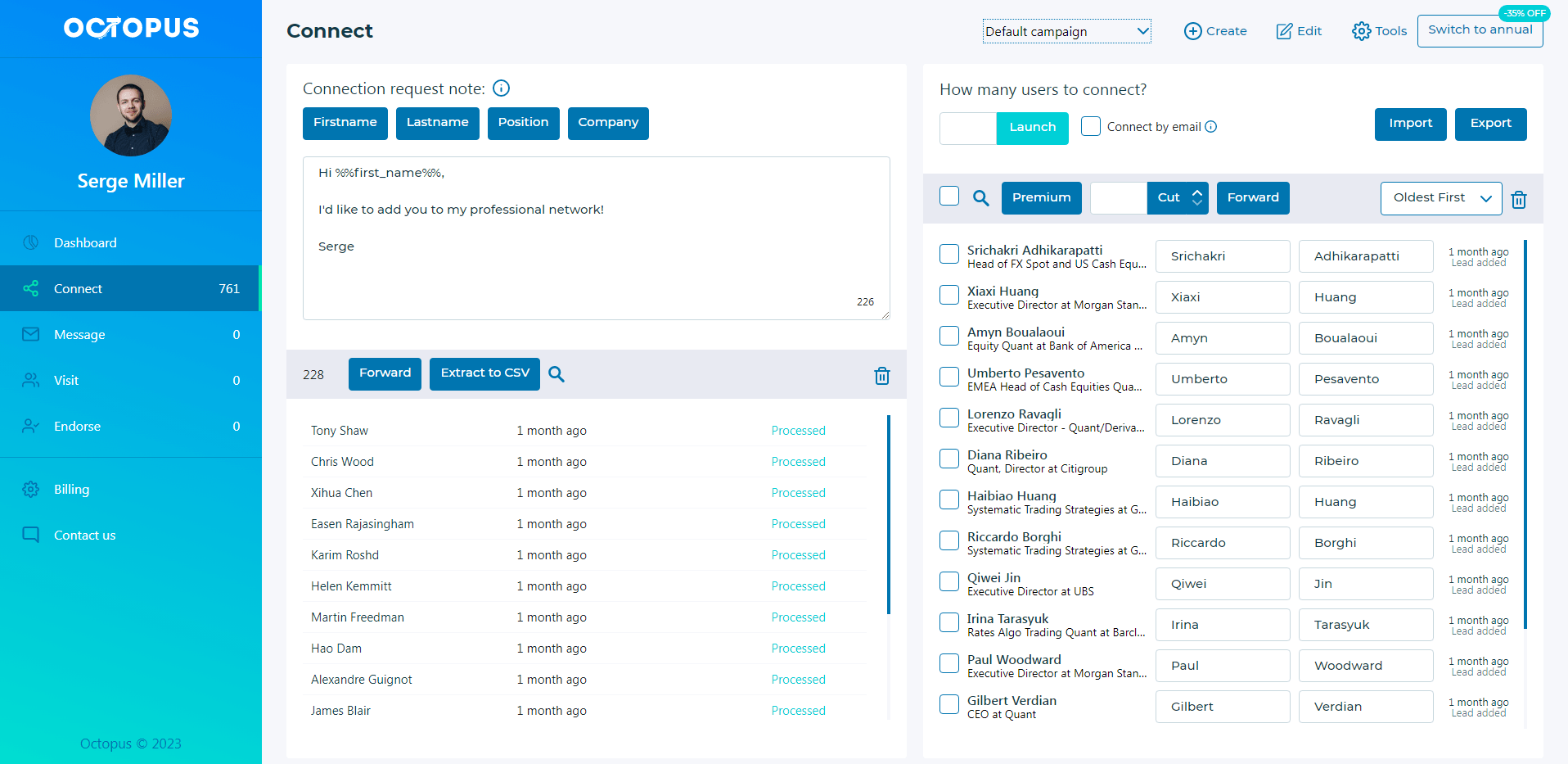 Octopus CRM outshines other marketing platforms because of its multi-purpose CRM page. With this tool, you can automate operations and manage potential hires. 
Improves Your Recruiting Efforts 
The best part of using Octopus CRM is that you don't have to go through individual profiles to find personal information. Instead, the LinkedIn automation tool scrapes the data for you!
Furthermore, the tool allows you to export or import these files to different third-party software.  
Offers a User-Friendly Experience 
Octopus CRM's user-friendly interface makes it the best software for recruiters worldwide. The platform is beginner-friendly since it has easy-to-navigate tools and simplistic automation settings.
Furthermore, the platform features helpful videos and blogs to help you use the tool efficiently and effectively.
Allows Third-Party Integrations  
Enhance your recruiting efforts and improve workplace efficiency using Octopus CRM and other tools. The platform allows you to import the data collected from LinkedIn to other recruiting and acquisition channels.
You can connect Octopus CRM with Zapier, Google Docs, and Hubspot, among other incredible third-party software. 
Provides In-depth Reports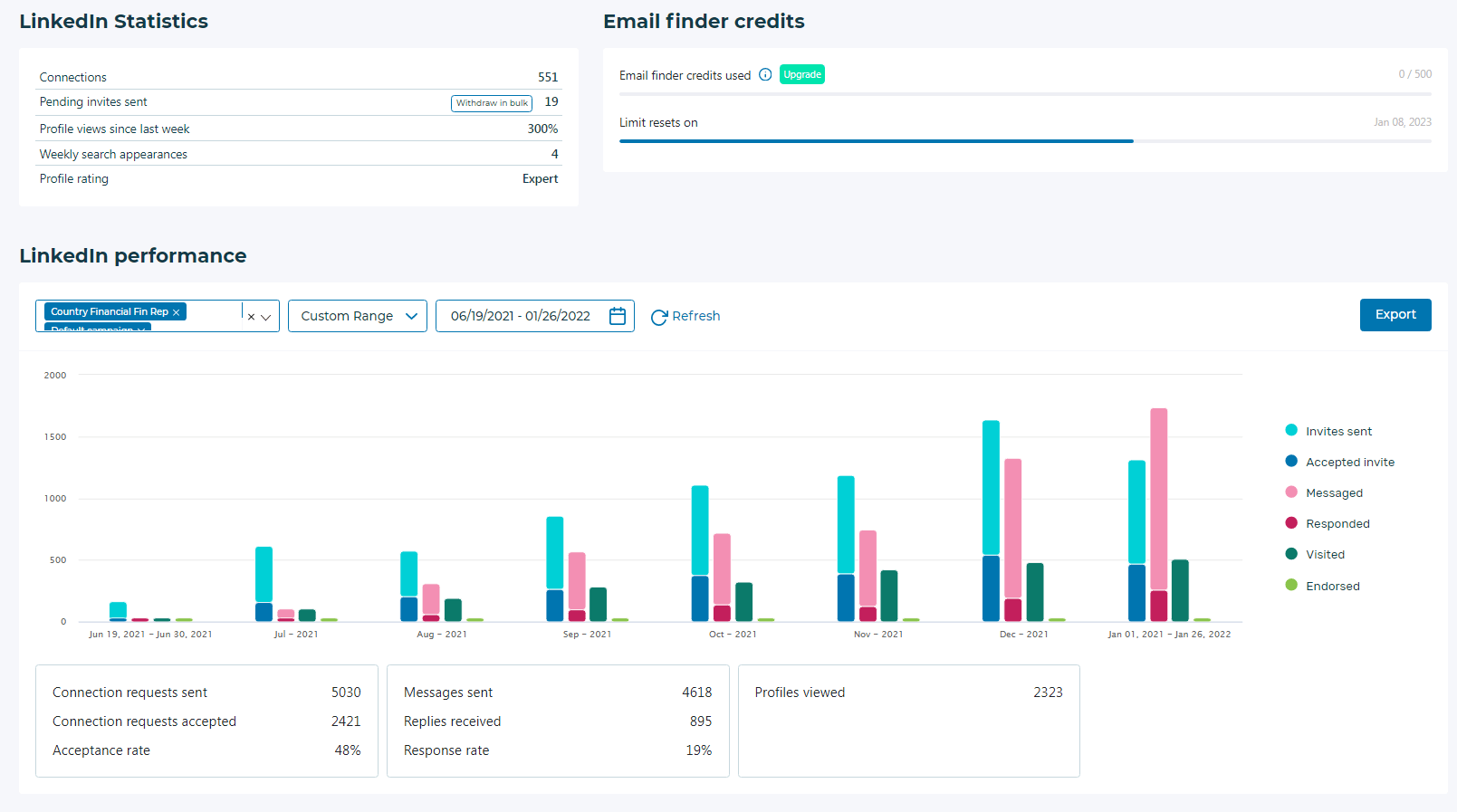 Use Octopus CRM's interactive dashboard to monitor your recruiting efforts. The platform allows you to view statistics concerning your LinkedIn profile, including the number of profile views and appearance rate.
With this data, you can optimize your profile and strategies to build your network and hire creative employees. 
Lets You Use a Chrome Extension 
Another excellent benefit of using Octopus CRM is that it's available as a Google Chrome extension. 
Thus, you can easily open your LinkedIn profile, click on the software icon on the top-right corner of your screen, and get started! Furthermore, you can save contact profiles with a single click. 
Simplifies Every Step of the Process
Here's why everyone loves Octopus CRM: you can perform any LinkedIn task with a single click! 
You can quickly execute recruiting tasks, including removing candidates from your list, exporting to third-party software, or scraping data. 
Lets you withdraw irrelevant pending connection requests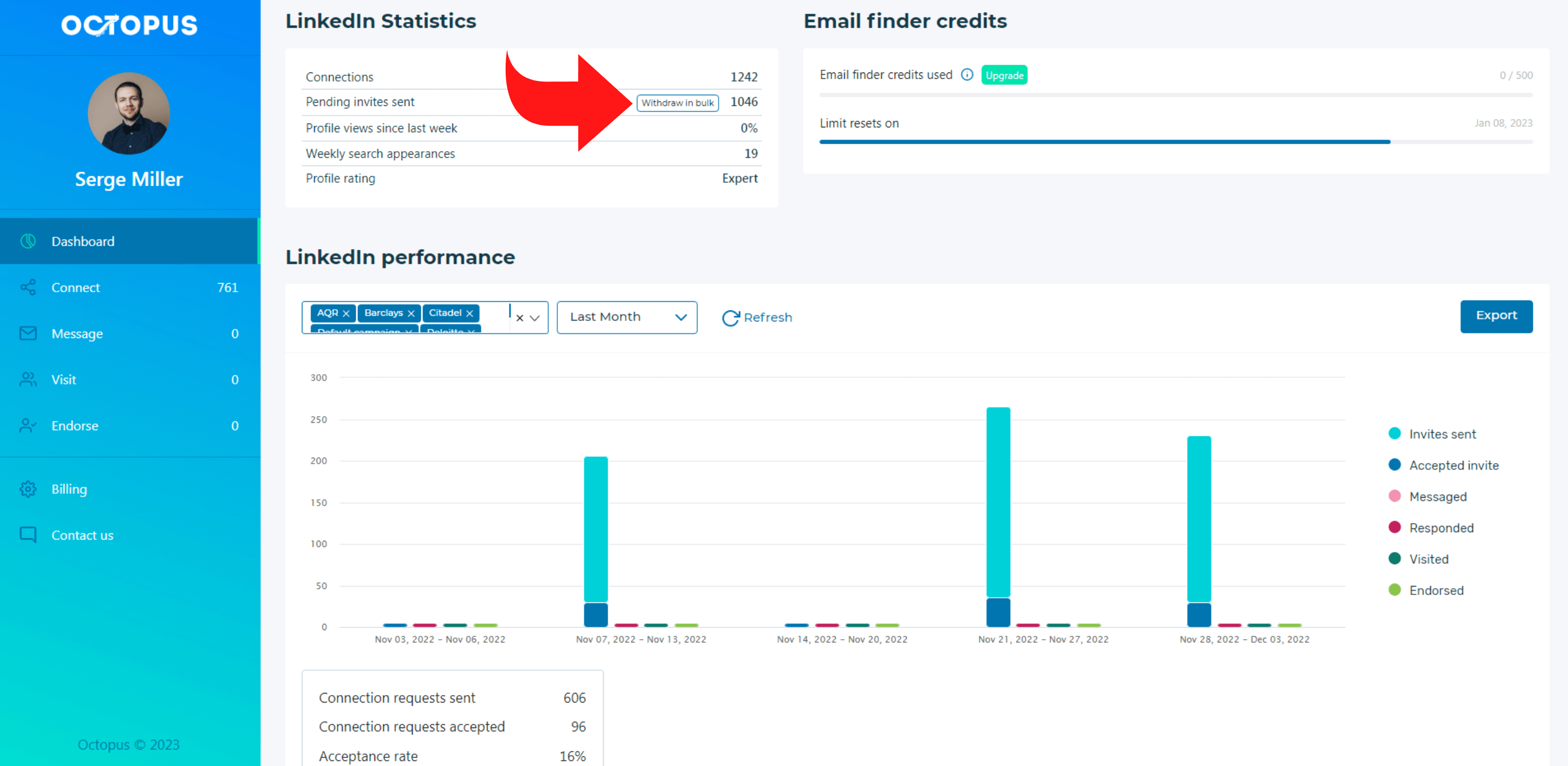 We recommend withdrawing old pending connection requests to be able to contact new users.
Reliable and Timely Customer Service
Octopus CRM enhances your user experience by providing on-time and reliable customer service. You can check our FAQ section or explore our blogs if you have any queries.
Additionally, you can solve technical issues by reaching out to our customer support team via email.
Budget-Friendly Tool 
Octopus CRM is an affordable automation tool at a low price of $6.99! Moreover, it stands out from its competitors because of its reasonable pricing. 
Offers a Free Trial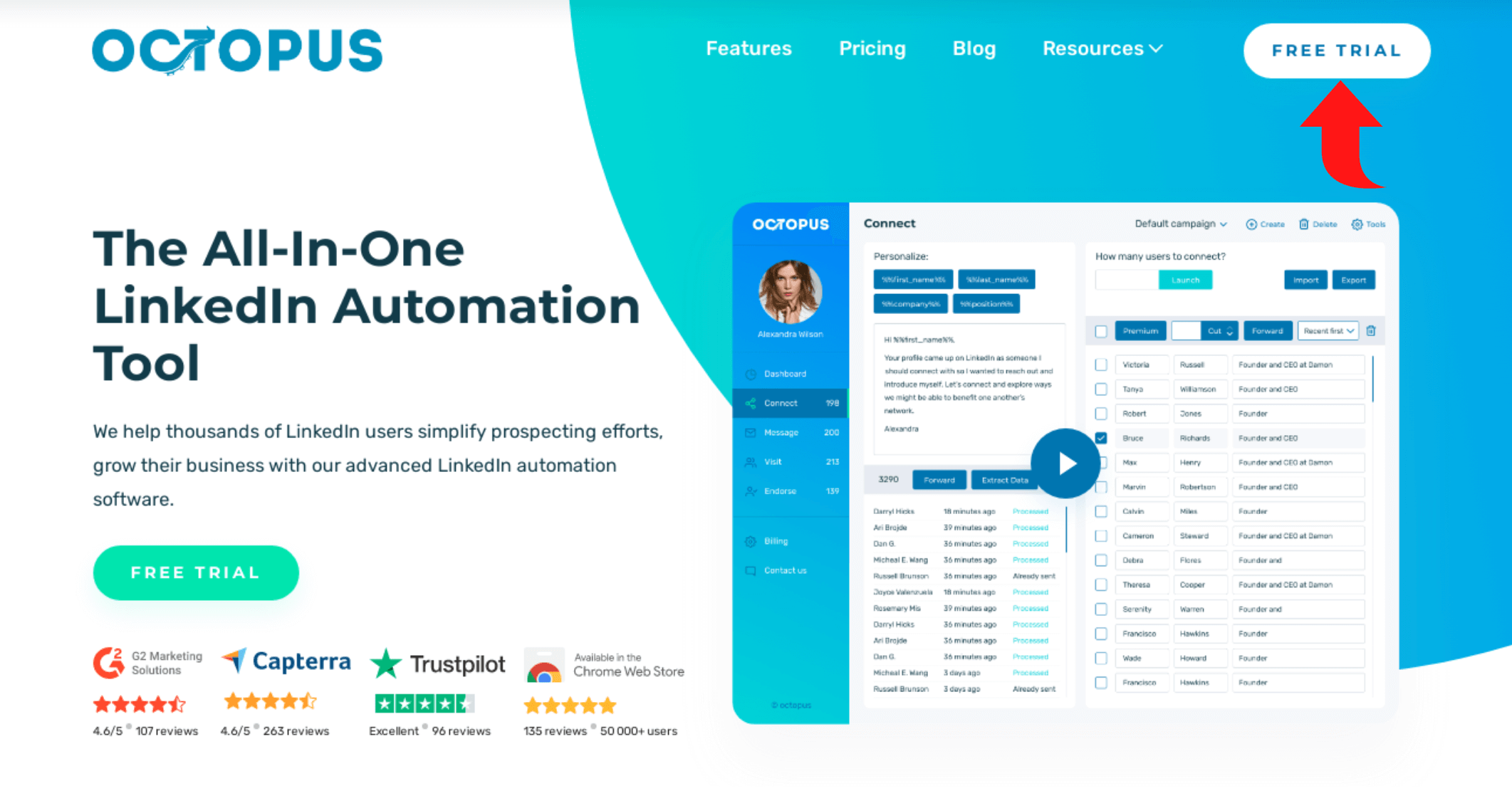 Unsure whether you want to commit to Octopus CRM yet? Lucky for you, we offer users a stunning 7-day free trial.
That's not all! We won't even ask for your account details; you can get started instantly. As a result, you can feel how our services can help you improve your recruiting processes. 
What are the Different Types of LinkedIn Automation Tools
LinkedIn automation tools may be cloud-based or browser-based, depending on whether you want to use its chrome extension or software. But apart from that, these tools are further classified as:
Automated Publishing and Analytics Tools
These innovative tools help users create and schedule catchy and informative content to engage viewers. Additionally, the automation software provides detailed analytics to allow you to find areas of improvement and judge how your content stacks up against competitors. 
Automated Extractor Tools
Data extraction lays the foundation for generating prospects and attracting recruiters. These automation tools can gather vital data from LinkedIn components, including posts, reactions, and groups. 
Automated Connection Tools 
As the name suggests, automated connection tools help you make and foster LinkedIn connections. With these tools, you can automate analyzing suitable profiles and sending them connection requests.
As a result, these tools help you build your network. 
Automated Activity Tools
These tools help you handle your regular LinkedIn activity, including posting, liking, commenting, and much more. 
The primary goal of these tools is to help you save time and cost while enabling you to concentrate on nurturing connections.
Why You Should Pick Octopus CRM LinkedIn Automation Tool for Recruiters 
Hiring managers and recruiters can use Octopus CRM to automate their LinkedIn recruiting process. You can send automated yet individualized messages to inactive but qualified applicants using the powerful yet simple autopilot.
Utilize Octopus CRM to automate the applicant recruitment and nurturing process. With its cutting-edge automation technologies, the all-in-one automation tool helps you to streamline prospecting and sourcing activities. Here's why you should use Octopus CRM. 
The Perfect Solution to All Your LinkedIn Automation Tools
Business owners, recruiters, and marketers can use Octopus CRM, an all-in-one LinkedIn automation platform. It is also a top automation tool companies use to send mass connection requests, import LinkedIn profiles, and send pre-written messages. It can automate every LinkedIn task from a single dashboard and command center.
Safe and Reliable Services 
Octopus CRM will not request your LinkedIn credentials allowing you to control your account. Their entire automation portfolio is entirely secure.
Flexible Pricing Plans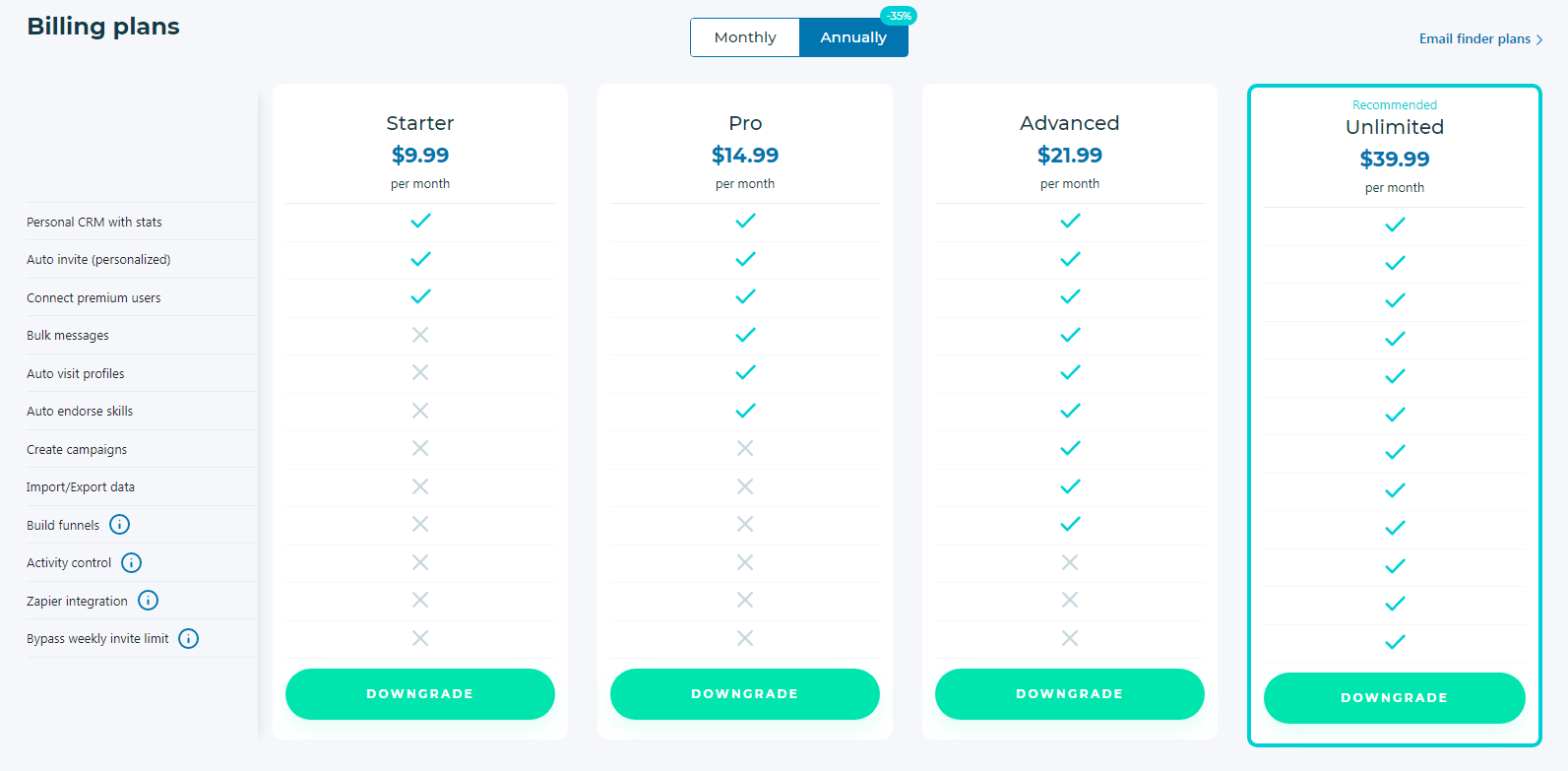 Recruiting automation tools don't demand much money upfront or ongoing maintenance costs. Most software offers pay-per-use pricing schemes, enabling all-sized organizations to speed up the hiring process without going over their budget. Moreover, Octopus CRM provides flexible pricing plans making it easier for businesses to employ this fantastic automation tool to accelerate hiring processes. 
Easier to handle 
Learning Octopus CRM is typically simple. Users can watch instructional films to understand better how the software works. The Google Chrome plugin is quite simple to use. It makes LinkedIn prospecting programs easy to start up.
Reduces the duration of the Process
If you don't use a CRM or speed up the procedures, reaching your sales goals may take a while. Using a CRM, you may streamline the entire process, increase efficiency, and decrease sales.
Integrate your CRM with other tools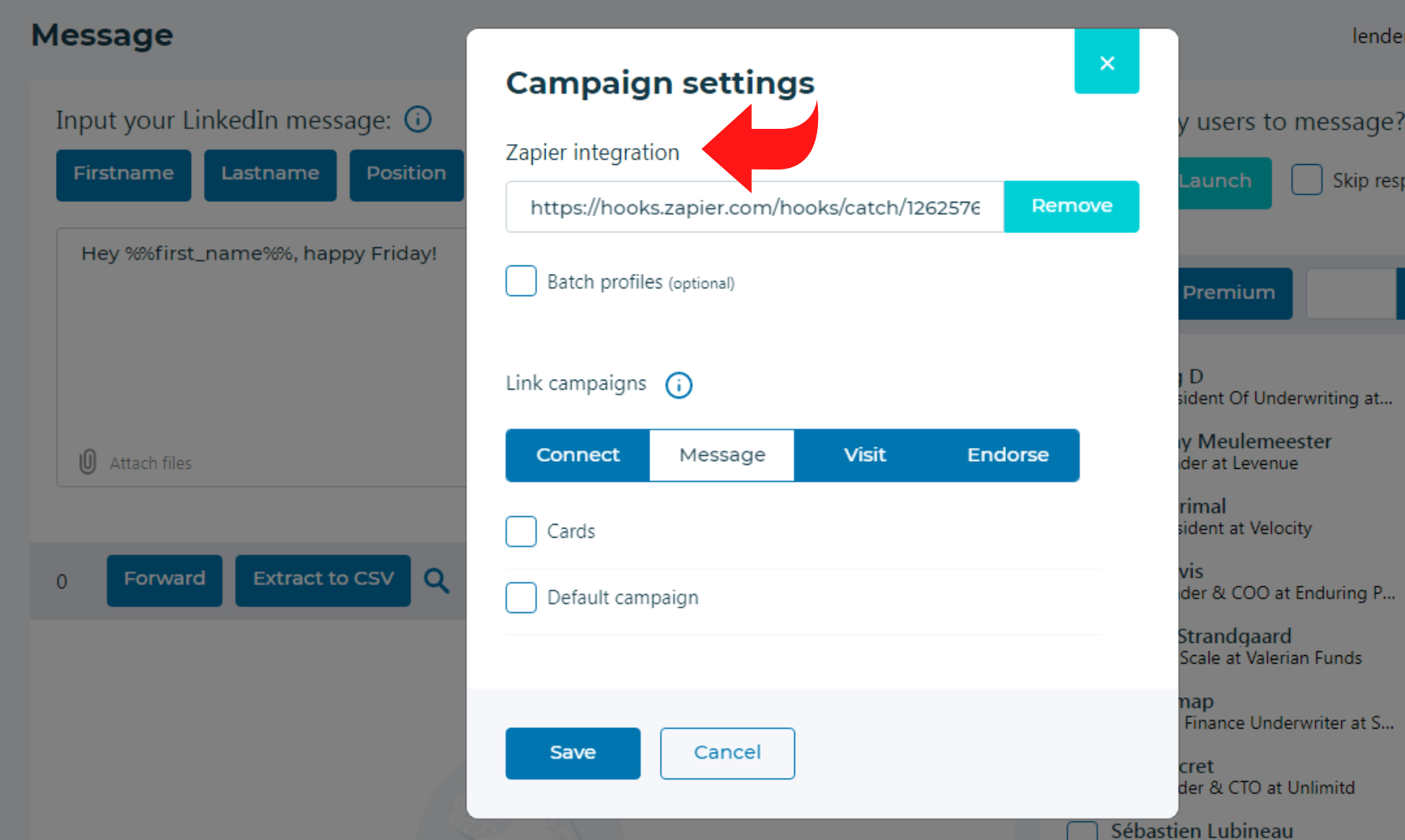 Improving the efficiency of your sales process requires integrating a CRM with your other tools. Manually transferring data across systems increases the risk of errors and the development of undesirable habits in your reps (like leaving essential tasks until the end of the day). Integrations with your marketing techniques will ensure that you are utilizing all of your data while also helping you avoid this.
Conclusion
Finding the best recruitment software may be difficult, but employing the appropriate tools will make things easier. Automation software can help you identify the best personnel, whether looking for remote candidates or on-site employees.
Therefore, by screening, sourcing, and recruiting qualified individuals, Octopus CRM will enable you to streamline the entire process and cut down on time spent gathering and sorting applications.