The new year is here, and as part of our new year's resolution, we have decided to help you level up your LinkedIn game. 
You came here looking for the difference between LinkedIn account types. You're at the right place! After reading this post, you'll have enough information to choose a suitable LinkedIn account. 
LinkedIn Account Types
As you know, LinkedIn is the world's leading social media platform that forges professional connections. It is a great place to advance your career, grow your business, build your professional network, and find leads and clients.
LinkedIn offers many different packages or account types for users. But without knowing the details and pros and cons, picking the right account for you may be challenging. But don't worry because this post will introduce the types of LinkedIn accounts and help you choose the right one for you.
Without further ado, let's have a look at the different types of LinkedIn accounts:
Free LinkedIn Account
The free LinkedIn account is best for those who want to get started on the network. You don't pay any fees for using a basic LinkedIn account. The good news is that even the free LinkedIn account comes with many rich and powerful features to grow an extensive network of connections. 
It allows you to connect with leads and colleagues and build a professional network from your 1st and 2nd-degree connections. Plus, you can message your contacts, search for and visit profiles, send out connection requests, and receive InMail messages. 
But with a free account, you earn no credits for outgoing messages. And you can save only a limited number of searches. Other than that, the LinkedIn free account is a steal. 
LinkedIn Premium Account
LinkedIn premium accounts are unique because they come with many exciting features unavailable in the basic version. If you are looking to grow your network actively, this is the best package for you. A premium account is best for you if you have already tried the basic account and want to further expand your network and get the most out of LinkedIn.
When deciding to upgrade to a premium account, you may feel hesitant to take the first step and commit to the package. Or maybe you want to know whether or not the LinkedIn premium is worth it! The good news is that LinkedIn offers a one-month free trial period for all its paid plans, including a premium account. You can test the waters with the free trial option before deciding to upgrade.
With a paid account, you can get insights into jobs, salaries, or even information on who visits your profile. You get 5 InMail credits per month and a maximum of 1000 results on advanced searches. 
The premium plan has two variants: the premium career plan and the premium business plan. 
Premium Career Account

The LinkedIn premium career plan is designed for career-oriented individuals, such as job seekers or those looking to advance their careers. This account allows them to get noticed on the network and build a network with people from the industry.
The best part is that this plan allows you to stay afloat and get noticed by hiring managers. Plus, it will enable you to assess your position compared to other applicants. The goal is to simplify the research and job application process. Find out what areas you need to work on so you get an edge over others; that is what the career plan does for you. 
Premium Business Account

As the name suggests, LinkedIn business accounts are for those who wish to promote their businesses on a larger scale. The goal of the LinkedIn premium business account is to help you connect with your target market, leads, and potential collaborators who will help your business grow. 
With the premium business plan, you can connect with the right people and make sure you get your point across. So, if you are a business owner looking to branch out, a LinkedIn business account is an excellent place to start. 
LinkedIn Sales Navigator Account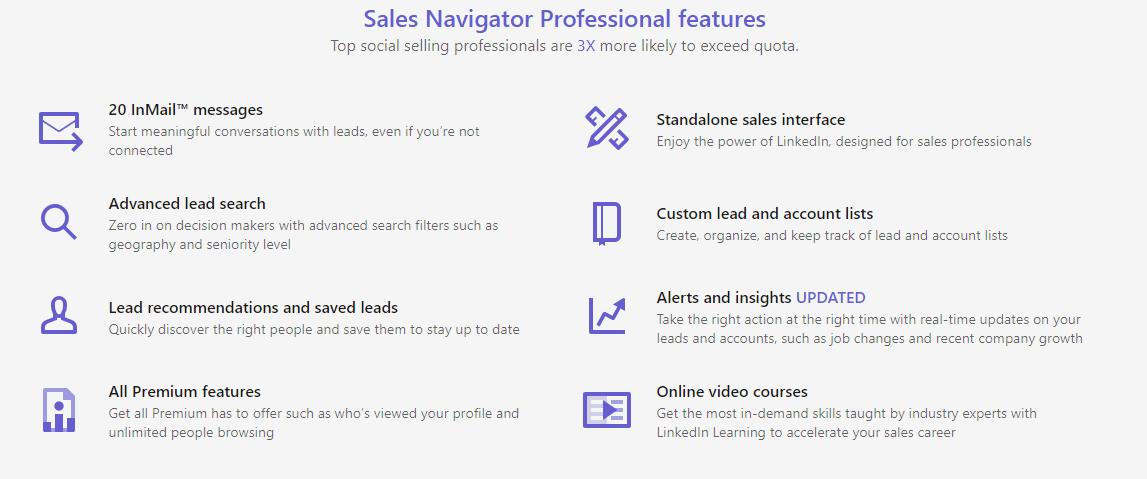 The LinkedIn Sales Navigator account is an automated sales tool. It is no stranger to those already familiar with LinkedIn Automation. It is designed to target the right leads and allow you to forge connections with prospects and clients. 
You get 20 InMail credits every month and lead recommendations with the LinkedIn Sales Navigator account. Plus, it allows you to save your searches and leads. 
LinkedIn Sales Navigator Team Account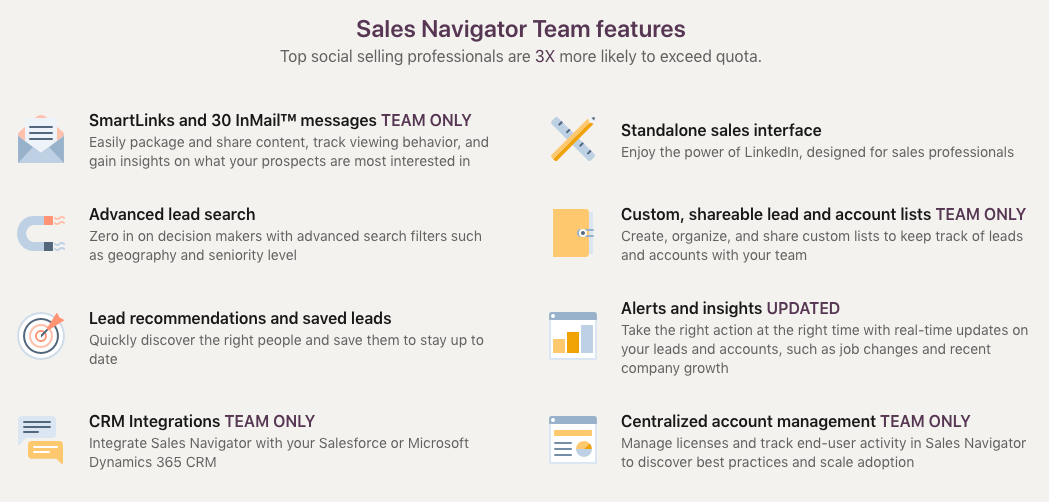 The Sales Navigator Team account comes with many different seats and team-oriented features. It offers additional features that allow multiple members to collaborate using PointDrive presentations, sync CRM integrations, track usage reporting, and more features. The best part of having a Sales Navigator Team account is that you get 50 InMail credits a month and 5000 saved leads. 
Related article, if you want to explore more LinkedIn Sales Navigator features, benefits and hacks.
LinkedIn Recruiter Lite Account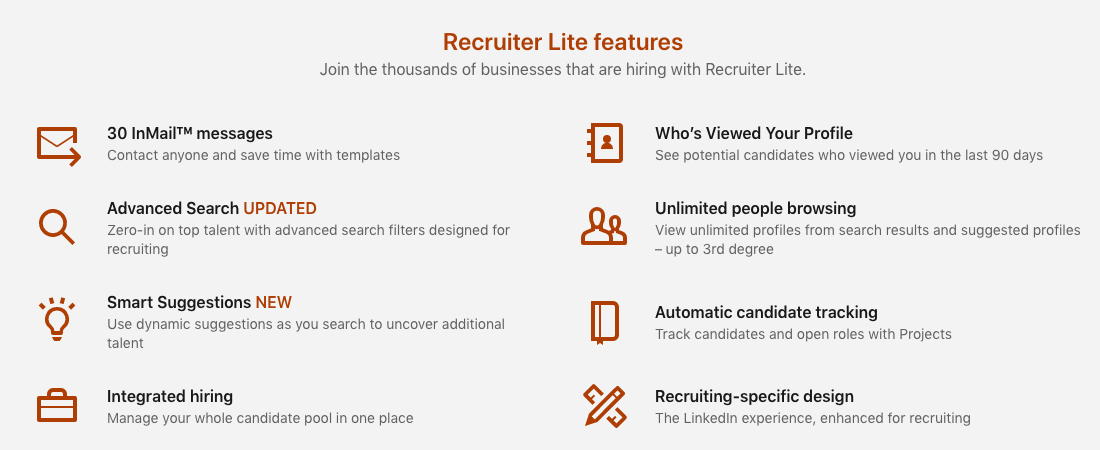 The LinkedIn Recruiter Lite account is perfect for hiring without excessively demanding recruitment needs. LinkedIn Recruiter Lite does an excellent job searching, connecting with, and maintaining a network with potential job candidates. Moreover, it offers many features, such as 30 InMail credits per month, 0+ search saving features, and job and InMail performance reports. 
LinkedIn Recruiter Account
A LinkedIn Recruiter account is for hiring managers who actively search for job candidates. This account comes equipped with advanced filters and search tools that help you search, find, and filter the top applicants for positions you want to fill. Other features of the LinkedIn Recruiter account include 150 InMail credits a month, 40+ search filters, hiring team collaboration, and insights on recruiter pipeline, performance, and usage. 
Choosing Your LinkedIn Membership
LinkedIn is a go-to platform for anything related to jobs, business growth, lead generation, career development, and professional networking. LinkedIn offers an array of unique account types because it understands that people have different needs and use LinkedIn for various reasons. While some may need it to find new jobs, others may require it to find potential employees or leads. 
We recommend you get started with a free LinkedIn account and pick a premium account only after using the full features of the basic account. Also, be sure to try a free trial of a premium account before you upgrade.