LinkedIn is one of the best social media networks for professionals. This tool is not just limited to professionals. Marketers and other experts also use it for different purposes. Since LinkedIn is a free platform, many people can use it for its tools and features. LinkedIn has different versions and tools, such as LinkedIn Premium and LinkedIn Sales Navigator. Let's learn more about these tools and how you can use them. This guide will give you the LinkedIn Sales Navigator vs. LinkedIn Premium: The Ultimate Comparison.
Related article: LinkedIn Account Types
What is LinkedIn Premium?
LinkedIn Premium has two versions: Premium Career and Premium Business. These versions are designed for different audiences. While Premium Career is designed for all those searching for different career options, Premium Business is designed for all those dealing with businesses.
The Premium version of LinkedIn has no separate profile. You will be able to see who visits your profile, and on every search result, you will get as many search results as there are. There are many more features like this for you to benefit from.
To get LinkedIn premium, you will have to pay $47.99 monthly. The amount is billed annually.
Related article: Is LinkedIn Premium Worth It?
What is LinkedIn Sales Navigator?
This tool is a paid version that helps sales persons to get the most out of LinkedIn. There are many built-in features on LinkedIn that help you not just understand your audience better but also find what your target audience is and connect with them instantly. Using this tool, you can coordinate with your team and get great leads to increase your sales and return on investment.
This tool is only created for salespeople; they can view how your connections are directly connected to all the potential leads you want. Some of its most prominent features include filters that can help you find all the right prospects with the help of different criteria such as the size of the company, where they belong, and what is their job title.
The subscription for LinkedIn Sales Navigator costs $79 if there is a single user, and if you want to get it for your complete team, you will need to pay $139 for a total of five users.
Related article: How to Use LinkedIn Sales Navigator
LinkedIn Premium Features for Lead Generation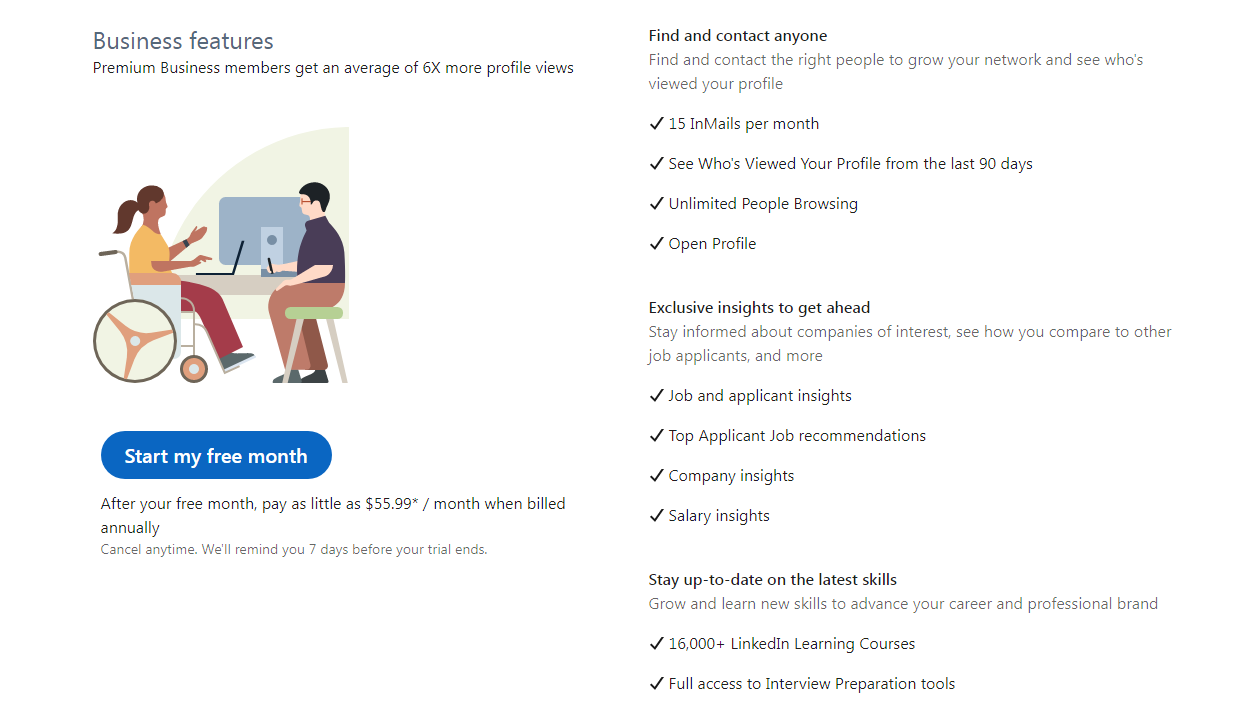 If you consider getting LinkedIn Premium for lead generation, you are making a good decision, as many premium features support lead generation. Let's take a look at some of them:
Limitless Search
Using LinkedIn basic, you will only get 10 searches every month. If you opt for LinkedIn Premium, you will get unlimited searches. This way, you will not have to wait for the next month to complete your searches and generate better leads.
Insights of Company
This is one of the best tools to gather as much data as possible. This tool allows you to visit any company's LinkedIn page and learn all there is to know about them. Having the right insight will allow you to make the right moves for your business.
This can help you increase your lead generation as you can see each company's employee distribution and growth.
LinkedIn Learning

LinkedIn Learning is an extension of LinkedIn as an online learning platform. The platform offers different courses that industry experts teach. The courses here offer skill sets that can help you improve your business strategy and take you to the next level. The tool will suggest skills you might be interested in or need for your business model. Users also get a weekly goal they can commit to growing as a personal brand.
Monthly InMail Credit
With LinkedIn Premium, you can get 15 paid InMail credits for every month. While every LinkedIn user can receive these InMail credits, only LinkedIn Premium and Sales Navigator users can send them. When you get a reply, the InMail credit is returned. This can help you get in touch with lots of people and generate many leads.
Related article: How to Get Unlimited LinkedIn InMails
Who Viewed Your Profile
If you have LinkedIn Premium, you will be notified whenever someone visits your profile. There can be different ways they look up your profile; you may show up in their search results, or on their feed. If any user shows any kind of interest in your profile, it will inform you right away.
LinkedIn Sales Navigator Features for Lead Generation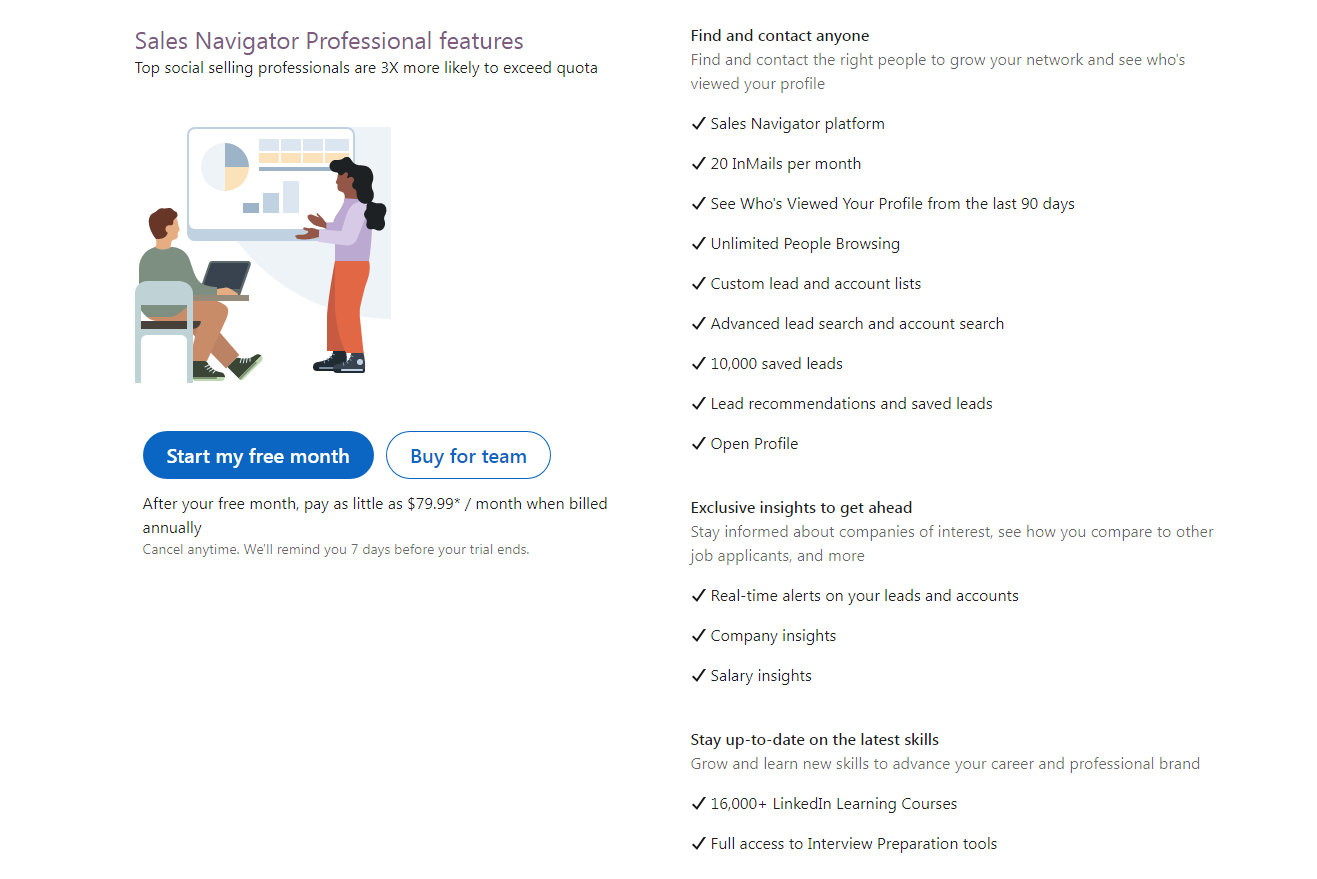 Many users get the Sales Navigator version but need help to use it to their full potential. This hinders their achievement. This is why it is important to understand all the features LinkedIn Sales Navigator offers and use them accordingly. Here are the top Sales Navigator features that will help you with lead generation:
Search Saving
Getting close to your ICP is a great step to increasing your leads. You can use the saved search option to help you use the same search and get more leads. You have the option to save multiple searches, and you can also name them accordingly. You can see all your saved searches on the dashboard and refer back to them whenever you want.
Filtering Options
The tool also offers advanced filtering options where you get 29 lead filters and 15 account filters. If you want a specific ICP for your business, then you can use Sales Navigator for the advanced filters.
CRM Connection
The Sales Navigator version allows you to use your CRM with it. Connecting the Sales Navigator with the CRM will help you match all the leads with their LinkedIn profiles. You can perform whatever action you want with the help of the CRM. This makes things a lot easier, and you can automate different actions and let the CRM take charge. We suggest connecting Sales Navigator with Octopus CRM LinkedIn automation software.
List of Leads and Accounts
If you have a list of leads, you can save it and then refer to the lists whenever you want. This helps you generate new leads keeping the ICP in mind.
Alerts
If you want alerts from certain accounts of your choice, then you can use Sales Navigator, which will send you notifications about every activity your chosen platform makes. These notifications may include job changes, shares of any posts, etc. You can save the leads and accounts and use the platform to bookmark them or add any necessary information.
Similar Account Search
This feature is just limited to accounts, and if you have identified the perfect ICP, then you can use this feature to look for all the extremely similar accounts. This can help you search all the companies that match very closely to a company you have already found.
Notes
You may wish to remember something when it comes to a certain lead. The platform allows you to add notes to the leads and write down all the necessary information.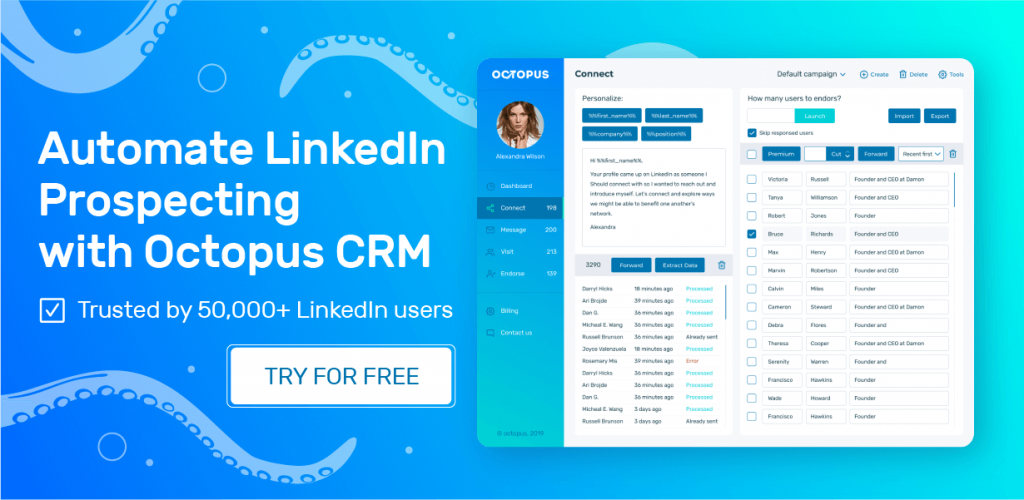 LinkedIn Premium Pros
Like all versions, LinkedIn Premium has both pros and cons. Let's first take a look at all the pros of LinkedIn Premium:
Flexible Features
If you get LinkedIn Premium, you can get features specific to your profile. The features are different if you are looking for a job and different if you are offering one. You can get custom specialized options to select from.
Analysis
If you are an individual, the LinkedIn Premium version is far better. This is because then you can get the analysis you need for a small project. This includes details such as all the raw data that the Sales Navigator version does not give you.
Profile Visit Notifications
LinkedIn Premium will give you the details you need if you have any recent profile visits. You can see how many people have viewed your profile in the past weeks. This will help you target the people who have already shown interest in your brand.
LinkedIn Premium Cons
Here are all the cons that come with using LinkedIn Premium:
Short Term Goals
LinkedIn premium is less sustainable than its counterparts. This makes the platform more specific for short-term needs; for instance, you can use it to look for a specific person.
Limited Features
There are better choices than LinkedIn Premium for you if you want many features. This is because even though you ideally pay the same price for different versions, you get fewer features in LinkedIn Premium. If you are looking for a single tool to do it all, then you can aim for other versions.
LinkedIn Sales Navigator Pros
When getting Sales Navigator, here are some pros that support your decision.
Convenience
The platform offers a very convenient mobile application; if you are a beginner, you won't have to struggle with navigation. You will be able to get whatever needs to be done easily.
CRM Integration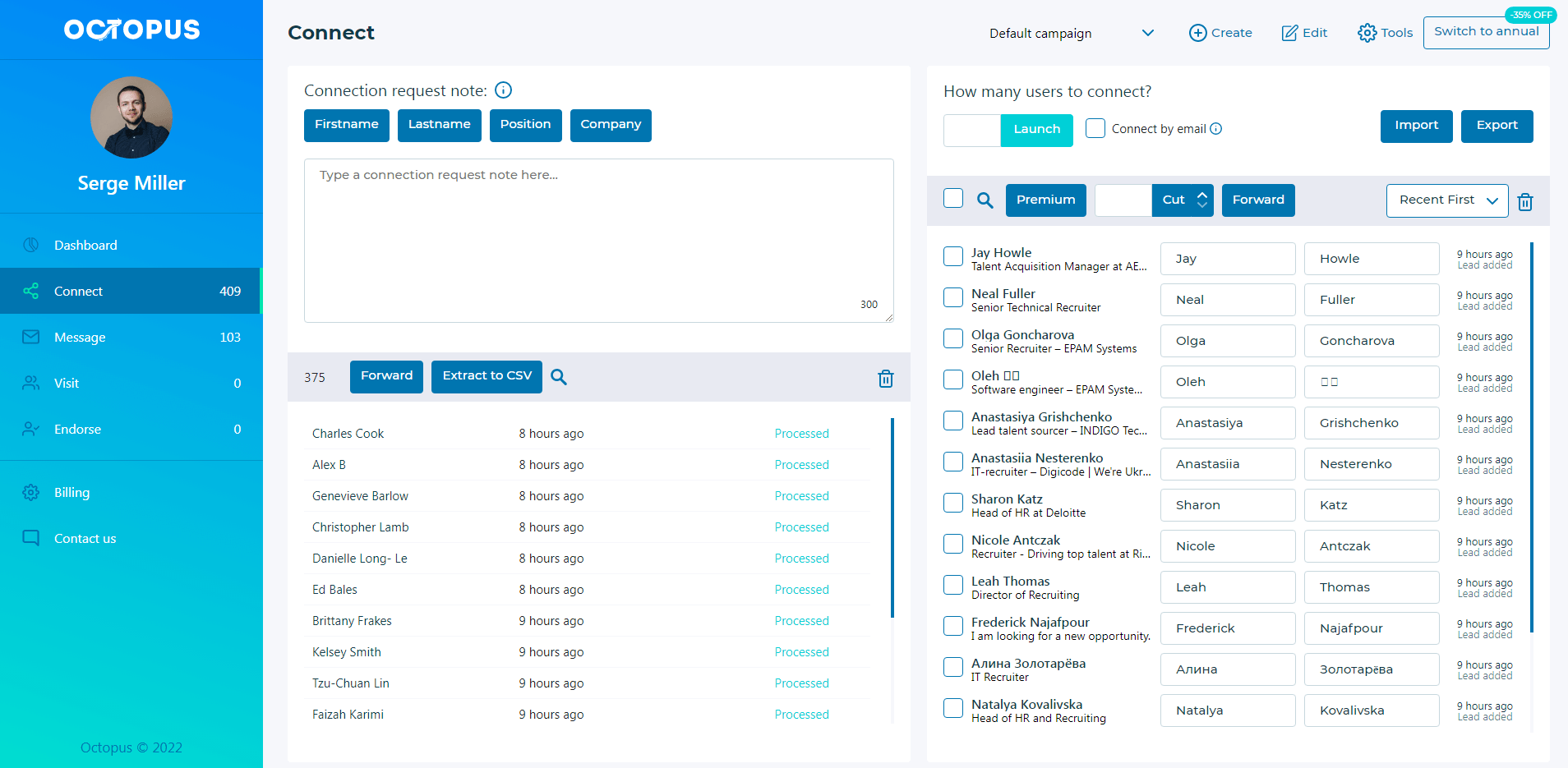 If you want to automate your lead generation, then you can integrate the LinkedIn sales navigator with the Octopus CRM LinkedIn lead generation tool, which will handle it for you. Octopus CRM integration will also allow you to add whatever contacts you need. Moreover, all your team members can get the information they need from the Octopus CRM integration. This helps you keep all your team members on the same page and aim for better leads.
Vast Network Reach
Those looking to increase their network reach can use this platform to connect with different profiles. The additional features, such as TeamLink and InMail, allow you to have access to other individual profiles that give you extra information. This is not possible with the free version of LinkedIn.
Lead Tracking
The lead tracking feature allows you to measure your performance from time to time; once you measure that, you can analyze it accordingly. This feature runs independently from the additional tools. This works best if you are working on new sales and have other prospects you want to chase.
Recommendation for Leads
The platform gives you automatic recommendations for your leads, and if you have an idea of what kind of leads you need, then that would make it easier for you to chase them. This can be a great option for all your future leads, and you will get a better outcome for all the energy you put into it.
LinkedIn Sales Navigator Cons
Here are the cons you can expect from Sales Navigator:
Separate Inboxes
If you get a separate application for sales navigation, you will have separate inboxes too. Because of this, you will need help managing your conversations. You will have to keep switching between applications, and you might miss out on many things. You may not be able to reply to people on time or miss out on conversations altogether.
Expensive Alternative
This is an expensive option as compared to other platforms, especially if you need to learn how to get the most out of it. If you want to invest in other lead generation tools, you can get them for half the price.
InMail Limited Options
If you send cold emails, you may get a different response from LinkedIn InMail. However, Sales Navigator does not offer that option. With it, you get limited InMail, and that means you won't be able to get the leads you need for your LinkedIn page.
Related article: Ways to Leverage LinkedIn InMail More Effectively
Limited Search Results
While the search factor is very important in your LinkedIn marketing strategy, you may need help to make great use of it when using LinkedIn Sales Navigator.
LinkedIn Sales Navigator vs LinkedIn Premium: Which is Better?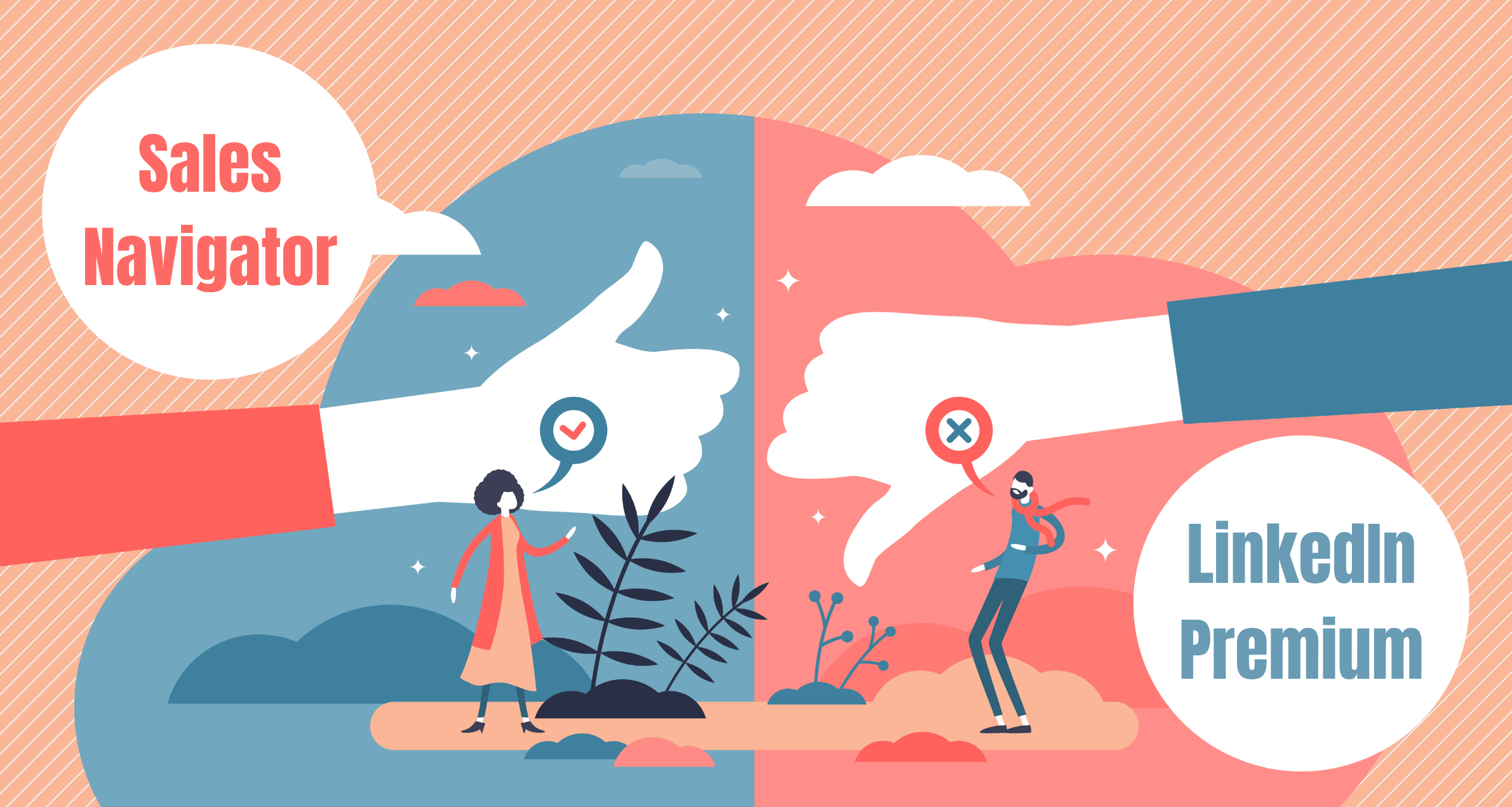 You can choose between LinkedIn Sales Navigator and LinkedIn Premium, and it is important to make the right decision. When you think of investing your money, you should learn the best choice for you.
If you are looking from a sales standpoint, you can consider LinkedIn Sales Navigator the best choice. This is because, in LinkedIn Sales Navigator, you can get everything you may get from LinkedIn Premium, and there is much more for you to unlock. The best part is that you will get many different features for a meager payment of $17 per month.
On the other hand, if you are not too familiar with technology and do not need that many features, you can always opt for LinkedIn Premium, as it is a lot simpler and can streamline it with all the other tools. This can be a great solution for you as you will only have to do a little of the work independently. The premium version will allow you to unlock more features from your LinkedIn account. However, with Sales Navigator, you will have an entirely new module and another interface to get used to. This may need to be clarified even more, and you may end up not using the tool to its full potential.
In the end, it is important to understand that no matter what tool you choose, you will still have to use it properly to make the most out of it. Both tools can improve your productivity and ensure you generate better leads. You can also get help from an expert who can help you make the right decision keeping your goals in mind.
Conclusion
In conclusion, both of the tools are great ways to generate leads. The better option selection depends on your goals and the kind of services you are looking for. Before you make your decision, you need to assess your business. You can have a meeting with your team and decide your goals. Once you are on the same page, you will be able to develop a better marketing strategy. With your marketing strategy in place, you can make better decisions based on your goals and your audience.
Then you can pick between LinkedIn Sales Navigator and LinkedIn Premium. Make a choice keeping all the factors from your business and personal preferences in mind so that your decision benefits your business greatly.