An Ideal Customer Profile is a gateway to the right sales. You need an ideal customer profile to target the right audience to understand what companies best fit your business.
In this article, we will learn all there is to know about an Ideal Customer Profile and how you can create one. Let's get right to it!
What is a Customer Profile?
Before you can learn what an Ideal Customer Profile is, you need to understand what a customer profile is, to begin with. In simple words, the customer profile is a template that includes detailed information about who your current customers are. This profile contains information such as all the consumer behaviors your customers exhibit, any psychographic or demographic data you've collected, and finally, all their pain points. This client profile template helps your business understand who they need to target and design their marketing campaigns around the same profile.
It is essential to market to a targeted audience, so all your efforts do not end in vain. Many businesses that target a nondescript audience may lose their business, as the audience is simply not interested in whatever they offer.
Defining who exactly your customer base is can help you get ahead of the curve and improve the way you do business. 
What is an Ideal Customer Profile?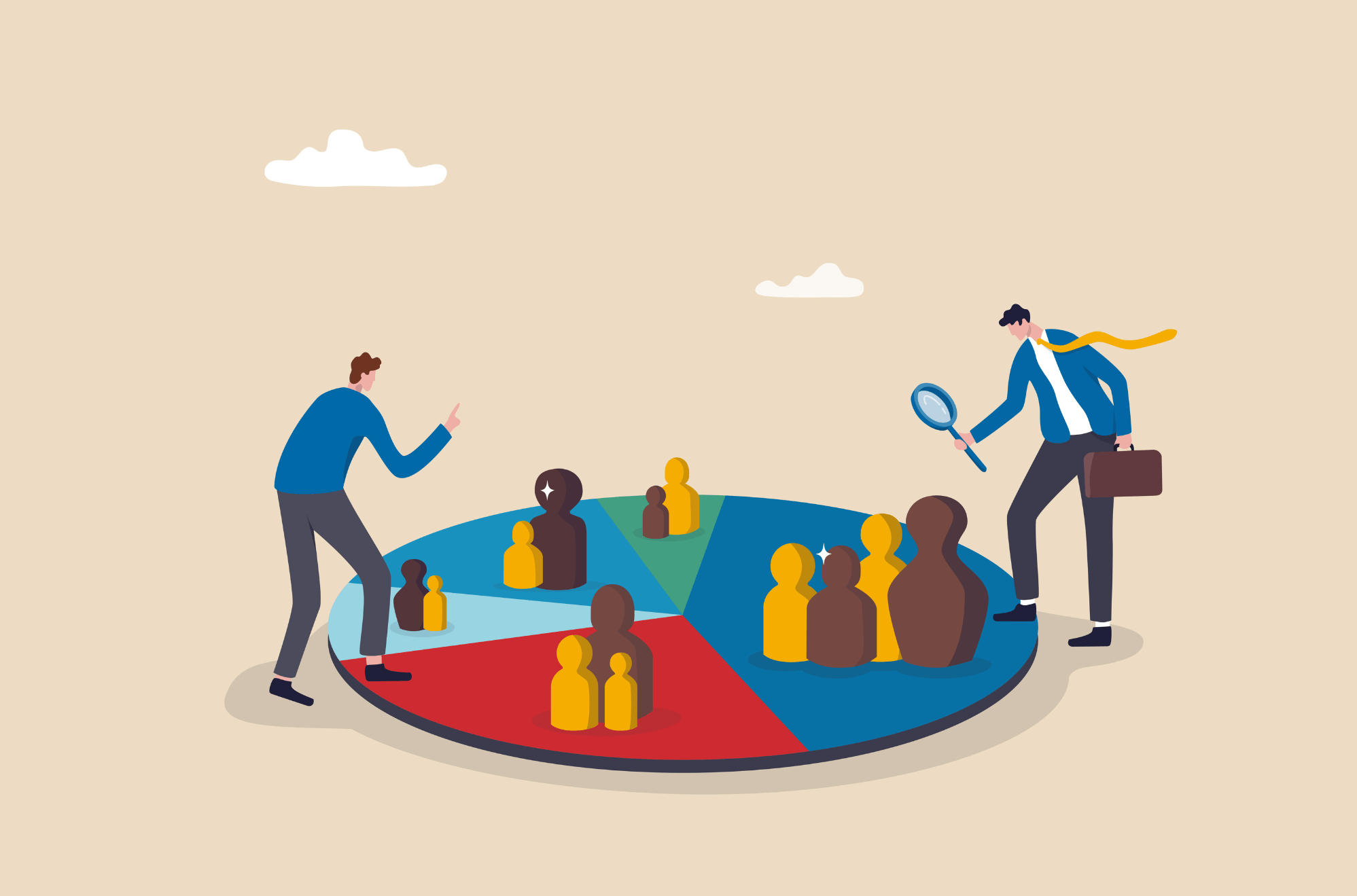 When you create an Ideal Customer Profile, you create a supposed company that is the perfect fit for the business you offer. This customer will bring you business and help you generate good leads. Creating an ICP helps businesses visualize what their current customer base includes and attributes buyer's persona to them. To understand what kind of customers your target audience is, you can survey your existing clientele, which will help you create a customer profile.
Marketing to audiences not open to services you offer or your business can result in wasted efforts, severely affecting conversions.
An ICP may focus on the following aspects:
Budget

Technology

Customer Base

Industry

Geographical Information

Organizational maturity

Number Of Employees

Annual revenue
Why Create an Ideal Customer Profile?
Creating an Ideal Customer Profile will help you save money in terms of marketing if you like to save money. When you know exactly who you need to market, it will become easier for you to avoid all the clutter and direct your marketing to target customers exclusively. This can also help you cut down on budget and only spend money on strategies that will bear fruit.
When you market to a mass audience, you have no option but to pray that someone among the audience is interested in what you have to offer and takes necessary action. A targeted approach will not only help you save money on marketing but will also help you personalize your marketing strategies and services.
Creating an Ideal Customer Profile will help you see your services from the eyes of a potential customer. Changing perspective may help businesses transform the way the market and help them give customers precisely what they need. Many customers may visit your site, but not all intend to buy from you. This is where an Ideal Customer Profile will help you differentiate between customers interested in what you offer and those who do not.
Comparing all your leads against the Ideal Customer Profile will help you identify which leads are worth following and may result in sales. It makes the courting process easier, and you can afford to put a sales team on the tail of such leads.
Finding Leads with LinkedIn Sales Navigator + Octopus CRM
With Octopus CRM, you can find the best leads based on your ICP. Use Octopus CRM LinkedIn automation software with the LinkedIn Sales Navigator; your leads will significantly improve your business! The Sales Navigator is a premium too for all the premium LinkedIn users.
Related article: Octopus CRM for LinkedIn: How it Works
Use the parameters of your Ideal Customer Profile and sift and sort through all the search results to find links that fall within your ICP category. Using this CRM, you can produce detailed lists of all the contacts that fit the ideal customer profile template.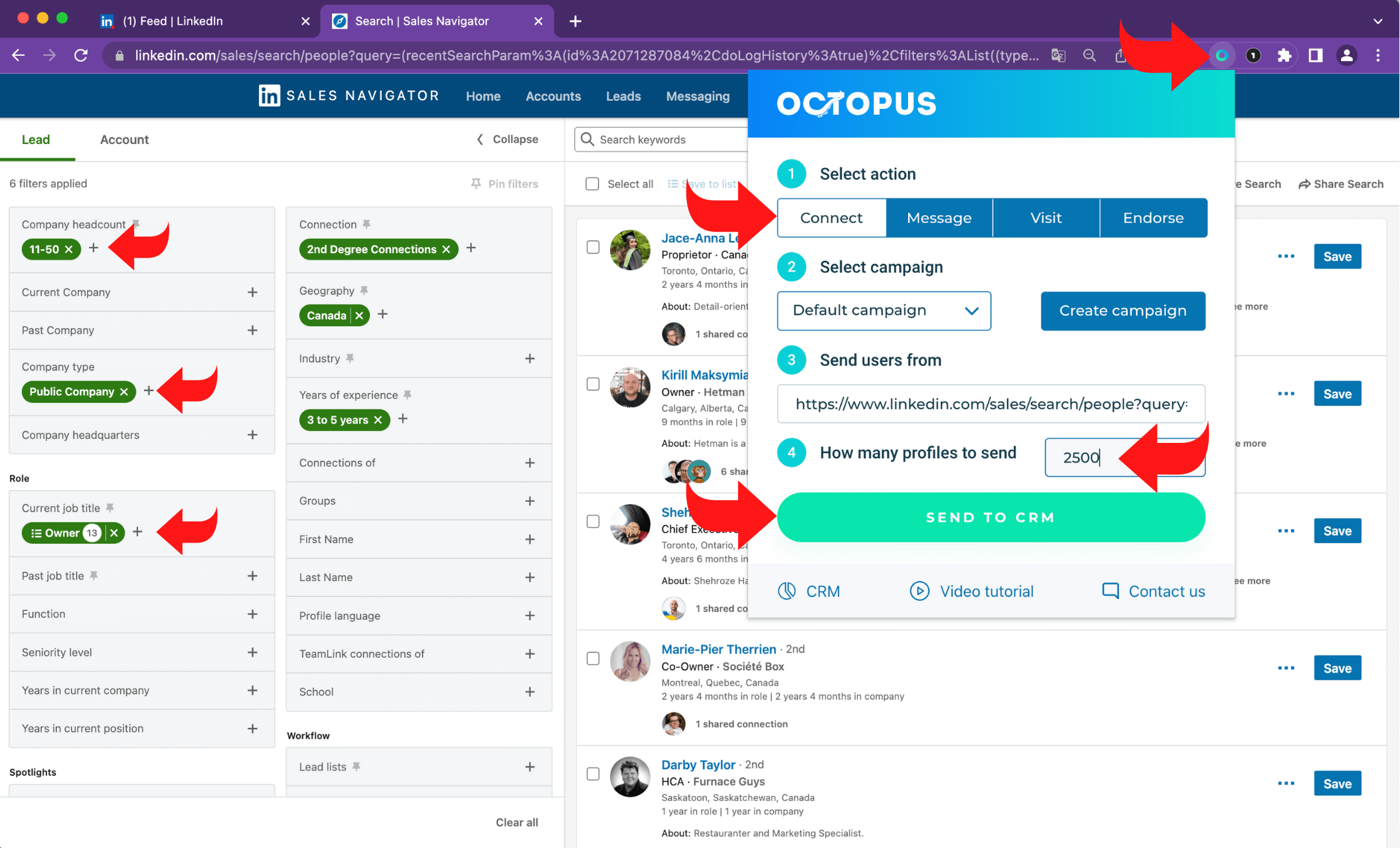 You can use the pop-up window to filter through all the users and then transfer all the profiles to the CRM. From there on, you can work on your Octopus CRM and select the tab you want, such as connect, message, endorse or visit. This depends on what action you wish to take; once you decide, you can use the 'Launch' button to start the actions. Using information from LinkedIn, the CRM adds users to the list of all actions you must take for that specific user.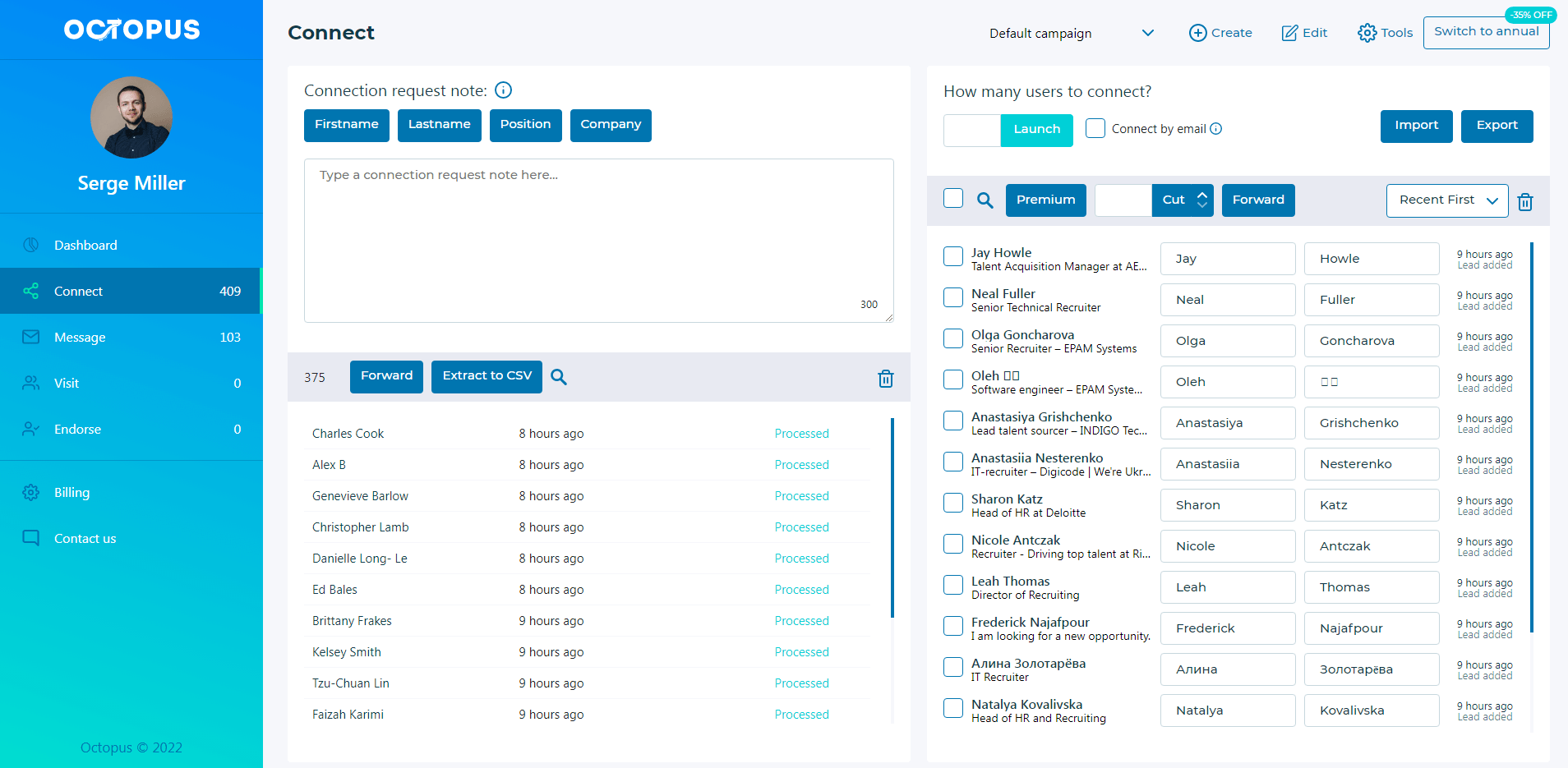 Using the chrome extension, you can transport the contacts from LinkedIn to the CRM.
Ideal Customer Profile vs. Buyer Persona
The concept of ICP and buyer persona are very similar. The main difference is in the practical usage of both concepts. Both the concepts filter through audiences using market research and analyze the user data they collect. ICP and buyer persona are both limited to market knowledge and all the solutions that can be derived from the information.
A buyer persona is basically an outlook of all the people who would be willing to buy the services and the products you offer. This persona includes basic information such as your customer base's profession, age, gender, and other details relating to their objective needs. The buyer's persona is important to sketch out what your potential customers look like.
An Ideal Customer Profile is exclusively for businesses looking for the perfect client template at the beginning of their sales funnel. The ICP helps them filter through the leads and decide the actions they need to take, and selectively target all the companies who have the potential to become customers.
Both of the concepts are used at different intervals of the marketing funnel. The ICP is used at the top of the funnel, where leads are generated. On the other hand, the buyer persona is used consistently throughout the sales funnel stages.
Why is an ICP Important?
Businesses need to understand the importance of ICP as it can be a game changer for businesses. There are many benefits of ICP, such as better revenues. To improve your revenues, you need to develop your strategy based on the ICP. Using it will help you attract new customers easily without it being a burden on your acquisition costs.
Targeted investments can be very important to save all your efforts and money you would otherwise spend on marketing. Reaching out to the wrong customers will only prolong the marketing process and make it difficult for you to succeed.
To succeed quickly and improve your efficiency while saving money, you must invest your time and energy in creating an ICP.
Customer Profiling Benefits
For businesses who wish to thrive in their respective fields, customer profiling is one of the best options. With it, you can influence all factors of your business. Here are some benefits you may experience:
Targets Best Fits
With the help of customer profiling, you can find customer profiles that fit your business perfectly. When you know what kind of customers will receive the most benefits from your services, it will be easier for you to close sales and find the same prospective customers.
If the customer is not too happy with your services, they will likely stop giving you their business. They may even leave a bad review that can harm your company significantly.
Reduces CAC
If you want to cut costs, then customer profiling is the best option. This helps you reduce the money you would have otherwise spent on mass marketing. Narrowing your client base helps you direct your attention to them and make a profit from customers who are linked to your business or, at the least, are interested in what you have to offer.
Improves Customer Services
When you know who your customers are and what they are looking for, then there is no reason why you mustn't deliver what you expect of them. When you make the ICP, you cater to all the characteristics of your target audience, which can help you customize your services.
Custom-made services will always drive better results and increase sales compared to general services.
Ideal Customer Profile Framework
The ideal customer profile framework can help you build an effective ICP. You need to gather the right intel so that all the details you include in your ICP framework are fruitful and produce the results you are looking for. Here are some factors you need to keep in mind when designing the ICP:
Geographic data
The location of your customer holds great importance. Where the customer is can affect how they will behave towards your product and whether or not they will be interested in buying it. When collecting geographical data, you must keep the city, region, and area if you operate from the same country. If your services are international, then you will also need to keep the country in mind.
Gathering all the geographical data will help you with several other things, such as the supply, logistics, demand, and other marketing strategies that can help grab the attention of relevant customers.
Psychographic data
Several factors influence a customer's decision to buy a product or service; while you focus on details such as geographical data, you cannot ignore psychographic data.
The psychology of a customer plays a pivotal role in their buying decisions. Some of these factors include the customers' lifestyle, buying habits if the company falls in sync with their values, and so on.
These details can help businesses track customers' thought processes and how they conclude. For instance, the company can learn what triggers the customers to finally take action and buy the product or services they put out!
Behavioral data
Behavioral data is also a big contributor to the concept of an ideal customer profile. Lots of thoughts can be going on in the head of the customer, but it is only their behavior that puts the thoughts to reality. For instance, the engagement of the customer with the company, their purchasing history, and more details are important to consider if you want to learn whether the customer will finally make a purchase or not. 
Firmographic data
The Firmographic data has great similarities with demographics, but this is specific to companies on the whole but not the customer at an individual level. For instance, when collecting Firmographic data, you will need to collect information such as the size of the company, its growing trends over the years, and the budget and revenue it has been able to pull off in recent years.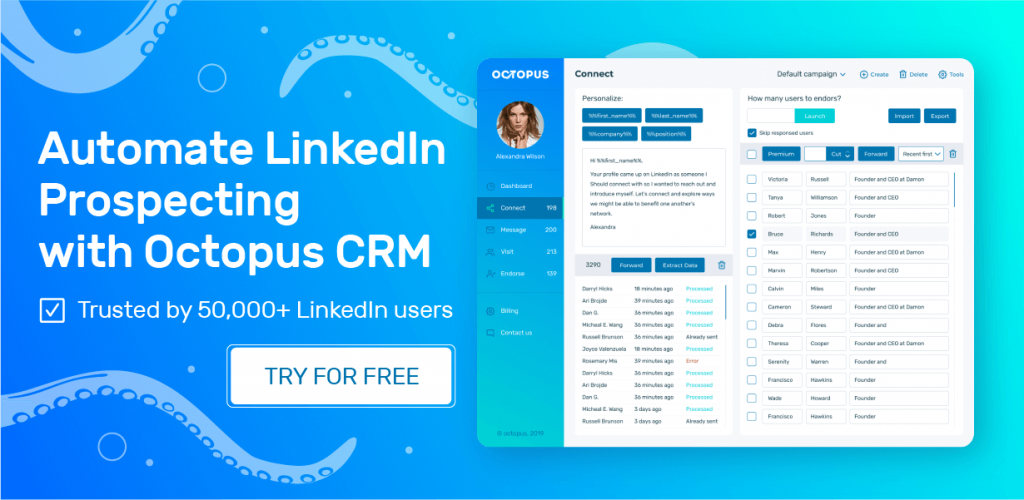 Ideal Customer Profile Examples
A business that needs to create an ICP for prospective companies who are interested in their brand or services can use the following examples:
Example 1:
Industry:         
B2B   
Location:        
USA  
Size:
20-40 employees        
Growth level:   
Cottage Business
Budget:           
$300-1000K    
Business objectives: 
Improve customer base by 30% within the next year
Be among the top 5 companies in 5 years        
Pain points:   
Low customer interest
Weak leads
Poor marketing strategy
The dispute in sales and marketing strategies
Decision-making factors          
Research-driven results
Decisions by stakeholders
Channels for outreach  
Email marketing, LinkedIn Direct Messages
How to Create an Ideal Customer Profile?
Now that you have all the information you need, let's explore how you can create an ideal customer profile:
Step 1: Highlight Problem Solving Aspects
The first step is to understand your existing customers' problems and how your product can solve these problems. You need to look at all your existing customers and choose a company you think fits the perfect customer category. See if they are growing after they buy your product and are ready to buy your product over. Moreover, they need to have the right finances to buy the services you offer, and they should have the skills needed to use the service you provide.
Step 2: Determine What Your Best Customers Look Like
Then you need to gather all the details of what your best customer looks like and what attributes separate them from the crowd. Main attributes include the pain points of the company along with its strength, location, and years of operation.
Step 3: Ask For Customer Feedback
Do not believe in hypothetical answers; it is best to conduct a little research and look for the answers in your client's feedback. Survey them so you can get the reviews you need to carry on.
Step 4: Create Behavior Profile
In this step, you must create a behavioral profile with all the information you have gathered. Look at their common behaviors, what influences them, and what can drive them to buy the product you deliver.
Step 5: Create An Ideal Customer Profile
Using the customer profile template, you can create the ICP and put together all the details you have gathered in the previous steps.
Step 6: Put ICP To The Test
Last but not least is to use the ICP you create. You can use it to devise your new marketing strategy. For instance, you can connect it with the Sales Navigator on LinkedIn and then pair it with the Octopus CRM to decide what action you need to take for each profile.
Conclusion
The Ideal Customer Profile can help you refine your target audience and allow you to take actions that will generate better and more efficient results. With quality leads and quick responses, you can generate success and help your business get to the top in very little time.
You must make use of the right tools to implement the ICP and make the most of your marketing strategies!