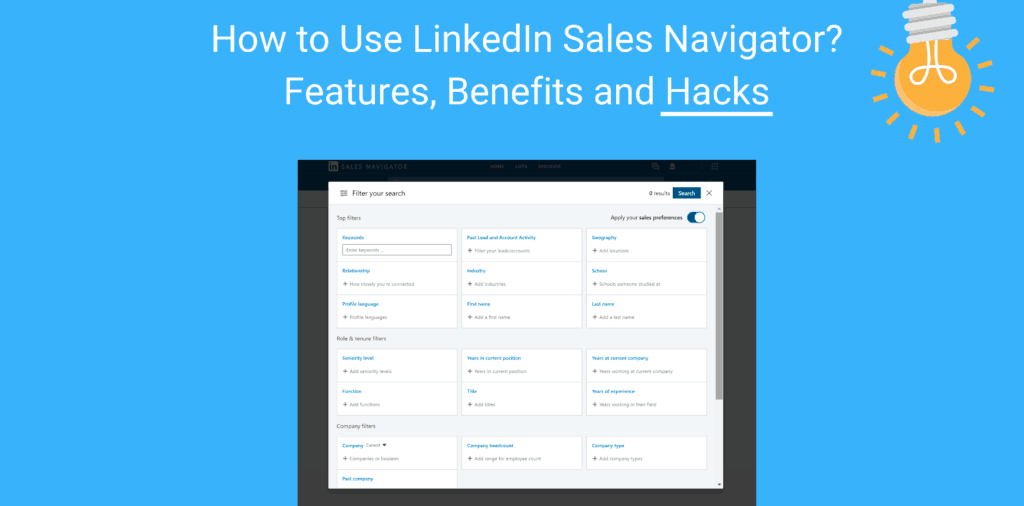 How to Use LinkedIn Sales Navigator: Features, Benefits and Hacks
16 years since its official launch, LinkedIn has become a staple in the grown-up world of professional networking and lead generation.
It has continued to roll out new features that are increasingly becoming more useful in the B2B social segment, with everyone from individual entrepreneurs, to small enterprises and large organizations turning to the platform every single day.
One lead generation tool many businesses are taking advantage of is LinkedIn Sales Navigator.
What is LinkedIn Sales Navigator?
Sales Navigator is a premium feature on LinkedIn that helps businesses in generating leads on LinkedIn by allowing you to easily find your target audience and connect with them in just a few clicks. It is described as the best version of LinkedIn for anyone interested in sales prospecting, thanks to its many features specially designed with this in mind.
Available in three variants (Professional, Team, and Enterprise) Sales Navigator doesn't come for cheap, particularly in the case of many small business owners. However, LinkedIn does offer a 30-day free trial to allow you to evaluate whether the tool is worth investing in. Or not.
LinkedIn Sales Navigator Features
As briefly mentioned, LinkedIn Sales Navigator has a slew of features many businesses and sales reps will find useful. These include:
1. Lead Builder
Lead Builder is a neat feature in LinkedIn that makes it easy to reach out to your target audience by narrowing down users in Search using important filters like the following:
Keywords
Geography
Industry
Company
Seniority level
Title
Function
Relationship
Company size
While a free LinkedIn account comes with its share of filters, the Advanced Lead Search in Sales Navigator is like putting your search on a turbo.
It lets you segment leads using more definite search criteria not available on free LinkedIn accounts, increasing your chances of not only finding more targeted leads but also picking up valuable specifics about them which you can leverage.
This feature can also provide details such as:
Users who have recently switched jobs
Users who have created a post on LinkedIn shared their experience or featured in the news
All these reasons combined make this one of the most useful features of this LinkedIn marketing software.
2. Save As Lead
After creating a targeted search to identify your ideal prospects, going through the drill again is not only a pain but also a drain on your valuable time. But Save as Lead absolves you of the need to do it all over again by giving you the option to save your search as Leads for your business in a separate section of your dashboard. This means you'll conveniently have all your leads in one easily accessible location, and it comes with the bonus of getting regular updates about these users.
As a result, you now have the chance to focus on your leads, warm them up by commenting or liking their updates, before ultimately converting them into customers.
3. InMails
InMails are something you are most likely familiar with. These are private messages you can send directly to any user on the platform, including users you are not connected to. InMails are only available to premium account and Sales Navigator holders, and there is a limited number you can send each month based on your account type.
Sales Navigator account is eligible for 20 monthly InMails, 30 for Sales Navigator Team and 50 for Enterprise account. If used right, InMails are one of the most effective LinkedIn prospecting tools you can use to engage leads and other parties of interest – influencers, for example.
4. CRM Integration
Another useful feature of Sales Navigator, CRM Integration makes it possible to integrate your LinkedIn account with two popular CRM platforms, Microsoft Dynamics and Salesforce.
This means you can now accomplish your tasks without toggling back and forth between your CRM system and Sales Navigator.
5. Sales Navigator Team
As the name might suggest, this feature should be useful for any company with a sales or marketing team on LinkedIn.
It enables sales and/or marketing teams to collaborate more efficiently in reaching their goals, giving each member of the team an ability to:
Save up to 5,000 prospects
Send 30 InMails per month
Access TeamLink, another LinkedIn feature that makes it possible to reach a large audience by making use of connections belonging to the team
Integrate with their own Salesforce/Dynamic account
Access regular reports to monitor sales performance
LinkedIn Premium & Sales Navigator Benefits
No Commercial use Limits
One of the drawbacks of using the free version of LinkedIn is the commercial use limit placed on this type of account. For any business that is serious about generating leads on LinkedIn, the only way to go is to upgrade to the premium version or subscribe to Sales Navigator.
Obviously, the last thing you want when conducting lead generation searches is to lose access to your painstakingly done search results midway through the month. Another functionality you risk losing through a free account is the ability to browse profiles using the People Also Viewed provision.
Ability to Send Unlimited Number of Connection Requests
The best things in life are free is definitely not a statement that applies when it comes to LinkedIn accounts.
LinkedIn users are normally allowed a certain number of connection requests per day. A maximum of 100 invitations is a safe bet to stay on the right side of the law, and you will be prompted to enter a Captcha if you exceed this number.
Now, if you are on a free account, the risks of your account being flagged or banned are marginally higher compared to paid users on LinkedIn Premium and Sales Navigator since you'll likely be considered a spammer. LinkedIn is managed by algorithms that monitor whether or not you are abiding by the rules which tend to favor targeted connections over random and mass linking, so you can only go under the radar for so long.
Unlimited Search Results
LinkedIn is pretty clear on its intentions. It wants recruiters to pay for its services and clearly notes that commercial use limit signals that your intention on LinkedIn is likely to do with commercial purposes such as prospecting and hiring.
This is why they have placed a limit on the number of searches you can conduct using a Basic account, although they have never specified what exactly constitutes a "limit". But the LinkedIn marketing software that is Sales Navigator (as does LinkedIn Premium) enables you to blast through these search limits.
Loyal Customer Support
As with every other product out there, the level of customer experience enjoyed by premium users on LinkedIn is not the same afforded to free subscribers.
If you have a paid account, you're more likely to have your account restored or wait a lesser duration of time for the issue to be resolved in the event you do something that violates LinkedIn's terms of service. For example, reviewing too many profiles or sending too many connection requests, both of which could lead to account flagging or termination.
Conclusion: Start with LinkedIn Sales Navigator Demo
Sales Navigator is without a doubt one of the best LinkedIn prospecting tools. But it does come at a cost, and whether or not this cost is worth it will vary from one company to the next.
If your business is already leveraging LinkedIn for sales, it definitely makes sense to give Sales Navigator a try. It is a great avenue to supplement your existing CRM and take advantage of a social platform boasting over 500 million users.
However, if you are just starting to use LinkedIn for sales, it's best to refrain from diving straight into the subscriptions and learn the ropes of the network first. While you are at it, it's also a good idea to give the LinkedIn Sales Navigator Demo a spin first to establish if the LinkedIn marketing software is worth investing in prior to enrolling for the subscription.
This way, you are in a better position to tell if the potential benefits you stand to reap from Sales Navigator are worth the cost.