Last updated: November 12th, 2021 at 02:43 pm
As a LinkedIn user, you're probably already using the LinkedIn InMail feature. And chances are you're sending out InMails to your connections or prospects, but not all of them are replying back. As such, you might be wondering how to increase LinkedIn InMail response rates? 
The stats: Did you know that InMails get 18-25 percent responses on average? Compare that with the 3 percent response rate for cold emails/calls, and you're sure to be impressed. This is because people are far more willing to respond to a LinkedIn message than traditional calls or emails. 
Sending out your InMail messages to the right audience is essential. Plus, it is also crucial to write perfect messages and use InMail the right way to boost your response rates. 
This comprehensive guide will walk you through the process and steps of writing perfect InMails that will boost your response rates. 
What is InMail on LinkedIn?
So, what does InMail mean on LinkedIn? Well, LinkedIn is an excellent tool for expanding your professional network, but it can be challenging to start conversations with people with whom you aren't connected, such as your 2nd and 3rd-degree connections. That's where InMail comes in to your help! 
This feature lets you send private messages to any LinkedIn user without coming off as too pushy or invasive like other means of communication might sometimes seem (like emailing someone). But remember that you can't send InMails to LinkedIn users who have decided not to receive private messages by switching off the feature in the preference settings.
InMail is a premium feature. This means you'll have to choose a subscription plan to be able to use this messaging tool. Based on your subscription plan, you will get a certain amount of LinkedIn InMail credits to send out messages. 
Related article: ways to leverage LinkedIn InMail more effectively.
But how to send InMail on LinkedIn, you ask! Here's how:
Head over to the profile of the person you want to send an InMail message to. You can use the search bar to find the target profile.

Click on the More button (you can find it in the introduction portion)
Click on Message.
Fill in the Subject line.
Write your message in the text box.
Hit Send, and you're good to go!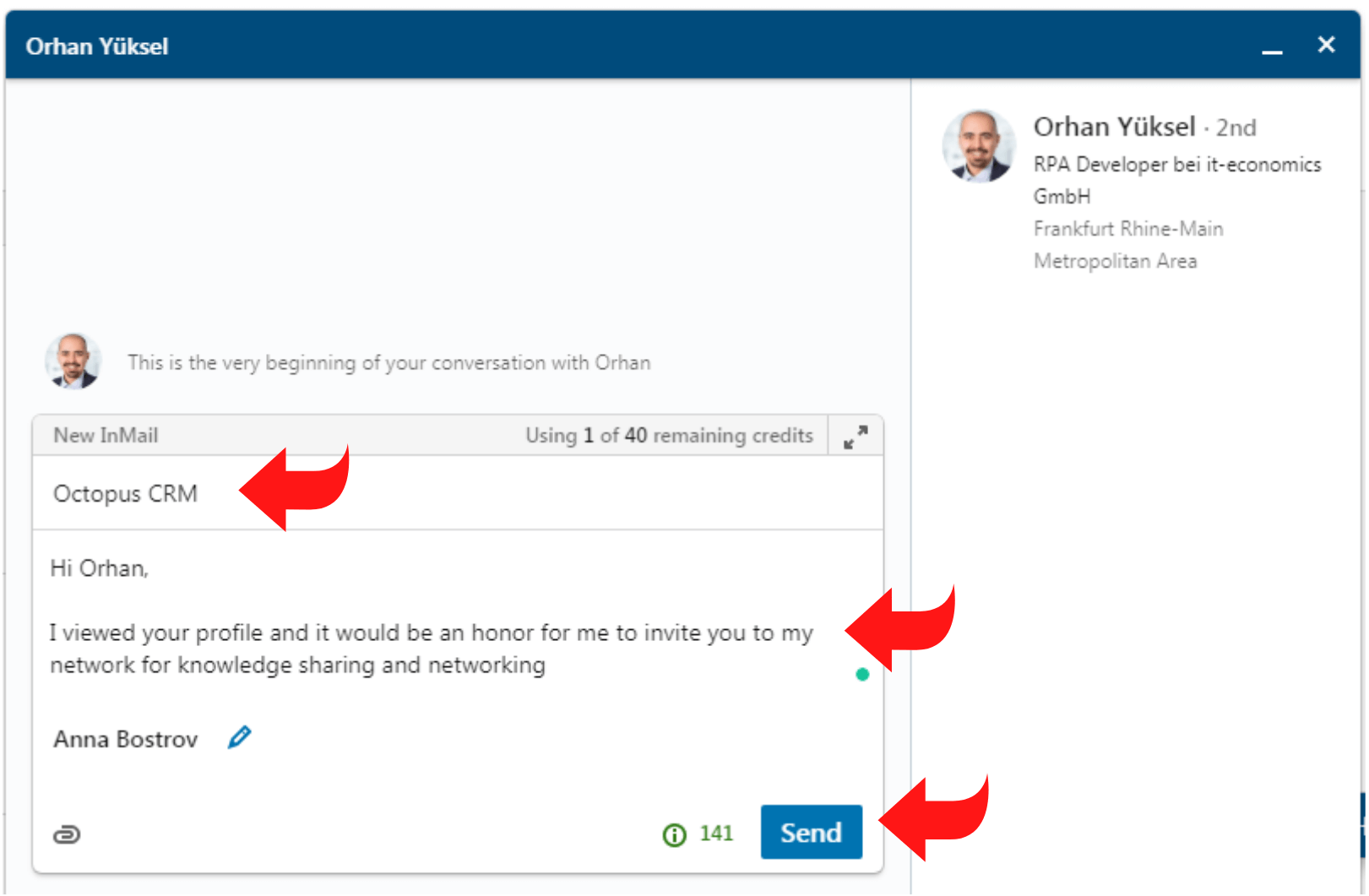 Subject Line for LinkedIn Message
Since LinkedIn InMails get better response rates, you may get carried away by this fact so much so that you pass over the importance of a good subject line and instead start writing the message. But did you know that the best subject line for LinkedIn message is actually straightforward?
Remember that the moment a LinkedIn user gets your message, the assessment starts. That means an unclear subject line or one written in haste is more likely to turn off your prospect.
On the other hand, a clear, simple, and concise subject line presents you as someone easy to communicate and work with, making the receiver more likely to read and respond to your message. 
Here're some quick tips for writing effective InMail subject lines for LinkedIn message:
Include indications that the message is valuable to the receiver. 

Assess your target candidate and personalize your offered benefits.

Make sure the subject line is relevant to the message. 

Keep it simple, short, sweet, clear, and to the point.

Address your target's pain points.

Adapt the subject line to each prospect's needs, desires, or problems.

Refer to shared interests and common grounds like a mutual connection.

Add humor, a sense of urgency, or a question.
Keep in mind that your prospect might be getting dozens or even hundreds of InMails every week. By using the tips above, you're more likely to cut through the noise, get noticed, and have your prospect read your message and even respond.
Message hundreds of 1st level connections in bulk using Octopus CRM LinkedIn automation tool.
LinkedIn InMail Subject Line Examples
Most of these InMail subject line examples apply to the majority of prospects, regardless of whether you're using InMail for approaching recruiters, lead generation, sales, or just networking. 
Learn from these examples and write subject line for linkedIn messages that get noticed.
Example 1: (Shared connection) suggested I shall connect with you…
If there's someone in your company who is connected to your prospect on LinkedIn, it's time to make use of that. Why be strangers with someone who is a mutual connection? By mentioning this relationship in your InMail subject line, the candidate will feel comfortable because now they are not just being contacted by some random stranger but rather a second-degree connection. 
Example 2: Knock, Knock..
Include humor in your subject line to capture the attention of your target and get them to read your message. Instead of writing boring subject lines like "New Job Opening" or "Career Opportunities," it's time you should think out of the box and write humorous subject lines such as this one to stand out.
Example 3: Is this a fit for _______
Suppose you get an InMail message that says: "Is this a fit for (your name)?" Curiosity is sure to have you read the message, we reckon! This subject line makes use of a trigger phrase. And this is just a single example of how you can use trigger words in subject lines. Get creative with this approach, and you'll have endless possibilities!
Example 4: Quick Question on (Topic)
This is a very simple and direct subject line for LinkedIn message. You can replace the Topic with what your question is about. Let's say you work in product development and want to target the top management in this niche. In that case, you can write "Quick Question on Product Development" as your InMail subject line.
8 Tips to Increase LinkedIn InMail Response Rate
1. Don't Forget Your Goal
To start off, always keep the goal for your InMail in your mind because you're not going after the sale in your first message. Instead, it is about opening an opportunity for dialog between you and your prospect. 
Whether it is about career advancement, networking, or sales prospecting, the first thing you should do is establish a rapport with the InMail candidate. Getting responses to these messages will gauge interests and open future opportunities! 
As such, do not write a sales pitch or directly ask the candidate to help you with career opportunities in your first message. 
2. Personalize Your InMail
Personalizing your message helps capture the attention of your prospect. As such, you should first visit the profile of your target or do quick research to find something you both have in common or something interesting. Then mention it in your message, and voila! You have quickly increased your chance of getting a response!
Example: I read your article on [topic]. I found it very interesting and helpful, especially the part on ABC.
3. Ensure Your Message is Short and Clear
Recruiters and prospects receive hundreds of InMails each week. And most of them get frustrated with how long the messages are! A lengthy InMail means a low response rate, which is why clear, concise communication is the key that you can't go wrong with. Always keep your message short, sweet, clear, and to the point so you can get a timely response. 
4. Include Humor in Your Message
Humour is an effective way to make your InMails more individualized, welcoming, and human-oriented. It also helps set a fun and enjoyable tone for communications down the road! For these reasons, you should never shy away from injecting some humor in your InMail messages. That said, though, you don't have to try to appear too funny if it doesn't come naturally.  
5. Start With an Out of The Box Subject Line
Your InMail's subject line can make or break your chances of getting a response from the receiver. It provides you with the first opportunity to impress or disappoint your prospect. So, be sure to write your subject line for LinkedIn message very carefully. 
Remember not to follow the crowd by writing a traditional, boring subject line. Instead, follow the tips and examples given above to entice the receiver of your InMail in the most creative way possible and have them read your message and even respond. 
6. Decide Your InMail Outreach Time in Advance
InMails sent on working days and during working hours are more likely to get a response. It is a good idea to send out your messages from 9 am to 11 am on weekdays. However, this doesn't mean that you should be afraid of testing your InMail response rates on Saturdays. But most people agree that the majority of recruiters and prospects are responsive to InMails from Monday through Thursday. 
7. Include a Call to Action
Make sure your InMail's receiver knows what you want them to do next. A brief call to action (CTA) increases your chance of getting a response. At the end of your message, you could tell the candidate something like:
"If you're interested, shall we have a quick Skype call next Monday? 

Register for the webinar today and get a 30% discount.

Let's meet at your favorite restaurant to discuss further!
8. Offer Value
As stated above, your initial InMail's aim is to establish trust, rapport, and credibility – the foundations for a fruitful relationship. As such, be sure your recipient understands the value you're offering them, what you can do for them, or how you can solve the problem they're facing.