Last updated: November 3rd, 2021 at 02:59 pm
LinkedIn is an invaluable tool to connect with and message recruiters in your desired industry. But how to reach out to a recruiter on LinkedIn in a professional way? Or how to message recruiter on LinkedIn without looking spammy and at the same time increase your chances of getting an interview with the recruiting company?
To start with, you will need to know how to approach a recruiter on LinkedIn. Second, learn to craft a short but powerful message that can generate a response from the receiver. 
This guide covers everything you want to know about messaging recruiters on LinkedIn, starting with InMail.
What is LinkedIn InMail?
LinkedIn InMail is a private messaging service on the professional networking platform. It's designed for professionals looking to connect with and send messages to other LinkedIn users. 
With the paid version of InMail, you can send a message to anyone who has chosen "yes" for receiving messages from LinkedIn users. But if you're using the free version of InMail, you can send private messages only to LinkedIn users connected to you on the platform in one way or another.
Related article on how to get unlimited LinkedIn InMails.
LinkedIn InMail is an excellent tool for networking with recruiters and landing your dream job. But, you need to know how to use it properly, or your messages may get lost in the shuffle.  
How to Message a Recruiter on LinkedIn [3 Steps]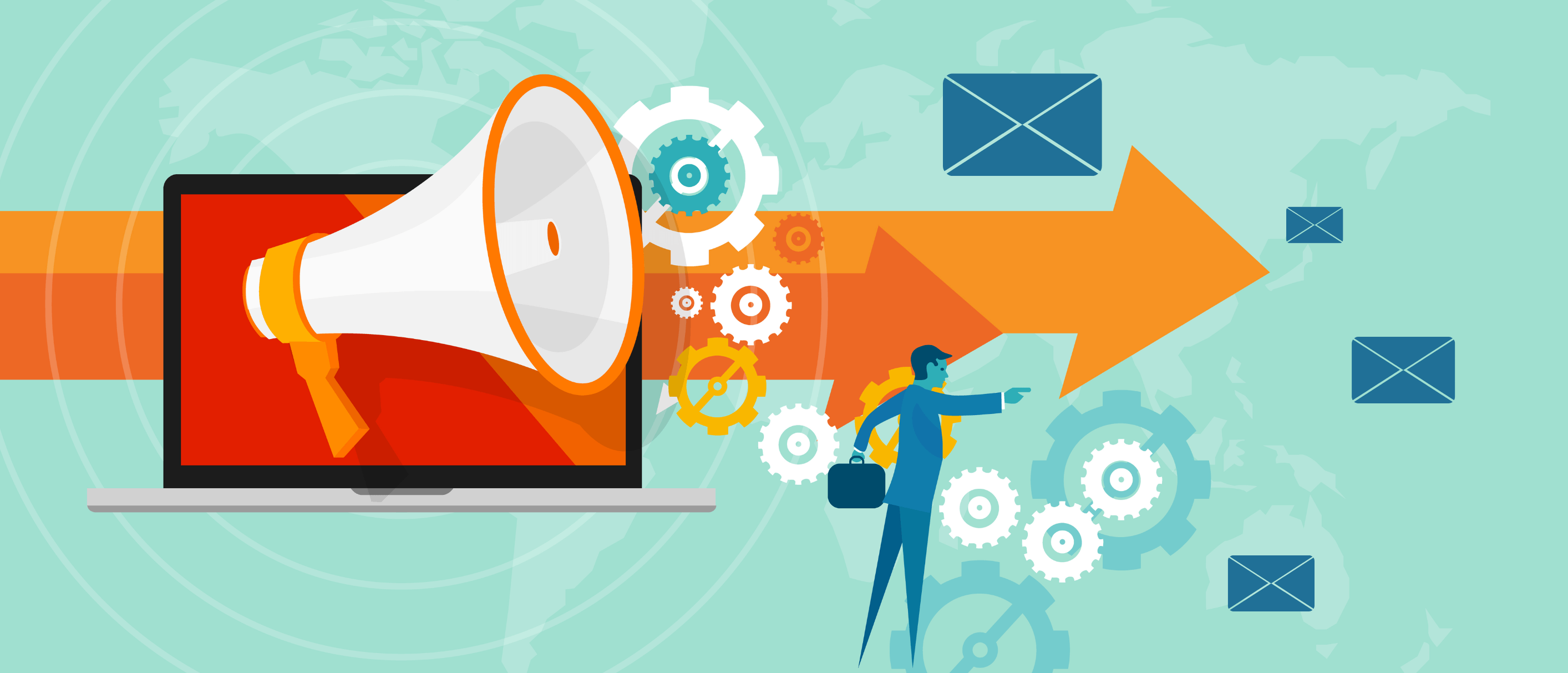 1. Connect With the Recruiter: Make the First Move With a Short but Personalized Message
It is a good idea to first send a connection request when reaching out to a recruiter on LinkedIn. And in doing so, don't forget to include a note with your request. 
Here's how to contact recruiters on LinkedIn and build a good relationship:
Open the profile of the recruiter and click on

Connect.

Next, click on

Add a Note

, and a message box will open up. That's where you'll write the message you want to send along with your connection request.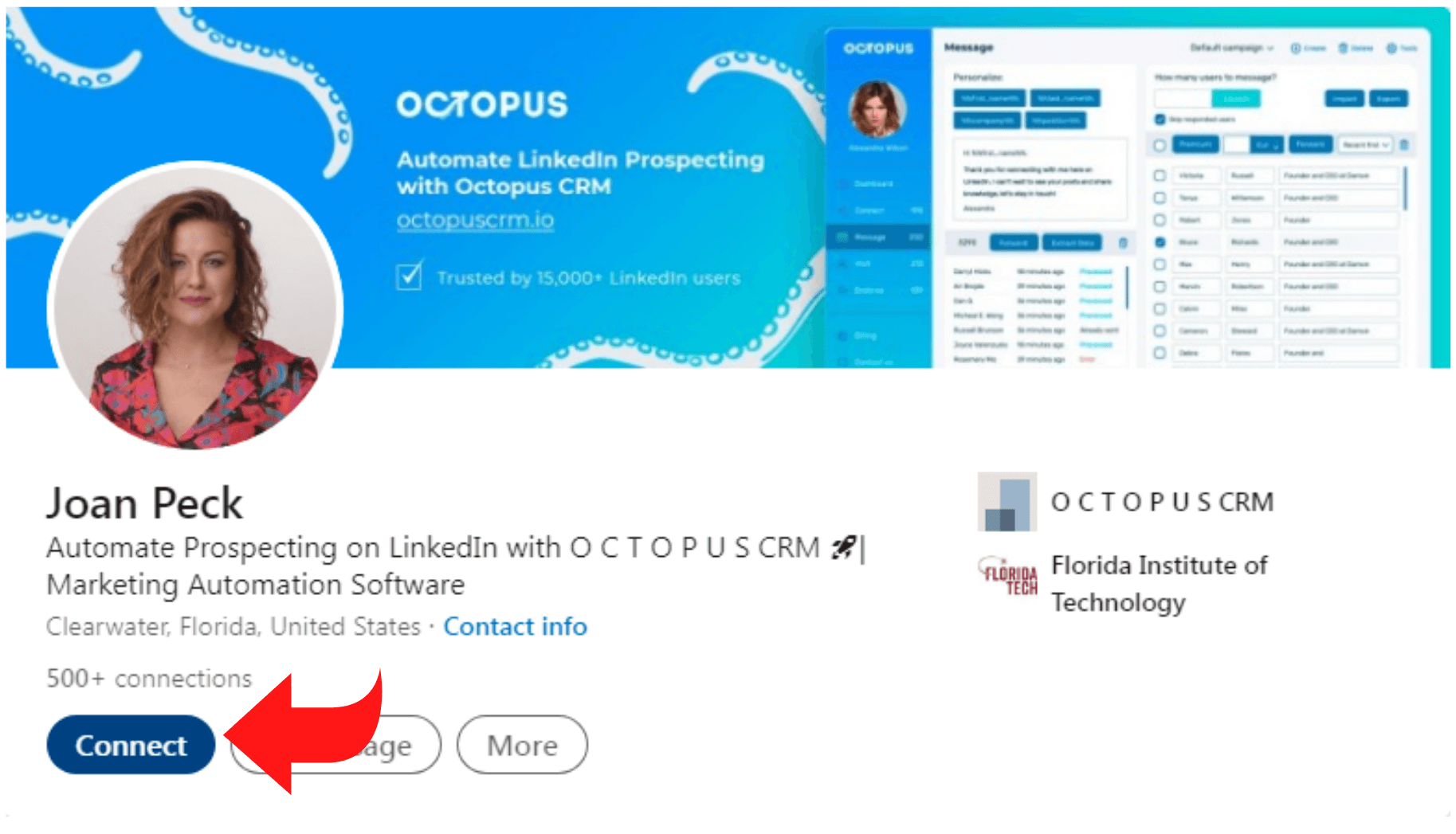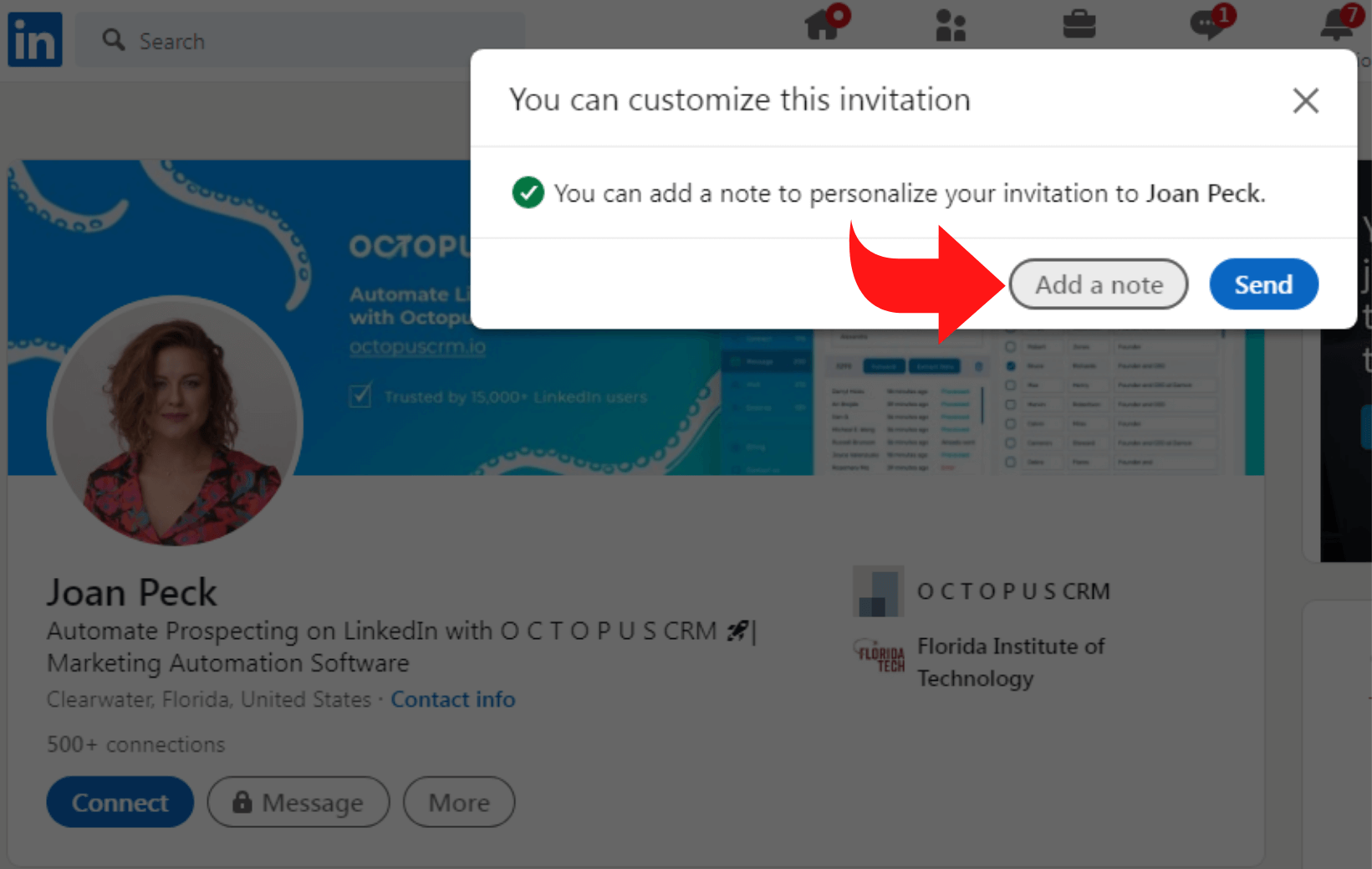 Use the message box to introduce yourself. The more personalized your message, the higher the chance of acceptance and success!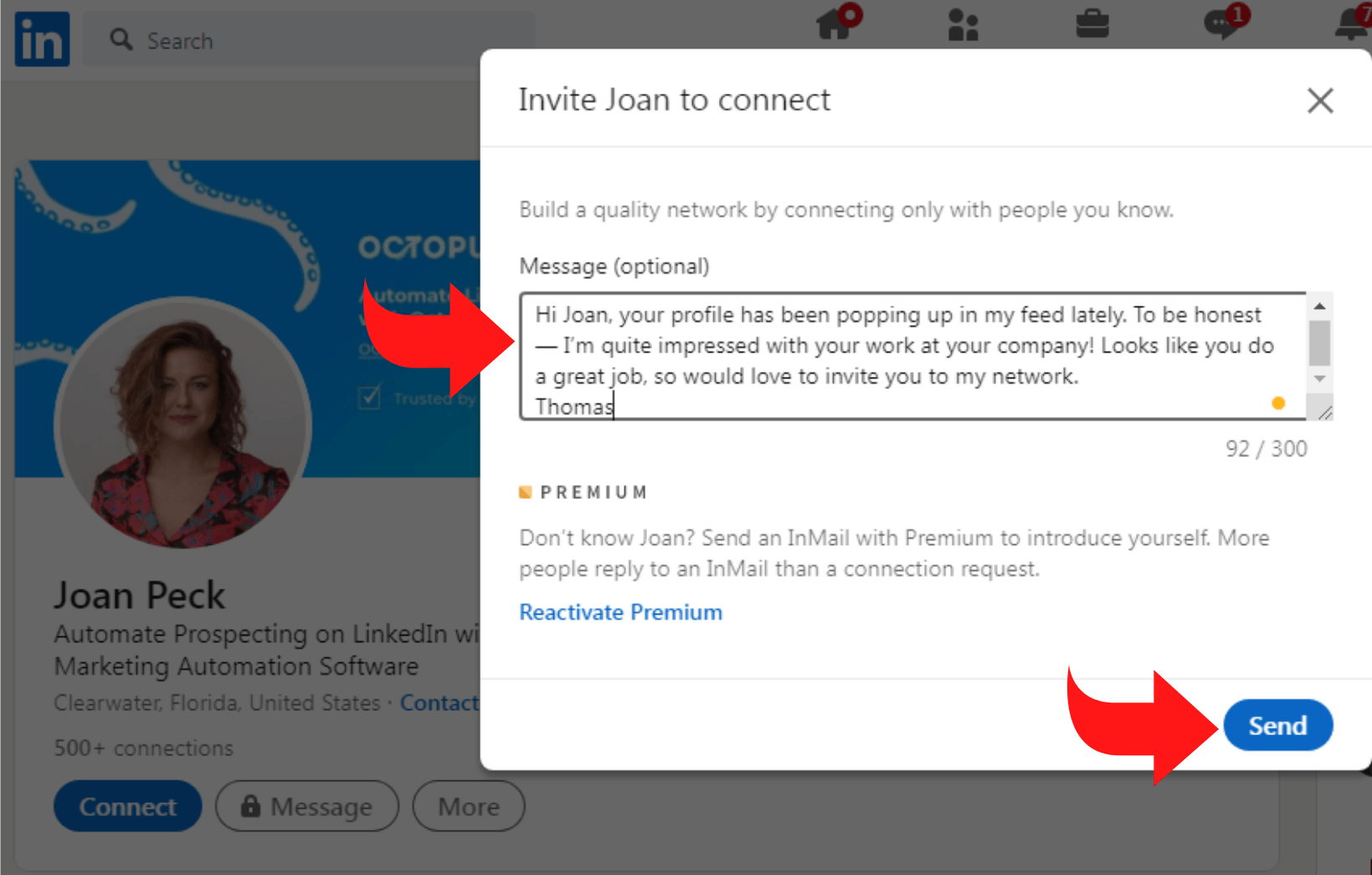 Include something like "I saw your profile" or even ask if they're hiring for this position?

Tell your potential connection why you're writing to them. Keep your message short and to the point. 
2. Send a Thank You Message to the Recruiter for Accepting Your Request
After the recruiter accepts your connection request, do not hesitate to thank them via a personal message. For example, you could thank the recruiter for accepting your request and mention that you are interested in what they have available. Even if there's no current opening in their company, it is always a good idea to network to stay on the recruiters' radars. 
Be sure to send a brief but purposeful message. 

You could even attach your resume with the message.

Most companies require applicants to apply through online portals. Be sure to first apply online before discussing it with the recruiter via LinkedIn.
3. Nurture a Fruitful Relationship
It is important to have a good relationship with recruiters on LinkedIn. If you reach out, they might not be able to help right away but don't give up! 
Keep in touch, and eventually, your efforts will pay off with jobs that match your skills and qualification. 

But beware not to go overboard with

messaging a recruiter on LinkedIn

because that can make you look like a spammer, which can be off-putting for the recruiter, and they may even end up blocking messages from you.
LinkedIn Message Examples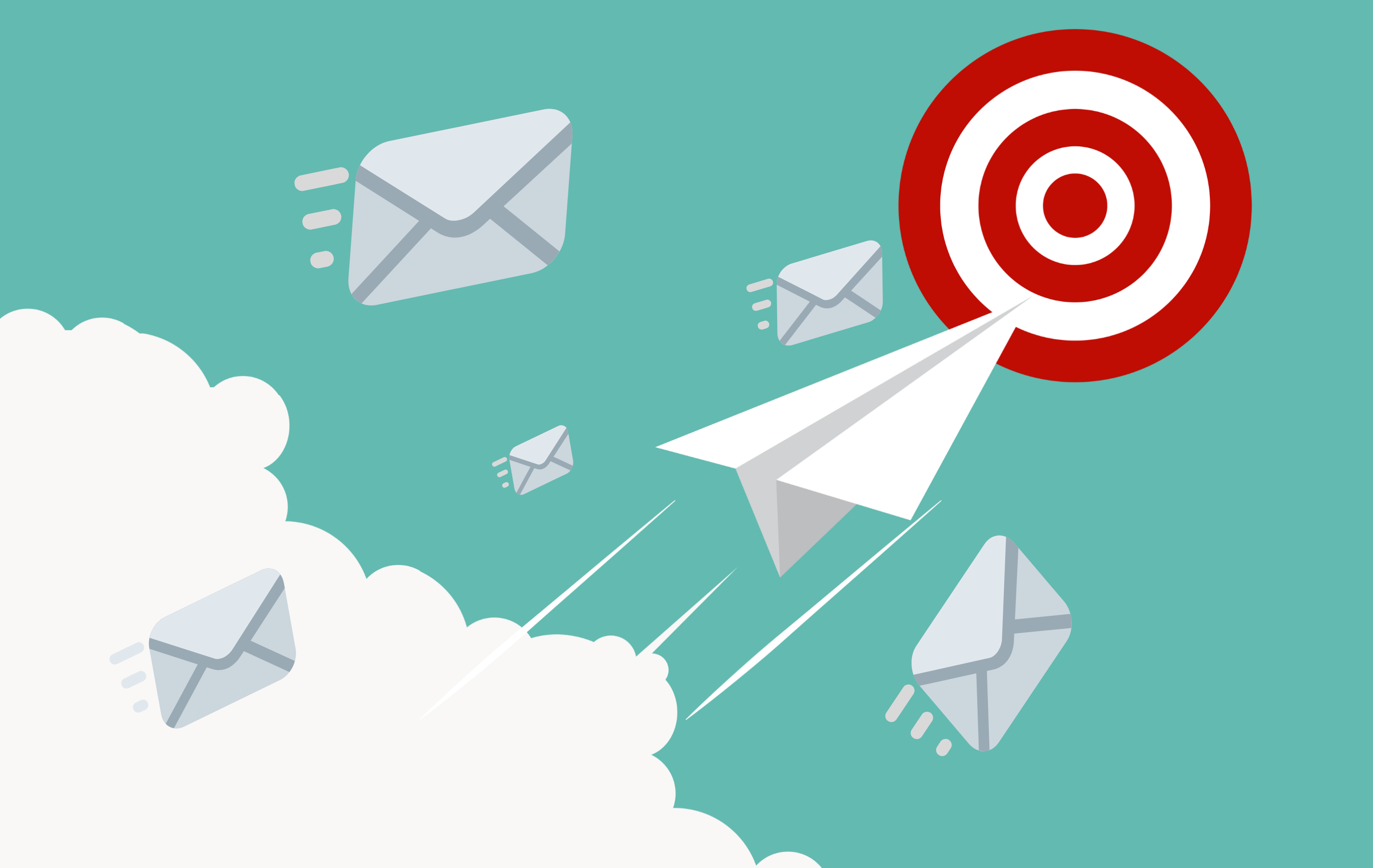 Now that you know how to connect with a recruiter on LinkedIn, it's time to learn how to write a message that can get a response. It can be tricky to know what you should say when sending messages. Be sure to do some research and read a good sample message to recruiter on LinkedIn because that's a good starting point for writing a message that grabs the recipient's attention and makes them want to respond! 
Also, make sure you're targeting the right person. You may not realize this, but people on LinkedIn are very specific about who they'll accept as connections and network with. If someone doesn't share any of your fields of interest or industry, it's unlikely they'll respond. 
Here're some examples of LinkedIn messages that can generate responses:
1. After Submitting Your Application
Hi Eliza,
I am delighted to know that you are currently looking for new employees in your food engineering department. Having a Master of Food Science degree and two years of work experience, I am excited to have a chance to show my skills and knowledge in the field of food science. I believe my skills and experience would be perfect for helping your business grow! I have already submitted my application via your online job portal. And if you have time, I'd love to discuss how my knowledge, skills, and experience match the job. 
Thank you for your time.
2. Inquiring About Opening
Hi George! 
I hope you're having a great day. My name is (First Name), and I am interested in working at your company. I have heard nothing but positive things about the workplace culture in (company name). It would be great if you could consider me for any openings in Marketing or Product Development that might match my skills and experience. Please have a look at my resume (attached). I look forward to meeting you over Skype or in person to discuss how I may be a good fit for a relevant position.
Thank you so much for reading this message.
3. To Inquire if a Position is Still Open
Hi Chris,
I'm writing to ask about the job opening for a gym instructor that I saw on a LinkedIn job board. The ad was placed over a month ago now (which sadly has since been taken down), do you happen to know if someone filled this position already? If not, then would there be any chance we could discuss how my qualification and experience match the job requirements? 
Thank you very much and best wishes!
4. Just Networking
Hello Jamie! 
I'm a digital marketing professional seeking connections and acquaintances in the industry. I just read your article about next-generation marketing practices on www.digimarkets.com. It was an excellent and valuable read for me today, so I just wanted to say hello and connect on LinkedIn! Hope all is well with you today 🙂
Thank you so much!!
5. Asking About Internship Opportunities
Hi Rachel,
I am currently enrolled in a master's degree in data science at York University. I have been following your company on LinkedIn for quite some time now and would like to ask if you'd have any positions available for interns this summer? 
I have experience in data analysis and programming languages, such as Python or R (my favorite). I am attaching my resume here just in case any opportunity comes up.
I look forward to hearing from you.
Thank you.
What to Say to a Recruiter on LinkedIn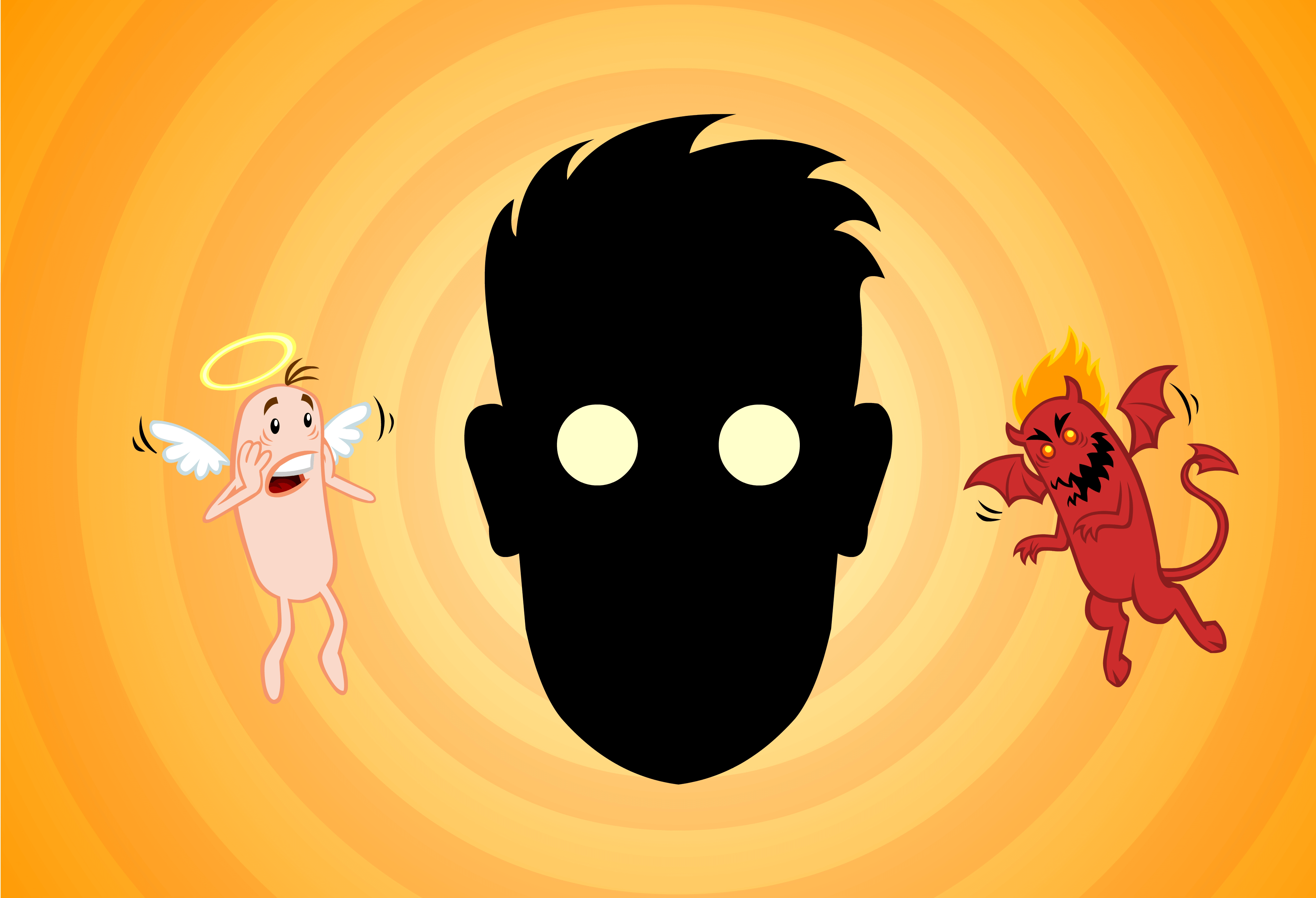 A polite and professional approach can help you to get your point across quickly. Remember that the receiver will be skimming your message, so try not to include anything in there which could confuse them or distract them from what's really important. Write things that are relevant to their needs or the job description. 
A good way of doing this would be simply to ask for something small at first. And then, if it seems appropriate, by all means, request more information or send an attachment after careful consideration. Do not abruptly ask them to help you get a job. 
Also, make sure to personalize your message.
Write something like this:
"Hi John, I hope this message finds you well. I see that you're working in the biotech industry in the Bay Area. I also come from a similar professional background, so I wanted to introduce myself as someone keen on working with biotech companies in and around the Bay Area. Would you mind if I could send you my resume?"
What Not to Say to a Recruiter on LinkedIn
Don't write a generic message. Instead, be specific to catch your recipient's attention.

Avoid sending a wall of text where you talk only about yourself.

Don't send very short messages, such as

Hi, can you help me get a job!

Avoid sending the same message to all recruiters. Instead, personalize each message to what the recruiter might be looking for.

Don't sound rude or demanding.

Don't ask the recruiter to visit your profile and suggest a job.

Always proofread your message before hitting the send button. 
How to Respond to Recruiters on LinkedIn
Sending a message to hiring manager on LinkedIn is not the end because a single note isn't going to land you a job. Instead, you have to interact with and network with the recruiter to prove your worth. And in doing so, you must know how to respond to recruiters on the network. 
When you get a reply from a recruiter that you messaged, the first step should always be to respond and see what comes next- whether this means getting more info or having an interview.
If You're Not Interested
Thank the hiring manager for the response and mention that your current circumstances won't allow you to accept the opportunity. If you are open but want something different from the available role, let them know to assure that any future opportunities will only involve roles that match up with your interests, skills, and experience. 
If You're Interested
If you're interested in the opportunity, you could ask for more information. Or maybe you'd want to ask the hiring manager to send you a copy of the job specs or suggest a Skype or in-person meeting to have an open discussion about the opportunity. 
Here's an example:
Hi Nathan, 
Thank you for getting in touch. It sounds like something that would be a good fit for me, so I'd love to have an initial phone call or Skype conversation with your team! I am interested in learning more about this opportunity before making a decision. If you have time, can we discuss it further?
Thank you again for offering me the opportunity!