Building great relationships on LinkedIn takes more than just interacting with individuals; it necessitates a planned and targeted strategy. Being an expert at cultivating relationships with your LinkedIn contacts can lead to countless chances in a digital environment where professional networking has taken center stage.
In today's world, cultivating relationships with LinkedIn contacts is essential for professional success. You may use several efficient tactics to establish connections that are more than just digital encounters. Personalized and sincere interaction is crucial to start. Take the time to look over your connections' profiles, ascertain their interests, and modify your messages as necessary. You may build relationships with your LinkedIn contacts by genuinely showing interest in their work or accomplishments.
Remember that creating connections on LinkedIn takes work, authenticity, and regular interaction, but the benefits of having strong professional networking on LinkedIn are tremendous.
How to Build Strong Relationships on LinkedIn
Building solid relationships on the LinkedIn platform takes deliberate participation and human touch; having a LinkedIn profile alone isn't enough. Let's look at useful tactics and realistic advice that will assist you in creating solid connections on LinkedIn and opening up fresh career prospects.
Optimize Your LinkedIn Profile
Your LinkedIn profile functions as your digital business card. Make sure your profile is optimized to leave an excellent first impression by:
Make a Catchy Headline and Summary
Clearly express your knowledge, industry specialization, and unique selling point. Tell your career story, list your accomplishments, and describe your passions and aspirations.
Check our article about the best LinkedIn summary examples that will help you to write your own summary.
Using a Business-Related Profile Photo
Select a picture that accurately represents your professional and personal brand. Visual content has a profound psychological effect. People are much more likely to remember images than any other type of writing. Your LinkedIn profile photo should reflect professionalism.
Adapt Connection Requests to You
Avoid sending out general connection requests when trying to connect with people. By citing mutual connections, shared interests, or particular reasons you'd like to connect, take the time to personalize your requests. The likelihood of acceptance rises when you send a message specifically tailored to the recipient.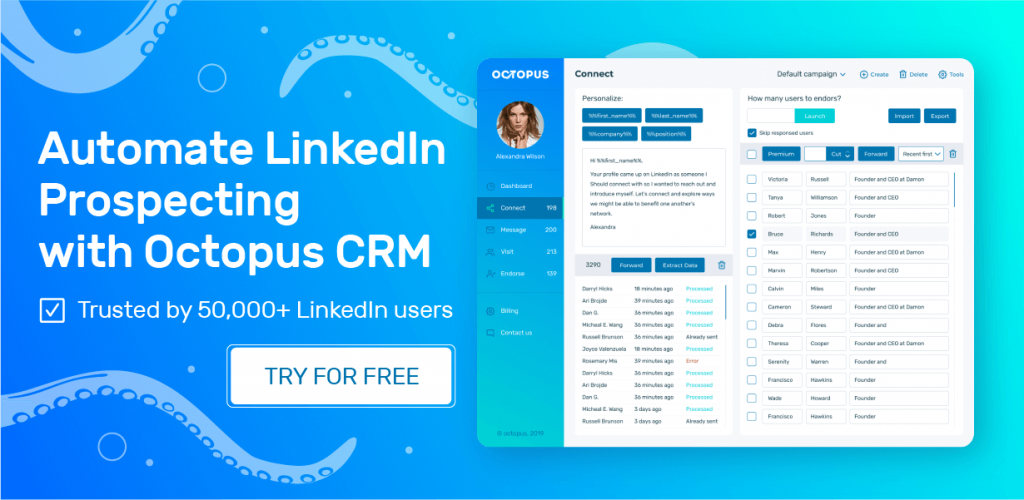 Engage with Relevant Content
LinkedIn is a forum for business discussions and knowledge exchange. Participate in pertinent content by:
Like, Comment, and Share Content
Share insightful observations, pose inquiries, and take part in insightful discussions. This shows off your knowledge and facilitates social interaction.
Post Original Content
Share insightful business information, triumphs, or advice with your network. It establishes you as a thought leader and increases engagement to publish original material.
Develop Meaningful Relationships
Establishing solid connections on LinkedIn calls for a patient, nurturing approach. Here are some tips for developing deep connections:
One-on-One Contact
Send a tailored message to a new contact letting them know you're interested in learning more about their job. To strengthen the bond, arrange a phone call or online coffee date.
Offer Worth
Determine how to help your connections. Share relevant resources with them, expose them to valuable people, or affirm their knowledge and abilities. Adding value, you fortify the relationship and identify yourself as a reliable ally.
Participate in and Plan Events
Join online conferences relating to your field. Engage participants, offer insights, and send them individualized communications as a follow-up.
Utilize LinkedIn's Features
LinkedIn has several capabilities that help improve efforts to develop relationships. Join an industry-specific or interest-based LinkedIn audience to meet other professionals who share your interests. Discuss issues, impart knowledge, and establish personal connections with group members.
To increase your audience reach and visibility, publish articles or contribute to pertinent publications on LinkedIn Pulse. Also, use LinkedIn's messaging feature to continue conversations, send pertinent information, or show someone you appreciate their hard work.
Use Advanced Search Filters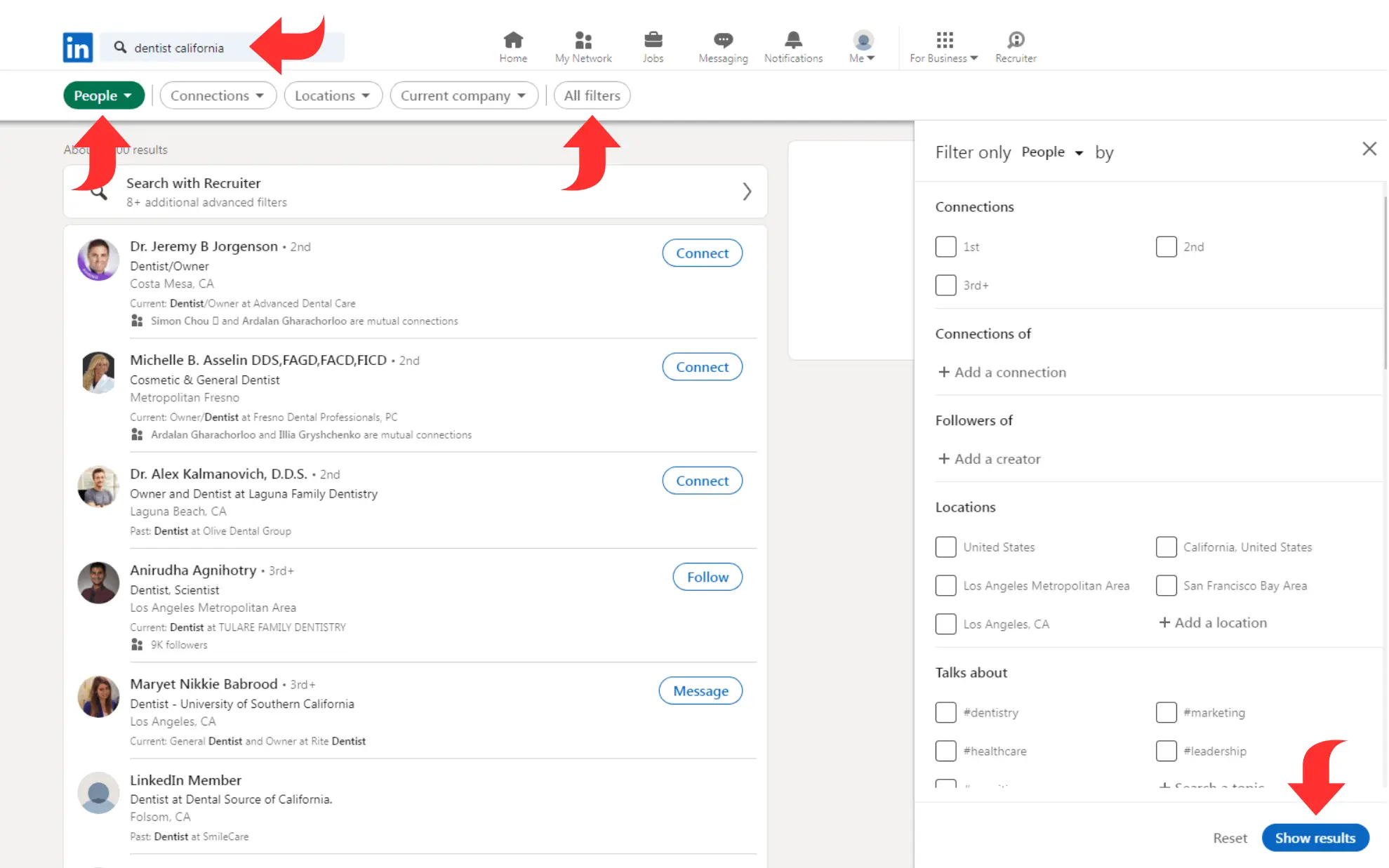 LinkedIn's advanced search filters allow you to narrow your search for certain professionals or companies. Find people compatible with your networking objectives using filters like geography, industry, job title, and relationships. This tailored strategy increases the likelihood of interacting with pertinent professionals and creating lasting relationships.
Join LinkedIn Groups
Joining LinkedIn Groups is an excellent method to meet people who work in your sector or have similar interests. Join relevant groups, engage in conversation, contribute your views, and make meaningful contributions. You can increase your network and develop relationships with other group members by continuously adding to the conversation.
Ask for Recommendations
Recommendations and endorsements are two ways to demonstrate your experience and skills to others. Request endorsements from coworkers, clients, or mentors who can attest to the quality of your work. Similarly, spare some time to commend your connections' abilities. These actions fortify bonds and raise the likelihood of reciprocity.
Celebrate Milestones and Interact Personally
LinkedIn isn't simply a place to showcase professional accomplishments; it's also a chance to interact personally. Congratulate your contacts on professional achievements like promotions or anniversaries. Send customized notes for noteworthy events, such as birthdays or holidays. These actions strengthen the relationship by demonstrating appreciation for the person hiding behind the professional facade.
Attend and Host Virtual Event
LinkedIn hosts various virtual events, such as webinars, panel discussions, and conferences. Attend these events to increase your knowledge, network, and interact with business leaders. Additionally, think about hosting your own webinars or virtual events. Organizing an event may establish yourself as a thought leader and build stronger relationships with guests.
Use LinkedIn Polls and Surveys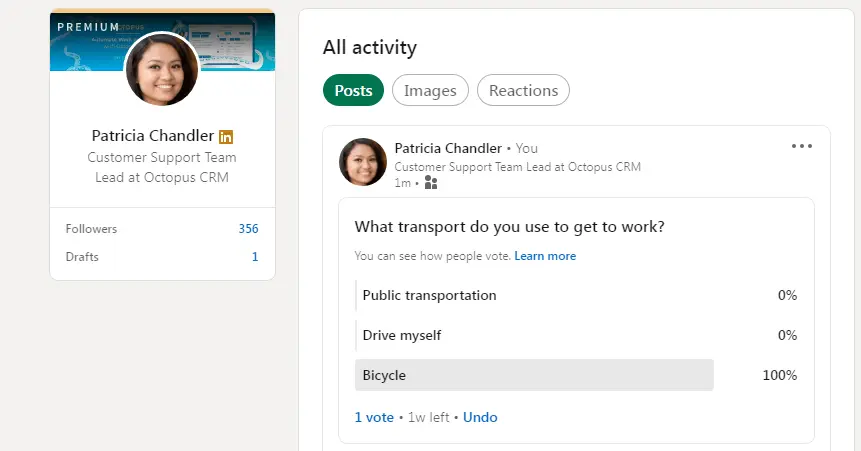 Participate in discussions with your network using LinkedIn Polls or surveys. You can get more information and opinions by posing challenging questions, inviting participation, sparking discussions, and raising participation rates. This interactive strategy can encourage insightful debates and assist you in cultivating relationships with those who participate in your surveys.
Follow Prominent Profiles
Find influential people in your sector and keep up with their online activity. Like, comment, and share their post to show your engagement. You can gain their attention by regularly connecting with influential people, which will raise your profile. Connecting with influential people in your field may lead to opportunities for career advancement, mentoring, or collaboration.
Use Direct Messages Strategically
LinkedIn's direct messaging tool allows you to contact directly with your connections. Initiate dialogues, show interest in someone's work, or exchange functional materials by strategically using this tool. Make sure your messages give value and promote meaningful relationships by being considerate of both personalized and professional messaging.
Use Octopus CRM LinkedIn Automation Software
Consider using Octopus CRM LinkedIn automation tool to maximize your relationship-building efforts. Various features in this tool are intended to improve and streamline your platform interactions. This part will examine how Octopus CRM can help you forge lasting connections with your LinkedIn contacts.
Tailored Connection Requests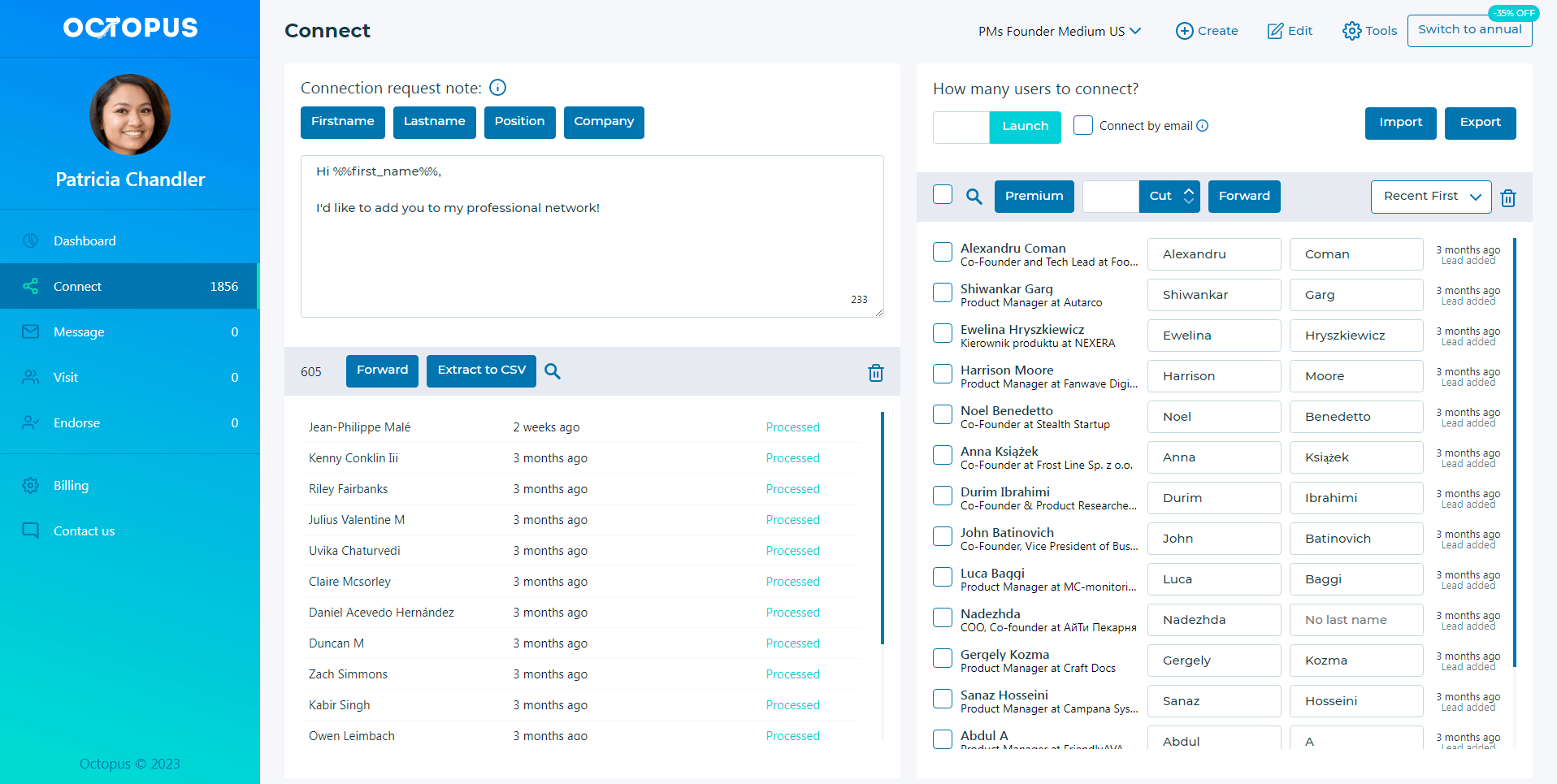 With Octopus CRM, you can send customized connection requests in bulk to different types of LinkedIn accounts of your choice. You may generate connection requests at scale using personalized variables and custom message templates. With this tool, you can save time while giving each connection the personalized attention it needs to flourish.
Auto Follow-Up Messages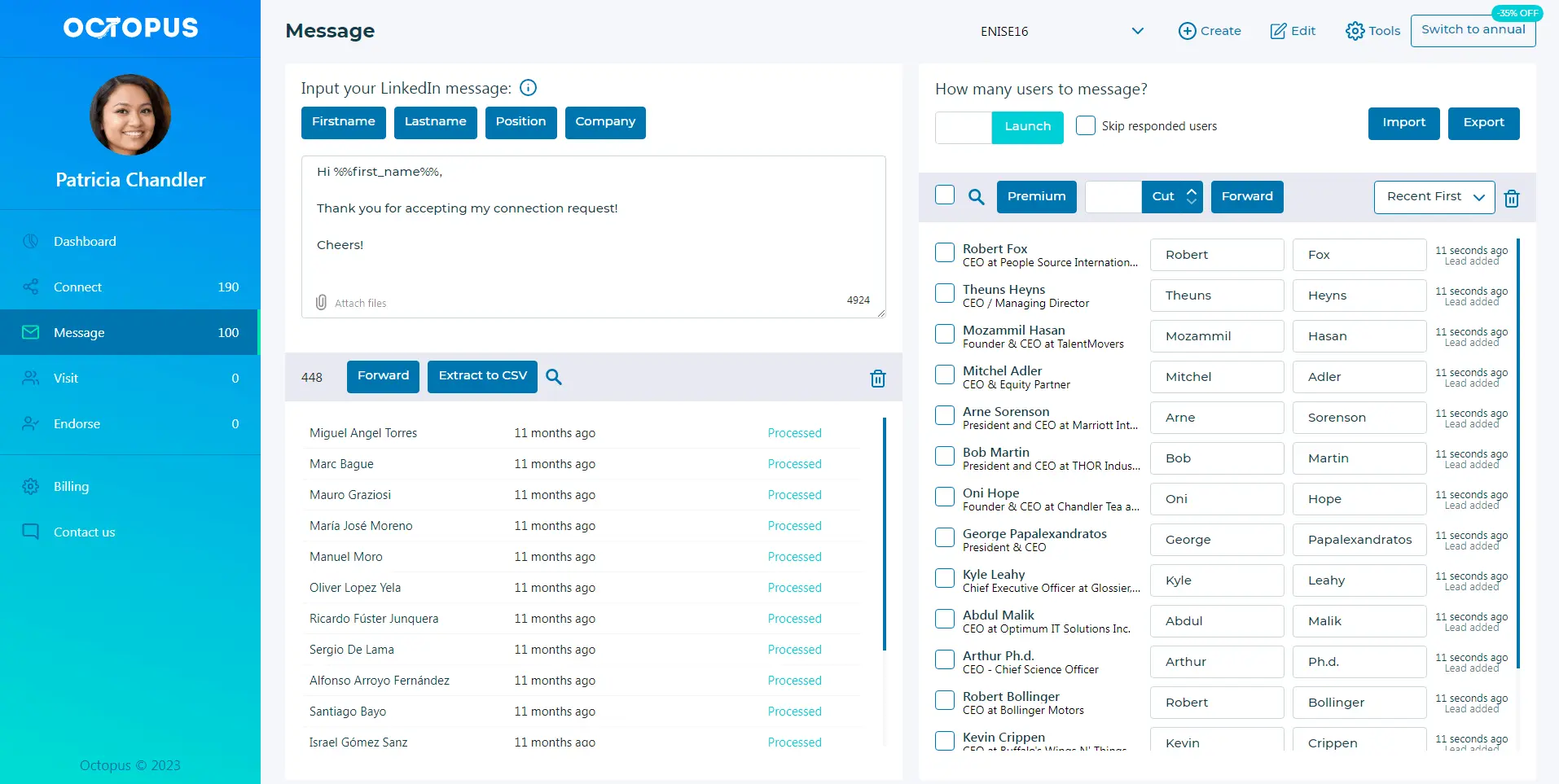 Maintaining relationships with your LinkedIn friends requires regular follow-up. You may automate follow-up communications using Octopus CRM to keep you on top of your interactions. You can keep in touch consistently and express your sincere interest in your connections' work by setting up customized follow-up communications.
Message Sequences
Developing connections frequently entails some interactions and talks. Using the message sequences functionality of Octopus CRM, you can design automated messaging campaigns. A series of customized communications that engage your connections over time can be created, enabling you to establish rapport and grow your relationships methodically.
LinkedIn Profile Views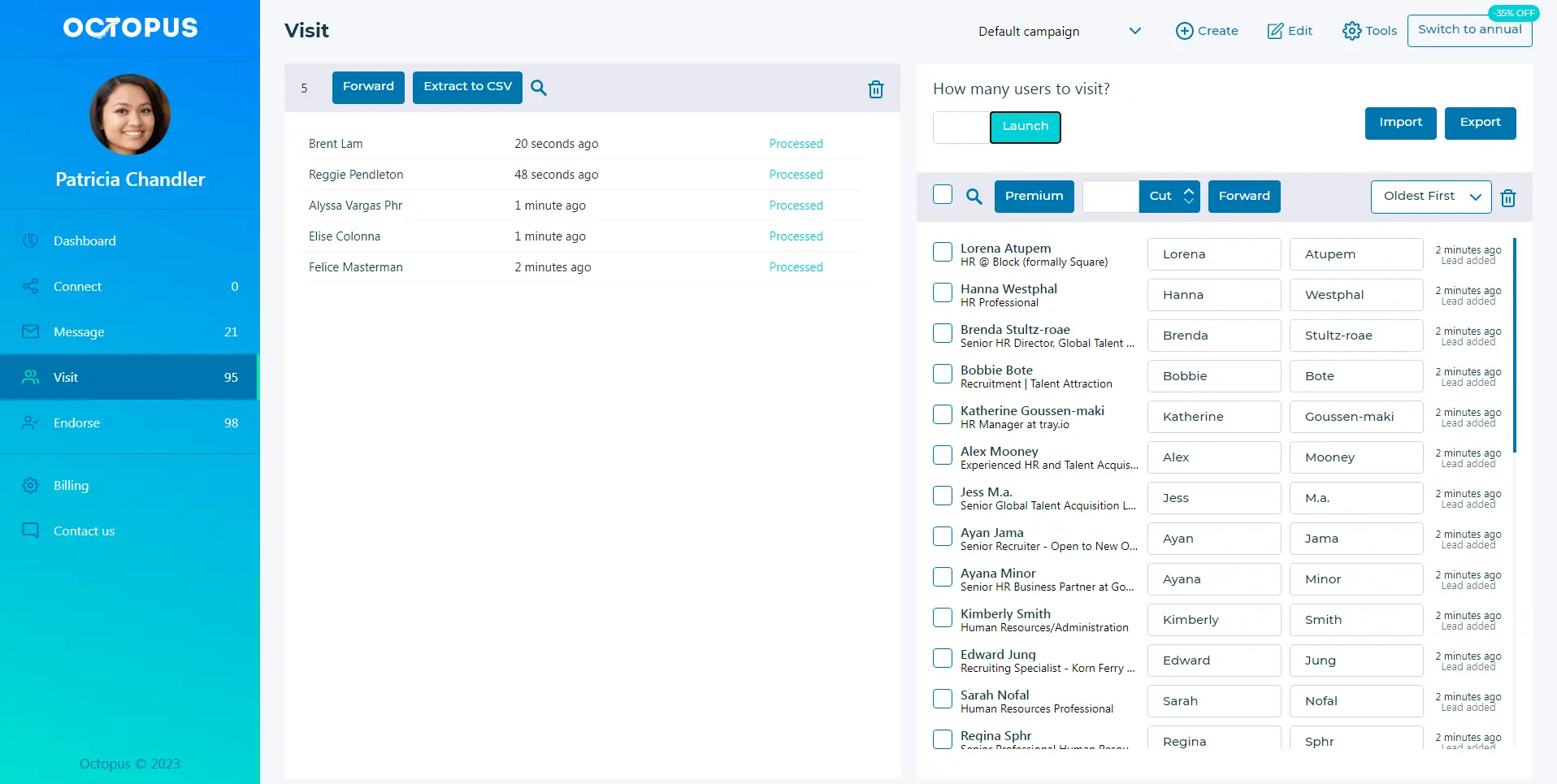 Octopus CRM includes a profile viewing tool that allows you to visit the profiles of your preferred contacts automatically. You raise awareness and generate leads on LinkedIn. Increased engagement and the potential for natural interactions can result from this.
Engaging with Content
Engaging with relevant content is an effective LinkedIn relationship-building tactic. You may automate actions like liking using Octopus CRM. Participating in their material may spark insightful discussions, prove your knowledge, and fortify your connections.
Tagging and Organizing Connections
Maintaining organization among your LinkedIn contacts is crucial for successful relationship management. You can tag and categorize your connections using Octopus CRM.
Remember that developing solid connections on LinkedIn calls for continued work, genuineness, and genuine interest in others. By practicing these methods and being actively involved with your network, you'll build a solid professional ecosystem that can advance your career and lead to new opportunities.
Related article: Why You Need Octopus CRM for Lead Generation
What Is the Benefit of Using LinkedIn?
The professional networking continent that is LinkedIn offers advantages that make it a crucial tool in the modern digital age. LinkedIn offers many rewards for ambitious professionals, job seekers, and business owners looking to build their networks.
First and foremost, LinkedIn enables you to network globally with business leaders, like-minded people, and potential employers. These connections can pave the way for exciting new career prospects. Second, it operates as a robust platform for branding yourself, allowing you to present your abilities via an expert profile that serves as your online resume. LinkedIn's job search tools also offer an extensive database of employment prospects, ensuring you stay updated on pertinent jobs in your field.
LinkedIn Premium provides cutting-edge technologies for focused networking, increased visibility, and the ability to directly contact prospective customers or business partners. Overall, using LinkedIn offers a wealth of options for professional development, networking, job searching, and knowledge expansion, making it an excellent tool for anyone trying to succeed in the contemporary professional environment.
Conclusion
LinkedIn has become essential for people looking to forge lasting connections and seize new possibilities. You may position yourself as a reputable and well-respected professional by making the most of LinkedIn's capabilities, boosting your profile, customizing connection requests, interacting with pertinent information, building meaningful relationships, and maximizing your connections. Developing connections takes time and effort, so be persistent, sincere, and patient. You'll open doors to career growth, partnerships, and a world of success opportunities as you build great relationships with your contacts on LinkedIn.