For business owners, having a robust marketing strategy to reach the right people at the right time with a compelling outreach message is critical to hitting business goals. LinkedIn is making the task easier with innovative features like LinkedIn Audience Network.
In this comprehensive guide, we'll discuss how LinkedIn transformed into the perfect channel to find jobs, internships, pick new skills, grow sales, and connect with potential clients. Here we'll discuss:
How you can find your target audience on LinkedIn

How the LinkedIn Audience Network feature helps you laser-focus on your target market

Top ways you can build your consumer base by leveraging LinkedIn Ads

And most importantly, how LinkedIn automation tools can help you reach your target audience
Let's get started!
How to Find Your Target Audience on LinkedIn
With over 4.70 billion people actively using social media, finding your target audience can be tricky. LinkedIn simplifies this with its new updates, easy-to-use features, and innovative targeting capabilities.
With LinkedIn's targeting capabilities, you can reach and engage your target audience more quickly. Here are several tags you can use to get started:
Location –

Choose between a particular continent and several miles within your states to define where your ideal buyer resides

Company –

You can enter a specific company name, or you can determine the company size of your ideal buyer persona

Job Title –

Narrow your audience by entering job titles or by specifying job function and seniority

Skills –

Enter the skill you want to see in your target audience, such as "PPC," "Graphic Designer," or "Artist."
What is a Targeted Audience?
Before we dive into the complexity of pinpointing and engaging your target audience, let's discuss the basics. What exactly is a target audience, anyway?
Your target audience is a group of people or potential customers you can reach by leveraging a communication medium. These viewers will most likely find your service or product exciting and beneficial. As such, they're likely to become a part of your sales funnel and convert into profit-generating customers.
Typically, your target audience will share a set of characteristics, such as:
Age Range

Gender

Job

Place of Residence

Relationship Status

Revenue

Work Field
These shared behaviors or demographics depend on the criteria you implement to find your target audience. Consider creating your ideal customer persona to find your target audience e
Finding Your Target Audience on LinkedIn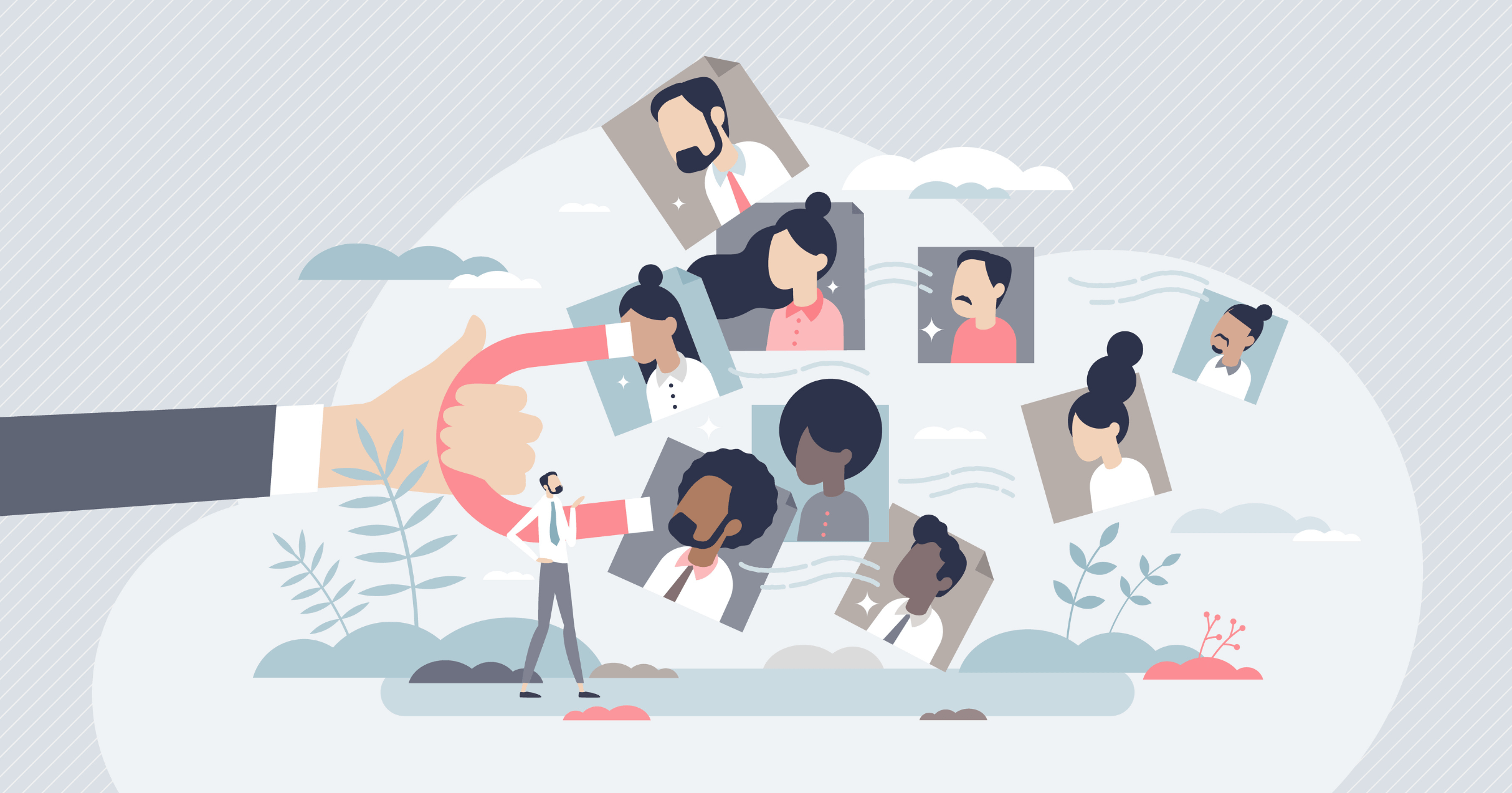 Finding your ideal audience on LinkedIn is a straightforward task. All you have to do is ask yourself, "Who will want to engage with my brand?" After that, consider whether you'll define your target audience in terms of geographic region, authority level, industry type, etc.
If you're unsure, you can follow these steps to discover your target market:
Start with LinkedIn Search Categories
Narrow your target audience by getting started with LinkedIn's search capabilities. Here's a step-by-step guide to accessing the different categories:
Open LinkedIn on your desktop or mobile

Enter your LinkedIn username and password

Locate the search box (magnifying-glass icon) at the top-left corner

Write your keyword, such as Content Writer (anything related to the title, summary, or experience of your ideal buyer persona)

Click the "See All Results" button located at the bottom of the drop-down menu

After that, you can choose new filters (main search categories) on the search result page:
o   Current or Past Company
o   Industry
o   Locations
o   Open to
o   Profile Language
o   School
o   Service Categories
o   The Connections of Your Connection
o   Type of Connections
o   Additional Keywords (first or last name, title, company, and school)
Here's a bonus tip: if you have a Sales Navigator, you can unlock additional filters on the "Lead" dashboard-like "Years in Current Company" and "Seniority Level."
Related article: How to Use LinkedIn Sales Navigator
Try LinkedIn Search by Name
Picture this: you're sitting at your work desk trying to brainstorm people you might know that match your ICP. You remember you met Lucy at a conference several months ago. Unfortunately, the only thing you do remember is her name and where her company is. What now?
You have two options:
Option # 1
       

Enter the person's full name, first name, or last name into the search bar

       

Or, write the combination of keywords you remember, such as first name, job title, company 
Option # 2
       

Locate the "People" search page under the search bar

       

Choose the "All Filters" button

       

Use the combination of keywords you have
Choose to Conduct a Search by Email
We're all aware of how you can extract emails from LinkedIn. But do you know how to find a LinkedIn profile using only their email?
You can achieve this by using your LinkedIn and Microsoft Outlook accounts:
       

Visit your Outlook account and select the "People" section

       

Select the "New Contact" button and fill out the information you remember

       

Click the "Create" option to access the Contact dashboard

       

Here, choose the "LinkedIn" button and link your accounts

       

Click back to your Outlook account, where the LinkedIn profile magically appears!
Leveraging the LinkedIn Company Search Option
Finding your target company simplifies the process of finding new prospects. You can check their employees and engage them by sending hyper-personalized outreach messages.
Here's how you can find targeted businesses:
       

Select the "Company" category located under the LinkedIn search bar

       

Click the "All Filters" button

       

Choose the "Additional Search Filters," such as:
o   Company Size
o   Connections
o   Industry
o   Locations
o   Job Listings on LinkedIn
If you own a Sales Navigator account, you can narrow your search by adding the "Annual Revenue" filter.
Posting to Target Your Audience on LinkedIn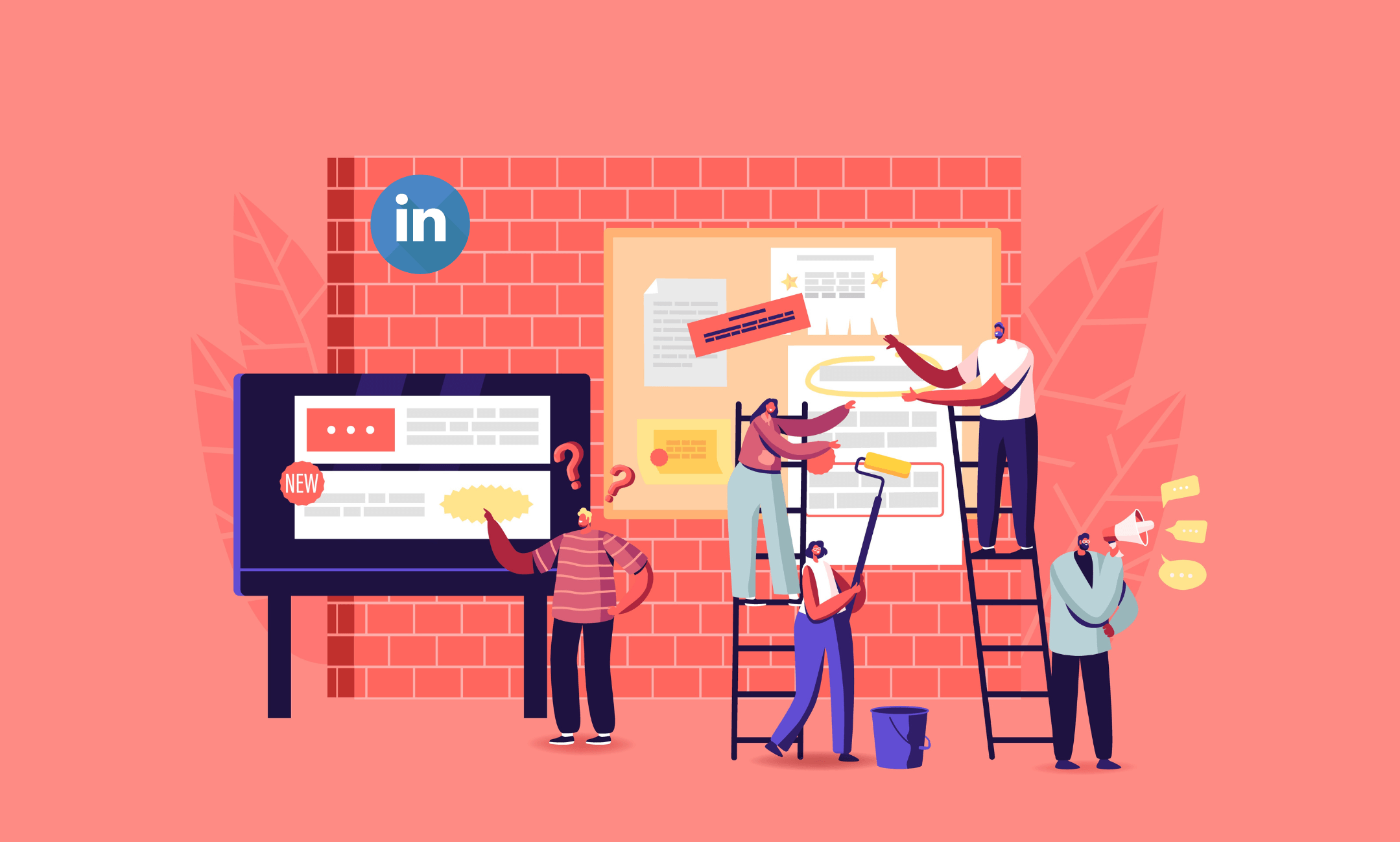 A straightforward yet effective way of building a loyal consumer base is regularly posting high-quality, informative, and compelling content. The best part? It's completely free!
Simply share content on topics relevant to your niche. That way, you can boost brand awareness, enjoy better exposure, and establish yourself as an authority in your field of work.
We recommend picking topics that will likely engage your target audience. Consider talking about your successes, failures, and tips you learned in your work environment. You can also write LinkedIn posts about things that matter to you to humanize your brand and ensure relatability.
Beyond posting content on your timeline, grow brand awareness by posting comments in other professionals' feeds. Leave engaging comments that add value to their content and encourage viewers to click on your profile. Here's what you can do by replying to a post:
       

Help curious members by answering their query

       

Share your experience
Furthermore, you can also leverage the Targeted LinkedIn Page feature to ensure your target audience receives timely notifications. You can determine who accepts updates based on various filters, including organization size, seniority, geography, industry, language preference, and function.
Scheduling Your Post to Reach Your Audience on LinkedIn
Scheduling your social media posts is an excellent way of ensuring you don't miss a day of posting high-quality content for your audience. Leveraging a LinkedIn automation tool helps you save time by eliminating manual tasks and making sure you post content consistently.
The top benefit of scheduling your LinkedIn post is that you can reach your target audience when they're most active. Moreover, keeping your social networks organized and well-scheduled ensures your audience views you as a brand authority.
Here's what scheduling your LinkedIn post will help you achieve:
       

Wasting less time

       

Posting at the right time

       

Touching your audience when they're active
What is a Good Audience Size for LinkedIn?
The ideal audience size for your LinkedIn profile varies depending on your industry and goals. By leveraging innovative tools, you can track your LinkedIn follower growth and the number of engagements.
You'll receive insightful analytics, including follower and visitor metrics. You'll also be able to determine better, more effective ways to engage your target audience and grow your brand.
Alternatively, you can visit LinkedIn's Follower Analytics page to discover follower highlights, follower metrics, follower demographic, and companies to track features.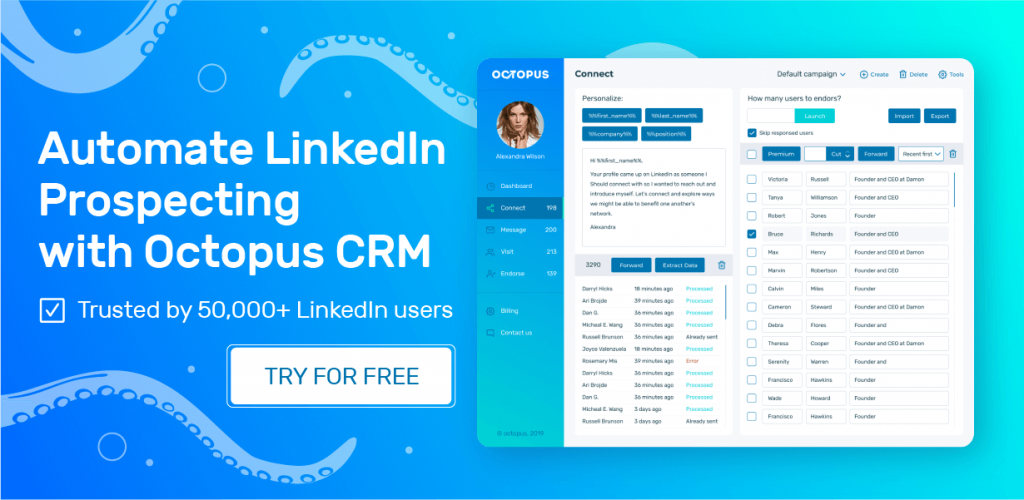 Build Your Audience with LinkedIn Ads
Using LinkedIn Ads is an excellent and effective way of ensuring your brand's voice reaches its target audience. If you haven't used this feature yet, it's time to start!
Step-by-Step Guide to Creating Your LinkedIn Ad Campaign
Let's start by discussing how you can create a killer LinkedIn Ad Campaign in six easy steps:
Step # 1: Creating a LinkedIn Page (If You Don't Have One)
You need a LinkedIn page if you want to build an ad campaign, sponsored content, and sponsored messaging ads. Here's how you can set one up:
       

Navigate the "Work" icon at the top-right corner of the LinkedIn homepage 

       

Locate the "Create a Company Page" button by scrolling down

       

Choose the "Page Type" that matches your needs:
o   Company 
o   Showcase Page
o   Educational Institution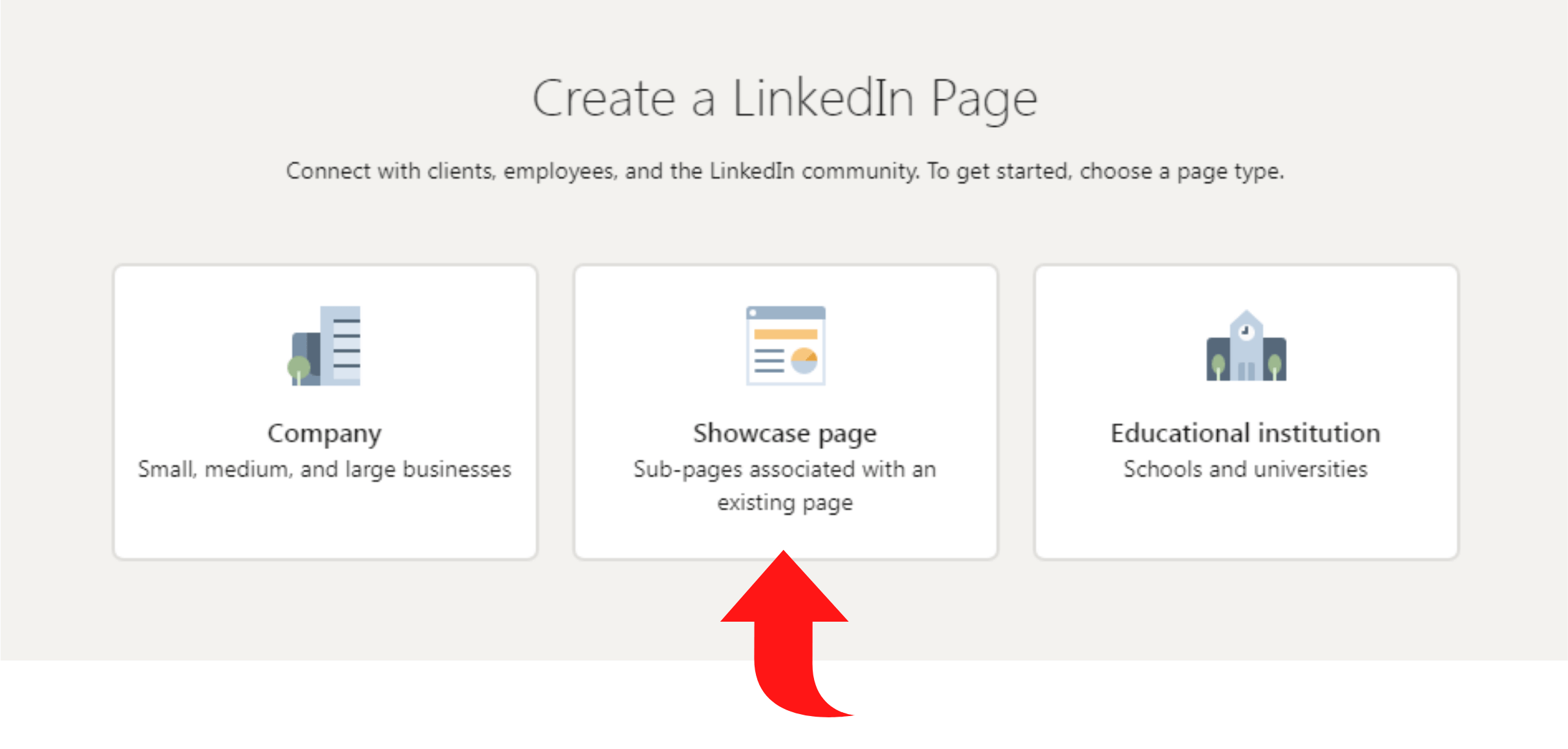 o   Add your:
o   Page Identity
o   Company/Institution Details
o   Profile Information 
       

Click the "Verification" box and choose the "Create a Page" button

       

Choose the "Start Building Your Page" button to finish creating your LinkedIn Page
Step # 2: Signing in to Campaign Manager
The Campaign Manager platform, or LinkedIn's ad manager, is LinkedIn's advertising platform. After you create your account, the platform offers you an in-depth guide to setting up a campaign, including running the ad campaign and managing your budget.
Step # 3: Choosing Your Ad Objective
Your ad objective is the action you want to inspire your target audience to take upon seeing your ad. Choosing ad objectives allows you to unlock ad formats, features, and bid types that match your unique business needs.
Here are your objective ad options:
o   Brand Awareness
o   Website Visits
o   Engagement
o   Video Views
o   Lead Generation
o   Job Applicants
o   Website Conversions
Step # 4: Defining Your Target Audience
Now, you need to build your target audience for the ad campaign.
Start by determining professional traits, such as job title, industry type, seniority, and company name. After that, you can target by professional or personal interests or customize by leveraging your database. For that, you can use the "LinkedIn Matched Audiences" feature for retargeting people visiting your website or uploading a list of emails.
LinkedIn recommends having a target audience of 50,000 for Sponsored Content and Text Ads and 15,000 for Message Ads.
Step # 5: Selecting Your Ad Format
Once you build your ad campaign audience, LinkedIn will ask you to choose an ad format. You can choose from the following:
       

Sponsored Content Formats
o   Single Image Ad
o   Video Ad
o   Carousel Image Ad
o   Message Ad
o   Text Ad
o   Dynamic Ad

Step # 6: Creating a Budget and Setting a Schedule
LinkedIn's Campaign Manager will help you create a budget and schedule based on your ideal audience. You can choose to automate your marketing strategy or control costs.
LinkedIn recommends a daily budget of $100 for your first campaign during the initial two to four weeks. As a result, you can identify what number of ads and cost best matches your needs.
But before you kick start your ad campaign journey, you'll have to enter payment information. After adding your first and last name, credit/debit card number, expiration date, and security code, you can launch your campaign!
Top 5 Best Practices to Build Your Target Audience with LinkedIn Ads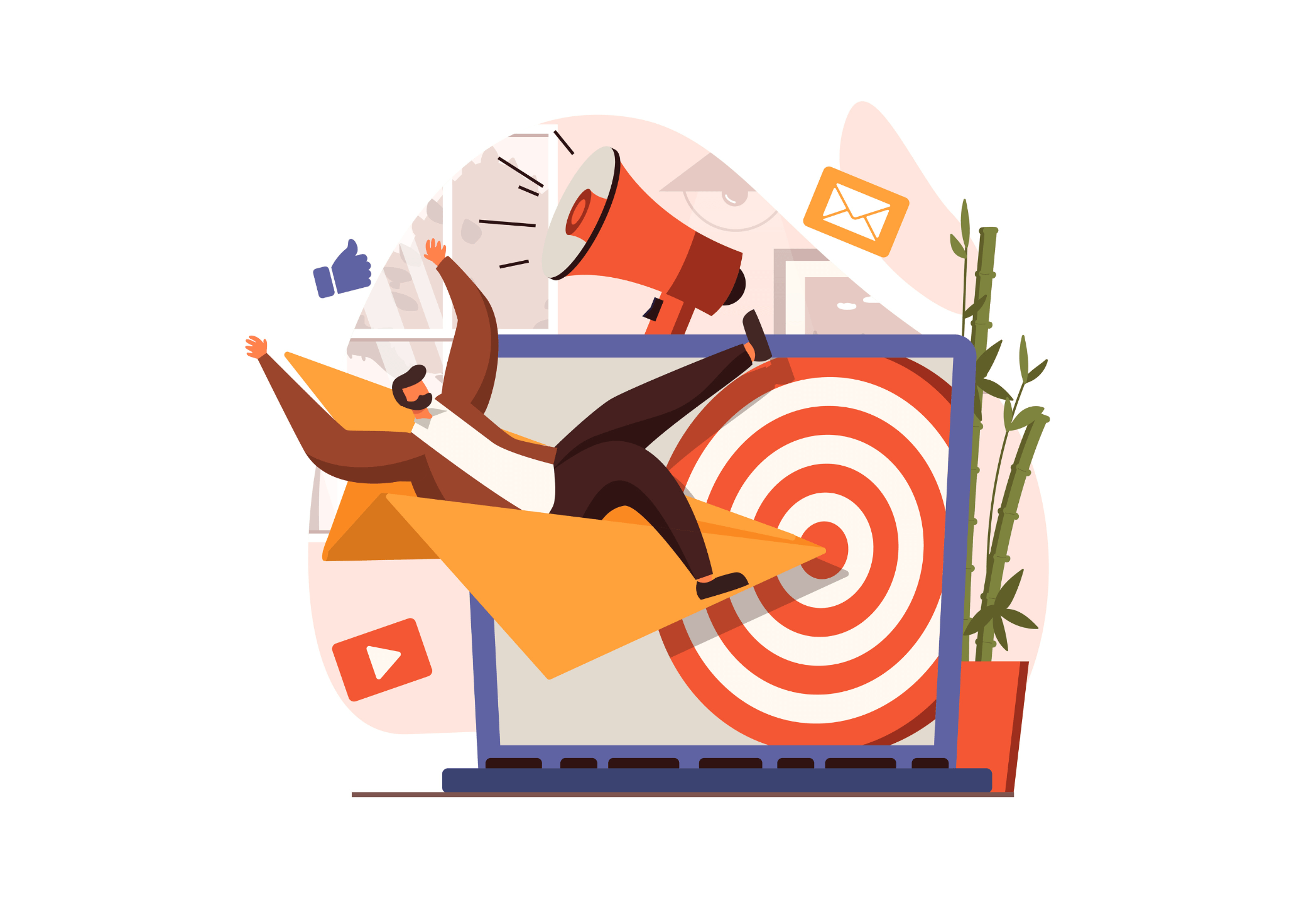 Now that you've learned how to create a LinkedIn campaign, let's go over a few best practices to ensure success:
Know Your Target Audience
Here's a pro tip: the better you define your target audience, the easier it will be to get your message across. You can narrow your audience by choosing from the following criteria:
o   Company Connections
o   Company Followers
o   Company Industry
o   Company Name
o   Company Size
o   Age
o   Gender
o   Degrees
o   Field of Study
o   Member Schools
o   Job Function
o   Job Seniority
o   Job Title
o   Member Skills
o   Years of Experience
o   Groups
o   Member Interests
Use Compelling Visuals and Language
Creating a stunning ad campaign ensures the content you share works with your ad type. Your ad must capture your audience's attention within seconds.
Here are several elements you can add to hook the viewer:
       

Colors

       

CTA placement and style

       

Font

       

GIFs

       

Image

       

Language and Text

       

Videos
Engage Your Audience with LinkedIn Carousel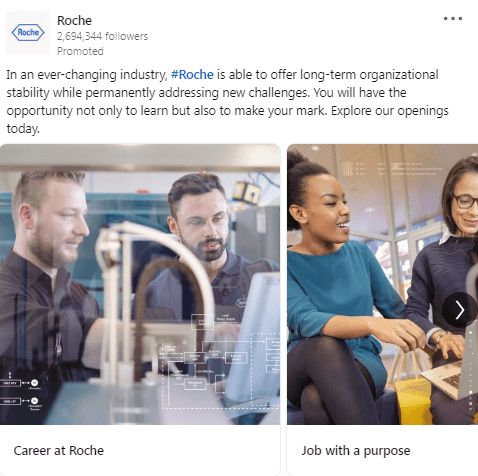 Carousel Ads are an excellent way of showcasing your brand by using multiple, enticing images. Drive engagement rates and grow your professional network by trying these ideas:
       

Tell a customer story

       

Showcase your company culture

       

Collect quick tips, facts, and quotes

       

Explore your niche
Create Your Copy Around a Succinct and Clear CTA
Here's the thing: your readers are just as busy as you.
So, you need to spell out the desired action you want the customer to take. Finish your LinkedIn ad with a clear, motivating, and succinct CTA. Ideally, the CTA should be in a text button.
A/B Test Your Audience
A/B test two similar campaigns with variations in the targeting criteria to identify which combination is more effective.
You can A/B test by creating a campaign, duplicating it, altering your targeting parameters, and going live.
LinkedIn's Audience Expansion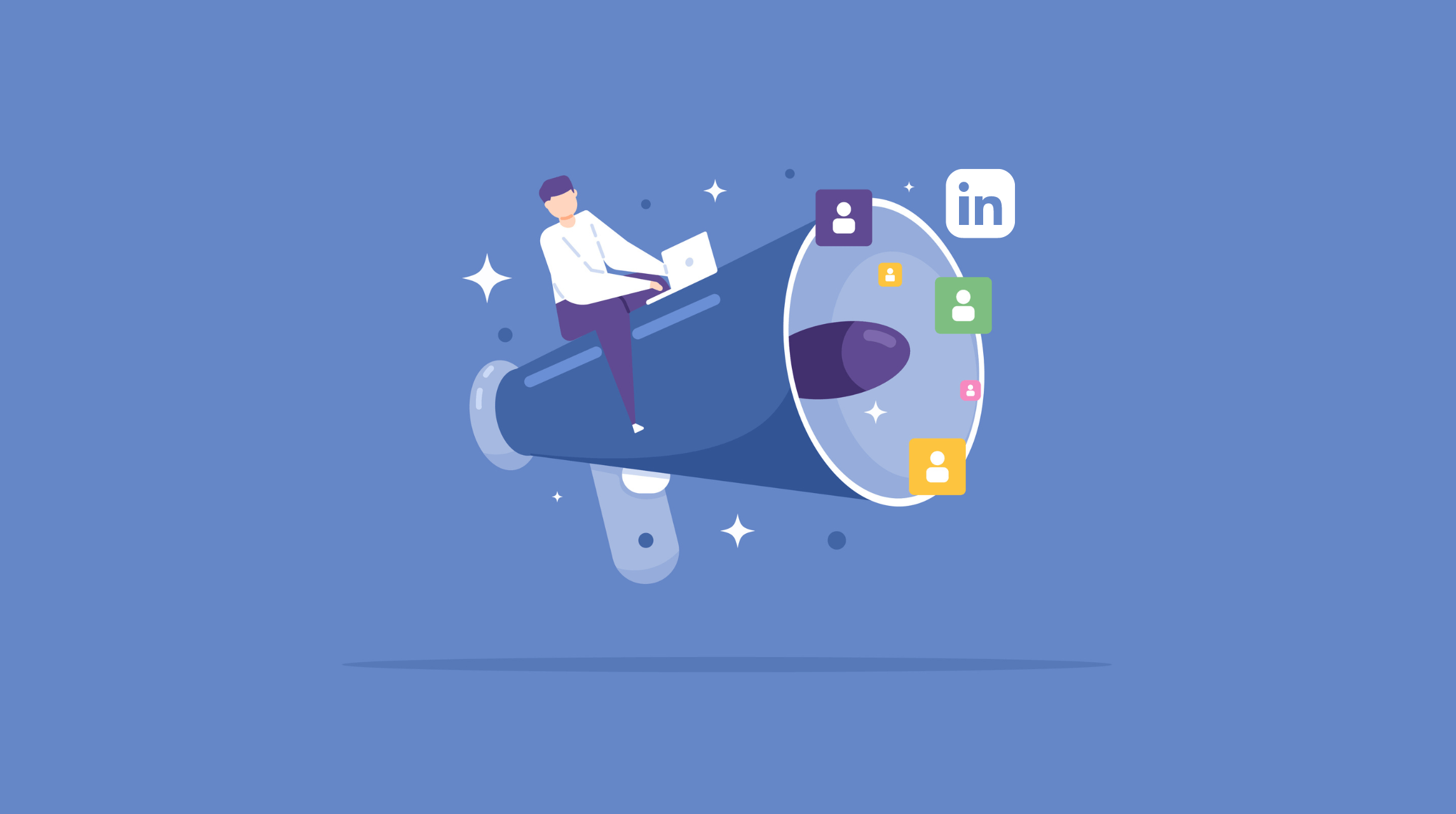 LinkedIn's Audience Expansion tool is a must for advertisers who want to amplify the reach of their campaigns. This practical tool can help you broadcast your ads to audiences with similar attributes, thus ensuring your posts make their way to the right audience.
The tool helps you segment your existing audience to ensure your content receives the exposure it deserves. For instance, if you want to reach people with "Social Media Marketing" as a skill, LinkedIn's Audience Expansion may expand your audience to profiles with "Digital Marketing" listed. As a result, you can discover new potential customers to grow your conversions.
Here are several other things you can try with LinkedIn's Audience Expansion:
Excluding Specific Attributes –

If you exclude a specific attribute from your target audience, such as "Social Media Marketing," Audience Expansion will not include any attributes from that criteria. Therefore, this feature is perfect for marketers who want to exclude particular criteria to narrow their audience

Performance and Demographic Metrics –

If you visit your performance and demographic metrics, you'll discover activity from your target

and

expansion audience. But if you set your campaign's targeting, the audience count will exclude your Audience Expansion members
You can enable/disable Audience Expansion by visiting the "Audience" section and checking/unchecking the "Enable Audience Expansion" button.
How to Reach Niche Audiences with LinkedIn Groups
Here's a secret: LinkedIn Ad is not the only way you can engage and build your LinkedIn audience. You can use LinkedIn Groups to attract users to your profile.
In fact, research reveals that profiles that join and stay active in groups are five times more likely to acquire views. Here are some ideas to engage your target audience in LinkedIn Groups:
Join Groups that Your Prospects Prefer –

Joining groups that your prospects are already involved in makes it easy to build a robust network. Moreover, it makes it easy to showcase your products or services

Ask Interactive Questions in the Discussion Box –

Asking valuable and exciting questions invites people to comment and shows that you're seeking discussions. Consequently, you can engage with group members

Tailor the Length of Your Post According to Your Reader –

No, you don't have to keep writing until you hit LinkedIn's post characters limit. But keeping your word count between 500 and 1,200 ensures your reader doesn't get bored. Plus, LinkedIn reveals that posting

20 posts monthly can help you reach 60%

of your audience

Add Value to the Group –

Reach your target audience by adding valuable comments to the group. Furthermore, ensure you add interesting, educational, and captivating posts to keep readers hooked. Consider using eye-catching visuals to grab the viewer's attention instantly

Choose At Least Three Groups –

Joining a LinkedIn group doesn't mean you close your eyes and randomly click on the first five groups in your search tag. Instead, it's best to choose five to seven groups and stay active on at least three of them
Use Octopus CRM to Target Audience in LinkedIn Groups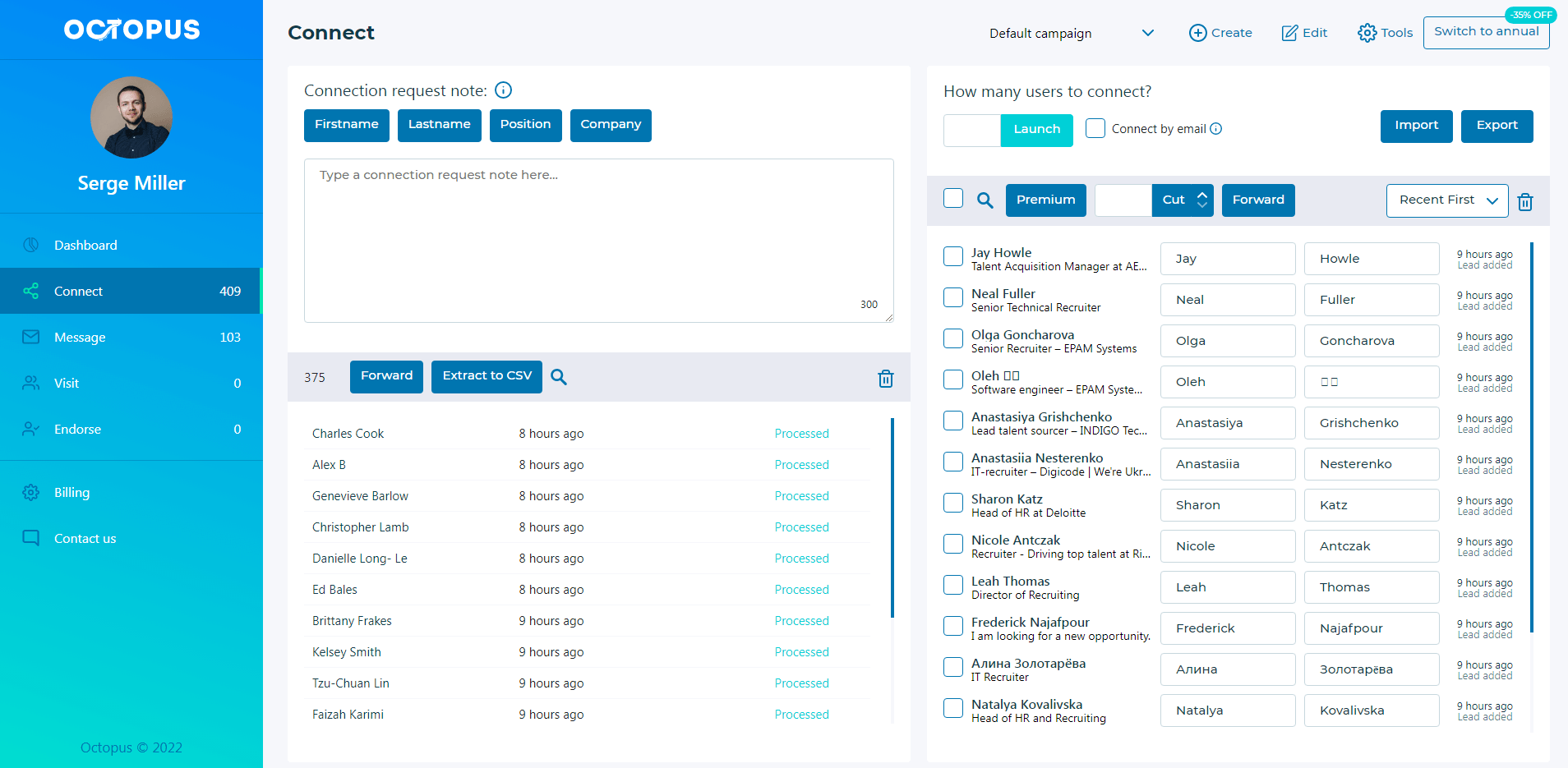 LinkedIn plays a vital role in helping users connect with other LinkedIn users. Thanks to the platform's many features, it is now simpler to connect to profiles and establish solid ties. Professionals looking to grow their network often use this site. However, professionals can widen their network by interacting with other users on the social media platform — people they may or may not know.
LinkedIn boasts the world's largest professional network. Therefore, you can utilize LinkedIn to get quality prospects, solidify business partnerships, and expand your network.
Joining various groups is a fantastic way to expand your LinkedIn network. Expanding your network and increasing participation in new groups will increase your visibility. Pick relevant keywords to improve your ranking in social media groups. Additionally, join groups on a national and international level to help you reach your target audience. Moreover, numerous tools support firms in achieving their objectives.
Octopus CRM LinkedIn automation lets LinkedIn users find quality leads while maximizing productivity and saving time. This tool allows businesses and organizations to connect with and develop lasting relationships with their target audiences. As a result, you can expand your network and enhance your online visibility.
Related article: Why You Need Octopus CRM for Lead Generation
Additionally, Octopus CRM provides consumers with other capabilities, including monitoring the number of profile views, search appearance data, and campaign performance.
Use Octopus CRM to Gain Visibility
It is one of the most trusted LinkedIn automation tools that complete the entire lead generation process for B2Bs in autopilot mode. This highly innovative automation tool simplifies prospecting efforts and scales business outreach through its extensive range of features.
You can now send unlimited connection requests via email and message first-level connections that improve your social visibility. It auto-views profiles and endorses up to seven skills to build your credibility in the market.
Conclusion
Running a business is not so easy! You need to use effective marketing techniques and robust plans to stay ahead in this era of cutthroat competition. But thanks to platforms like LinkedIn, help business owners reach a larger consumer base, connect with industry leaders, network with top talent and find quality leads to scale the business.
Its inbuilt tool, such as LinkedIn Audience Network, creates a perfect channel for networking. You can even use third-party apps like Octopus CRM to automate the processes and engage with prospects efficiently.