LinkedIn Groups are an underused yet effective way of growing your network and establishing yourself as a thought leader.
If you haven't joined or created a LinkedIn Group yet, this is your sign to start. Here, we'll discuss:
What LinkedIn Groups mean for businesses

How you can search for LinkedIn groups to join

How can you start a successful LinkedIn Group

And lastly, what are the benefits of joining/creating a LinkedIn Group
Let's get started!
What are LinkedIn Groups?
LinkedIn Groups are dedicated spaces where professionals share expertise, seek advice, foster meaningful relationships, and make connections.
Groups offer businesses the perfect opportunity to build their brand and grow their community on LinkedIn. Only members within a particular LinkedIn group can view, post, comment, and engage with a post in the Group. Moreover, group admins can set their admission criteria to decide who can join.
Why Should I Create LinkedIn Groups?
Building and growing your LinkedIn group can be time-consuming and challenging. But done right, it offers you endless benefits.
Here are several perks of creating your LinkedIn group:
Helps You Grow Your Network
Your creative posts won't mean anything unless you can reach your target audience. What's the best way to connect with your audience? Creating LinkedIn groups where you can interact with like-minded people from your industry. Moreover, you can encourage people to engage with your content and leave comments on the post.
In addition, posting compelling and audience-centered content helps you attract more views and a more robust network.
Allows You to Nurture Deep Relations with Your Audience
Knowing your customers' pain points, challenges, likes, and dislikes are critical to meeting their needs and successfully growing your brand. An active LinkedIn Group allows you to interact with your customers directly. That means you can post surveys, create polls, and ask questions to identify ways you can improve your service.
Boosts Traffic to Your Website
Maximize CTR on your website by leveraging LinkedIn Groups. Highlight the best excerpt from your latest blog, combine it with an attention-grabbing headline, and post it on your LinkedIn Group. 
That way, you can entice members to click and read the article. It also means you'll experience increased traffic to your website.
Demonstrates Your Expertise
Creating and managing an active LinkedIn Group helps solidify your expertise in your industry. As a result, viewers see you as a credible and trustworthy brand. In addition, sharing your knowledge or offering advice enables people to view you as an industry expert.
How Can I Find Groups on LinkedIn?
Finding the perfect LinkedIn group to showcase your expertise isn't tricky. Here are simple ways you can pinpoint LinkedIn public and private groups:
Visit LinkedIn's website or launch the mobile app

Identify the keywords that match your interest and type them in the search bar. If you join a particular group, you can enter that too

Navigate the 'Groups' option and click it in the search results

Browse the list of groups to find the one that meets your interests

You may click on a LinkedIn Group to read more information about it

If it matches your needs/interests, click on the 'Request to Join' or 'Ask to Join' button
How Can I Join Groups on LinkedIn?
Once you select the 'Request to Join' or 'Ask to Join' button on LinkedIn, the Group Admins will receive a notification. The admins evaluate whether you're a good fit for the Group and then approve.
If a LinkedIn user sends you a connection invite, click on the 'Accept' button from the notifications tab or your inbox.
How to Create a Successful LinkedIn Group?
Now that we've covered the benefits of creating a LinkedIn group, let's jump into the how:
Step # 1: Choose a Topic Your Customers Care About
Before making a LinkedIn Group, you must identify a topic that matters to your customers. Choosing a subject your customers care about attracts viewers and encourages them to engage with your content.
Here are several questions to can ask when deciding on your Group's topic:
What goals do you want to achieve in your community?

What conversations would spark an interest in your customers?

What questions or challenges do customers often talk about?

What are the several topics relevant to your brand?
Step # 2: Create a LinkedIn Group
After choosing your group topic, the next step is to initiate the Group on LinkedIn.
While creating your LinkedIn group, you'll have to fill out an extensive form. Here, you'll add the following fields:
Group Title

Group Logo

Description

Group Rules (Optional but Recommended)

Group Membership (Standard or Unlisted)
Step # 3: Craft Message Templates
The third step to creating a successful LinkedIn Group is leveraging its message templates. The platform enables you to create custom messages that you can automatically send to people who want to join your LinkedIn Group.
When personalizing messages, remember to use your brand tone. Here are some message templates you can use:
Request-to-Join Message –

You can send these to LinkedIn members who requested to join your Group

Welcome Message –

The ideal message to nurture deep relations with people who joined your Group

Decline Message –

To explain to LinkedIn members that you declined their request to become a member of your Group

Decline and Block Message –

A customized message sent to people whose request you reject and block further requests from
Step # 4: Inviting Your Connections
LinkedIn now allows you to send invitations to people in your network to create a safe and professional space. To send invitations to your LinkedIn network, navigate the 'Manage' button on the homepage and choose the 'Invited Users' option.
Step # 5: Start Discussions and Stay Active
Once you've built your LinkedIn Group and invited people to join, it's time to start posting. Group members may hesitate to post if the Group is empty and admins are inactive. So, consider starting with a hyper-personalized and sweet 'Welcome Post' to make members feel appreciated.
After that, you can discuss topics that resonate with your audience. That way, you can:
Kickstart conversations in the Group and increase engagement

Encourage group members to create posts that are appropriate and knowledgeable
Step # 6: Moderate Posts and Remove Spam
When Group Members become active, it's critical you moderate posts. The last thing you want is for Group Members to start spamming. Not only does it discourage others from joining your Group, but it also causes current members to leave.
How Do I Send Invites to Join My Group?
People can join your LinkedIn group in three ways:
You send an invite based on whether they meet your membership criteria

Group members send them invitations

LinkedIn members see your Group and request to join
However, if you wish to invite users to join your Group, you can send them personalized invitations.
Ways to Promote my LinkedIn Group
Promoting your LinkedIn Group is critical to attracting more members. Here are tips and tricks you can follow to create the buzz about your new Group:
Craft compelling and optimized group information that grabs your target audience's attention. Moreover, sprinkle keywords to rank in your prospective member's search

Encourage group members to invite user's from their network

Advertise your Group by leveraging

LinkedIn Ads

to ensure your TA comes across your Group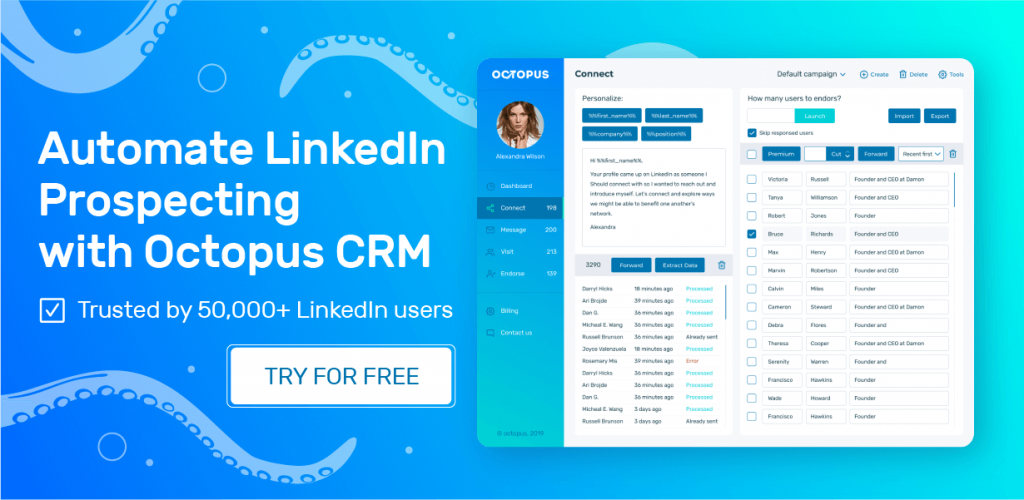 LinkedIn Groups: Best Examples
Get inspired to create a successful LinkedIn group by checking out these examples:
Example # 1:
Search Engine Land is an excellent group for SEO fanatics, where professionals hold informative questions and answer discussions. Their stringent guidelines ensure people don't start spamming.
Example # 2:
Step Into The Stoplight is the perfect Group for people who enjoy discussions about businesses and marketing. Tsufit, the author, moderates the Group regularly to ensure it's free of spam. Moreover, users get the chance to showcase their work in the comments.
Example # 3:
With over 21,000 members, Social Entrepreneur Empowerment Network is ideal for newbies and experts. You learn new information, gain feedback on your brand, and connect with like-minded professionals.
Example # 4:
The Female Entrepreneur Association is a dedicated space for talented and skilled women to connect and learn.
Example # 5:
A global professional network that promotes inclusion and diversity, OutBro fosters a community where LGBTQ+ leaders and businesses can thrive.
What are the Pros of Joining LinkedIn Groups?
Since up to 94% of B2B marketers use LinkedIn, it's the perfect platform for businesses to showcase their brand and offering. And what better way to put your expertise in the spotlight than by joining a LinkedIn Group? Here are several fantastic benefits of doing so:
It Allows You to Gain Influence
Spamming people and shouting about your new Group to anyone you come across is the quickest way of losing credibility.
But following these tips can help you gain influence:
Engage in groups where you have the time, experience, and interest. If you're inactive and tend to "post and bounce," your posts will get ignored

Asking valuable questions that spark deep conversations

Contributing regularly and consistently to grow your image and visibility
Gain Feedback
Using a LinkedIn Group lets you gain real-time feedback on a new feature, product, or service you launch. Asking group members to offer honest feedback and advice enables you to identify ways to improve your offering to meet your prospects' needs.
Problem Solving
While LinkedIn Group is ideal for receiving feedback to improve, it's not the only way you can use it to benefit your brand. For example, you can ask your fellow group members to help if you have a business problem. That way, you can get unbiased viewpoints.
Moreover, you can generate engagement, especially when you appreciate their efforts.
Generate New Leads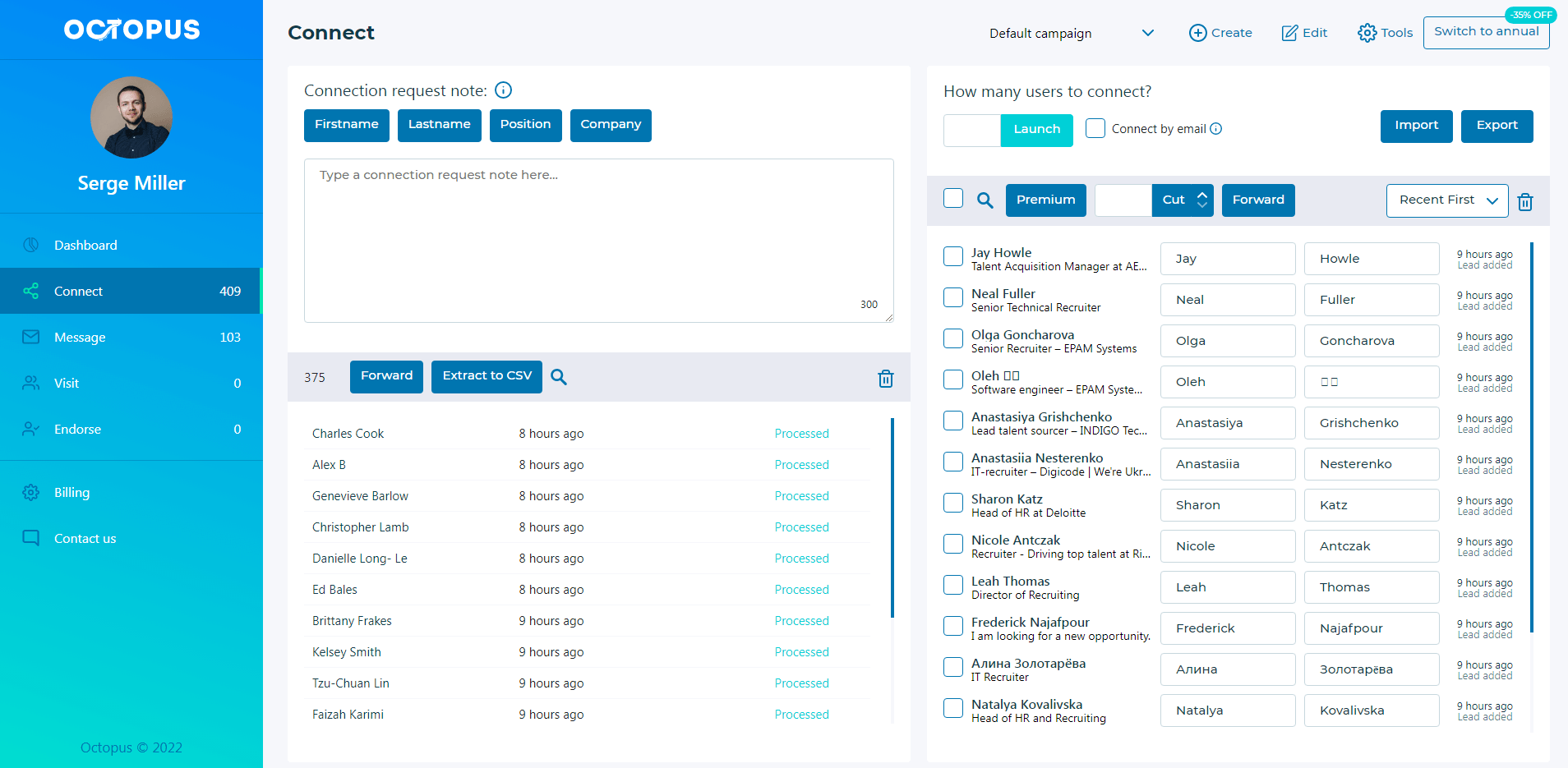 After joining a group, create a robust list of potential customers or clients with the help of a search function. You can filter members by job title, location, and company. As a result, you can curate a list of prospects to send personalized messages to, learn their pain points and nurture connections.
We suggest using Octopus CRM for LinkedIn Lead Generation efforts. But before you dive into this step, ensure you've optimized your profile and presence within the Group.
Choosing Your LinkedIn Group's Privacy
LinkedIn allows you to choose one of two privacy settings:
Standard Groups
These groups are visible in every LinkedIn user's search results. Moreover, members can send invitations to other people to join.
Unlisted Groups
These groups do not appear in LinkedIn users' search results. In addition, only group admins can invite other people to join.
Are LinkedIn Groups Worth It?
Creating a LinkedIn Group your audience wants to become a part of takes time and effort. But with research, dedication, and commitment, you can make a Group that helps you grow your community and improve engagement rates.