LinkedIn has over 660 million professional users around the world, making it the ideal place to grow your personal brand. 
Not only is it a great place to network, it also provides lots of insights and tools to help you gain more connections and boost engagement. 
But, it's important to make sure you're using the platform as effectively as possible. This will ensure you can fully show off your skills, knowledge, and achievements. 
In this blog post, we will be outlining some of the best ways to use LinkedIn for building personal brands.
How to use LinkedIn for a personal brand
The way you use your LinkedIn profile will be a direct reflection on your brand. So, to create a business on LinkedIn it's important to fully optimize your profile accordingly. 
LinkedIn can help you: 
Boost your personal brand

Get more traffic and become more visible 

Engage with your audience 

Find more opportunities 

Gain more business connections



Building your personal brand on LinkedIn is a must. You need to show off your expertise and have a profile that's both eye-catching and professional. 
First impressions are important. Most people make up their minds about someone in just a few seconds, and this applies to social media, too. 
This means your profile needs to help you stand out from the crowd. This way, you can market and grow your brand successfully. 
Work on your profile
If you're wondering how to build your personal brand on LinkedIn, working on your profile is a great place to start.  This is the first thing people will see, so, whether you have a personal or business LinkedIn account, it needs to create a good first impression.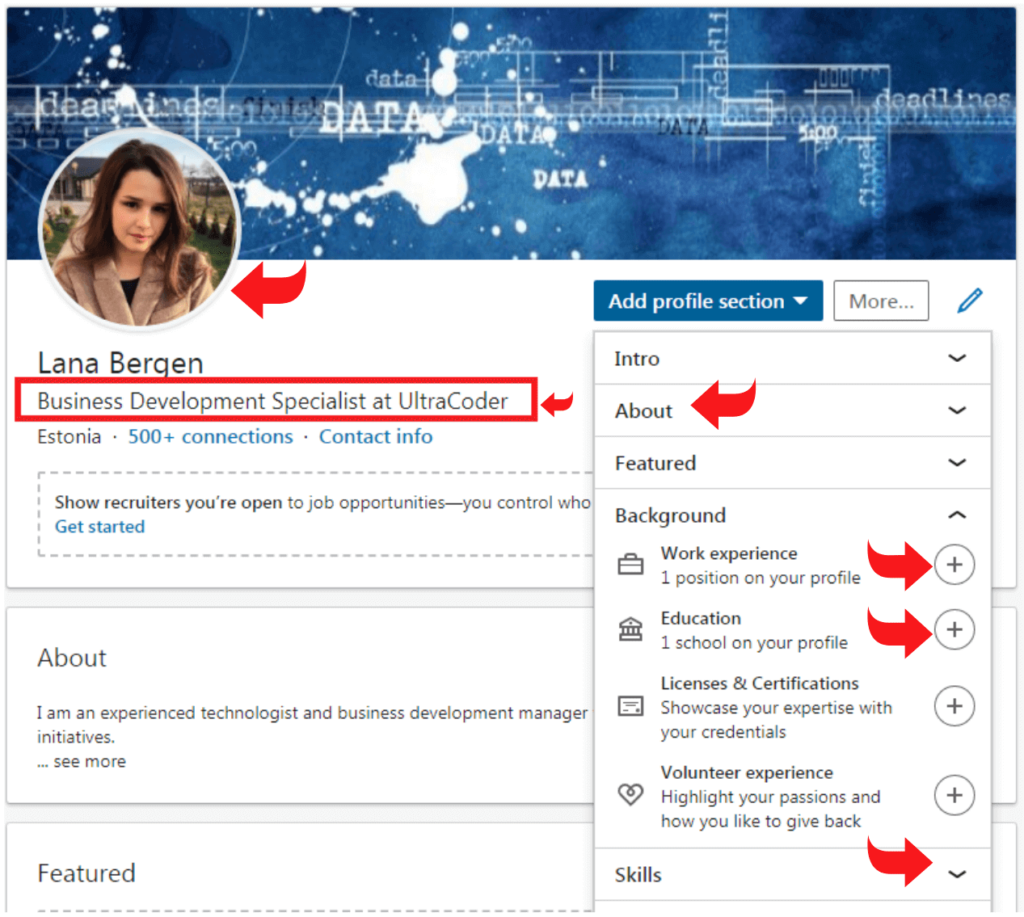 First, make sure all the sections are filled in and your profile is set to public. Then, add a professional headshot for your profile picture. You can also use an interesting LinkedIn background banner to help your profile stand out from your competitors. 
Next, make sure your description sells your skills, abilities, and experience. It should be appealing to your target audience, and it should be clear and concise. Always try and include some relevant facts and figures to back up your accomplishments. 
Next, add your volunteer experience to LinkedIn if you have one.
You also need to make your profile visible and searchable. To do this, you should optimize your profile for searches by using keywords in your headline, job title, summary, and descriptions. 
You can also customize your URL for Google searches. This should, ideally, be your name or business name; but, if this is taken, try and choose something similar. 
Lastly, make sure you update your profile regularly or whenever something changes. For example, if you change career, post a new article, take a course, or something else, make sure you add this to your profile. 
Publish articles frequently
If you already have your own blog, you might not have considered publishing articles directly to LinkedIn. But, this can be a great way to build your brand, as your articles will show up in your connections' feed. This can increase the chances of your audience reading an article. 
When doing this, you might choose to repost the same content as your blog, or you might want to create brand new content that's exclusive to LinkedIn. 
Either way, publishing high-quality, engaging, helpful articles can help you engage with your audience and gain more connections. 
Engage in LinkedIn Groups
Another fantastic way to give your brand a boost is to join LinkedIn groups. This can be a powerful networking tool, and is a good way to network with professionals with similar interests to yours.

After finding and joining groups relevant to your industry or profession, don't just silently lurk in groups. Make sure you engage with others and build relationships.
You can do this by starting threads, asking questions, responding to others, commenting and liking posts, and trying to be as sociable as possible. This can lead to more connections and opportunities in the long-run.
Post regularly
One of the most important things to do when using LinkedIn is to be consistent with your posting and interacting. It's better to have a set time each day to do this, rather than spending many hours one day and then going silent for weeks.
When developing a personal brand on LinkedIn, it's important to post as regularly as possible.
Aim to spend at least 1 hour each day posting on LinkedIn and responding to other posts and messages. This will help you build rapport with others and, ultimately, reap the maximum rewards from the platform.
Connect, interact and build relations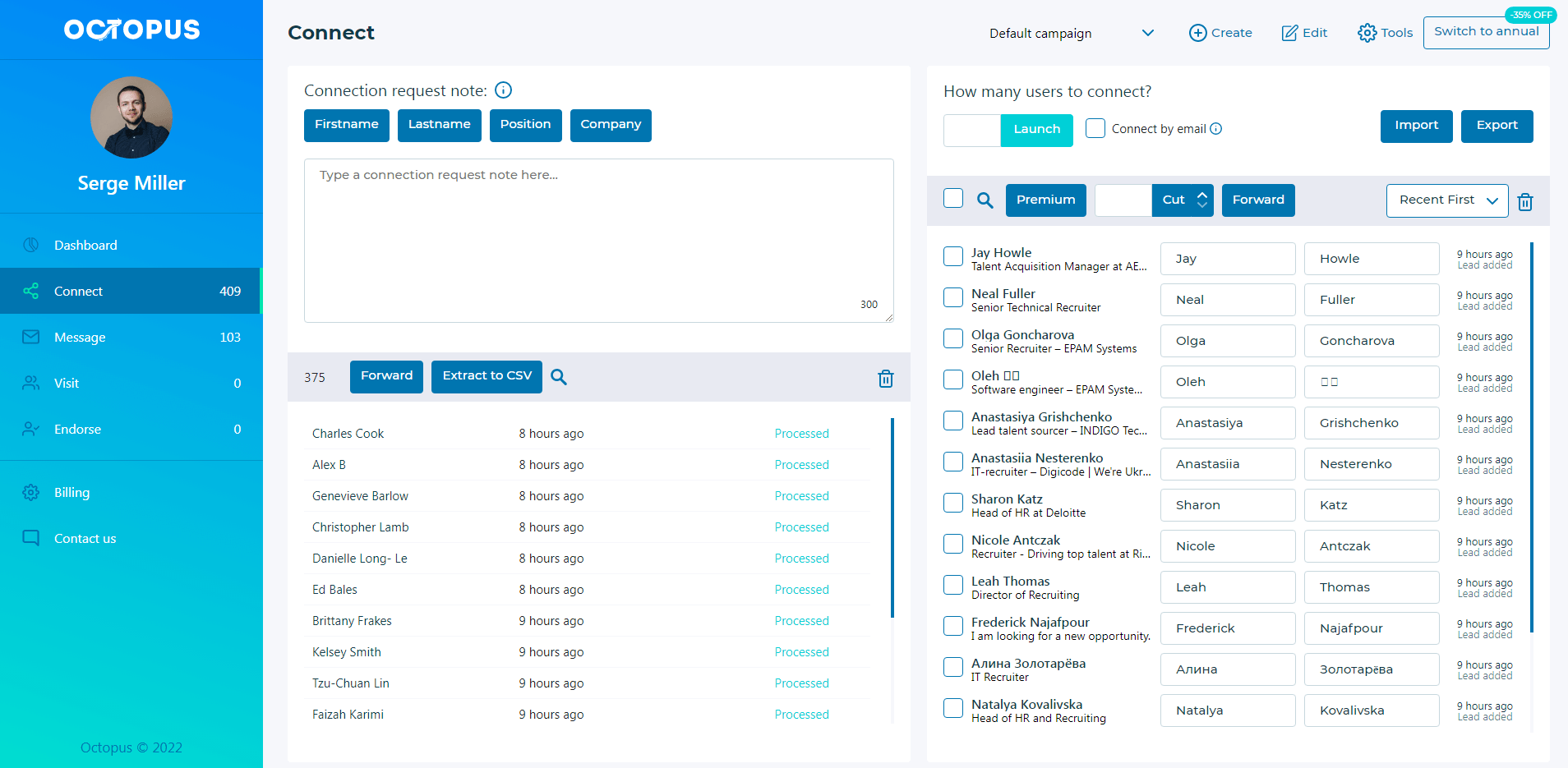 Lastly, it's important to remember that LinkedIn is a social network. This means it should be used for interaction and building relations, not just for selling or creating your own posts.
Make sure you set aside some time each day to go through your news feed. Like, comment, and share posts and offer helpful advice if you can. Focus on building relationships with others.
For example, if you have a few connections that you would really love to work with, try and engage with them on a daily basis. It's much easier to make a sale if you warm up the prospect first. It means that, if you do pitch to them, they will already know who you are.
Approach LinkedIn Like a Living Resume
Your LinkedIn is not like an introductory page of your registers that you fill and forget. Your online resume needs updates and changes frequently. It is necessary to update your LinkedIn profile whenever you switch your job or business field, publish an article, speak at a conference, take a course, plan an event, or more. Use your LinkedIn profile as a living resume and update it every time you do something new.
Use Your Description to Sell Yourself
Take time to create an attention-grabbing description that sells you and your skillset. Get specific; add attention-grabbing facts and figures, highlight your most significant accomplishments relevant to your target audience, and avoid jargon.
Reconsider Your Profile Photo
Ensure your LinkedIn profile photo looks professional by keeping the following things in mind:
Your picture should include your face and shoulders

 

Avoid using extreme close-ups of your face or zoomed out entire body shot

 

Choose a crystal clear and unpixelated photo

Do not use hats, sunglasses, and other obscuring accessories

 

Smile in your picture

Include great lighting

Do not use a selfie or have anyone else in your picture

 

Dress professionally
You can accomplish all of this by getting a professional photoshoot.
Choose Your Skills Strategically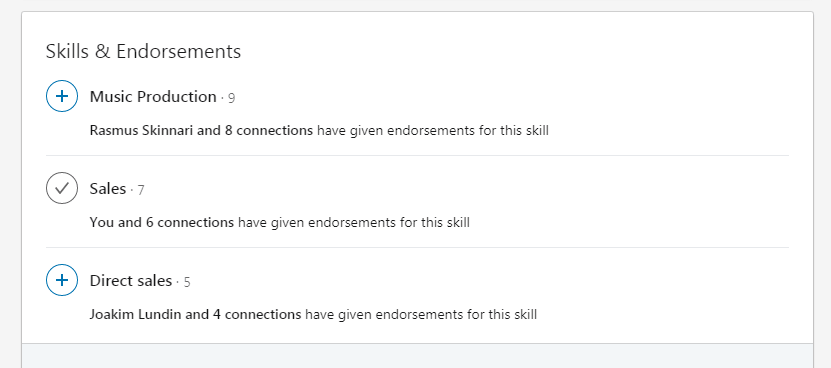 LinkedIn profiles allow users to add 50 skills. Fill your slots strategically by identifying which skills are relevant to your industry and sub-niche.
Although fifty sounds like a lot of skills, you'll learn it's not that many when you start adding skills. Ensure you select expertise that aligns with potential employers'/clients' skills.
If you are unsure which skills you should add, check out jobs you want and see the desired skills listed.
Your profile description resembles your cover letter. So, ensure you keep it concise and clear to shy away from selling yourself.
Accept All Connection Request
There are no valid reasons to decline connection requests. Even if you do not know the person, it is always beneficial to expand your LinkedIn connections. Since your profile is a public-facing business component, you should welcome more connection requests.
Expanding your connections will lead to a broader network and offer more opportunities. Moreover, you will enhance your online presence. Every time you add a connection, you become a part of their network and show up as a second-degree connection in that network.
However, you may ignore requests only if the person is harassing you online. Other than that, it would help if you accepted more connections to expand your network.
Personalize Invitations to Connect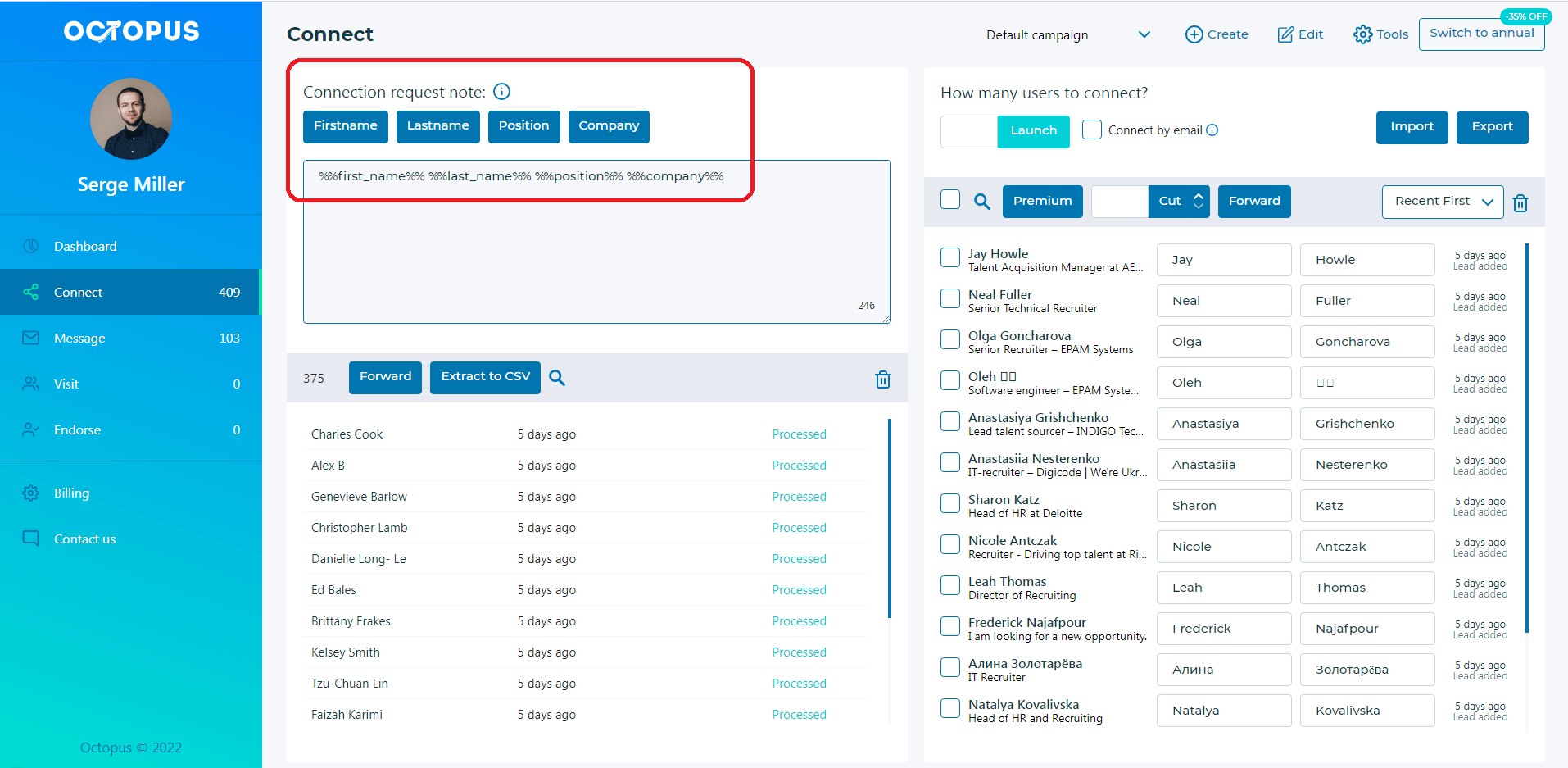 Consider customizing and personalizing your connection requests to increase the likelihood of acceptance.
Here are a couple of reasons you should personalize your LinkedIn invitation:
It shows that you're thoughtful

It increases the likelihood of your invitation's acceptance

It provides a long-lasting reminder of why you connected
Don't be Afraid to Ask for Recommendations
Word of mouth indeed enhances your brand authenticity and legitimacy. You will receive a lot of recommendations once you start reaching out.
Connect with your colleagues, clients, and industry experts who show your brand's enthusiasm.
When you send a recommendation request, ensure it is personal and captivating. No matter if you're trying to grow your brand, looking for a new job, or expanding your network.
Keep Your Content Positive and Helpful
It may seem superficial initially, but it is true that the more comments and reactions you receive on your post, the more comprehensive your network is. However, not all engagements are equal. It takes more effort and goes further in increasing your post's visibility.
LinkedIn is a platform that helps connect professionals too. It is necessary to think before you share anything on the platform because you do not want to comment, publish, or share anything you would avoid saying to a client or an employer.
Moreover, keep your comments and posts positive, encouraging, and thoughtful. It is essential to treat your LinkedIn space professionally rather than a personal social media profile.
Conclusion
When using LinkedIn, branding yourself effectively is highly important. Your LinkedIn personal branding sets the tone for all future interactions. It can make a huge difference to your results.
By following these personal branding LinkedIn strategies, you can gain more meaningful connections and grow your online business.