LinkedIn plays an integral role in creating your professional profile and helping you in your career and business growth. With more than 55 million listed companies and 740 million users, the network presents job seekers and B2B sales professionals with unlimited opportunities.
When connecting with other individuals on LinkedIn, the first thing we do is skim through their current job role, tagline, image, and of course, their LinkedIn summary. All of these factors help us determine whether it makes sense to connect with the person. 
If you wish to nail your LinkedIn outreach strategy, be sure to create a strong LinkedIn summary. We're here to make the process easier for you. 
This post is a comprehensive guide on how you can create a stellar LinkedIn profile summary. 
We have discussed the importance of a LinkedIn summary, how to write an outstanding profile summary, what to include in LinkedIn summary, and tips to write an excellent LinkedIn profile summary. In the end, we have provided some excellent LinkedIn summary examples. 
LinkedIn Profile Summary: Why is it Important
LinkedIn helps establish trust between you and your leads or your potential employees or employer. Your profile tagline highlights what you do, and your summary discusses who you are, thereby giving your possible connections an insight into your persona, accomplishments, and more. 
All aspects of your LinkedIn profile must be in synergy with one another. These include your profile's tagline, work experience, image, background banner image, skills, articles, recommendations, and more. Your LinkedIn profile summary, however, is the most critical part of your profile. 
Much like the objectives section of your resume, your LinkedIn profile summary paints a concise picture of you and your abilities. Short and direct, your LinkedIn summary must grab the reader's attention and convince them to hit the connect button.
How to Write a LinkedIn Summary: A Comprehensive Breakdown
While most of us understand the importance of a good LinkedIn profile summary, it is not uncommon to get confused about writing this section of your LinkedIn profile.
If you wish to get people interested in your work, you must provide them with the necessary details of how you go about your business, the results you have achieved in the past, and more. 
Here's how to write an excellent LinkedIn summary:
Begin With a Hook – Your starting sentence should give the LinkedIn users clarity about your line of work. And the statement following the first sentence should provide them with a reason to continue reading. 
Unfortunately, many people use the same old redundant LinkedIn summary template pieces. It is vital to get creative, and the starting sentences offer you the chance to do it!  
Give Them a Unique Selling Proposition

– If you successfully grabbed your reader's attention, you are already one step ahead of the game. Now, you must provide viewers with a unique selling proposition that allows you to stand tall in the crowd. 
Be bold and creative enough to spark the reader's interest further. For example, you could briefly state the tools you use to accomplish results. 
Highlight Your Accomplishments

– When it comes to work, everyone wants to see results so let them see all you have accomplished. 
Highlight your achievements in different capacities to give your viewers an idea of your strengths. Throw in numbers and data to make your work appear more authentic. 
Facilitate Communication – And eventually, to wind things up, allow your potential contacts to take action. 
For instance, you write a couple of short sentences about why and how they can connect and collaborate with you. 
LinkedIn Summary Tips: Create an Outstanding Professional Profile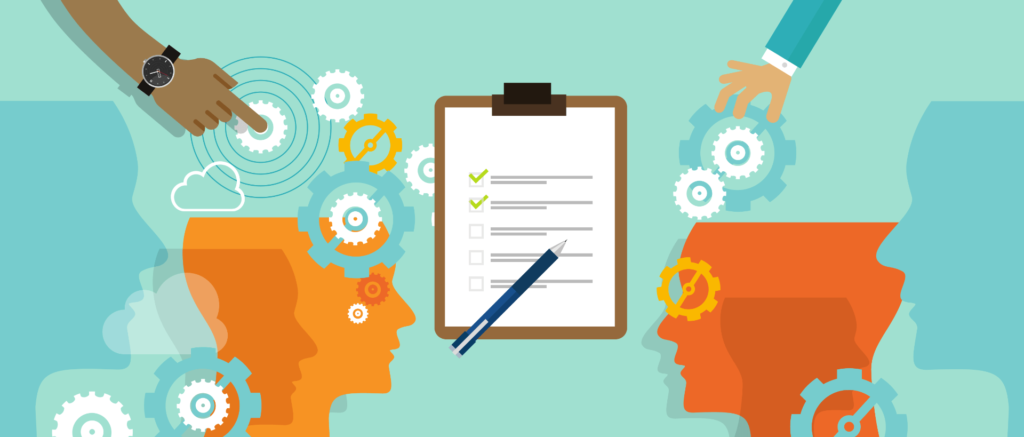 Now that you have the basic structural outline and content sorted out, we'll elaborate on how to write a LinkedIn summary for your professional profile with some valuable tips.
These LinkedIn summary tips will help you determine what to put in your LinkedIn summary. 
1. Keep it Concise
Do not get into the nitty-gritty. Remember that you're not writing an autobiography, plus no one has the time to read a wall of text. So, make sure to keep it short and simple, preferably under 2,000 characters. 
People are only interested in what you do, what makes you different from everyone else, what you have achieved, and if you are worthy enough to work with!
Writing about your whole life will not make a cut simply because it is boring. Be direct and only talk about what is important and distinguishing about you.
2. Use SEO Keywords
It is a good idea to incorporate SEO keywords in your LinkedIn summary. Yes, optimization applies to LinkedIn, too. Make your profile more search-engine-friendly as it enhances visibility. 
It is easy to get lost in the ocean, so you must make that extra effort to stay afloat. Keywords are the supports that will allow you to surface on top. 
You can include SEO keywords anywhere in your profile, including the LinkedIn about section, headline section, summary, experience section, and skills section. These keywords will help your potential connections to find your profile. 
3. Make Use of Whitespace
Using sufficient whitespace within your summary will make it more readable and understandable. 
Crammed-up paragraphs require more effort and thus present a greater chance of being ignored. Break up your paragraphs with the help of whitespace so your content appears more organized and readable. 
4. Write in the First Person
Your profile talks about you, so it makes sense to write it in the first person. Consider it a type of monologue. And the person reading it will be looking at your profile from your perspective. So make sure to converse in the first person as it sounds more natural and authentic. 
5. Focus on Your Strengths
While your LinkedIn summary must highlight your achievements, your prospects, and how you attain your goals, it is vital to mention how you can help your prospects to achieve their targets. Write about how you are an excellent asset and can help others achieve the same success as you. 
6. Let Your Personality Shine
Work info can get quite boring, so give your readers something else to relate to! Discuss your personality and personal values directly and concisely to provide prospects an insight into you as a person and not just as an employee. 
Add personal practices that you take pride in or discuss something that motivates you to do better. Doing so will help reflect your approach to your career. 
7. Write as You Speak in Person
Leave the standard formal text for official emails. To make your LinkedIn profile stand out, it is a good idea to be conversational with your audience and not uptight and formal. People enjoy easy conversation; just make things simpler for everyone.
8. State the Reasons
Maintain honesty and tell people why you continue to strive every day. Your personal motivations will provide your potential connections a whole new perspective into your professional life.
9. Be Direct With Your Demands
A good way to conclude your summary for LinkedIn is to include a call to action. Be direct and upfront with what you expect from your prospects. 
Make sure you specify how you wish to be contacted, as this is a professional matter. 
10. Use Emojis
Emojis are everything but professional, but they are super fun. You can actually use them in your LinkedIn profile summary but be sure not to go overboard with emojis. Using these tiny signals sparingly will make you more approachable.
LinkedIn Summary Examples
The best and most convenient way to create a fantastic LinkedIn profile summary is by looking at good LinkedIn summary examples. 
Take inspiration from the following examples of LinkedIn summary and incorporate the key points in your own profile summary.
1. Ian Naylor – CEO and Founder, Innovator, Serial Entrepreneur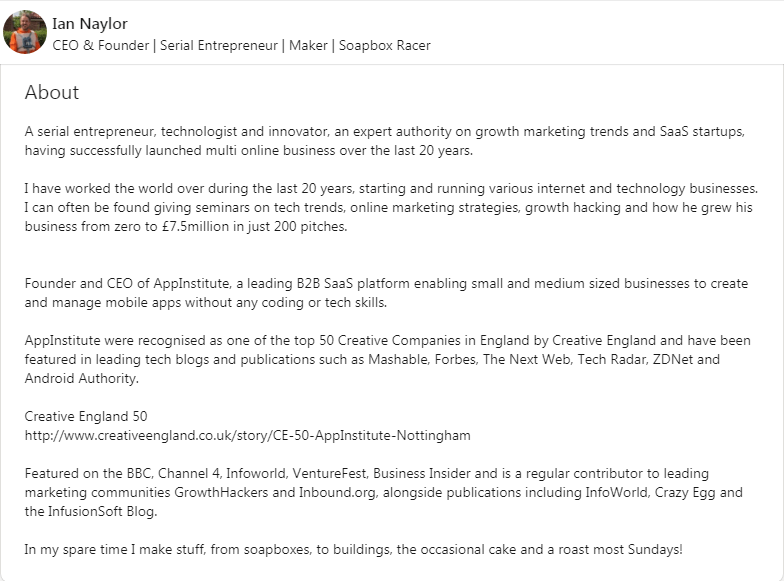 Ian Naylor is an advisor at Hyperise and is well-informed about how to hyper-personalize their sales funnels to double up conversions. In fact, this is one of the best LinkedIn summary examples for sales professionals.
Ian's LinkedIn profile is slightly different from others, but it still manages to hit the mark. It is very result-oriented, and unlike others, his profile has been written in the third person. 
Experts generally discourage third-person texts because they sound obnoxious. In his case, however, it sounds natural as his pitch is clear, sensible, and maintains good flow. 
An excellent example of good experimentation, you may also try writing your LinkedIn profile in the third person like Ian as long as you can ensure that it sounds natural. 
2. Nick Kozmin – Founder of salesprocess.io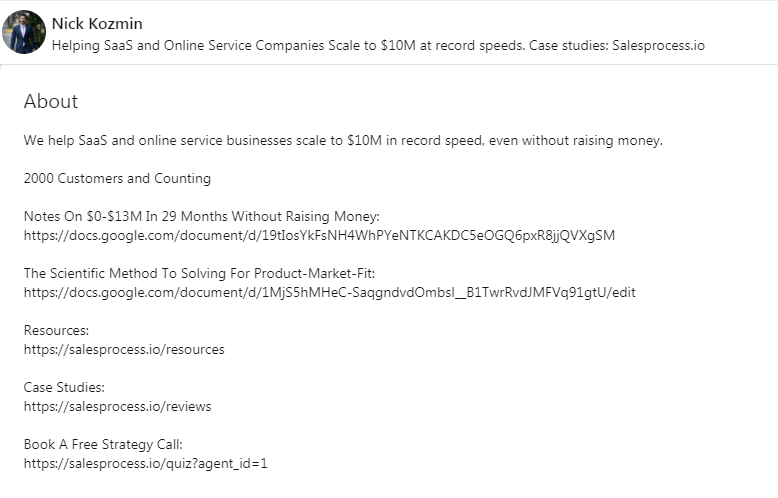 Nick Kozmin is the founder of Salesprocess.io, which is a sales accelerator that helps online service businesses and SaaS scale to $10 million at record speed. Nick's profile is centered around efficiency and easy communication. 
Nick's LinkedIn profile summary starts with a solid one-sentence introduction. He then moves on to discuss his results, making the most out of the profile's content. Nick then concludes his profile with a simple call-to-action, so his prospects are more interested in sending a connection request.
Nick's LinkedIn summary is tailored to address his target audience, i.e., business and startup owners looking to boost sales. His results and achievements are a testament to his capabilities. Although somewhat different, Nick's profile achieves its target, which is getting results. 
3. Sharon van Donkelaar – Chief Marketing Officer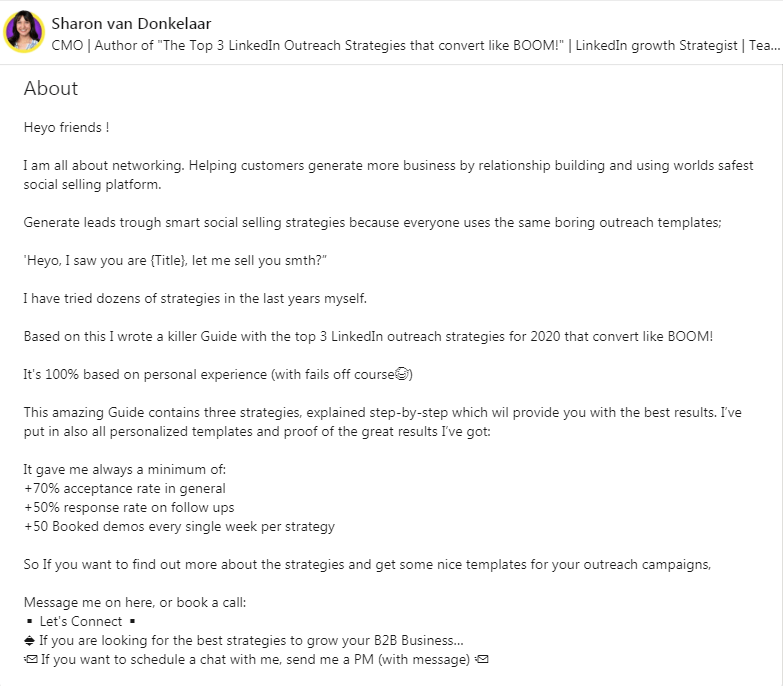 Chief Marketing Officer at Expandi, Sharon's LinkedIn profile summary is an excellent specimen to follow if you wish to boost your LinkedIn outreach skills. 
Her introduction is direct as she clarifies her field of work in the starting two sentences. She then provides her readers with a unique selling proposition that is clear and well-communicated. 
There is plenty of white space, so the text is easy to read, and she uses emojis as well. Her profile summary ends with her performance results and a call-to-action. 
Sharon's profile, aside from ticking all the boxes discussed previously, is very cohesive, composed, and contextually accurate. Everything she has mentioned is related to her work. 
There is a catchy tagline to lure in people further. A fully optimized profile like hers is excellent for attracting inbound leads. 
4. Houston Golden – "The #1 LinkedIn Influencer Program"
Houston's profile is one of the most famous ones on LinkedIn. The founder of bamf.co, Houston's posts frequently go viral. His profile is a fantastic example of how you can optimize your profile entirely. 
Everything from his profile's background banner image to his recommendations is curated with perfection, reflecting the effort put in to creating such an outstanding summary.
Houston, unlike others, tried a different approach. As you can see, first, he addressed questions followed by a call-to-action and then went on to introduce himself instead of the other way round. 
Next, he has described how he can help people who connect with him by stating his accomplishments in the business traction area on LinkedIn. The best part is that he does so by carefully compiling everything in 1 to 2 sentences per paragraph. 
Houston's approach is very straightforward and precise; there is no beating around the bush. His profile has clarity and a linear flow, all managed in under 200 words.
5. Ilya Azovtsev LinkedIn Expert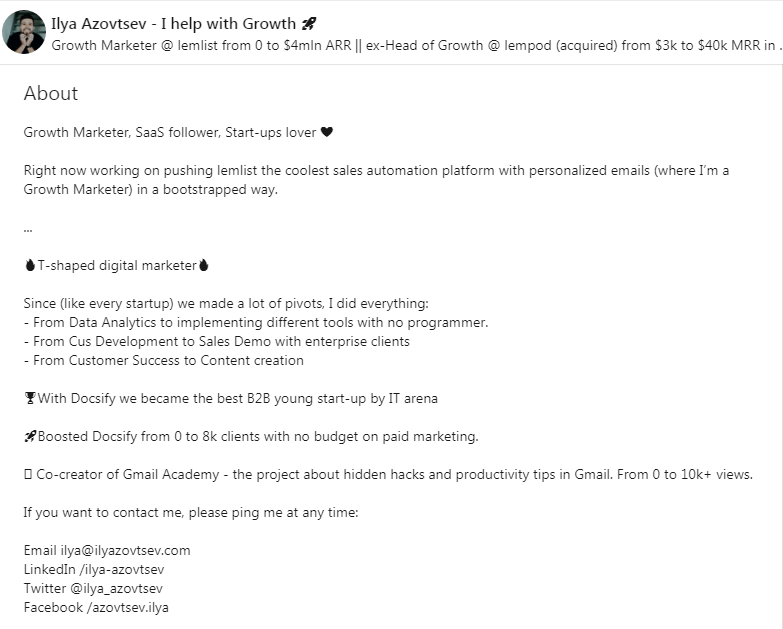 Ilya is a LinkedIn expert who managed to acquire 1 million views in 4 months. He is a digital marketer and heads the department of growth at Lemlist. His core competency is community building, so he stands as one of the powerhouses behind the success of Lempod. 
What makes Ilya's LinkedIn profile summary fantastic is, well, everything: catchy tagline, clear and direct introduction, good use of whitespace, emojis, and an overall clear and concise profile summary. Another critical element behind Ilya's success is his willingness to experiment with different summary structures, taglines, and more. 
Final Thoughts
Your LinkedIn summary is essentially one of the most critical parts of your profile because it is your main pitch to potential leads, recruiters, and collaborators. Not only does it establish authority, but it also helps you build trust with your connections and prospects. A good LinkedIn summary will help you find leads and get ahead in business.
Use this comprehensive guide to curate the perfect LinkedIn summary for you today and accelerate your business growth.