Job-seekers, marketers, and sales representatives alike understand the importance of adding a solid Call to Action.
CTAs can mean the thin line between heightened sales and diminished business opportunities. Job seekers add an enticing Call to Action to attract new and long-lasting clients. Either way, companies and individuals use attention-grabbing words or phrases to incite specific Action on your site.
LinkedIn is the top place for B2B businesses to generate qualified leads. Plus, the website's customizable call to action button helps users drive more traffic to their website while bringing qualified leads. Here we discuss how you can leverage Call to Actions on LinkedIn to grow brand visibility.
What is a CTA on LinkedIn?
LinkedIn enables businesses to add an attention-grabbing and compelling Call to Action to the profile.
The website allows Company Pages and Product Pages to include a specific CTA button that encourages readers to interact or take certain actions.
LinkedIn offers users business pages five different CTA options:
 

Contact Us

 

Learn More

 

Sign Up

 

Register

 

Visit Website
Moreover, Product Pages can choose one of the following six options: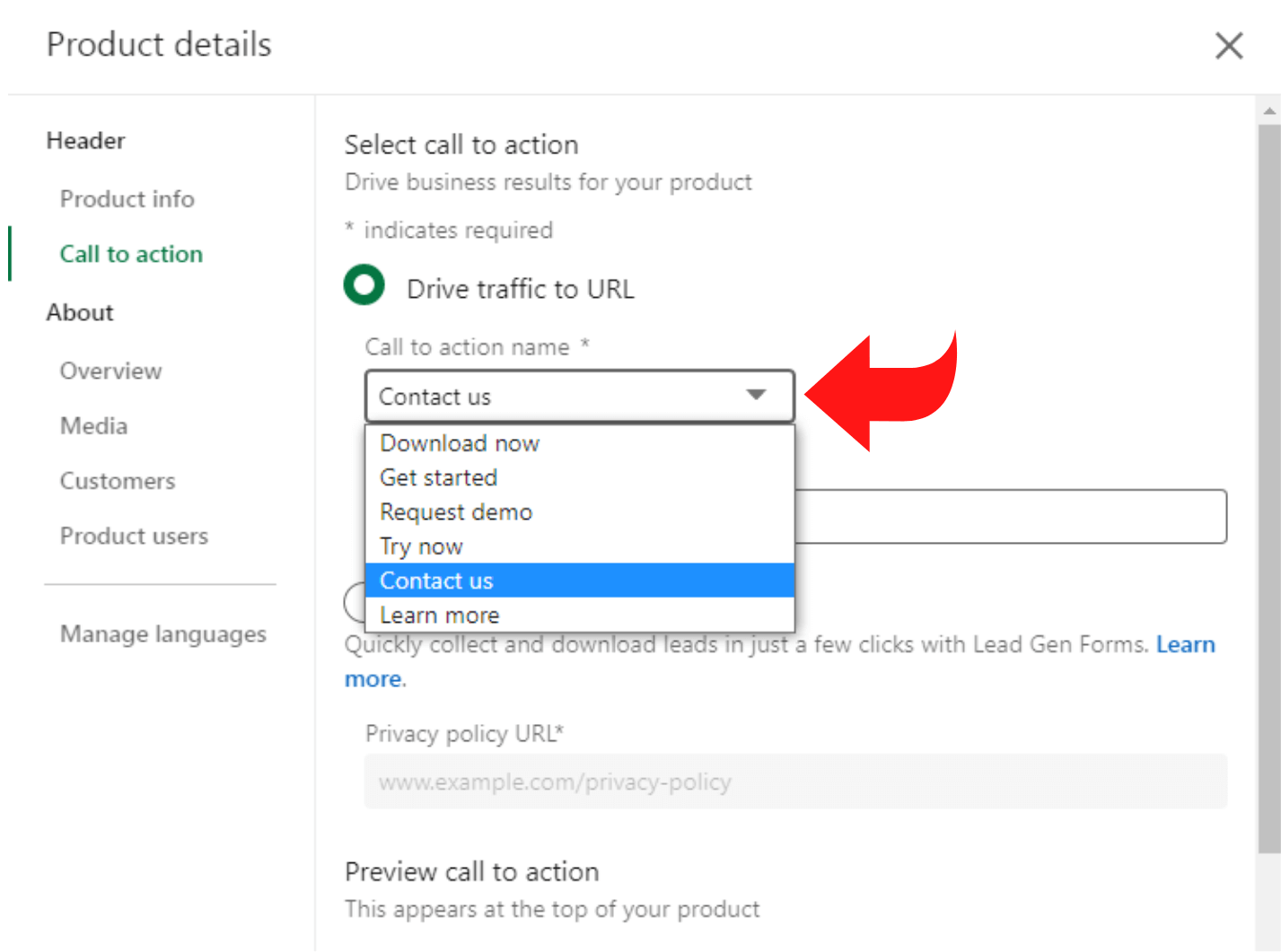 Contact Us

       

Download Now

       

Get Started

       

Learn More

       

Request Demo

       

Try Now
Importance of a Good Call to Action
Calls to Action are an integral element of a webpage, social media posts, and landing pages. CTAs act as signposts that motivate your audience to take the steps toward becoming loyal customers.
Without a clear and actionable CTA, users may find it challenging to take the appropriate steps to make a purchase, click on a link, or sign up for a newsletter. As a result, viewers may leave your website without accomplishing their tasks.
Let's discuss the importance of a powerful CTA in-depth:
They Motivate Your Sales Funnel
CTAs are a vital part of your sales funnel. The Calls to Action instruct the users on what they should do next and prompt them to take the ideal action immediately.
A well-placed CTA in your sales funnel can motivate users to take your desired action by visiting your blog, downloading an e-book, subscribing to your email list, or giving their contact info.
They Boost the Success of Digital Advertising
The main goal of digital advertising is generating hype about your products/service or encouraging viewers to make a purchase.
Without a powerful Call to Action, your ad copy will fall flat- it won't inspire customers to take your ideal action.
Adding a compelling CTA to your marketing, especially PPC campaigns, helps convey and achieve the intent of your campaign.
Types of Calls to Action in LinkedIn
LinkedIn provides users with a few different options for creating and adding powerful Calls to Actions. For instance, you may direct viewers to click on a link that directs them out of the platform.
Or you may add a question to encourage engagement and interaction. You may even use a built-in poll to gather data.
Let's discuss the top four examples of LinkedIn's Calls to Action options:
Sentence Calls to Action
Sentence Calls to Action on LinkedIn are compelling sentences that direct readers to take a specific action. For instance, 'Click on our blog post to learn more,' or 'Sig up to our newsletter to get regular updates.'
Question Calls to Action
Another effective yet straightforward of driving engagement on LinkedIn is by choosing a question CTA.
Using question CTA's is n excellent way of boosting visibility and engagement rates, especially since people love giving their insight and opinions.
For instance, you may create a captivating social media post discussing a hot industry topic and add, 'What are your thoughts?' to ignite discussion.
Remember to reply to all your comments since good engagement is key to allowing LinkedIn's algorithm to decide whether your post is interesting and informative.
Poll Calls to Action
Adding LinkedIn's built-in polling functionality is a fantastic way to gather data from your followers and get insights.
Poll CTAs are useful for product development and identifying your customer's needs and desires.
Image Calls to Action
When it comes to promoting a LinkedIn post, the social media platform offers you two options:
       

Using the image from the post's hyperlink

       

Adding a new image
Including your call to action into the image enables you to signpost your CTA two to three times to drive your message home.
Top Benefits of Having a Good CTA on LinkedIn
Calls to Action on LinkedIn are essential to persuade users to take the steps towards becoming a customer. Let's discuss several benefits of having a good CTA:
       

Energizes Your Sales Funnel-

Calls to Actions typically aid consumer transition in the buyer's journey. They encourage your viewers to take your desired action, thus converting them from intrigued users to qualified lead

       

Provides You with Analytical Insight-

LinkedIn's innovative, customizable CTA feature comprises analytics data. This way, you can see how other LinkedIn members interact with your Calls to Action

       

Customers Want Them-

The goal of a well-placed CTA button is to direct customers to the next step. People often expect these to learn what they should do next

       

They Help You Achieve Your Desired Goal-

A powerful and compelling Call to Action can help you acquire your customer's interest, boost engagement rates, and continue interacting with you
How Can You Write a Good LinkedIn Call to Action?
A well-crafted Call to Action can help you boost engagement and visibility. Let's discuss the top ways you can write a compelling LinkedIn CTA:
Ensure Alignment
Calls to Action must match the page where the offer lives and where it takes the visitor. If your CTA doesn't fit, the disconnect will confuse the visitor, increasing the likelihood of the user leaving without taking desired actions.
For this reason, conducting keyword and customer research is essential.
Add Value
To create powerful CTAs, you must deliver value. Your ideal customer will only click on your calls-to-action if they believe they get value from it.
Consider the top two or three benefits of your offer.
Create Urgency
Another excellent way of creating a solid CTA is urgency. When Calls to Action develop a sense of urgency and motivate users to act immediately, they're more likely to take action.
That's why so many websites post seasonal sales, limited availability, and discounts.
Create Clear and Specific Copies
Vague and confusing language can decrease the value and effectiveness of your CTA copy. It may even make your offering seem less credible.
But a clear, specific, and compelling CTA with powerful words and strong verbs solidifies the value of your product/service, fosters strong connections with customers, and guides viewers where you want them.
Incite Excitement
If you want viewers to interact with you and your brand, you must focus on creating an impactful headline and CTA.
Evoke enthusiasm in your copy by using a killer CTA, impactful language, and exclamation marks.
Best Call to Action Phrases for Prospecting
Writing compelling Calls to Action for your LinkedIn connection messages, summary, and profile helps you win more leads quickly and effectively.
To help you out, we've listed a few of the best LinkedIn CTAs for prospecting:
       

Attract more customers today!

       

Do you want to attract qualified leads? Yes/No

       

Enjoy your free trial now!

       

Use your special first-time buyer discount

       

Add to your cart or Wishlist

       

Become a part of our exclusive newsletter

       

Grab your free sample before its gone

       

Reserve your seat at our webinar- before there are none left!

       

Take our quiz to find out more
Remember, the best CTA for prospecting must entice curiosity and generate customers demand for more content!
Guide to Adding a Call to Action Button on LinkedIn
LinkedIn's innovative Call to Action feature for Company and Product Pages enables users to create personalized CTA buttons.
The platform recently modified its 'Follow' button to produce an effective and impactful result. The CTA feature comes alongside analytics tracking that allows you to pinpoint your page's performance.
Here's a step-by-step guide to adding a customized Call to Action button on LinkedIn:
 

Click on your LinkedIn Page

 

Select the 'Edit Page' button located under the banner

 

Choose the 'Header' information

 

A window will appear where you can find the 'Button' option

 

Once you click on it, LinkedIn allows you to add 'Button Name,' and 'URL'

 

After you write an impactful Call to Action and include a relevant link, click on the 'Save' button

 

This way, you can publish your desired CTA on LinkedIn!
What are the Best Ways to Use Calls to Action on LinkedIn?
LinkedIn allows users to add CTAs anywhere in their profile. Typically, adding Calls to Action in the following places generates the most leads:
       

Activity and Volunteering Causes

       

Connection Requests

       

Multimedia like images, presentations, and video subsections

       

Projects

       

Publications

       

Summary
The best way to use a CTA on LinkedIn is by identifying what you want to achieve by placing the button. For instance, do you want to switch job roles or companies as a job-seeker? As a marketer, do you want to engage users or attract qualified leads?
Ensure that your Call to Action on LinkedIn reflects your primary purpose. Moreover, your CTA must include the following:
       

An actionable verb

       

Direct and concise words

       

Customized

       

Informative and attention-grabbing
Conclusion
Calls to action phrases on LinkedIn boast the potential to drive organic customer interaction and boost customer engagement rates.
Use the basic rules of writing a powerful CTA discussed above to convert visitors into leads.