Last updated: November 26th, 2021 at 08:55 am
Volunteering is a great way to get involved with your community, build your personal brand, and grow your network. And when you add volunteer experience to LinkedIn, it helps establish your social capital, advances your career, and supercharges networking with your prospects and leads. 
Did you know that adding volunteer experience on LinkedIn increases your chances of landing a job by 41 percent? That's what hiring managers and employers say! So if you have any time off during the week or are looking forward to doing some volunteer work soon, then be sure to add this valuable piece of information on LinkedIn.
But why do hiring managers and prospects show interest in volunteering? Well, that's because volunteering shows your leadership skills, compassion, and empathy. It also represents your teamwork abilities, work motivation, and more. 
In this post, we'll discuss how to add volunteer experience on LinkedIn. But before that, let's have a look at the significance of adding volunteer experience to LinkedIn.
Reasons to Add Your Volunteer Experience on LinkedIn
Putting your volunteer experience up on LinkedIn is a great way to build your portfolio and make your profile shine. Since almost everyone adds similar work experience or educational backgrounds on the network, volunteer experience on LinkedIn can make you stand out and attract recruiters or leads. 
On top of that, if regular volunteer work makes sense within both your professional domain and personal values and interests, it can really shine through when you put it out on LinkedIn. Keep in mind that your potential employers or clients might also be sharing similar volunteering values, interests, or backgrounds outside their job hours (sometimes even more so). As such, this is your best bet to cut through the noise and get noticed. 
And if you've never done volunteer work, it's time you should start one and then add the information to your profile. Doing so will give your LinkedIn profile a new and better outlook. 
Steps to Add Volunteer Experience on LinkedIn
Wondering how to add volunteer experience to LinkedIn? Follow these easy steps:
Step 1: Head Over to Your LinkedIn Profile
If the Volunteer section is already added to your profile: Click on the pencil icon >> Edit More. Here you can add each of your volunteer work in a breeze by following the instructions that will appear on the screen.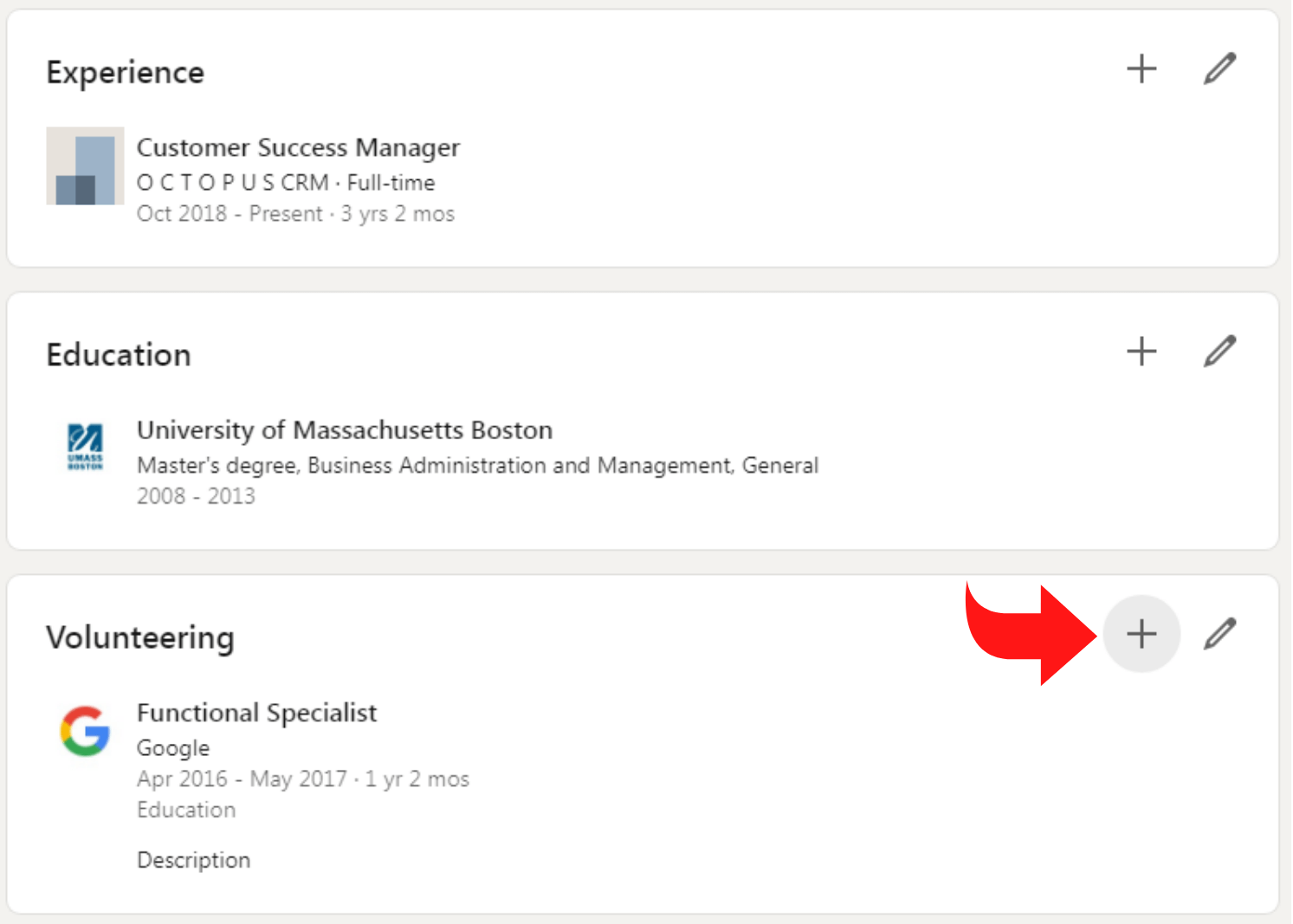 If the Volunteer section is not added to your profile: Click on View More under the Contact Information in your profile. You will then see a list of many different sections you may want to add to your profile. Check the Add Volunteer Experience section, and it will be added to your profile.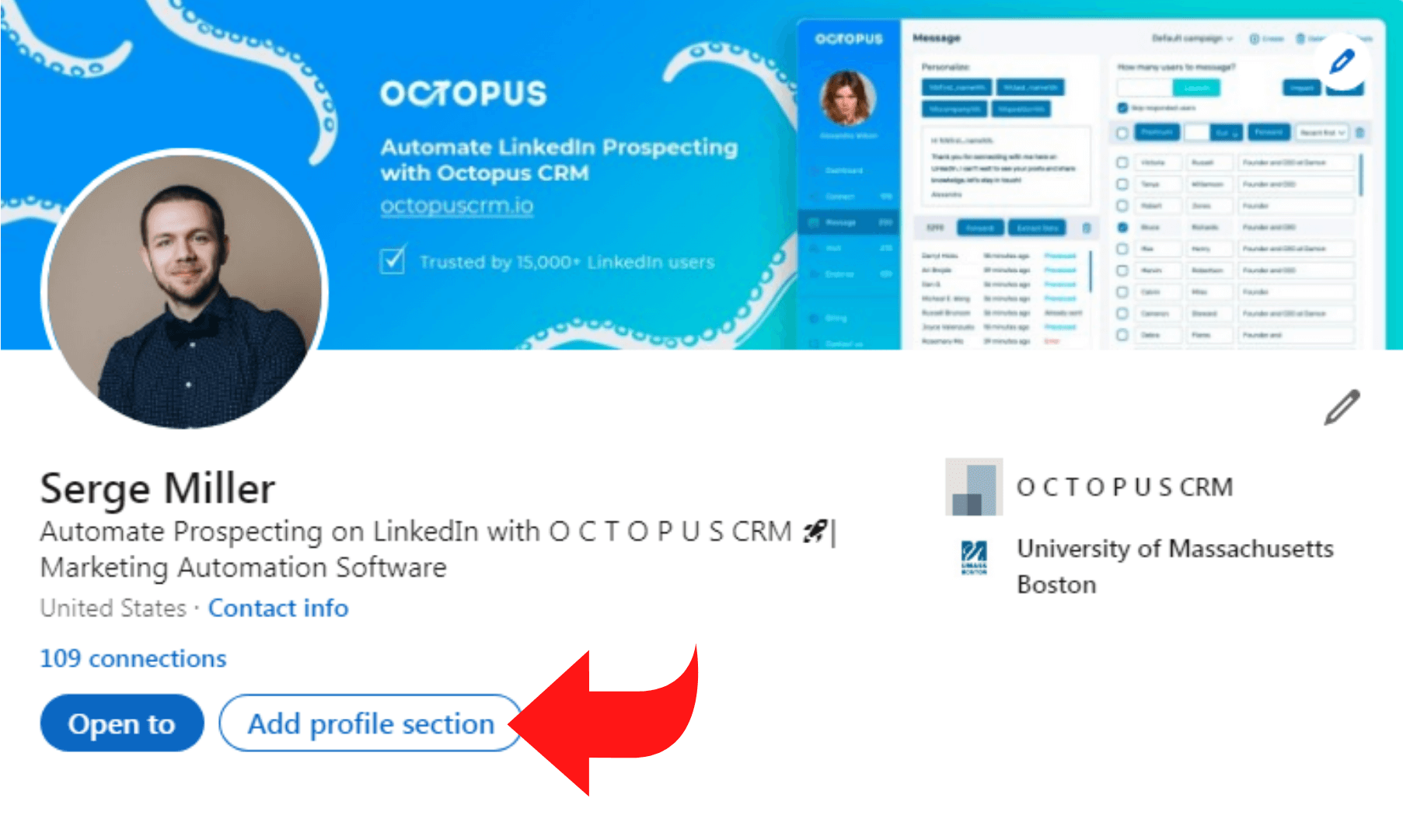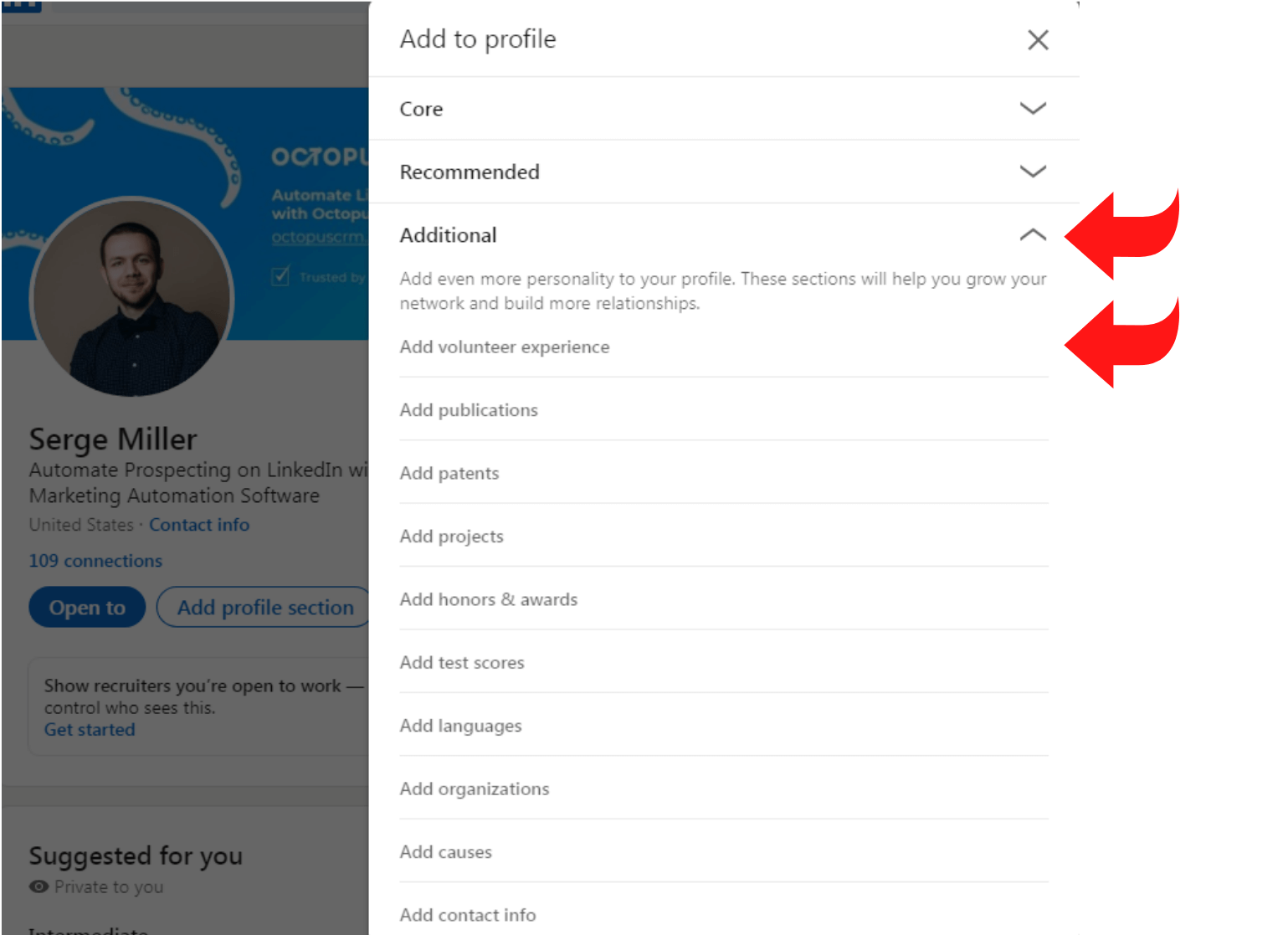 Step 2: Provide Information About the Organization
Fill in the name of the organization where you did volunteer work and then mention your Role or type of volunteer work. Also, be sure to add some details of your role or underscore your major responsibilities. For instance, you could choose your role as a supporter, donor, or sponsor and then provide some details of what you did under your role. 
Step 3: Choose the Cause
Next, click on the Cause tab, and it will present you with a dropdown list of many different causes to choose from. Pick a cause that relates to your volunteer experience. If you don't see a relevant cause, you can click on the '- 'sign to keep the field blank.
Step 4: Mention the Start and End Dates
In the next step, pick the month and year of the beginning and end of your volunteer work at the said organization. But keep in mind that LinkedIn doesn't show the end date by default. That's because if your volunteer work is still in progress at the organization, you can choose the I Currently Volunteer Here option.
Step 5: Describe Your Experience
In the description box, you can write more information about your experience, such as the work you did and things you learnt. Plus, you could get some information from the organization's website and mention the same in the description area. Doing so will help give your experience some context.
Step 6: Save the Information
And finally, click on Save, and your volunteer experience will be published to your profile.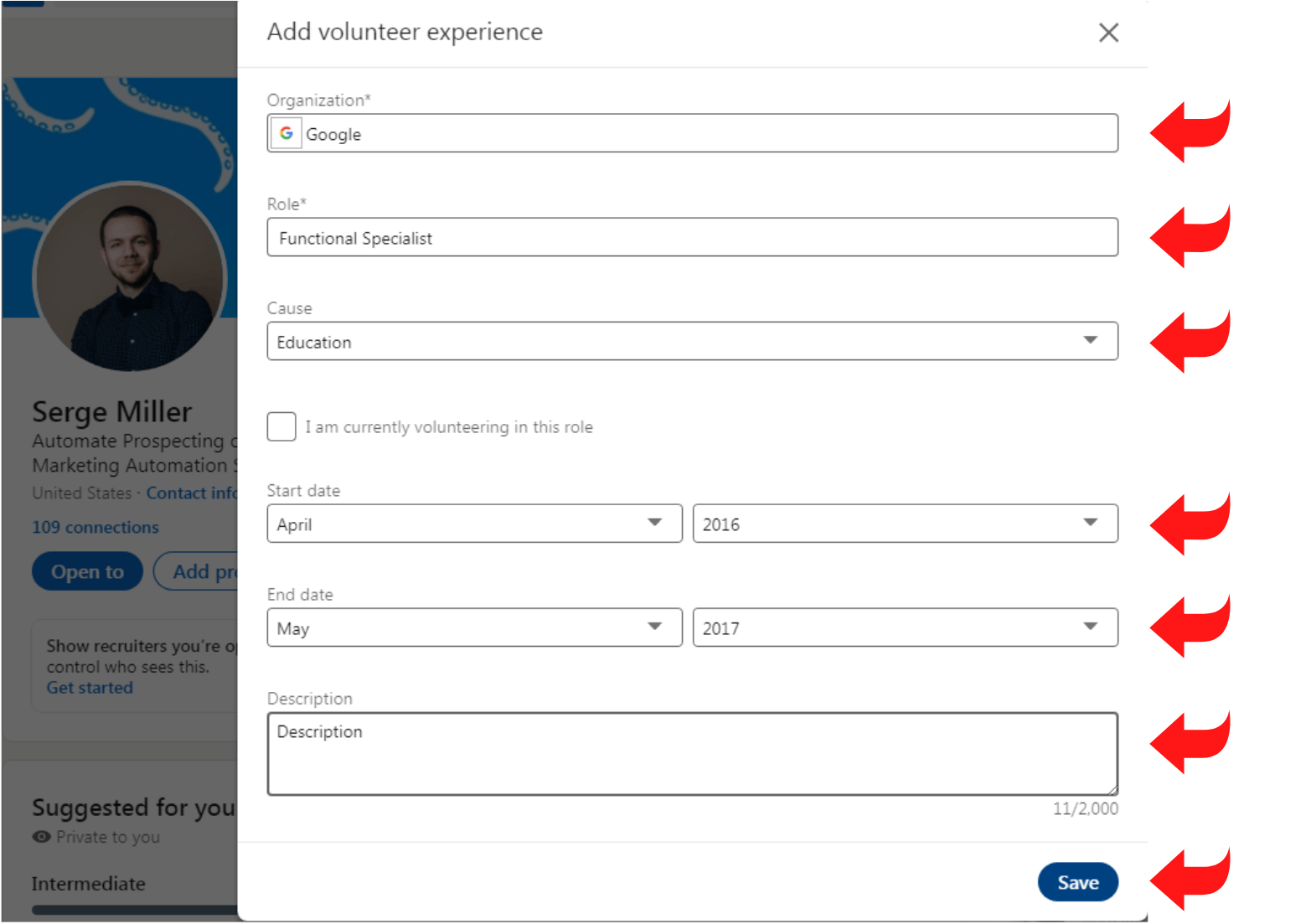 Here's a quick summary of the steps you should follow to add volunteer experience to your LinkedIn profile:
Sign in to your LinkedIn account and then go to your profile

Click on the tab that says "Add Profile Section"

Select Volunteer Experience & Causes from the list

Check Add to Profile

Type your information in the relevant fields and click on Save.
Your volunteer experience is now added to your profile. That was super easy, wasn't it?
Steps to Rearrange Volunteer Experience on LinkedIn
There's no guarantee that your profile will look perfect right away after you've added volunteer experience. Chances are, you may feel the need for changing the order of volunteer experience on your LinkedIn profile. In fact, how to reorder my volunteer experience on LinkedIn is one of the common questions that we hear daily. And many people think it is not easy to go about this process, but in reality, it is a super seamless process. 
Here's how to rearrange volunteer experience on LinkedIn in a few simple steps:
Head over to the top of your LinkedIn account and select the

Me

icon.

Choose View Profile and then find the Volunteer Experience Center. 

You will see the volunteer experience you've added to your profile. 

Select the experience you want to reorder and drag it to whichever position you like or deem fit, depending on the starting and ending dates. 
Alternative Method
Still wondering how to reorder my volunteer Experience on LinkedIn? In case you experience any problem following the above steps, you can take an alternative route. The trick here is to remove the volunteer experience that you want to keep at number 1. After removing it altogether, you can add it back so that it appears at the top. 
With this method, it is vital to keep the dates of your experiences in mind. For example, if you're currently working here, then do mention so. If not, then choose an end date for the experience. Also, don't forget that LinkedIn will automatically display your latest volunteer experience at number 1. 
Steps to Remove Volunteer Experience on LinkedIn
There could be many different reasons you want to remove your volunteer experience on the professional networking platform. Maybe you want to remove an experience and add it again with more or correct information. Or you might want to simply remove an experience that isn't relevant or one that's not helping you professionally. 
In any case, follow these simple steps to remove volunteer experience onLinkedIn:
Log into your LinkedIn account and head over to the

Me

sign at the top of the homepage.

Click on View Profile and then move down to find the Volunteer Experience Center.

Choose the Edit option showing against the experience you want to delete.

Click on Delete Volunteer Experience, and you're good to go!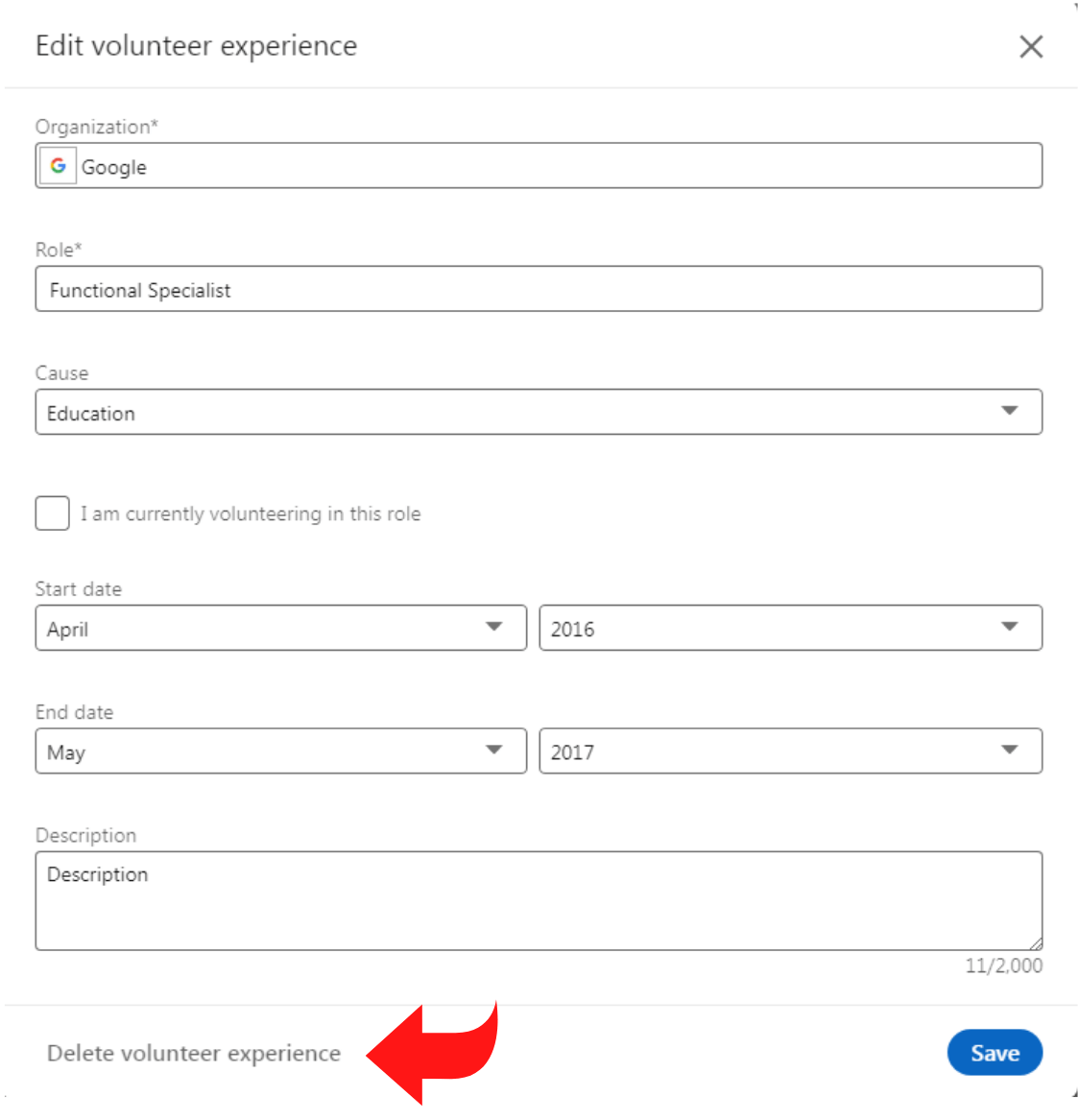 How to Optimize Your LinkedIn Profile
Adding volunteer experience can make your profile shine. Still, most employers or leads will not know about you without proper visibility. It's time to take your LinkedIn profile to the next level with appropriate optimization. There are many benefits of optimizing your LinkedIn profile, including increased exposure on search engines, better networking opportunities, higher conversion rates from leads, and more.
It is good to optimize your profile by including relevant keywords that recruiters or prospects use in their searches. Also, consider rewriting your profile content and include keywords in the summary and other sections. Unfortunately, optimizing your LinkedIn profile can be overwhelming when you go about it practically. 
But the good news is that you can use certain tools and solutions like the Octopus CRM LinkedIn Profile Makeover tool to optimize your profile without going through complex processes. The profile makeover tool by Octopus CRM will make your profile aesthetically more attractive and more accessible, and discoverable in LinkedIn search and external search engines. As such, it can boost your networking and engagement rates by up to 95 percent. 
With this tool, all you need to do is provide your profile information and allow the professionals and experts behind the service to do all the hard work, from designing the images to improving the profile content and keywords optimizations. 
Here's how you can get an optimized LinkedIn profile with the Octopus LinkedIn profile makeover tool:
The Octopus CRM

LinkedIn tool

will ask you for some details about you or your business to begin the process. Simply fill in the relevant information and leave the rest to Octopus CRM.

The Octopus CRM team will receive your information and then start optimizing your profile immediately. They will redesign your LinkedIn background banner, improve your profile content and sections, undertake keyword research, and write new, high-quality text to go into your profile.

You will then receive an email with a Google Drive link that contains all the data to optimize your profile. And all you have to do is to download the data and upload it to your LinkedIn profile. 

Once uploaded, your LinkedIn profile will appear more professional, aesthetically welcoming, and perform better in LinkedIn search and outside search engines.