Last updated: November 12th, 2021 at 09:32 am
Sometimes a simple resume does not make the cut. A great way to stand out from the crowd and get noticed on LinkedIn is by using a LinkedIn portfolio. Wondering how to add a portfolio to LinkedIn? This post has you covered! But first, let's have a look at how the portfolio section on LinkedIn can play a crucial role in your professional outlook.
What is LinkedIn Portfolio?
What is portfolio on LinkedIn, you ask! A LinkedIn portfolio is an effective way to make your profile shine and showcase your work in an attractive and more practical way. This way, your potential clientele or employers can gain a quick insight into what you do and how you can help them. 
Ideally, a LinkedIn portfolio includes content that is meaningful to you and your target audience. This may consist of recent updates, achievements, previous experience, future plans, and more. It doesn't matter if you are not accomplished in your work area; you can make your LinkedIn portfolio stand out in the crowd regardless.
A portfolio is pretty much like the "featured" section in your LinkedIn profile. It is a good idea to add samples of your work in this section so that anyone who visits your profile can get a sense of your practical performance in your profession. If your resume tells people about your work, a portfolio goes on to present the practical side of your work.
Octopus CRM LinkedIn tools will help you to create the best portfolio which make you stand out from others. Try our professional LinkedIn profile makeover service, just reach out to our team.
What to Showcase in Your LinkedIn Portfolio
Everyone has work samples. Think about the strategies you used to resolve problems in your career or the extra work you did to boost your company's bottom line, aside from your everyday duties. It may be anything from a picture of you receiving an award or a conference presentation to article publications and more. Think outside the box because the goal is to stand out in the crowd. 
If you wish to showcase your work through your LinkedIn portfolio, keep the below pointers in mind. 
Recreate a presentation you may have given in the past and post it on Slideshare to show that you know your way around presentations. 

Create a sample report, flowchart, or summary to demonstrate that you have the necessary skill set for the job.

If you are working on a research project, make sure to include its outline. If you have completed projects, share their abstracts at the very least. 

Compile a list of your favorite resources for research. 

Create mind maps and project timelines to showcase your planning and management skills. 
LinkedIn allows you to present and demonstrate your skills, experience, and knowledge. Never shy away from using it to your advantage. 
What Media Can You Add to Your LinkedIn Portfolio
LinkedIn officially supports videos, images, audio files, presentations, and documents in certain formats. These include Word, Excel, and PowerPoint files, as well as pictures, screenshots, videos, PDF files, and more. You can add these files to the Featured section of your LinkedIn profile under each position listed in your experience and education section. 
How to Add Portfolio Pieces to Your LinkedIn Account
Want to add portfolio to LinkedIn? Follow these steps: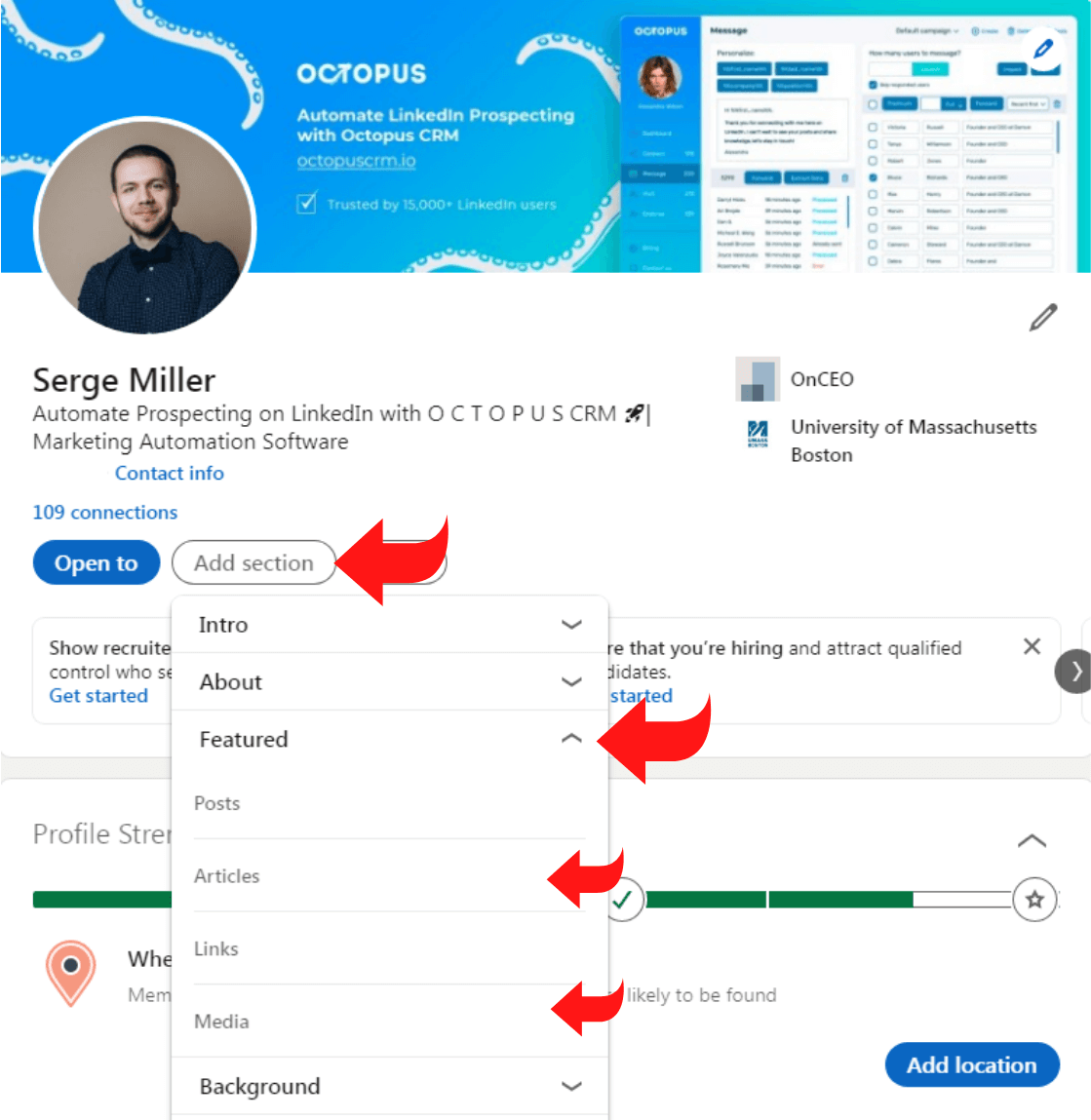 Go to your LinkedIn profile and click on the Add section tab.

Choose the appropriate category under the Featured tab. 

From the Featured tab, you can easily navigate the kind of content you wish to add to your LinkedIn portfolio, such as articles, posts, websites, media content, and more. 

You may alternately simply scroll down to the Featured section and make changes from there directly. 
Make the most out of the Featured section on your LinkedIn profile by showcasing various kinds of content.
How Much Content to Share in Your LinkedIn Portfolio
LinkedIn gives you the freedom to add unlimited content to your profile. You can share as many files or links as you want. You can keep adding things to your portfolio as you advance in your career. 
When adding content to your profile, however, make sure to include 2 to 5 items that give a general overview of you as a professional, your skillset, your brand, and more. Try to share various work details as well as multiple content types to entice your audience. 
LinkedIn Portfolio: 4 Examples 
To gain a better idea of what types of pieces to add to your portfolio, here are some LinkedIn portfolio examples for your reference. 
1. Trent Smyth AM
Trent is Executive Director at The Chief of Staff Association. As you can see, he has polished his portfolio section, making it so attractive with articles and visuals.

2. Hugh Briss
Hugh works as a consultant in the social media marketing niche. To draw his leads, he has added several of his published articles to LinkedIn as portfolio items.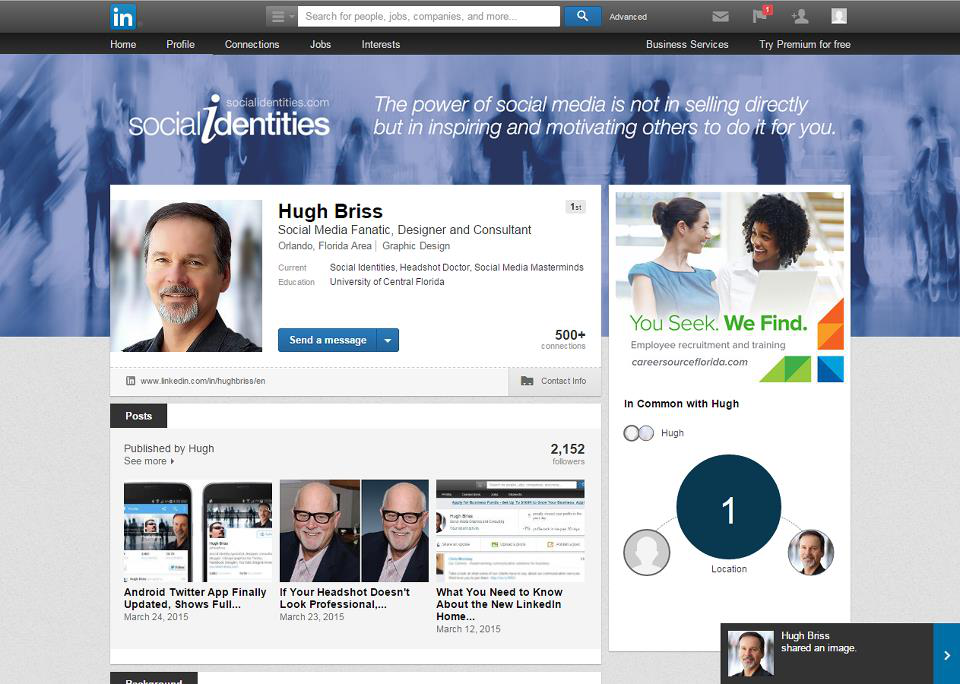 3. Xand Griffin
Xand specializes in customer service in the marketing and advertising profession. She has added many of her strategies and publications to her LinkedIn profile, making her profile super attractive.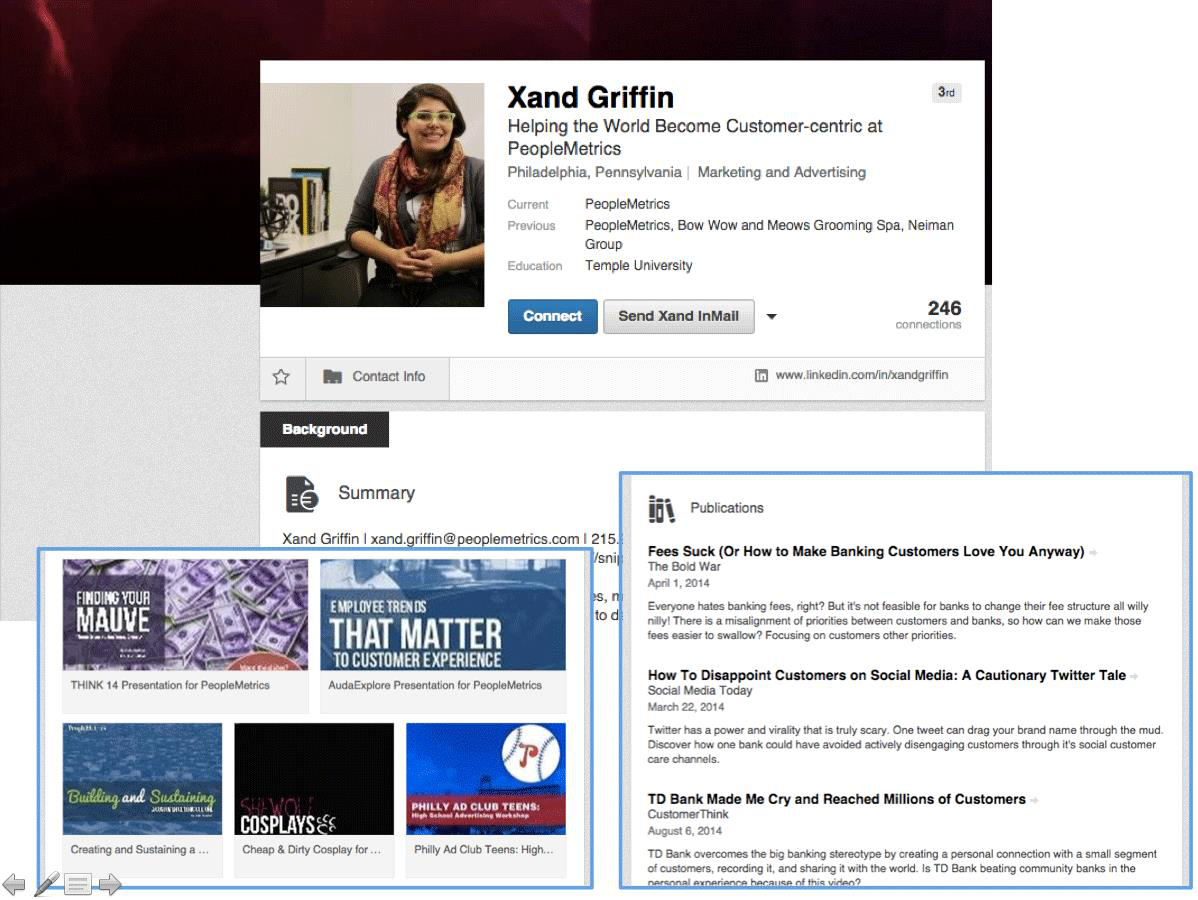 4. Jason A Miller
Jason is a content marketer at LinkedIn, besides being an author and a photographer. And his profile tells it all. From publications to evidence of his awards and achievements, plus his photographs, Jason has uploaded enough portfolio items to stand out on LinkedIn.