Will a buyer investigating your business as a prospective partner be impressed by your LinkedIn portfolio, or will they be unimpressed by the little details you have provided?
Although sharing awards on your LinkedIn profile may seem like a waste of effort, it has much more influence. Discover why you should complete the LinkedIn Honors and Awards section.
What Are the Honors and Awards on LinkedIn
Your LinkedIn profile has a section called Honors and Awards, where you may add extra details. Filling up the award section will give the reader a greater understanding of your professional background and accomplishments and help your profile stand out from the competition.
Since it can occasionally be tricky to remember any accolades you've won, users find this form the most difficult to complete. Furthermore, it might be challenging to decide what qualifies because there are no established standards for what constitutes an honor or prize.
Determining whether you possess any awards or medals is an excellent place to start. In addition to actual awards, there are additional items here.
You can list numerous honors in this section:
Magazine profiles
Published articles
Involvement in panels or moderating
Keynote addresses or speeches
Specialized projects
Membership in committees
Training or mentoring you provided
Recognition as an employee of the month
Additional relevant expertise
How to Add Awards and Honors on Desktop?
You can take the following actions to add honors and awards to your desktop:
Open your browser's main LinkedIn page and select the profile button in the upper right corner.
Select View Profile from the menu.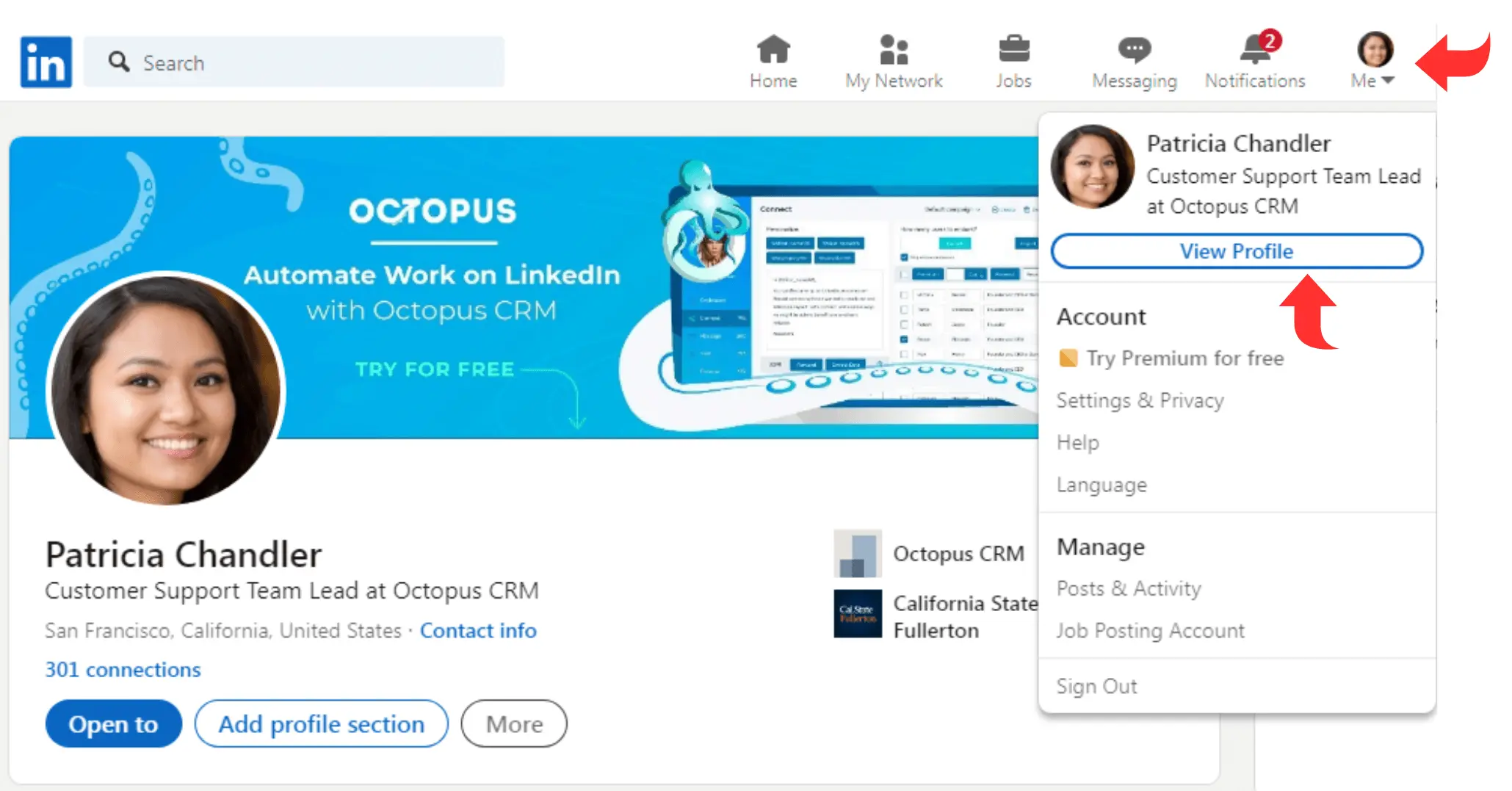 Visit your profile and select "Awards & Honors".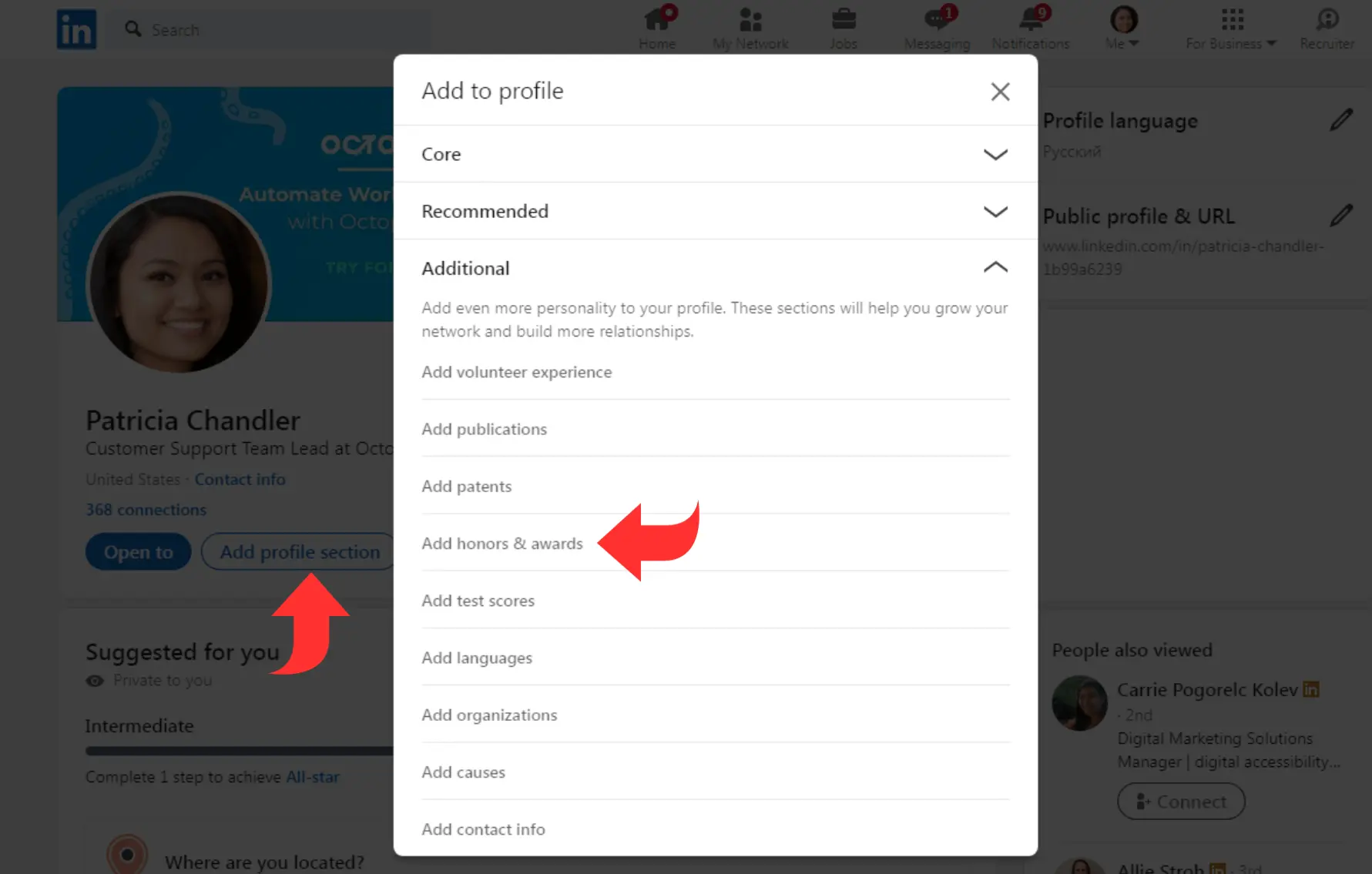 Decide which award you want to include.
On your screen, click "Add" in the top right corner.
You have a variety of places to add awards, including LinkedIn, IQN Awards, Klout, and more.
Select the Add profile section blue button.
How to Add Awards and Honors on Mobile?
You can use your mobile device to add achievements on LinkedIn by following these steps:
Launch the LinkedIn mobile app on your smartphone.
Tap the icon for your profile photo in the upper-left area of the screen.
Locate the "Accomplishments" area by scrolling down and tapping it.
Select "Awards" or "Honors" based on what you want to include.
Click the "+" button in the top right corner of the display.
Complete the form with information on your accolade or award.
When finished, tap "Save" in the top right corner of the screen.
Read also: How to Improve Your Profile on LinkedIn
Should You Add Pictures and Videos to the Awards and Honors Section?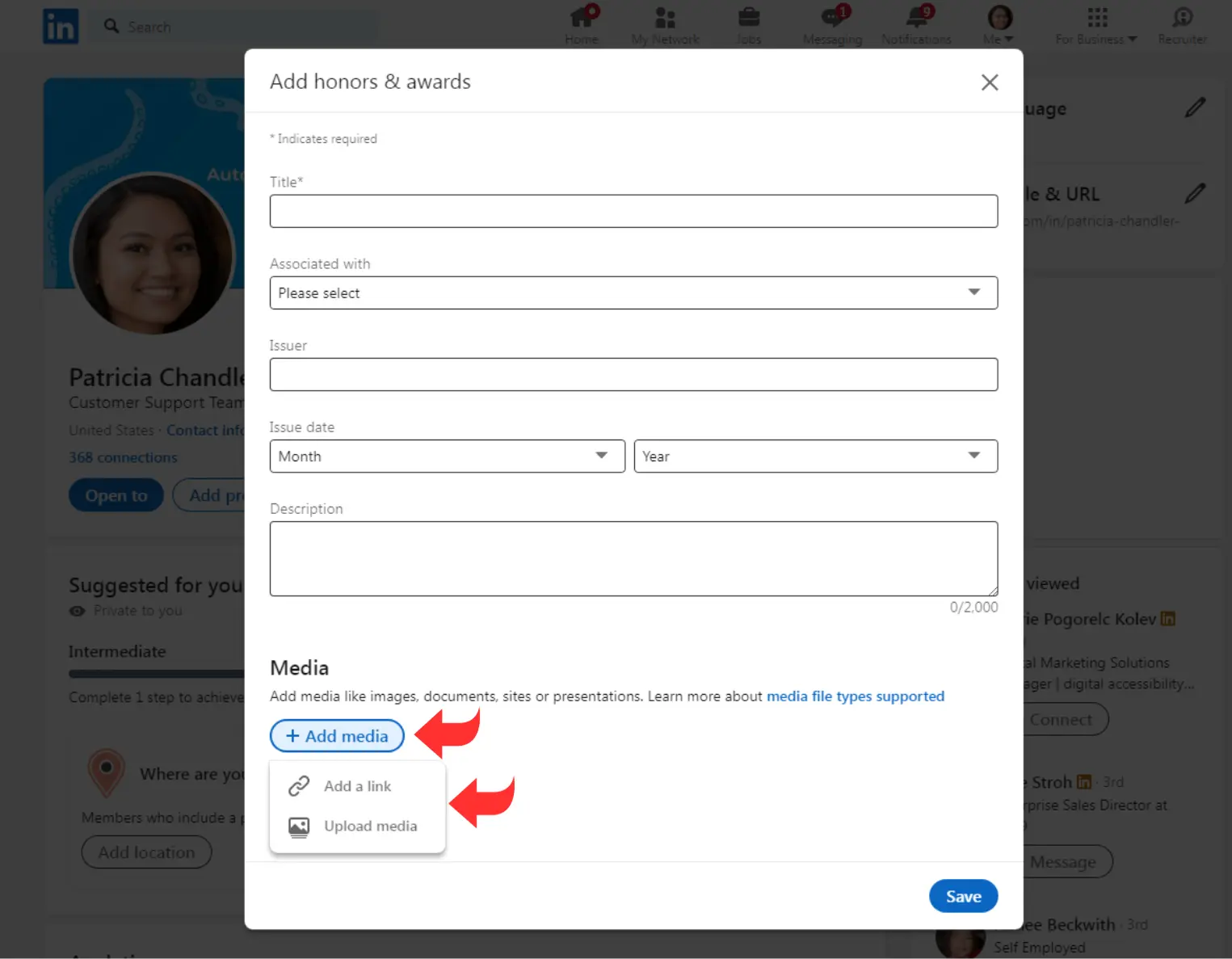 With the platform's native video feature, members of LinkedIn have had access to direct video uploads since 2017. In other words, the Honors & Awards area now allows you to post movies and photos. On your awards page, an image or a video can assist in catching visitors' attention by providing a break from the lengthy list of text in your profile.
Because most users will skim past this part, doing so guarantees they stop and pay attention to it. Photographic proof demonstrates your expertise and leadership in your sector, which is advantageous for leads looking into you.
Let someone take photos or videos for your profile on LinkedIn; if you win an award, do a presentation because it makes for excellent content.
Some samples of things you could upload are as follows:
A picture of you receiving the honor.
A recording of you giving a speech.
A picture taken by a professional of your award.
Only provide polished pictures and videos that represent your business. The YouTube Upload Button, found beneath each image field in this area, allows you to add films that show you accepting an award or other distinction. Why include videos in your content? Videos of job interviews provide further insight into the personality attributes that make someone effective in those kinds of circumstances.
What Types of Awards to Add on LinkedIn?
You can include a wide variety of honors in your LinkedIn profile. Most people only consider the significant ones, such as awards from a particular field and credentials. However, there are many different methods to demonstrate your skills and experience, from participating in community service projects to following interests and hobbies that advance your personal development.
Several other award categories are available to you, including:
Awards for community service, environmental or wildlife protection, diversity, inclusiveness, and those recognizing originality, inventiveness, or other noteworthy accomplishments.
Your profile may contain a maximum of two sections for honors and awards. You may find this area in your profile's education section. If you have multiple awards, you can list them in various sections within your profile, such as talents or volunteer experience.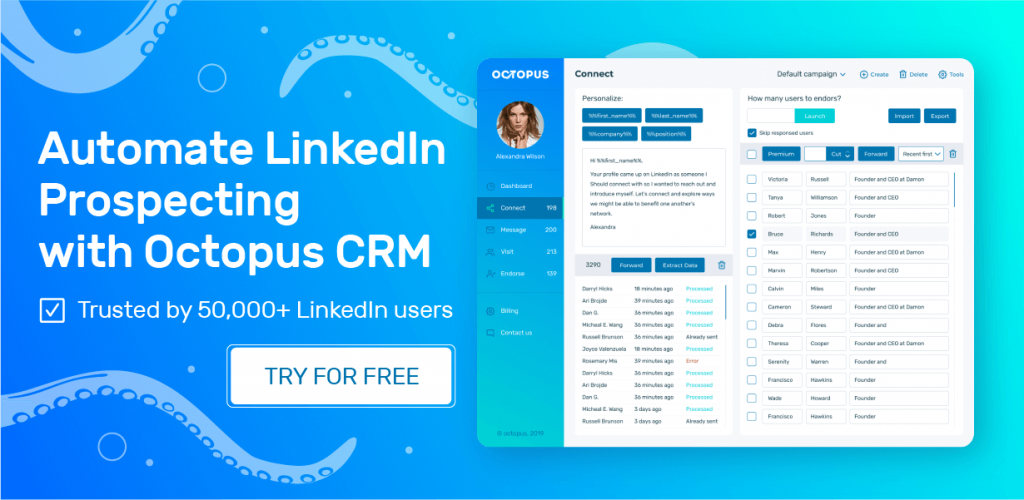 Tips: What to Add to the Awards and Honors Section on LinkedIn
Undoubtedly, you want to present your best self on your LinkedIn page. The issue is that if you list every honor and award, you've ever earned on your profile, it'll look like a resume, and nobody wants that!
Therefore, how do you choose which awards to highlight? And where?
We have some advice for you:
Include Relevant Awards
List awards that are relevant to the industry. It would be acceptable to mention an award you have won for literary quality, for instance, if you are a writer. Otherwise, leave it off.
Only mention honors valuable to future clients or employers who could see your page. Employers won't care about an award if they don't know what it signifies or don't recognize it, so don't waste your time writing about it.
Avoid Overcrowding
Keep your list of awards to a maximum of two or three; don't list more. Anything more than that appears to be bragging rather than just highlighting your achievements.
Avoid Mistakes
Avoid common blunders that could make your honors look less impressive on your LinkedIn resume. Check your content for spelling and punctuation mistakes, and don't make up or inflate the number of your honors. Additionally, it's critical to constantly update your resume, eliminate any out-of-date or unnecessary honors, and avoid mentioning contentious or overly sentimental honors.
Emphasize the most relevant achievements on your resume regarding each position but avoid stuffing it full of awards or making them the major attraction. You may show off your accomplishments and convince prospective employers of your worth and potential. Awards are an excellent method to stand out from the competition.
Conclusion
Adding honors and awards to your LinkedIn profile are excellent ways to highlight your professional achievements. Additionally, you can use them to showcase particular talents, triumphs, or distinctions that weren't previously noted on LinkedIn.
Your professional progress depends significantly on your recognition from peers and employers. Making new contacts, moving up in your profession, and opening doors for new chances are possible. According to a survey, employers are more inclined to work with applicants who have received praise from peers than those who haven't.
Put those awards you fought so hard for on display by starting to write on your LinkedIn page.