LinkedIn is every business's favorite social media platform with over 740 million members and 55 million registered companies. But the question is, 'Is your business leveraging LinkedIn to its maximum potential?'
LinkedIn is now an excellent way of acquiring qualified leads and converting them into payable customers. The brand new 'LinkedIn Product Page' feature enables businesses to gather five-star ratings product testimonials and generate leads with attention-grabbing CTA's.
But to use this lesser-known feature to bring more awareness to your product/services, you must understand its benefits and uses. To help you out, we've created a comprehensive guide to creating product pages on LinkedIn:
What are LinkedIn Product Pages
Introduced in December 2020, LinkedIn product pages serve as an online store minus the payment process. This way, you can showcase your products and services on LinkedIn to attract prospective buyers. It also helps you build and strengthen credibility by providing factual information about your products and brands.
LinkedIn product pages are a hub for B2B businesses where you can:
 

List your products

 

Add detailed product descriptions

 

Include media, including videos and images

 

Integrate customer ratings and reviews

 

Link to sales pages on your website
A LinkedIn product page can help encourage potential buyers to make confident purchases.
In addition, it also works as a digital proof of your company's success and product reliability as you share customer ratings, product rankings, and reviews from the LinkedIn community members. These are usually your genuine customers who rank your products on a scale of 1 to 5 and share feedback on your product performance.
Typically, it is a short 500 characters review highlighting your products' pros and cons and critical factors. The LinkedIn reviews let the customers choose pre-set rating options, such as easy-to-use, innovative, good customer support, or easy setup. These reviews are visible to new prospects and visitors.
You, as a company, add a hashtag for your products to help customers stay updated with the latest developments and news. This way, you can connect with your loyal customers and new prospects in a more engaging manner.
What to Add on LinkedIn Product Pages?
Can't decide what should go on your LinkedIn product page? Here we've created a list of features you should include:
 

Media files such as images and clips to showcase your products

 

Customer reviews for particular products

 

A list of high-profile customers, clients, or companies

 

Links to your landing pages or the actual product

 

Product logos and categories

 

Custom calls to action
How to Make LinkedIn Product Pages
Here's a step-by-step guide to creating a LinkedIn product page:
Step #1: Create a Product Page
Start creating a LinkedIn product page by gaining super admin or content admin access to your business page. Next, follow these steps:
 

Select the 'Products' tab present on the menu bar

 

Click on the 'Add Product' option

 

Enter the name of your product
Remember that once you add the name of your product, you can't change it again.
Step #2: Add or Edit Product Details
After entering the name of your products, it's time to enter details. LinkedIn requires you to complete the following fields:
 

Product Category

 

Call to Action

 

Product Overview
LinkedIn recently updated product pages by creating them based on existing data. So, once you add products to your list, you can edit the product description.
You can even choose between 500 different categories to find the best matches for your product.
Step #3: Choose a Landing Page URL and CTA
 LinkedIn enables you to choose between the following six CTA buttons:
 

Contact us

 

Download now

 

Get started

 

Learn more

 

Request demo

 

Try now
After selecting your CTA, you may type the URL for your landing page.
Step #4: Add Media to Showcase Your Products
LinkedIn's 'media' option lets you add various high-quality videos and images to highlight product features. Although this section is optional, it's an excellent way of putting your products in the spotlight.
Here you can embed videos, upload clips, or add images. Remember that LinkedIn allows up to 1128 x 376-pixel images and a 16:9 aspect ratio for videos. Moreover, it's best to add three videos and two photos to appropriately showcase your products and their benefits.
You may add:
 

Demos

 

Tutorials

 

Trailers

 

Product launches

 

And more!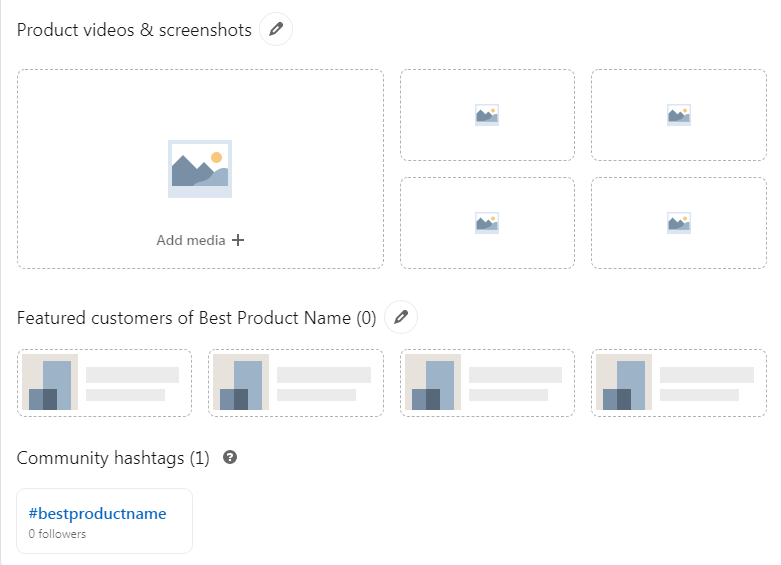 Consider creating a brand video for new viewers and product demos for prospective buyers. Ensure that you add captions to make your clips inclusive.
Step #5: Feature High-Profile Customers
LinkedIn allows businesses to add 21 customers who've tried your products. For this reason, customers on LinkedIn refer to organizations and companies.
If you serve various industries and business types, include diverse customers to reflect your target audience.
Step #6: Submit Your Product Page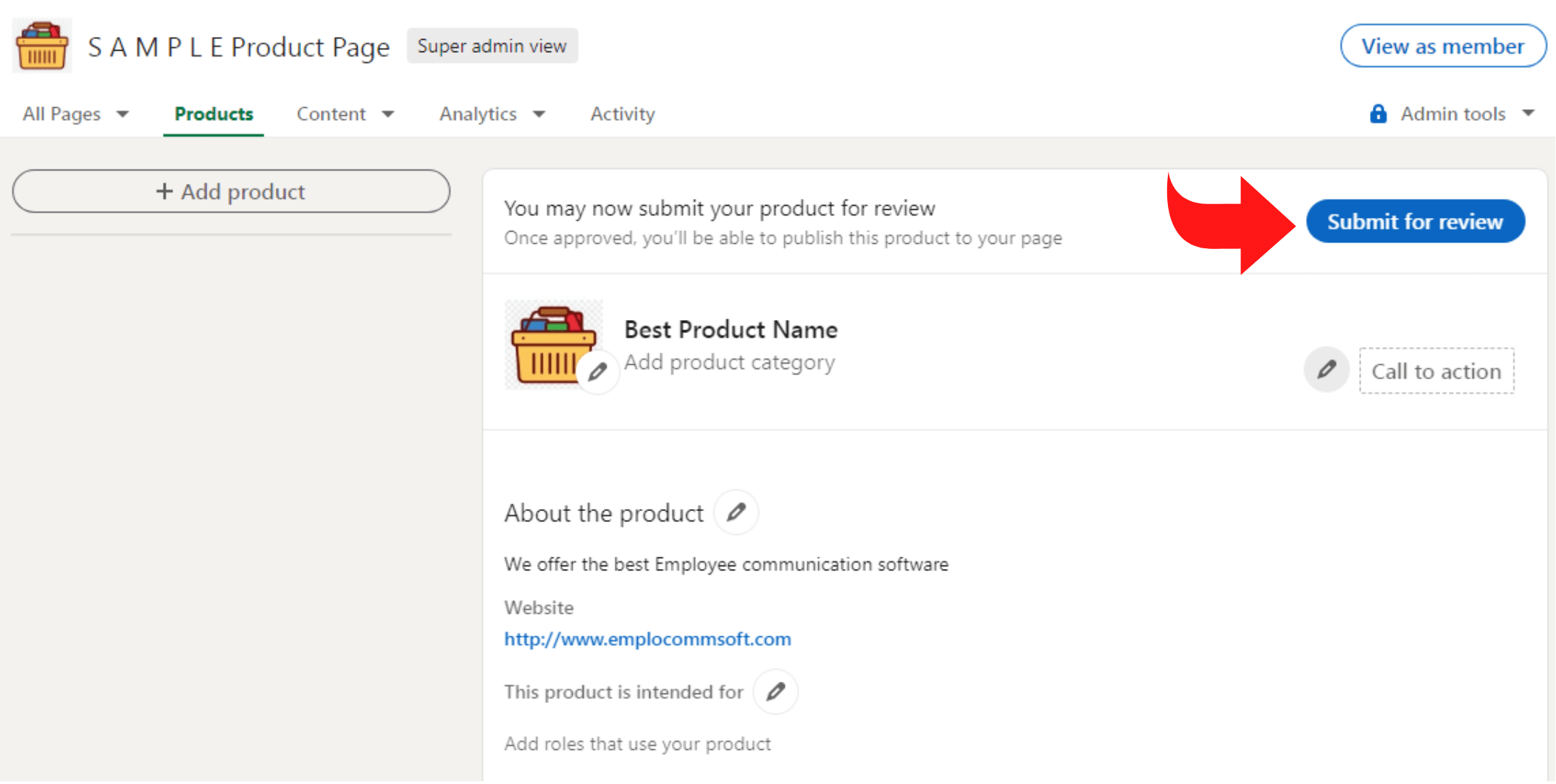 Lastly, it's time to submit your product page for review. Remember that this process requires up to two weeks.
After LinkedIn approves your product page, a 'Products' tab will automatically appear on your company page.
How to Manage Your LinkedIn Page?
You should be a content admin to manage your LinkedIn page. If you want to add more admins, follow these steps:
 

Visit your company page

 

Select the 'Admin Tool' button

 

Click on 'Manage admins'

 

Choose 'Add Admin'

4 Reasons To Have a LinkedIn Product Page
LinkedIn product pages are an excellent way of building awareness and converting leads. Here, we discuss four core reasons to create a LinkedIn product page:
 

Establish a Social Proof
When LinkedIn users visit your product page, the website prompts them to leave a 500-character long product review rating between 1 and 5.
These reviews are accessible and visible to everyone and include the customer's name and profile photo.
Moreover, active users must confirm they have used the products before leaving a review. This way, you can rest assured potential customers will only come across genuine customer testimonials.
 

Put Your Products in the Limelight
Including product highlights on your product page is an excellent way of promoting your products to prospective customers.
This way, you can assist your customers in their decision-making process and enable them to make informed purchases.
 

Create a Digital Business Hub
LinkedIn product pages are a central hub where businesses can promote their products, attract qualified leads, and grow their brand.
On the other hand, LinkedIn showcase pages exist under a parent company page. It enables brands to foster a community of followers around a specific subject.
Product pages are bottom-funnel marketing and help businesses connect prospects to experts, cultivate customers' voices, and generate leads.
LinkedIn showcase pages come in the middle of the funnel and educate prospects about products, benefits, and capabilities.
 

Use Dedicated Pages to Promote Services
LinkedIn's product pages do not allow businesses to showcase their services.
For this reason, the social media platform offers businesses dedicated LinkedIn services pages to put their services in the spotlight.