An excellent yet straightforward way of making a fantastic first impression is adding an appealing LinkedIn cover photo.
To help you create a strong profile, we've created a list of tips and tricks to choosing a good LinkedIn profile picture.
Why is LinkedIn Profile Picture Important?
To convince you to add a professional LinkedIn profile picture, we've added the benefits of having the ideal photograph on your account.
It Shows the Recruiting World You're You
Your LinkedIn photo is one unique element of your profile that makes you stand out. If you select the right photograph, you'll leave a lasting impression in the minds of recruiters.
Moreover, adding a low-quality photo or removing yours can harm your reputation as a potential employee.
Seeing another person's face on LinkedIn helps us feel more familiar and connected. If your profile lacks a profile picture, recruiters may assume you're completing your profile. But a low-quality image can leave a poor first impression.
Makes You More Approachable
A good photograph in your LinkedIn profile acts as your brand.
A profile photo where you look into the camera and smile makes you look warm, approachable, confident, and trustworthy. This way, you can foster genuine connections and grow your network.
Upload a high-quality photo to your LinkedIn profile to make a fantastic first impression and maximize views on your profile.
Higher Chances of Being Noticed
The fact is that accounts with good profile photos enjoy more incredible views. According to an insightful study by LinkedIn, profiles without pictures experience fewer views.
Moreover, 93% of LinkedIn members do not accept connection invites from users without a profile photo. Thus, adding a profile picture on LinkedIn increases the likelihood of being noticed.
An in-depth LinkedIn analysis even reveals that adding an image can increase your profile views by twenty-one times and messages by a whopping thirty-six times. Consider adding a profile photo if you want to increase your visibility and discoverability on LinkedIn.
LinkedIn Profile Picture Specs
LinkedIn provides users with official image specifications based on which they must select a profile photo. Let's discuss the guidelines for LinkedIn's profile picture size and dimensions:
       

Personal Profile Cover Photo –

1584 x 396 pixels

       

Company Profile Cover Photo –

1128 x 191 pixels

       

Maximum File Size –

Up to 4 MB

       

File Format –

Must be JPG or PNG
When designing custom cover photos, you have to be careful of areas where your profile picture will overlay the bottom left corner of the cover photo.
How to Take an Amazing Profile Picture for Free
Don't have the budget to hire a professional photographer? Worry not! Here we've listed several ways you can choose the perfect LinkedIn profile picture for free:
Ask a Friend
If one of your friends or colleagues owns a professional camera, request them to take your headshot. If they say yes, you can pay them back in the form of another favor.
Grab Your Selfie Stand
Alternatively, you can try taking your professional headshot yourself.
Start by setting your phone on a selfie stick, looking straight into the camera, and smiling. You don't even need an expensive DSLR camera for this one!
Here's how you can take a professional profile photo with your smartphone:
     

Wait for a clear day or find an area with indirect sunlight

     

Identify a location with an attractive background

     

Select the 'Portrait Mode' on your camera

     

Take at least eight to ten pictures

     

Make sure you smile wide on your profile pictures

     

Leverage editing software to enhance the colors of image
Use a LinkedIn Analyzer
Finally, after you've taken several professional photos, try using a LinkedIn photo analyzer like Photofeeler or Snapper to identify the best one.
These AI-based, revolutionary apps will tell you whether an image is good or bad and how you can improve them.
6 Eye-Catching LinkedIn Profile Pictures
Let's discuss a few of the best LinkedIn profile photo examples
Tobi Oluwule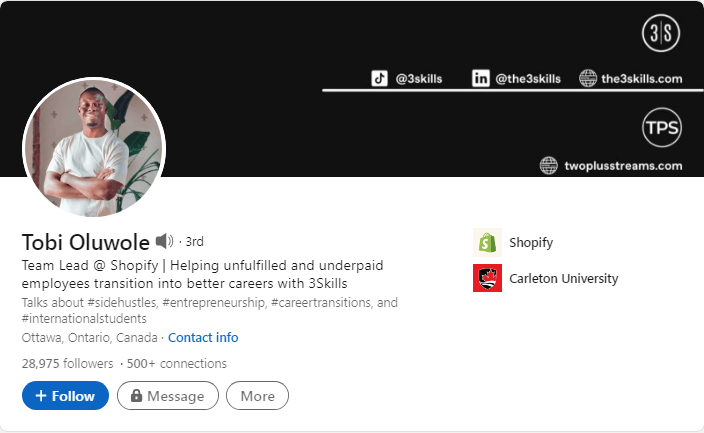 Tobi is a successful entrepreneur on LinkedIn with a stunning profile and cover photo. His LinkedIn cover photo is an incredible example of how you can utilize the space to promote your website effectively.
Tobi's stunning cover photo combined with his page description and headline creates a robust LinkedIn profile.
Brent Morrell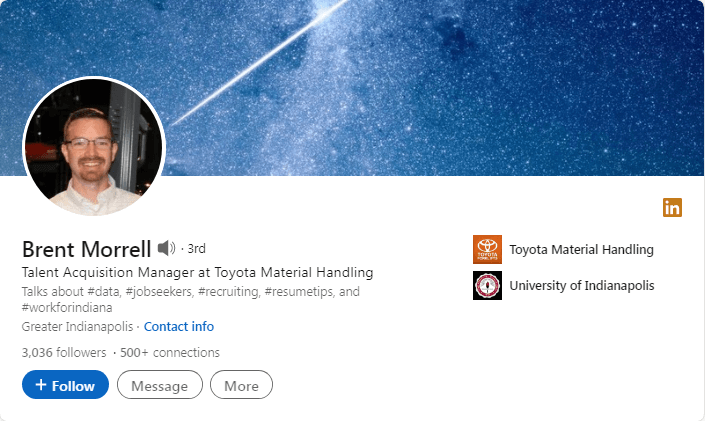 Brent Morrell is a director of talent acquisition for the Indiana State Personnel Department, helping candidates find a sense of purpose.
His warm and friendly profile photo matched with his headline creates a sense of trustworthiness and confidence.
Mented Cosmetics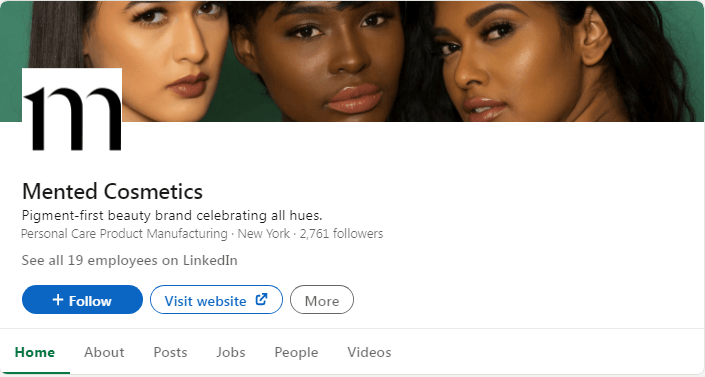 Mented Cosmetics is a famous makeup brand that manufactures inclusive and diverse cosmetics.
Its LinkedIn cover photo showcases its cosmetics on a variety of skin tones. This way, its cover photo makes its company mission and values visually clear.
Ritual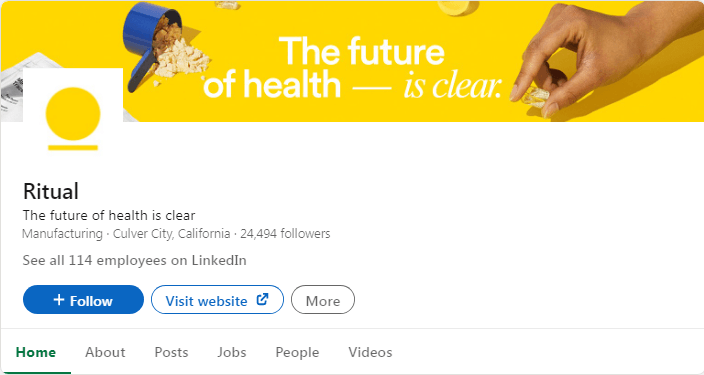 Ritual is a widely-recognized supplement brand that sells various vitamins and multivitamins to boost your health.
The brand visualizes its mission through its excellent cover photo- a bright yellow background featuring its physical products.
Squarespace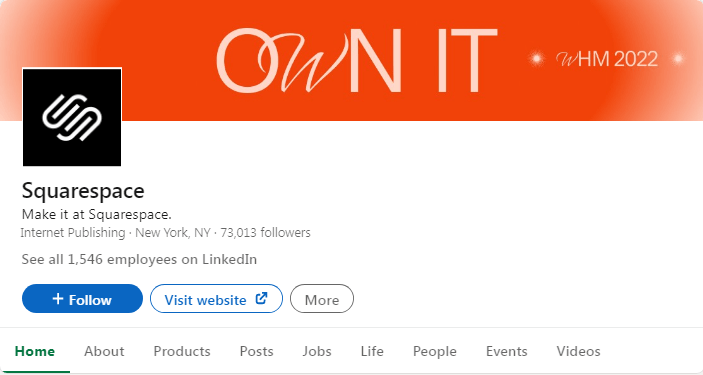 Squarespace is a professional website building and hosting platform, enabling users to leverage revolutionary software to create and modify web pages.  
Its LinkedIn cover photo depicts who they are and what they do with its attention-grabbing slogan and eye-catching images.
Cody Horton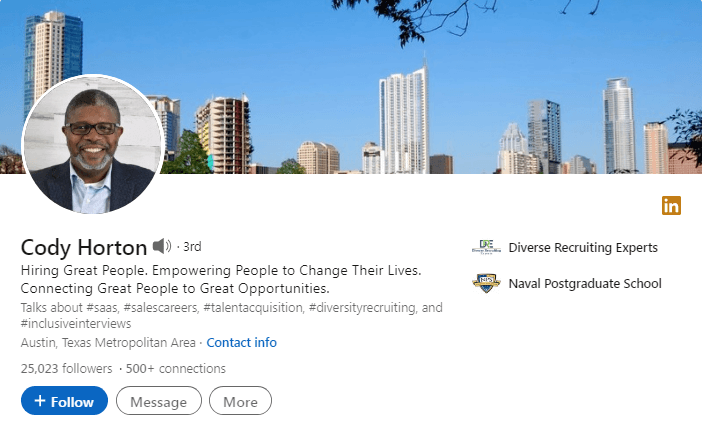 Cody Horton is a professional talent recruiter currently working as the managing director of global diversity recruiting at Diverse Recruiting Experts.
His friendly yet professional profile photo combined with its cover photo featuring Austin, Texas, creates a lasting first impression. But what makes Cody's LinkedIn profile stand out is his headline.
Thus, your profile photo must compliment your headline to create a fantastic impression on viewers.
5 Tips to Give Your Picture an Extra Boost
Profile photos on LinkedIn play an integral role in creating a solid personal brand and a robust LinkedIn profile. Here we discuss five ways you can create a compelling profile:
Show Only Your Face
The first step to choosing the perfect LinkedIn profile picture is only to show your face. When we see a person's face, we feel we know and understand them better. Thus, it's easier to foster lasting business relations.
On the other hand, if your profile picture doesn't include your face or is poorly lit, people may believe you're not confident or unprepared to 'show yourself' in business dealings.
Moreover, focus on creating a positive first impression by portraying a cheerful and friendly smile. Avoid unnatural expressions and consider smiling with your teeth. This way, your profile picture will radiate a bright and warm aura.
Pose Against the Right Background Photo
Where you take your professional headshot matters, that's why you must choose a catchy LinkedIn background photo that doesn't distract viewers from your face.
While there's nothing wrong with an interesting LinkedIn background banner, you don't want it to take center stage.
So, try choosing a simple yet to ensure your face is the focal point.
Avoid Bad Lightning
Your photo's lighting can mean the difference between a good and bad profile image. Avoid using a photo that includes dark shadows over your face. These photos make your face unrecognizable and unprofessional.
Consider using natural light only to choose the perfect LinkedIn profile picture. But avoid direct sunlight since it makes your face look bright and unnatural.
Use the Rule of Thirds
The 'rule of thirds' is a practical yet straightforward way of choosing a compelling and friendly profile photo. According to this rule, you divide your image by thirds horizontally and vertically.
The rule follows the research that specific critical points within a frame attract our eyes. Thus, positioning our photographs in this way can help capture the audience's attention effectively.
Let's discuss how you can apply the rule of thirds to your profile picture:
       

When you're editing your desired photo, select the 'crop' button

       

This way, a grid appears on your image that divides your photo into nine pieces

       

It separates your image three ways horizontally and vertically
Hire a Headshot Photographer
Although you can take an image with your smartphone, professional headshots acquire more significant profile views.
Consider hiring a professional photographer in your local area by conducting a thorough Google or LinkedIn search.
Select a photographer who makes you feel comfortable to ensure the quality of the pictures.
The Do's and Don'ts of LinkedIn Profile Photo
Here's a quick checklist to choosing the perfect LinkedIn profile photo:
The Do's of LinkedIn Profile Photo
It includes:
       

Choosing the right expression

       

Dressing appropriately

       

Ensuring a bright and warm smile

       

Taking the photo straight on

       

Wearing your usual attire

       

Looking approachable

       

Taking professional headshots

       

Picking an up-to-date photo

       

Using professional touch-up software and editing tools
The Don'ts of LinkedIn Profile Photo
Avoid the following things when choosing a profile photo:
       

Taking selfies

       

Using filters

       

Cropping a group photos

       

Your vacation pictures

       

Selecting a distracting background

       

Incorporating hobbies into your photo
Optimization Tricks to Remember
Remember the following technical tips to enhance your profile photo within seconds:
     

Ensure your photo is well-lit and in full-focus

     

Opt for a square image

     

Select an image that's 400 x 400 pixels and 8MB
How to Change Profile Picture on LinkedIn
Adding a professional profile picture on LinkedIn can increase the credibility and visibility of your profile. Let's discuss how you can add image on LinkedIn:
     

Select the

'Me'

icon present at the top of your LinkedIn 

     

Choose the

'View Profile'

button

     

Select the

'Camera' button located in the 'Introduction' section

     

Click the

'Add Photo' pop-up window:
o   Select 'Use Camera' to click using your device's camera
o   Choose 'Upload Photo' to add an image from your desktop
     

Follow the prompts to choose or upload a photo

     

Once you upload the photo, you may crop the photo, use filters, tweak the position and size, or select the visibility of the profile photo

     

Click on the

'Save Photo' button
If you can't upload a profile photo, it may be because your image doesn't meet LinkedIn's size and dimension specifications.
How to Add Open to Work on LinkedIn Profile Picture
Adding the #OpentoWork feature is an excellent way of showing recruiters you're available for work. Here's a step-by-step process to adding the #OpentoWork element on your profile:
     

Select the

'Me'

button located at the top of your LinkedIn homepage

     

Click the

'View Profile'

option

     

Choose the

'Open To' button

     

Click on the

'Finding a New Job' option