LinkedIn is a professional social network where users may share, connect, and learn. It is the most prominent business networking site where you can market your abilities and connect with professionals. LinkedIn may help you find the perfect internship or job and connect with prospective clients.
Moreover, it strengthens professional ties and keeps up with recent developments and trends.
What Is LinkedIn?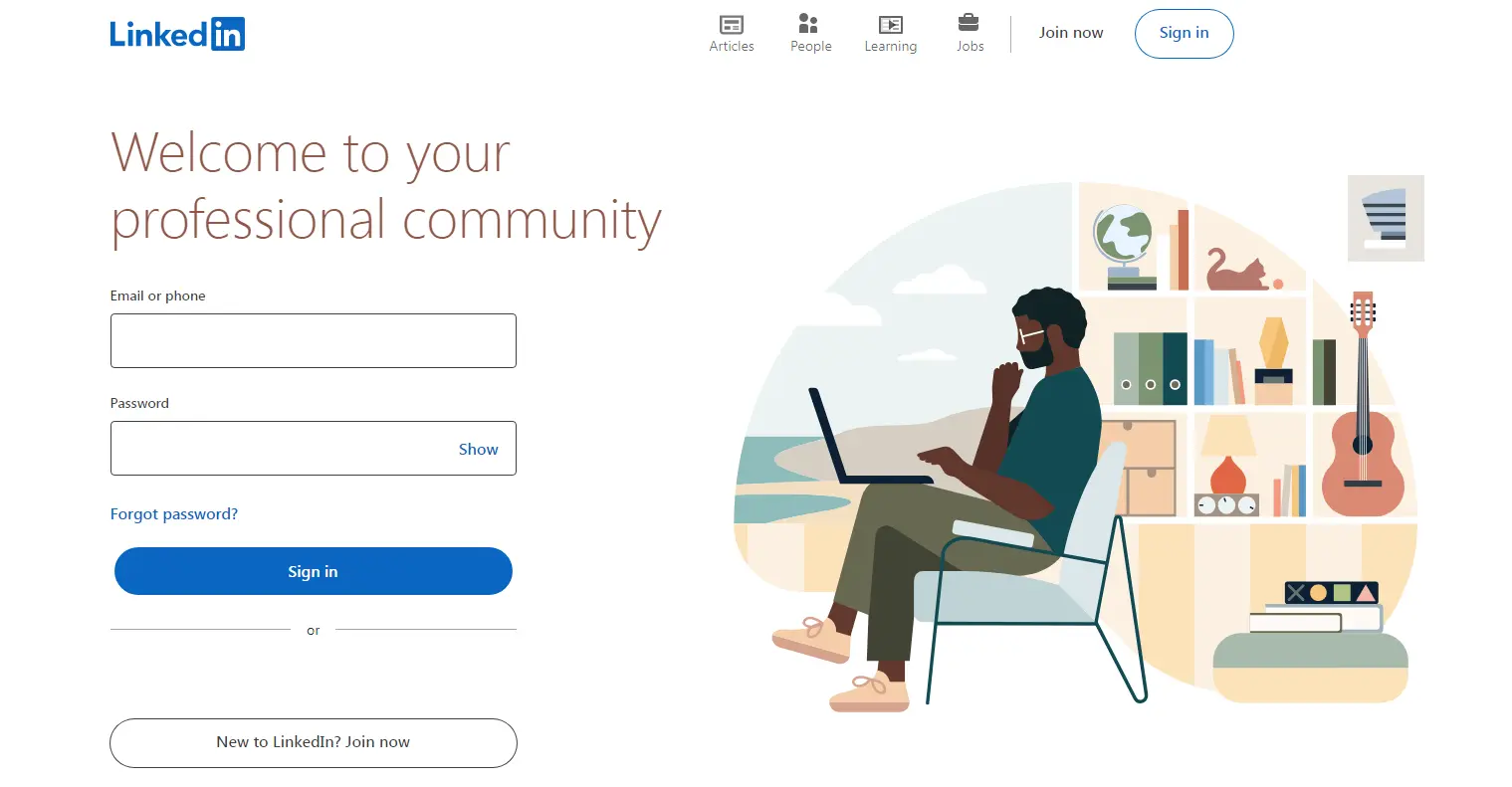 LinkedIn is for people who want to excel in their professional life. The platform allows users to search for new opportunities to progress their careers and to interact with fellow professionals. This includes business owners, entrepreneurs, small-business owners, and even first-year college students looking for their first job after graduating.
Consider LinkedIn as the advanced version of attending a conventional networking event. It is a perfect place to meet fellow professionals in person, engage in brief conversations about your work, and trade business cards. It resembles a sizable online networking gathering.
Similar to adding people as friends on Facebook, you network with individuals on LinkedIn by adding them as "connections". You communicate with other members through private messages and display your work experience in a well-organized profile.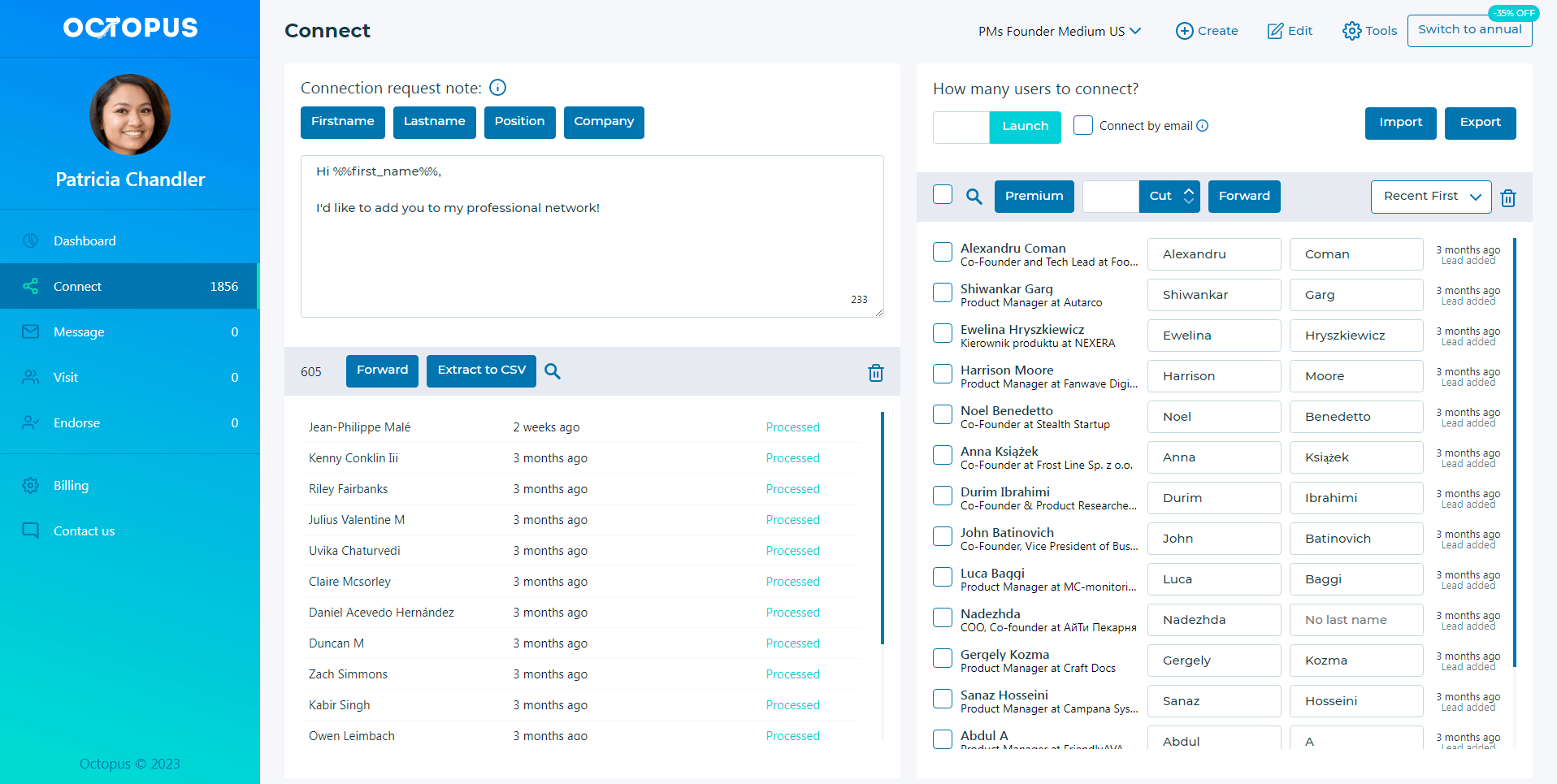 In terms of design and the variety of features it offers, LinkedIn is comparable to Facebook. Although these features seem more specific because they target professionals, LinkedIn is generally equivalent if you are familiar with Facebook or other similar social networks. Moreover, using Octopus CRM LinkedIn automation makes it easier for users to search and connect with clients, endorsing skills, and sending invitations on autopilot.
What Is LinkedIn Used For?
LinkedIn is the perfect place to connect with professionals. It offers numerous benefits to its users. Many people use LinkedIn for B2B marketing. It has become a widely used platform worldwide with multiple features and services. However, many people delete LinkedIn accounts later because they are unsure how to use LinkedIn. If you are new to LinkedIn and unsure of its uses, here are a few pointers.
Reconnect with Former Coworkers
You can utilize the My Network to locate former coworkers, instructors, classmates, and others you may believe are valuable to have in your professional circle. Login or connect via email to LinkedIn to sync your connections.
Make Use of Your Profile as a Resume
In essence, your LinkedIn page serves as an expanded resume. When applying for jobs, you may link to them in a cover letter or email. Some job application websites even let you connect to the LinkedIn page and import your resume. Tools are available if you need to create a resume outside of LinkedIn. The best LinkedIn automation tools can help to optimize your profile to help you find relevant jobs.
Research and Apply for Employment
Keep in mind that LinkedIn is among the top websites to search for online job openings. Although LinkedIn will always provide recommendations for jobs you might be interested in, you can also utilize the search box to search for particular vacancies.
Locate and Contact Fresh Professionals
LinkedIn provides greater chances of locating new professionals locally or globally who can support your professional endeavors. Moreover, it allows users to find potential job opportunities and expand their network by connecting with professionals and thought leaders. Don't waste time on manual tasks, use Octopus CRM for business. This LinkedIn automation software can help you connect with professionals quickly.
Take Part in Relevant Groups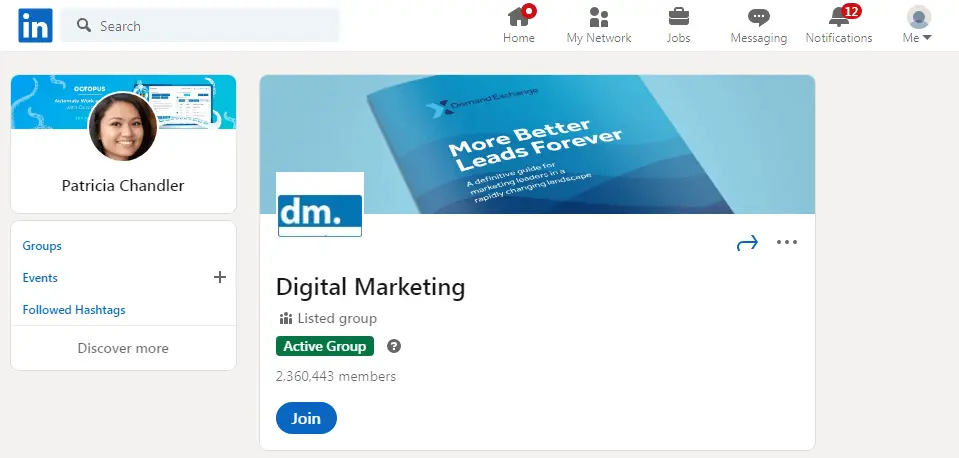 Joining LinkedIn Groups based on your interests or line of work and engaging are excellent ways to interact with new professionals. You may attract the attention of other group members who wish to interact with you.
Write Blogs About Your Expertise
Users can write blog entries on LinkedIn's publishing platform and have thousands of people read their material. Your credibility in linked industries related to your work history will rise due to published content on your profile.
What Are the Main LinkedIn Features?
Here are a few of the critical features that LinkedIn provides:
Your Resume
Your profile is the first step in growing your LinkedIn network, just like the profiles you'll construct on most social networking platforms. While profiles on other websites might emphasize personality, your resume is how you set yourself apart from the numerous other users on LinkedIn. Thanks to the professional profile linked to user IDs, LinkedIn's user population has a platform to communicate their professional accomplishments, prior employment, and current interests.
Professional Search Engine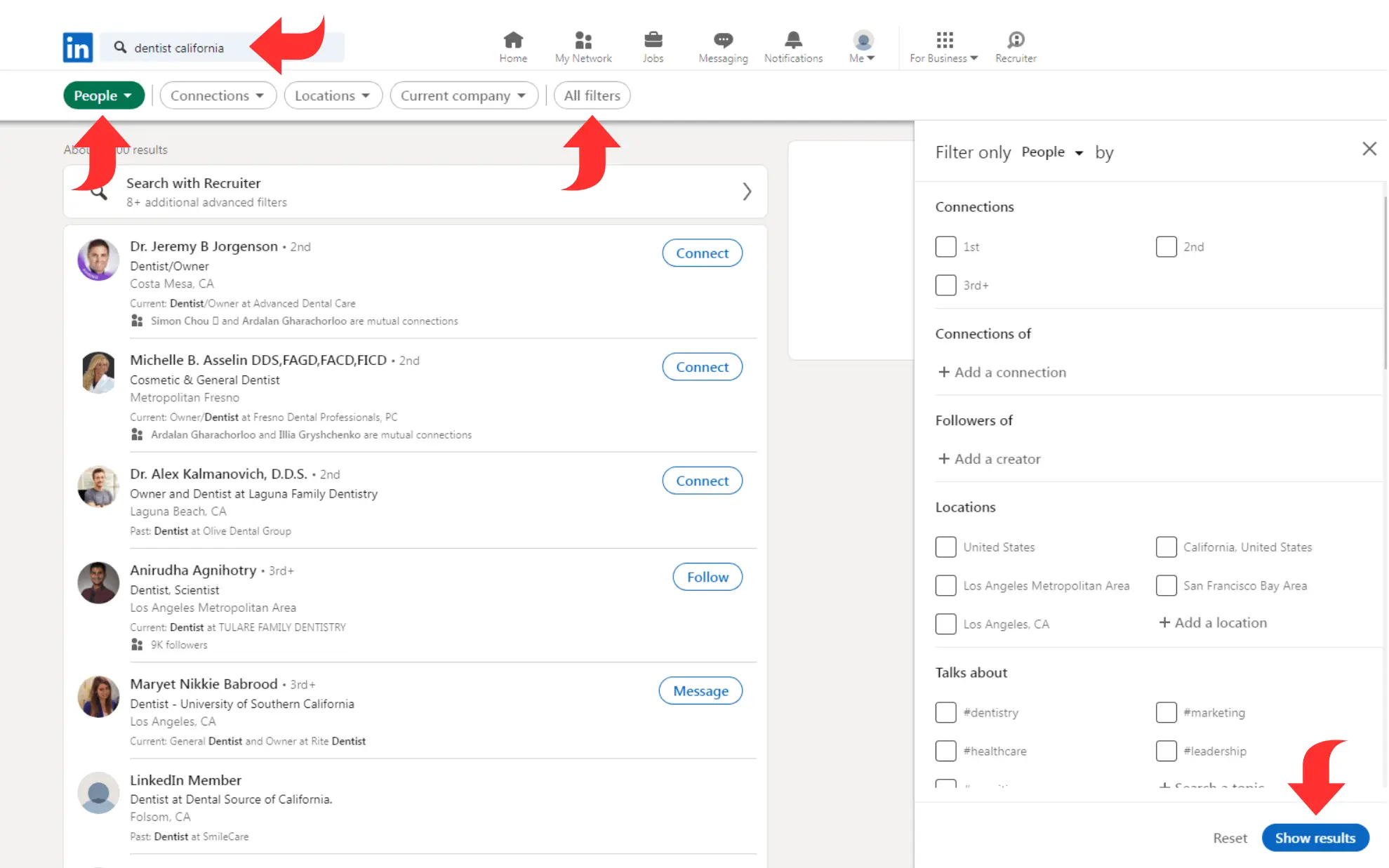 Based on other LinkedIn users' professional interests, past and present employment, and other factors, you can find and connect with them using the professional search tool on LinkedIn. User searches help you find and create second and third-degree relationships from LI's user base and discover how other professionals in your sector use the platform.
Businesspeople can use the search tool to find potential employees, while job seekers can network and generate leads on LinkedIn. This search engine feature is much more helpful for networking than social media.
Your Newsfeed
Like other social networking sites, your newsfeed will inform you of the most recent information. This includes job prospects from your contacts, people in your network, and networks further away.
Your newsfeed will include updates from the companies you follow, your connections, people and events that might interest you, possible jobs, and more. Depending on your interests, your newsfeed might include posts from the LinkedIn blog.
This aims to keep you informed and engaged with LinkedIn to retain interest and expand your network. It may also offer guidance and information from prominent LinkedIn firms, among other things.
InMails
There is a bit of a learning curve with LinkedIn, mainly when it involves chatting. Business owners, young entrepreneurs, hiring managers, and job seekers may interact with others using in-app messaging. The feature works like email, except that messaging between public and private profiles is equal.
Unless you are actively looking for an audience and are sending a different kind of message to establish a connection, you cannot send or view messages to people who are not group members or first-degree connections. As you get more familiar with proper messaging etiquette, the learning curve on LinkedIn may become quite steep.
Your Content
The information you share serves as an advertisement for who you are. However, it can also serve a purpose similar to that of an email platform in that it can assist you in publishing information related to your professional life.
You can create a robust LinkedIn content strategy and post blog entries, newsletters, and status updates from your profile. However, since it is still a business social network, the material you post shouldn't be overly personal. You can share content you've already published elsewhere, inform readers of your most recent work, and more.
Your material allows you to differentiate yourself from other executives and from the numerous false profiles across social media.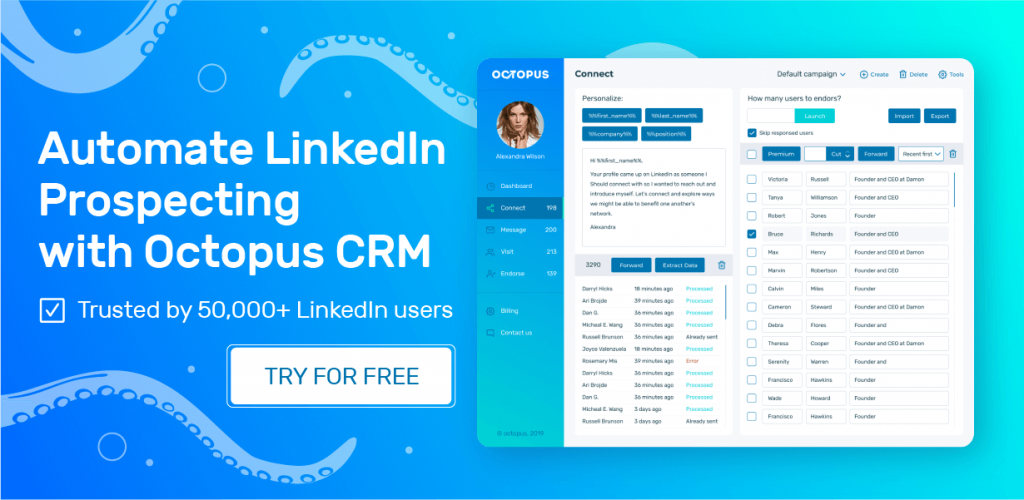 Why Should You Use LinkedIn?
Here are five significant reasons to use LinkedIn:
Learn about Recruiters and Hiring Managers
Ninety-three percent of recruiters look for candidates on LinkedIn. You may build an online identity on LinkedIn to attract the attention of hiring managers and critical decision-makers. This implies that you will appear in the search results if LinkedIn users search for your name on Google since you have a personal online brand. For this reason, you must guarantee that you handle your LinkedIn profile similarly to your resume and that everything on it serves to represent you best.
Utilize LinkedIn For Research Purposes
A LinkedIn account also gives you access to the site's resources for studying businesses, recruiters, interviewers, and hiring managers. This is beneficial before submitting applications, learning who will conduct your interview, and completing interview research.
Join Organizations that Offer Support
LinkedIn has professional and interest-based groups, which is an excellent way to meet people. You can start a conversation, share your opinions, or ask for assistance.
You may expand your network and connect with people you might not otherwise have the opportunity to meet by joining groups.
Find Posts that Are Educational and Beneficial
LinkedIn strongly emphasizes the professional, while the others tend to be more personal. You can learn much about professional themes and business news with a quick daily scroll. It also includes pieces that are inspirational or informative.
Establish Yourself as an Expert Professional
You can identify yourself as an informed and engaged professional in your field by sharing articles or insights.
Utilize endorsements and suggestions to assist in supporting that perception. These characteristics aid in proving that you are regarded as an accomplished expert in the subject by other respectable experts.
What Is the Difference Between a Free and Paid LinkedIn Account?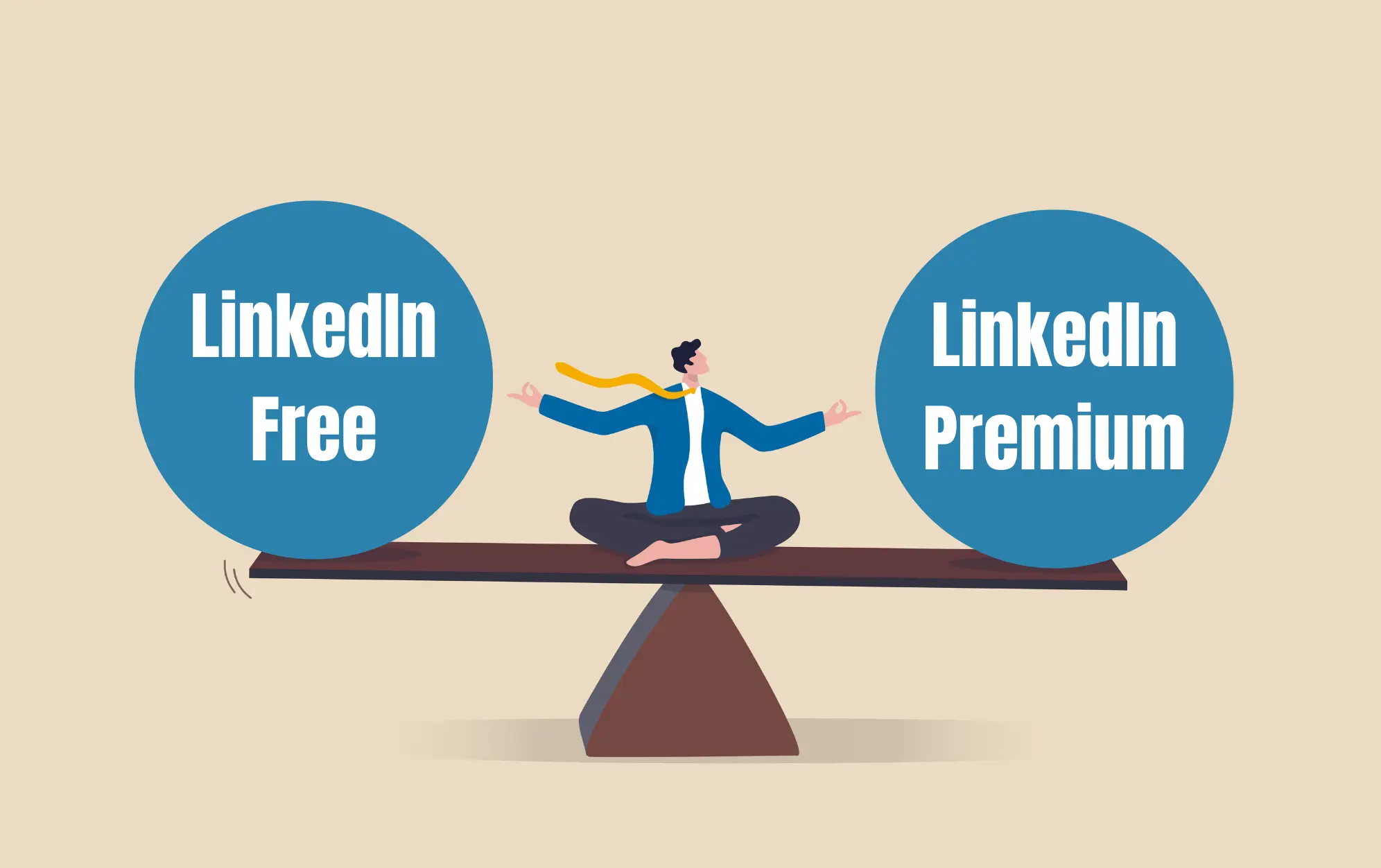 As you may already know, LinkedIn is the top social media site for establishing business contacts. You may develop your business, expand your professional network, and get leads and clients there. It's a terrific place to do all of these things.
For users, LinkedIn offers a wide range of packages and account types. Choosing the best account for you may be difficult if you don't know the specifics and advantages and disadvantages. Here are some types of LinkedIn accounts:
Free LinkedIn Account
The best LinkedIn account for new users is the free one. A basic LinkedIn account is free to use. The primary, cost-free LinkedIn account offers many valuable options for expanding your network of contacts.
You can create a professional network of first and second-degree contacts by connecting with leads and coworkers. You can also send and receive InMail messages, look up profiles, send connection requests, and message your contacts.
However, you do not receive credits for sending messages using a free account. You are also only able to store a certain number of searches.
LinkedIn Premium Account
The premium account is unique because the basic edition of LinkedIn does not provide many intriguing features. The best option for you is this one if you're trying to expand your network actively. If you've tried the free account and wish to maximize LinkedIn and grow your network, you should consider buying a LinkedIn account to enjoy additional benefits. This bundle is ideal for you if you want to expand your network aggressively. So, is LinkedIn Premium worth the money?
You might be reluctant to make the first move when switching to a Premium account. Or perhaps you're curious about the value of LinkedIn Premium. LinkedIn provides a one-month free trial period for paid plans, including a Premium account. Before upgrading, you can try out the free trial option.
You may learn more about jobs, salaries, and who sees your profile with a premium account. It offers five InMail monthly credits; advanced searches can only return up to 1000 results.
The Premium plan has two versions: The Premium business plan and the Premium career plan.
Premium Career Account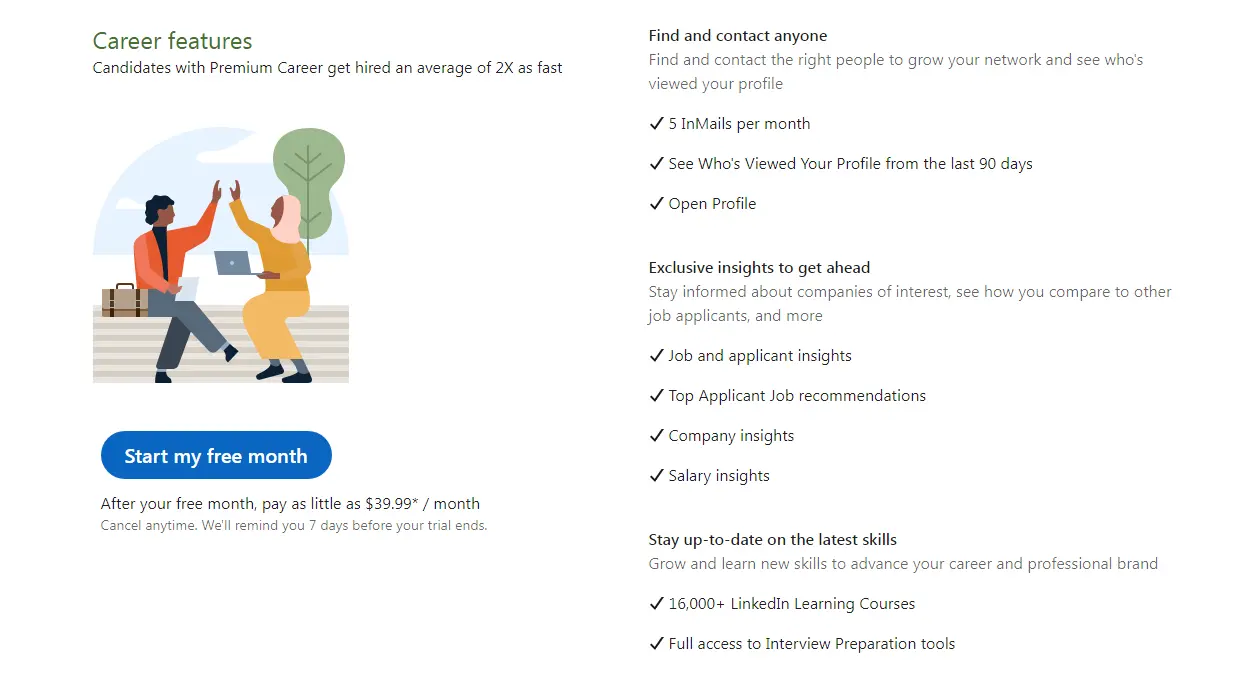 Career-focused individuals, such as those looking for work or to enhance their professions, may consider the LinkedIn Premium career plan. Having this account enables them to network with others in the business and gain visibility on the network.
The best aspect is that you can stick with this strategy and attract hiring managers' attention. Additionally, it will let you evaluate where you stand compared to other applications. The objective is to make the job application and research processes simpler. The career plan helps you identify the areas you should focus on to gain a competitive advantage.
Premium Business Account
As the name suggests, the LinkedIn business account is ideal for company owners and marketers who want to advertise their enterprises more widely. It aims to connect with your target market, leads, and possible collaborators who may advance your business.
You can build the proper connections and be sure to communicate effectively with the Premium business plan. So, a LinkedIn business account is a great place to start if you're a business owner trying to expand.
Conclusion
LinkedIn may be helpful to anyone trying to expand their network or acquire information about the employment market. You must be careful how you use it and avoid being drawn into constantly scrolling your feed, as you would with any social network. Many automation tools can help you optimize your LinkedIn account, but if you are still wondering why you need Octopus CRM for lead generation, check an article to understand its use cases.