Recruiters must know how to find and attract top talent on LinkedIn to ensure company growth and stability. It can take time to sort through the large pool of users and identify the right fit for your business. But don't worry; you can use several targeted search techniques to streamline the process. 
This article will provide tips for finding top candidates on LinkedIn. These tips include using advanced search filters and joining industry-specific groups. This article will teach you how to use LinkedIn's network effectively. You'll learn how to reach out to a recruiter on LinkedIn and how to connect with the best candidates for your organization.
How to Find Candidates on LinkedIn for Free
LinkedIn is a goldmine for recruiters seeking skilled candidates. We'll review how to use LinkedIn's various features and search functions. This will help you find the best candidates for your company without spending a dime.
Use Boolean Operators on LinkedIn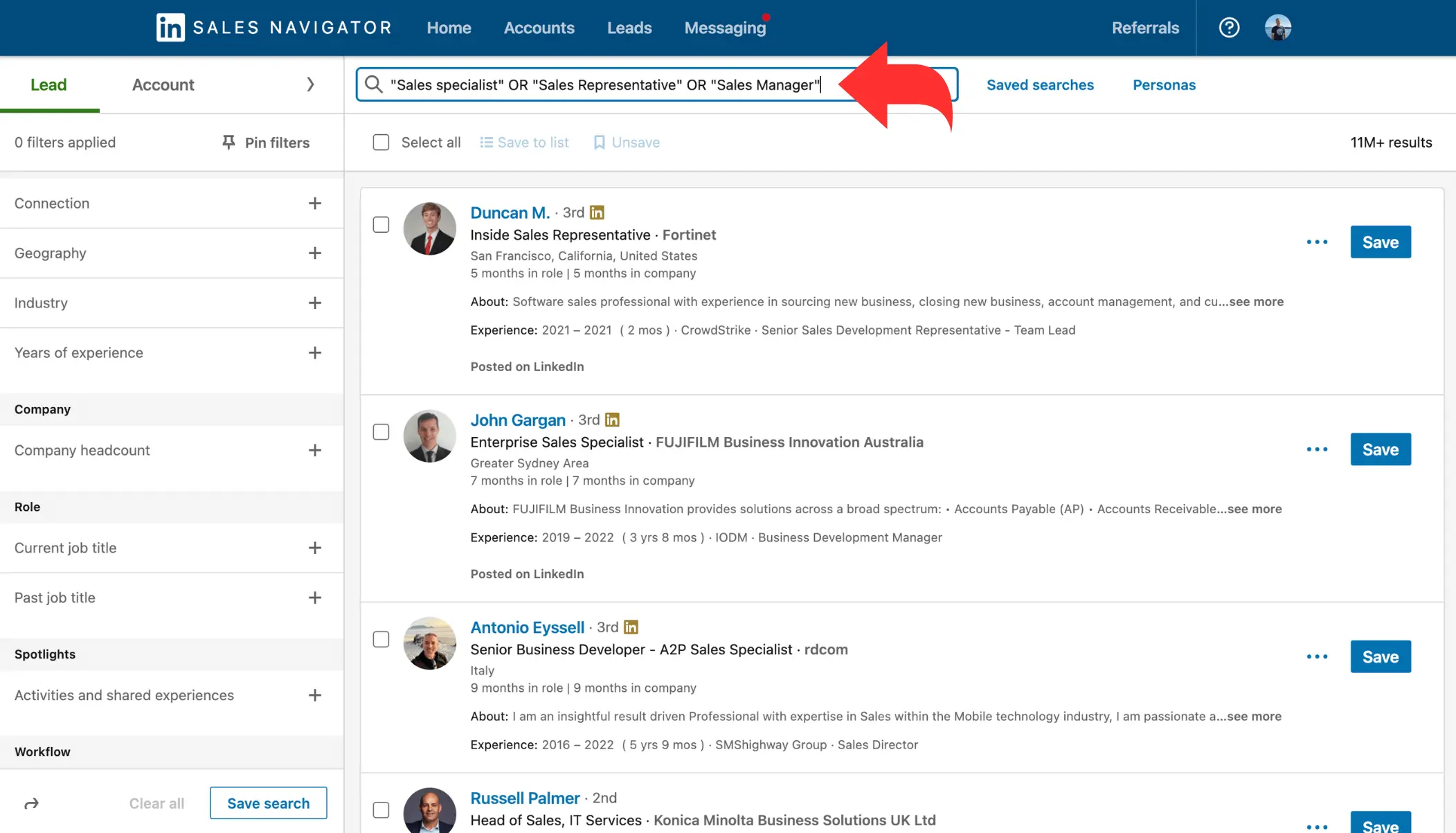 You can use Boolean operators on LinkedIn which can help you refine your search and find suitable candidates. AND, OR, NOT, quotation marks and parentheses can create complex search queries. 
For example, you can use the AND operator to search for candidates with a particular skill in a specific geographic area. The NOT operator can exclude results that don't match specific criteria. You can use quotation marks to search for an exact phrase simultaneously.
You can use parentheses to group many search terms. Mastering these search operators can significantly improve your chances of finding suitable candidates. This applies to your job openings.
Use the LinkedIn Company Page
Using the LinkedIn Company Page is one technique to find prospective applicants. You can check other businesses that you've researched to get a clear picture. 
You can find details on the business's staff members here, including their job descriptions, duties, and tasks. This might assist you in finding possible employees who would be a good fit for your company.
To broaden your search and locate even more possible prospects, you may also use the "People also viewed" and "Jobs" sections.
Perform Advanced LinkedIn Searches
Using LinkedIn's advanced search functionality, you may identify the best candidates for your job opportunities. With the help of X-Ray search, you can swiftly refine your search results. You can do this by region, industry, job title, etc. 
This makes finding the right people who meet your specific requirements easier. Take advantage of these powerful filters to help you find the best candidates for your organization.
Make Use of Resumes on LinkedIn
You can find resumes on LinkedIn using specific keywords related to the job you're recruiting for. Check out profiles with complete work histories and pay attention to their job titles, descriptions, and skills.
This can give you an idea of their experience and qualifications. Additionally, you can use LinkedIn's "Open Candidates" feature. This allows you to find job seekers explicitly stating they're open to new opportunities.
Read also: OpenToWork and Hiring Features on LinkedIn
Post Job Openings on LinkedIn
Posting job openings on LinkedIn is an effective way to reach a wider audience. It can also attract potential candidates. You can create a job listing using LinkedIn's job posting feature. This will allow you to share it with an extensive network of professionals interested in the role. 
With this feature, you can set criteria for the ideal candidate. This makes it easier to filter through applications and find the best fit for your organization.
Related article: Create an Attractive LinkedIn Job Search Post
Engage in LinkedIn Groups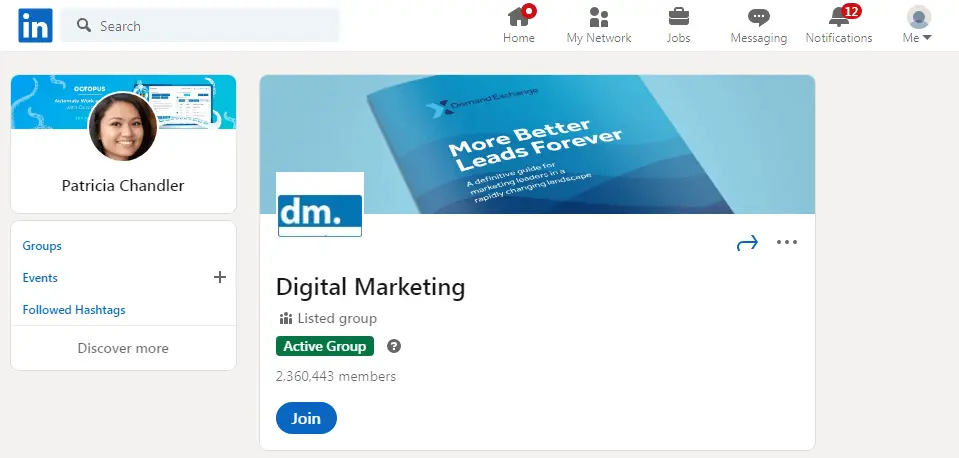 LinkedIn Groups offer a platform to engage with professionals in your industry. This can aid in discovering potential candidates. 
Join groups specific to your industry. Actively share insights, ask questions, and engage with other members. 
By doing so, you can establish connections and increase the visibility of your organization. This may attract potential candidates who are active in those groups.
Use Relevant Keywords 
Use relevant keywords in your LinkedIn profile and job postings. This can improve visibility and attract potential candidates.Use industry-specific keywords and job-related skills to show up in relevant searches.
Incorporate industry-specific keywords and job-related skills into your profile and job postings. This will ensure they appear in relevant searches. Candidates with the necessary skills and qualifications for your open roles will likely notice you. Using relevant keywords can increase your visibility to potential candidates 
Use LinkedIn Hashtags
You can use hashtags on LinkedIn to discover potential candidates who have shared relevant posts or articles. This is because hashtags can help you search for content related to specific topics. By searching for industry-specific hashtags, recruiters can identify interested and engaged professionals. 
This can help find candidates with the desired skills and knowledge for open roles. To use this feature effectively, search for relevant hashtags in the search bar on LinkedIn. Browse through the posts and articles to find potential candidates.
Employee Referrals
Employee referrals are a great way to find potential candidates for your company. Encourage current employees to refer friends or colleagues who may fit the open positions well. 
This can help you find candidates already vetted by someone in your company who may be an excellent cultural fit. 
Additionally, offering incentives for successful referrals can motivate employees. Then, they actively take part in the recruitment process.
Related article: How to Use LinkedIn to Find a Job
How to Find Candidates on LinkedIn
Finding potential applicants for your company on LinkedIn is a powerful tool. And there are various efficient methods you can employ to find them:
Use LinkedIn Recruiter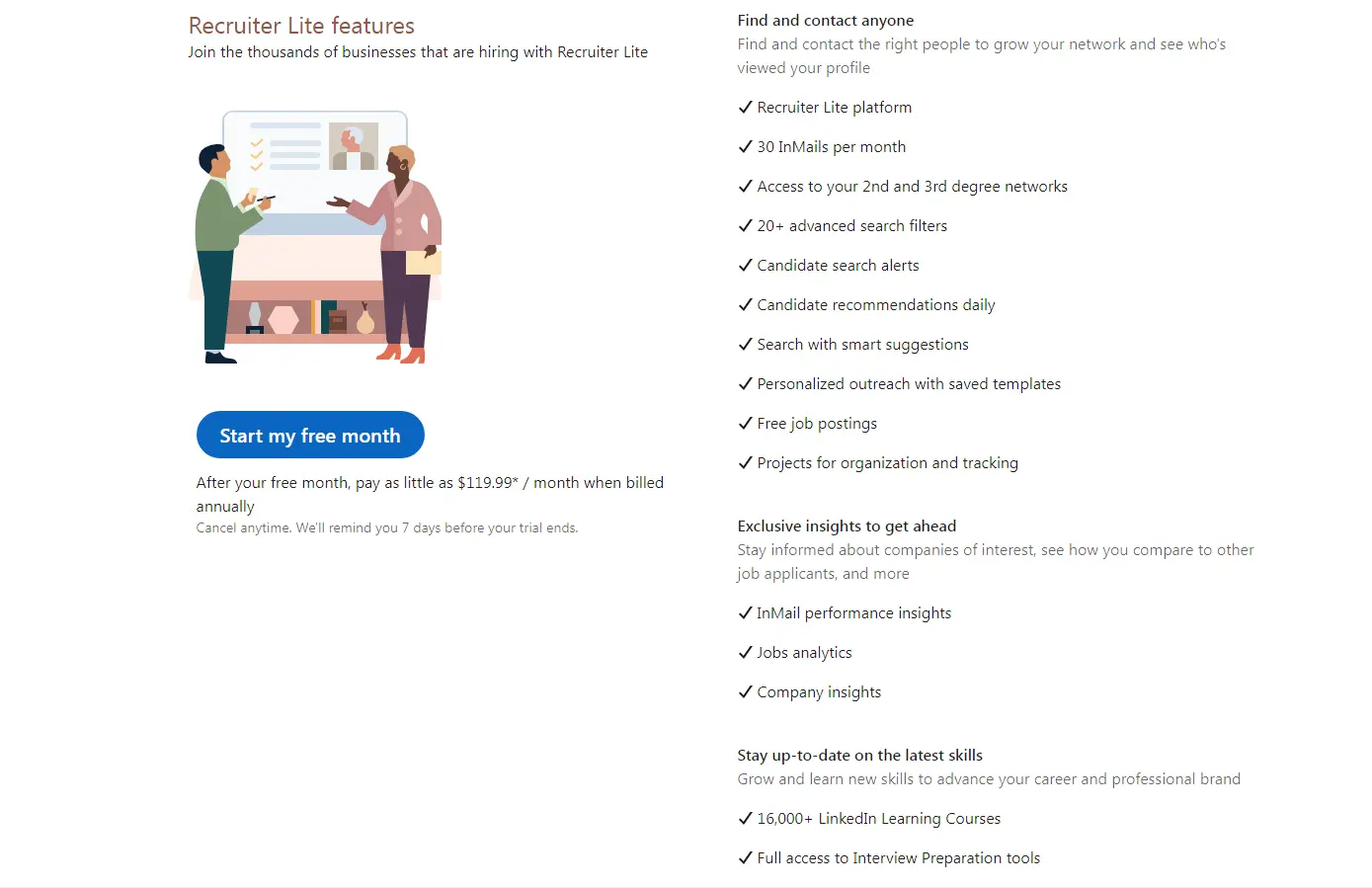 A premium tool that gives recruiters cutting-edge sourcing features is LinkedIn Recruiter. Recruiters use it to find and get in touch with potential applicants directly. You may discover applicants by using sophisticated search filters in LinkedIn Recruiter.
It depends on several factors, including geography, industry, job title, etc. Additionally, it offers messaging capabilities and applicant recommendations to aid with engagement. Yet compared to other LinkedIn products, it can be more pricey and requires a membership.
Understand The Differences Between LinkedIn Recruiter Lite vs. LinkedIn Recruiter
If money is scarce, LinkedIn Recruiter Lite can be cheaper. Yet, it is also less feature-rich than the entire LinkedIn Recruiter product.
LinkedIn Recruiter Lite is perfect for startups and small enterprises wishing to hire on a smaller scale. At the same time, larger businesses with a greater volume of hiring candidate needs will benefit more from using LinkedIn Recruiter.
Related article: LinkedIn Recruiter Lite vs Recruiter Comparison
Use Prospecting Tips For Recruiters
Prospecting tips for recruiters can be used to be more successful in finding and engaging with candidates on LinkedIn. These tips include customizing your outreach to candidates and using LinkedIn Groups.
Customizing your outreach means tailoring your messages to each candidate and making them feel valued. Mention specific skills or experiences that caught your attention on their profile.
Building a strong employer brand involves showcasing your company's culture, values, and benefits. This will attract more candidates to your job postings and make them more likely to engage with you.
Finally, leveraging LinkedIn Groups can help you connect with candidates in your industry or field of expertise. Participating in these groups can help you build relationships and establish yourself as a thought leader in your field.
Consider using LinkedIn Ads 
LinkedIn Ads can help you expand your reach beyond your current network. You can make it a powerful tool for finding potential candidates. This is especially useful when trying to fill a unique or hard-to-fill role. You can use various targeting options such as location, industry, job title, etc. You can ensure your ad reaches suitable candidates for the position.
It's essential to remember that LinkedIn Ads can be expensive and may only be practical for some budgets. Thus, before using LinkedIn Ads, you should carefully check whether the cost is worth the potential benefits. If you have a limited budget, consider other strategies, such as building your employer brand. And also use LinkedIn Groups to find candidates. Overall, LinkedIn Ads can be a valuable tool for recruiting, but weighing the pros and cons before investing in them is essential.
Be Aware of the Weekly LinkedIn Invitation Limit 
LinkedIn limits the number of invitations you can send out each week. This limit varies depending on the age of your account and the number of connections you have. It's essential to be mindful of this limit when searching for candidates on the platform.
To make the most of your invitations, you must focus on sending them likely interested in the opportunity you offer. This will help increase the chances of receiving a positive response and build a strong pool of potential hires. You can maximize the weekly linkedIn invitation limit by being strategic with your invitations. And improve your chances of success in finding suitable candidates for your business.
Automate Your LinkedIn Outreach Process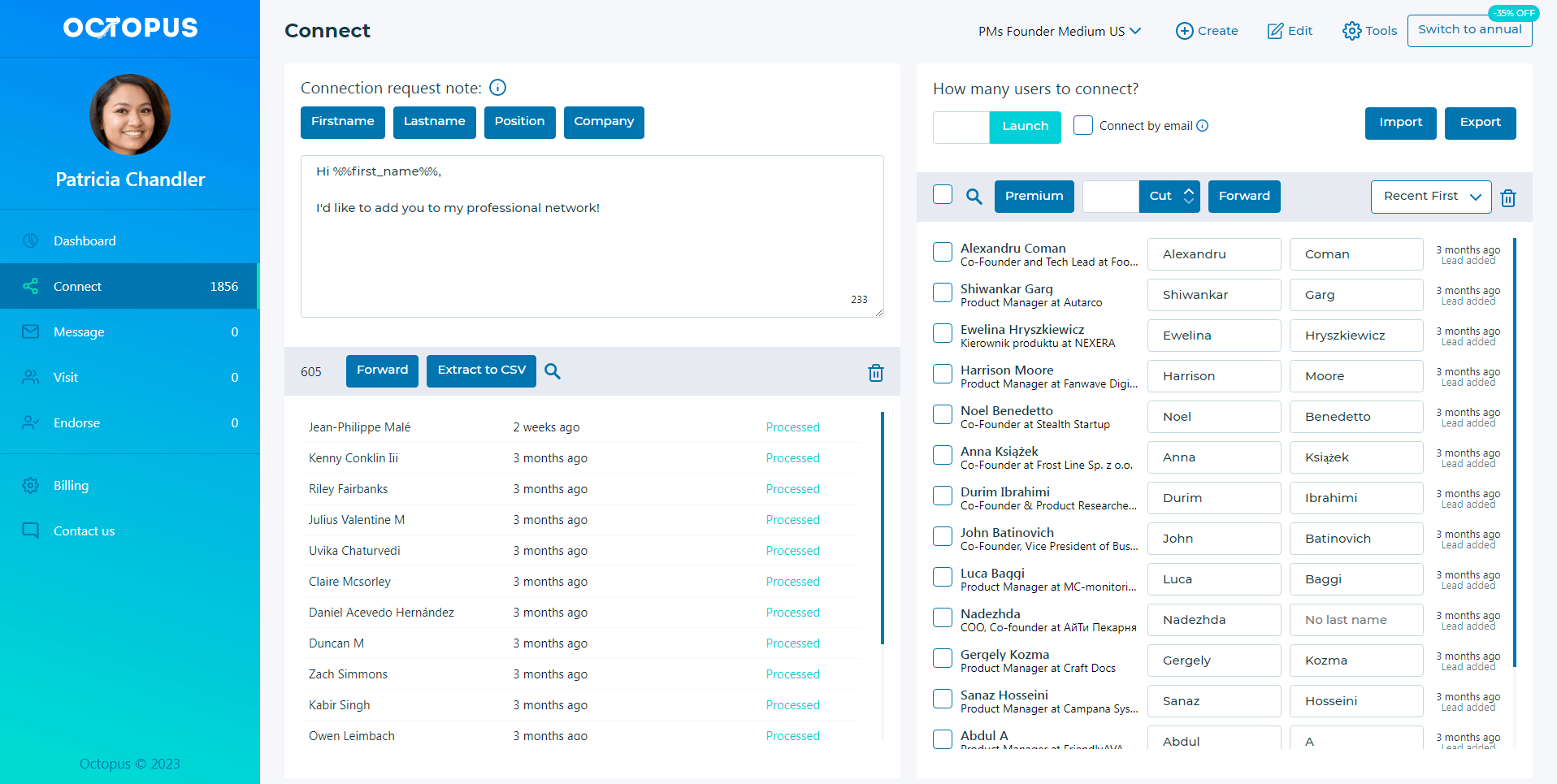 If you're a recruiter, you know how time-consuming it can be to search for candidates on LinkedIn. That's where Octopus CRM LinkedIn automation software comes in. Octopus CRM is a powerful tool for recruiters designed to automate your LinkedIn outreach process and save you time.
Why You Need Octopus CRM for Recruiters
Octopus CRM is a powerful LinkedIn automation tool that can help recruiters automate their outreach process of open to work on LinkedIn. Some features are automated messaging, customizable templates, and advanced search capabilities. These features can save recruiters time and increase their efficiency. 
Octopus CRM streamlines recruiters' outreach by connecting them with high-quality candidates. This means less time spent manually sending messages and tracking responses. 
Octopus CRM can be a valuable asset for recruiters. It is ideal for those wanting to enhance their LinkedIn outreach and improve their recruiting efforts.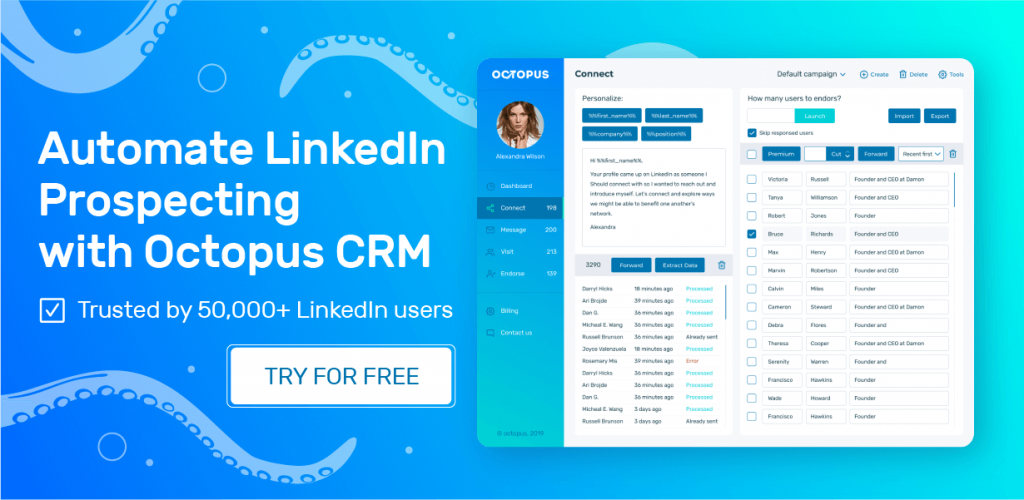 Conclusion
You should now be familiar with some effective tactics and the advantages of finding the best candidates on LinkedIn. We have discussed effective tactics for finding the best candidates on LinkedIn. These tactics can help you identify and connect with top talent, leading to positive results for your business.
LinkedIn automation software like Octopus CRM can also help streamline your LinkedIn recruitment efforts. Octopus CRM allows you to automate specific tasks, such as sending connection requests. And also saves you time and improves overall efficiency when sourcing candidates on LinkedIn.