LinkedIn has introduced numerous features to help users make the most of the platform. As recruiters, looking for the perfect candidate to fill a position is no more a hassle. With LinkedIn Recruiter, you can quickly look for potential candidates and enjoy various other benefits once you subscribe to the standard free version. Furthermore, the tool offers a premium version for users to enjoy many other benefits. The article focuses on:
LinkedIn Recruiter

LinkedIn Recruiter Lite

Features to compare the two tools

Benefits of LinkedIn Recruiter and LinkedIn Recruiter Lite
What is a LinkedIn Recruiter?
LinkedIn Recruiter is an excellent offering that allows users to access various recruiting tools designed to help managers find the perfect candidates on the platform quickly and efficiently.
The premium tools included in LinkedIn Recruiters are 150 InMails per month, enhanced insights/reporting, additional search filters, removing the dreaded monthly search limit, creating projects and pipelines, and the option to save searches. The recruiting tool is the best option for recruiters with multiple benefits and offerings.
LinkedIn Recruiter allows recruiters across agencies to share projects and pipelines. However, in small recruitment agencies with one or two recruiters, it is possible that focusing on collaboration will not benefit the company and the situation. Therefore, LinkedIn has introduced a scaled-down version known as Recruiter Lite to help small-scale businesses look for potential candidates.
Related article: How to Get Unlimited LinkedIn InMails
What is Recruiter Lite on LinkedIn?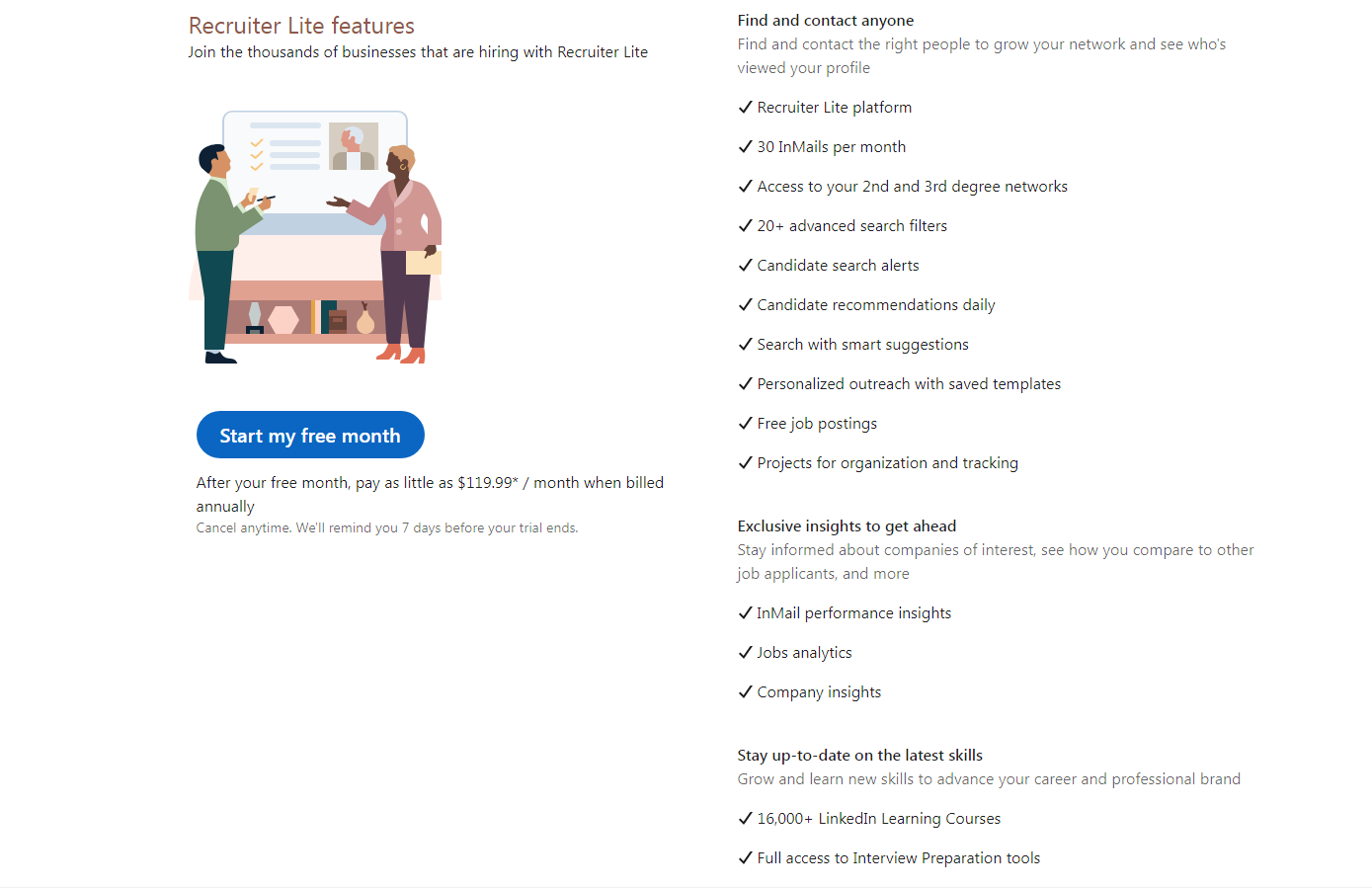 Recruiter Lite is another recruiting tool designed to help individuals working at small-to-medium businesses with less hiring volume. Agencies can purchase the recruiting tool online as a monthly or yearly subscription. Moreover, LinkedIn Recruiter is available for a 30-day trial. The recruitment team can cancel the subscription at any time.
Recruiter Lite allows you to:
Search the LinkedIn platform where you can look up to third-degree connections with over 20 filters like Skills and Experience and improve your search with the suggestions.

Discover new candidates with recommendations and search alerts on the basis of your open roles.

Contact candidates with 30 InMail messages per month.

Organize your messages, searches, and

job posting

and separate them from your personal LinkedIn account.

Post and promote your jobs free to attract more applicants within Recruiter Lite.
What Features Does LinkedIn Recruiter Account Include?
LinkedIn Recruiter Account includes the following features:
Spotlight opens new opportunities for candidates
Recruiters spend a lot of time reaching out to potential candidates hoping to hear from them. With LinkedIn's recruiting tools, reaching out to candidates has become convenient. LinkedIn Recruiter search has become more robust with the introduction of Spotlights, allowing users with smart search filters to identify talent that may likely respond.
The fantastic feature helps them discover candidates awaiting recruiters' messages, so you can always prioritize them. Furthermore, according to LinkedIn research, 90% of professionals look for new opportunities if offered the proper role, making the recruiting tool a potent tool to reach out to potential candidates.
Apply Starters doubles active talent pool
Most in-demand candidates abandon applications before completing the form because recruiters are looking for such talent. With new features, you can now check who started and completed the application.
The Apply Starter feature allows candidates to share their LinkedIn profiles with recruiters before they begin, allowing hiring teams to find and reach out to the talent. It doubles the talent pool for a particular position and provides a list of strong candidates for future opportunities.
Leverage data to optimize your performance
Everyone wants to improve InMail performance. However, improving your performance without a more precise picture isn't easy. InMail Analytics allows the users to see who is responding, how performance compares with the industry benchmarks and the performance of your templates.
The tool allows managers to compare the InMail response rates of team members, allowing you to compare the performance to know who is doing the best, find out the strategies they are using to achieve targets and share the practices across the company.
Creates a pleasant candidate journey
To allow candidates to look for job opportunities on LinkedIn, offering an easy-to-use user experience is crucial. Therefore, the platform decided to add Jobs Tab to the mobile app. The new tab places the LinkedIn job at the front and gives the user a rich and personalized experience while making the entire process smooth.
Improves ATS for smooth workflow
You like LinkedIn Recruiter and Application Tracking System (ATS), but going back and forth all day can be frustrating. The two platforms haven't collaborated until now. Recruiters have been waiting for the features to integrate, easing the workflow.
LinkedIn Recruiter allows you to sync between the two features with up-to-date candidates' information. You can now view ATS data in Recruiter, allowing you to copy-paste the details between platforms.
Apply quickly with LinkedIn's Apply with a plugin
Some candidates apply for the job posting on LinkedIn. However, many candidates apply from the company's career page. While filling out forms manually can be a time-consuming experience, the new plugin streamlines the entire process. It automatically fills parts of the application, improves completion rates and allows you to look for these candidates even if their applications are incomplete.
What Features Does Recruiter Lite Include?
Following are some fantastic features included in the LinkedIn Recruiter Lite once you subscribe.
Allows to customize your searches:
LinkedIn Recruiter Lite allows advanced search options for recruitment teams to look for candidates by using search filters. Furthermore, it creates a project for each position, and the user can view the talent pool and organize their best candidate in projects that provide easy management tools.
Access to your third-degree network:
Recruitment Lite allows you to look for candidates by viewing third-degree connections. Furthermore, LinkedIn Recruiter enables the management teams to look for many profiles without any profile view limits.
Streamlined candidate pipeline:
LinkedIn Recruiter Lite can organize their candidates into projects and update them with multiple tools, such as follow-up reminders. Profiles allow recruiters to access candidates directly with InMail.
Features that LinkedIn Lite does not include
LinkedIn Lite does not offer the following features:
No collaboration features:
LinkedIn Recruiter Lite does not allow multiple users to collaborate. It only lets one person per account.
Limited analytics:
LinkedIn Recruiter Lite offers analytics on the job listings and InMail but not on performance and usage.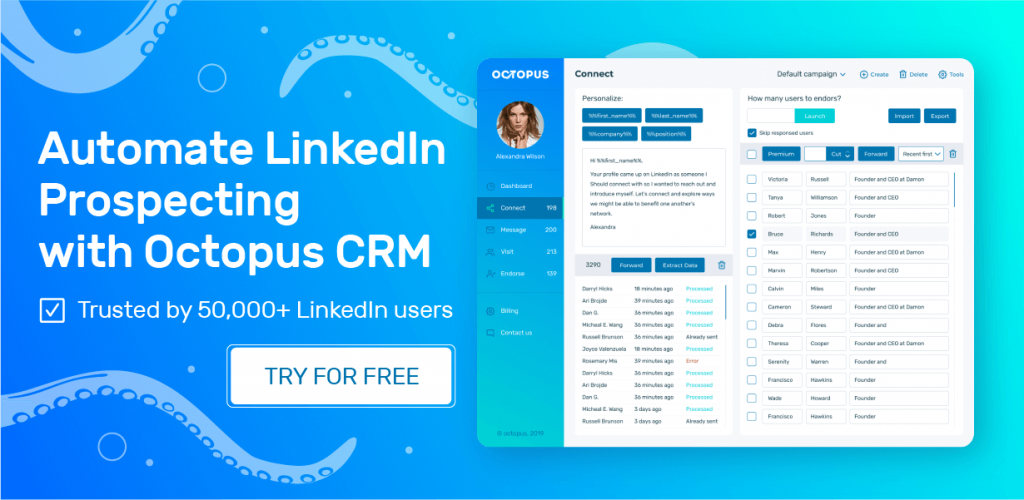 How Do I Cancel the Recruiter?
You can easily cancel the subscription on the following devices.
Canceling Recruiter Subscription on iPad and iPhone
Follow the steps for the cancellation of the subscription on an iPhone or iPad
     

Click "Settings" on your phone.

     

Tap the icon with your name to open your Apple ID profile.

     

Click the "Subscriptions" menu from the profile page.

     

Go through the list and select "LinkedIn Recruiter."

     

Click on the "Cancel Subscription" button to unsubscribe from the tool.

     

Click "Confirm" to proceed with the cancellation of your subscription.
Once you have clicked the "cancel" button, the process of cancellation of the LinkedIn Recruiter subscription is complete!
Follow the steps to cancel a LinkedIn Recruiter subscription from the Apple App Store.
     

Open Apple App Store and tap your profile.

     

Click Subscriptions from your accounts page.

     

Select the subscription you want to cancel.

     

Click "Cancel Subscription."
Canceling LinkedIn Recruiter Subscription on Android devices
Follow the steps to cancel your subscription on Android devices
     

Open the Play Store app from your phone.

     

On the left-hand side, click on the icon beside the search bar.

     

Select "Subscriptions" from the list.

     

Click "LinkedIn Recruiter" and select "Cancel Subscription."

     

You need to answer the reason for canceling the subscription. Choose the cause from the options provided. You may decline to answer.

     

Click confirm to cancel the LinkedIn Recruiter subscription.

The Benefits of using LinkedIn Recruiter
The LinkedIn Recruiter helps companies find, manage and connect with individuals that want to add to their teams. Here we discuss the benefits of using LinkedIn Recruiter.
It reduces hiring time by connecting with the suitable candidates

It connects with potential candidates through InMail

It shares users' profiles with recruiters and hiring managers

It provides you with updates on candidates who recently edited their profile
The Benefits of using LinkedIn Recruiter Lite
Following are the benefits of using LinkedIn Recruiter Lite:
Finds talent faster – LinkedIn Recruiter Lite offers advanced search tools to help recruiters look for potential candidates quickly.

Contacting a wider talent pool allows recruiters to view third-degree connections and connect with potential candidates through InMail.
Conclusion
LinkedIn has always benefitted the user by introducing various tools and features to enhance their experience. LinkedIn Recruiter provides agencies and hiring managers with innumerable profiles to choose the best talent for their company. It has numerous benefits and offerings, making looking for applicants conveniently and connecting with them quickly.
Related article: How to Reach Out to a Recruiter on LinkedIn
Octopus CRM LinkedIn automation tool works best for recruiters, start your free trial now!