Referral marketing is an effective way of growing brand trust and visibility. Moreover, it helps build awareness.
If you haven't used referral marketing, it's high time you get started. In this comprehensive guide, we discuss:
What referral marketing is?

What are the best referral marketing strategies?

Tips for requesting referrals

The benefits of B2B referral marketing
Let's dive in!
What is Referral Marketing?
Referral marketing is a process where brands reward customers for sharing the brand or products/services with their family, friends, and colleagues. Although similar, referral marketing is not the same as word-of-mouth marketing.
In addition, referral marketing helps you save money on ads by taking advantage of your customer's connections.
What is the Purpose of Referral Marketing?
The primary purpose of referral marketing is to attract new customers. Your customers share their experiences with friends and family, whether online or in person. Thus, in referral marketing, you leverage your existing customer base to generate new leads and grow brand visibility.
Why is Referral Marketing Important?
Here's the thing:
Thus, it's evident that word-of-mouth and referral marketing are cost-effective and successful ways of generating leads.
When we have a good experience with a product or service, we tend to share it with others. But sometimes, a reminder in the form of referral marketing is the push customers need.
But Why is Referral Marketing Powerful?
Let's look at the facts:
Why? If you have a good experience, you intuitively tell your close friends and family members about it. Likewise, you'd discuss your awful experience. By learning from other people's mistakes, we avoid pain and frustration.
And that's what makes referral marketing so powerful. Buyers share their experiences with the people around them and make purchasing decisions depending on whether it's positive or negative.
Related article: Best LinkedIn Marketing Strategies For Your Business
What are the Different Types of Referrals?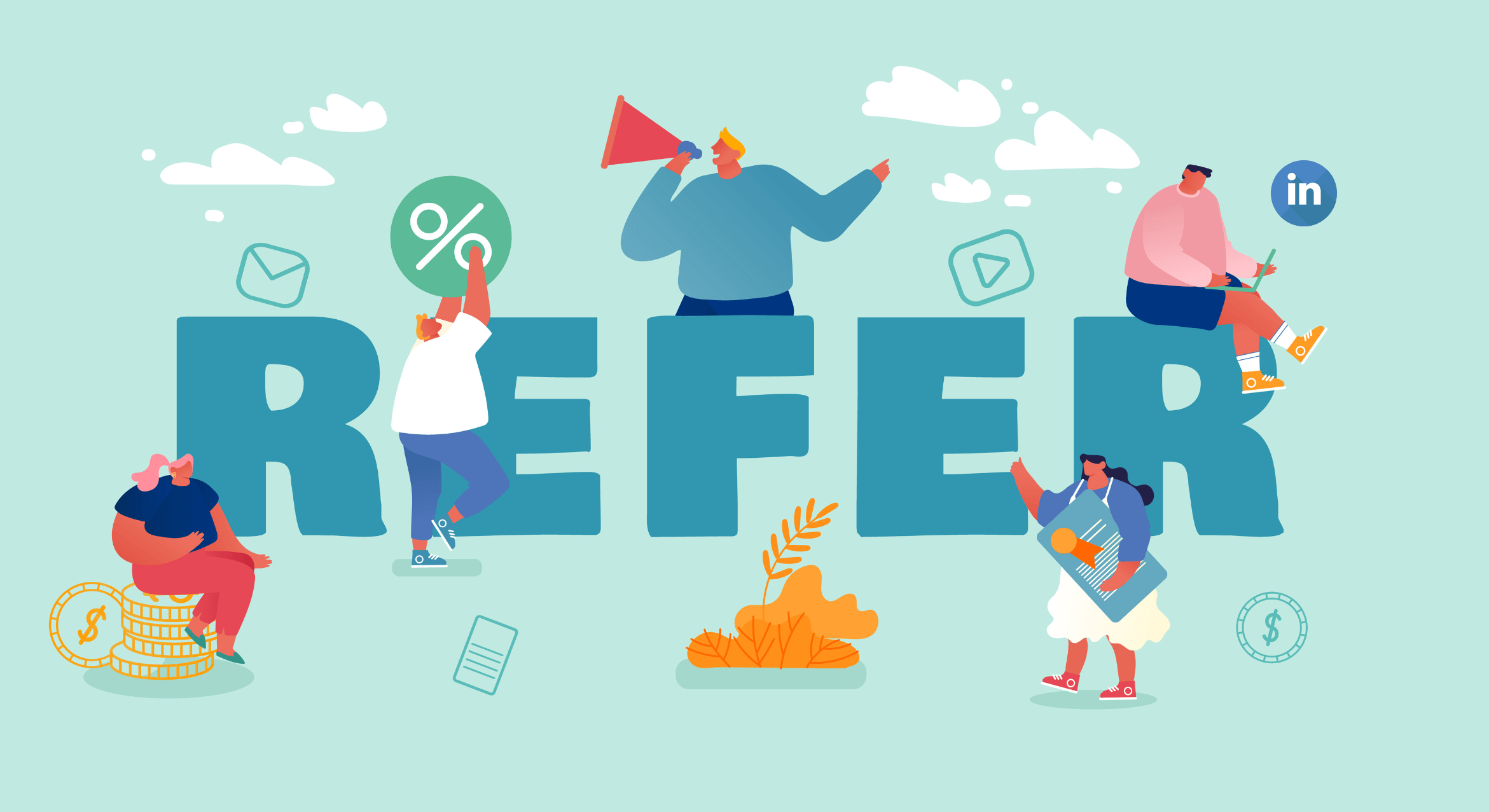 All types of referrals fall into three primary categories: experience-based, reputation-based, and specialization-based referrals.
Let's discuss these in-depth:
Experience Based Referrals
Derived from direct experiences, experience-based referrals are perfect for driving new business. If customers value your services or products, your employees, and your work, they'll share their experience with friends and business partners.
However, experience-based referrals require a little extra effort. Some of your customers may have to get approval from their leadership to approve case studies, surveys, and other referral takeaways.
Reputation Based Referrals
If professionals or buyers are familiar with your business but haven't made a purchase, they'll likely refer you to friends, family, and colleagues.
Reputation-based referrals believe your projects, portfolio, and track records are popular among the industry or general public. Businesses that enjoy these referrals have fantastic awareness in their community. Therefore, to achieve this referral, you'll have to invest time and effort into improving brand awareness.
Specialization Based Referrals
Lastly, businesses may receive specialization-based referrals from people who know your specialization and services/products. However, these buyers lack knowledge about your reputation.
Often overlooked, specialization-based referrals can help make your brand stand out in front of your target audience.
Now that we've discovered the different categories, let's dive deeper into the various types of referrals:
Direct Referrals –

Among the best methods of referral, here, your customers double as your brand ambassadors

Email Referrals –

Email has become a popular form of communication in recent years. Therefore, referral marketing via email helps nurture deep connections

Incentive-Based Referrals –

Incentivizing referrals is an excellent way of growing connections with customers and encouraging them to deliver the desired action

Referrals from Reviews –

Don't sit back with your fingers crossed, hoping customers will post reviews. Instead, request them to do so. Often, buyers go through past customers' reviews to decide whether they should interact with your brand
How Do I Ask for Referrals?
Asking for referrals isn't difficult, right? Wrong!
Requesting referrals without sounding desperate can be tricky. Luckily, it's not impossible.
Here are twelve ways you can ask for a referral effectively:
Ask Directly
The best way to ask for a referral is to be direct. You may request one through email, online, or in person. That way, it's not awkward, pushy, or annoying.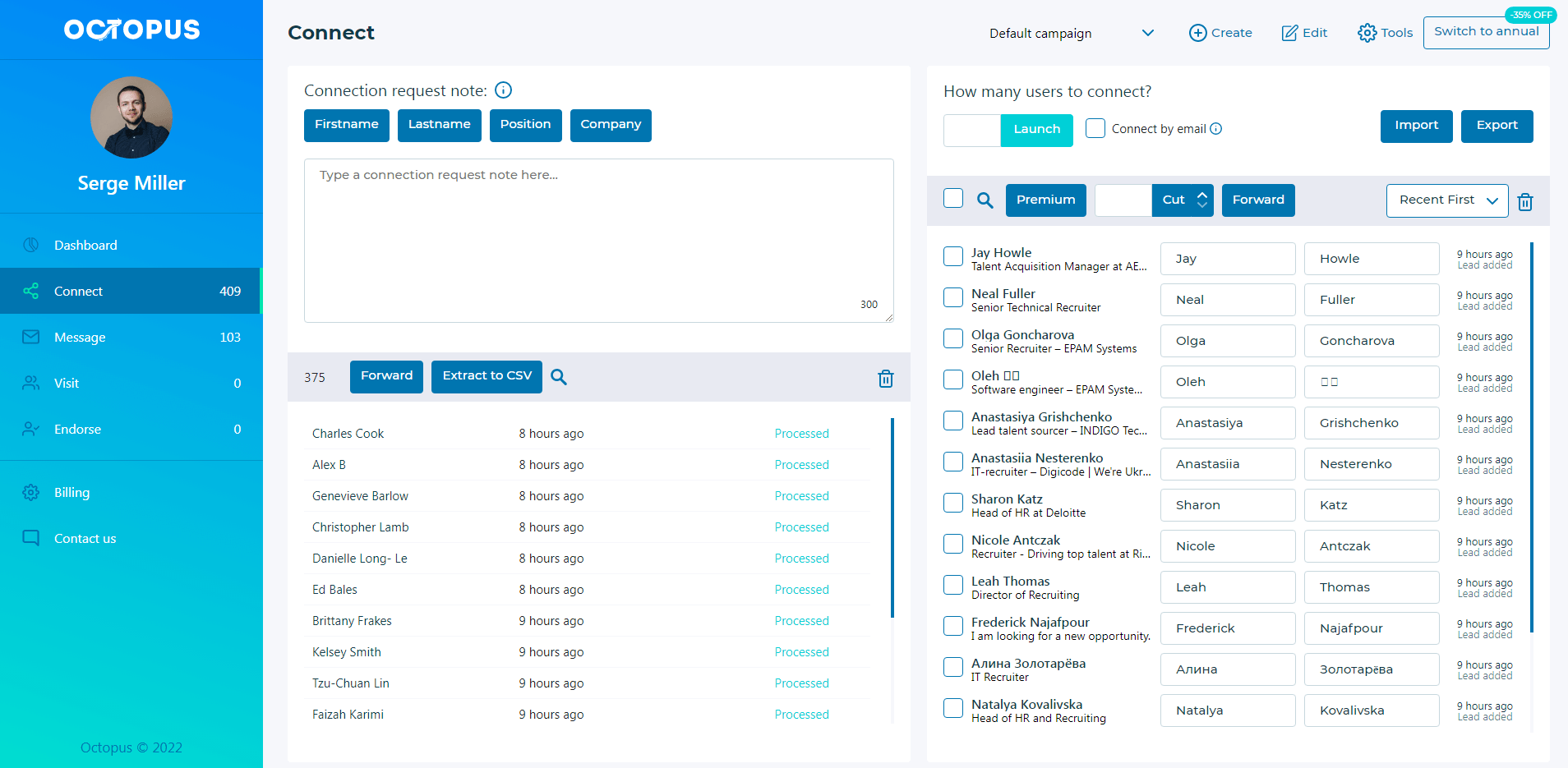 Reach out to your existing clients on LinkedIn using Octopus CRM LinkedIn automation software. Send personalized messages in bulk using the Octopus CRM Mailing tool. Start your free trial, now!
Reach Out to the Right People
Before creating your referral template, pause for a second and ask yourself, 'who am I reaching out to?' You can choose to connect with an extensive list or a few customers.
Consider tracking customer feedback to identify which customers are happy with your brand and its offerings. These buyers are perfect as brand ambassadors.
Don't Expect Immediate Results
While referrals are an effective way of growing your business, they require time and effort. Therefore, you'll have to invest time to build relationships with your ideal customers. To succeed at your referral marketing strategy, you'll first have to segment customers likely to promote your brand.
Offer Value
Interact with your customers in simple ways, such as sharing an article you believe they might find entertaining or a case study you crafted. While attaching the link to your email, request a referral at the bottom. It's an effective, non-pushy way of encouraging users to refer your brand to friends and family.
Ensure Your Ask Sounds Natural
Referrals must come as a natural progression after you've built a deep relationship with your customers. It should never be the first thing you send a new customer. It will only drive buyers away and chase them from making a purchase again.
Asking for referrals is all about ensuring you choose the right time. So, wait till your relationship is far enough to request without making it awkward.
Recognize and Thank Referral Sources
Appreciate customers for their effort through a phone call, email, holiday card, or handwritten note. When a past or current buyer sends a client your way, show you're thankful by sending a 'Thank You' card.
Personalize Your Efforts
Sending a generic and dull referral request to your contacts, direct emails, or social media followers leads to a low response rate. However, personalizing it can encourage customers to do business again and share your services with those around them.
Identify the Right Time to Approach Customers
While there are no easy right or wrong answers to when you should invite customers, there are times that ensure better conversions. Your goal is to get customers to join; therefore, you don't want to make it seem like a chore. Picking the ideal time ensures customers take your desired action.
For instance, sending an email offering a special holiday discount to those who send referrals can encourage more people to refer your brand or product to their friends and family.
Look for Moments when Customers are Happiest
The best time to introduce your referral program is when customers are at their happiest. For instance, after a purchase, after they've left positive feedback, or you've solved an issue through customer support.
Once you've made your customer happy and satisfied, introduce your referral program. But avoid being too pushy; instead, start by asking if you can help them with something.
Get Your Contact Information on Their Phones
It is unlikely you receive new referrals if your customers don't have your contact information. So, ensure your email address and phone number are everywhere and easy to find. Start with invoices, email signatures, and social channels, and then get your contact info on their phones.
Be Specific
When asking clients for a referral, don't ask, "Do you know a friend or family member who needs a freelance writer?" It's too broad and forgettable.
Instead, ask clients if they know someone who could use a health and fitness writer to increase the chances of sparking their memory.
Integrate a Recommend-a-Friend Function on Your Website
Make referrals easy for clients by creating a page, a box, or a link form on your website that allows visitors to add their contacts' emails. For instance, you can use InviteBox, SaaSquatch, or ReferralCandy to encourage users to send personalized referral links to their friends or family.
Benefits of Using Referral Marketing
Now that we've explored the different ways you can ask for a referral, let's discuss why you need to do so:
Builds Awareness
Your Google and Social Media Ads are effective for increasing customer reach, but they can only go so far.
You can reach customers you typically don't have access to with referral marketing. Moreover, word-of-mouth marketing tends to go viral faster than traditional techniques.
A tweet or Insta post about satisfied customers praising your product can rack up thousands of shares and new customers.
Boosts Customer Trust
According to Google, over 53% of customers conduct in-depth research before purchasing to ensure they choose the best possible option.
While searching for the perfect solution, customers put a lot of trust in the opinions and recommendations of people they relate to. Moreover, advice from a trusted friend or close family member is more powerful and valuable.
Therefore, promotions through referrals are more trustworthy, relevant, and targeted. While traditional marketing helps you expand your reach, referral marketing enables you to acquire quality leads.
Clients are more likely to share a product or service with people they believe will benefit from it. Thus, the recipient is more likely to act on the recommendation and make a purchase.
Allows You to Measure Customer Satisfaction
Referral programs are excellent tools for measuring customer satisfaction. Successful and effective referral programs with vast referrals indicate high customer satisfaction.
On the other hand, referral programs that struggle show that you need to collect feedback to improve your customer service.
Helps Identify Loyal Customers
Customers want to feel appreciated and will likely move to a competitor because of perceived indifference. Referral marketing programs help you identify, track, and reward loyal customers by offering personalized interactions and making them feel appreciated.
How to Ask for Referrals on Social Media?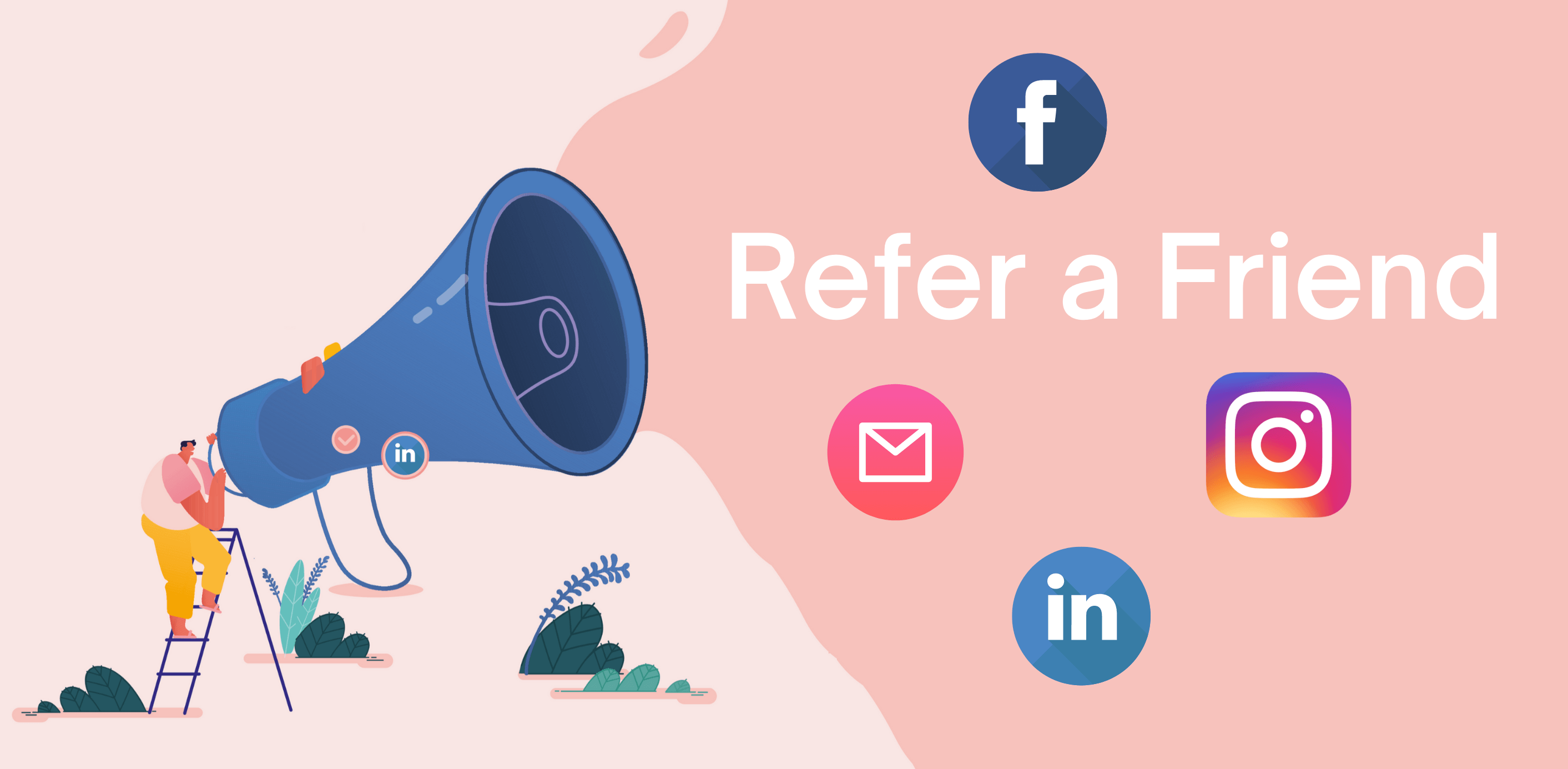 You'll have to tweak your referral marketing strategy depending on the social media app you use. Let's discuss this in-depth:
LinkedIn
LinkedIn's 'Ask for a Referral' button helps you see jobs where someone in your network works. Moreover, it offers suggestions to craft a personalized and compelling referral request.
When asking for a referral on this business-oriented social network, keep these tips in mind:
Jog Their Remind –

Reiterate how you know each other or call out things you have in common to spark a connection

Share Why They Should Choose You –

Whether it's a customer or a job offer, including why you think the person should choose you. Showcase your skills and experience or demonstrate your efficiency in the industry

Highlight Why You're Interested –

Make an impression by including why you decided to reach out. It could be anything, such as you noticed they were looking for a product that you offer or wanting to move to the city the brand's office is in
Instagram
Instagram referral marketing is a little different from LinkedIn but equally effective. To master this, you need to follow these steps:
Make Customers the Hero –

People love learning something new and telling their friends about it. Moreover, they feel like they have a special connection with that thing. Creating a referral program makes it easy for clients to share your brand with friends

Reward Your Clients –

Most people

want

to leave reviews and referrals but tend to forget. Encourage your buyers to take a minute out of their busy schedule by incentivizing your referral program
Facebook
With over 2.936 billion users, Facebook is the perfect platform for expanding your reach and growing your brand.
That also means you have to create an effective referral program to succeed:
Waiting for the Right Time –

On Facebook, you target your customers when they're happiest. Request a referral after they leave a positive review or make a purchase

Look for People You Know –

Ask for referrals from people you share something in common with, such as you worked with them or went to the same school
How to Ask for Referrals on Your Website
Follow these steps to ask for referrals on your website:
Use Customer Referral Templates –

A customer referral template with polite and proven language ensures better results. We recommend personalizing a template before sending

Build Value, Then Ask –

While you can ask for customer referrals immediately, it's a terrible idea. Wait until you've proven your value before you showcase your referral program

Offer Incentives and Rewards for Your Referrals –

Offering excellent customer service might not always help you gain referrals. Sometimes, incentivizing customers and offering rewards can help you attract quality leads. You can provide gift cards, donations to preferred charities, or discounts in referral programs

Remember to be Specific –

Asking a generic question like, "Do you know a friend looking for a software solution or GD" is too broad. Being direct and asking straightforward questions can make it easier for you to connect with customers

Stay Connected with Customers –

Build deep relations with your customers so that it doesn't seem out of the blue when you ask for a referral. Staying in touch will encourage clients to refer your brand to others' unasked
How to Ask for Referrals Via Email
Asking for referrals through emails is one of the most effective ways of growing your brand. Here's how you request one:
Maintain Your Email List –

Email lists help you develop strong relationships with customers while keeping them updated on things going on with your business. In addition, they're a fantastic channel to promote your referral programs

Connect to the Right People –

Be deliberate about who you're going to reach out to by crafting a list of people you want to ask referrals from
How to Write a Referral Email
Writing a referral email sounds challenging, but in reality, it's not that tricky! With our tried and tested strategies, you can craft a stunning referral email:
Create an Attention-Grabbing Headline
Emails with ambiguous and uninteresting headlines tend to go unnoticed. Therefore, your referral email should feature a dynamic, eye-catchy, and strong headline. You want to encourage customers to click instantly, so consider adding their name to the headline.
Get Straight to the Point
If someone takes the time to read your email, they'll want to know the cold, hard facts straight away. Jog your customer's memory by highlighting your success in the email. That way, you'll invoke happy and positive feelings. After that, state why you crafted the email, i.e., to ask for a referral.
Be Concise
Creating a concise, well-planned, and attention-grabbing email is a quick-fire way of getting a response. Don't create long emails with extensive information sure to bore the reader. Instead, use short and sweet sentences that keep the reader hooked.
Use Email Signatures
Email signatures are an excellent way of reminding customers of your referral program. That way, you'll be the first person that pops into their mind when making a referral.
Thank the Reader
Finish your email by thanking the reader and appreciating their time and consideration. It encourages your reader to reply.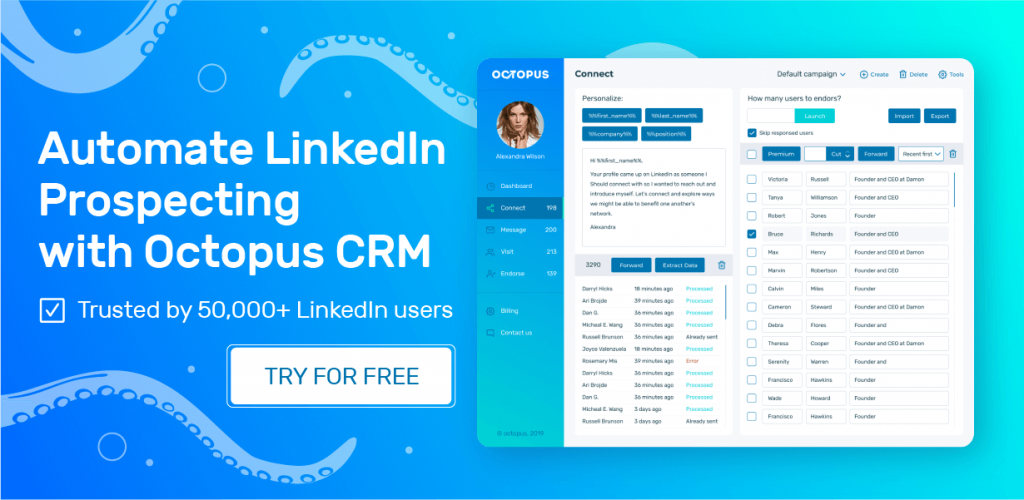 Customer Referral Email Templates
Crafting referral emails requires creativity and time. Here are several templates you can use to make the task easier:
Example # 1: Template for Asking Friends and Family
Subject: Hey XYZ. Looking to Assist your network with (product/service)?
Hi (XYZ)
Hope all's good since we last spoke. As you may have heard, I (started a business or service) that does (scope of it).
I wanted to reach out to see if you know someone who would be interested in my (product/service). An ideal (customer/client) would be ___________.
One of the things that makes us stand out is ______________. It is what helps offer ___________. If anyone comes to mind, consider sharing my contact information below or email them.
(Optional incentive statement) We are also offering ____________ for every referred ___________ brought in.
Thank You,
 [Name], [title]
[Organization]
[Email address]
[Phone number]
[Website]
Example # 2:
Subject: Ring-Ring! I've got a Reward for you!
Hi XYZ,
Beginning (date) we are planning to launch a referral rewards program for all current (customers/clients). The program includes _________________.
To benefit from this opportunity, all you have to do is ___________________.
Ready to enjoy some freebies? Then it's time to benefit from our referral program. Feel free to reach out if you have questions or concerns.
Thank you,
[Name], [title]
[Organization]
[Email address]
[Phone number]
[Website]
Difference Between Referral and Affiliate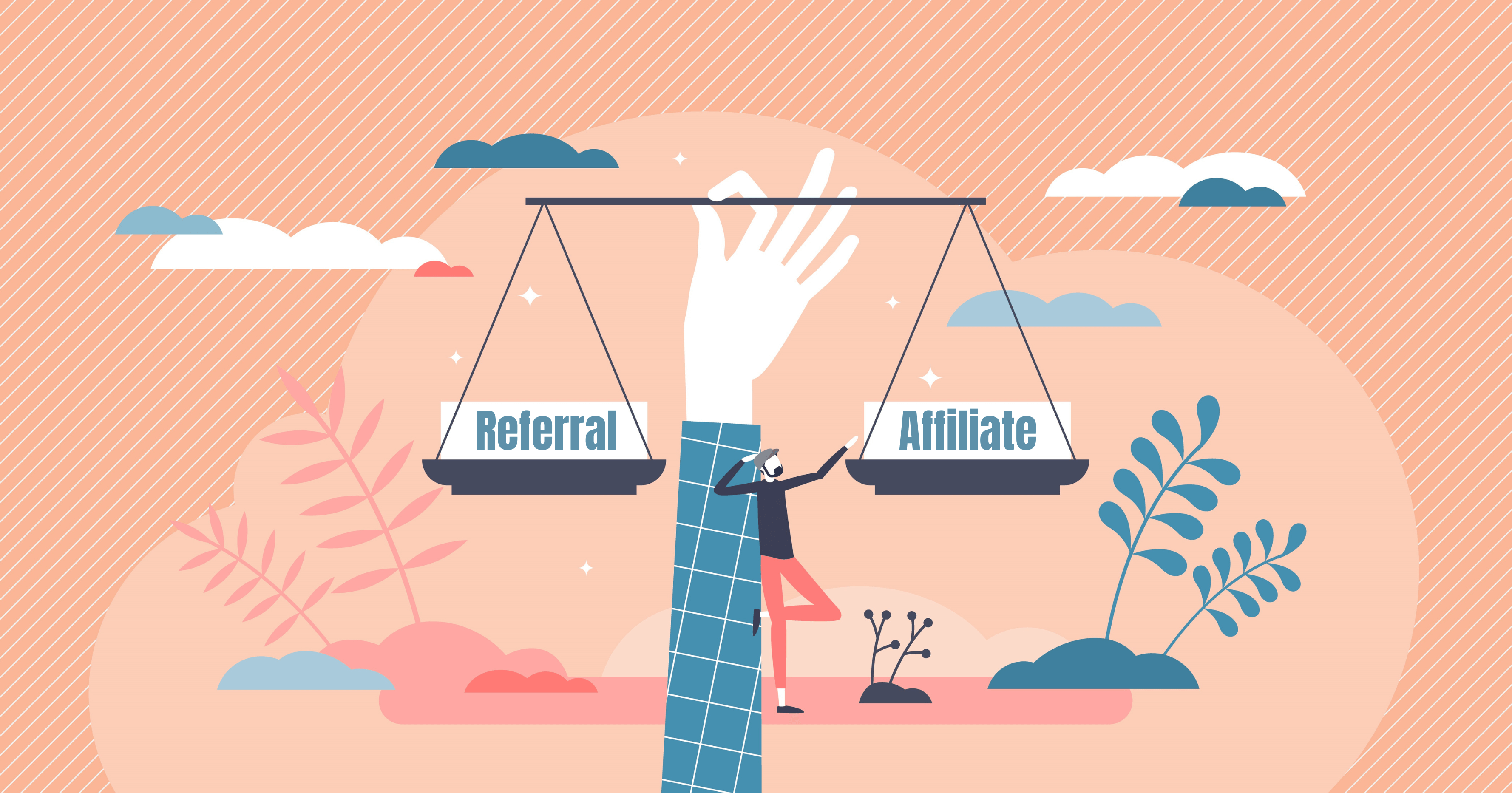 Although referral and affiliate marketing both use incentives to drive revenue, the techniques vary.
Here's the difference between referral and affiliate:
Affiliate
Affiliate marketing uses third-party brand advocates to drive traffic to your business for a flat fee.
The affiliate searches for a product they like, promotes it on their channels and earns profit from each sale the brand makes.
Referral
On the flip side, referral marketing leverages the shared relationship between your customer, their network, and your brand. During this process, current customers buy your brand to new users to earn rewards.
Referral Strategies
If you systematically implement the following proven strategies in your sales approach, you can easily double your sales in a year.
Overcome your fear of asking
Numerous people are scared of asking for instructions. Many salespeople hesitate when starting a conversation to ask for instructions. The only way you can overcome the fear is to ask for instructions anyway. You may lose part or all of your business if you do not ask for instructions. Therefore, it is crucial to overcome this fear to excel.
Once you make up your mind, gather the courage and ask for instructions. Moreover, the fear of asking for introductions leads to a loss of opportunity. Therefore, you must force yourself to fight your fear and have the courage to ask for it.
Leverage your entire network
It is true to benefit from your network, especially regarding referrals. However, you must not limit yourself to one group of networks when asking for introductions. Although your existing clients are an excellent resource, there are more groups to help you achieve your goals.
Everyone has a significant role in your industry connections, family members, friends, friends of friends, social acquaintances, past customers, and former and present colleagues. Therefore, the more people you include in asking for introductions, the more introductions you will receive.
Ask for one introduction per day
You may feel it is a lot of work, but it does not take much time. Since asking for introductions takes minimal time, so can easily cover it up in fifteen minutes. Therefore, you must make the most of your allotted time and work daily to get more introductions.
When you ask for one introduction a day, you are asking for five introductions per five workdays, making it almost 250 introductions per year, which is an ideal way to connect to more people.
Phrase it like help request
When asking for an introduction, it is crucial to phrase it like a help request because people love others, especially when they know them. You may communicate your quest for introductions by saying, "I would be glad if you could help me with ….". When you frame your questions this way, you will automatically get yourself replies, leading to meaningful conversations.
Conclusion
Word-of-mouth has long been one of the most effective ways to expand your reach, improve customer retention, and boost brand trust. Moreover, it helps you build a community and grow your brand. Use the tips discussed above to learn how to ask for referrals on social media, websites, and email.