Like most marketers and salespeople, you must keep up with your never-ending email inbox. Email is still the most used contact method, even in sales.
HubSpot data shows that composing emails takes up 21% of a salesperson's working day. The average consumer receives numerous emails daily, So salespeople must stand out to make an impression.
Many marketers concentrate on creating a solid subject line and body.  Although this is crucial, they forget to include email signatures.
It turns out that having a fantastic new signature for email can be a clever way to sell your business. The last component needed to complete a sale could be your email signature. A polished, professional email signature boosts interaction and establishes credibility.
A signature serves as a powerful branding tool that enables further in-depth personalization. Uncertain about where to begin? No issue.
This article serves as a starting point for email signature marketing. We'll assist you in determining how to begin using a brand-new, free email signature. In addition, here are some excellent templates and signature examples for email.
What Is an Email Signature?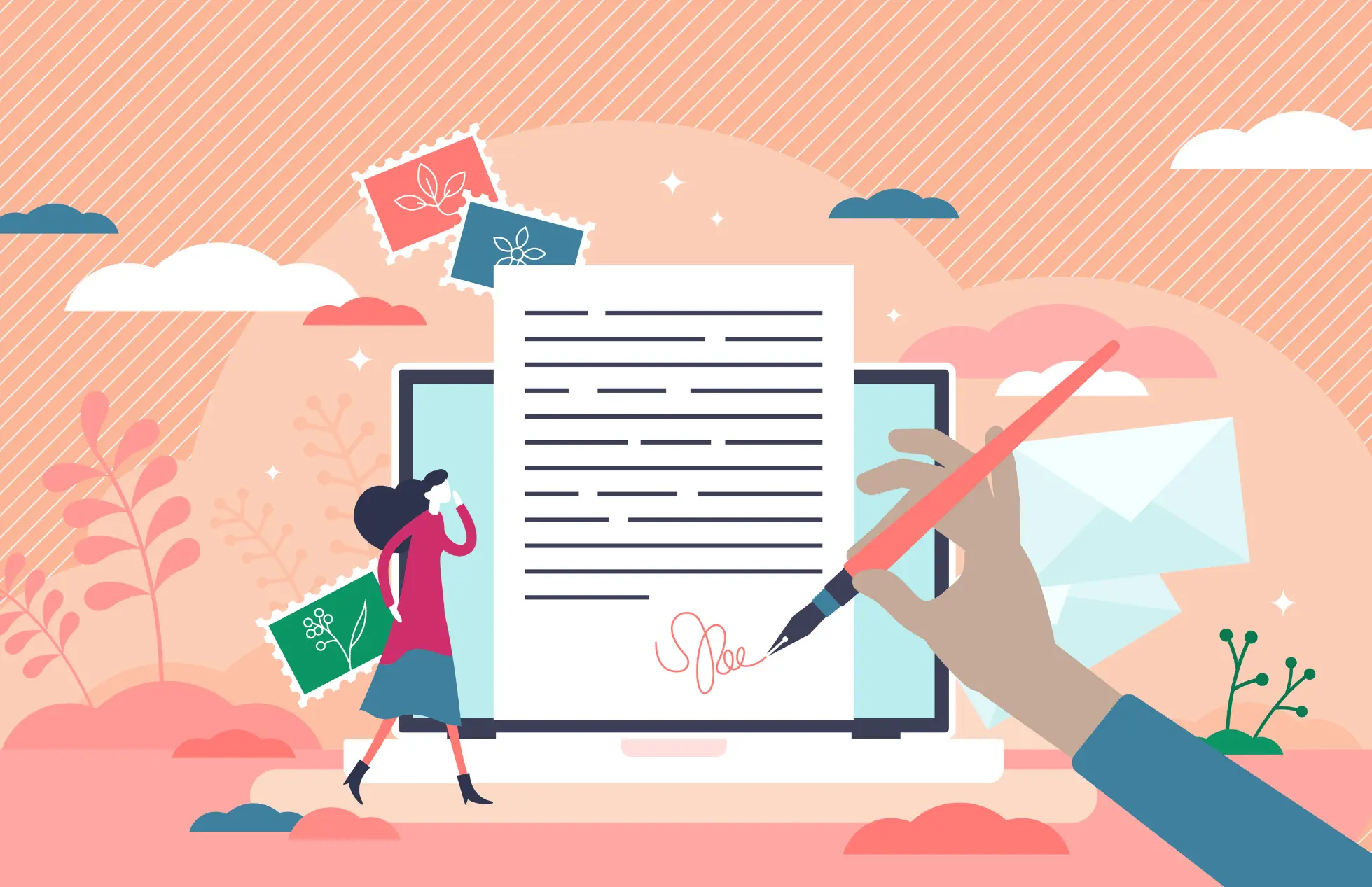 An email signature adds a block of text to the ending of an email. In addition to giving your email list a mechanism to get in touch with you, the signature establishes your brand identity.
Furthermore, your email signature must encourage the people on the contact list to reply to your emails. It provides helpful details about your business, such as promotions and chances that apply to your subscribers' list.
Recent data shows that in 2023, the total number of emails received and sent daily will be nearly 347.3 billion. The figure has increased to 4.3% compared to the previous year.
Therefore, businesses are focusing more on sending emails to prospective buyers. The essential email variables are:
Name
This part is typically the first sentence of text in the signature for an email. Your recipients will know who sent the email by seeing your full name. This will increase their trust in the sender because it shows you are real. Businesses shouldn't send emails under the fake name of a fictional employee.
Job Title
Always include your department and affiliation information in your signature. This helps your email recipients understand your area of expertise and your position in the organization.
Company Logo and Name
Include your employer's name and logo in the email signature if you're an employee. If you work as a freelancer, you may mention your blog and offer a link to it.
By doing this, you demonstrate a professional outreach style. Moreover, it builds credibility and increases brand recognition.
Contact Info
When providing contact information, always hyperlink to your company website. This lets the recipient confirm your company's data from their email.
Also, you can put your company's address in the signature, which is helpful for industries where location is crucial.
It's a good idea to provide a few other ways for people to contact you in your business contact information. These include a phone number and an alternate email address.
Social Media Links
Links to your business's relevant social media accounts are acceptable. You can also include your social media accounts in the email signatures as an alternative. This can help you gain trust, which will reassure your audience.
Call to Action
Not all email senders should include a call to action (CTA) in their email signature. But if you run a company or work in sales, you must consider including one.
It's a great chance to encourage your recipients to act on an email. These actions include requesting a callback, offering a link to a demo scheduler, or downloading an eBook.Remember to select CTAs that complement your brand's voice and business objectives.
Disclaimer
An email disclaimer tells your email receivers what they can and can't do with emails you send on your behalf. Often, corporate email signatures must comply with this regulatory obligation.
What Makes Email Signatures Important?
Many people still utilize straightforward sign-offs that only include the sender's name. It might be appropriate in some circumstances. But it may severely restrict the goals the email signature might help you reach.
Survey results show that 62% of companies and marketers utilize signatures to promote their brands. In reality, using a signature generator can provide several advantages. These benefits can elevate it to one of your toolbox's best advertising and commercial tools.
Here are some of the most convincing advantages of adding a free email signature.
It's Professional
It's critical to show yourself while communicating by email. This is necessary when establishing a rapport with a new contact. You must give the recipient all the details they would need about you. This conveys that you are an expert in your industry who cares about your online reputation.
Provide Contact Details
Contacting you is crucial if you want to increase the response rate. And as a result, the option of responding might not always be sufficient. Using a free email signature template, you may simplify your website, email, phone number, LinkedIn profile, and other contact information.
Include (and Gather) Social Proof
Utilizing a formal email signature has many benefits. Among them is the addition of social proof components that highlight the worth of your offerings. You can experiment with email signature banners and add a client review using an email signature generator. 
This will show what you've achieved for them and why they liked working with you. You may also encourage individuals to post reviews by including a link to your website in your email signature.
Increase Brand Recognition & Traffic
You must take advantage of every chance to increase brand recognition. Email signatures are an excellent method to include important branding aspects. This will help the prospects know your company or brand. Whether you're promoting yourself or a business, it's essential to introduce your brand and the offers in every message. Additionally, adding your company website link may increase visitors.
Shows Consistency
Consistency is one of the significant problems brands are facing today. Therefore, companies ensure their branding efforts align across all marketing platforms. Using an email signature ensures uniformity across all of your business emails. Moreover, it gives you a powerful way to convey the mission and brand of your company.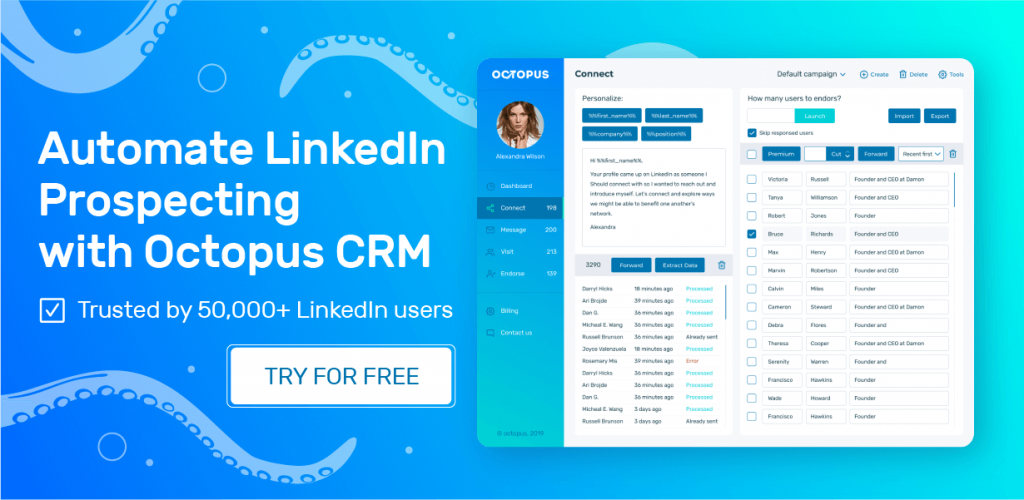 Top 5 Marketing Email Signature Tips
There is nothing new about business email signatures. However, they are just now starting to show marketing signs. Recent research indicates that the sales and marketing departments gain the most from their email signature branding. It will be crucial for businesses to keep up with future developments in email signature marketing.
Keep It Simple
Try to keep the signatures simple on business and personal communications. Always strike a balance between professionalism and transparency. Use a readable typeface, keep your signature block simple, and choose a suitable color scheme.
Have Images and Logos Ready
Before creating an email signature, keep the bio images and logos ready. It promotes more effective collaboration emails. Some free email generators can aid in your branding. Decide the kind of impression you'd like to give your clients with your staff's help.  
Keep a File with All of Your Employees' Information
This makes it simple to enter everyone's information.  It will be simpler to create email signatures if you are ready.  
A domain name server (DNS) will simplify creating email signatures. An automated email signature generator is possible if you connect your DNS to the email generator. Moreover, it typically has purchased items.  
Make It Mobile-Friendly
The majority of consumers receive their emails rapidly using a mobile device. Therefore, your signatures might not appear consistently on all their devices. Ensuring that your email signatures are compatible with mobile devices is crucial. The majority of email signature makers assist by providing a template that is applicable in all situations.
Make It Social
Your firm might gain greater credibility by including links to its social media accounts in your email signature. Additionally, it offers a different chance to increase traffic and find new leads. Consider inserting links beneath the associated social media symbols. This is because icons take less space. Also, ensure these links are trackable so you can see when the users click them.
How to Set Up an Email Signature?
The two most widely used email applications are Gmail and Microsoft Outlook. Both of these allow you to add your email signature. This method limits your options for signature design. But it can still be the simplest option when you only need a direct email signature. Here are some simple steps you may take to add your email signature to Gmail and Outlook:
How to Add Your Signature to a Gmail Account?
Here is how to add a signature for Gmail.
Launch Gmail.

Click on the gear symbol, the third icon on the right-hand side of the screen.

Choose View all settings.

Navigate to Signature.

Select Create New.
Give the new email signature a name.

Copy and paste your email signature into the field that opens.

In this box, alter your signature's colors, fonts, sizes, and other elements.

Select the drop-down menu beneath the input box if you want your signature to show in all emails, all responses, or forwards.

The button below lets you specify whether the email signature should show before text is cited in email replies.
How to Add Your Email Signature to Microsoft Outlook?
Follow the steps to add a signature for Outlook.
Start with a new email.

Select Signature > Signatures from the Message menu.

Select New > Select signature to change.

Pick a name as your new signature.

Enter the email address that you'll use for this email signature under Choose default signature. You can also decide whether you want it on all emails, replies, or forwards.

Add the information under Edit signature by typing or pasting.

Use the input box to modify your email signature's font, size, colors, alignment, and other elements.

Press OK.
How to Create a Professional Email Signature?
There are many email signature generator programs available. However, we advise you to create a signature for the email. Here are some steps to remember:
Keep it Short
You should mention a few things in your business email signature, but adding more than four lines is excessive.
Each email signature line's length is also crucial. You want to make sure your recipients have enough options.
Consider What to Add to Your Signature
Your name, corporate information, and phone number are the three things you must include in your signature. But if you think it's necessary, you can also have the information below in your signature:
Company Logo or Links:

Consider including an URL to the company's website under the company's name.

The URL of your website

: If you operate a freelance business or have a personal website, linking to it will improve its visibility.
Social Media Links:

Include links to professional social media profiles in your signature.

Work Samples

: Linking to any online work or product examples will make them easily accessible to potential customers.
Use an Image
Your email signatures contain both text and images. Your business email signature will stand out if you include your photo.
Utilizing your face also allows you to build trust with potential clients. They recognize your face and understand they speak with you, not a robot. This can significantly increase your chances of receiving a reply to your email.
Add a Logo
Any email signature should include a quality logo. It improves brand identification, personalized emails, and humanizes businesses.
It gives your email signature some professionalism. You can submit a logo of your choice using an email signature generator.
Pay Attention to the Colors
You may use light blue for the company's website link, medium grey for your contact details, and jet black for the name and job title. These hues go well together without becoming gaudy.
Consider the Email Signature Size
There are many benefits to keeping your signature smaller. These include that huge photos take time to load, and the image quality might not be compatible with all mail clients. Any email program should support the size of your signature.
Free Email Signature Generators
The importance of having a unique and professional email signature is undeniable. What if you are unable to produce one of high quality? Don't worry; we've compiled a list of the best three free email signature generators to handle the task.
Signature Hound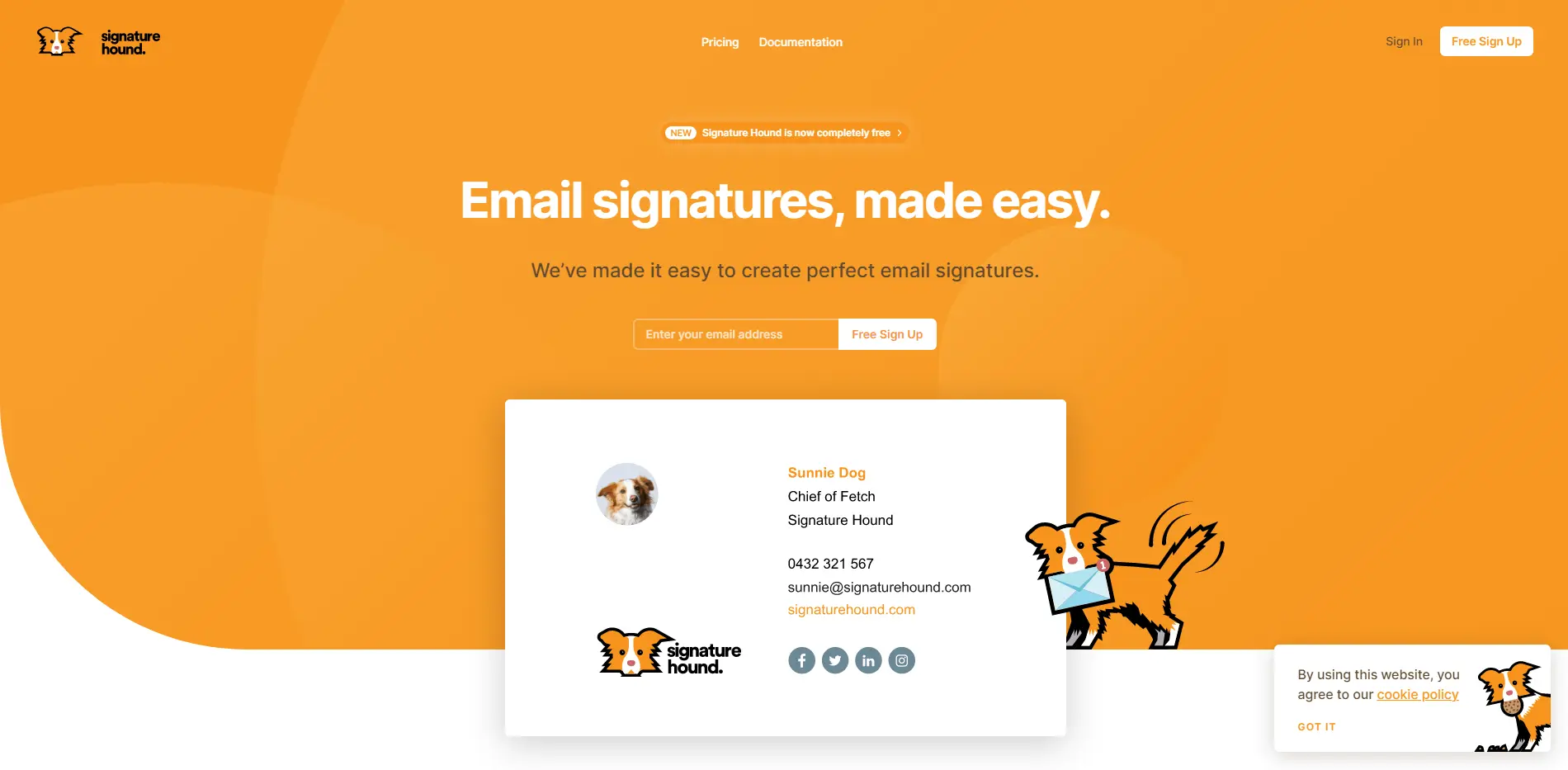 It is a free web application. It designs, edits, and shares email signatures that appear professional. You can substantially enhance the standard of your business contact by focusing on details.
Numerous firms are available that will carry out this task for you. They demand a one-time fee or a consistent monthly cost. Signature Hound makes designing a polished email signature simple and free without knowing any code.
The goal of this web tool is to make the creation of email signatures simpler. You only need to create an account on the website to get started. Remember that you can use a temporary email address.
MySignature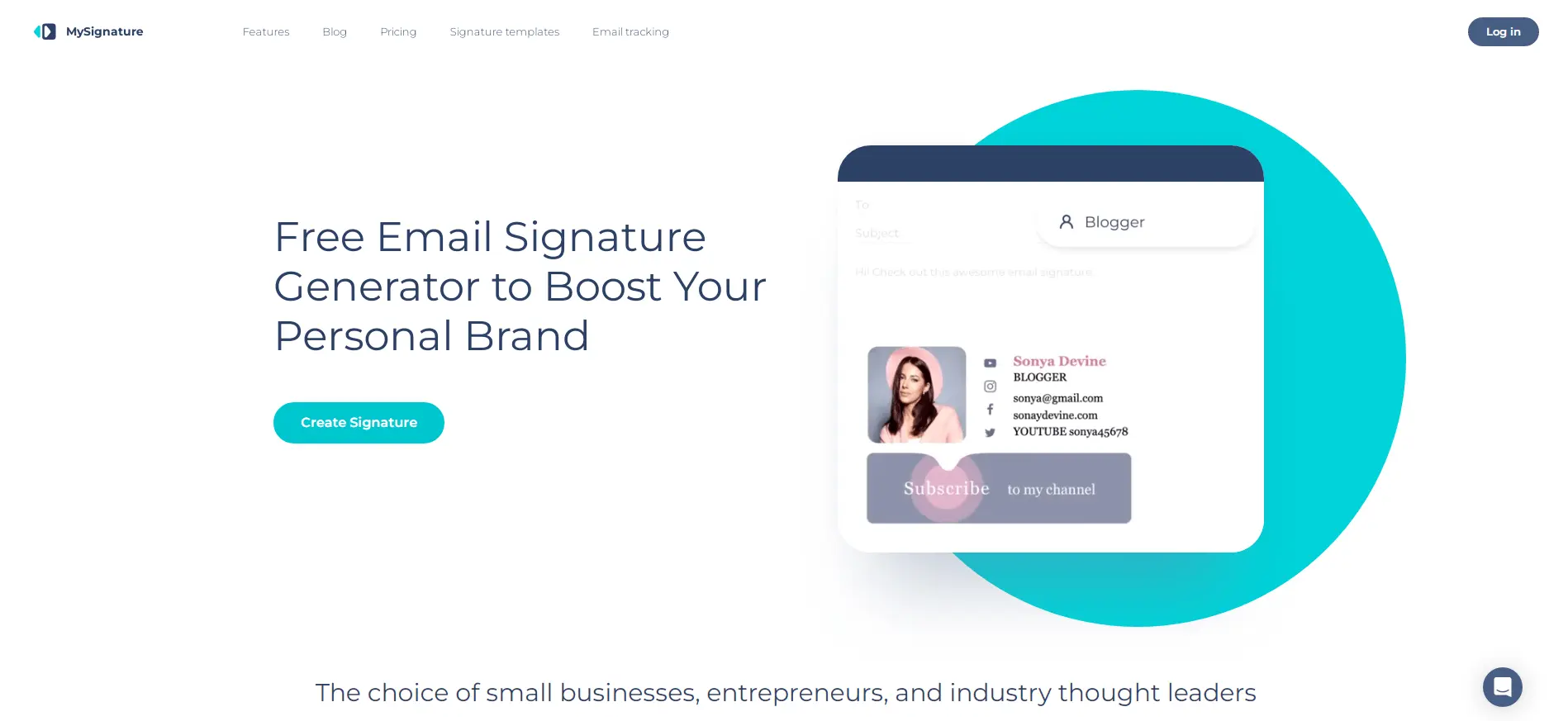 Professionals, freelancers, and business owners frequently utilize Mysignature. Established in 2017, this email signature generator is an excellent choice.  
It includes basic templates with Office 365, Outlook, Gmail, and Apple Mail. You can create email signatures using a dashboard, themes, and social media symbols.  
Thanks to its mobile optimization features, you can consistently use the same signature template across all devices. Besides you can also read several published blog articles with helpful advice on personal branding. You can use the suggestions to improve your company's online reputation.  
Mention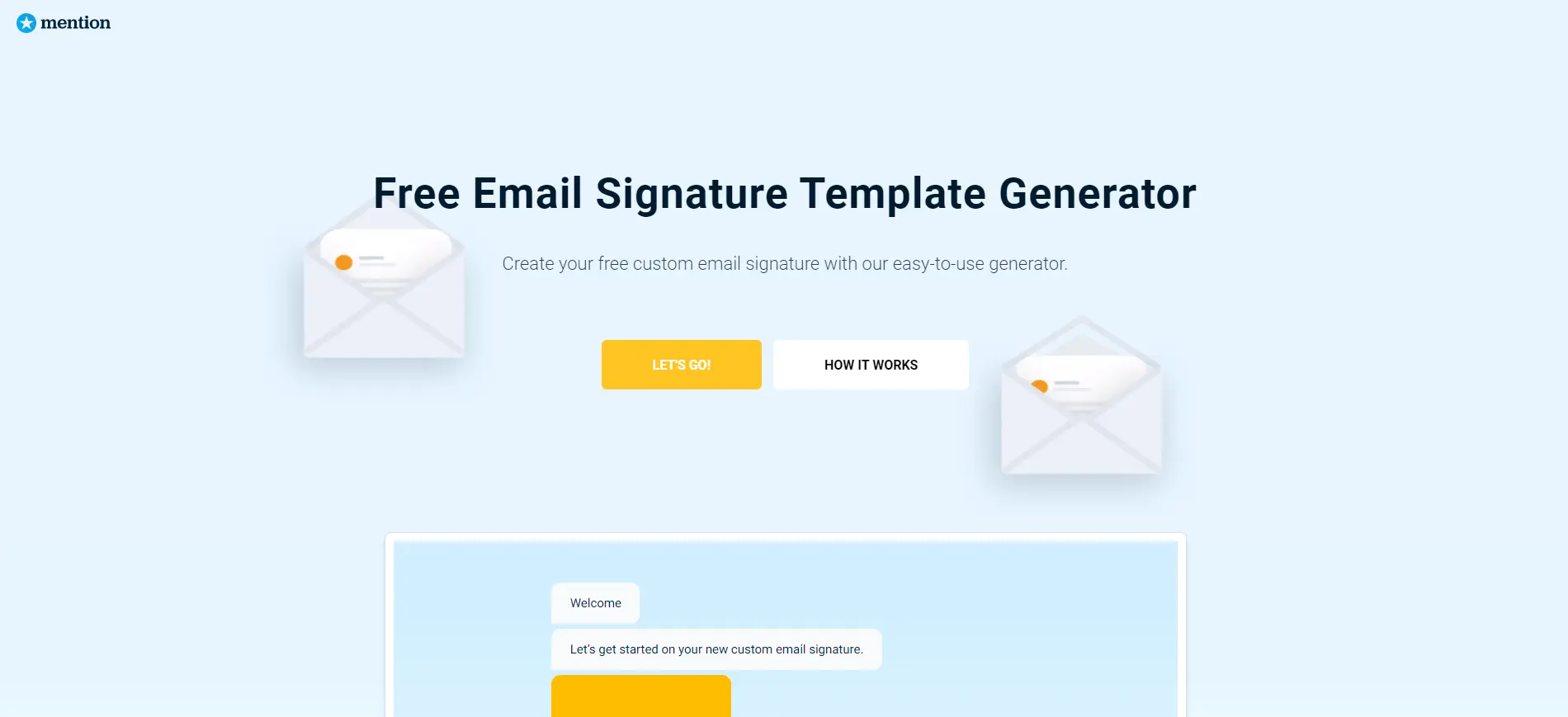 Mention offers an email signature generator tool that creates a polished email signature. It helps you create professional email signatures for business and personal use. Open your Gmail inbox, choose your recently made signature sent by Mention, and then copy it to use this tool. To access "Settings" from the menu, click the gear symbol, then select "See all settings." To reach the "Signature" section, scroll down. To create a new signature, select "Create new" and give it a unique name.
Free Email Signature Templates
You will find multiple sample signatures for email. However, to help you, here are some email signature templates:
Email Signature for CEO
You can promote your brand and organization through a CEO email signature. It contains your name, your position as CEO, the name of your business, and your contact information. 
A company website, a logo, or a picture can also be appropriate additions. It should be clean and uncluttered, with neutral colors. It should display the details in a specific sequence, beginning with your name.
Email Signature for Business
A business email signature is a text at the end of emails, blogs, and articles. It gives clients, customers, or coworkers the sender's contact information and title. Moreover, it includes critical details about you and your company. It will contain information about you, such as your name, employer, job title, contact information, and website link.
Email Signature for Work
Specify your full name, title, place of employment, phone number, website address, image or logo, and social networking icons. Add an animated GIF or a banner to stand out. Make sure it complements your company.
Email Signature for Companies
A company's visual branding is best incorporated into an email signature. This is relevant for a big organization that communicates with cold prospects. Company email signatures must include company contact details, social media links, and disclaimers. Make sure you change to a non-standard font color. 
Email Signature for SalesPeople
You should include a self-introduction in your signature to avoid having to do so at the beginning of every email. Your prospect should know the best ways to contact you besides email from your sales email signature. You can provide a phone number, Skype name, or a calendar link to allow them to contact you.
Email Signature for Freelancers
Keep the following two considerations in mind. It assures that your freelancing email signature leaves a lasting impression on your email receivers:
Colors

–

Do you utilize specific colors in your branding, such as on your business website?

For brand consistency, use the same colors in your email signature.

Keep it Concise

 – While you should include crucial details in your signature, keep it under 100 characters. Keep everything brief and straightforward, and use icons as connections.
Email Signature For HR
An HR email signature has special considerations. This is because it frequently leaves a lasting first impression of the company. Here are some things to think about while making an HR email signature. 
Less is preferable

. Leave out your spouse's email, social media accounts, and two phone numbers.

Images have a significant impact.

Include a logo or banner to get the most out of an email signature. However, avoid making the entire signature an image.

Fonts matter.

Select the appropriate typefaces for your email signature.

Pick the appropriate colors.

Make sure to use the corporate colors in your email signature. Your signature being red and blue and your company's logo being entirely yellow can be perplexing.

Mobile Optimization

. Since most people read emails on the go, ensure it displays correctly on mobile devices when creating the email signature.
Email Signature for Students
College students must write many emails to communicate with university administrators and professors. You can promote yourself in such communications. Moreover, you must improve your college email signature to get in touch with professionals. Your email signature must include your name, photo, graduation year, and contact details.
Email Signature for Teachers
Your email signature as a teacher serves as your online persona when conversing. People could assume your professionalism from your email signature. Therefore, a teacher's signature will provide the right message. An email signature for a teacher must contain their full name, workplace name, job title, contact details, photo, and social media links. 
Email Signature for Personal Email
A personal email signature is simply that — personal. Most people use their email accounts for business-related purposes such as subscriptions and social interactions. Your email signature could convey a varied message depending on its intended function. Your personal email signature must feature your full name, photo, job title, email address, contact details, and social media links.
5 Best Examples of Email Signature
Here are five signature examples of email that you might find helpful:
Simple and Professional Signature
Name: [Your Full Name]

Title: [Your Professional Title]

Company: [Your Company Name]

Phone: [Your Phone Number]

Email: [Your Email Address]
Include your full name, job title, company name, contact information, and email address in a short and professional email signature. Choose a straightforward, clean structure and simple design to make the signature easy to read. Employ a few fonts or colors to ensure your signature appears clear and professional.
Remember to use a formal email signature to make it simple for your receivers to reach you. Verify that all the data is correct and up to date. Using the advice in this paragraph, you can make an impactful signature that will make your recipients smile.
Social Media-Focused Signature
Name: [Your Full Name]

Title: [Your Professional Title]

Company: [Your Company Name]

Phone: [Your Phone Number]

Email: [Your Email Address]

Social Media Icons: [Icons for your social media profiles]
Include your name, job title, company, phone number, email address, and other crucial elements of a simple yet professional email signature that is social media-focused. Following that, include social media icons linking to your social media profiles.
Maintain a clean and legible design to ensure the icons are readable. This may inspire receivers to interact with your material and follow you on social media. Remember to include social media profiles for your company or personal brand. You can grow your social media following by using a social media-specific signature. It can also help you improve your web visibility.
Image-Based Signature
Name: [Your Full Name]

Title: [Your Professional Title]

Company: [Your Company Name]

Phone: [Your Phone Number]

Email: [Your Email Address]

Image: [An image that represents you or your company]
An image-based email signature can add visual interest to your email and help showcase your brand or personal style. However, it's essential to keep the design simple and ensure the image doesn't overpower the signature. Use a small, high-quality image relevant to your brand or profession. 
Also, ensure the signature text is easy to read and doesn't blend in with the image. Avoid using too many colors or fonts; keep the overall design clean and professional. These tips can create an effective image-based signature that enhances your email communication.
Branding-Focused Signature
Name: [Your Full Name]

Title: [Your Professional Title]

Company: [Your Company Name]

Phone: [Your Phone Number]

Email: [Your Email Address]

Logo: [Your Company Logo]
To promote your brand, use a branded email signature with your full name, professional title, company name, phone number, email address, and company logo. Make sure the logo is simple and matches your signature. To enhance brand recognition, consider using your company's colors or typeface in the signature, but keep it simple. By including your company's logo in your email signature, you can advertise your business and make a lasting impression on your audience.
Personalized Signature
Name: [Your Full Name]

Title: [Your Professional Title]

Company: [Your Company Name]

Phone: [Your Phone Number]

Email: [Your Email Address]

Tagline or Favorite Quote: [Something that represents you or your values]
You may better express your personality and ideals by using a custom email signature. Optimize it with a catchphrase or favorite quotation to differentiate yourself from other professionals. Besides, it will leave a lasting impression on your recipients.
Ensure the tagline or quotation is legible while making a personalized signature by keeping the design simple. Ensure the quote or saying is pertinent to your business or line of work, and use font size and style that fits the rest of the signature. 
Your signature personalizes your emails and thus creates a strong relationship with your recipients. In turn, it improves your brand image.   In addition to these signature examples for email, you can use tools like the best email drip campaign examples, best email trackers for Gmail, best email marketing automation tools, and email outreach tracking to improve your email campaigns. 
These tools can help you create personalized drip campaigns, track your emails, automate your campaigns, and monitor your outreach efforts. You can take your email game to the next level with the right tools and a great signature.
Conclusion
Hopefully, this article has been helpful for you in creating an effective email signature that showcases your brand. By following the guidelines, you can create a signature that stands out. These guidelines include the essential components, social media icons, images, and personalized touches.
Free tools and templates available online can help make the process easier. Looking at the best examples of email signatures can inspire you and provide ideas. You can use these resources and tips to create a professional email signature. It will leave a memorable impression on your recipients that lasts.