According to insightful research, over people send and receive over 333.2 emails. In addition, $1 on email marketing provides an ROI of $42! So, if email marketing is part of your digital marketing strategy, you're missing out on the opportunity to foster deep connections and attract prospects.
Creating a robust email marketing strategy helps build customer relationships, reduce cart abandonment rates, and boost brand recognition. Unfortunately, personalizing every single email can be a hassle.
That's why it's time to add email marketing automation. Leveraging an email marketing automation tool is the next step to improving your results and growing your brand. In this blog post, we'll discuss the benefits of email marketing automation and introduce you to the top  services:
What is Email Marketing Automation
Email marketing automation uses predefined rules to send subscribers triggered or timed email messages. These emails reach customers based on specific actions they take (or don't take) through email or marketing automation software.
The tools allow digital marketers to send personalized and catchy messages to prospects and customers. Email automation eliminates repetitive tasks and frees your time to focus on valuable ones, such as creative thinking, responding to customers, and making strategic business decisions.
An email automation tool helps customers learn about your brand, encourages them to continue interacting with your brand, reminds them of a task they left halfway, or encourages them to take the desired action. For instance,
A

new signs up to your email list

and triggers a 'Welcome email' that reaches their inbox instantly

A

viewer visits your platform several times without buying

, triggering an email within three hours asking whether they require additional assistance

A

customer registers their birth date,

and an email reaches their inbox wishing them a happy birthday and containing a special offer
Email Marketing Automation vs. Drip Campaigns
Often people confuse automated email marketing with drip campaigns. Despite being used interchangeably, the differences between the two are significant.
The primary difference between the two is their approach. While drip campaigns are generic emails that reach customers regardless of their journey, automated email marketing is personalized.
In drip campaigns, the customer receives blanketed email with broad messaging. For instance, a drip campaign comprises a sale/product launch. A prospect will receive this regardless of where they are in the sales funnel.
On the contrary, automated email marketing comprises personalized emails that reach customers only if quality thresholds are specified. Furthermore, email automation tools trigger emails based on the customer's unique needs and interests.
5 Types of Email Marketing Automation
Don't know where to start with email automation? Start by learning the different types of email automation:
Welcome Email
A welcome series or welcome email is sent to new subscribers, thanking them and inviting them to visit your website.
It's an excellent way of introducing your company and improving sales, particularly since 48% of welcome sales gain conversions.
A welcome email helps maximize your first impression, making your enterprise look more professional. In addition, it enables you to build a solid relationship with customers. 
Here's what a welcome email typically comprises:
A short yet sweet message to make the reader feel welcome

A highly captivating introduction to the brand

An explanation of what customers should expect from the company

Finishing off with an

attention-grabbing CTA

that encourages them to explore various other content 
Visitor Re-engagement Emails
Visitor re-engagement emails reach customers who fall under the "inactive."
Most subscribers tend to become inactive. However, before chalking them off as a lost cause, you should consider re-engaging them with a highly personalized email.
Setting up a re-engagement campaign with a start trigger that sets off after a predetermined time allows you to encourage them to return.
Onboarding Emails
While people often confuse welcome emails with onboarding emails, the two are very different. An onboarding email stands out because these emails guide customers in the purchase process. 
Typically, these emails include incentives to encourage customers to take the desired action.
Transaction Emails
Transaction emails are in various forms, but the most popular is one triggered by a purchase. Every time someone makes a purchase, they'll receive a digital receipt.
Here are several other types of transaction emails:
Registration confirmation

Cart abandonment email

Password reset notification

Feedback request
Event Announcements
Event announcements are an excellent opportunity for sending unique automated campaigns. Companies may automatically send these messages to everyone in their subscriber list or add preferences.
A preference center allows prospects to pick a segmented list that matches their interests. That way, every new event announcement reaches the subscribers' inbox automatically.
Order Confirmation Email
An order confirmation email is a receipt because it summarizes the details of their orders. Typically, an order confirmation email includes:
Product Info

Shipping and Billing Details

Link to Track Pages
How Does Successful Email Marketing Automation Work?
Automation of your email is easy, thanks to innovative automation tools. Here's a step-by-step guide to get started:
Step # 1: Choosing an Email Marketing Software 
Firstly, you need to choose the perfect email automation tool. Here are several things to consider when selecting email marketing software:
Understand Your Needs –

Identify your team size and goals to pinpoint the perfect email marketing software

Consider the Feature You Want –

There's no point in paying a hefty cost for features you won't use. So, before investing in an email marketing tool, question which tools matter to you.

Identify Your Limitations –

Identify each platform's resources and your budget before you start seeking the ideal email automation tool
Step # 2: Creating a Welcome Sequence
After choosing an email provider, it's time to set up a welcome sequence for new subscribers.
A welcome sequence is emailing new subscribers received after signing up, helping you create a fantastic first impression on your customers.
The content and email frequency depend on your preferences and target audience. However, the main objective of a welcome sequence is to appreciate customers and invite them to connect with you.
Step # 3: Segmenting Your List
While gathering information about your audience, it's wise to start segmenting your prospects into different lists.
You can deliver personalized emails by segmenting your customers based on their location, industry, age, likes, and how they found you.
Step # 4: Testing Your Emails
When you start email marketing, it'll take trial and error to figure out what resonates with your audience. You can do so by split-testing your emails.
Here, you send a slightly different version of an email to a diverse group of subscribers. As a result, you use the gathered information to create better campaigns.
Step # 5: Tracking Performance
Lastly, leverage your email automation tool to track your campaign results. You can identify whether your email was successful by checking these KPIs:
Delivery Rate –

Refers to the percentage of emails you send that reach your subscribers' inboxes. Typically, a delivery rate of 95% is good

Open Rate –

Refers to the percentage of prospects and customers who receive and open your email. If you've a low open rate, you should improve your subject lines

Click-through Rate –

Refers to the number of subscribers who opened your email and took your desired action. With the help of your click-through rate, you can identify how engaging your emails are
Why Use Email Marketing Automation Tools
As your business expands and your customer list grows, you'll find it challenging to offer highly-personalized experiences to people interacting with your business.
However, email marketing automation can deliver an excellent customer experience to every email subscriber.  
With the help of an email marketing automation tool, you can save time while creating a high-quality and valuable customer experience.
When to Not Use Email Marketing Automation?
While email marketing automation allows you to personalize, there's a limit to what you can do. Using an email automation tool means you're reliant on segments to personalize communications.
So, while segmenting means the customer isn't just any person, it doesn't convey the message that they're individuals.
Sometimes, sending personalized content is not enough, and you must treat your audience as individuals. For instance, you should consider sending a personalized follow-up instead of an automated email. 
Therefore, before sending an automated email, ask yourself whether the situation requires you to address people as individuals.
The Benefits of Choosing an Email Marketing Automation Tool?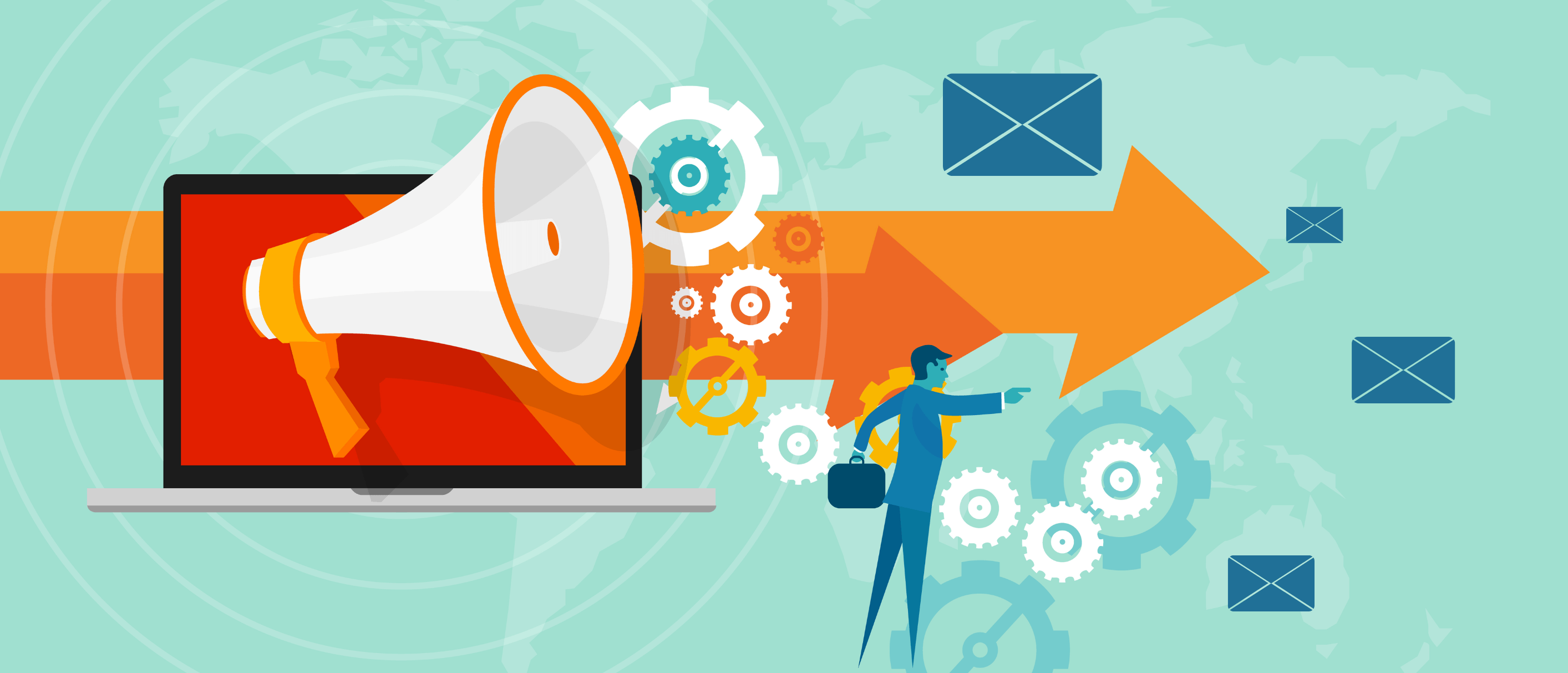 Let's discuss the top reasons why you need to implement marketing automation:
Personalize Your Customer's Experience
Here's the thing: customers want personalization:
By leveraging an email automation tool, businesses can create a series of personalized automated emails to build customer relations and grow business recognition.
Boost Customer Retention Rates
Getting a new customer costs businesses five times more than retaining an existing buyer. Luckily, an email automation tool helps you save costs and improve efficiency by staying in touch with consumers.
With these tools, you can schedule personalized messages so that customers don't go too long without interacting with your brand. Before sending an automated email, ensure the copy is relevant and catchy to maximize its impact and retain buyers.
For instance, an email copy says, 'Hey, it's been a while since we heard from you. Why don't you visit us?' is likely to stay unread.
Alternatively, an email reads, 'Dear XYZ, we haven't heard from you lately, and we wanted to ensure you've heard about our latest offer.
The computer you've been buying parts for just introduced a new model, and it's 15% off! Why don't you check it out (insert link)?' is compelling and more likely to encourage a positive reaction.
Create Segmented Mailing Lists
It also lets you segment your email lists per their activities or CRM data, such as past purchases, lead stage, age, likes and dislikes, buying history, etc.
With the help of effective segmenting, businesses can streamline workflows that maximize sales and engagement.
Maintain Engagement with Prospects
Email marketing automation provides marketers with detailed click-through data, thus allowing them to identify which copy, assets, links, and headlines garner positive responses.
With this information, marketers and advertisers can optimize the messages in their emails to build a positive brand impression, improve engagement rates, avoid complaints, and reduce bounce rates.
That way, marketers can maintain an incredible brand image and maintain healthy levels of engagement with prospects.
Increase Efficiency
Leveraging an email automation tool allows marketers to computerize repetitive CRM tasks, save time, and improve efficiency.
For instance, you can automate storing and tracking customer data, re-engage with inactive leads, determine the intention of customers to buy using lead scoring, calculate ROI, etc.
Scale Your Marketing Strategy
When it comes to sending email series manually, the number of customers you reach depends on the size of your staff. But what if your customer base suddenly grows twice its size?
Replacing mundane tasks with an email automation tool allows you to scale your email marketing efforts. Once you set it up, the email automation software automatically gathers customer data to track their behavior and send relevant emails.
Save Time
A no-brainer, integrating an email automation tool helps you save time by sending one message to multiple subscribers.
That way, your marketing team doesn't need to invest hours sending an email to individual subscribers.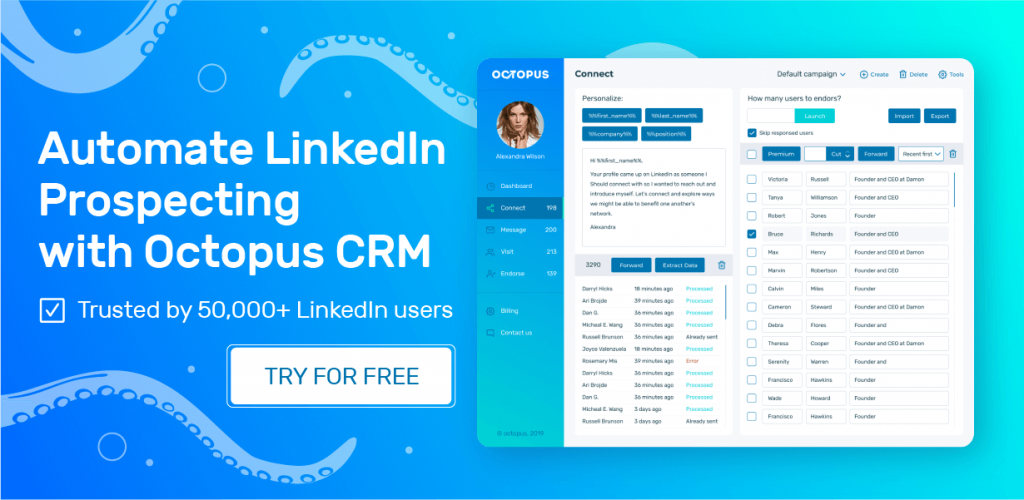 Top 31 Email Marketing Automation Tools
Now, let's discuss the top email marketing tools:
Octopus CRM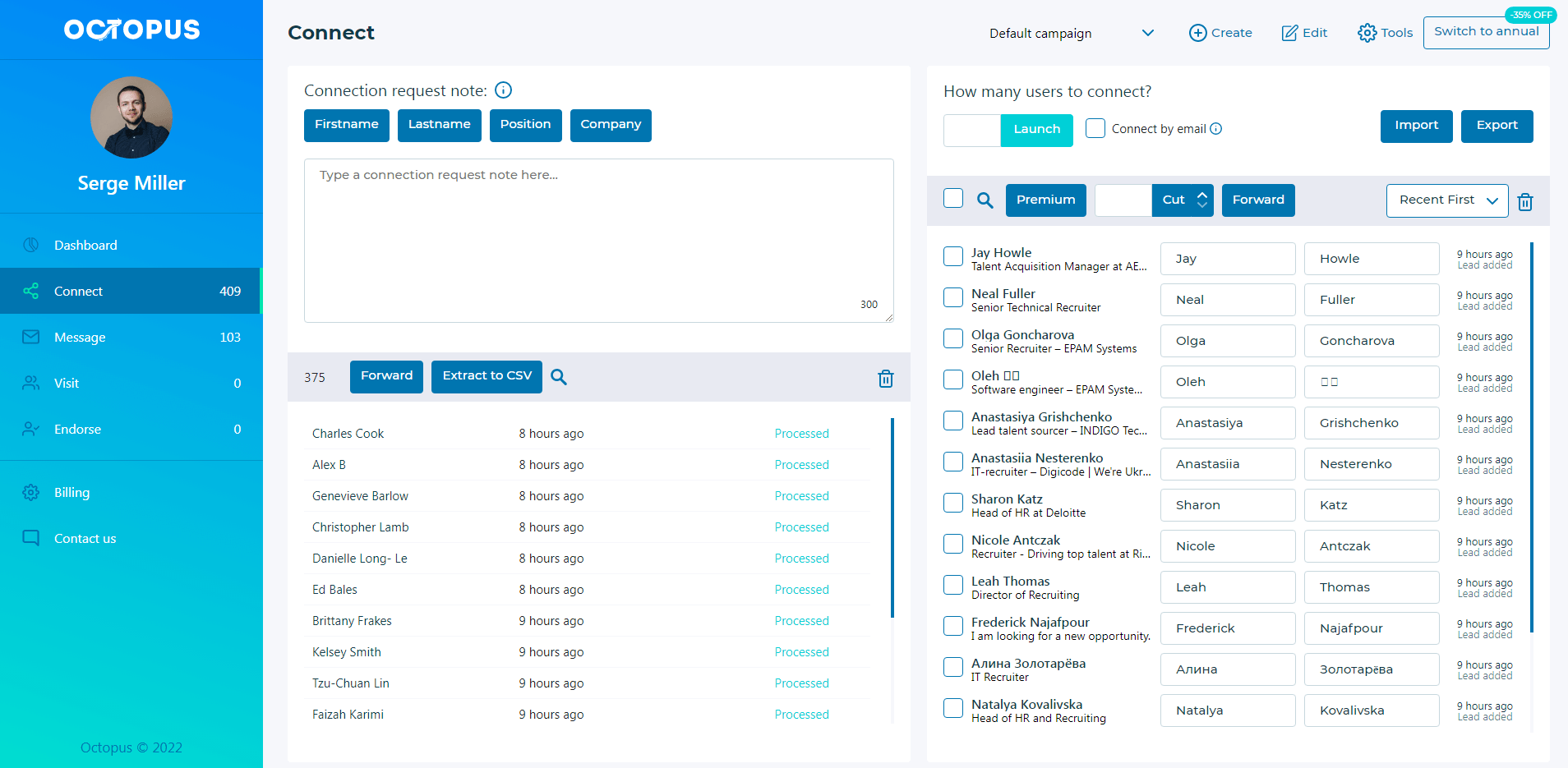 Octopus CRM is a robust yet easy-to-use LinkedIn automation tool. It automates your marketing processes, using a wide range of fantastic features. You can send personalized connection requests and write emails to hundreds of your connections without worrying about the weekly limit.
Besides, it helps you improve your marketing efforts and automatically sends "thank you" messages to your connections once they accept your invite. It also creates custom lead generation campaigns and synchronizes the process with your dashboard.
Price
The Octopus CRM basic package starts at $6.99, which helps you build your network, while the unlimited package costs $24.99/month.
Pros
Realtime data reports

User-friendly interface

Build marketing funnels

Can be integrated with various marketing tools such as Hubspot
Cons
Ideal for LinkedIn messages
Dripify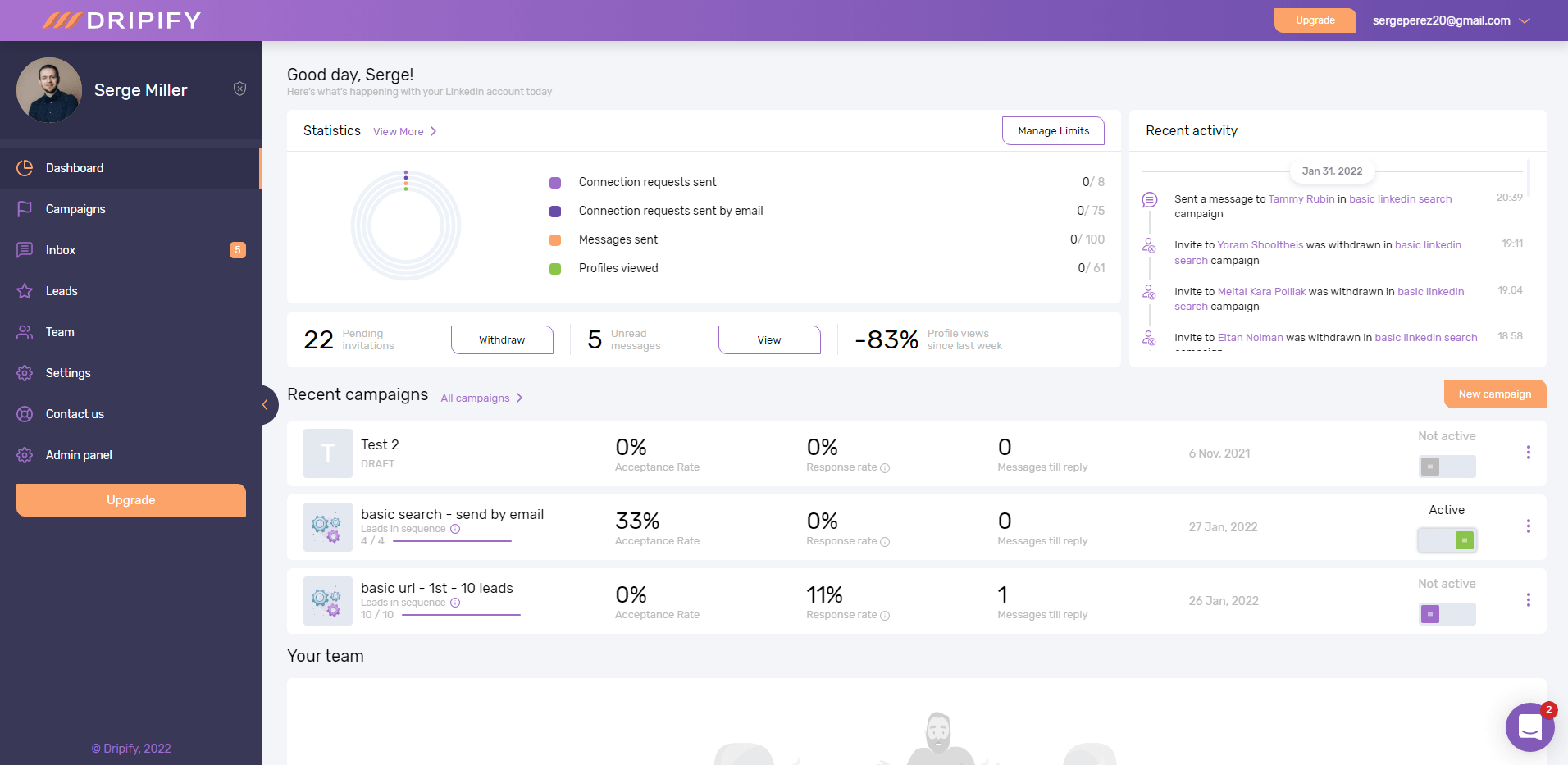 Dripify is a state-of-the-art LinkedIn automation campaign software. The tool's simple and user-friendly interface allows you to gather valuable customer data.
In addition, its drag and drop elements make it easy for you to create beautiful and attention-grabbing emails to improve CTR. You can choose a pre-made template if you don't want to create customized emails.
Price
Dripify includes a $39/month basic email marketing automation plan, while the Advanced Plan costs $79/month.
Pros
Can easily handle extensive data

User-friendly interface

Imports Lead

Create Email sequence

A/B test your campaigns
Cons
It can only be integrated with Zapier

Middle cost
HubSpot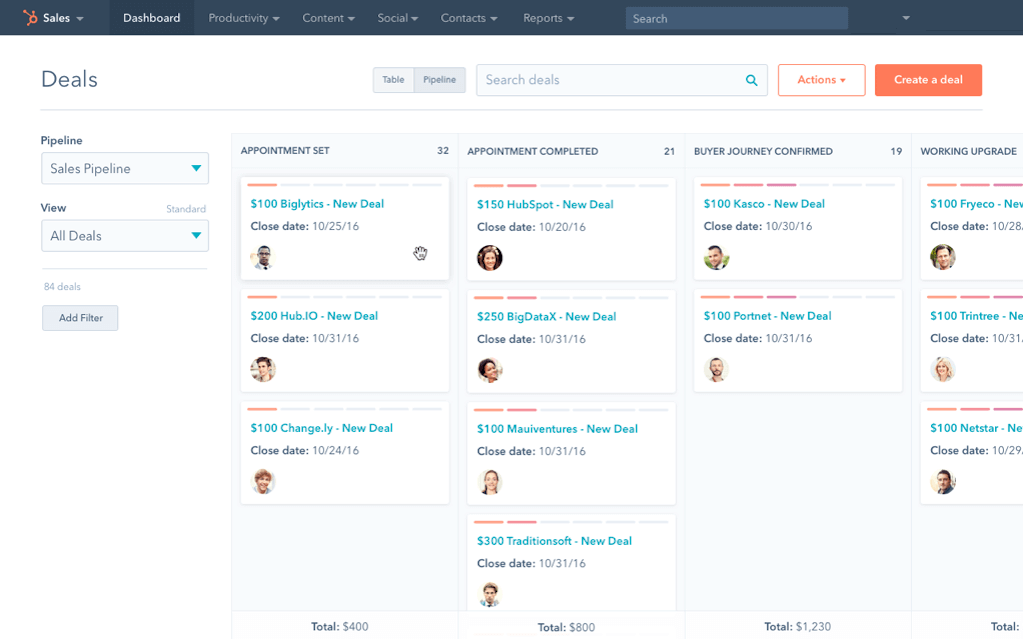 HubSpot is a user-friendly and popular email marketing automation software. Its easy-to-use drag-and-drop email builder and diverse templates allow you to create a unique and highly-engaging newsletter that matches your brand's personality.
In addition, the tool allows you to personalize emails for each subscriber based on device type, country, membership, etc. It also provides advanced features like time optimization, A/B testing, marketing automation, high email deliverability, drip campaigns, and more.
HubSpot's all-in-one marketing platform makes it the perfect choice for small, medium, and enterprise-sized customers. With its CRM, email marketing, automation workflow, sales tool, and operation hub tools, you can grow your business in no time.
Price
The tool offers a free plan, whereas the paid version starts at $45 monthly.
Pros
Offers affordable pricing options

Provides split testing options

Excellent customer support 
Cons
Contracts aren't flexible

The templates are difficult to modify

It doesn't offer A/B testing
Ontraport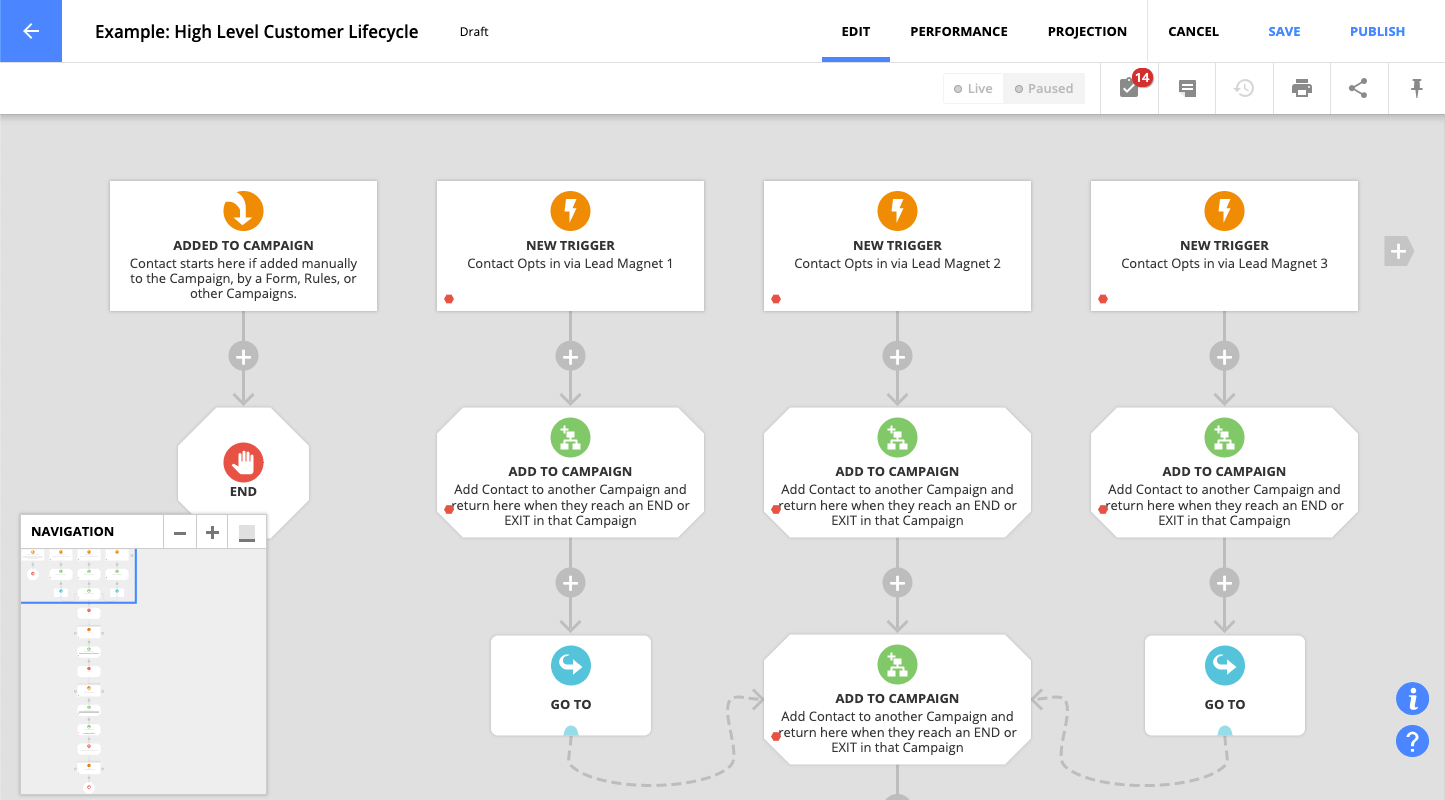 Ontraport is a powerful email marketing automation software that helps you send highly engaging and compelling emails to ensure they reach your audience.
The platform streamlines your email marketing workflow as the CRM collaborates with your email platforms and landing pages. As a result, you can customize your lead generation activity, grow your subscriber list, and gain more customers.
In addition to its industry-leading delivery rates and incredible integrations, Ontraport provides marketers with an array of eCommerce and advanced features.
Price
Ontraport offers access to all its features and two hours of free onboarding calls at $297/month.
Pros
Affordable

Excellent customer service

Advanced eCommerce features

Easy-to-use user interface
Cons
Poor analytics dashboard

It doesn't offer in-depth reports and graphs
Encharge.io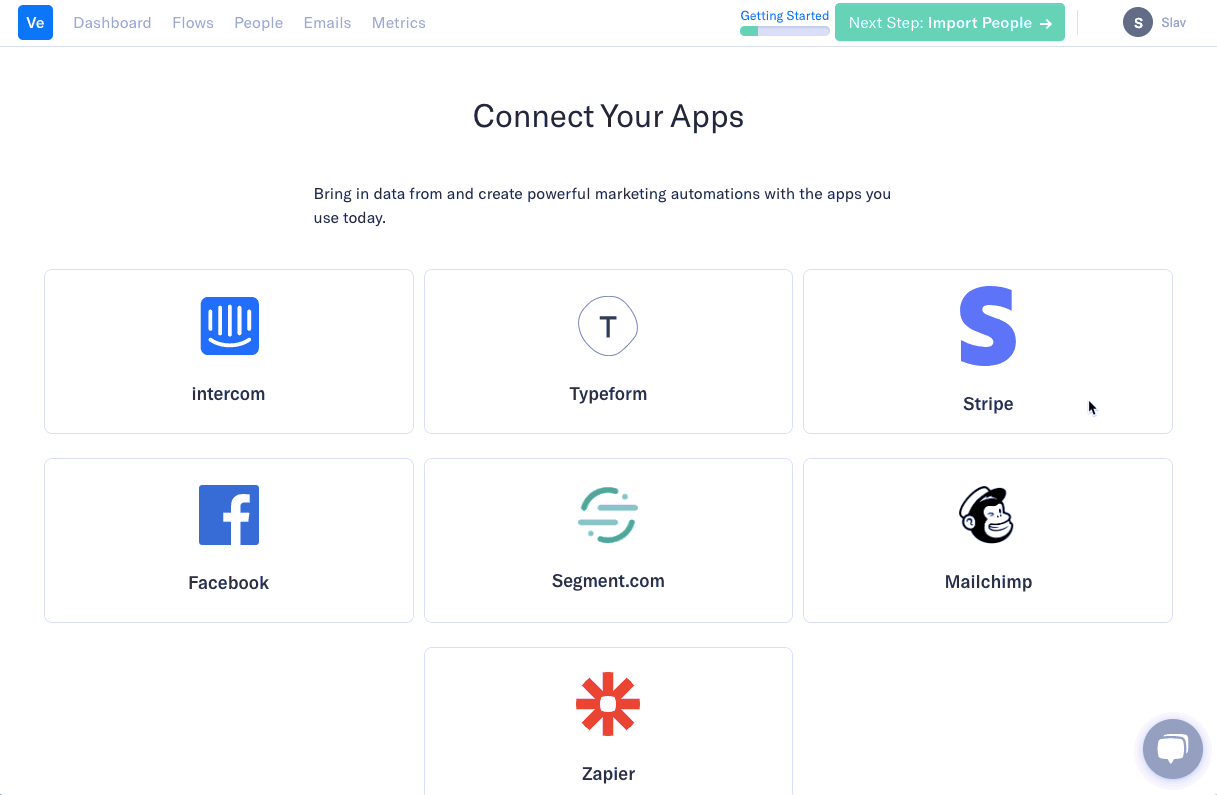 Encharge.io is an innovative and versatile email marketing automation software boasting an easy-to-use interface. While the platform offers you pre-made, attention-grabbing templates, you also have the option to custom-make one that matches your brand image and colors.
In addition, Encharge.io offers various impressive automation tools to help you convert leads into loyal customers. The tool also provides third-party integrations to expand your customer base.
The best part about choosing Encharge.io is that the tool is that it offers all the best email marketing automation tools at an affordable price.
Price
The tool offers customizable plans.
Pros
User-friendly interface

Impressive set of marketing features

Seamless integration
Cons
Poor eCommerce integrations

It doesn't offer detailed insights
AeroLeads

Aeroleads is a robust and innovative email marketing automation and lead generation software. The powerful tool boasts a clean interface, easy-to-use features, and continuous updates to help grow your subscriber list.
Aeroleads helps you attract sales leads with a single click of a button. Once you enter the desired data, the tool delivers detailed analytics based on your specifications and data source.
Another pro of using Aeroleads is that it allows third-party integrations with Google and CRM applications like Salesforce, MailChimp, HubSpot, etc.
The tool offers customizable pricing models to cater to the unique needs of different businesses.
Price
Aeroleads offers a free trial, and its paid plans start at $49 per month.
Pros
Enables you to perform 'search contacts'

Around-the-clock customer support

Helps prospect and generate leads
Cons
Creating lists is difficult

Requires time to generate output
GetResponse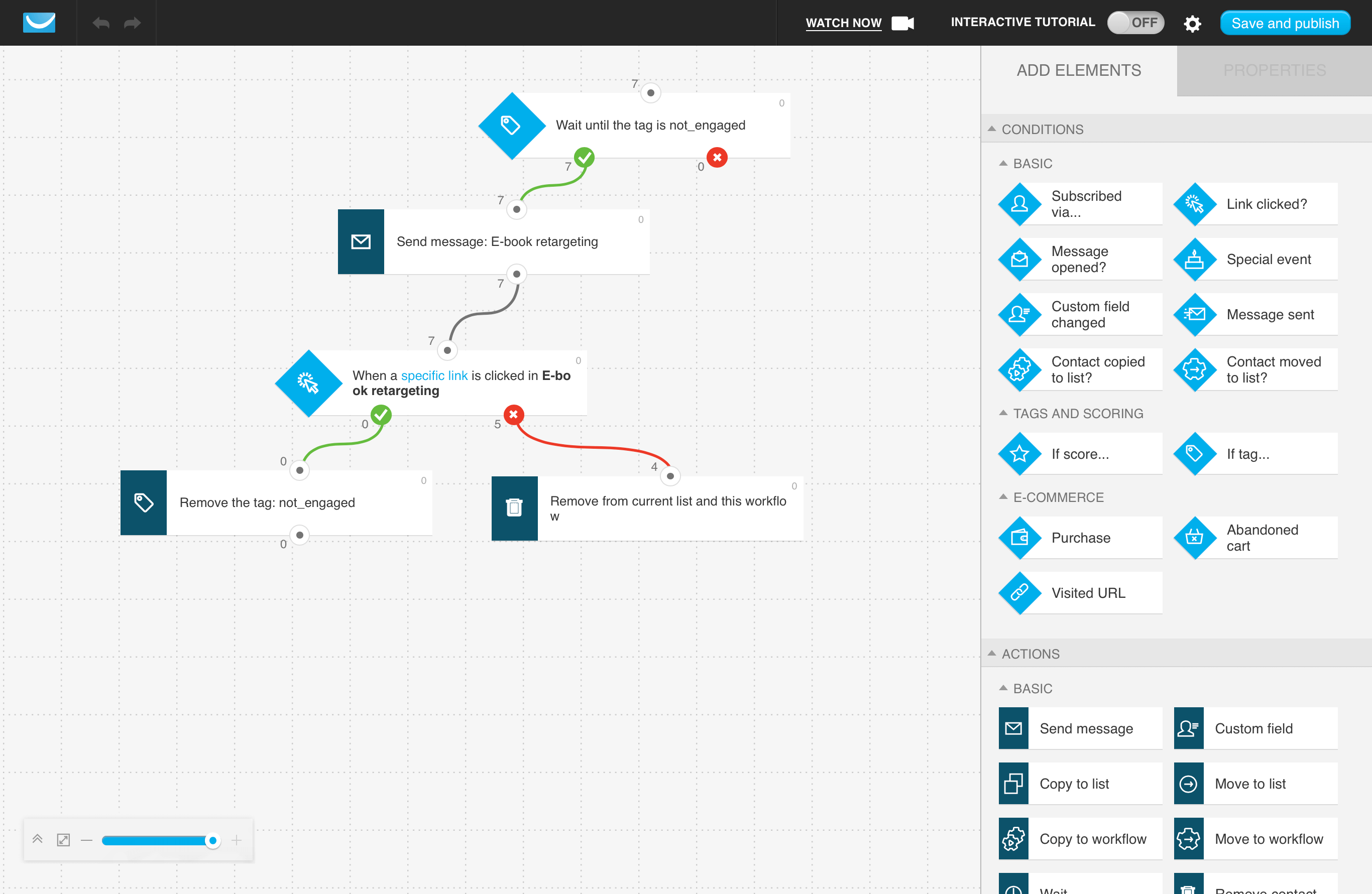 It is an incredible email marketing automation software boasting an easy-to-user and beginner-friendly interface. The tool allows you to customize emails and create eye-catching designs with a drag-and-drop email builder.
Sendloop helps build an email list using popups,  signup forms, landing pages, and other features. It also provides personalized drip campaigns to target prospects and segments of your email list.
Furthermore, the email automation software allows you to track and test your email campaigns to measure their performance before launch.
Price
You can create a free account to create a website, build an email list of 500 contacts using popups, signup form, and landing page, and engage with your audience through unlimited emails. The basic email marketing package costs $15.58/month to reach 1000 contacts.
Pros
Simple drag and drop feature

Analysis track report

Real-time technical support
Cons
Subscribe to new plans for automation and e-commerce 
Omnisend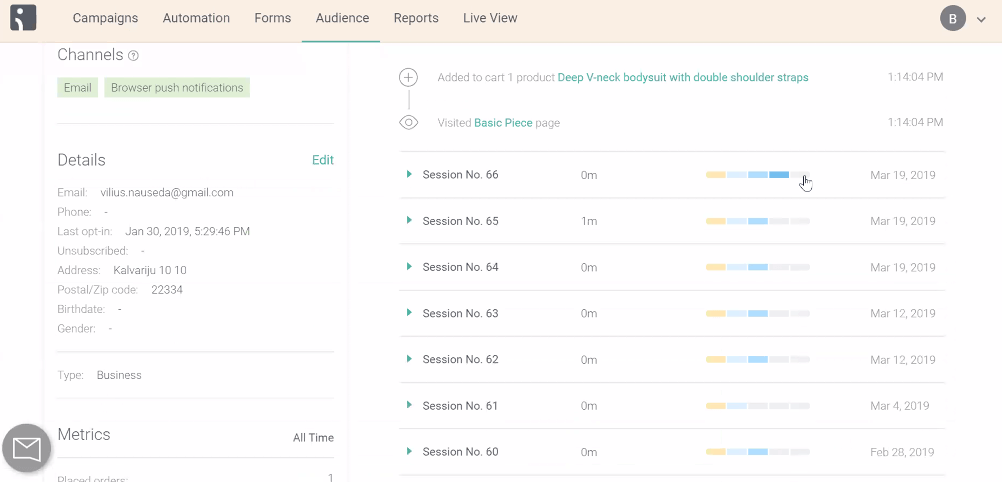 For eCommerce companies, Omnisend is a popular SMS and email marketing service. It contains incredible features that let you automate workflows, segment your subscribers, and test and report SMS campaigns and online push notifications.
These predesigned automated workflows generate leads and drive more revenue. You can create email sequences such as welcome email series, cart abandonment emails, cross-sell emails, and more.
The tool offers an array of email templates to help you create beautiful, on-brand campaigns. Once it's set up, you can personalize the email using their powerful targeting and segmentation features.
Price
The free plan offers a 250 contact limit, while its paid plan starts at $16/month.
Pros
User-friendly

Built-in SMS feature

Can work in 209 regions
Cons
ActiveCampaign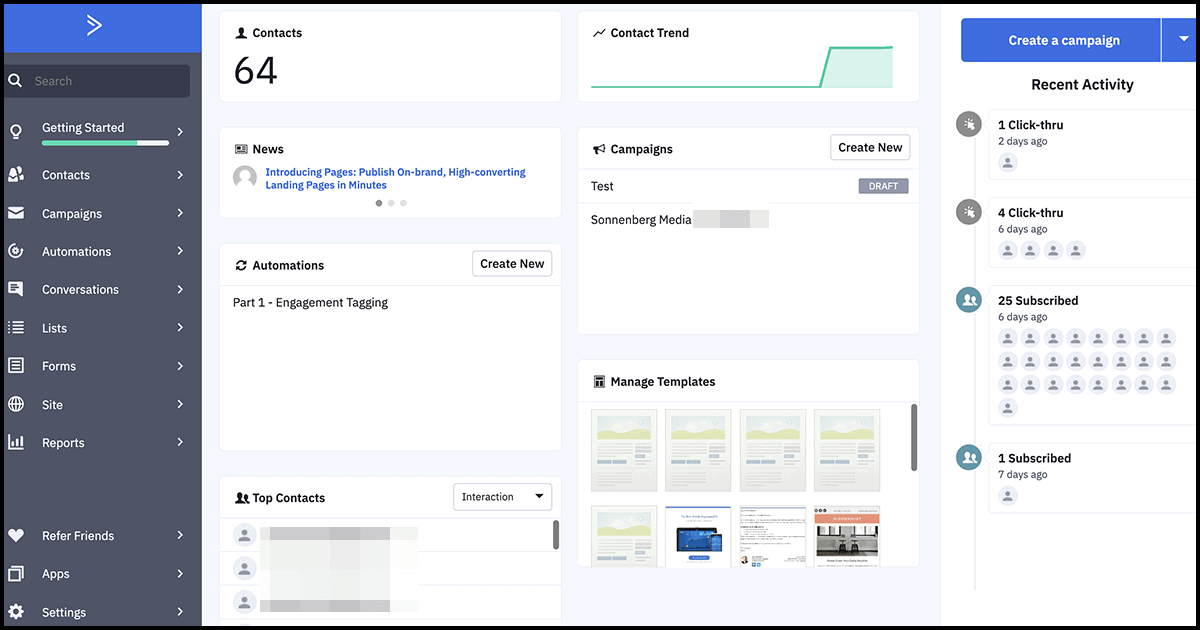 Used by over 60,000 organizations of different shapes and sizes, ActiveCampaign is one of the most popular email automation tools.
This innovative and automated email marketing platform allows you to create drip emails to boost subscriber interactions, history, sales, demographics, etc.
ActiveCampaign stands out because you can use it as a CRM and marketing automation software. Furthermore, you'll enjoy the tool's affordability, third-party integrations, around-the-clock customer support, and email deliverability.
Price
Active Campaign's minimum price plan is $9/mo with an annual payment for 500 contacts and $229/mo for an enterprise plan.
Pros
Excellent customer support

Flexible and versatile

Third-party integrations

Advanced features
Cons
Glitches

Clunky features

The learning curve is challenging

Not customizable enough
Customerly.io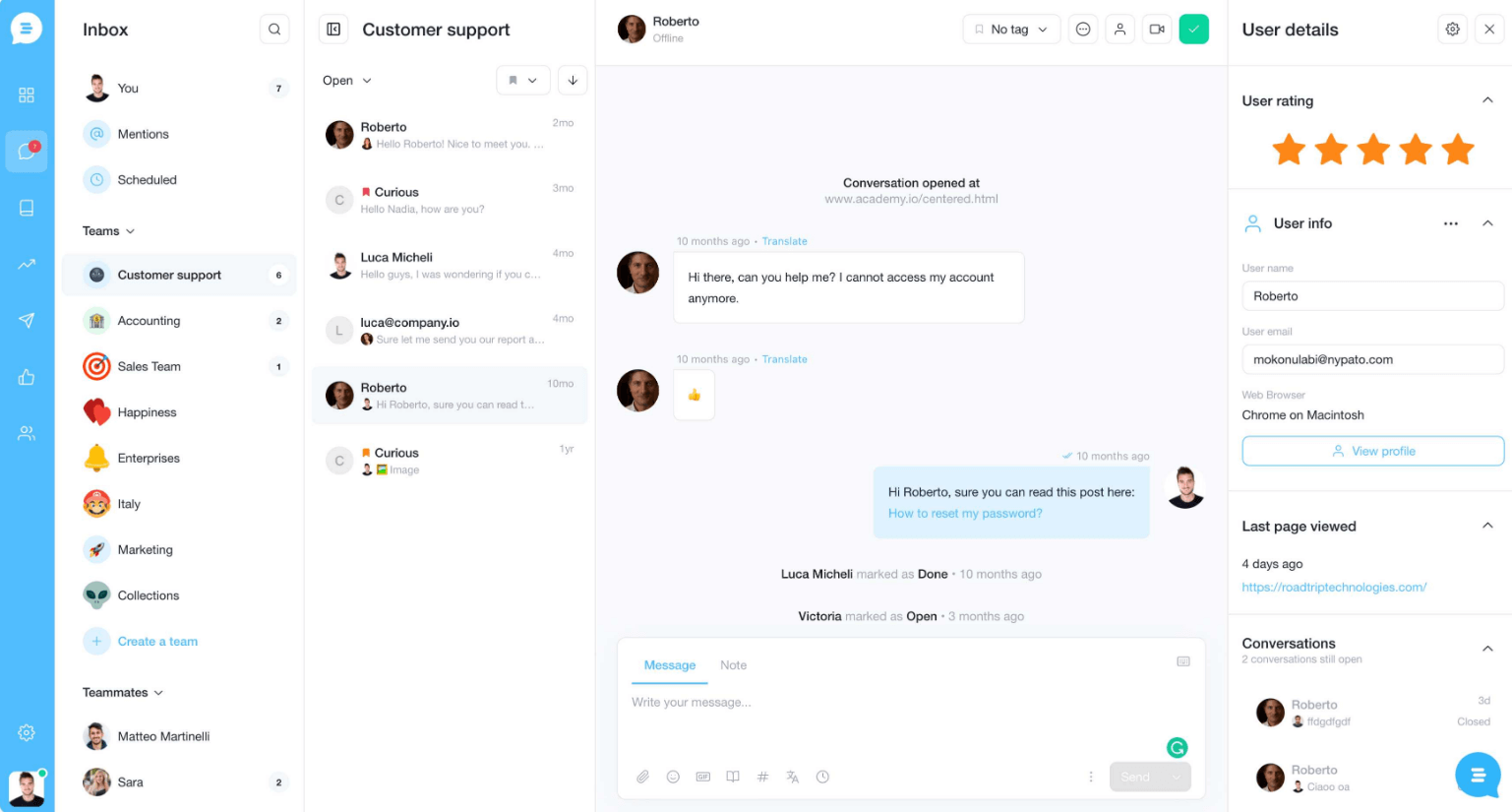 It is a robust chat and email marketing software for SaaS businesses. This easy-to-use and innovative platform allows you to create highly engaging and attention-grabbing marketing campaigns for ultimate customer satisfaction.
Its powerful email marketing feature makes it easy for newbies to create beautiful emails that capture prospects. In addition, the user-friendly customer service tool allows you to streamline workflows, send transactional emails, and segment users with a single click of a button.
Price
Customerly.io free plan includes a live chat option, conversation inbox, and help center for 2 teammates. In addition, the tool offers a $24 Startup plan and 2 more higher-priced packages.
Pros
Low-cost plans

Solid email automation

Transactional email and chat  tool

Ultimate customer satisfaction
Cons
Limited sending on the free plan

The system can be slow
Get Notify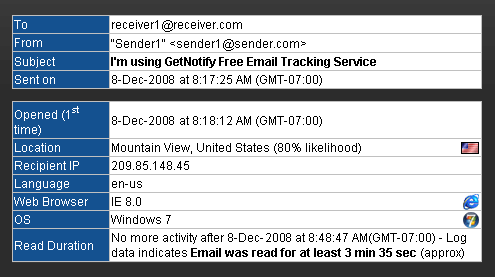 Get Notify is an innovative, beginner-friendly, and easy-to-use email tracking tool. This software sends you a notification once your email is read.
In addition, you get a time and date stamp at which different prospects read your email. This feature helps you set up your email campaigns at peak hours for exceptional success and a high open rate. You can integrate it with popular email companies like Yahoo, Gmail, and Microsoft.
Price
It is a free tracking service.
Pros
Clear overview of demographics

Easy-to-use user interface

Free
Cons
ConvertKit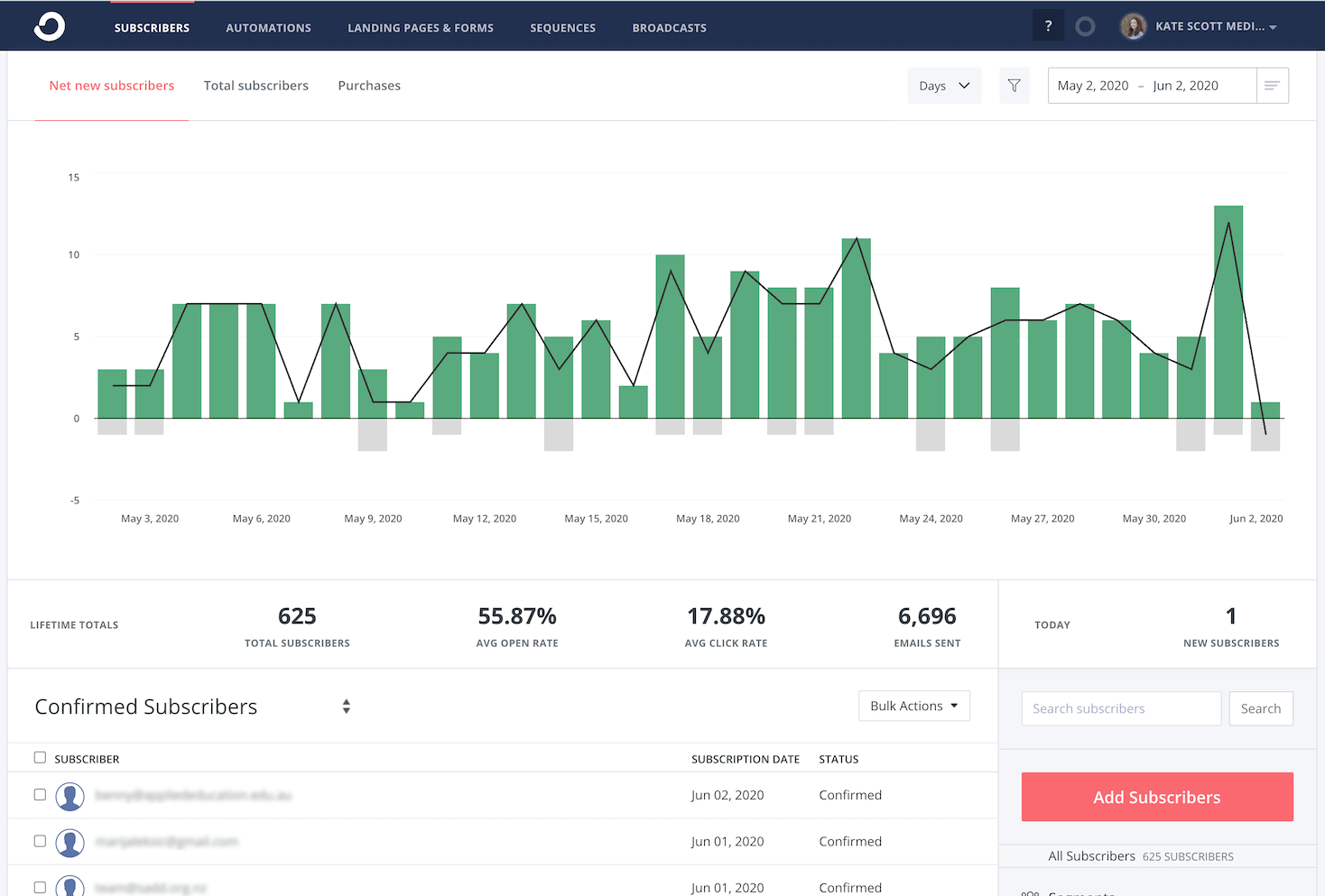 If you're seeking an affordable yet efficient CRM, ConvertKit is your stop. The innovative email automation tool allows you to send highly-targeted automated emails to subscribers based on the predefined rules.
Furthermore, ConvertKit offers blueprints that you can use to create autoresponder sequences for any situation. The tool also provides third-party integration to allow you to segment emails, streamline workflow, and gather customer data.
Price
ConvertKit offers a free plan, and paid plans start at $9 per month.
Pros
Easy-to-use

Excellent user interface

Incredible deliverability
Cons
Expensive

Lacks integration with eCommerce platforms

Not suitable for large and multinational businesses
Lemlist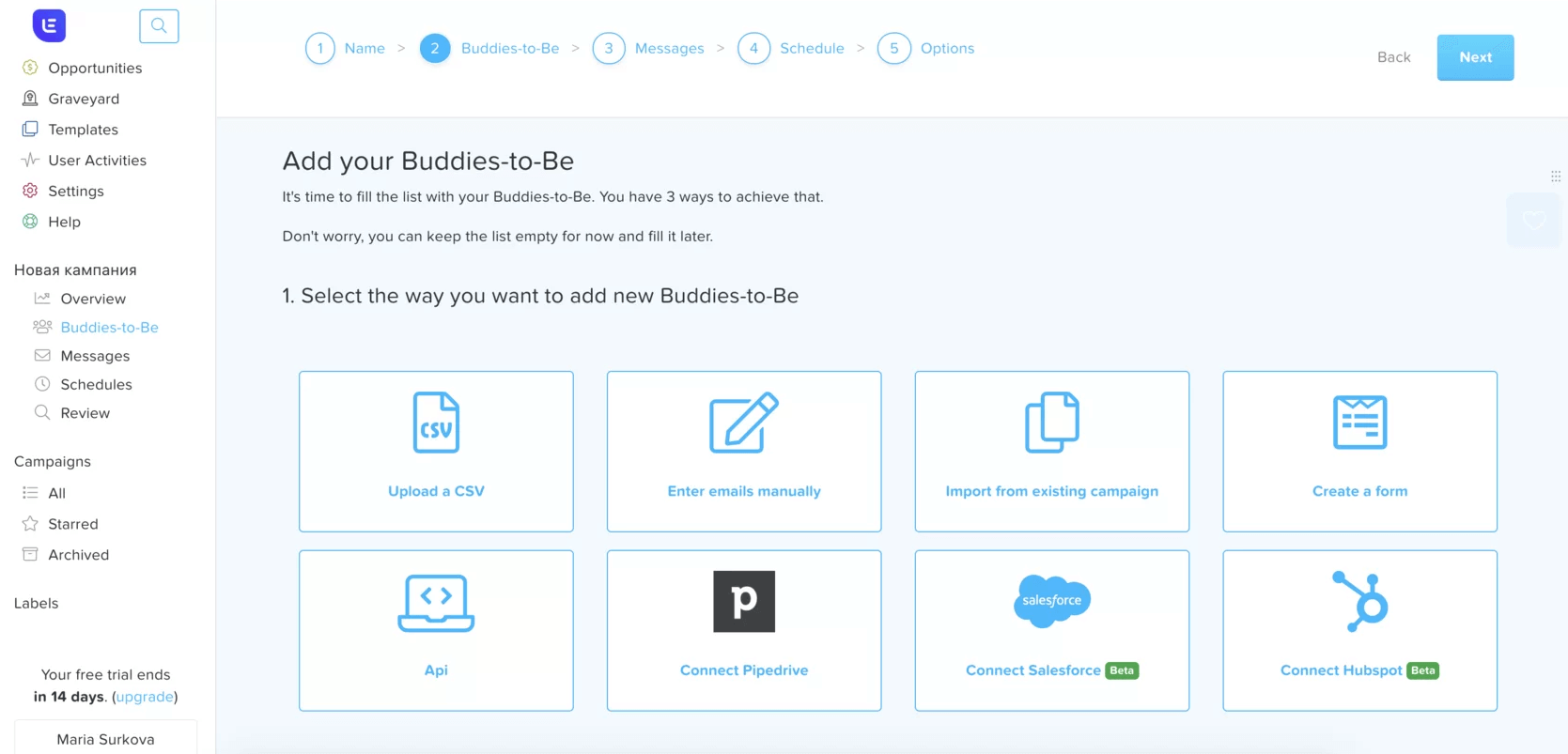 Lemlist is another revolutionary email automation tool that helps agencies, recruiters, and sales teams expand their business through efficient email outreach. The platform enables you to automate sending personalized pictures and videos.
Lemlist simplifies creating an email outreach with its drag-and-drop feature, follow-up automation, and personalizing cold emails.
Price
Lemlist offers users a 14-day free trial to familiarize themselves with the tool. After that, you can use the paid plan for $49 per month.
Pros
Includes a free trial

It lets you personalize by customizing videos and pictures

Offers bulk import and export functions
Cons
You cannot access the UI design feature for free

The paid version can be costly

Poor customer service
Marketo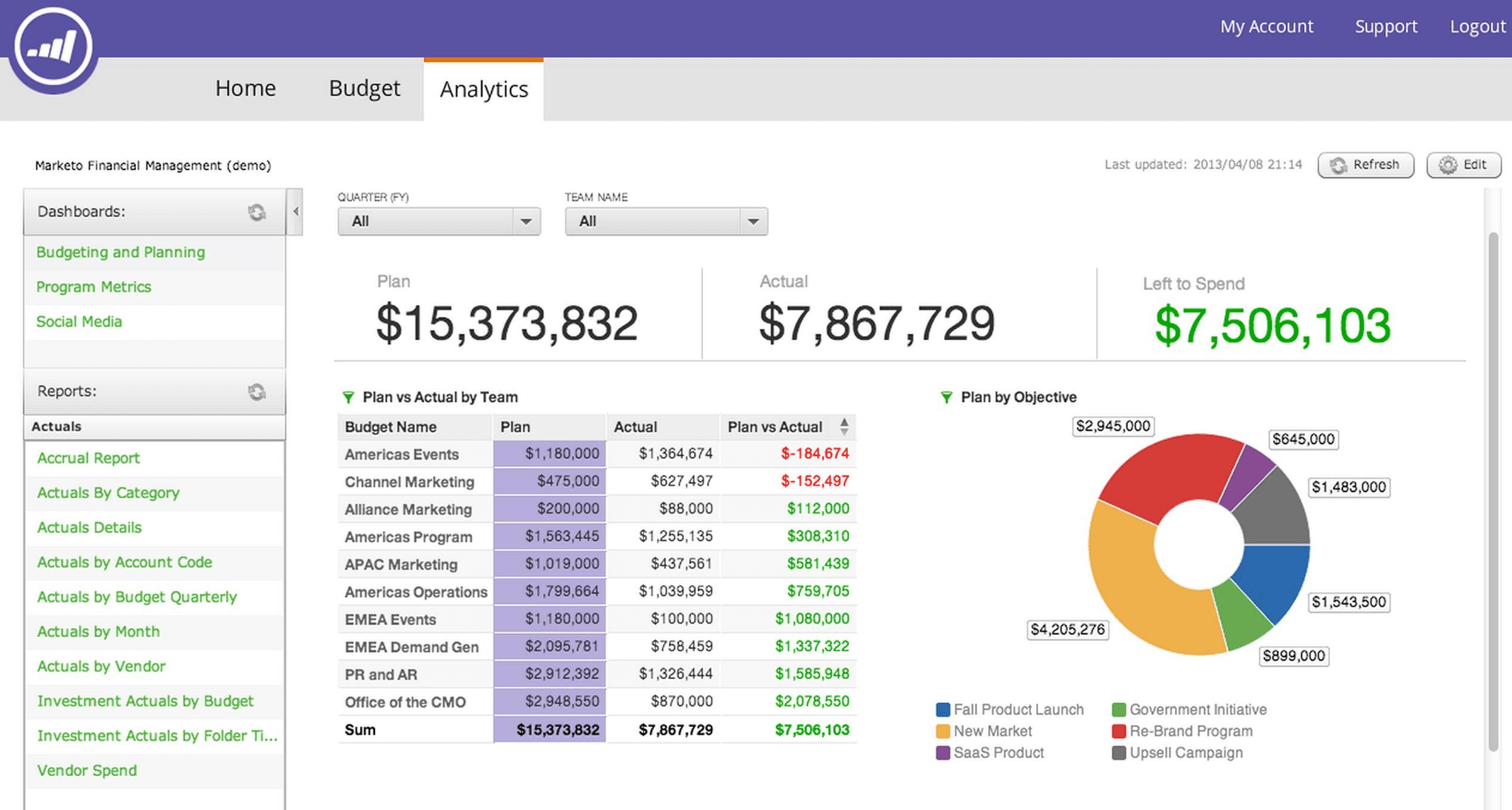 Marketo is one of the best email automation services for businesses that want to grow their brand without breaking the bank. The tool helps you trigger email campaigns and eliminate monotonous tasks with pre-defined 40+ behaviors.
By removing the "guessing game, "Marketo ensures your customer receives emails in a timely fashion. Thus, helping you retain buyers, save time, and grow brand loyalty.
Price
Marketo offers you a free trial. Afterward, you can upgrade to a paid plan for $895 or $3195.
Pros
       

Easy-to-use interface

       

Allows third-party integrations

       

Easy-to-setup

       

Around-the-clock customer support
Cons
       

Clunky landing page builder

       

Poor reporting and analytics functionality

       

Costly
Yesware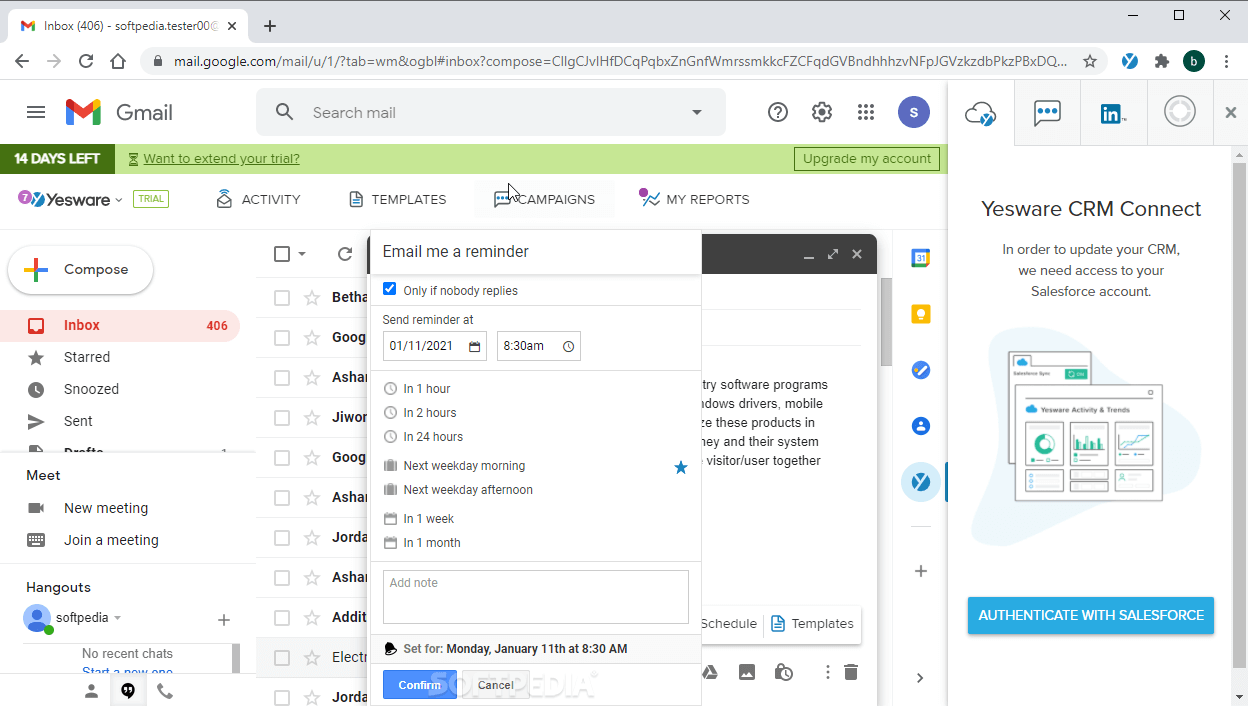 Yesware is a state-of-the-art email automation tool targeted to sales experts wanting to improve business relations. The inbox productivity platform redefines how you send, process, and follow-up on emails.
Yesware allows you to access innovative tools and data-driven insights, such as personalized templates, strategic campaigns, and reliable email tracking. That way, the tool helps you save time by eliminating the guesswork in sending emails to your contacts.
Price
You can enjoy a free trial on Yesware to learn more about its tools. If it matches your needs, you can ask for a quote.
Pros
       

Offers around-the-clock pre and post-sales support

       

Offers a free trial
Cons
       

Clunky campaigns

       

Lags occasionally
Smartwriter.ai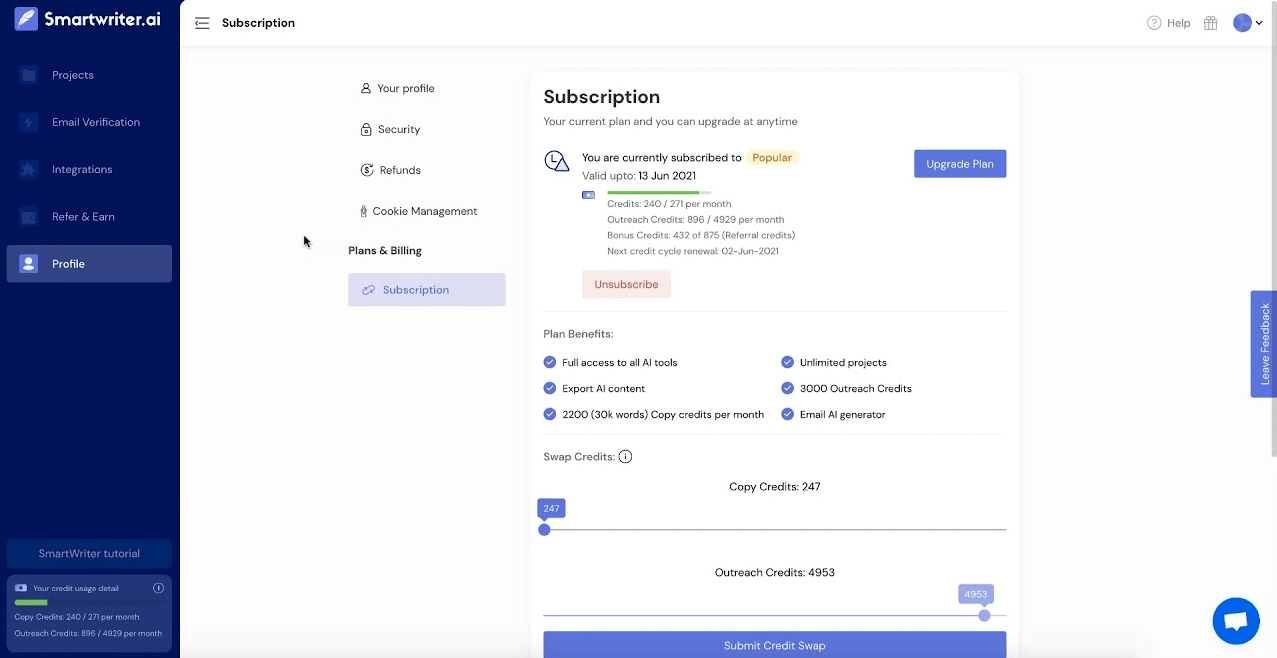 Smartwrite.ai is AI-powered cold email software that helps all-sized businesses and individual sellers write personalized emails. In addition, the tool enables you to improve your marketing needs by automating Facebook and Google ad copies.
Smartwriter.ai helps you save time by automating research. Moreover, the tool improves your click-through rate and reply rate by personalizing your emails.
Price
Smartwriter.ai offers three basic, popular, and pro plans for $59, $149, and $359, respectively.
Pros
       

Offers company-based personalization

       

It helps you find qualified leads within seconds

       

Create engaging Insta comments and Quora answers to enhance your brand image

       

Provides in-app editor and saving options
Cons
       

It does not offer support

       

Complicated pricing plans

       

Lacks adequate integrations
SalesHandy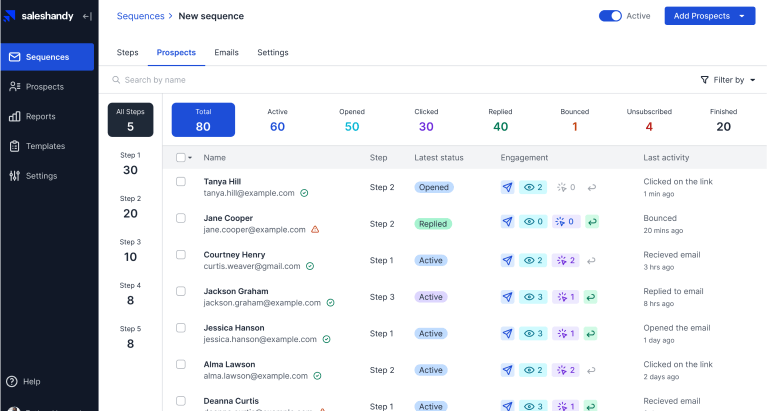 SalesHandy is a cold email and web-hosted data analytics platform that allows you to share files, unify document management and initiate leads via centralization. The software helps all-sized businesses personalize emails to automate processes, such as follow-up and scheduled emails, capture target audiences, and create stunning templates.
Furthermore, SalesHandy enables you to streamline the email automation process by discovering customer behavior, spotting trends, and sales performance.
Price
The tool offers a free and paid plan costing $9 per month.
Pros
       

Easy-to-setup campaigns

       

Pocket-friendly

       

Around-the-clock customer service
Cons
       

Lacks an adequate amount of features

       

Poor analytics and reporting
Mailshake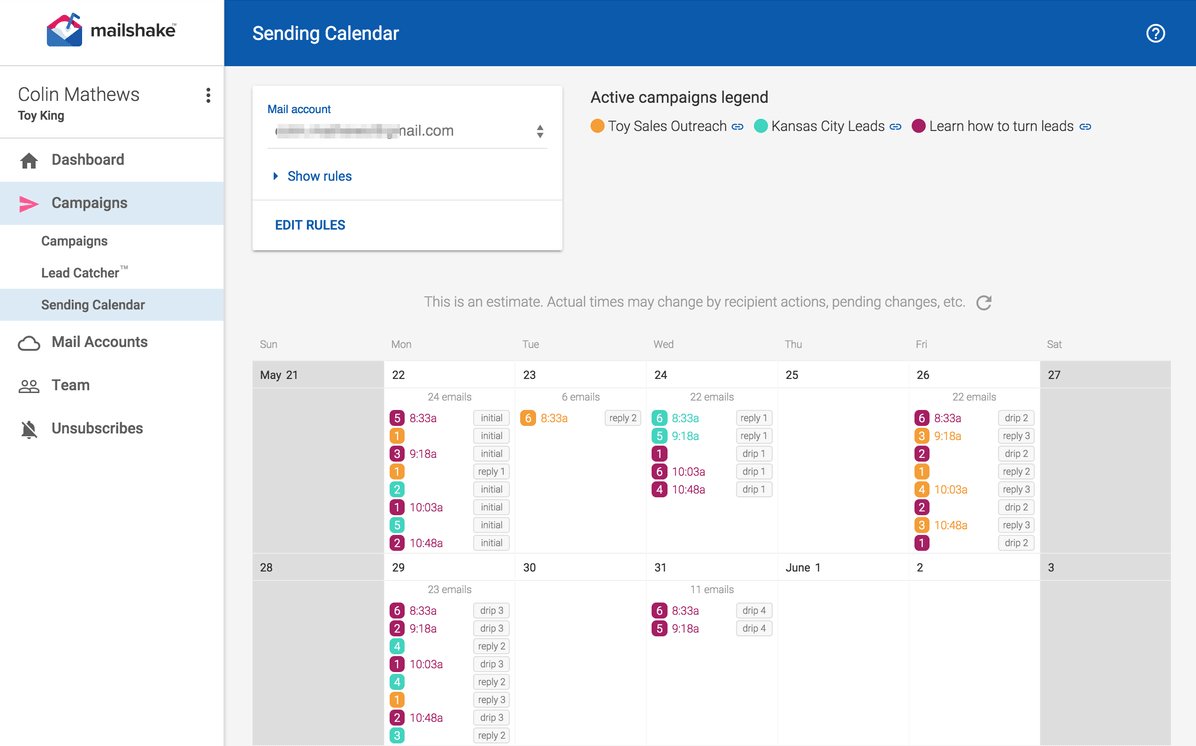 Mailshake is another excellent sales engagement tool for sales teams and large-sized businesses. The tool allows you to personalize cold emails by using a human-like tone. It also helps you arrange tasks to engage with contacts via social media and personal contact numbers.
Furthermore, Mailshake offers native and third-party integrations with thousands of apps and tools to help you streamline the overall email process. The platform is ideal for sales and marketing professionals, businesses, and entrepreneurs who want to grow leads by email outreach.
Price
Mailshake's paid plan costs $44 per month.
Pros
       

Easy-to-use

       

Intuitive interface

       

Connects email accounts with multiple providers

       

Offers incredible third-party and native integrations
Cons
       

It's comparatively costly

       

It cannot tag emails 
Mailchimp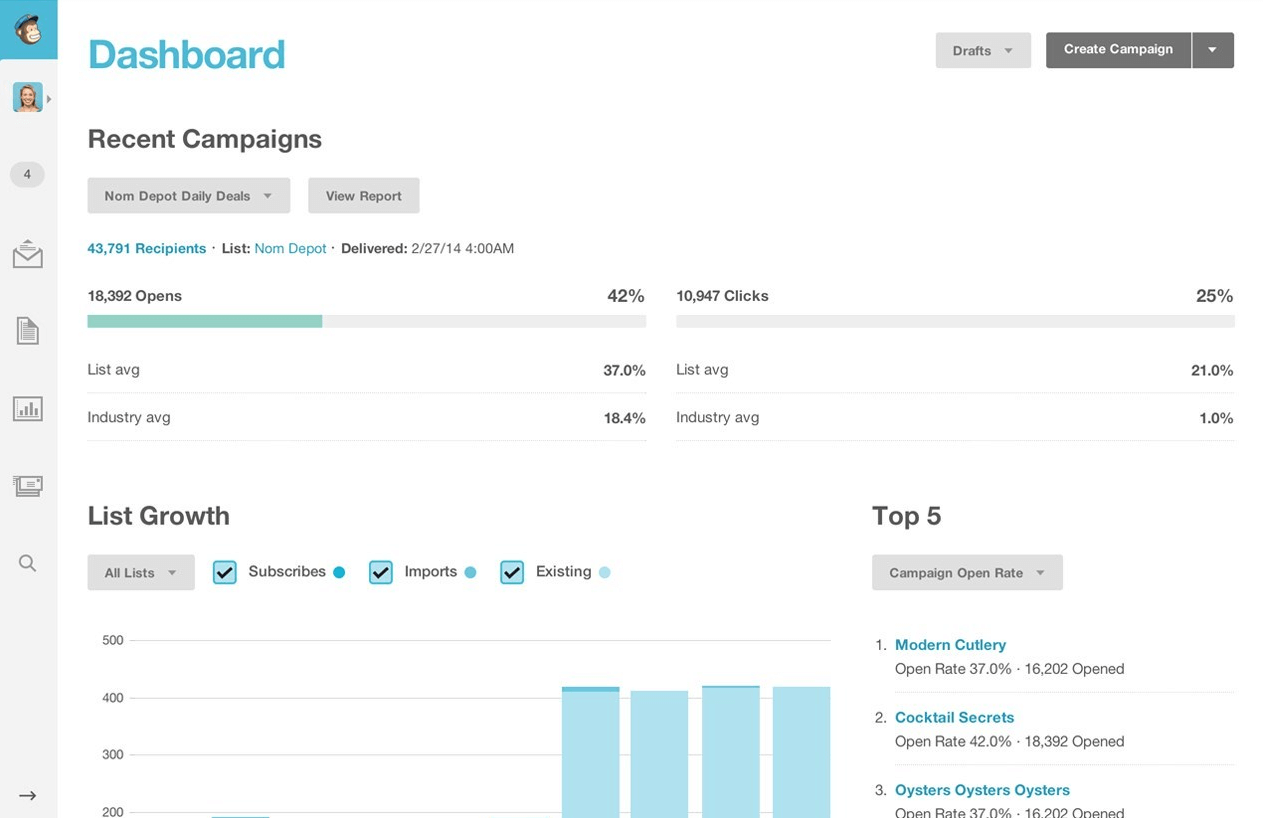 Mailchimp is a popular email automation tool that allows you to send stunning drip emails based on customer activity or inactivity, website activity, abandoned carts, and more. Its innovative content studio feature resizes your content to fit all kinds of email design layouts.
Moreover, the platform helps you create attention-grabbing subject lines. Its content optimizer and creative assistant AI offer real-time suggestions and automated email designs to captivate customers and grow brand trust.
Price
The tool offers a free plan with a monthly limit of 2,500 email sent and 500 contacts. You can upgrade to an Essential plan for $11 and a Premium one for $299 monthly.
Pros
       

All-in-one platform to streamline your email process

       

Offers audience segmentation
Cons
       

Lacks customer support in the free version
EngageBay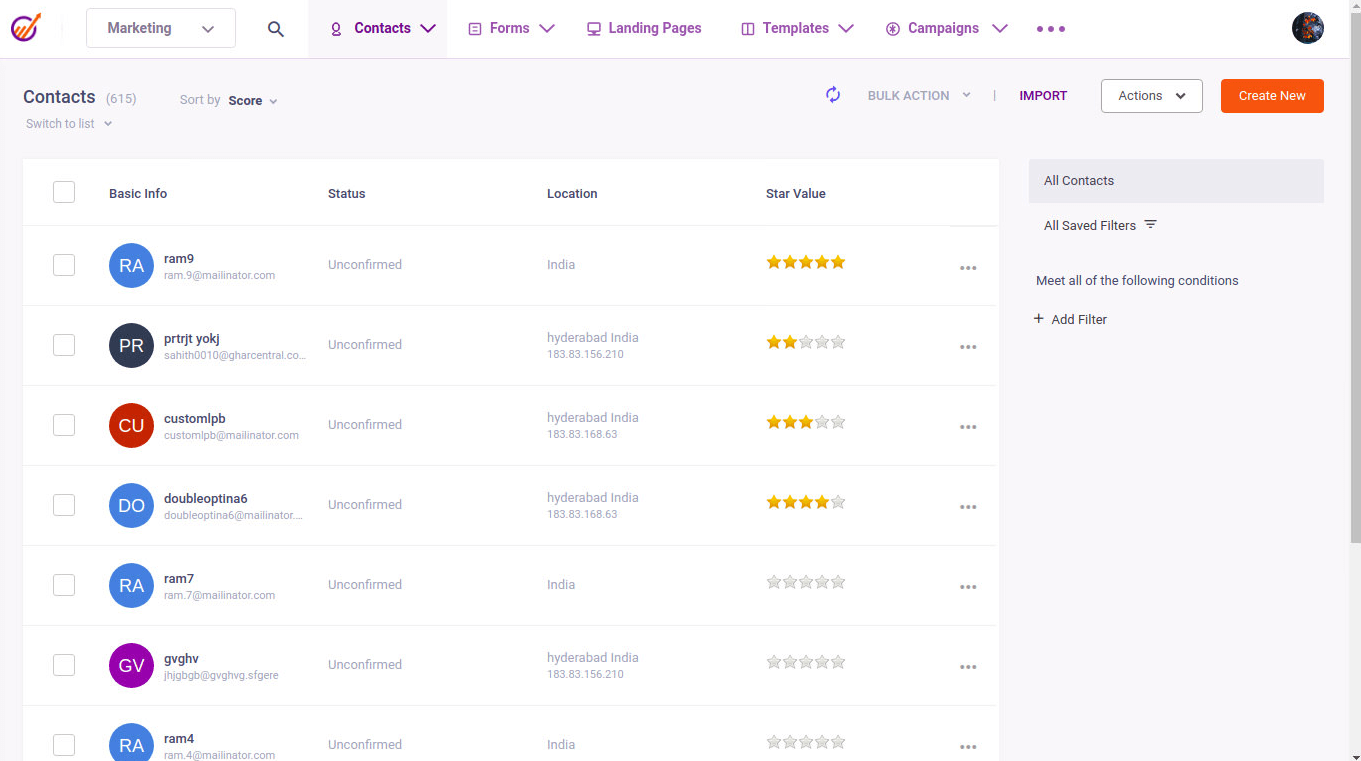 Small and medium-sized businesses can use EngageBay, a unified sales, support, and marketing solution, to find, interact with, and turn website visitors into customers. Email marketing, help center, customer chat support, landing sites, ticketing, appointment scheduling, and others are among its top features.
As leads go through sales funnels, EngageBay's integrated CRM helps businesses monitor and track all the deals and activities of their prospects. Additionally, it offers marketing tools that enable customers to create leads using social media, customizable forms and popups, and automated mailouts.
Price
The automation tool offers free trials. However, the paid plans start at $9 per month.
Pros
       

Email & Chat Support is excellent.

       

Appointment Scheduling

       

Build Lasting Customer Relationships

       

Free Onboarding Sessions

       

Flexibility With a pricing model

       

Desktop Notifications
Cons
       

The training manuals need improvement

       

No SMS Function
Outfunnel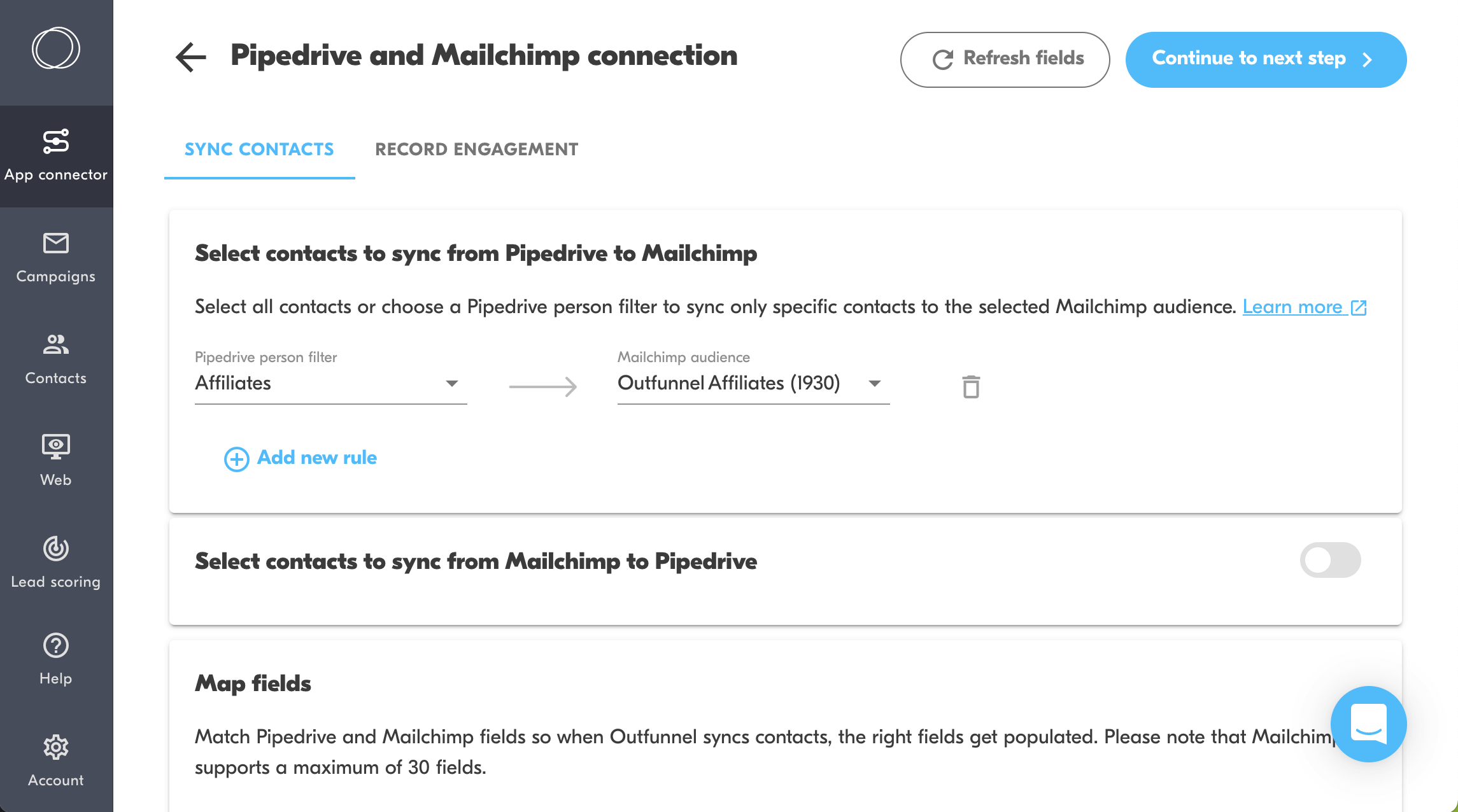 Outfunnel makes it simple to synchronize your marketing and sales objectives through extensive two-way CRM connectors. You and your team are protected whether you use Pipedrive, Copper, MailChimp, or HubSpot CRM. Web tracking and lead scoring make it simple to remain on top of your leads thanks to workflows and automation.
Setting up email campaigns, one-off campaigns, and automated drips is quick and easy. It gives you and your team time to focus on the most critical activities. A personalized lead score for each contact is quickly calculated using email and web interaction data. This tool alerts you when a lead shows interest each time they visit your website. You may access your leads promptly since each lead score synchronizes with your CRM.
Price
The paid package starts at 19$ per month.
Pros
       

Fast and easy to use

       

Great support

       

Easy setup
Cons
       

Some features are missing
AWeber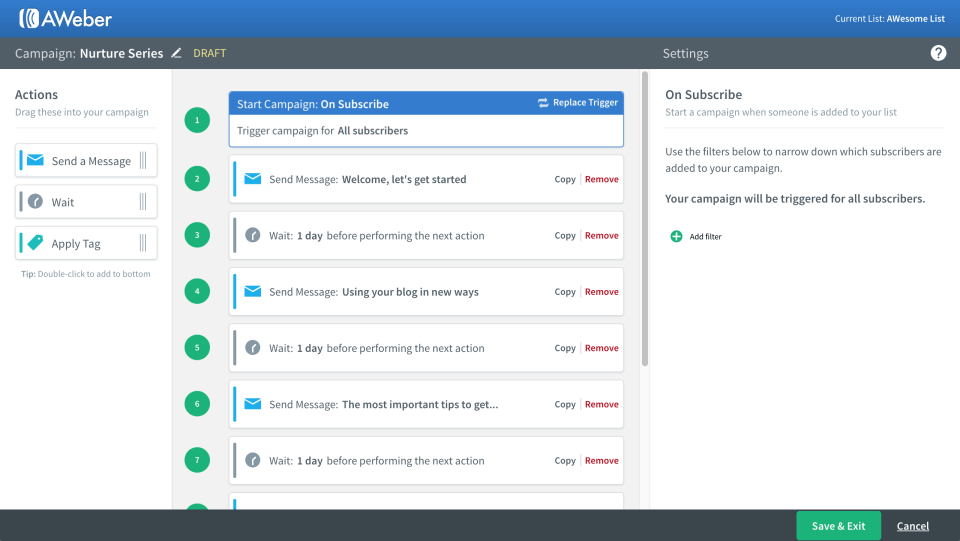 AWeber offers landing page and email marketing services for small businesses. AWebercame into being in 1998 and can look back on more than 20 years of accomplishment, assisting more than a million clients worldwide to connect with their prospects and clients through email marketing dependably.
AWeber seeks to provide the capacity to load swiftly and manage contacts, send immediate web push notifications, develop landing sites, send great emails, and analyze outcomes without needing to be a tech genius. It also offers 24/7 US-based customer assistance.
Customers can link AWeber's services with the more than 1,000 partner software programs they depend on.
Price
The tool offers a free plan. However, the paid plans start at $19 per month.
Pros
       

Over 750 integrations with third-party services.

       

24/7 live chat support

       

More than 600 email templates
Cons
       

Automations are a little basic.
Intercom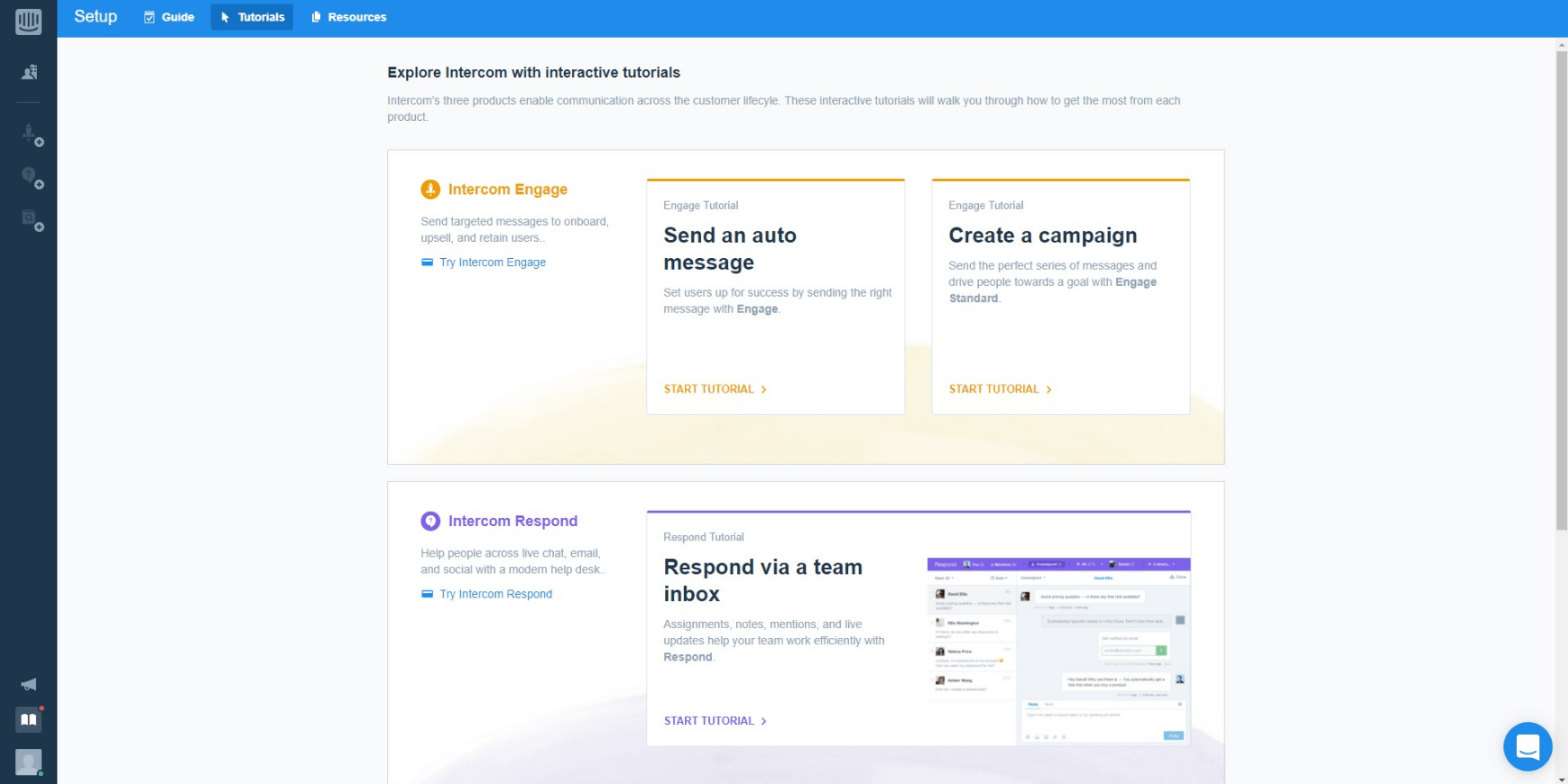 Intercom, a client support platform, uses behavioral targeting and user intelligence to help businesses learn from, enhance, and profit from customer interactions. The software gives options for sending tailored emails and insights into who is using your product. Sending customized emails and in-app notifications based on user behavior is possible with Intercom.
The service offers a new and better way to acquire, engage, and retain customers for marketing, sales, and support teams to interact and communicate with customers, aiding the business's faster growth.
Price
It comes with a 14-day free trial. The premium packages start at $79 per month.
Pros
       

Mobile Application usage tracking

       

Client Journey Reporting/Tracking

       

Live User Availability

       

Website Chat Support
Cons
       

Bugs

       

Expensive for smaller businesses.
SendGrid
SendGrid, an email blast service, overcomes the challenges of email distribution. It provides and supports an email server on behalf of your company, ensuring that all correspondence with customers is sent and received as needed.
High email deliverability is available from SendGrid thanks to its dedicated IPs, white labeling, sub-user control, and sophisticated API features. Additionally, it features effective A/B testing, marketing email performance, and list segmentation.
Price
It comes with a free trial. The paid plans cost $15 per month.
Pros
       

Good transactional API

       

Simple to use

       

Pocket-friendly
Cons
       

Unresponsive customer service
OptinMonster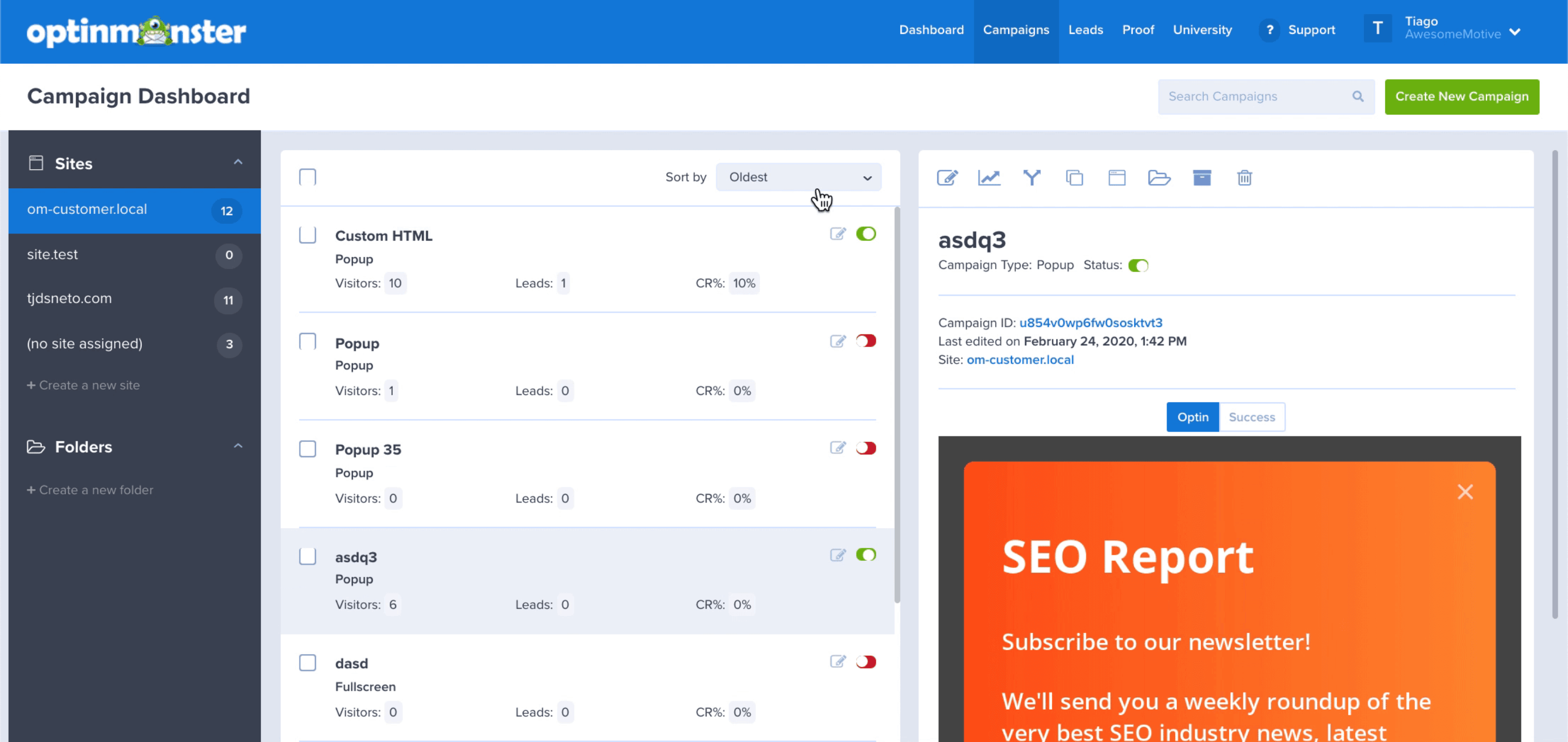 You can use the premium WordPress plugin OptinMonster to gather and categorize email addresses automatically. You can divide them into many categories according to the user's activity, inactivity, cookies, location, and other factors.
You can create eye-catching lead generation forms with OptinMonster that help expands your email list.
Your forms will function and look fantastic thanks to its simple drag-and-drop builder, 50+ lead generation form templates, and six different campaign kinds.
Additionally, it provides an easy connection with a number of the top email service providers. It implies that you may use OptinMonster to increase your email list and your email service provider to deliver targeted automated emails.
Price
The paid plan starts at $9/month if billed annually, making it an ideal pick for small businesses.
Pros
       

Easy to use

       

Budget-friendly
Cons
       

No end date and time for campaigns
Moosend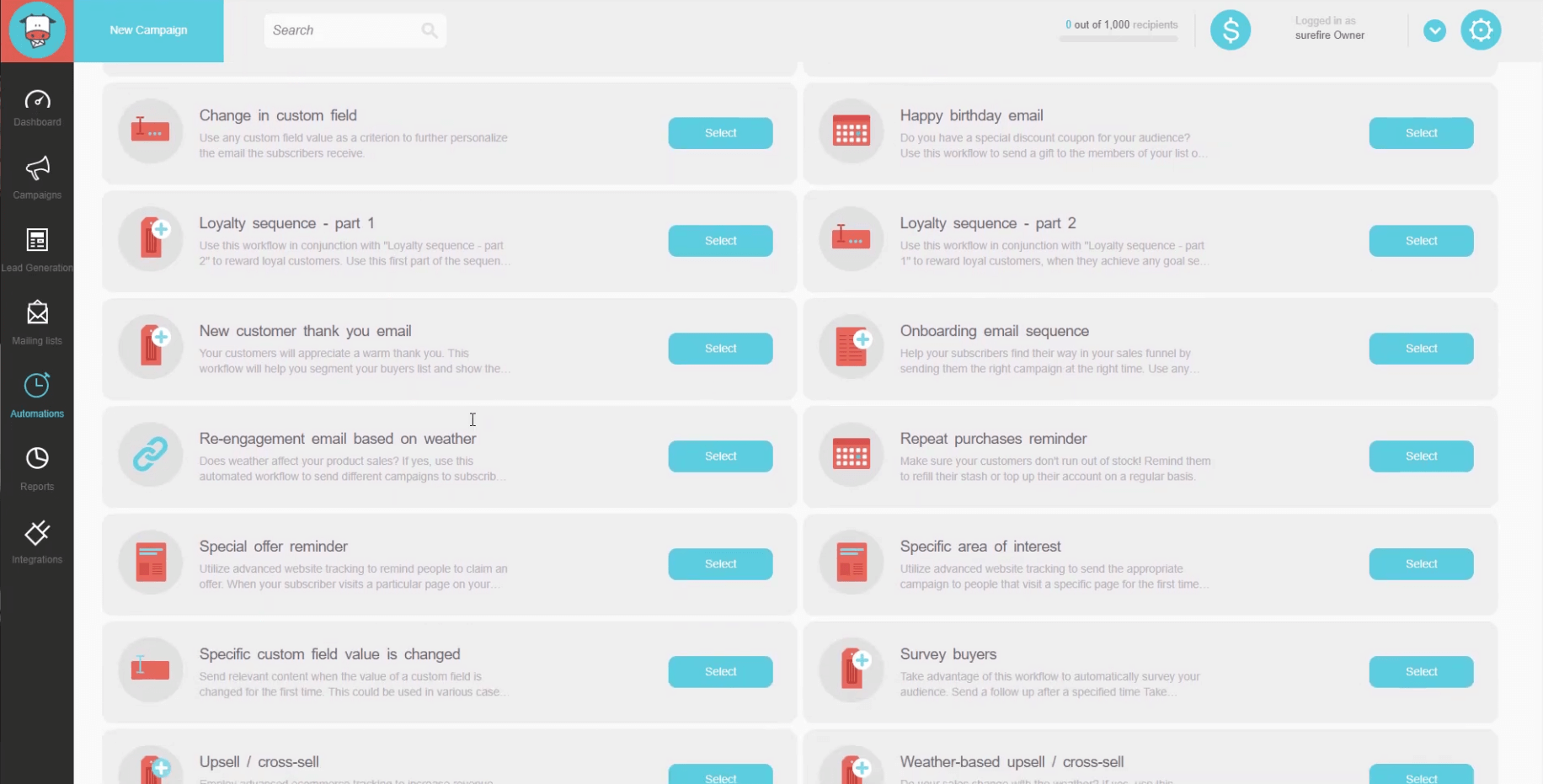 Moosend strives to meet the needs of any online business that wishes to send email newsletters to its customers and subscribers, informing them of news, goods, services, and offers. Email marketers can automatically manage their email list with this solution.
Moosend promises quick mailouts and high delivery rates. With the tool's statistics, firms may identify valuable subscribers who bring in money and send them emails targeted and unique to their needs and interests.
Price
The automation tool offers a free trial. The paid plans cost $8 per month.
Pros
       

Powerful real-time analytics.

       

Scheduling campaigns

       

Sending transactional emails.
Cons
       

Free plans have limited customer support
RafflePress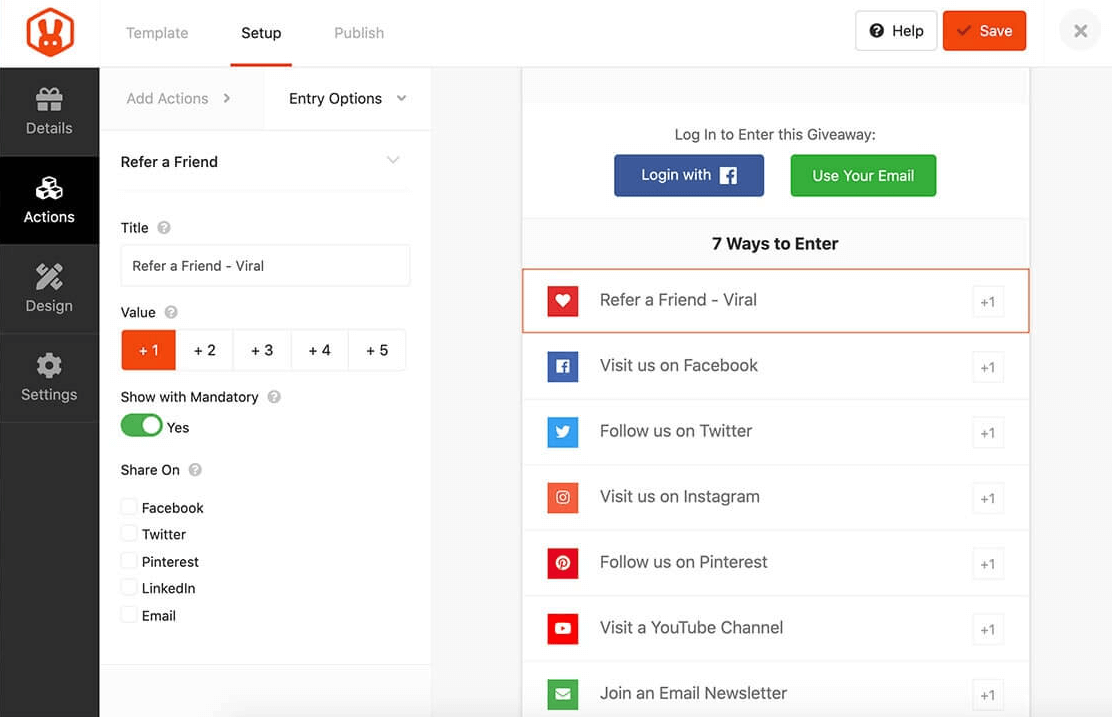 Contests and giveaways are among the finest strategies to grow your email subscriber base. You can run these giveaways on your site and social media channels with RafflePress.
As a result, you may create campaigns for all your preferred marketing channels with it.
Price
The paid plan starts at $39.50/month if billed annually. However, users can get a lifetime license for $499.50.
Pros
       

Easy to use and setup

       

100% mobile friendly

       

Drag and drop builder

       

Zapier integration
Cons
       

Has a limited number of email integrations
BombBomb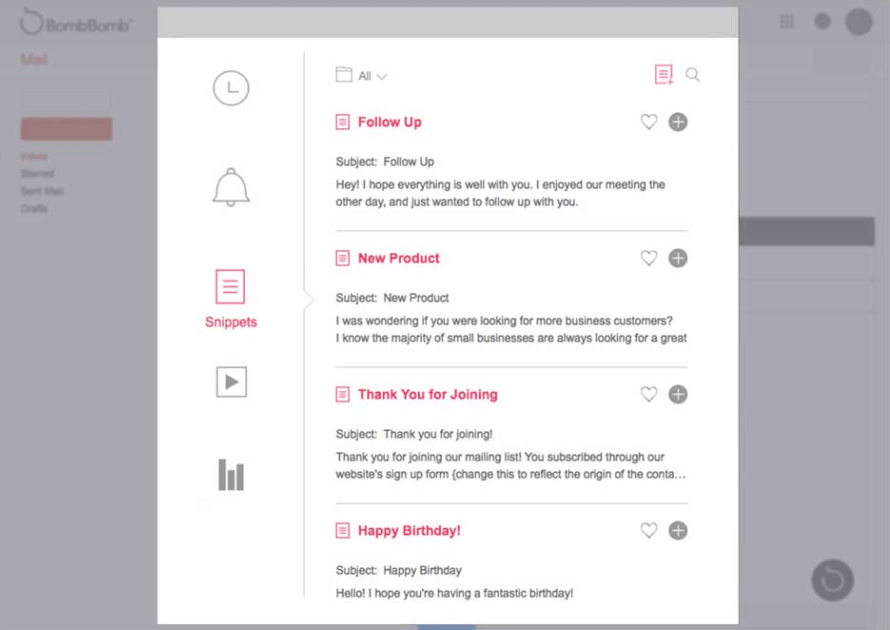 Emails that are only text can be tedious. Heck, in today's media-rich online environment, even photographs are getting uninteresting. Consider using BombBomb to produce video-powered drip emails if you want to spice up your communications quickly.
Price
Individual plans start at $33/month. However, team plans start at $49/month per seat.
Pros
       

User-friendly

       

Email videos

       

Track emails

       

Get email engagement
Cons
Contactually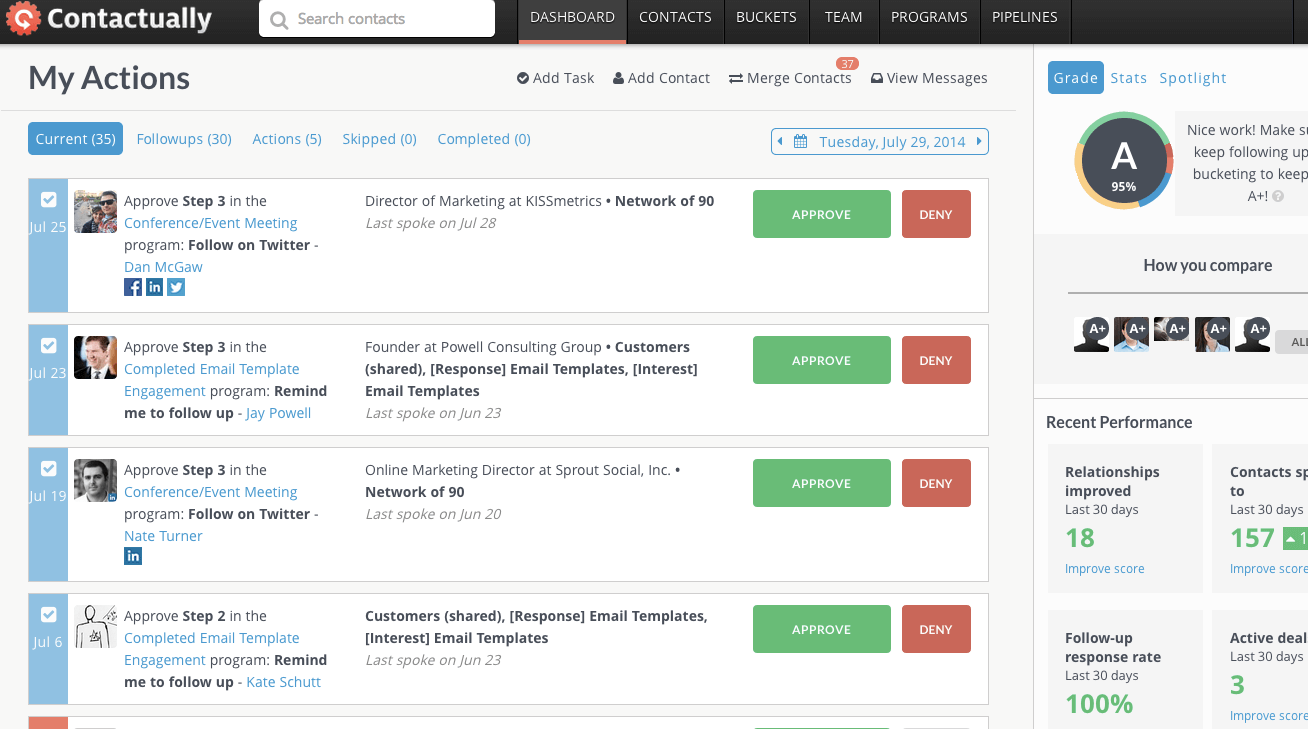 Businesses can utilize this web-based CRM's user-friendly interface to monitor and control communication activity. Small and medium-sized companies wishing to stay in touch with their diverse clientele should use this software.
The program allows you to import contacts, combine accounts, use templates, organize them into categories, and automate tasks. A vast library of nurturing content, targeting, segmentation, mass messaging, quarterly business and usage reviews, and many more advanced capabilities are available to you. The open API framework that Contactually provides enables developers to build a wide range of unique integrations.
Price
The tool offers a 14-day free trial. The paid plans start at $69 per month.
Pros
       

Syncing to email

       

Efficient support team

       

Design and interface

       

Easy to use
Cons
LeadSquared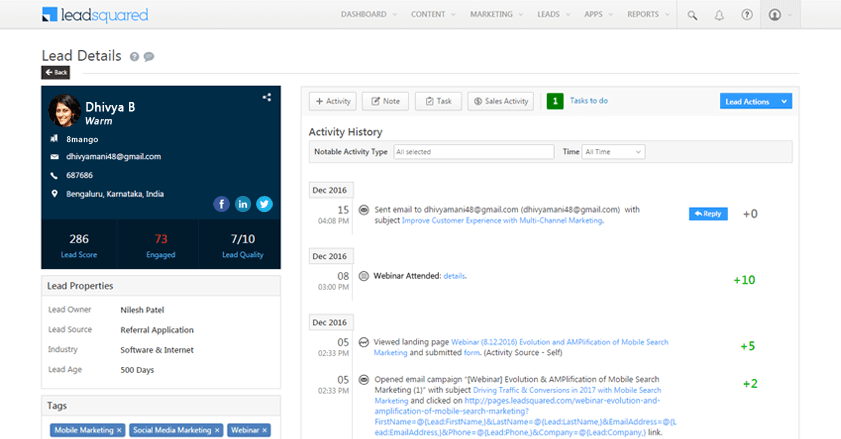 LeadSquared offers a cloud-based CRM and marketing automation system for businesses of all sizes. Users can automate operations like lead generation, marketing, sales CRM, reporting, and analytics with its assistance.
Other service features include landing pages, segmentation, lead scoring, marketing, sales insights, and role-based user access. Ozonetel, Olark Connector, LiveChat, Super-Receptionist, Zopim, and GoToWebinar are just a few of the programs it can link with.
Price
It offers a 15-day free trial. The automation tool offers paid plans that start at $400 per month.
Pros
       

Easy to use interface.

       

Daily reports of the leads

       

Flexibility to update

       

Support & Service.
Cons
       

Unresponsive customer service
Convertloop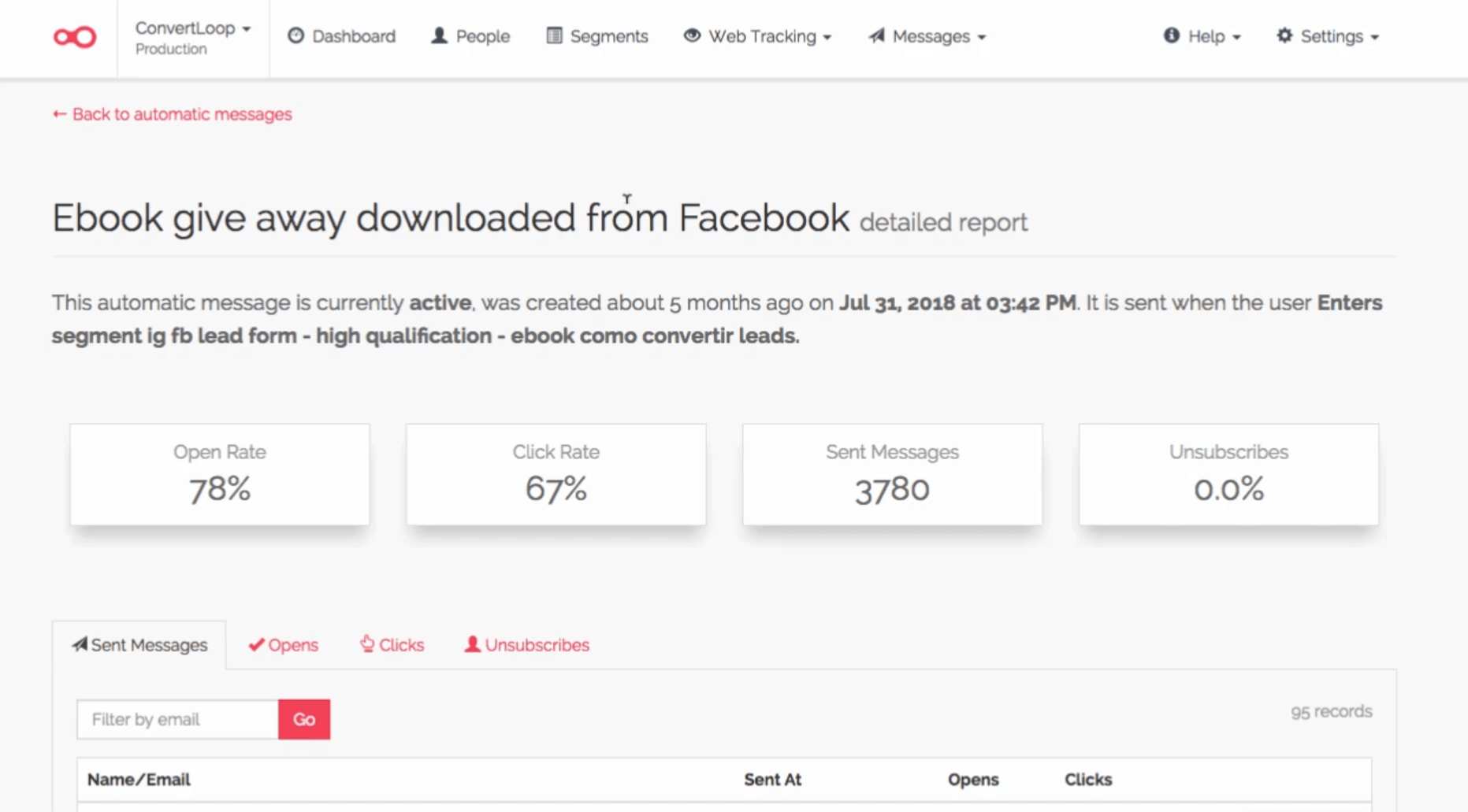 ConvertLoop is a sales and email marketing automation tool that can assist you in getting your users involved in your growth strategy and inspiring them to take action. You can use it to send automated emails, email sequences, and mass email campaigns. It allows you to save time and increase client conversions with automated follow-up email sequences.
The program includes the free ConvertLoop Chrome plugin and an unlimited number of responsive drag-and-drop email layouts. Email tracking, website tracking, and campaign analytics are additional functions.
Price
Contact for quotation
Pros
       

Easy to set up

       

User-friendly
Cons
       

Need more integration tools
Things to Consider Before Choosing an Email Automation Tool
Choosing an email automation tool is crucial. Since email automation tools send timed or triggered messages to subscribers, it is essential to pick the right tool to help you send your messages while leaving you some time to focus on other critical tasks. Here we discuss five key features you must consider when choosing an email automation tool. However, first, let us look at the significance of looking for the right email automation tools.
Why is it Important to Find the Right Email Automation Tool?
Email marketing is a cost-effective marketing strategy for businesses. The Direct Marketing Association states that in the United States, email marketing sees a 4300 % return on investment (ROI) for companies.
Email marketing gives complete control, is manageable, and allows you to contact customers directly. Therefore, it is crucial to understand that your email marketing success is related to the tool you chose because the email marketing tools are responsible for ensuring that your emails land in the inboxes successfully. 
However, suppose you do not pay much attention to choosing the right tool. In that case, you may pay more for fewer marketing features and less attractive deliverability rates, leading to more money loss.
Email Automation Capabilities
The first and most crucial element you should consider when choosing an email automation tool is the ability of the tool to automate emails based on customizable triggers. Since many platforms do not offer this essential capability or basic automation without customizable triggers, it is crucial to look for an automation tool that caters to your needs.
Personalization
The second most crucial element to focus on while picking the perfect email automation tool is the ability to personalize the email automation tool for company growth. Personalizing with tools that integrate with CRM (customer relationship management) software is essential. Once you integrate the devices with CRM, you can effectively nurture leads and help the company grow.
Real-time Analytics
How to determine if something is working for you? You simply look at the data. How do you determine the areas where you can grow? You look at the data. Therefore, any process will require you to refer to the data to know how well the tool performs. However, choosing a tool that does not have an effective method of measuring key performance indicators (KPIs) may have unpleasant effects in the long run.
Integration
If you have an ecommerce business, it is crucial to have the ability to send your existing customers transaction-specific emails. If your email automation tool fails to integrate with the eCommerce platform, you will experience problems in creating timely emails. Furthermore, without a detailed view of your customers on the platform will make it difficult for you to curate highly-targeted email campaigns.
Cost
Lastly, you must consider your budget while choosing the right automation tool. When considering the features and functions of different automation tools, compare the prices to evaluate the pros and cons of the tools to help you decide which tool will cater to your needs effectively.
Choosing the Right Email Marketing Automation Software
Email automation tool improves open rates, increases conversions, and recipient engagement. Therefore, small businesses have started using these tools to send triggered messages to subscribers and run targeted campaigns. Here, we have the best practices for email automation tools.
Plan Your Workflow Beforehand
Planning your workflow will help ensure that your efforts align with your goals. It enables you to focus on your deadlines, available resources, and priorities. Once you have the lists of workflows you would like to complete; it is time to plan the flow.
Workflows can become complex when incorporated with branching logic. Therefore, it is crucial to plan the flow and map out the difficulties in advance to have a smooth experience. You can start by mapping the workflow on paper with complete messages and branches with lines that connect to each message. A visual representation of workflow will always help you understand where and why paths branch and the number of emails needed for workflows, inquiries, and welcoming notes.
Remember Anti-Spam Laws
It is crucial to comply with anti-spam laws for commercial emails. These rules require that the sender provide their name and address at the end of each email and offer subscribers a way to unsubscribe to their messages in future emails. However, businesses have to pay hefty fines if they violate these rules.
Set Workflow Goals
Workflow goals allow website admins to set a completion goal for every workflow that marks users as completed once they have reached that particular goal. When the admins witness that a subscriber has achieved workflow goals, it means that the subscriber can now move from one group to another, assuming that fulfills the purpose of the workflow.
For instance, you can mark a subscriber once he has submitted an application on your web page in an Inquiry to Applicant workflow. Once you receive it, you can mark the subscriber as complete and move him from the Inquiry group to the Applicant group.
Several tools help you automate this process. You can even automate group memberships that allow subscribers to progress through the admission workflows. Moreover, you can view the subscriber's progress and check who has and hasn't reached the goal through the Activity tab.
Related article: Best Workflow Automation Software
Delay Messages
Delays help your subscribers in not receiving multiple messages back-to-back. Sending messages without delays fails the entire purpose of creating workflows that aim to send bite-sized messages over time. You can add delays to your messages and branches to control the frequency of your sent messages. It is crucial to add delays to branches to allow the receivers extra time to open and read your sent messages.
Moreover, adding delays to messages will avoid spamming the users' inboxes and allow them to read the previous messages before any new message reaches their inbox. Unless you are creating a workflow that needs to send multiple messages in a short span, it is better to allow recipients more time than they need.
Include a Catchy Subject Line
The stats reveal that 47 percent of email recipients open their emails based on a catchy subject line. However, 69 percent of recipients report emails as spam because of the subject line. Furthermore, emails with no subject have an 8% open rate, whereas 22 percent of recipients open emails with personalized subject lines.
Therefore, the stats confirm that a few words in the subject line make a considerable difference, and sales reps must create emails carefully to ensure high ROI. High converting subject lines must:
develop a sense of urgency

communicate social poof

stimulate curiosity

offer free stuff and discounts

contain teasers
Optimize Your Emails for Mobile
Since mobiles have become user-friendly with every feature available, from cameras to email boxes, all the features are accessible with a finger. Therefore, the percentage of checking emails on mobile phones has increased with time. According to research, 46% of people check their emails on their smartphones. That is why sending efficiently optimized emails with mobile phones are crucial.
Conclusion
Email automation lets you keep your subscribers engaged. With multiple automation tools, you can create email messages and send them to subscribers to run effective marketing campaigns. Automating emails helps site admins save time and focus on more important things, such as building customer relationships.
Most email automation tools have robust features that do not require upgrades. Small businesses can make the most of these email tools while saving time and money. Even if companies need upgrades, the paid plans are flexible and affordable to fit the budget.