Workflow automation tools are an excellent way of automating mundane tasks, such as data entry, accounting, lead generating, and lead nurturing.
Automating your workflow allows you to focus on your creative work and make strategic business decisions.
This blog is perfect for you if you've never heard about business workflow software. Here, we'll discuss:
The best workflow automation platforms

The benefits of sales and marketing workflow software

Tips and tricks to choosing the ideal automated workflow platform
Let's jump in!
What is Workflow Automation Software?
Workflow automation allows businesses to replace paper-based and manual processes using digital tools. Typically, users install a single platform that streamlines the flow of tasks, documents, and information across work-related activities.
The tactical aim of integrating automation software is to ensure workers are performing priority tasks at the right time.
When implemented appropriately, workflow automation software helps improve productivity, standardizes work, eliminates human error, facilitates visibility, and ensures employees meet compliance policies.
How Does Workflow Automation Work?
Workflow automation entails designing, executing, and automating mundane and time-consuming tasks. That way, companies can save costs and time and reduce errors.
Workflow automation is of two primary types: Business Process and Robotic Process workflow.
Business Process Management
BPM refers to how businesses structure different processes to meet customer needs.
Most workflow automation follows this methodology to drive efficiency to reach mission-critical business goals.
The software automates business process workflows to save time and optimize tasks that employees typically perform manually.
Robotic Process Workflow
Robotic processes automate robotic processes while mimicking the style of humans. In most cases, IT teams use RPA to support administrative procedures.
With the help of robots, employees can identify the most relevant solutions to solve processing errors, mitigate help desk inquiries, and intervene in processing errors.
Why Do You Need Workflow Automation Tools?
Research shows that over 25% of CEOs spend time on mundane tasks that machines can achieve faster and more efficiently.
In addition, studies reveal that approximately 60% of employees can save 30% of their time by leveraging a workflow automation tool.
Therefore, more organizations today are using automation tools for the following reasons:
To boost productivity

To enhance efficiency

To reduce human errors

To speed up processes

To improve accuracy and reduce deviations

To ensure accountability at an individual level

To reduce the use of assumptions and replace it with use of facts
Now that you know the primary benefits of workflow automation tools, let's discuss them in detail:
Allows You to Work on High-Value Tasks
Workflow automation tool relieves your employees of time-consuming and low-value tasks. Instead, they can focus on non-automated, higher-value tasks that require human creativity.
Enables You to Save Costs
One excellent pro of automation software is that it increases productivity to drive higher cost savings.
Improves Workflow Visibility
Workflow automation entails workflow mapping that creates in-depth visibility into the tasks and processes you automate.
That way, organizations get a holistic view of workflows to identify outdated and redundant tasks and find innovative solutions.
Enhances Communication
Workflow automation tools improve visibility which, in turn, enhances employee and interdepartmental communication.
Ultimately, it helps you identify bottlenecks and improve workplace productivity.
Improved Accountability
Workflow automation allows you to define various tasks and assign individual steps to the right employee.
In that way, businesses can enhance accountability among employees in particular processes.
Who Needs a Workflow Automation Tool?
The best part about workflow automation is that anyone can use them. Here's who benefits the most from workflow automation tools:
Businesses
Businesses use workflow automation for the following reasons:
To Create Processes that Reduce Costs

To Streamline Task Management

To Decrease Errors from Manual Entries or Oversights

To Automate Approval Flows

To Streamline Document Routes
DevOps
DevOps typically use automation software to:
Facilitate Communication between Developers and Operations

Overcome Bottlenecks and follow-ups
IT Administrators
Lastly, IT Administrators use workflow automation tools for the following reasons:
To Create Oversights Across Cloud Network

To Add a Layer of Visualization

To Oversee and Analyze Network Health and Deficiencies
When Should I Use a Workflow Automation Tool?
Typically, businesses and entrepreneurs use workflow automation tools when:
Your task is repetitive

You need to finish your task quickly and without human errors

You want to streamline your workflow to improve efficiency

You want to make a strategic business decision based on facts
12 Best Workflow Automation Tools
Research by McKinsey reveals that over 45% of the activities businesses spend money on can be performed quicker and more efficiently by adapting current technology.
So, by using the ideal workflow automation tool, you can boost productivity, save costs, and hit your business goals. But the question is, which is the right tool?
To help you make the right choice, we've created a comprehensive list of the top twelve workflow automation tools:
Octopus CRM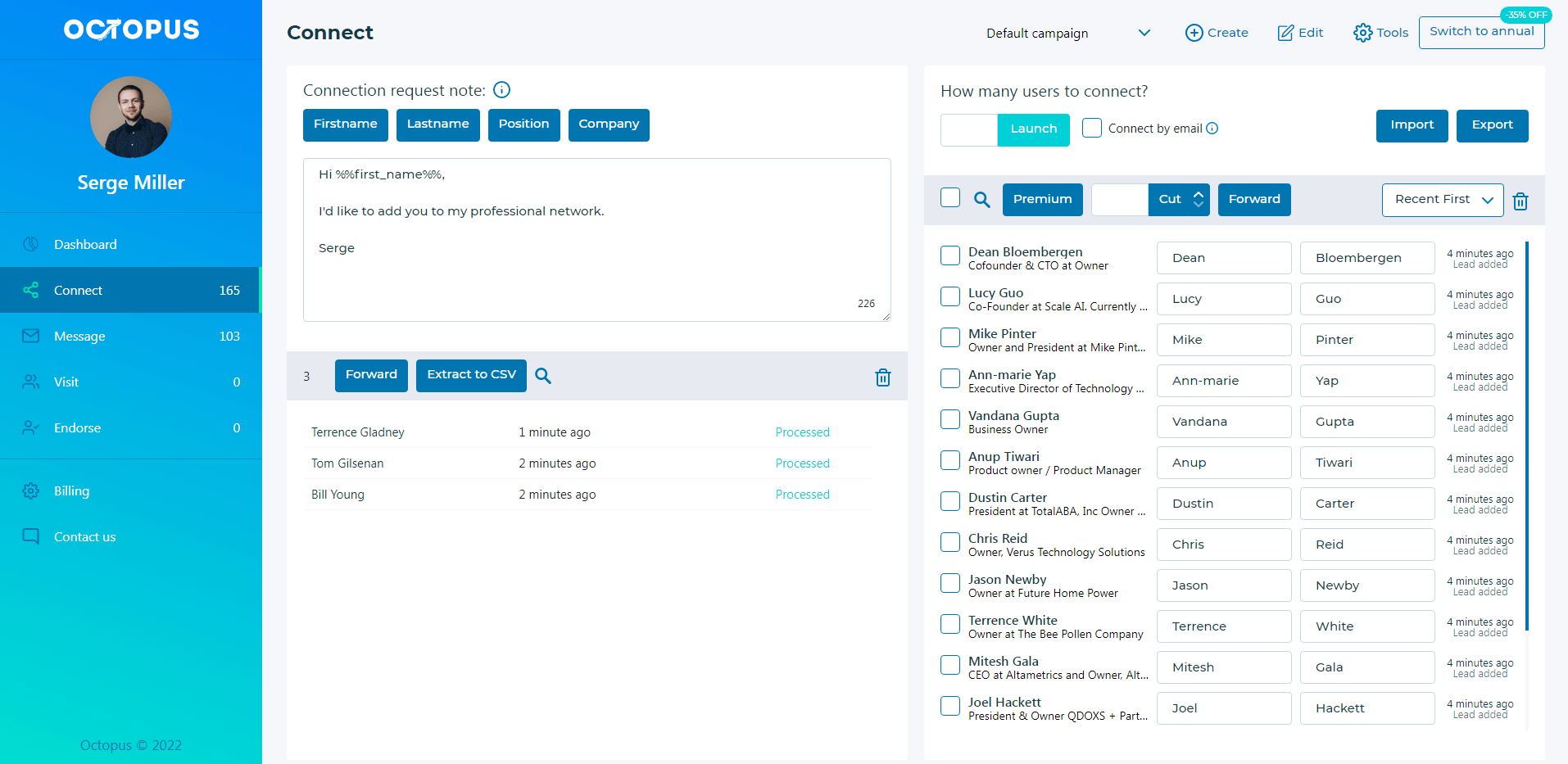 Octopus CRM is the perfect all-in-one LinkedIn automation software to build your marketing funnel. Our state-of-the-art workflow marketing platform allows you to automate and simplify your everyday LinkedIn tasks.
With this innovative tool, you can automate time-consuming tasks like sending personalized connection requests to 100+ LinkedIn users, endorsing different profiles, and visiting your target audience.
Not just this, but Octopus CRM offers you a holistic view of your performance. You can access detailed analytics, including the number of profile views, search appearances, social selling index, and campaign performance.
A bonus point of integrating Octopus CRM into your current business flow is that you can safely bypass LinkedIn's weekly invite limit. You can also use Octopus CRM to control your activity on any LinkedIn account type.
The best part? Octopus CRM is budget-friendly!
Who Needs Octopus CRM?
Octopus CRM is ideal for all-sized businesses that want to supercharge their digital marketing strategy and focus on generating and nurturing leads on LinkedIn.
Zapier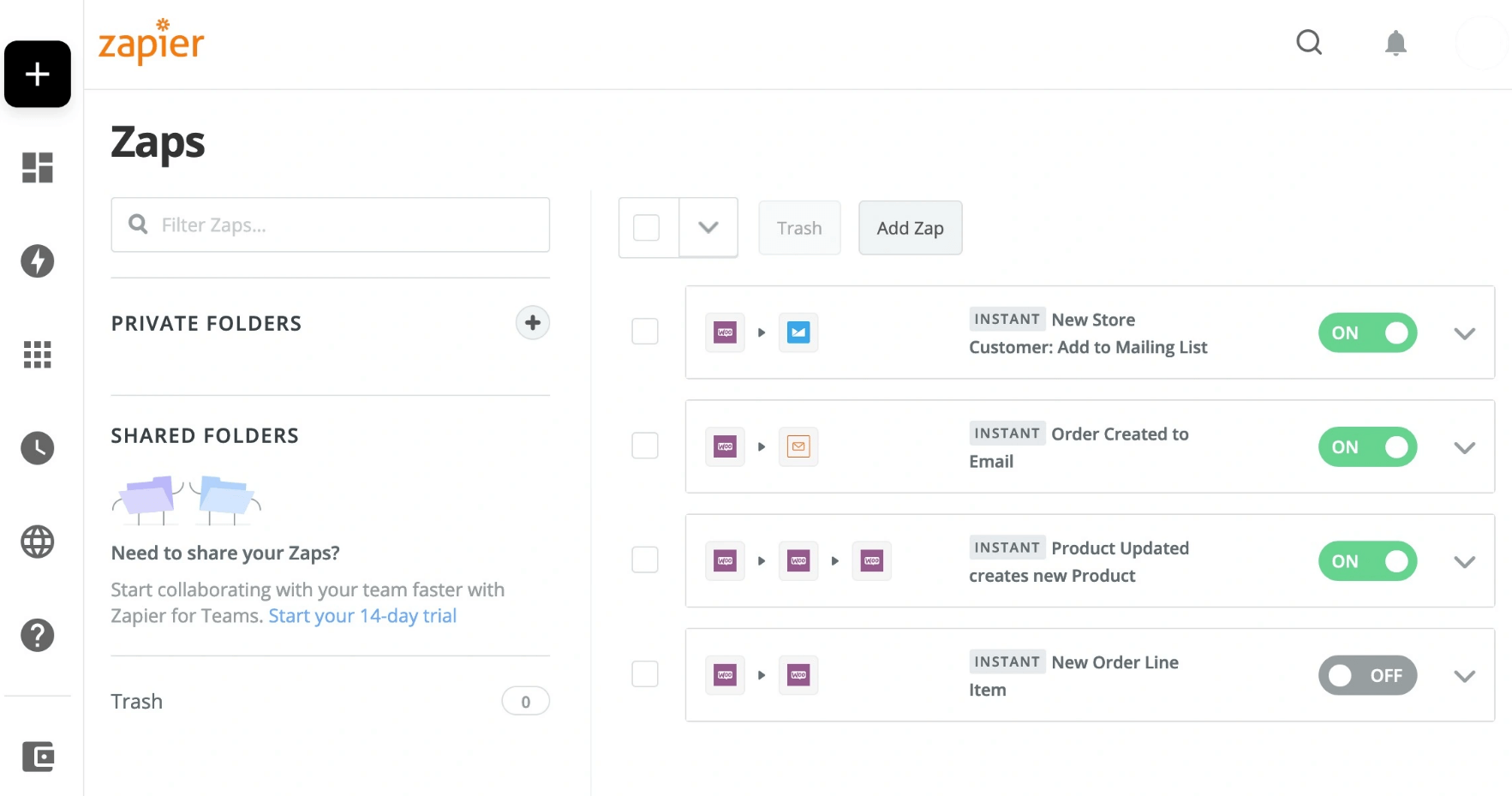 Zapier is another excellent workflow automation tool that allows you to connect with existing tools. The platform enables you to automate any business process due to its connecting to over 1000 web apps like Google Drive, Facebook, and Insta.
Once you build the ideal workflow and choose the apps you need in your workflow, the tool helps you collaborate across folders and devices.
Who needs Zapier?
Zapier is perfect for small-to-medium-sized businesses and freelancers that use multiple tools but can't collaborate appropriately.
HubSpot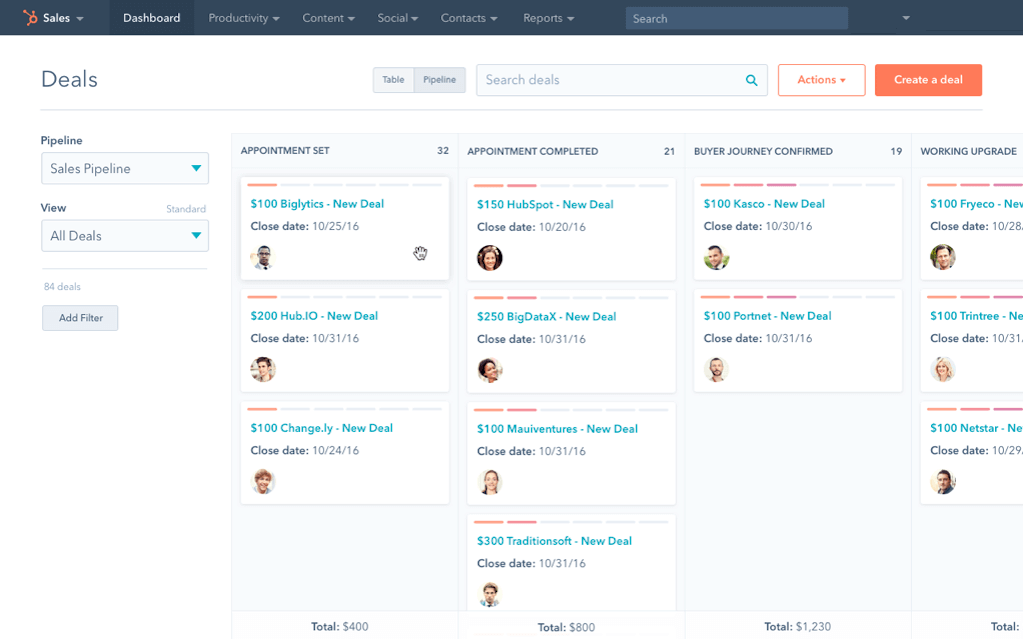 HubSpot is the perfect solution to all your marketing, sales, and operations automation needs.
The all-in-one workflow automation tool allows you to link your business operations, streamline tasks, and align team processes.
In addition, this user-friendly platform allows you to connect a service ticket with an existing record, remove clutter from customer data, and guide leads from marketing to sales.
Who Needs HubSpot?
HubSpot is perfect for growing businesses and entrepreneurs who want to automate day-to-day tasks. In addition, the tool is ideal for marketing, sales, service, and operation teams.
Coupler.io
Coupler.io is a no-code integration solution to automate data flow from multiple sources into Google Sheets, Excel, or Google BigQuery. With just a few clicks, you can connect to a necessary app and schedule the data transfer to your spreadsheet or BigQuery table.
Coupler.io allows you to automate exports of raw data from different apps such as Airtable, Xero, HubSpot, Salesforce, and many others. You can customize the frequency of your automated data flow starting from every 15 minutes. What's the benefit? 
Let's say you want to share some valuable insights from your Tableau dashboard with your stakeholder. Instead of dealing with complex sharing options in Tableau, you can connect Tableau to Excel using Coupler.io and share the self-updating workbook with your colleagues. 
Who Needs Coupler.io?
Coupler.io is the automated workflow tool for reporting, analytics, and backup. It has a broad range of implementations and is the choice of different entrepreneurs and experts, including accountants, data analysts, sales reps, etc. 
IFTTT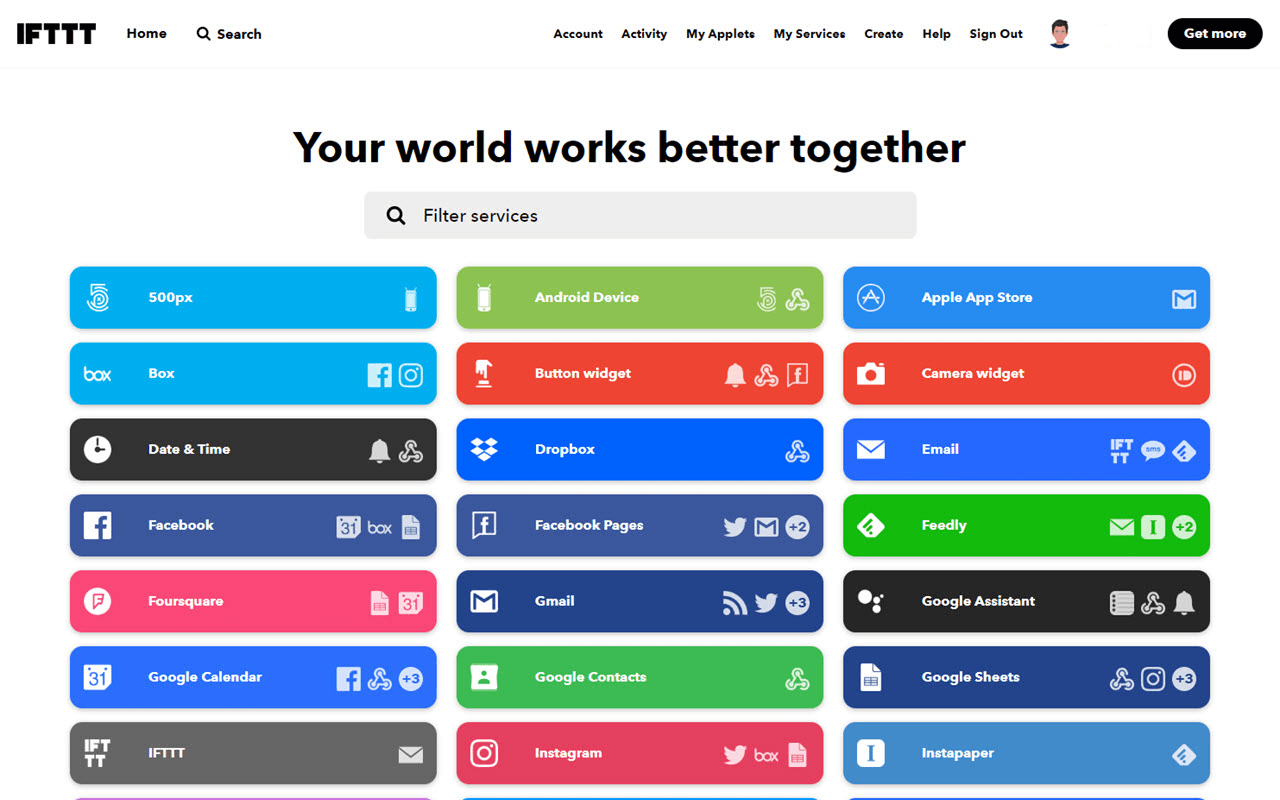 If This Then That is a futuristic workflow application that allows you to automate every aspect of your business. IFTTT encourages interconnectivity of the internet to streamline business and life workflows.
You can integrate IFTTT with your office and home since the tool is compatible with office applications, smart fridges, and smart appliances.
With over 700 integrations available, IFTTT acts as a conduit for tasks and pieces of information to flow through a particular route. The best part of choosing this automated workflow tool is that you can enjoy using its highly automated features without knowing a single word of code.
Who Needs IFTTT?
IFTTT is perfect for all-sized businesses and entrepreneurs due to its flexible pricing plans and innovative automation functions.
We highly recommend this tool for IT and HR departments.
Jira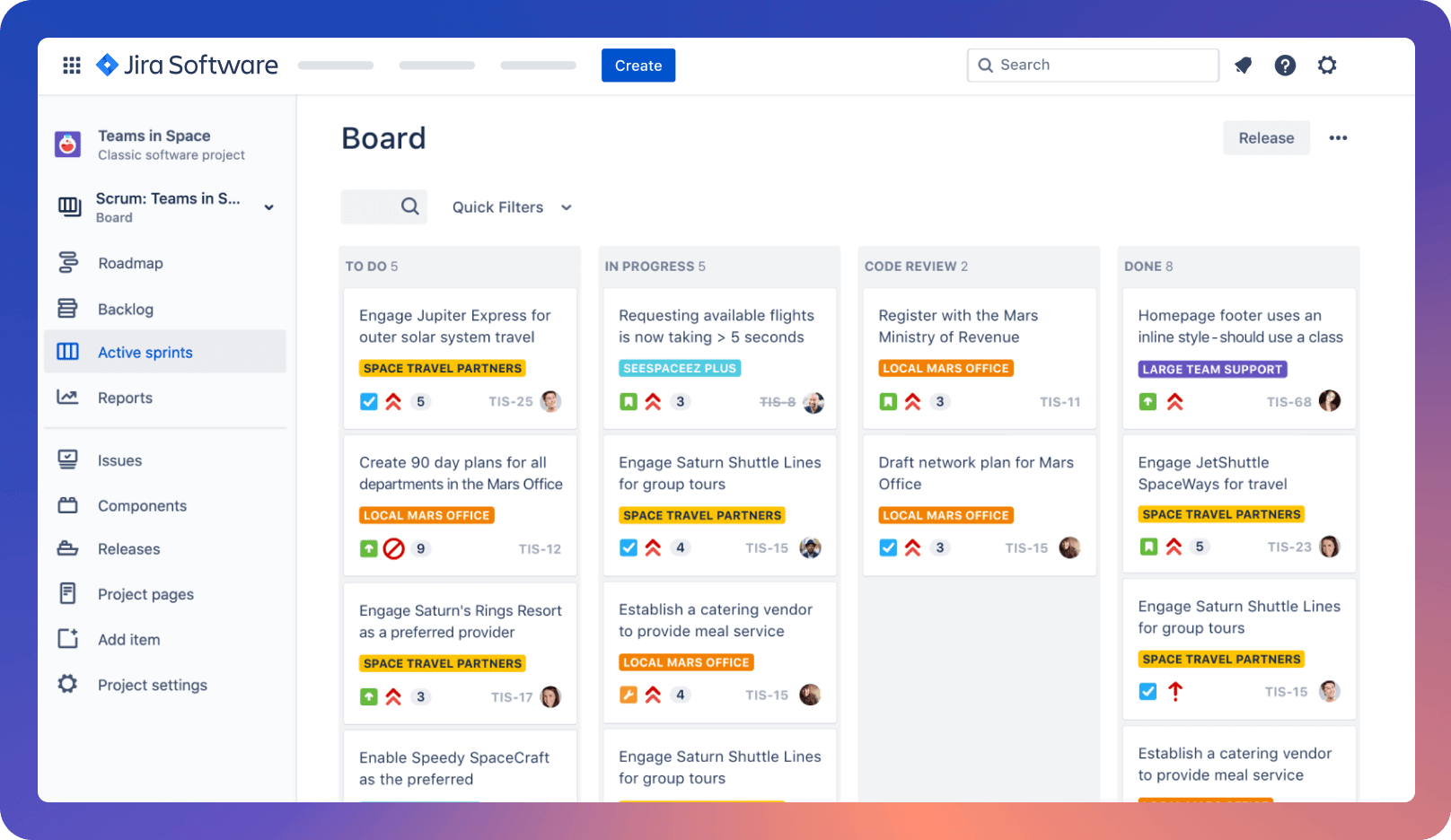 Jira is the ideal project management and automation tool for businesses that prefer the 'If This Then That' methodology.
With this agile automation software, users can automate any task or process within a few clicks. In addition, you can access over a hundred automation templates to speed up your tasks.
Additional features include global automation, roadmaps, admin insights, key metrics, and a sandbox. The tool lets you integrate with platforms like Zoom, GitHub, and Zendesk.
Who Needs Jira?
Jira is perfect for all-sized businesses owing to its affordable plans and futuristic features.
Nintex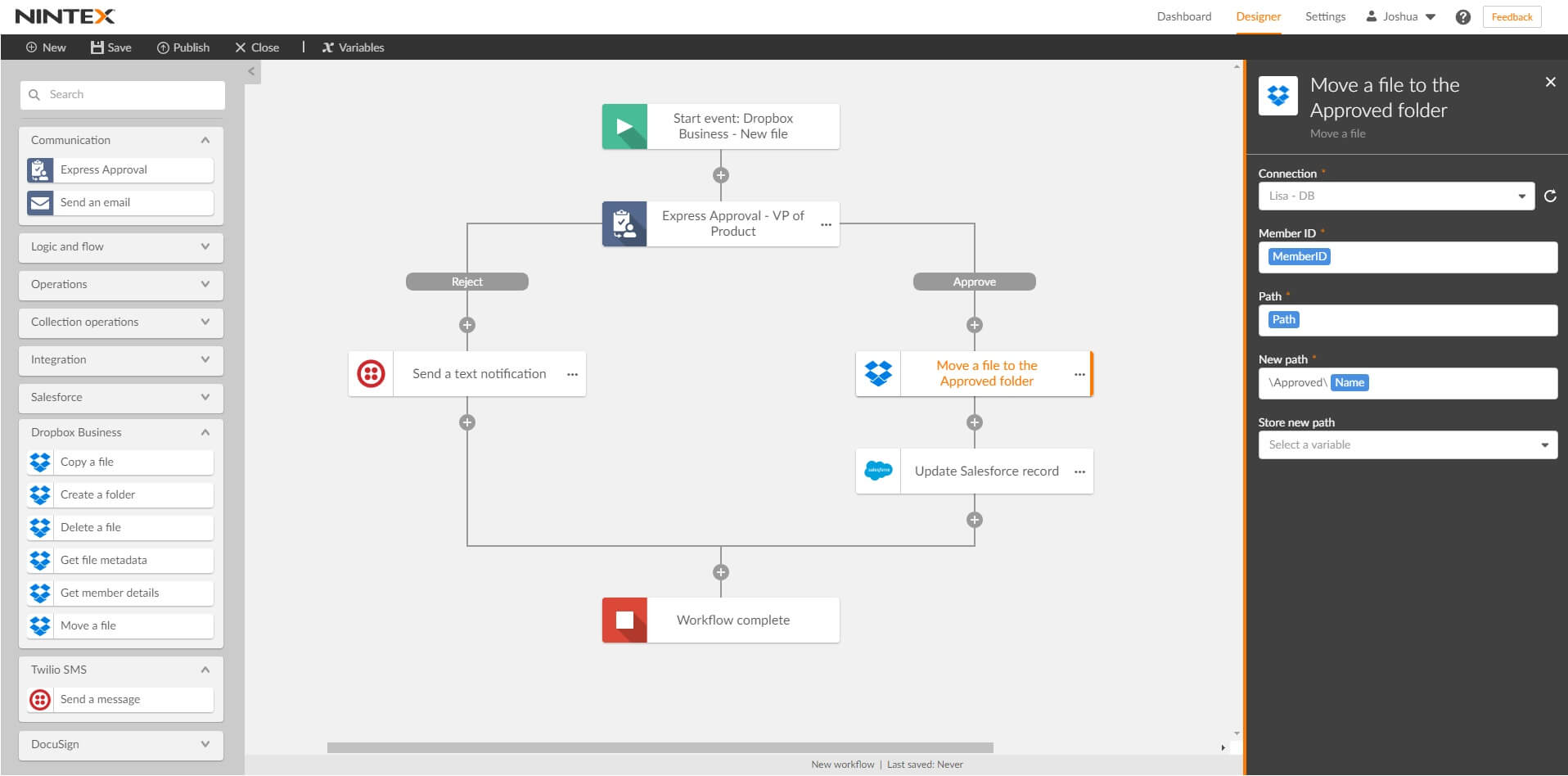 Nintex is a revolutionary workflow automation platform that helps over 8,000 enterprise customers access 3 million workflow applications. With this innovative tool, you can manage, automate, and optimize your business processes quickly and efficiently.
Furthermore, Nintex offers various workflow automation tools, such as process mapping, process intelligence, and advanced workflows. You can map out, monitor, and execute different processes.
Who Needs Nintex?
Nintex is ideal for enterprise businesses and freelancers with established processes wanting to connect multiple apps.
Kissflow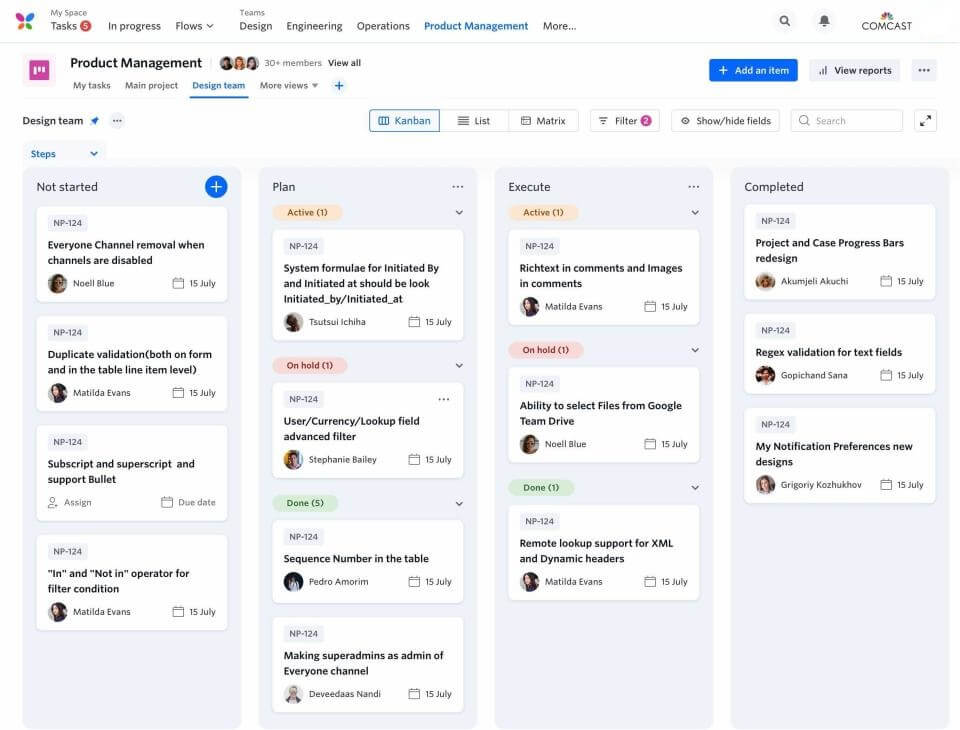 A cloud-based automation solution, Kissflow allows businesses to automate business processes and access analytics.
Designed with people with zero coding skills at the forefront, Kissflow empowers you to create personal and team workflows. In addition, the platform allows you to build and execute collaborative workflows efficiently.
Kissflow also enables you to integrate several workflows involving multiple processes on one platform. It encourages simplistic tracking, performance tracking, and easy compliance.
Furthermore, this automation tool allows you to analyze reports in detail to identify bottlenecks and surmount challenges and solutions within seconds.
With over 50-pre installed business process apps, Kissflow allows you to streamline all your business processes.
Who Needs Kissflow?
Kissflow is ideal for small companies and freelancers who haven't used workflow automation. With the tool's user-friendliness, users can automate processes without any challenge.
Integromat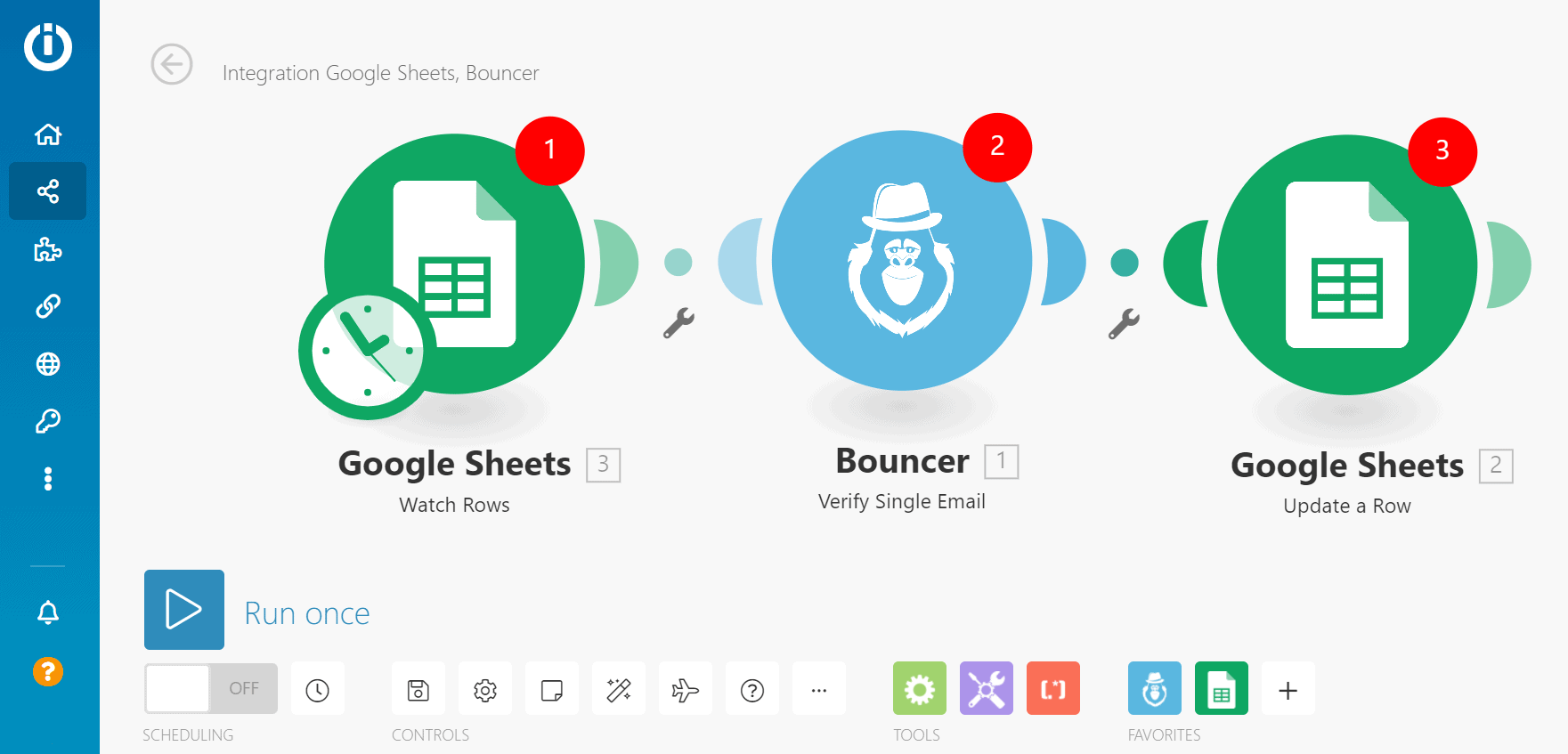 Integromat is a futuristic and robust integration platform that lets you visualize, custom build, and automate your workflows.
With its drag-to-drop interface, you can enjoy connecting with multiple apps without typing a single line of code. In addition, you can use routers to divide tasks into various routes. You can also filter the data passing through different routes.
Furthermore, Integromat allows users to integrate with over 1000 apps and services, including JSON and APIs. A bonus of using this automation tool is that you can access its free plan to enjoy using thousands of operations.
Why Needs Integromat?
Integromat is ideal for small to medium-sized businesses using automated workflow tools for the first time.
Integrify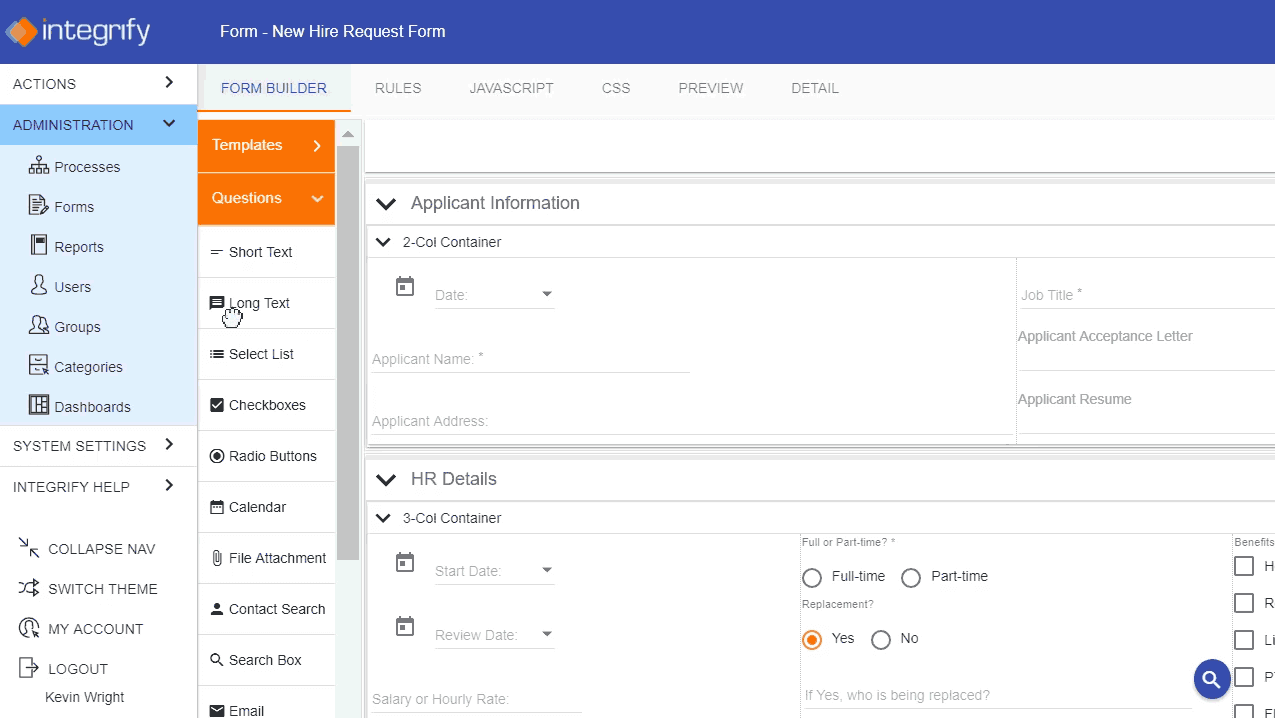 Integrify is another innovative workflow automation software that allows you to build customized workflows and run parallel/sequential flows.
The tool allows you to streamline business processes and automate manual tasks by collaborating tasks and requests and setting up reminders.
Furthermore, Integrify provides workflow examples, a user knowledge base, a rest-based open API, and the ability to import and export data.
Who Needs Integrify?
We recommend small and medium-sized businesses use this innovative workflow automation software. With its drag-and-drop process builder tool, you can automate everyday tasks quickly and efficiently.
Scribe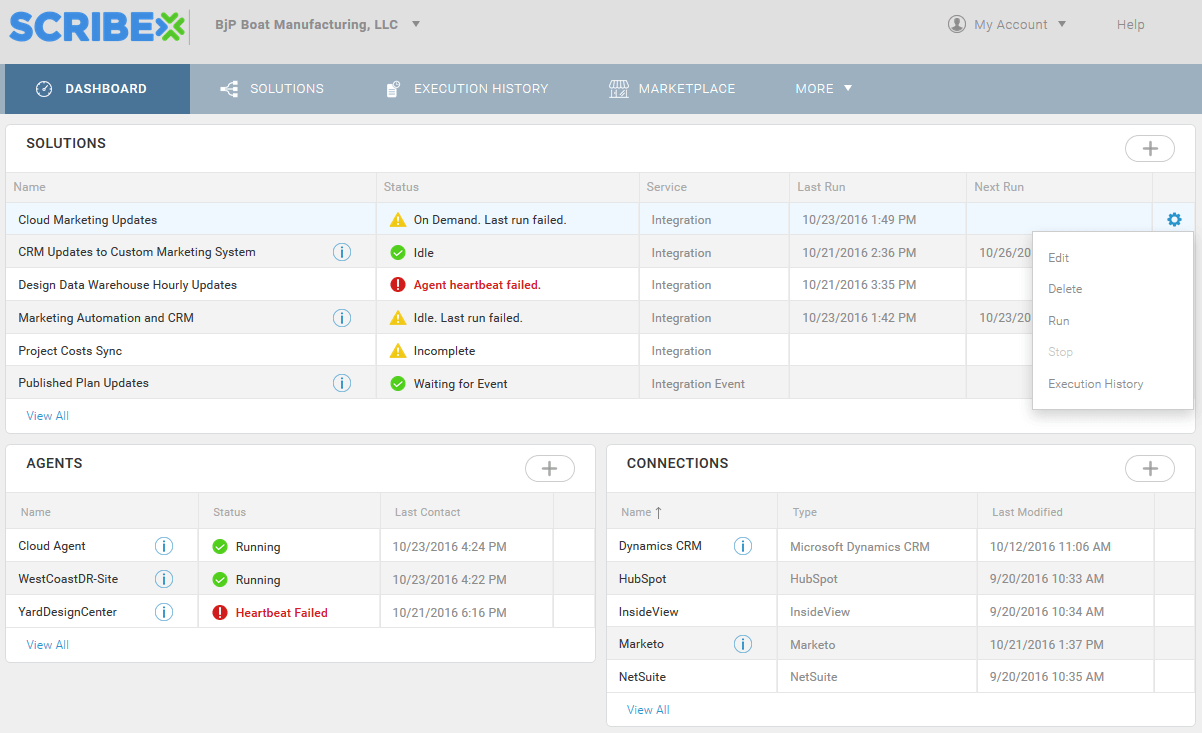 Scribe is a workflow automation tool that lets you document your business workflows. With this platform, you can capture your screen and transform clicks and keystrokes into written instructions.
Scribe is a free Chrome extension or paid desktop application that allows individuals and teams to build unlimited automation workflows.
Furthermore, you can share Scribes via a link or embed it within a CMS, wiki, project management tool, or help center.
The best part? You can enjoy unlimited use for free!
Who Needs Scribe?
Scribe is ideal for all-sized businesses that want to automate workflow while tracking business performance.
Top 5 Workflow Automation Examples
Now that we've discussed the types of automation workflow tools, let's go over several examples:
Example # 1: Creating Tasks
Using an automated task creation system allows you to build and set up an automated workflow with a task management system.
Workflow processes let you notify employees who have been assigned a task.
Example # 2: Managing Leads
Automated workflow systems can sift through hundreds of customer inquiries, populate your CRM with the relevant information, and route leads from marketing to sales.
Example # 3: Generating Invoices
Automated workflow allows businesses to create and send invoices on a set schedule. That way, you can free staff for tasks requiring creativity and strategic decision-making.
Example # 4: Managing Tickets
Automating trouble tickets helps IT teams reduce human errors and efficiently handle requests for technical assistance.
Example # 5: Mitigating' Shadow' IT
Shadow IT refers to technology that employees use without the oversight of the IT department. While employees can use tools independently, one wrong step can cost your company a lot of money.
An automated workflow helps you avoid these problems by installing an alert system that notifies administrators that the IT department hasn't approved.
What is the Difference Between RPA and Workflow Automation?
The primary distinction between Robotic Process Automation and Workflow Automation is that the former focuses on automating individual work activities. On the contrary, workflow automation helps you automate the flow of work via customized processes.
RPA mimics mouse clicks and keyboard strokes to execute business processes. On the other hand, workflow automation helps you enhance collaboration, boost productivity, and avoid communication breakdowns.
Choosing the Right Workflow Automation Software
Here we've included a comprehensive guide to help you find the perfect workflow automation software:
Recognize Your Business Needs –

Consider what tasks you want to automate and which business processes you want to streamline

The Benefits and Use of the Software –

Before you commit to a workflow automation software, consider its benefits and uses. For instance, Octopus CRM is perfect for digital marketers wanting to meet their LinkedIn marketing needs

The Cost of the Platform –

Identify your budget before you choose an automation workflow software

User-Friendly –

Ideally, you want to select software that's easy to navigate and user-friendly
Conclusion
Choosing the perfect workflow automation software can be challenging. However, if you select one of the twelve tools listed above, you can improve your business' productivity and cut costs efficiently.
Consider each tool's pros and cons before making a final decision.