Email marketing is a widespread practice for brands and businesses. Many companies send emails to their customers for different purposes. For instance, if they want to introduce a new product or service, they will send you emails, or even if they have an offer, you can avail.
Businesses believe that their work is done after they have sent the email, but there is more. What if you send your customers an email and they do not open it? How would you know if you do at all? It can be not easy to judge whether your recipient has opened the email and gone through the contents of it.
All your efforts will go down the drain if your recipients do not open the emails. You won't be able to judge what email strategy is working well for your business and what changes you need to make to ensure that. In this case, it is a good idea to track your emails. To improve your email marketing, you can take help from email trackers and get the insights you need to change the outcomes of your marketing strategy. This article will teach what email tracking software is and the best options for Gmail.
Read also: Best Email Marketing Automation Tools
How Does an Email Tracker Work?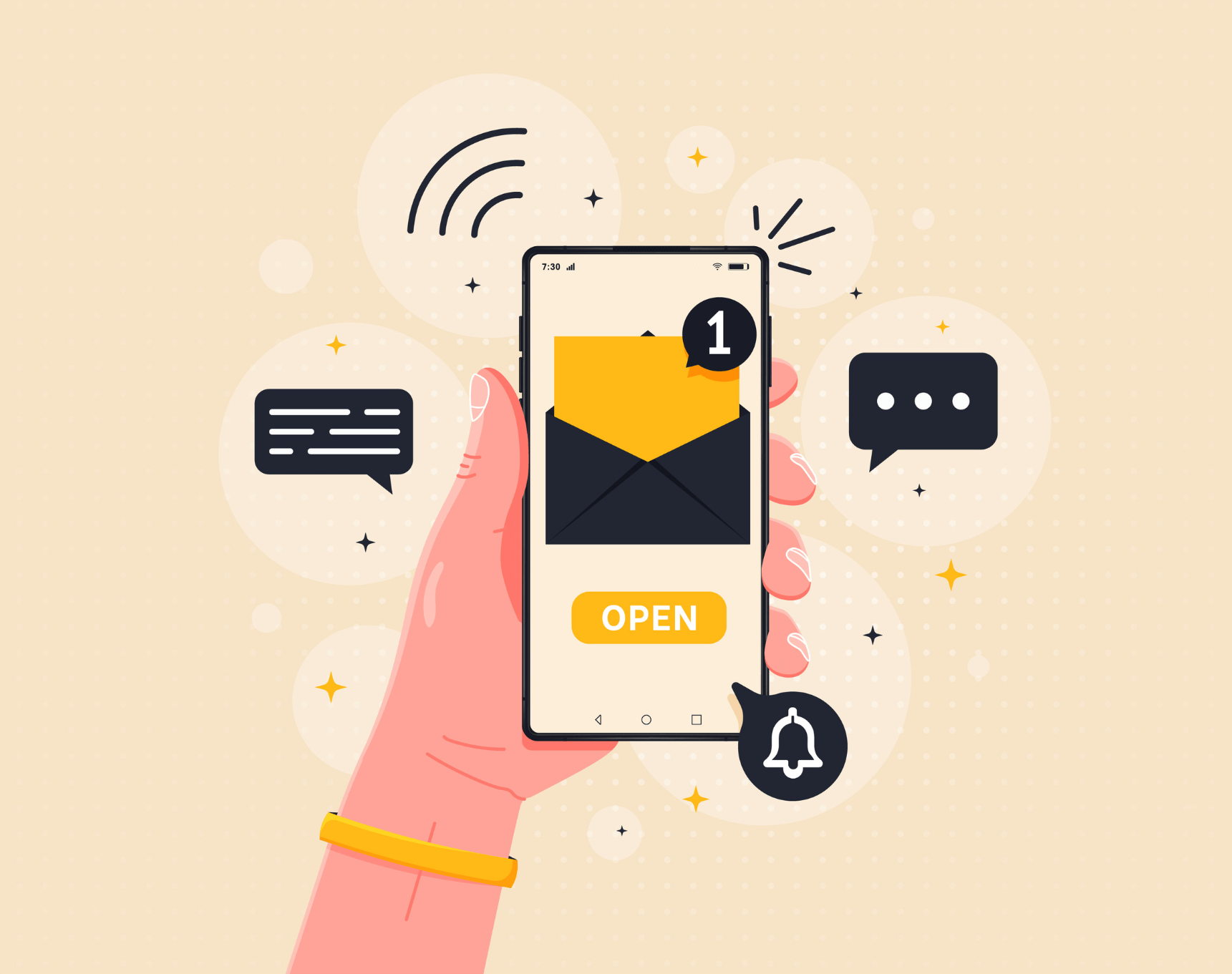 Email trackers work with a simple method of embedding an image into the email. The sender can track whenever the email is opened and viewed by embedding an input image. The pixels of the image stay dormant unless the email is opened and as soon as the recipient opens the email. The pixels are activated, telling you that the recipient has opened the email.
Not just that, but you also get additional details about when the email was viewed, what device was used to open it, and how many times the recipient viewed the content of the email. This allows you to get all the real-time information from the email and what the recipient does with it. Many people wonder if it is legal to track one's email, but when you view it from a business standpoint, it is legal and used for the marketing insights of your company.
On the flip side, there are some limitations to an email tracking system. They will not always give you the results you are hoping for, as they will not work if the recipient uses an ad blocker, and you will not know if the recipient has opened the email. Other than that, if the recipient has enabled the 'ask before' button, the external image will not display. This means that you will need to find out if they have opened the email and gone through the contents. Some security measures block out email trackers, and the sender cannot get through these security barriers.
Related article: Email Outreach Tracking Guide
Advantages of Email Tracker
If you are not sold on using an email tracker for your business, here are some benefits that will show how important it is to use one:
Saves Time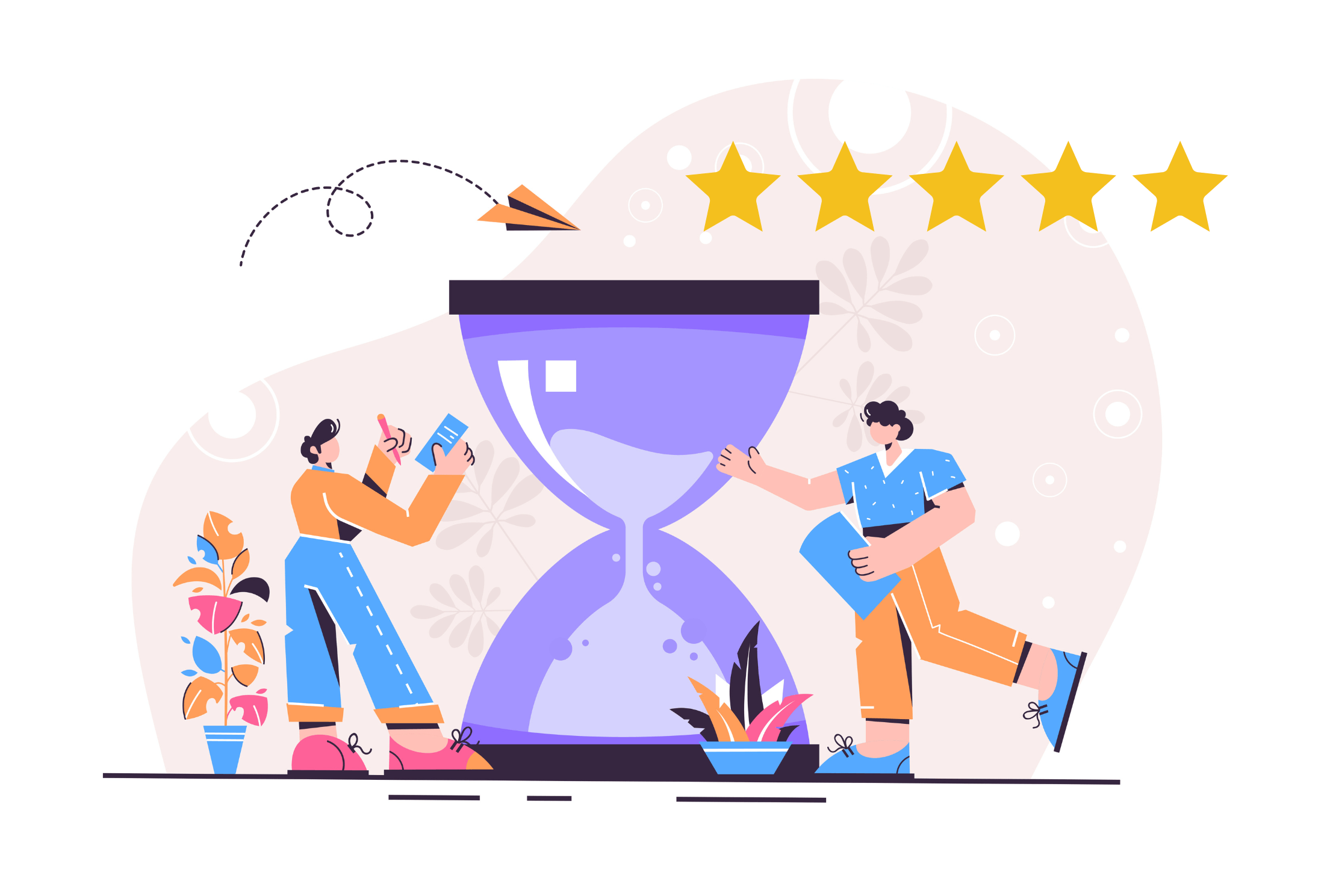 An email tracker will tell you whether your email marketing strategy is working. If your recipients are not opening their emails, all your efforts go down the drain. Knowing this will help you conserve time and work on something that will produce results.
Valuable Insights
By tracking emails, you will know what interests your recipients the most. For instance, you will know how many times someone has opened your email. Other than that, you can also tell if a recipient has opened the links you embed in your content.
Context For The Insights
Using these insights, you can learn about the context. For instance, if your customer has opened your email multiple times but has yet to take action, then that means that they are interested in your business. To nurture their interest, you can send them a follow-up email and push them to take the necessary action.
Who Uses Email Tracking System?
Ideally, email tracking tools are used by business personnel. These people can be the marketers leading marketing strategies, including email marketing. Moreover, even executives can use email tracking to see if their employees or customers have opened their emails.
Recruiters can also make good use of the email tracking system to learn whether potential employees have opened emails and gone through the content on them.
Read also: Free Recruiting Email Templates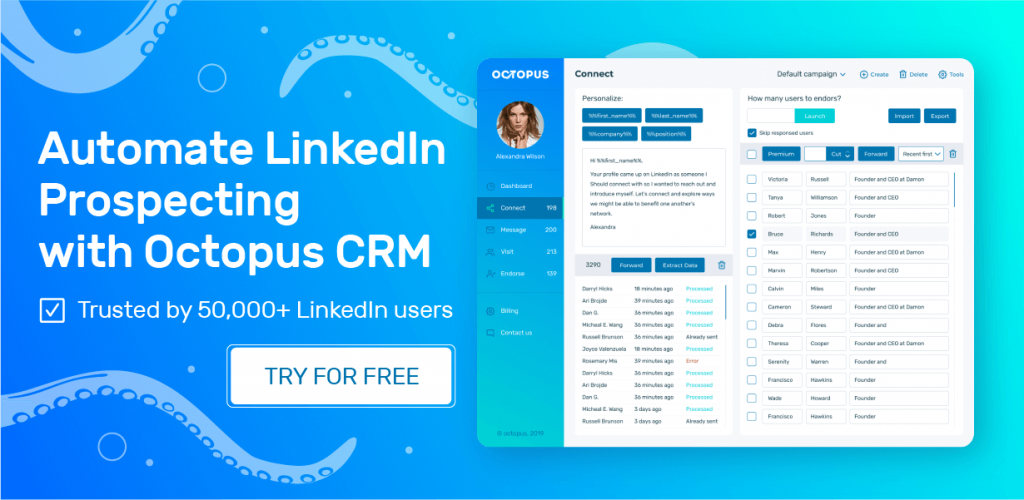 11 Best Email Trackers For Gmail
You can look at these email trackers if you use Gmail to send emails to your customers or clients. There are the best Gmail tracking options to effectively track and get all the insights you need from your emails.
Mailtrack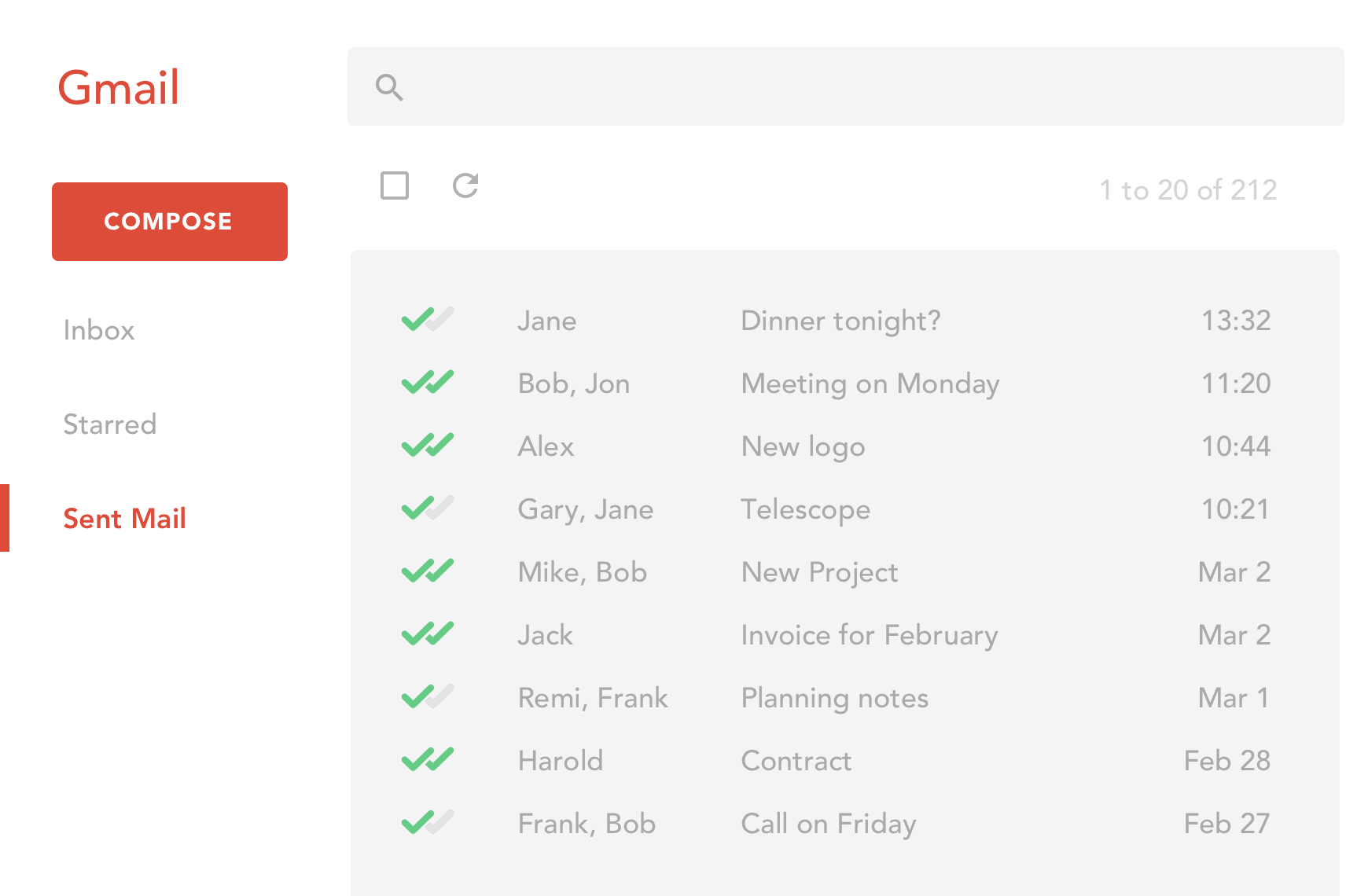 This is one of the top options and has several users all over the globe. The software offers a straightforward method to check whether the recipient has opened your email. It has a two-tick system where one tick signifies the email sending, and the second one shows that the email has been opened. The key features of Mailtrack help set it apart from other software. It is compatible with Google Chrome, and you can use it as an extension. To monitor all the emails, you can use the system dashboard and get direct access to the data on each user. Lastly, you can also quickly tell what percentage of your receivers have clicked on the link and opened it.
It is an easy-to-use tool, but there is only so much you can get in the free version. However, a daily statistical report is a very beneficial tool.
Mixmax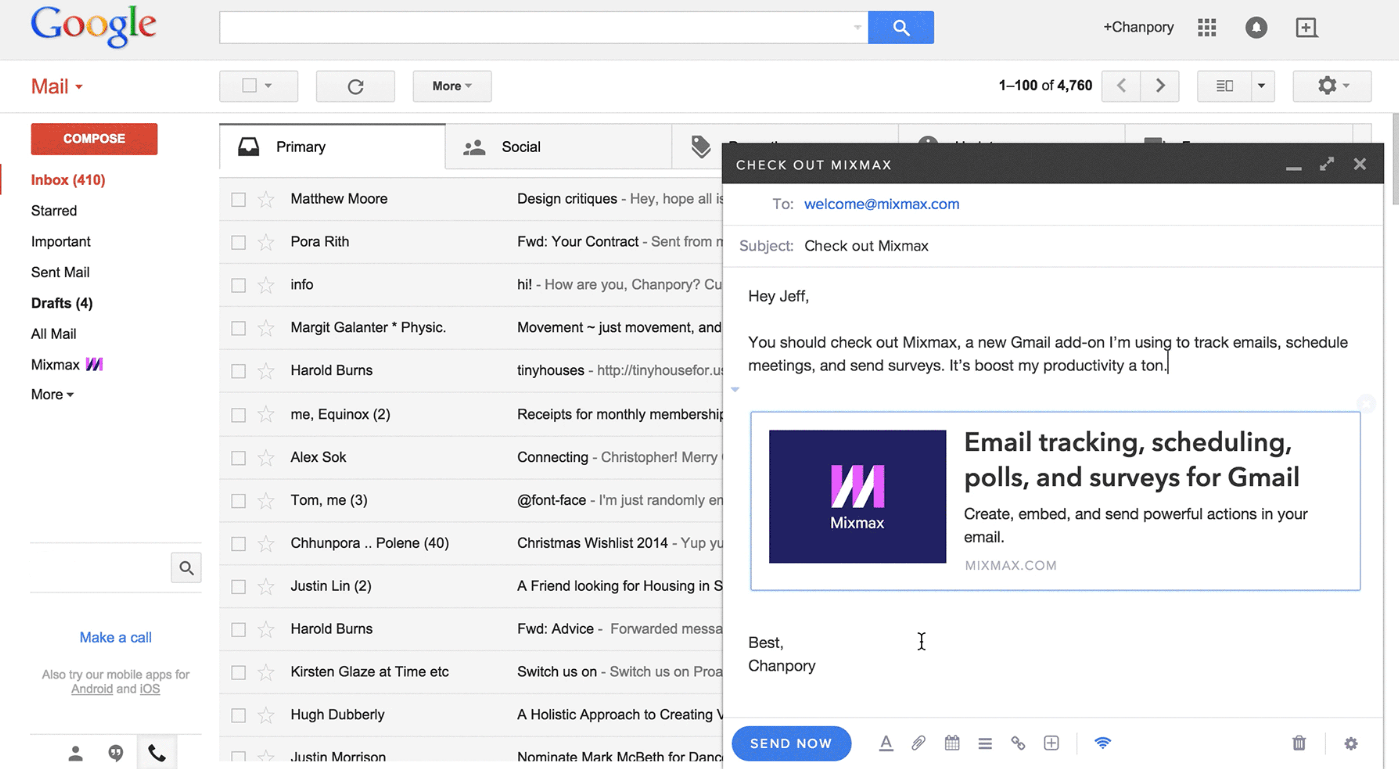 Mixmax also has a lot of fan following. Many users deem it to be one of the top choices, and that is because of its interactivity. Each time a recipient opens your email, the tool will notify you that your email has been opened. It also tells you how many times the recipient has accessed your email.
You can also use this tool for group emails and learn how many recipients and who precisely has opened the email. Not just that but, the email tracking tool also allows you to schedule emails so you can send them whenever you want. If you get a good response on a specific email, you can save the template and use the same email for other recipients. These insights help you come up with better emails and learn what works best for your marketing campaign. The best part about this tool is that you can get instant real-time notifications informing you of all the activity.
Yesware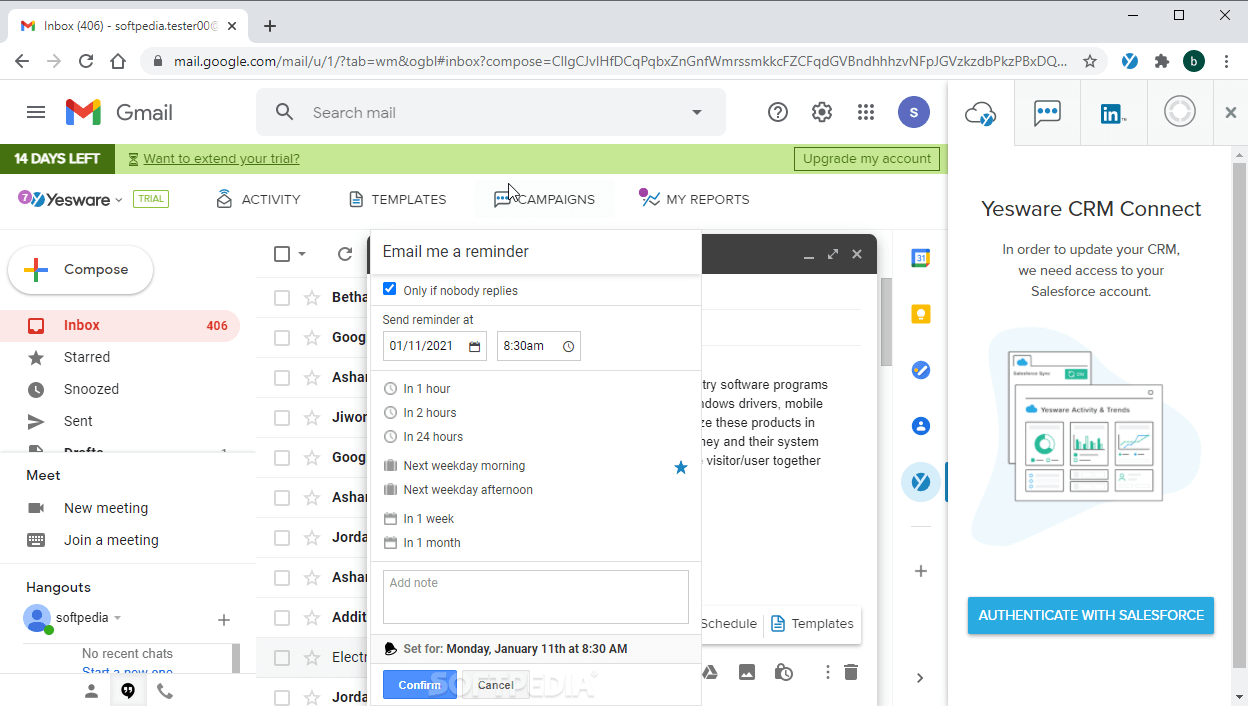 Do you want to get all the details of what happens when a recipient opens your email? You can do that by using Yesware. It is a Gmail email tracking tool that lets you know who opened the email, when they did it and what exactly they saw. The real-time notifications will help you jump to the opportunity and take the right action at the right time. As a marketer, you need to be quick with your response so you can get the best possible outcomes.
The tool is compatible with multi-channel campaigns and can be used if you cater to an immense pool of recipients. With this tool, you can also save your best-performing email as a template. The tool also gives you a comprehensive representation of the user data and how they interact for you to make necessary changes to your email marketing strategy. The only drawback is that you can't directly dial; other than that, it is a handy tool.
GMass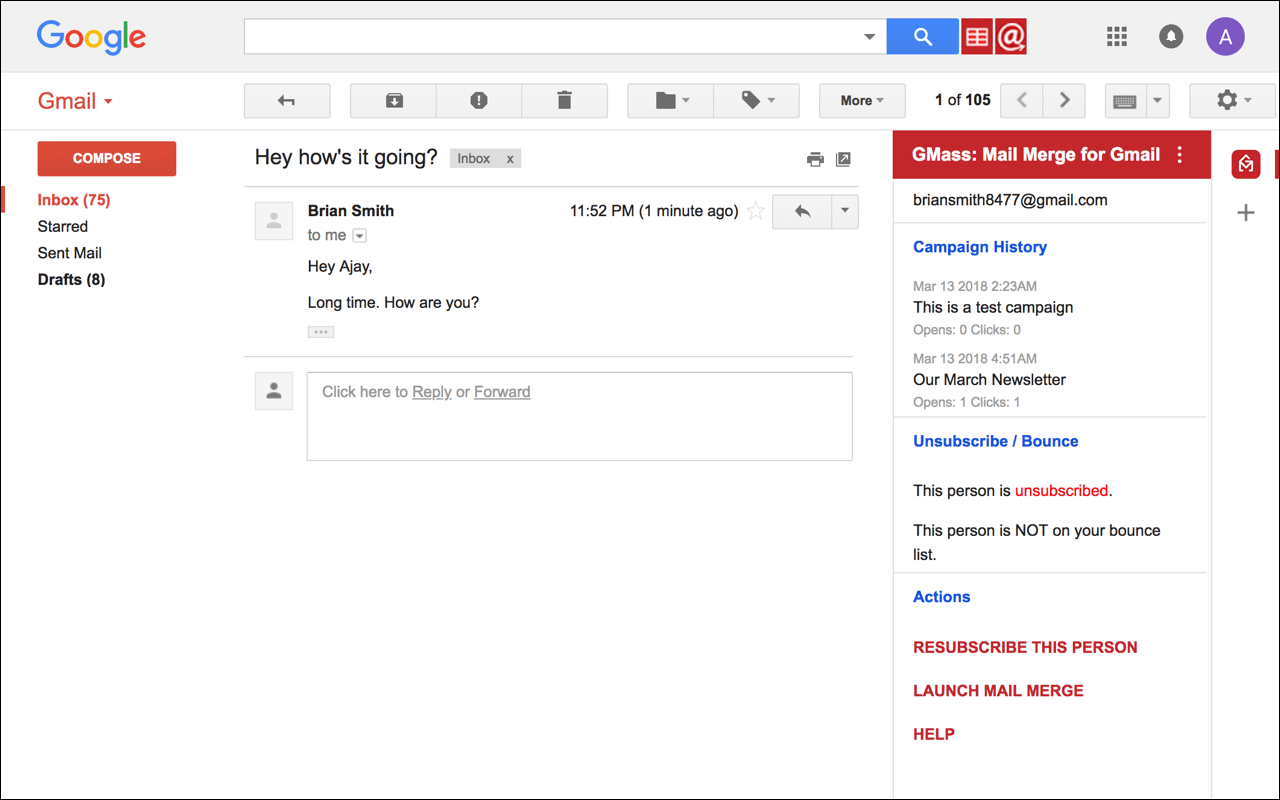 This is a tool, especially for marketing automation. Each time a recipient opens an email, you will get a notification from the tool. You can add it to Google Chrome as an add-on and even integrate it with your Android smartphone, making it easier for you to use. The features are well-designed and make for a great tool to be used by company owners and other staff members.
With the tool, you can access the open rates and bounce and click-through rates. These statistics are convenient when judging the success of your email marketing strategy. Moreover, if you want to see the details of your campaign, the tool will not redirect you to a new window, but you can easily review the details while staying on Gmail.
Moreover, you can extract more details from the tool. You can access the recipient's certified email address and learn the first name. Despite its amazing features, the tool could be more intuitive and can be challenging to use for beginners.
Bananatag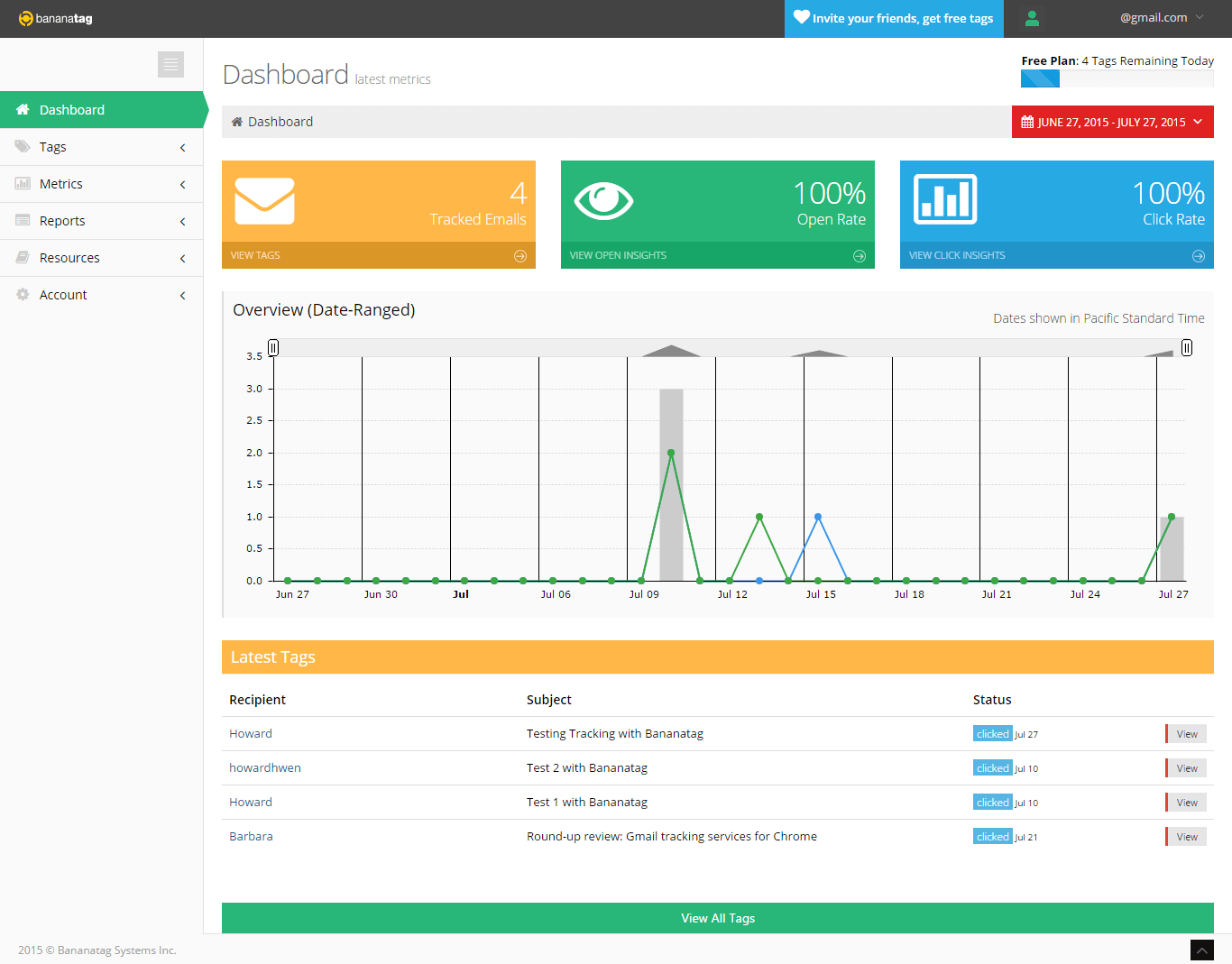 This email tracking tool is exclusively designed for Gmail and Outlook. You can use it to track emails on different computing systems such as iOS, Mac, and even Android. Some of the top features of the email tracking tool include scheduling emails. You can decide on the best time to send your emails and use the tool to schedule the emails for that time.
Moreover, you can also use the email templates you can find in the tool. This can be very helpful for all those who have trouble writing their own emails. If you have attached links in your email, then you can also track them and learn who opens them.
The software provides analytical reports that can show you the details of all the emails you have sent, how many have been opened, and how many links have been clicked.
Streak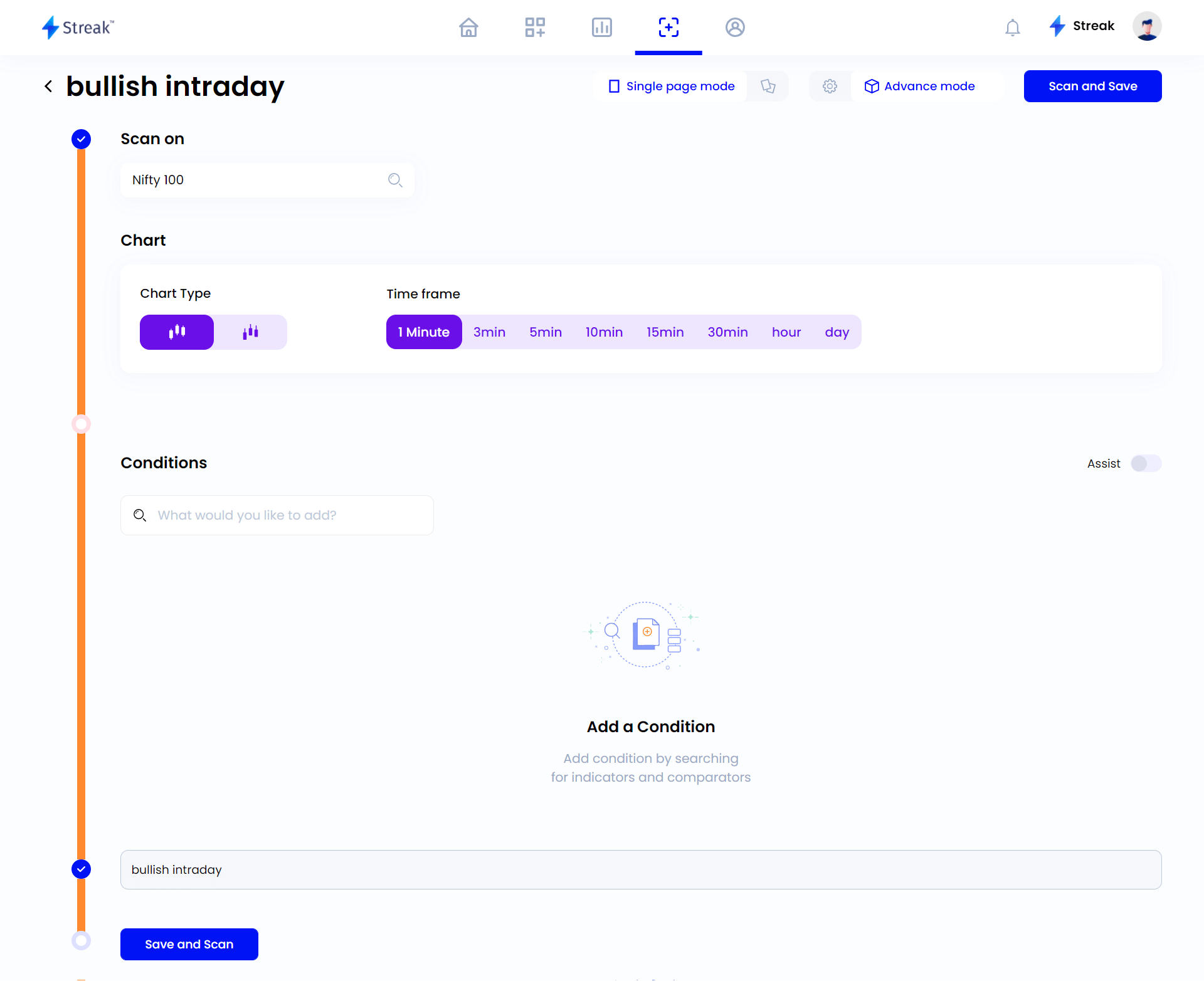 Do you need a fast-performing email tracking platform? Streak is one of the best choices as you can get all the insights into the recipient's behavior with a response to the email you send them. This tool sends you a notification when someone opens your emails. This way you can immediately respond to your customers and make the most of the newfound interest they may have in your business.
You can immediately send an email to the recipients and get the ball rolling. You can tell if the recipient has opened an email if you see an eye symbol next to the inbox. This automated tool will reach out to your recipients as soon as they click on a link you have pasted on your email. This can help you increase your sales.
If you need help with the crafting of the emails, you can use the layouts available on the platform and efficiently craft several emails half of the time. With its history feature, you can easily track all the emails you have sent over time, but there are not many effective marketing tools to help you spread the word.
Gmelius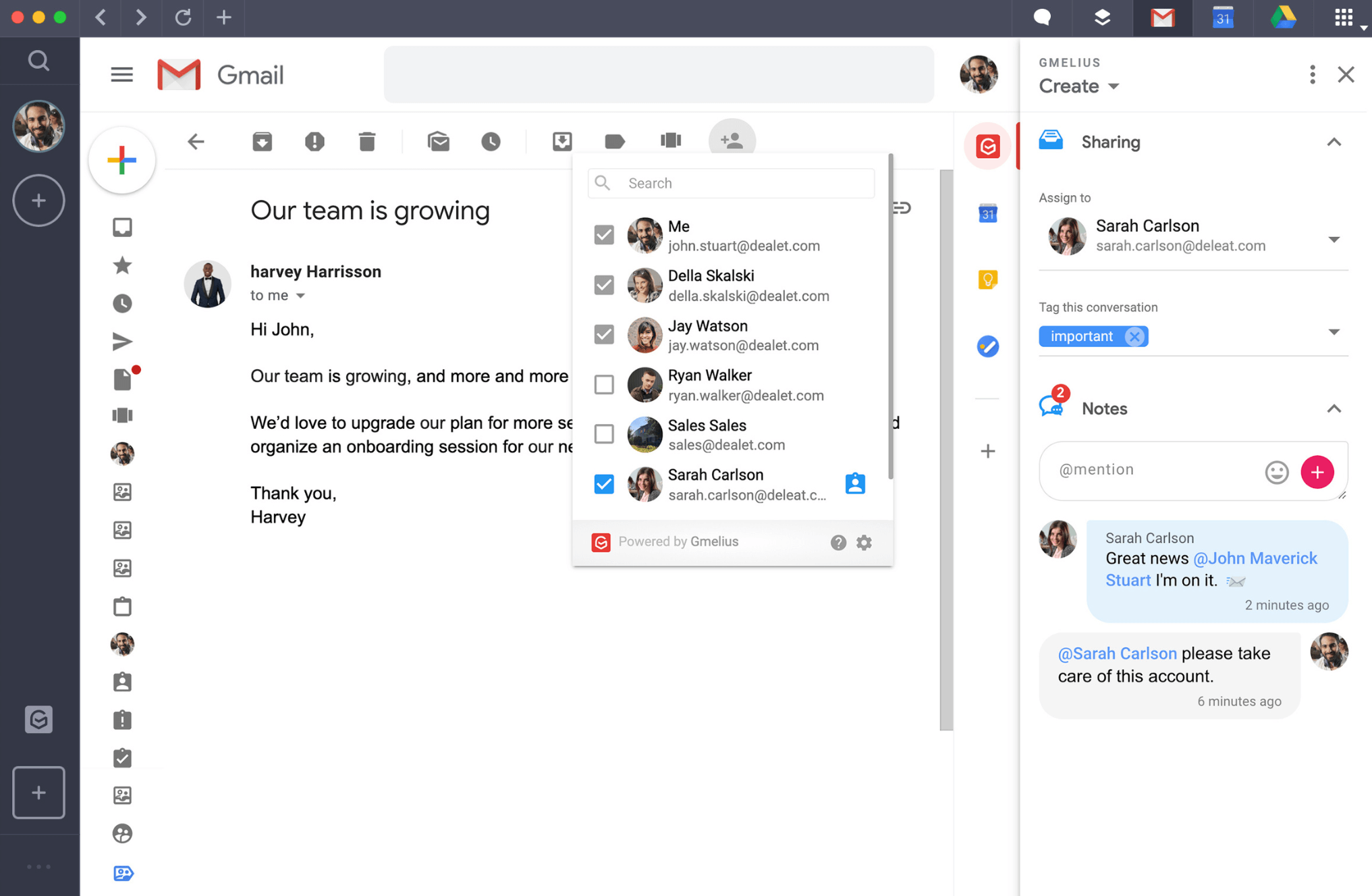 If you are in need of a tool that will automatically track the activity of your recipients when you send out emails, then you must look into Gmelius. The tool will provide you with email tracking reports, and you can determine the level of your client's enthusiasm to plan your next move. The tool is very useful for getting all the insights you need. It will give you not just their level of interest, but you can also get their picture and their location which will help you make necessary changes to your marketing strategy.
You will not find generic stats but complete details of the recipient. Moreover, there are many other features that come with Gmelius, such as email scheduling, to-do lists, and even appointment scheduling. The tool is easy to use, but some users may be confused with some of its more complex features.
MailAlert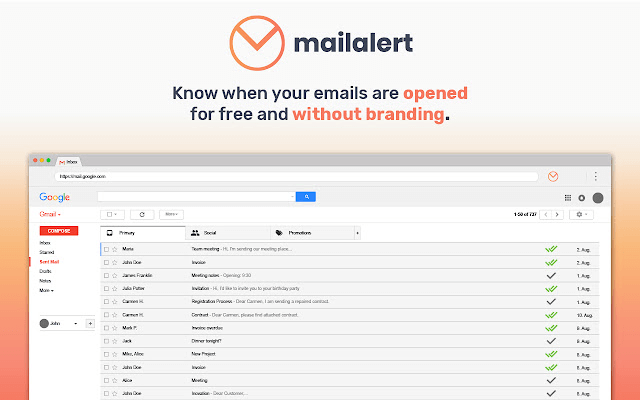 Mailalert is also a Google Chrome extension. This tool gives you the opportunity to track your emails without the use of any unnecessary logos or branding. If you are on the search for a completely free email tracking tool, then look no further. Mailalert offers you free usage of real-time email tracking. You will receive a notification if someone opens your email.
You can use this to cut down on your response time and make the most of your email marketing to nurture your recipients and steer them to make the right steps.
Boomerang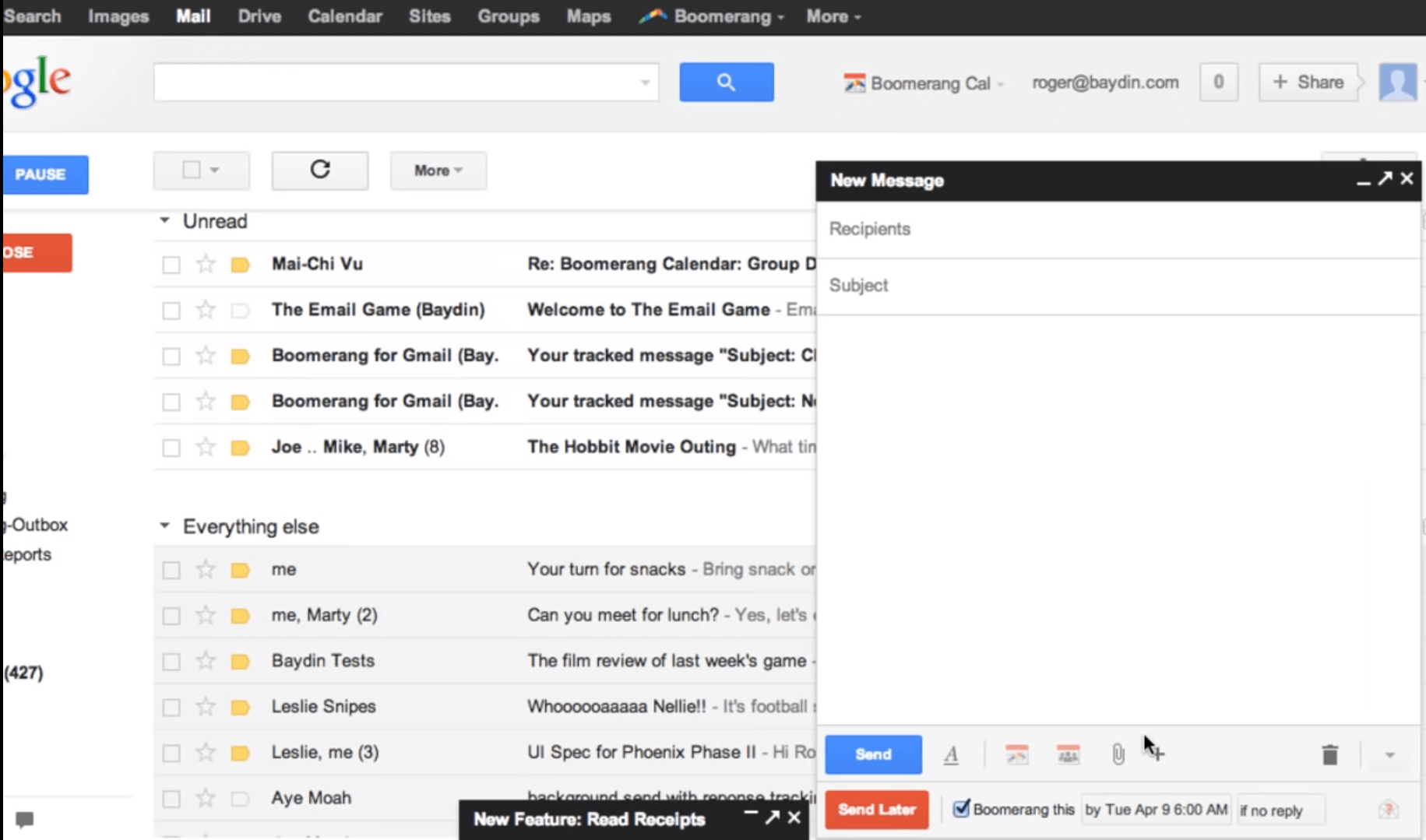 Wouldn't it be amazing to have an application that can help you track your emails? Boomerang is just that and more. It is an email tracking system, and to make it more accessible; you can download its application for both iOS and Android devices.
The tool comes with features such as email reminders. You can track emails and even get reminders to send these emails in the first place. If your recipient does not respond to an email and it has been a long while since you last sent the email, then the tool will send you a reminder to act on the no response.
If you opt for a premium plan, then you can also get the integration you need with a CRM and make your email marketing as easy as it can be.
LeadBoxer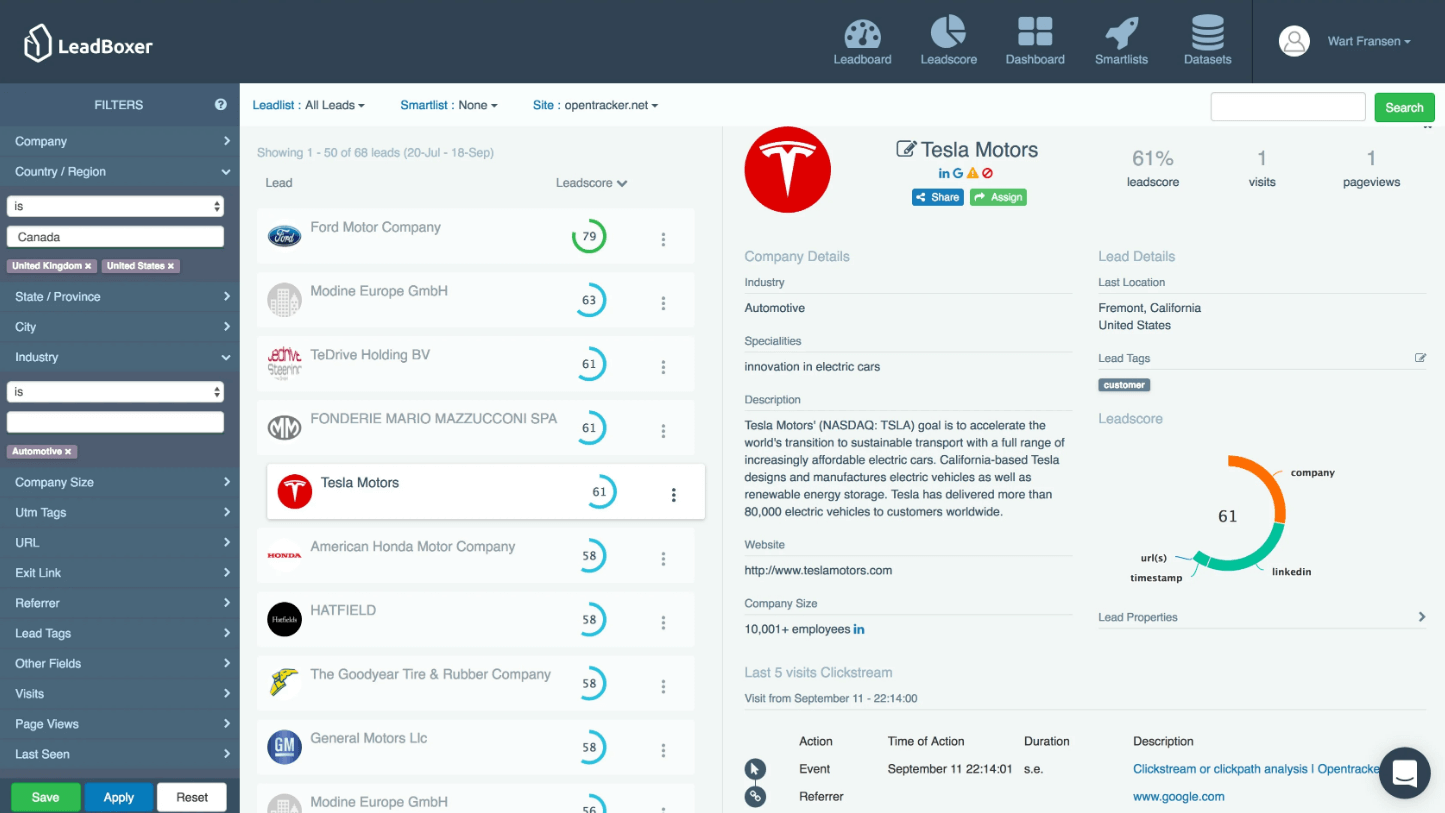 If you want to track all sorts of emails, including email campaigns and individual emails, then LeadBoxer is one of the best tools for you. It can also help you track other attachments on emails, such as newsletters. This tool is basically used to learn more about the behavior of the recipient of the email as well as how they interact with the website. One of the best features of the tool is that it can help you get the information of the visitor as soon as they log on to your website.
You can use filters to get only the information you need and weed out the rest. The customized lead score on the software gives you valuable insights you can use for your email marketing strategy.
SalesHandy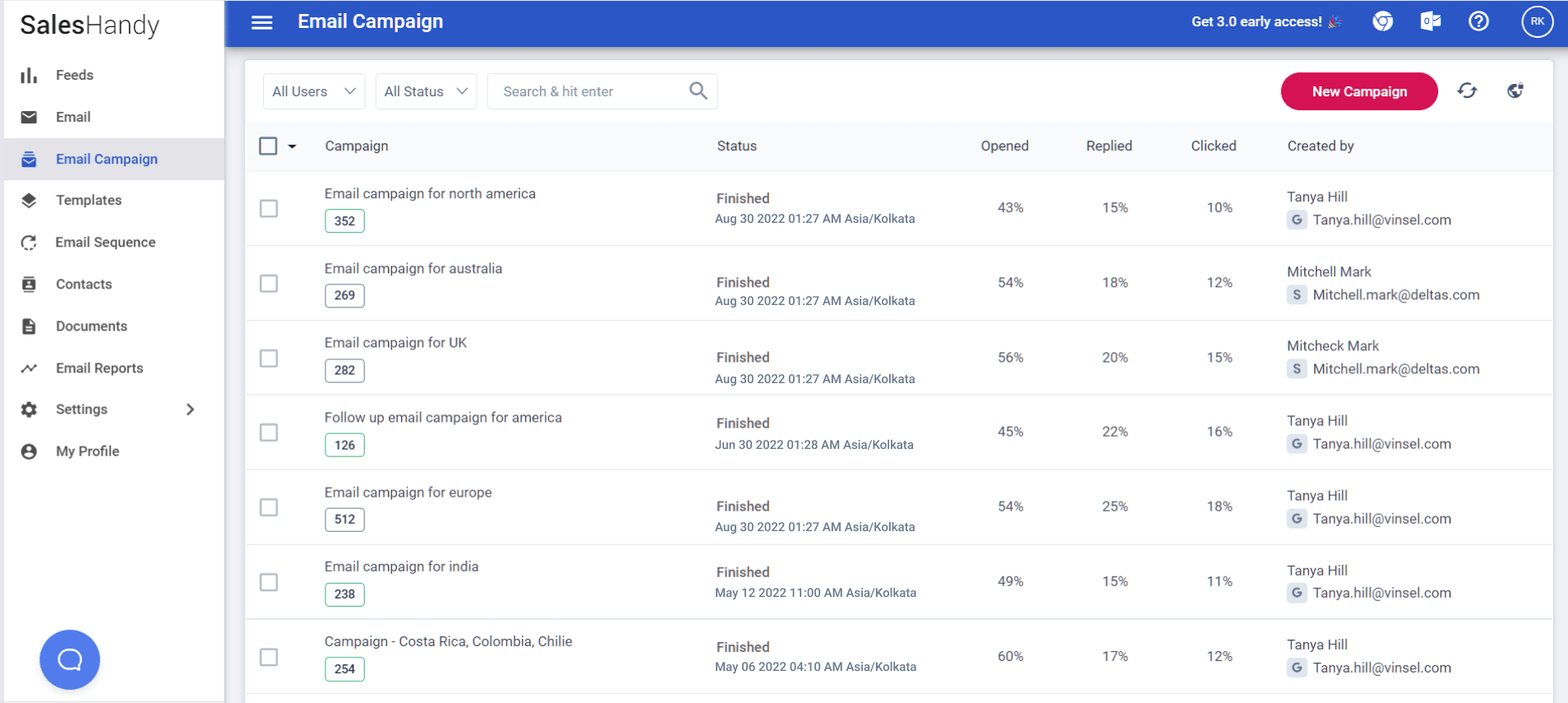 There are several features of SalesHandy that give it a position on this list. SalesHandy offers actions such as sending cold emails, tracking emails, segmentation of campaigns, and even AB testing. Moreover, if you face difficulty when crafting emails, you can use this tool as it provides templates for you to use.
Conclusion
Your emails will go wasted if the recipient does not open them. It is very important to know that your recipients are opening these emails. And if you know that they are not opening emails, then you make necessary changes to your campaigns and get better outcomes. It is a good idea to track your emails, and these tools are very handy. Make sure you get the best one that fits all your needs and can help you improve your email marketing strategy significantly.
This guide is all you need to learn about what email trackers are, how you can use them, and what are the best options for Gmail.