LinkedIn is useful for connecting professionals with coworkers, business partners, and possible jobs. The website lets you make a publicly viewable resumé that showcases your greatest work, speeding up your job search and career.
Using LinkedIn also makes it simple to locate your profile URL, which you can share, add to job applications, or add to your personal website.
Here's how to easily export your Google search results to an Excel sheet and find a LinkedIn URL profile on Google:
What Is the Technique for Finding LinkedIn Profiles URL on Google?
Searching for a LinkedIn Profile URL may seem a challenging task. However, following the steps mentioned below will help to find the LinkedIn Profiles URL easily:
Type "site: linkedin/com/in/" in the search box. You'll observe that your search results will only include LinkedIn profiles. 
There will be the following:
the profile's URL, 

complete name, 

business name or designation
When adding a designation or firm name to the search title, Google does it randomly. Although adding a job title to the profile is excellent, it won't always be the case unless you employ the Google operator "intitle."
Even though you type "intitle: marketing," you will still get results that don't have "marketing in the title." Using "intitle," you can only improve your Google results by including the correct keywords.
Read also: Why You Need Octopus CRM for Recruiters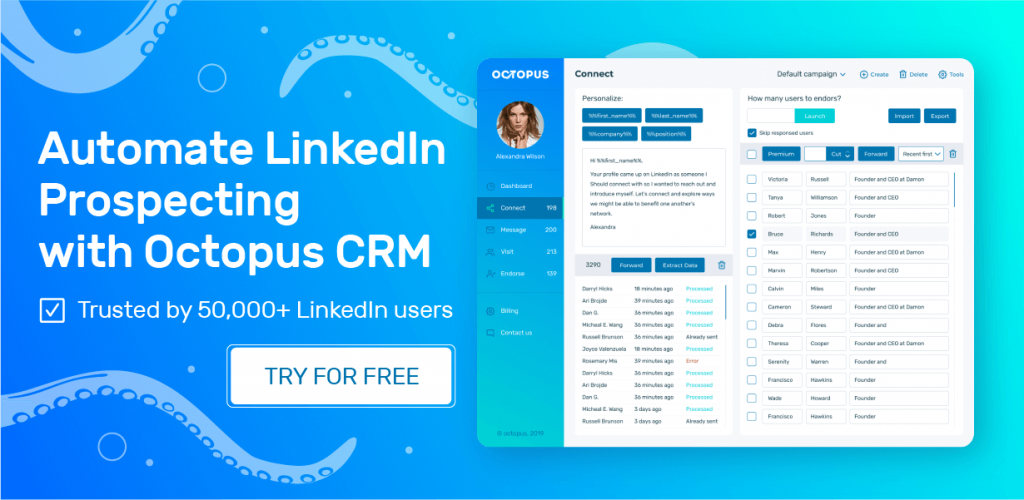 Utilizing Boolean Search Techniques on Google To Find LinkedIn Profiles
To find a LinkedIn profile, use Google's Boolean search function. It operates as follows:
Boolean search is a straightforward programming language that combines punctuation and logical connectors:
AND:

search for several keywords

NOT:

 does not include keywords

OR:

 searches for at least one keyword in a list

Parentheses:

 combine many Boolean operations

Quotes:

 searches for the exact expression of several words
Here, let's use a specific illustration. We'll search the software sector for a Head of Marketing and a Head of Sales. 
You can accomplish this using Boolean search in one of two ways:
Head AND (MarketingORSales) AND Software

"Head of Marketing" OR "Head of Sales"

AND Software
Let's use these keywords in Google Search.
Head of Marketing

Head of Sales

Head of Sales and Marketing
If you access the first profile on the search result, you will notice the keyword "software" appearing on the page as intended.
Even better, you can combine Google with a Boolean operator as follows:
Site: linkedin.com/in/ intitle: Head AND (Sales OR Marketing) software OR SaaS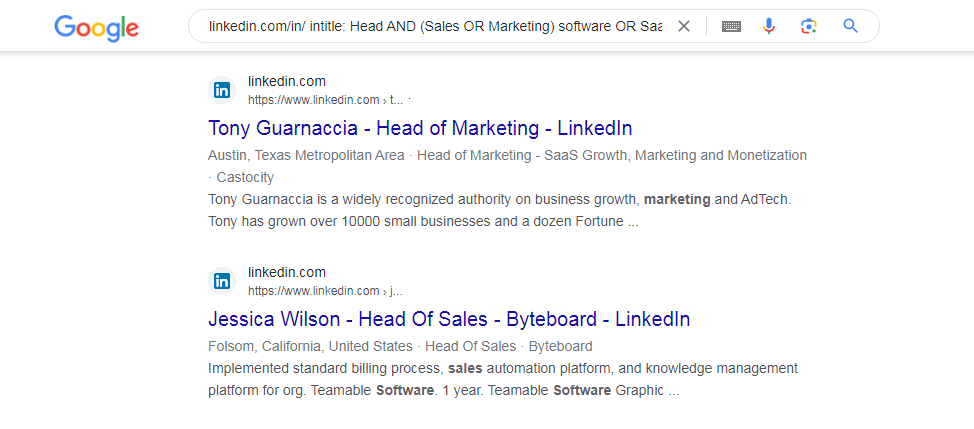 This applies to all profiles that include software or SaaS and have the titles Head of Marketing or Head of Sales.
In the meta-description, remember that the Google algorithm will highlight the keywords if your keywords are present. You have now learned how to search LinkedIn profiles using Google.
The first step is to have this list available to you. But wouldn't a CSV with all of these URLs be preferable? Let us discuss it in the following section. 
Read also: Best Recruitment Automation Tools
What is the Method to Extract Your Google Search Results?
Here is how you can extract your Google Results:
Using Automated Web Scraping Tools
This method of capturing Google search results uses automated web scraping tools. These scraping programs are typically more complicated to use and scale than standard web scraping tools but require more PC setup. These web scraping tools can quickly scrape hundreds of Google results.
The scraper opens search engine results pages for the entered term one by one once it has been configured and extracts the search results from those pages. You may export hundreds of search results in a few minutes.
SEO Minion Chrome Extension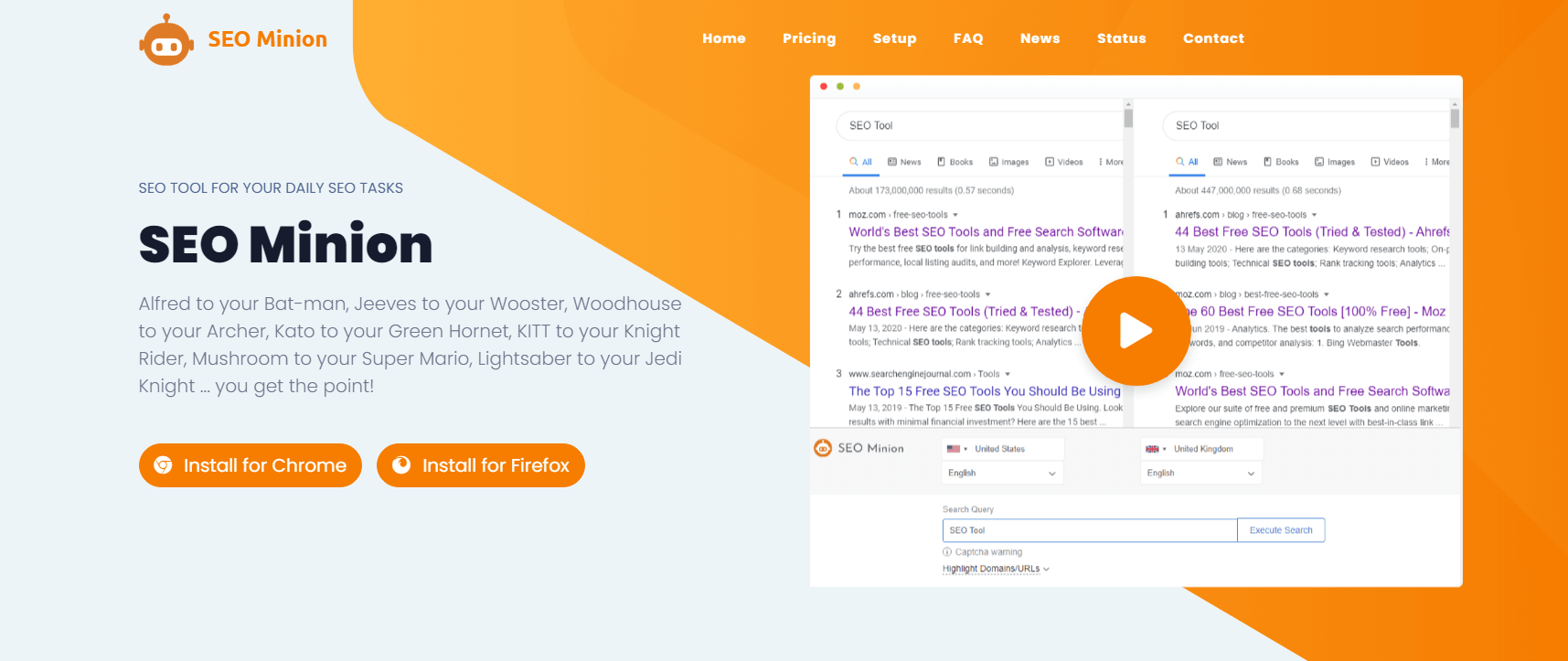 You may quickly export Google SERP to a spreadsheet with the help of the free Chrome addon SEO Minion. Also, the extension assists you with other tasks like on-page SEO analysis and broken link checks.
Using the addon to export search results is quite simple. Follow these steps:
First, download SEO Minion.

Search the phrase if you wish to export the results.

Choose Download and All Organic Links, then press the Go button.
Search for the term you wish to export the results for on Google, choose Download from the extension's list of options, then click Go.
Your computer will immediately download a CSV file containing the organic search results. Open it in Excel and convert the file to an XLS file.
Change Google's search result settings to display 20, 50, or even 100 results if you need to copy over ten at once.
Use SEO Tools 
You may browse and download the search results from Google to your computer using the majority of SEO tools, although it's not the best strategy. Use the SEO tool and type in your term to start searching.
You can now export 10, 20, or more results by clicking the Export option.
Read also: LinkedIn Recruiter Lite vs LinkedIn Recruiter
Are there any Limitations When Searching LinkedIn Profiles on Google?
Google search filtering is its primary drawback regarding LinkedIn profiles. While you may use Boolean operators and search, you cannot filter results based on specific factors like industry, company size, years of experience, etc.
As you must create lists of qualified leads and obtain their LinkedIn URLs, the LinkedIn Sales Navigator is the best tool available.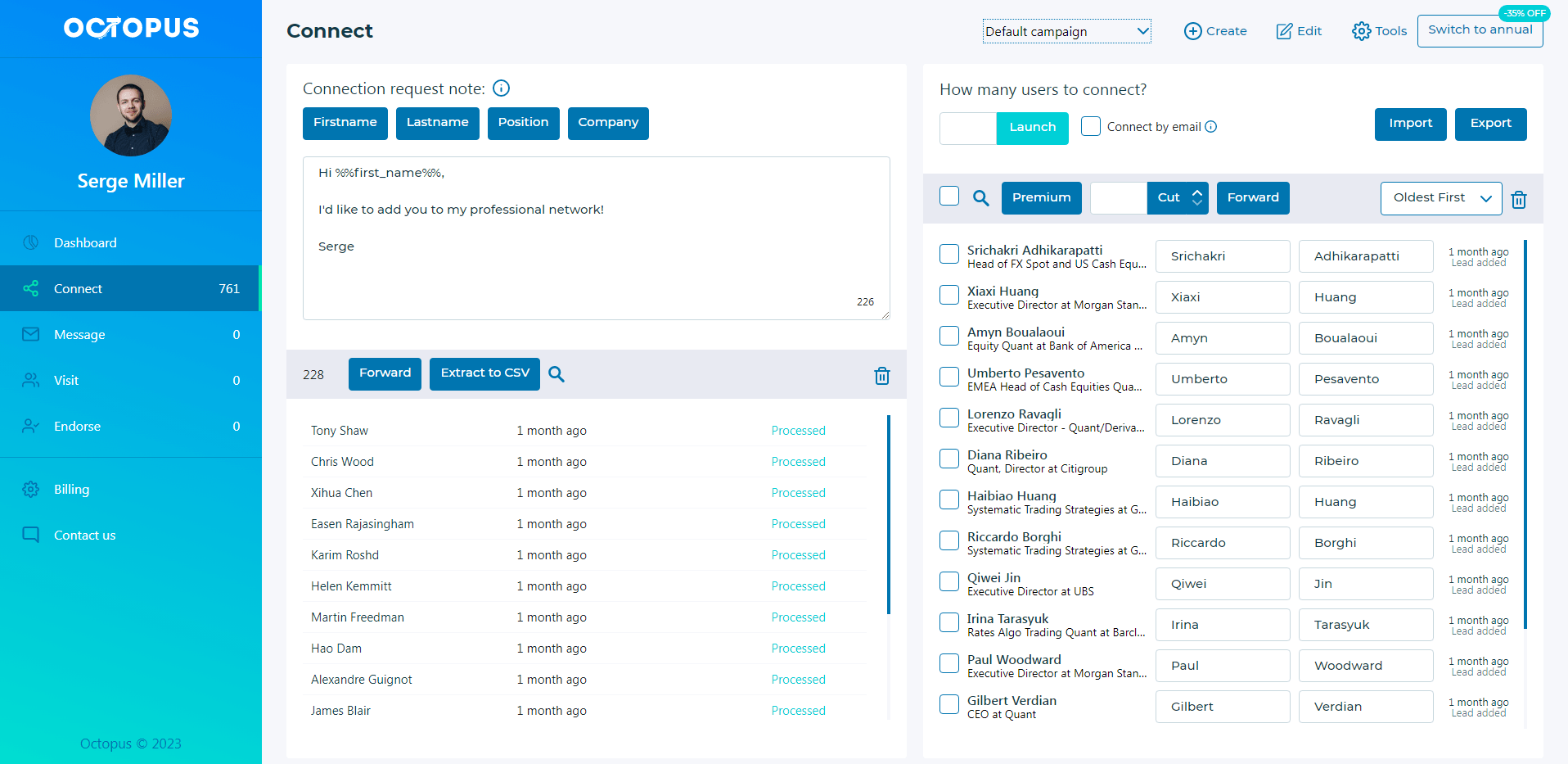 You can extract over 2500 leads daily using Octopus CRM LinkedIn automation solutions and LinkedIn Sales Navigator and obtain their email address and LinkedIn URL.
You may acquire helpful information with Octopus CRM, including the company website; company industry; company specialty; the number of connections; and more.
Moreover, you also automatically change the sales navigator URLs into LinkedIn URLs to ensure that the LinkedIn profiles list is clean.
Conclusion
An excellent technique to get around LinkedIn's search limit and quickly assemble qualifying lead lists is to conduct Google searches on LinkedIn profiles.
The best LinkedIn automation tools, such as Octopus CRM, on the other hand, might be worth a look if you want incredibly accurate results.