In today's oversaturated market, talent competition is fierce. Of course, this isn't news for recruiters; after all, it's their job to source the best candidate for the vacancy in your company.
With massive responsibilities to source, screen, interview, and hire the best employee while hitting KPIs and benefitting the company's strategic goals, it's easy to get overwhelmed.
Therefore, companies are turning to recruitment automation tools to combat task overload and breathe a sigh of relief. This is your one-stop guide if you haven't used recruitment automation software before. In this blog post, you'll learn:
What are recruitment automation tools, and how can you use them

Why you need LinkedIn automation tools

The 12 best automation tools for recruiters

Steps to choosing the best automation tool
Let's get started!
What is Recruitment Automation Software?
Insightful research reveals that 76% of hiring managers believe attracting the right candidate is the greatest challenge. In addition, 63% say talent shortage is the top challenge.
Hiring managers and talent recruiters face many challenges while seeking the perfect candidate. Recruitment software can help automate recruiting tasks to save time, speed up the hiring cycle, and attract "in-demand" top talent.
Recruiting automation tools traditionally come under the HRM category that improves HR processes, like posting jobs, screening candidates, and captivating candidates. Recruiting automation software can help HR teams streamline the sourcing and hiring process.
What is a LinkedIn Recruiter?

Research shows that over 90% of hiring managers and talent recruiters use LinkedIn to attract the best candidate. LinkedIn provides professionals with an all-in-one hiring platform to save you time spent on mundane and repetitive tasks.
LinkedIn Recruiter over 1.6 million talent recruiters and hiring managers find the right people. In addition, it offers efficiency by cutting down hiring time and providing advanced search filters.
Why Use Recruitment Automation Tools
Intelligence Group's HR Technology Survey report shows that HR professionals spend 50% and 30.6% of their time on manual data input and adjustments, respectively. These time-consuming tasks create obstacles to meeting reporting deadlines, increasing error risks and reducing workplace efficiency.
By automating these tasks, HR teams and hiring managers can focus on fostering a healthy, happy, and productive work environment. In addition, you can enjoy the following pros:
Improve productivity and cut processes

Ensure easy scheduling, organization, and prioritizing

Enhance communication, talent engagement, and the candidate experience

Streamline data collection to enable you to reuse and revamp it when creating future strategies

Access an extensive talent pool and valuable insights

Reduce HR budget and boost speed
Top 8 Benefits of Recruitment Automation Tools
You've learned that recruitment automation helps keep your potential employee's quality by streamlining data collection and eliminating mundane tasks. But that's not all!
Here's we discuss the benefits of recruitment automation tools:
Improves Accuracy
HR automation tools provide talent professionals and recruiters with more accurate data to make better hiring decisions. But unfortunately, no matter how well-managed and efficient your organization is, you cannot avoid making human errors – at least not without state-of-the-art technology.
Since HR managers and talent recruiters always have much work to do, eliminating mistakes is impossible. These errors cause enormous rework, consume money, and require time- all affecting workplace efficiency and employee morale.
By implementing HR automation tools, your HR team can streamline its workflow by breaking the complexities, reducing mundane tasks, and eliminating human errors.
Saves Time
HR managers must complete many tedious tasks, like filling out forms, completing paperwork, and assessing hundreds of documents.
Recruiting automation tools provide time-saving capability by performing time-consuming manual tasks with unmatched accuracy. Therefore, recruiters and HR managers can improve productivity and prioritize tasks more efficiently with recruitment automation tools.
Furthermore, recruitment automation tools save time by automating monotonous tasks and bridging the gaps in the recruitment process.
Cost-Effective
Another excellent advantage of using recruitment automation tools is that you can cut costs by reducing human errors and repetitive tasks. By using these automation tools, you can selectively automate your recruiting process and avoid investing money in invaluable features
In addition, recruitment automation tools don't require excessive investment and maintenance fees. Most software provides pay-as-you-use models, allowing all-sized businesses to accelerate their hiring process without exceeding their budget.
Enhances Consistency
With competition increasing daily, the recruitment space becomes increasingly complex. It calls for consistency in recruitment, which manual work cannot offer.
Since every recruiter sees things differently, any process from scratch will be unique depending on the HR professional who sets it up. While recruiters can stay consistent through checklists, inconsistency tends to occur due to intervention.
Recruitment automation tools enhance consistency by eliminating variable outputs and finding identical processes. With recruitment software, you can ensure all tasks remain uniform, regardless of complexities. As a result, you can avoid result variations and process irregularities.
Enables Streamlined Data Collection
Recruitment automation software enables you to receive applications from different sources, including job boards, LinkedIn, and your website. In addition, these tools can help collate valuable data on applications and analyze them to help you make better business decisions.
Furthermore, you can collect other valuable data like the number of people who clicked on your Job Ads, the number of respondents, and the number of applicants for a particular role. With the right recruitment automation tool, you can streamline your data flow.
Improves Communication
One thing that chases top talent away is delays in communication or radio silence. Integrating a recruiting automation tool into your workflow ensures you don't miss milestones and follow-ups. In that way, you can keep communication flowing and attract in-demand talent.
Boost the Quality of Hire
In addition to improving recruiting efficiency, automation tools also enhance the quality of your hiring efforts. With the help of a recruiting automation tool, you can hire strong candidates based on characteristics that secure job success.
Enhances Candidate Experience
Automation tools take repetitive and time-consuming tasks off your shoulder, freeing up time you can devote to building relationships with candidates. In addition, automation of the recruitment process makes a lasting first impression as candidates experience a streamlined experience and don't have to wait long for responses.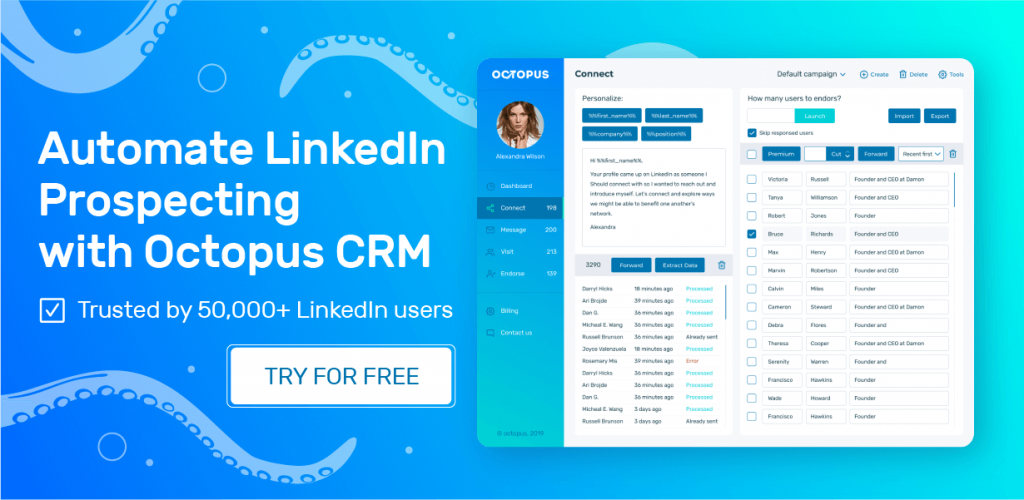 How to Automate the Recruitment Automation Process
Investing in recruitment automation software does not mean taking the 'human' out of HR. Instead, it means saving valuable time to find the best candidates while enhancing the overall candidate experience.
Let's discuss the top five tips for automating the recruitment process:
Candidate Sourcing
Talent professionals and recruiters can automate candidate sourcing by using advanced tools to identify passive but qualified contacts and nurture applicants. When done right, automated candidate sourcing is a powerful way of attracting new contacts in your recruitment funnel.
Here's how you can leverage your recruitment automation tool to source candidates:
Create the perfect candidate persona based on requirements, skills, and personality traits that ensure job success

Create a centralized profile by utilizing available sources and data

Engage qualified candidates by sending automated and personalized outreach messages
Social Recruiting
Since 98% of recruiters use LinkedIn to post jobs and recruit talent, they're likely on other social media sites, including Instagram, TikTok, Twitter, and Facebook. Considering your candidates are probably active on social media, so why not meet them where they are?
You can use various social media recruiting strategies to connect with qualified job seekers. For instance, you can automate recruitment posts or launch a campaign to reach potential candidates.
Scanning your employees' connections and analyzing data from social networking sites also helps you source candidates. Recruiters may use LinkedIn's Talent Solutions or automation software to achieve this.
Candidate Pre-Screening
Automating candidate pre-screening with your recruitment automation software can analyze applicants and pre-qualify those who are fit to move forward. For instance, intelligent resume screeners evaluate applicants' experience, characteristics, and skills based on their resumes and profiles.
At the same time, built-in chatbots and virtual recruitment assistants help gather basic information about candidates to identify the most qualified candidates. They can ask and analyze questions and interact with candidates, thus saving you time to connect with potential employees.
One or Two-Way Video Interviewing
It's no secret: voice call interviews are terrible. Not only are they time-consuming and repetitive, but they provide a poor impression of candidate quality. Plus, they're inconsistent.
Unfortunately, this can risk damaging your company's candidate experience and reduce the quality of hires as the top talent seeks better opportunities.
Replacing telephone calls with one-way video interviewing helps automate the process, improve consistency, and boost efficiency. Despite reducing time, one or two-way interviews provide a more vibrant picture of candidates.
Automated Translations
You might have to spend hours translating your process into other languages if you're recruiting internationally. And unless you have native-speaking recruiters for every country, recruiters and candidates will likely be forced to interview in a language they feel less comfortable with.
It causes misjudgments and reduces the candidate experience, which impacts the quality of the hire. Improve your hiring process using recruiting software that automates localization so candidates can interact with you in their language.
12 Best Recruiting Automation Software
Now that we've discussed the benefits of recruiting automation software, why don't we discuss the top twelve tools?
Here's a comprehensive list of the best automation software to improve the efficiency and success of your hiring process:
Octopus CRM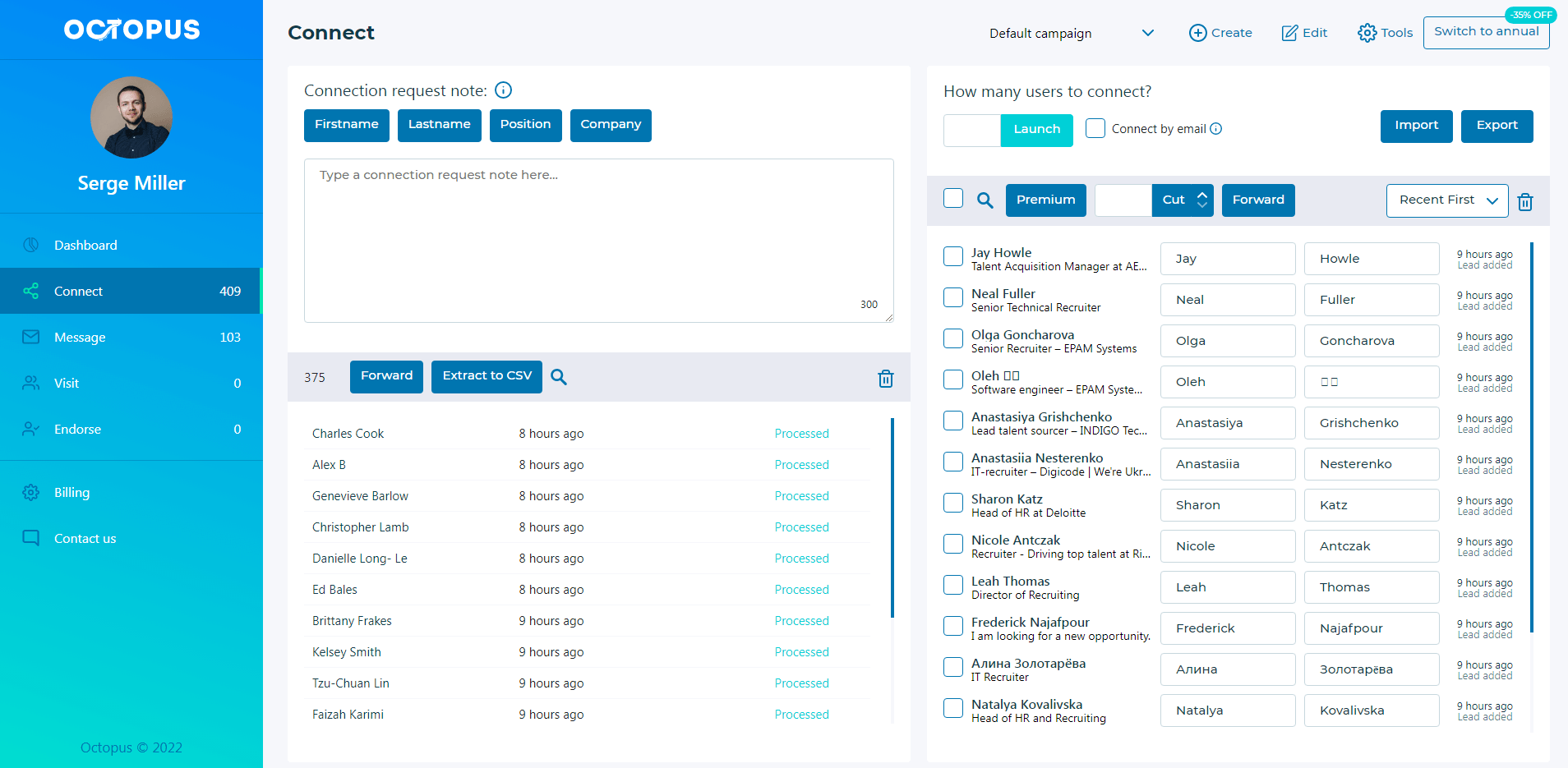 Automate your candidate recruiting and nurturing process with the help of Octopus CRM. The all-in-one LinkedIn automation tool enables you to simplify prospecting and sourcing efforts with its advanced automation software.
With Octopus CRM, hiring managers and recruiters can streamline their LinkedIn recruiting process. The robust yet straightforward autopilot allows you to send automated yet personalized messages to passive yet qualified candidates. 
In addition, Octopus CRM allows talent recruiters and hiring managers to visit the profiles of strong candidates automatically. That way, you can encourage LinkedIn users to visit your website, check it, and apply for job vacancies that match their needs.
Pros
Easy to use

Allows you to bypass LinkedIn's email and message limits safely

Affordable
Cons
Fewer personalization options
Pricing
Octopus CRM's basic plan starts at $6.99, and its unlimited plan costs $24.99 monthly.
Dripify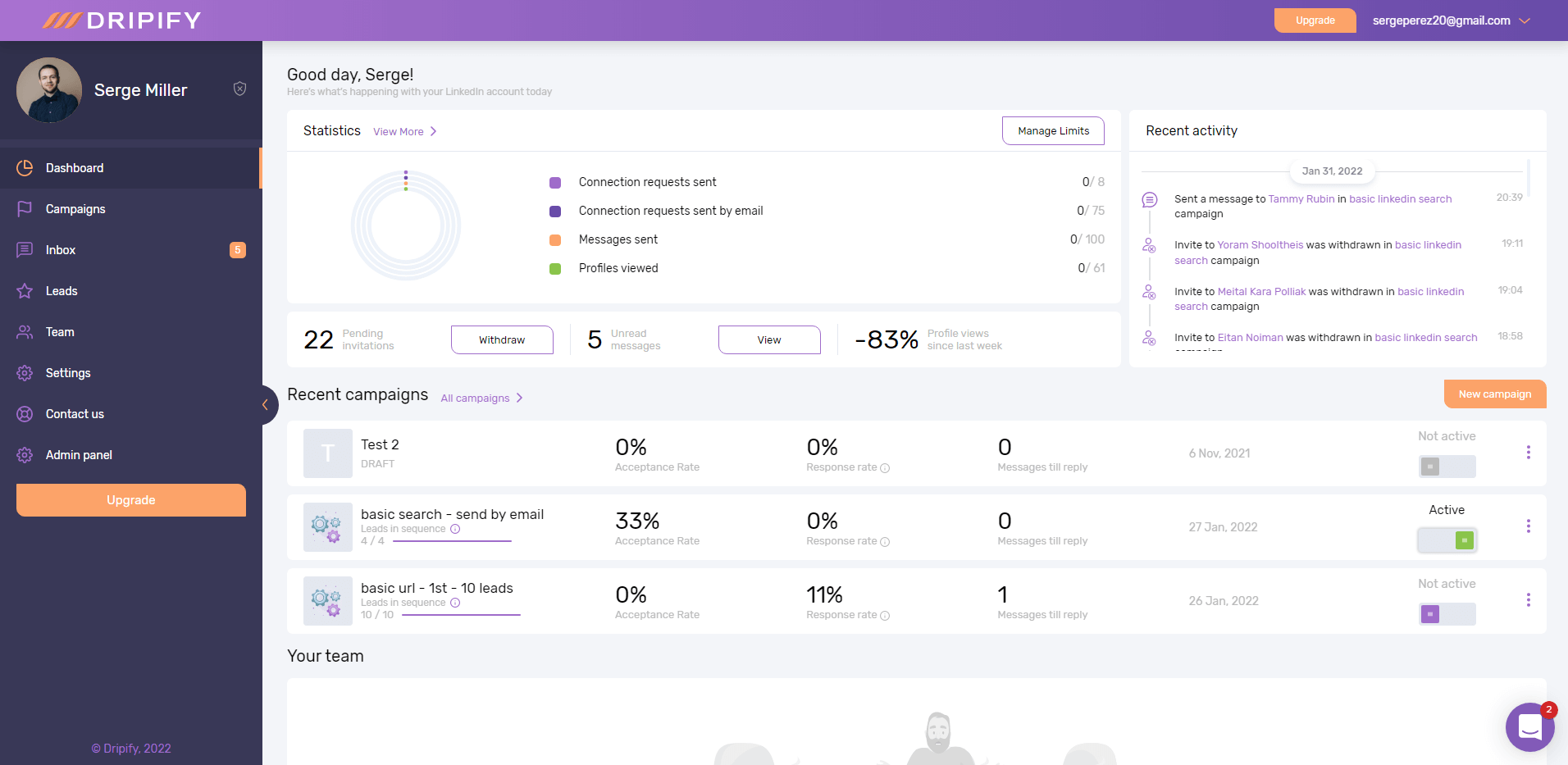 Dripify is a fantastic LinkedIn automation tool that helps users to set up their sales funnel quickly. Its multiple features allow users to improve LinkedIn prospecting and close deals quicker. Also, users can expect lead generation and revenue boost while enjoying reduced costs. Dripify helps in enhancing loyalty, engagement, and lead generation.
Pros
Clean user interface

Advanced algorithm

Cloud-based tool

Easy-to-use

Well-explained tutorial videos
Cons
A mobile app isn't available
Pricing
The Basic plan costs $59 per month for a single user.
LinkedIn Recruiter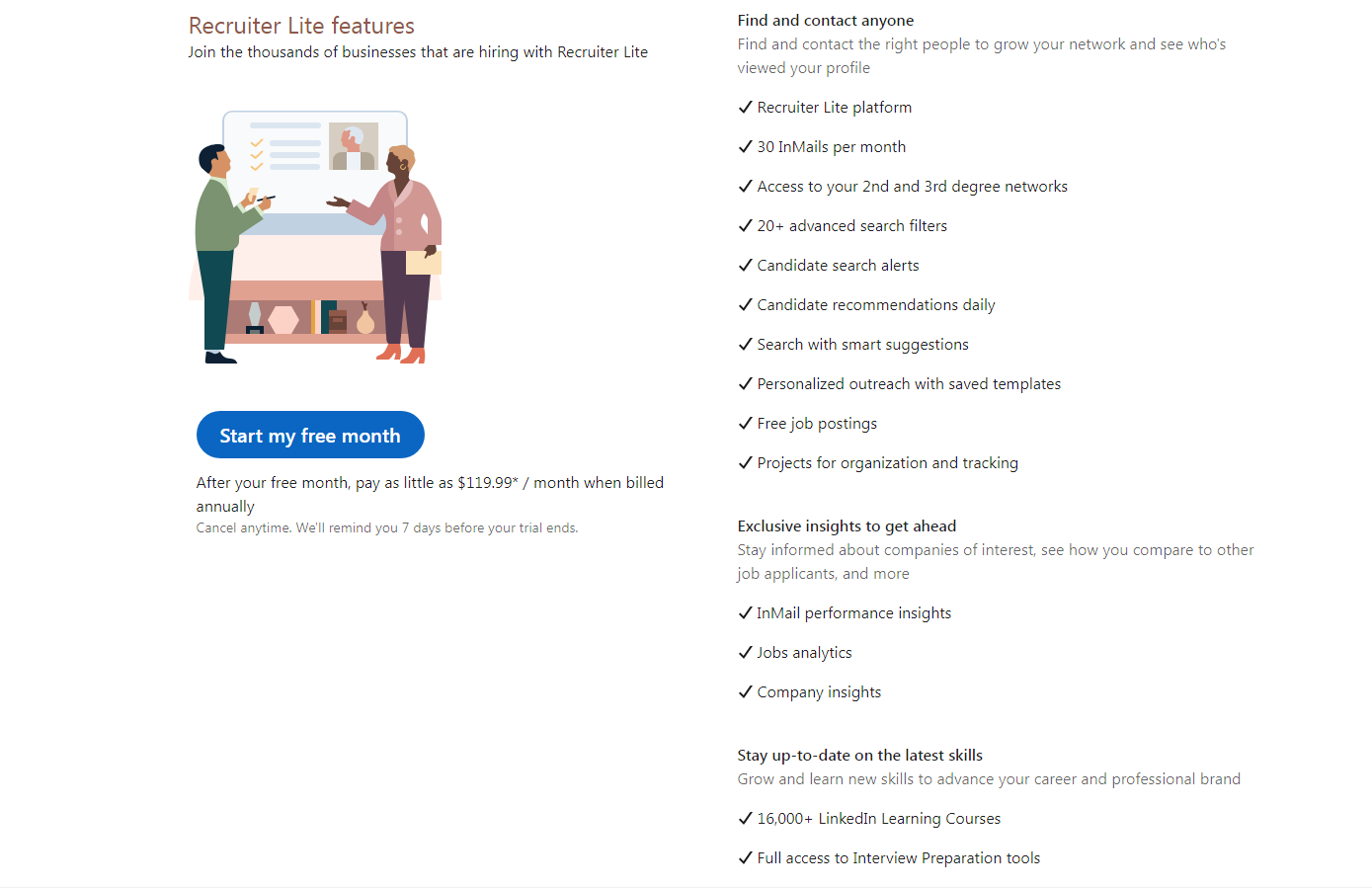 LinkedIn Recruiter is an excellent tool designed to help managers quickly and efficiently find the perfect candidates on the platform quickly and efficiently. In addition, it allows recruiters across agencies to share projects and pipelines.
The premium tools included in LinkedIn Recruiters are enhanced insights/reporting, 150 InMails per month, additional search filters, creating projects and pipelines, removing the dreaded monthly search limit, and the option to save searches.
However, in small recruitment agencies with one or two recruiters, it is possible that focusing on collaboration will not benefit the company and the situation. Therefore, LinkedIn has introduced a scaled-down version known as LinkedIn Recruiter Lite to help small-scale businesses look for potential candidates.
Pros
Reduces hiring time

Connects with potential candidates through InMail

Shares users' profiles with hiring managers
Cons
Pricing
Recruiter Corporate Plan starts from $899.95 per month.
Zoho Recruit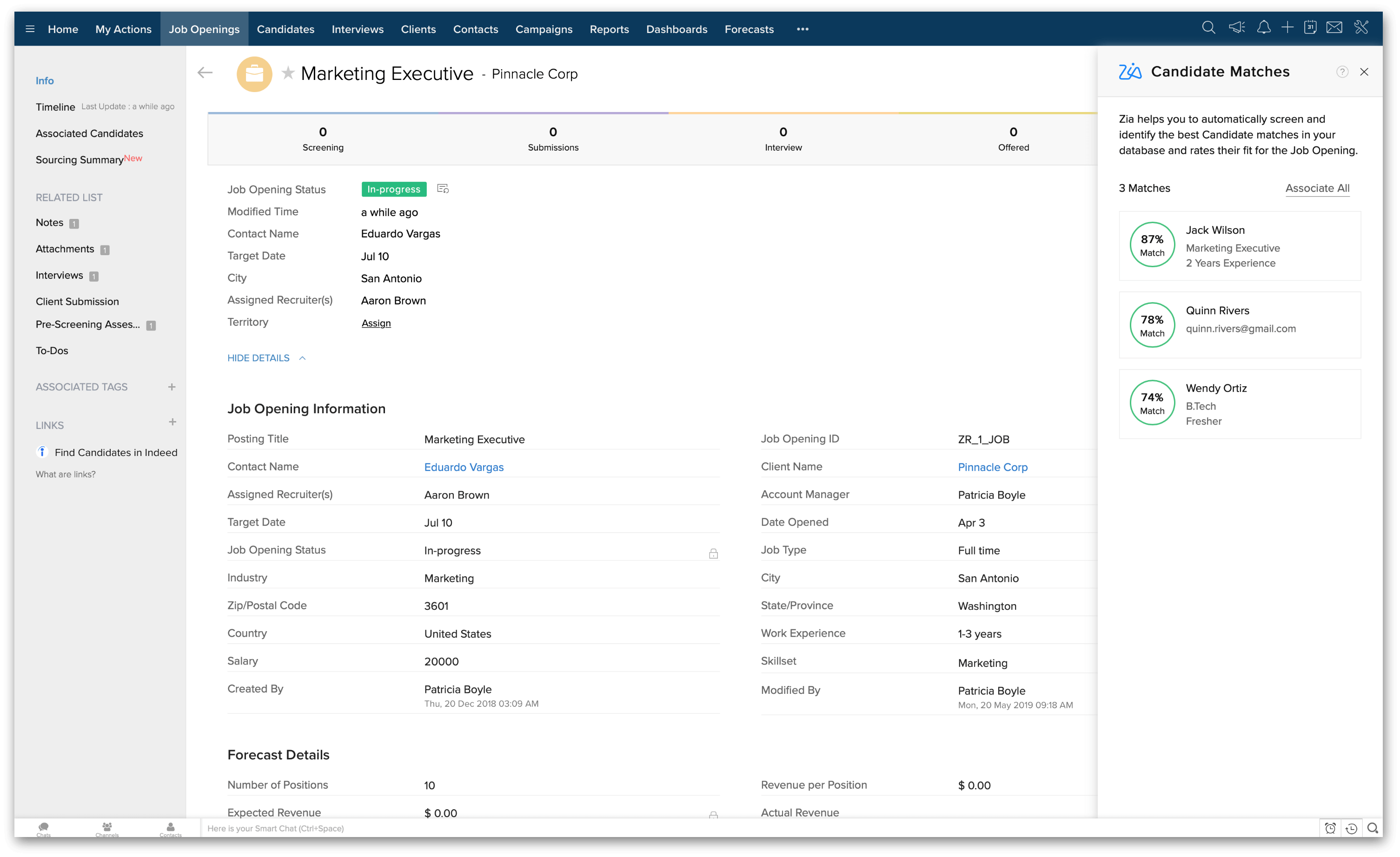 It is a great applicant tracking tool that helps streamline the recruitment process. The automation tool allows you to customize workflow and automate tasks such as sending emails and updating jobs. With perfect solutions for in-house recruiters and staffing agencies, it helps you source, track and hire potential candidates without juggling across media. Other key features include tracking hiring cycles, capabilities to publish to premium job boards, workflow automation, creating your company's careers page, etc.
Pros
Cost-effective

It navigates well.
Cons
Does not support translation to some languages.
Pricing
The standard package costs $25per month per user.
SeekOut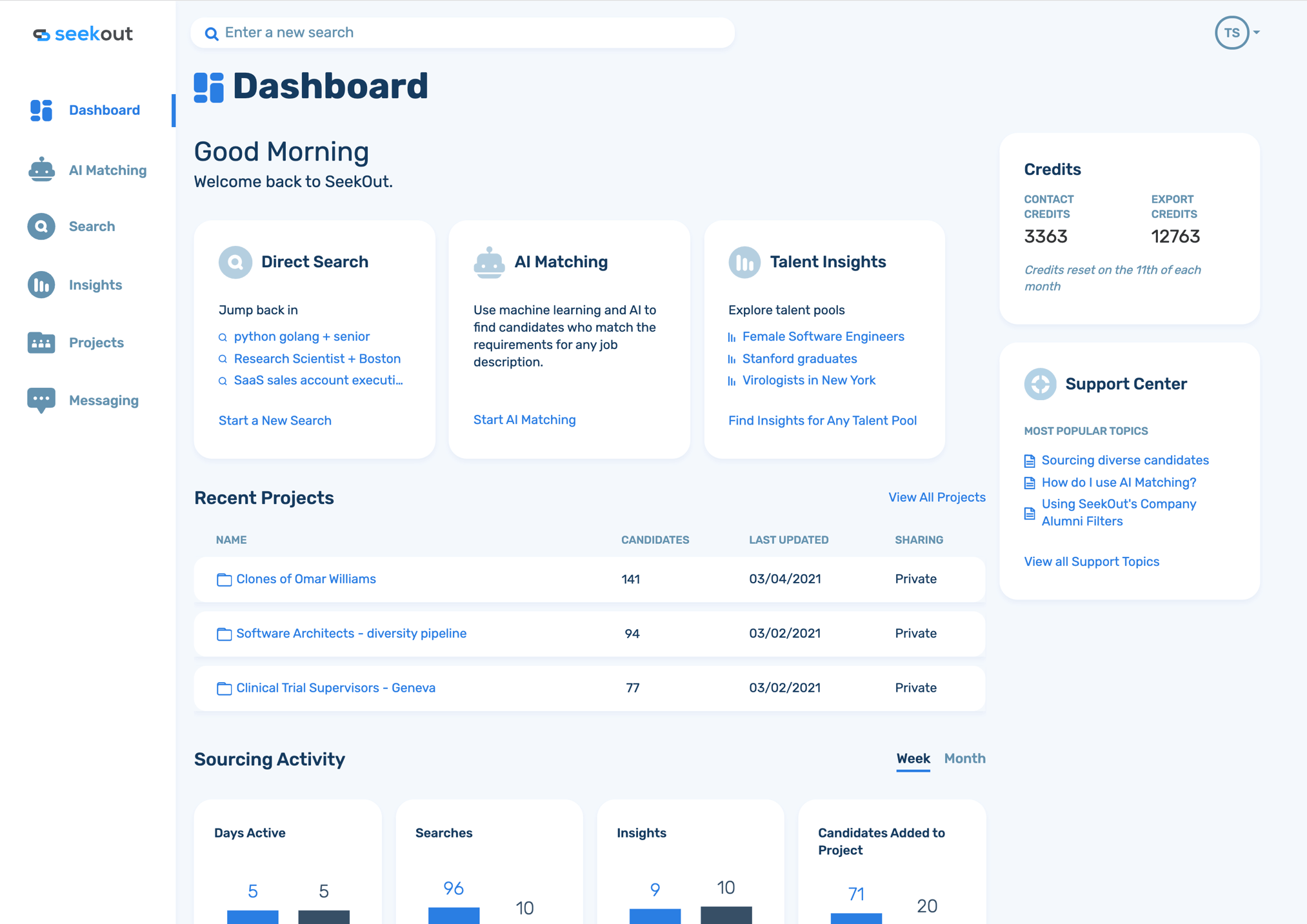 This recruitment automation tool leverages the latest AI and opens web data to provide more search capacity. Whether you use the AI Robot, build customized Boolean searches, or Powerfilters, SeekOut helps you search over 500 million up-to-date profiles, sorting them based on experience, education, skills, and more. Moreover, with the free Chrome extension, you can easily organize, source, enrich and export candidate profiles.
Pros
Filter diverse candidates

Automated reach-out campaigns.

AI Matching
Cons
Unable to connect with ATS for the total view of a funnel

Location not being limited to miles
Pricing
Not mentioned
Gem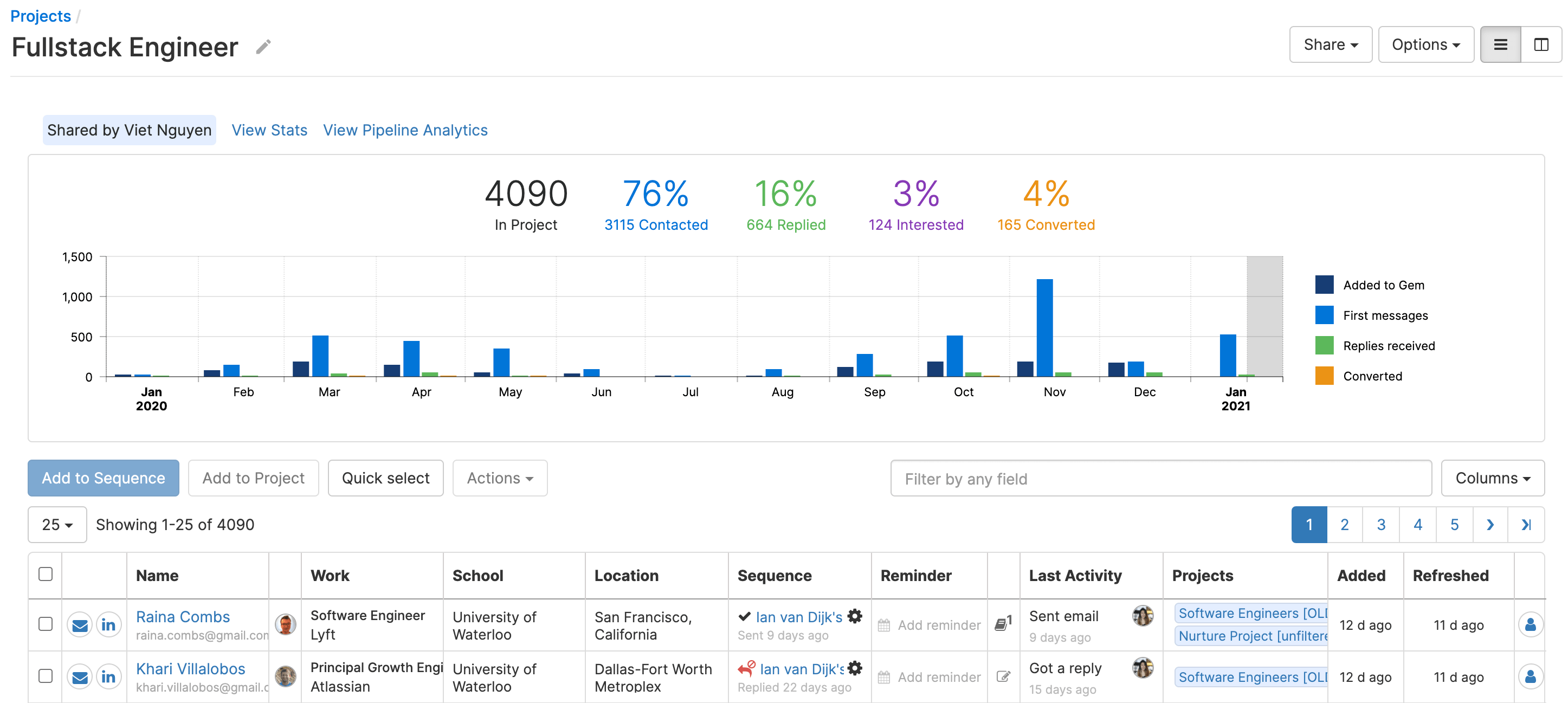 Gem offers multiple features, with CRM being the most useful of all. This tool can create talent pools that come in handy if you build a pipeline several months in advance because it allows you to group candidates based on experience, skills, or another category.
It helps you maintain track of the candidates you contact to ensure the communication does not break. Moreover, Gem has analytics that measures the ROI on candidate sourcing efforts and helps you understand if the recruitment efforts are delivering the desired results.
Pros
Sends several emails in a sequence

Organizes responses to said emails

Source talent
Cons
Pricing
Not mentioned
SmartRecruiters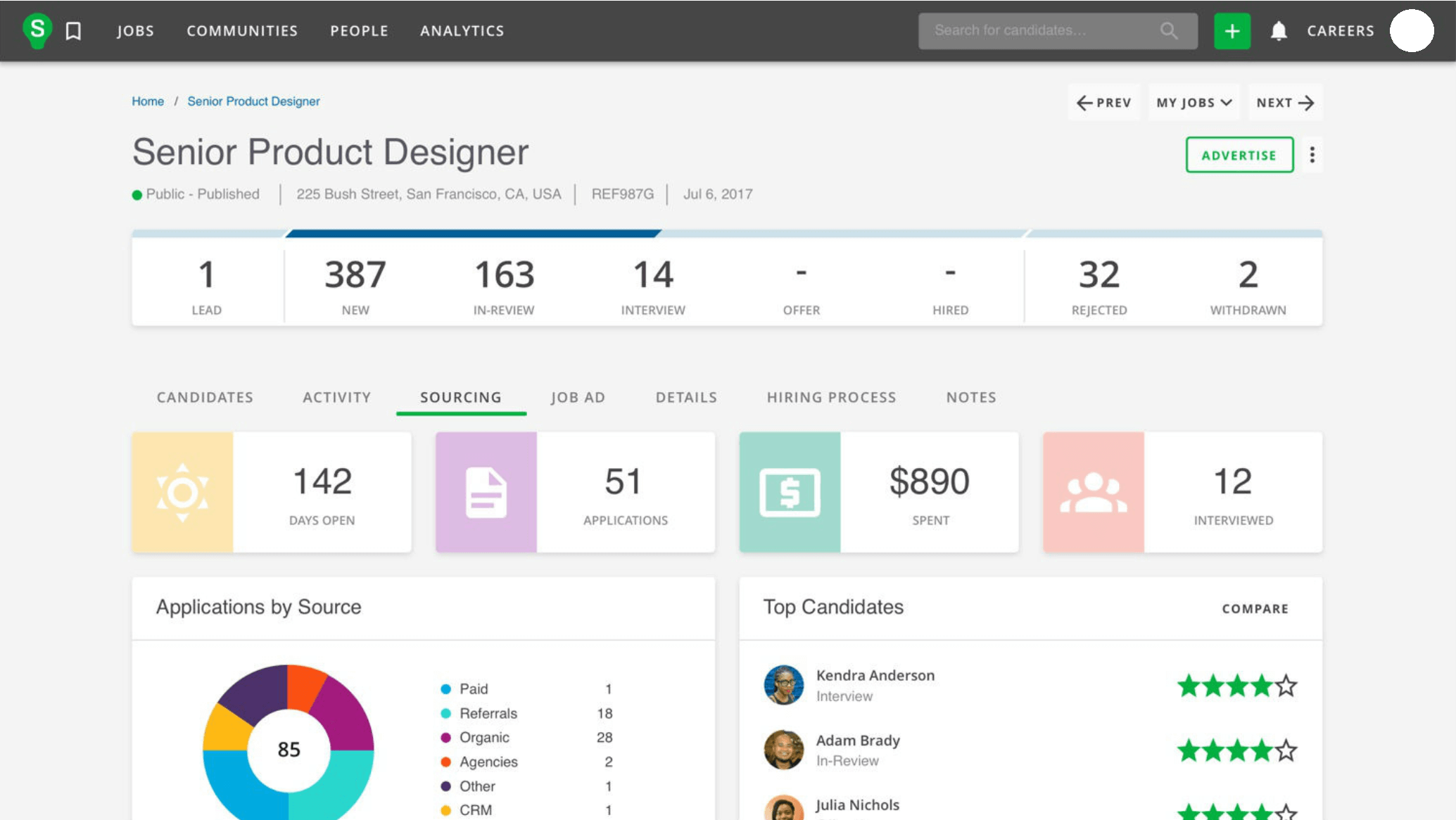 It is one of the most modern automation tools. It features AI and candidate engagement tools to provide more robust hiring capabilities. Whether you are looking for remote working employees or on-site staff, SmartRecruiters is one of the most effective recruitment tools with customizable features to help you hire the best candidates by searching a more comprehensive range to reach the best talent.
Pros
Boosts candidate tracking

Enhances Communication
Cons
Requires task reminders

Expensive
Pricing
The standard monthly program costs $100.00 per user.
Fetcher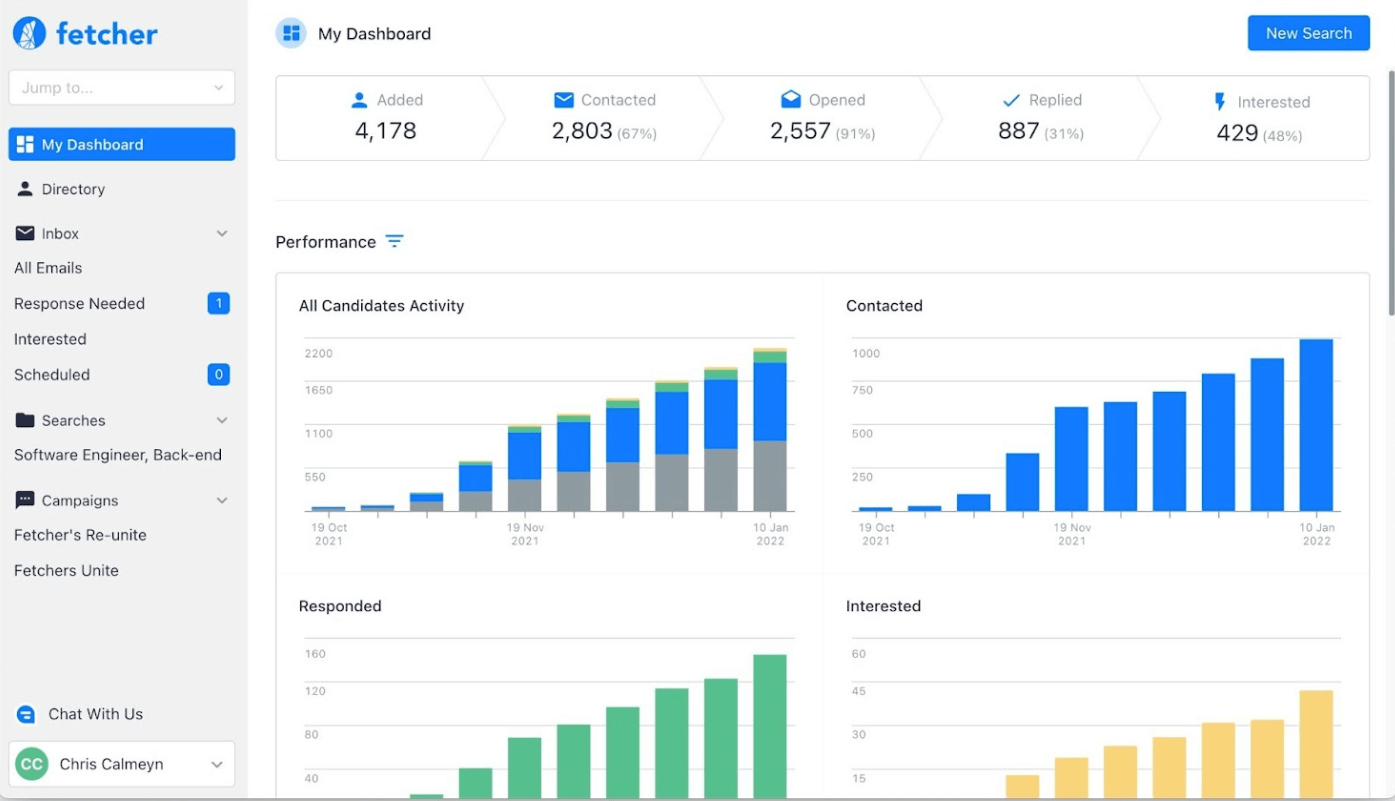 It is an excellent recruitment automation tool that finds qualified candidates based on the company's preferences. It allows you to add prospective candidates and uses those profiles to look for similar fits to help you reach out to them. The screening tool automatically reviews candidates based on your set parameters, saving time otherwise spent sorting and reviewing.
Pros
Great Customer Support

Keyword targeting
Cons
Pulls out accurate emails
Pricing
Not mentioned
Hiretual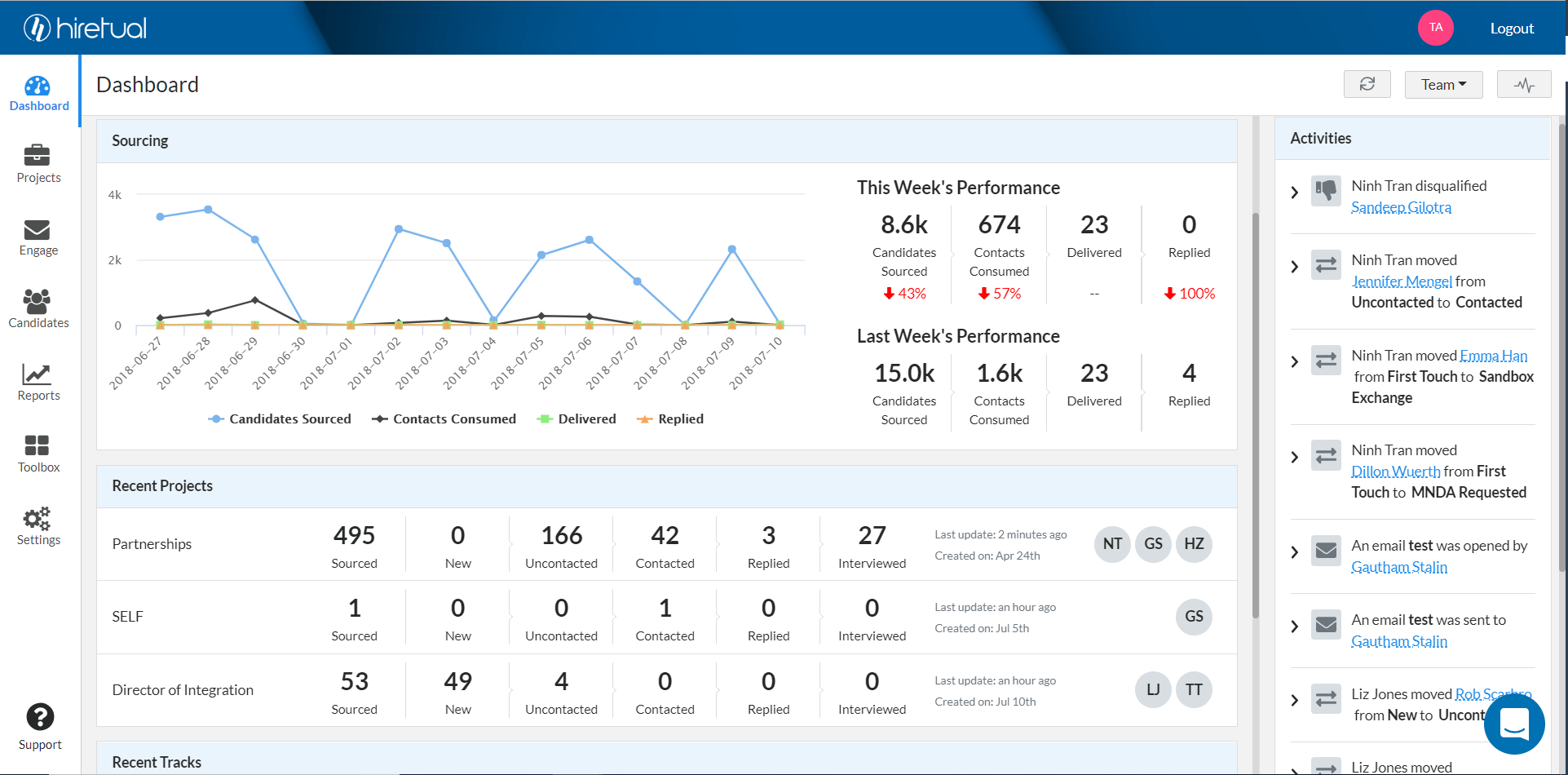 Hiretual eases the hiring process as it engages applicants. It does candidate screening and allows you to receive the top talent for the position. Moreover, this automation tool enables hiring managers to access millions of resumes to help the company find the right candidate. Recruiters using it are happy with team collaboration features that allow them to add your team members to the decision-making process.
Pros
Narrows searches

Multiple Sources of data
Cons
Pricing
The price of the standard package is $79 per user per month.
Text.io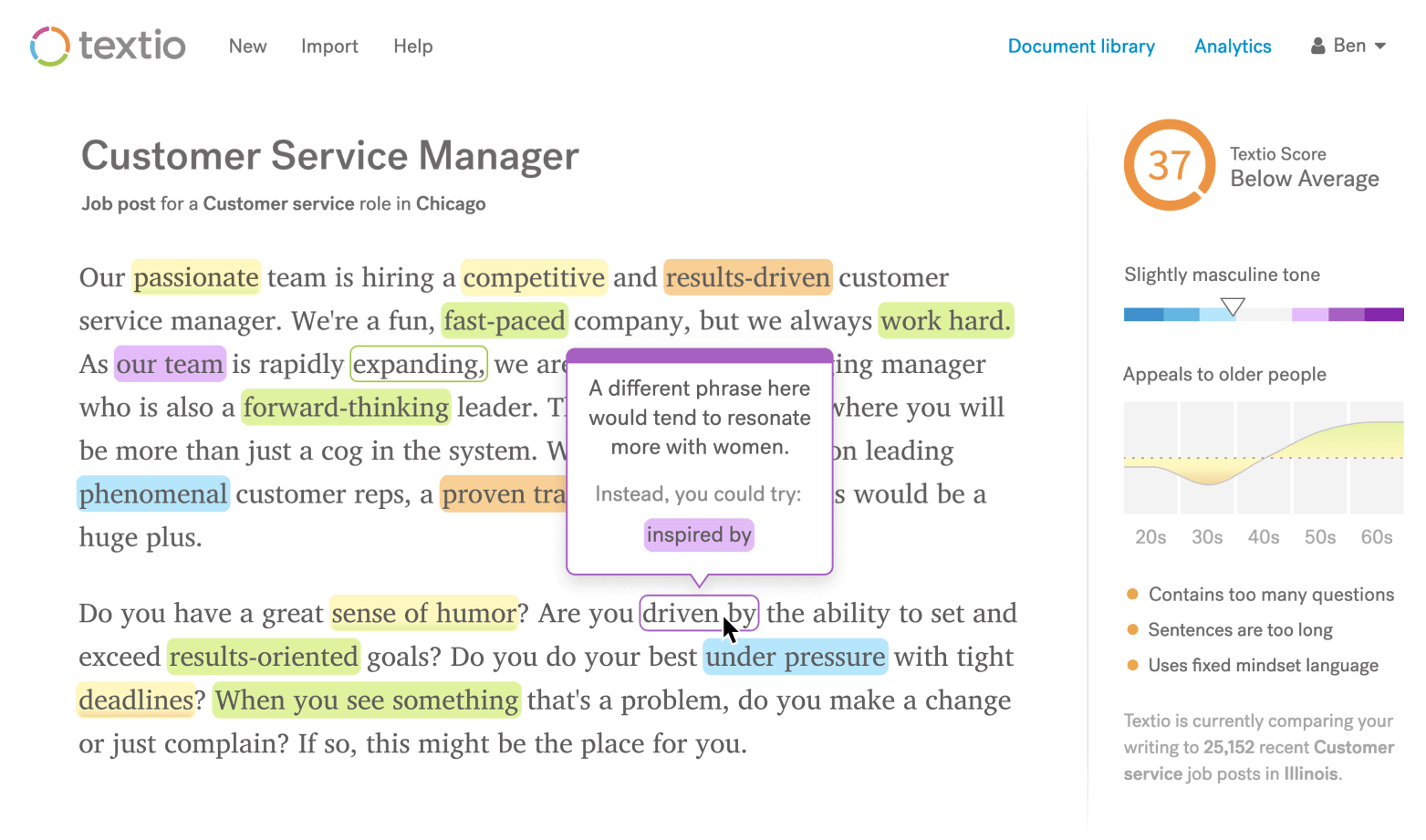 It is an excellent automation platform that allows recruiters to write job descriptions and look for creative matches for the position. Once you paste the description, this tool will recommend optimizing it. Therefore, your job posting does not need to go through multiple reviews because you will have the best recommendations. The entire process attracts a diverse and qualified candidate pool to your job posting and allows you to filter the top talent for the position.
Pros
Easy to use

Automatic editing
Cons
Pricing
Not mentioned
Workstream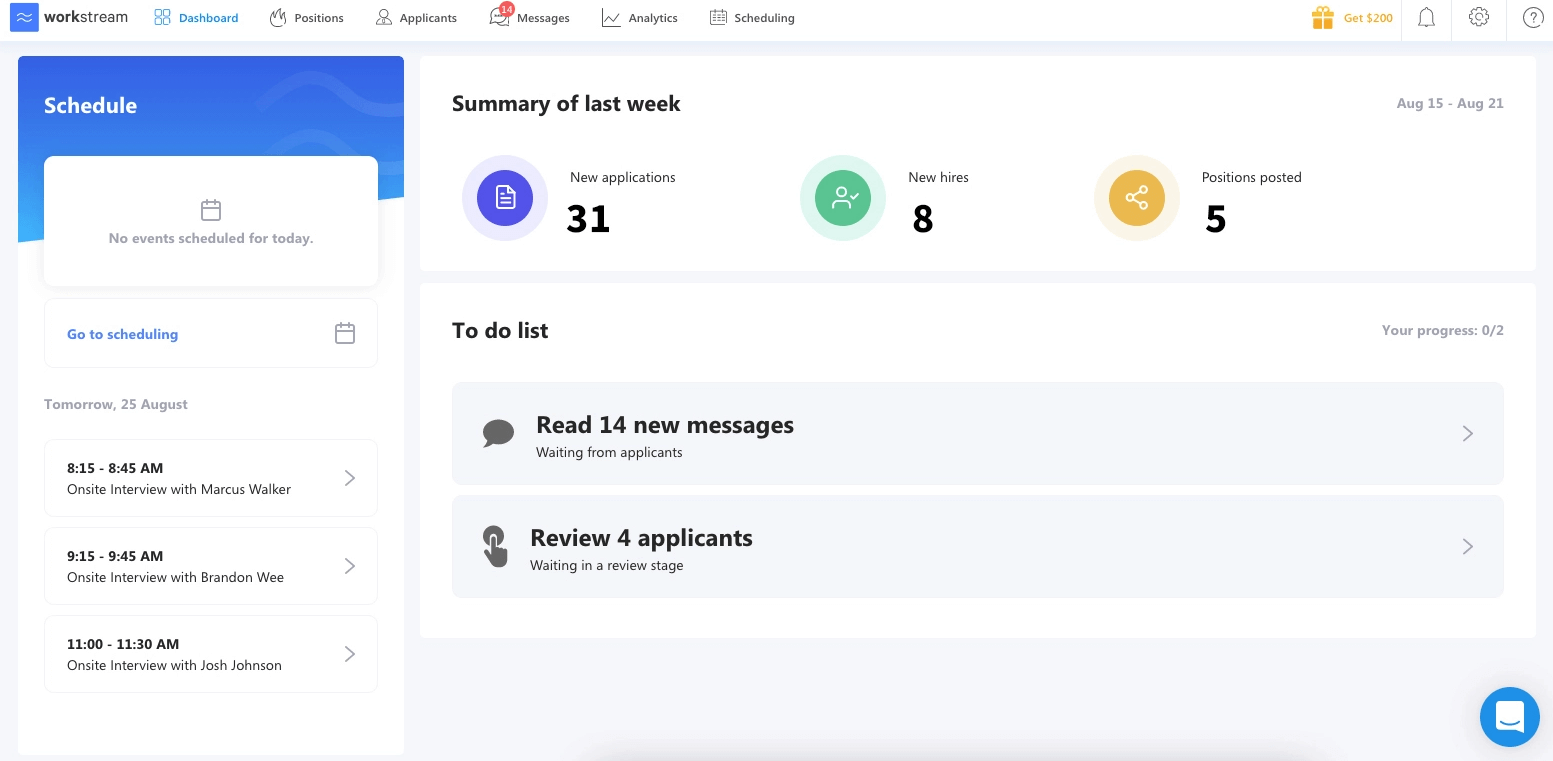 This automation tool helps organizations recruit for higher volume roles such as restaurants and retail through a text-based interface while automating the process of sourcing, scheduling, and hiring new employees. The easy-to-use interface helps you find candidates faster without spending time on job postings, collecting applications, and managing paperwork.
Pros
Recruits for high-volume roles

Facilitates communication
Cons
Automatic scheduling issues
Pricing
The basic plan costs $9.99 per month per user.
Jobsoid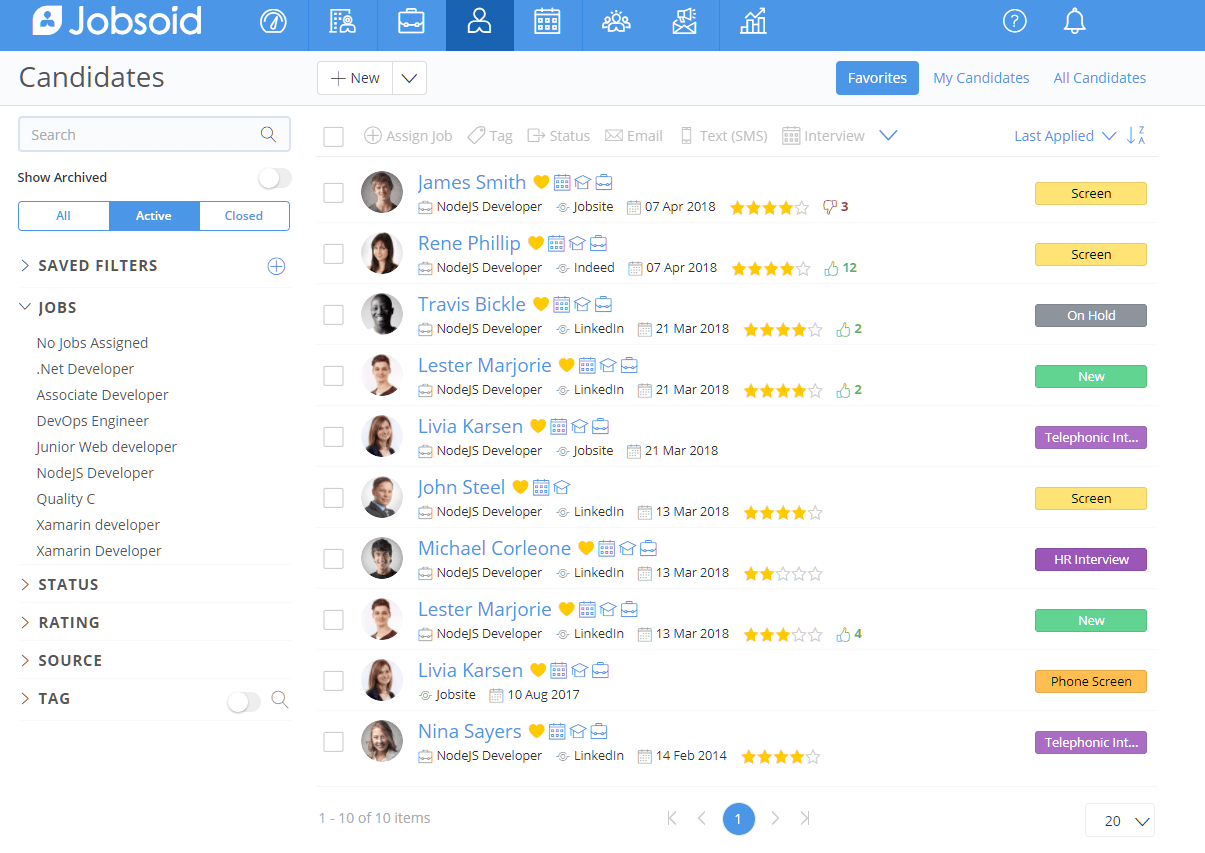 It offers a complete recruitment solution for recruiters. From job posting on various boards to managing candidate applications and communication, Jobsoid provides the perfect recruitment solution. It allows you to source candidates and engages them in the recruitment process through marketing campaigns. It also scans resumes and scores them automatically based on job requirements. Furthermore, it allows you to invite recruiters to connect to send and receive candidates directly in ATS.
Pros
Easy to use

User-friendly interface
Cons
Pricing
The basic plan costs $59 per month.
Choosing the Right Recruitment Automation Software
Choosing the right recruitment automation software is challenging. You must consider some elements when selecting the perfect automation tool for recruiters.
Understand your business needs
When choosing recruitment software, it is crucial to understand your business needs. Then, select a recruitment software that automates your daily tasks, such as sourcing talent, collecting applications, storing resumes, and managing the talent pool.
Features
Every recruitment software comes with built-in features. Choosing the best software often becomes confusing with a diverse range of features. So, choose the software that caters to your business needs and aligns with your goals. Ensure the software offers some must-haves to ease the recruitment process.
Customer Support
It is a crucial factor when choosing recruitment software. Having a reliable customer support service will help users engage effortlessly. It helps remove technical errors and glitches and ease workflow. Moreover, a vendor's support service should always have solutions to the issues and provide 100% customer satisfaction.
Seamless Integrations
Hiring processes become easy when software can integrate seamlessly with a social media platform, email providers, job boards, and other third-party tools. Without necessary integrations, a recruiter will find themselves stuck and unable to reach out to potential candidates. Therefore, choosing the software with integration options will smoothen the hiring process.
Budget
When choosing recruitment software, select a plan that suits your pocket. Since some software may seem heavy on the pocket, select a package or software that caters to your business needs without burdening your budget. 
Conclusion
Looking for perfect recruitment software may seem challenging, but using the right tools will make things easier. Whether searching for remote candidates or on-site employees, automation software helps you find the best talent. It reduces the time spent collecting applications and sorting and smoothens the entire process by screening, sourcing, and hiring talented candidates.
However, not all tools will help your business needs. Therefore, you must consider the factors mentioned to find the best recruitment automation software to facilitate the hiring process.