Are you wondering how to start blogging on LinkedIn in 2023? We'll equip you with the strategies and insights to captivate this massive audience. Get ready to maximize your impact and expand your influence with our expert advice. Let's dive in and unlock your blogging success!
Why You Should Start Blogging on LinkedIn
LinkedIn stands out among social networks with its specialized focus. Boasting over 60 million businesses, it has become a hotbed for B2B marketing. 97% of B2B marketers prioritize LinkedIn as a top lead generation source.
LinkedIn's engagement has surged by 50% annually, highlighting its growing prominence. While ad purchases are an option, the true key to success lies in high-value content. By engaging in content marketing, you can reap greater rewards than through paid ads.
LinkedIn users are more receptive to valuable posts, offering a superior return on investment. Embrace content-driven strategies to make the most of this platform's potential.
How to Start Blogging on LinkedIn
To start blogging on LinkedIn, follow these simple steps:
Go to your feed and locate the 'Start a post' widget at the top.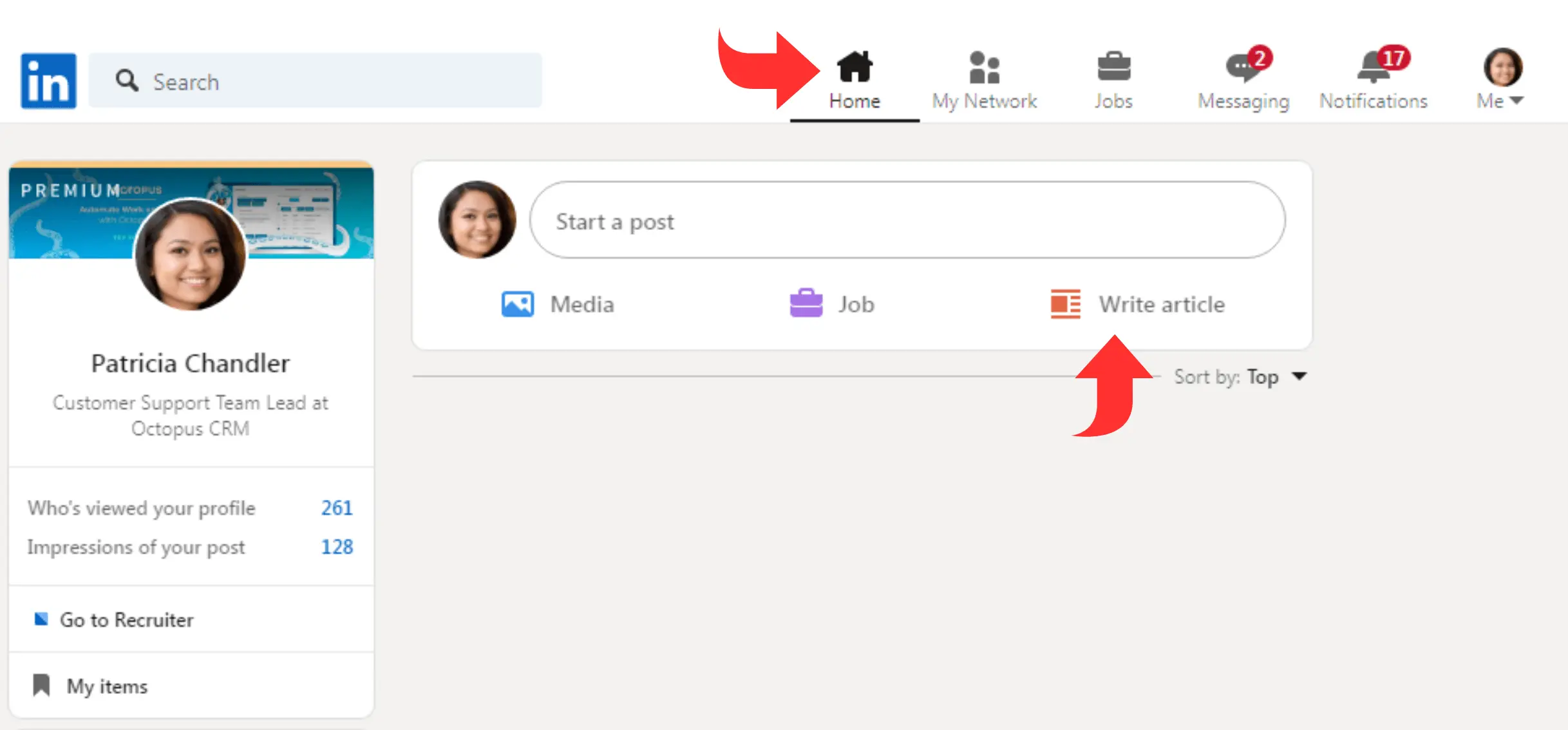 Click 'Write an article' to open LinkedIn's blog publisher.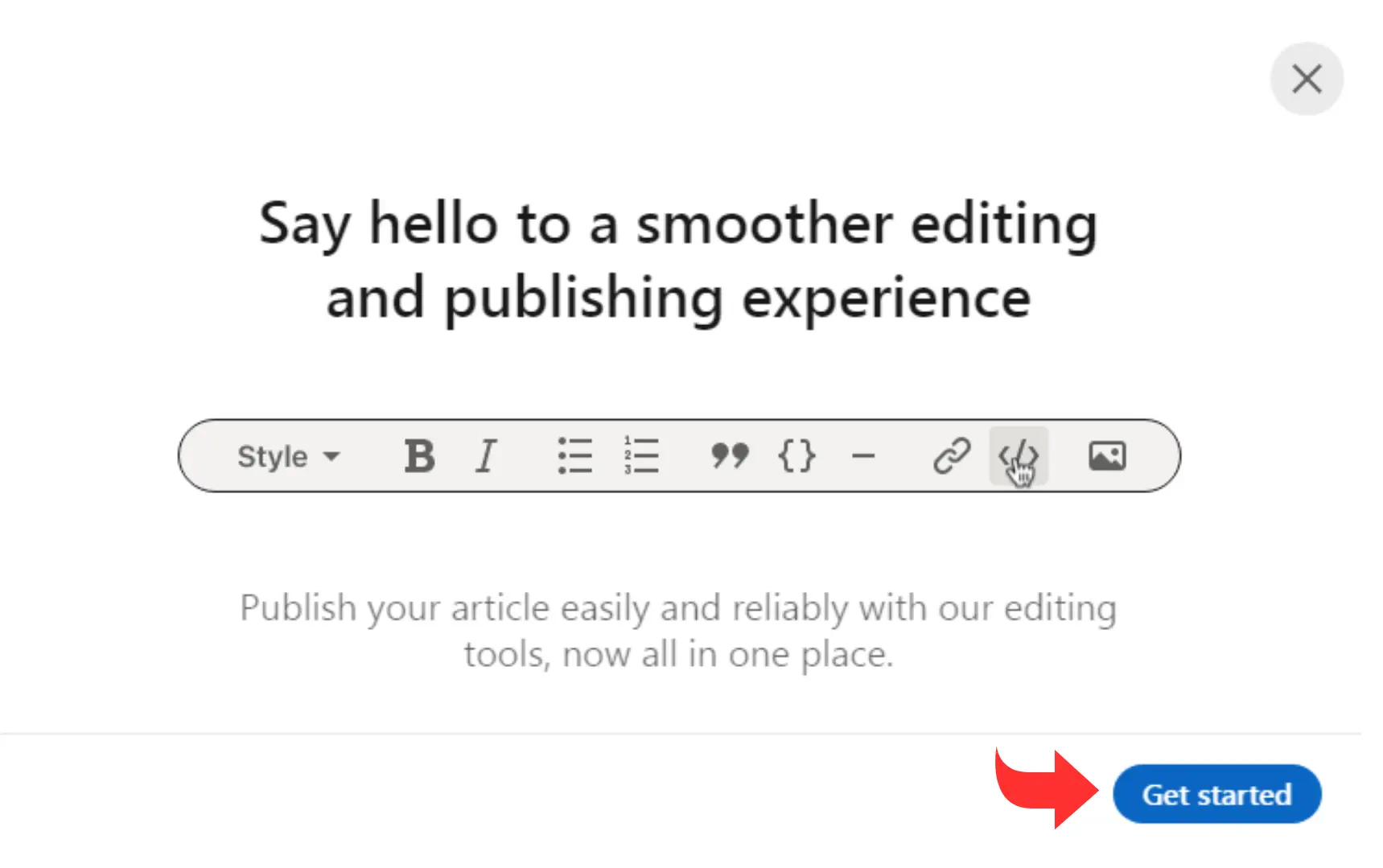 The blog publisher, like WordPress, allows you to format your content writing, including quotes, and use headings (H1s and H2s).
Enhance your article with a header image to make it visually appealing.
Once you have finalized your article, click 'Publish' to share it with your network.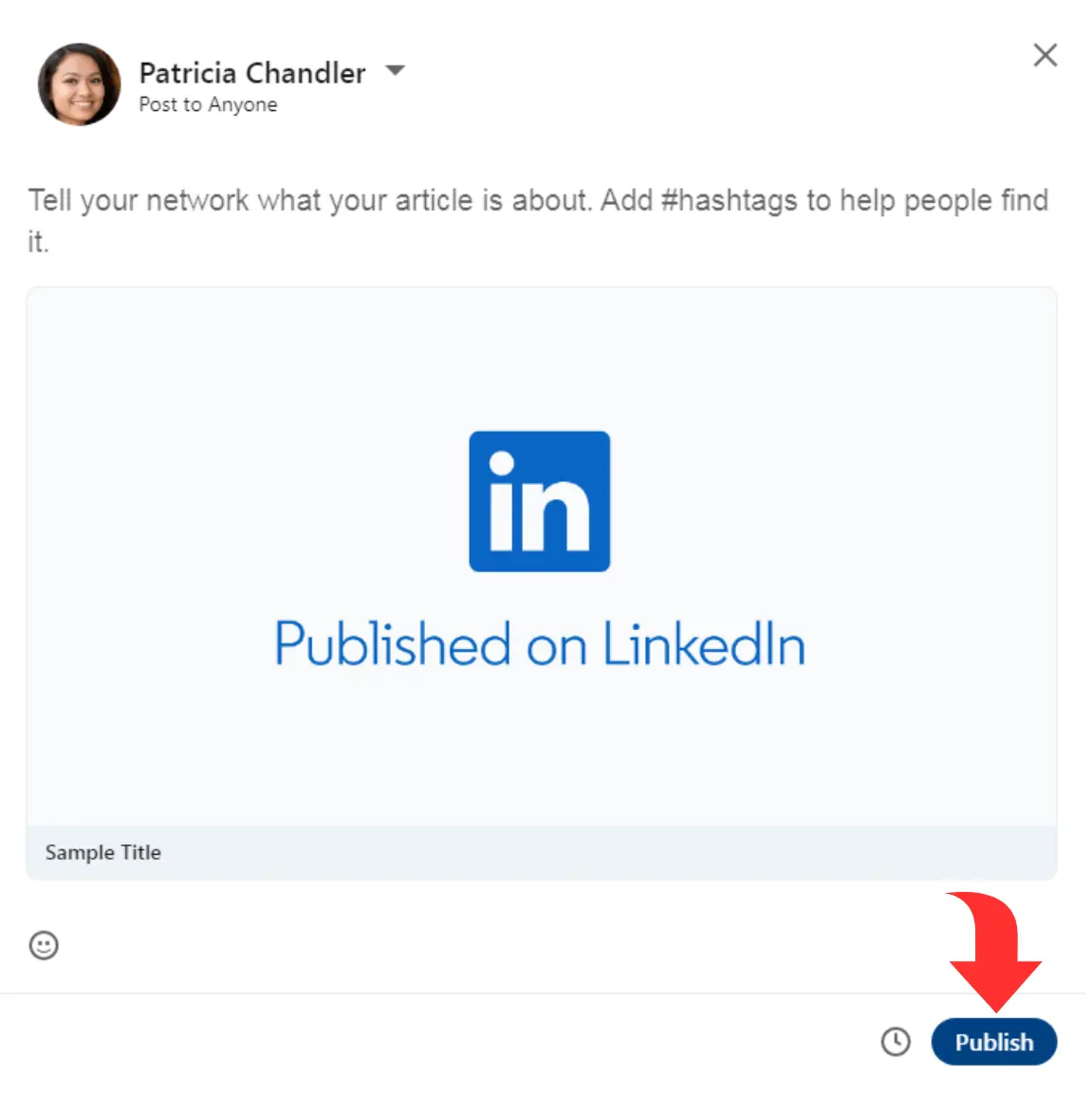 Remember, there is no content preview before publishing, but the editor provides a close representation.
For better readability, Consider structuring your content with subheadings or bullet points.
With these steps, you can kickstart your LinkedIn blogging journey and share valuable insights. Engage with the professional community and make an impact.
LinkedIn Blogging Tips
If you're an experienced blogger, you probably know the basics of successful posts. However, there are a few considerations you need to keep in mind when using LinkedIn for blogging. Let's take a look at them.
Focus on B2B Content
To maximize leads on LinkedIn, develop a laser-focused content writing strategy for businesses. Utilize LinkedIn Pulse to publish opinion articles on key industry aspects. Share guides for cost-cutting or process optimization. Provide information about relevant networking events.
Stay updated on the latest developments in your industry, such as new technologies and important business deals. Use relevant hashtags to reach a broader LinkedIn audience, but include multiple related tags to stand out. For non-B2B content, leverage your WordPress blog alongside LinkedIn to reach a wider audience.
Share Content to Cultivate the Following
Besides publishing your content, share valuable content from other users in your feed. By curating content, you establish yourself as a trusted source, which can lead to more connections and leads. Utilize industry hashtags to discover and share relevant content.
Maintain high standards when selecting articles to share. Consider the creators' expertise and the quality of the content.
Follow Basic Blog Formatting Guidelines
Make sure to pay attention to formatting when publishing articles on LinkedIn. Aim for high content quality to position your posts as go-to resources for professionals. Remember these formatting guidelines:
Use subheadings to break up articles
Incorporate images, videos, and references when necessary
Use lists to convey information effectively.
Avoid presenting your articles as large blocks of text by utilizing the formatting tools LinkedIn's editor provides.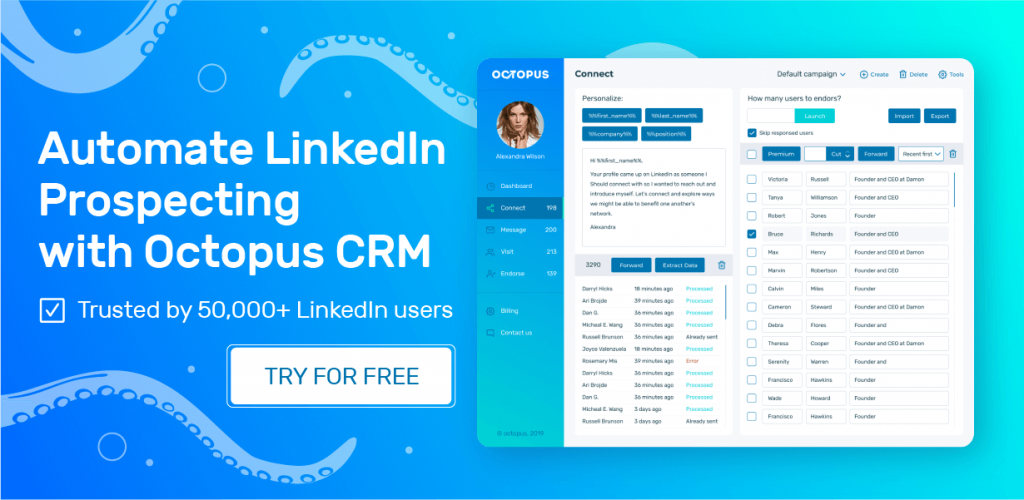 Choose the Right LinkedIn Content Strategy
Creating an effective content strategy for LinkedIn requires careful planning and creativity. More than simply creating and publishing content is needed. To engage the LinkedIn community, continuously provide valuable content stimulating their interests. Innovation is key to capturing their attention and fostering meaningful connections.
Here are six steps to guide you in creating a content strategy on LinkedIn:
Define the Ideal Reader Profile
The first step involves identifying your target LinkedIn audience and their interests. Instead of treating them as marketing subjects, view them as readers. Consider their interests and engage with them authentically. Users on social media platforms engage with content that provides value.
To understand their needs, utilize tools to monitor social groups in your industry. Analyze your competitors' interactions with their audiences for insights and inspiration. This will help you create original content that aligns with their expectations.
Identify Objectives
Establish the goals you want to achieve with your LinkedIn content strategy. Tailor content and messaging for each LinkedIn objective. Effectively communicate with your Linkedin audience by being specific and targeted. Be specific and targeted when targeting brand awareness, consideration, or conversions on LinkedIn. Tailor your approach to engage your audience and achieve your goals effectively.
Inbound marketing tailors content for different users, attracting new followers. It also strengthens existing relationships, fostering engagement and loyalty. It is a powerful strategy for building connections and engagement. Ask yourself what you want to achieve by creating a LinkedIn business page to outline your strategy.
Define Metrics
Metrics are essential for analyzing outcomes and raising the effectiveness of your marketing approach. The metrics usage depends on the goals you want to attain. For your LinkedIn content strategy, essential metrics are the number of followers, page views, reach, impressions, and website visits. These metrics assess your content's impact and visibility and inform you about its notoriety.
Engagement metrics include analysis of comments, responses, and content sharing. Additionally, bounce rate, time spent, and page views are tracked. Sales, quote requests, and contact inquiries are a few examples of KPIs you can use to track conversions.
These analytics shed light on how successful your LinkedIn marketing initiatives were. Since they will serve as the foundation for analyzing the results afterward, select objectives and metrics consistent with your goals.
Outline the Editorial Strategy
The editorial strategy consists of two key concepts:
The editorial plan
The editorial calendar.
These components are essential for effective content management and organization. The editorial plan focuses on the social communication plan, including objectives, definitions of organic and sponsored posts, graphic mood, and the roles and resources involved in content creation.
The editorial calendar, on the other hand, lists the content to be published and the frequency of publication. After defining your objectives, identify macro-topics and divide them into sections. This approach helps create a schedule for in-depth discussions on specific topics. Determine the frequency of publication based on insights from your target audience.
Although there are no predefined rules or a specific number of posts, only publish a blog article on LinkedIn. There are no predefined rules or a particular number of posts required. When determining publication times on LinkedIn, consider users' increased activity during typical working hours. Evaluate the most suitable times and days to optimize engagement and reach for your content.
Choose the Type of Content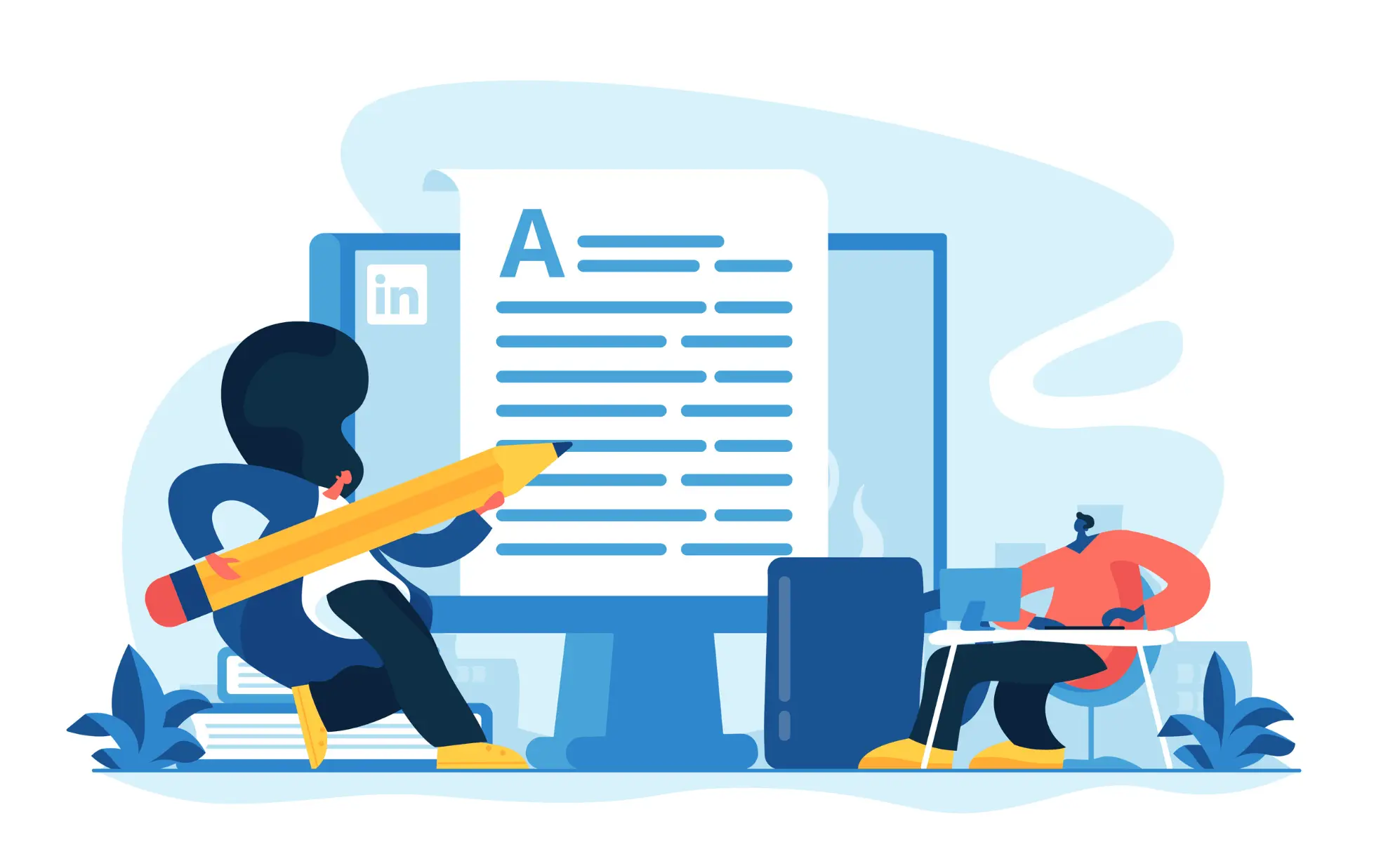 Content is the cornerstone of your strategy, attracting users and fostering brand connections. Make it compelling and engaging to achieve desired outcomes. Whether organic or sponsored content, focus on providing relevant and high-quality information. Social media offers various content formats to showcase your creativity and stand out. Publish videos, case studies, company blog posts, surveys, and company news on LinkedIn. Host live sessions to discuss specific topics or present new projects. Diversify your content to engage your audience effectively.
Regardless of the content format, ensure that it captures users' attention. Visual stimuli, like images, are crucial in communication. Videos are the most potent and effective content type. They capture attention, involve and inform users, and foster personal connections for brands.
Measure Results
Once you have implemented your content strategy, measuring the results by analyzing relevant metrics is essential. Insights such as demographic profiles, number of followers, engagement rates per post, and website traffic generated by LinkedIn posts provide valuable information about the effectiveness of your content strategy.
These insights help you understand the topics that resonate most with your viewers. Based on the results, make any necessary adjustments to your strategy. Keep in mind the need for information and the evolving social networks. Regularly update and improve your content strategy to stay relevant and practical.
To succeed on LinkedIn, commit to delivering original and relevant content consistently. Attract, inform, and engage users with your long-term content strategy. Follow these six steps to develop a well-defined LinkedIn strategy. Align with objectives, resonate with your audience, and achieve your goals effectively.
What is the Difference Between a Blog and An Article on LinkedIn?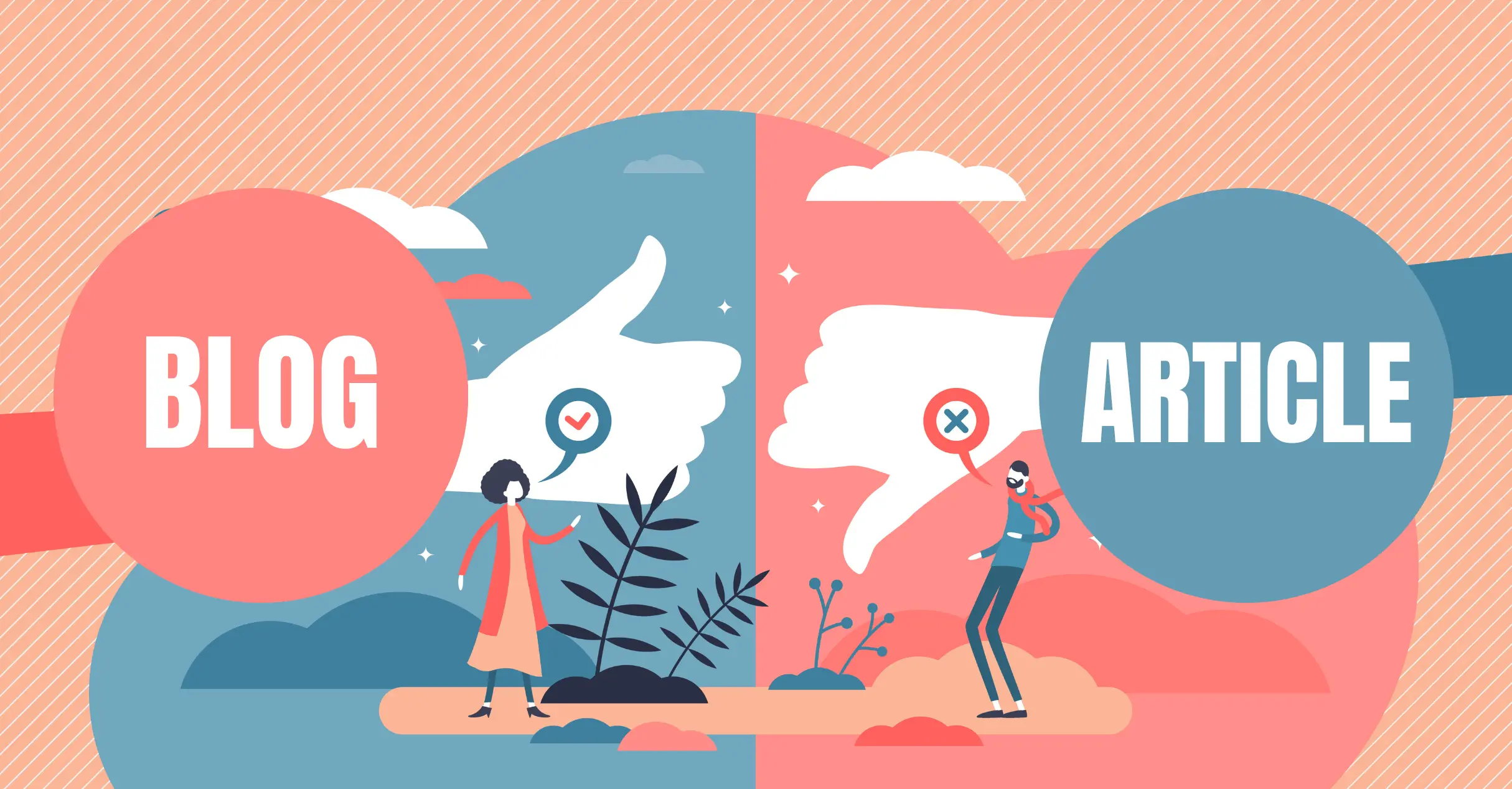 LinkedIn articles and blog posts differ in several ways:
Length
Articles on LinkedIn are long-form pieces that allow you to delve deep into a topic and showcase your expertise. They often exceed 1,000 words. In contrast, blog posts are shorter, providing bite-sized content.
Depth of Expertise
Articles enable you to demonstrate your expertise in-depth, providing comprehensive insights and analysis. Blog posts, while still professional in tone, tend to be more anecdotal and may focus on personal experiences or industry updates.
Tone and Style
LinkedIn articles maintain a formal, professional tone. They are ideal for thought leadership and in-depth discussions. Blog posts, on the other hand, adopt a more conversational tone, allowing for storytelling and sharing quick tips or advice.
Visibility
Both articles and blog posts appear in the newsfeeds of your LinkedIn connections. However, their shorter length makes blog posts more likely to capture attention and engage readers quickly.
The choice between an article and a blog post on LinkedIn depends on the depth of information and purpose. It also relies on the level of engagement you aim to achieve with your audience.
Blogging on LinkedIn vs. WordPress
Publishing content on LinkedIn is a valuable way to build connections with businesses. However, it cannot replace the advantages of running a WordPress blog. With WordPress, you have complete control over the style and monetization and can reach a wider audience than LinkedIn.
Fortunately, you can leverage both platforms simultaneously to expand your audience. The only limitation you may face is the amount of content you produce. Using LinkedIn and WordPress, you can maximize your online presence effectively.
For bloggers with a busy schedule, consider these strategies:
Create unique, detailed articles for LinkedIn to avoid duplicate content problems.
Automatically share your WordPress blog posts on LinkedIn to save time and effort.
The second approach has advantages: leading users from LinkedIn to your blog and avoiding separate editors. The plugin allows publishing updates directly to your profile or company pages. You have control over sharing specific posts on LinkedIn. It's best to share only articles that interest your contacts or other businesses.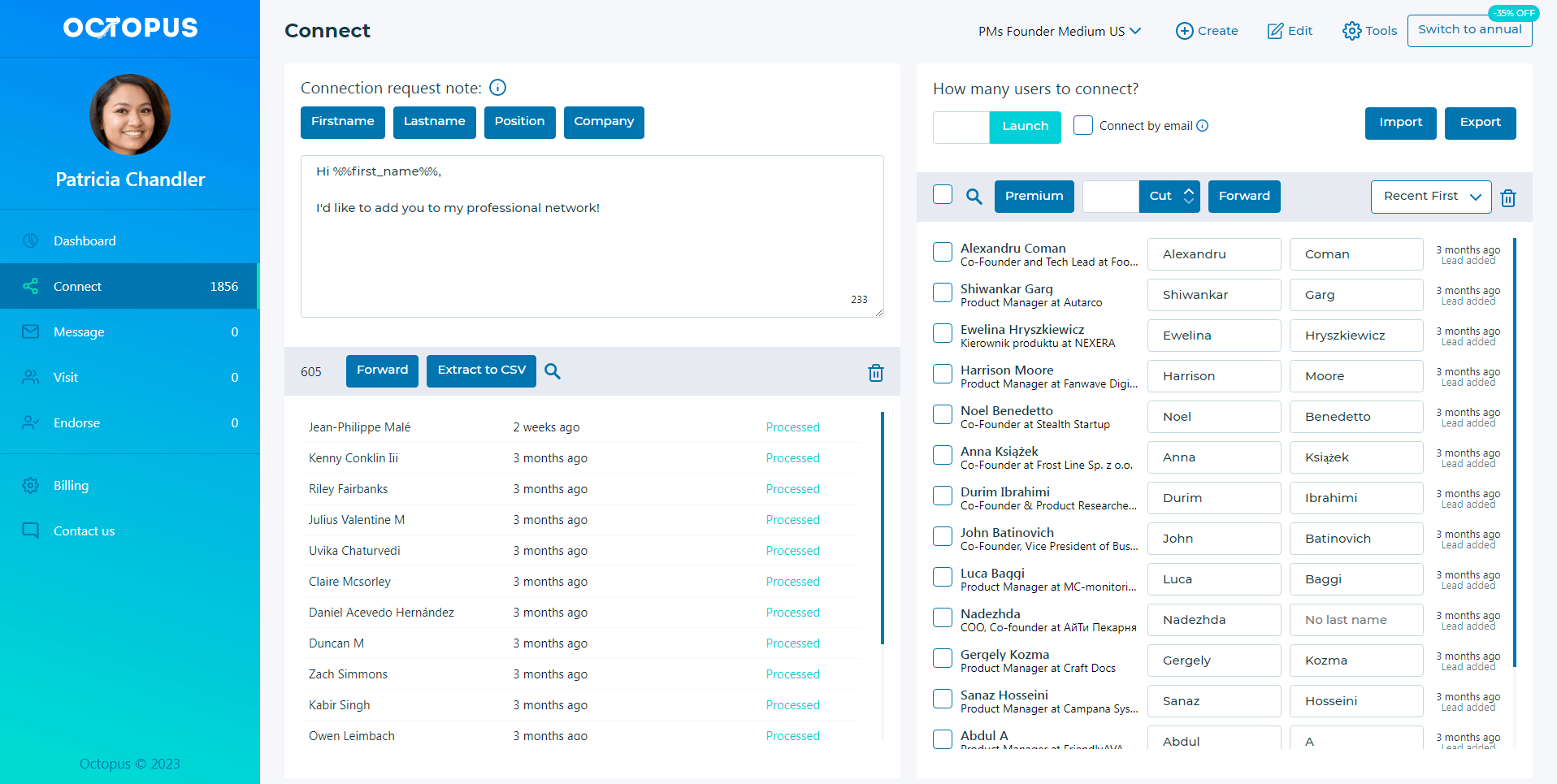 ConclusionBlogging on LinkedIn in 2023 provides valuable opportunities for connecting with businesses. Leverage the power of LinkedIn Pulse for enhanced engagement and networking. Remember to leverage your WordPress blog for greater control and broader audience reach. Utilize Octopus CRM LinkedIn automation wisely to maximize engagement. Combining both platforms expands your audience and establishes you as an authoritative voice. Leverage the power of LinkedIn and your WordPress blog effectively.