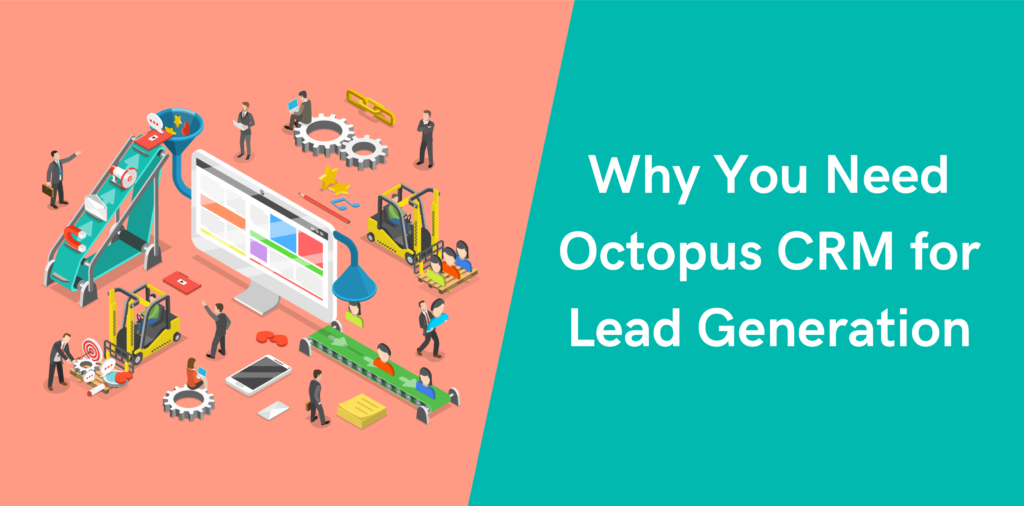 Why You Need Octopus CRM for Lead Generation
Do you want to generate more leads on LinkedIn? 
LinkedIn is one of the best platforms for B2B marketing. It has so many analytics and marketing tools to help you reach your business goals. 
Having so many options is great. But, it can leave you feeling overwhelmed. It can also make it hard to know which tools are best. 
If you're looking for further guidance, this article can show you the best strategy for LinkedIn lead generation and how you can implement it. 
Is LinkedIn Good for Lead Generation?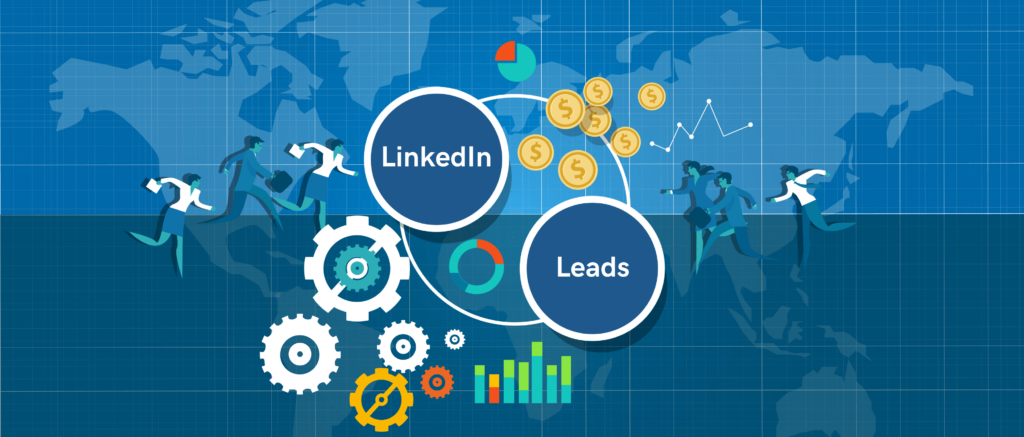 As a social media platform, LinkedIn is often overlooked. But, it's actually one of the best platforms out there for B2B marketing. 
LinkedIn has an estimated 500 million regular users. It also has more than 9 million business profiles. Plus, 75% of these users have an income over $50,000, and 44% earn over $75,000. 
When it comes to B2B marketing, studies have shown that, when compared to other social media sites, users are much more likely to engage with companies and purchase from them. 
This leads to high conversion rates – higher than Facebook, Twitter, and blogging. 
How? 
Simply, LinkedIn is better adapted for this and helps you target your audience much better. 
On LinkedIn, you can use highly targeted campaigns and communication through narrowing down your search by location, industry, interests and hobbies, school and university, qualifications, current and past workplaces and more. 
The Best Way to Use LinkedIn for Lead Generation
If you're looking for the best ways to use LinkedIn for lead generation, no doubt you've come across loads of advice. So, how do you know which is most effective? What's the best way to generate leads on the platform? 
The answer is, outreach. Outreach is the best lead generation strategy. Like every social media platform, the most efficient use is to connect and engage with others. There are many reasons to connect on LinkedIn, and this is a key part of success. 
And it's a simple process…
After connecting with people you already know, start by encouraging contacts from other social networks to connect with your LinkedIn page. 
Then, the next step is to find opportunities to generate leads. You can do this by looking through other people's networks, or by carrying out manual searches and inviting potential prospects to add you to their network. Once you've found your lead, connect with them. 
For the best results, you should always send a personalized message with your request. As you can imagine, most people's profiles are inundated with messages and connection requests – especially if they're a big earner or reputable name. 
Personalizing your message will hugely increase the chances of them reading it! 
Luckily, on LinkedIn, it's very easy to create highly targeted messages. And to help you do this, here are some top tips for creating messages that get a good response: 
Focus on your target audience

 
The biggest mistake people make when sending messages on LinkedIn is they go straight in for the sale. You should avoid this. Rather than starting by talking about how great your product is, focus on your prospect. Talk about a specific problem or interest they might have, and how your product or service might be a benefit to them. 
Make your message personal 
It can be hard to be professional and personal at the same time. But, a balance needs to be struck. Try and be as friendly as you can. If you're not sure how to do this, simply write as you would speak. Make sure you sound like a real person. Always avoid generic messages, and make sure you don't sound aggressive or overly salesly. 
Stick to the point
Lastly, when putting your message together, try and be as clear and concise as you can. Make sure you don't ramble. There's a limit to how long LinkedIn messages can be – plus, it can be easy for the recipient to lose interest. Try and get to the point as quickly as you can. Ideally, you should aim to do this in the first couple of sentences. 
Include a CTA (Call-to-Action)
Lastly, at the end of your message, ensure you include a clear call-to-action. What do you want the reader to do next? This shouldn't require too much commitment from the reader. They're very unlikely to make a purchase or sign a big contract after one message. Keep it casual – just invite them to add you so you can chat about how you can help them. 
How can Octopus CRM help?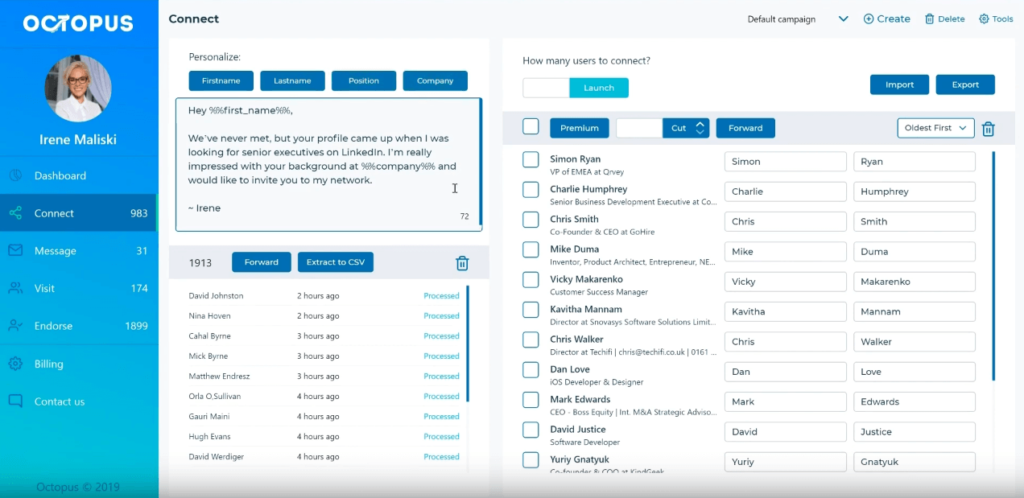 Octopus CRM is the best tool to help you with your outreach strategy. It takes the hard work out of prospecting, giving you more time to focus on growing your business! 
If you're looking for ways to export connections on LinkedIn, scrape LinkedIn emails from the page, send automated connection requests, follow ups and automate your funnel, this is the best tool for you. 
It does this by automating the entire process. Octopus CRM sweeps through hundreds of profiles at once, sending out customized connection requests – to 2nd and 3rd-degree connections. It can also endorse your auto view profiles and endorse connections' skills, plus much more! 
If you think getting results on LinkedIn is going to be time-consuming – you're not alone. But, it doesn't have to be this way! 
Octopus CRM is simple to use and allows you to completely transform your lead generation funnel, while, at the same time, retaining full control of your LinkedIn account. 
Unlike many other tools, you can set limits on your activity and set up a personalized funnel. For example, your ideal funnel might be: send a connection request – endorse skills once accepted – follow-up – follow-up again if no response. This tool can accommodate your business needs. 
To manage prospects, you can export LinkedIn 1st connections in the software, extract LinkedIn emails through scraping emails, and more. 
Additionally, you can use A/B testing of campaigns to see which one works better. And, you can analyze the performance of your campaigns to see your acceptance rate, response rate, and more.
Final thought 
Outreach is the best strategy for lead generation on LinkedIn. Connecting with others is at the core of social media, and this platform is no exception. 
If you want to avoid spending crazy amounts of time on this strategy, though, it's a good idea to get an automation tool that can help. 
Octopus CRM is a great option that can help you in every stage of your lead generation funnel. It has tons of benefits and it can help you achieve your goals.