In today's competitive market, B2B marketing can be challenging. Sales managers have more to worry about now than before.
We've created an in-depth guide to understanding B2B sales. This guide will discuss:
The meaning of B2B sales and how it works

The top five examples of business to business sales

A comprehensive understanding of B2B funnels (and how you can create one)

B2B sales marketing challenges and how you can overcome them
Let's get started!
What are B2B Sales?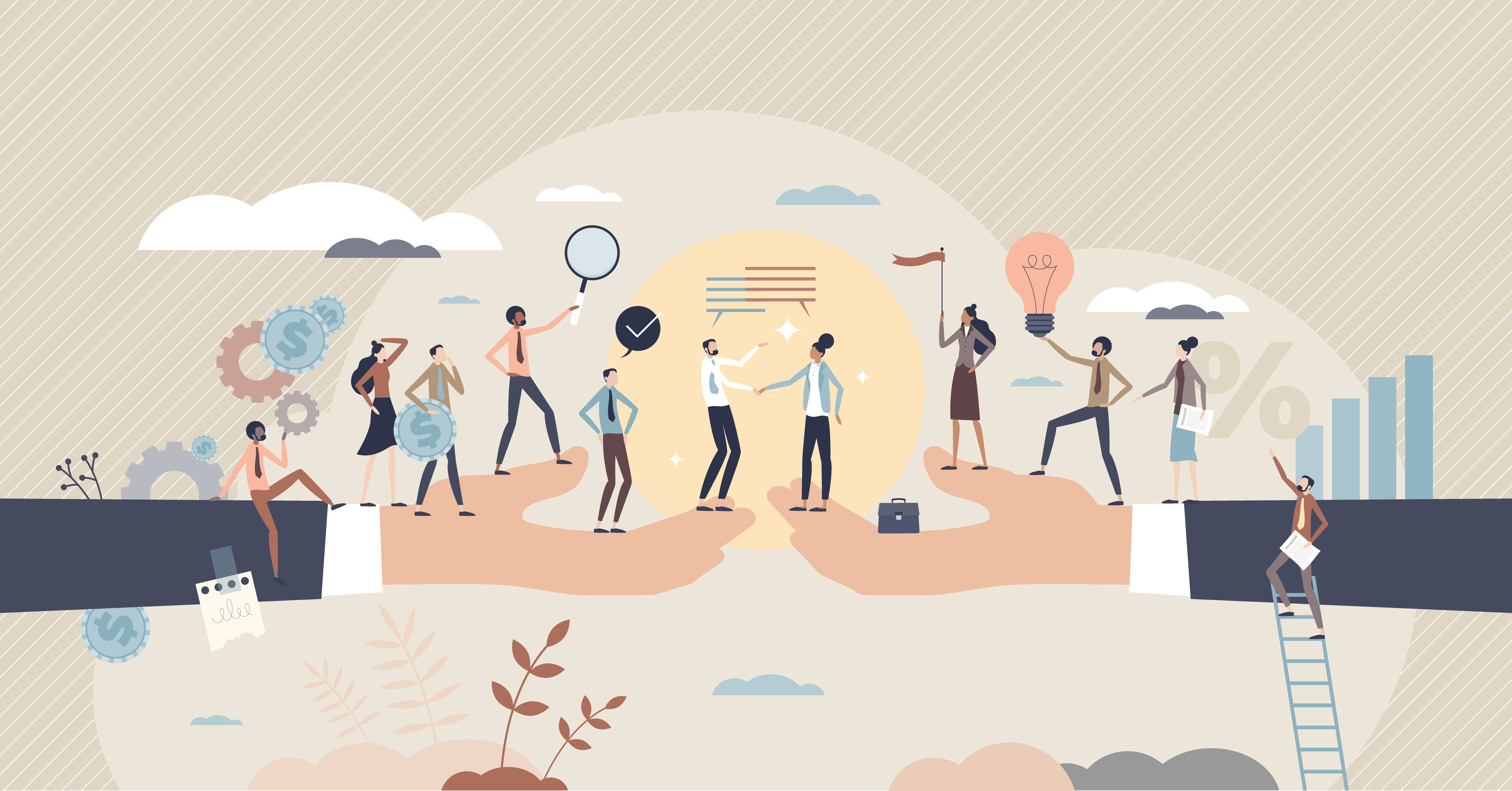 B2B or business to business refers to relationships, marketplaces, or situations involving two business entities. Hence, a B2B company sells products/services to another organization.
The B2B sales process describes a series of events or steps while a business attempts to sell products or services to another.
Business-to-business marketing processes help salespeople convert qualified prospects into loyal customers.
Most B2B sales comprise high price points, complex processes, and multiple touchpoints, requiring a highly-trained and experienced B2B sales team.
How does the B2B Sales Process Work?
The B2B sales process is complex and exhaustive. Successful B2B selling requires a well-designed and appropriately executed B2B sales strategy.
It involves a distinct process leveraging various proven sales techniques depending on the buyer persona and selling situation.
Here's what a traditional B2B sales cycle looks like:
Preparation and Research

Needs Assessment

Presentation and Sales Pitch

Negotiating and Handling Objectives

Closing

Follow-up
In addition, while curating a compelling B2B sales process; consider asking yourself the following questions:
Who is my ideal/target customer?

What job(s) does my customer want to get done?

What is my customer's primary pain point?

What gains will my customer be ready to pay for?

Will my value proposition solve my customer's pain points?

Does my product/service offer features that will add value to my customers' lives?

What story does my customer love to hear?
Answering these questions sets you up to design the perfect sales process.
Related article: Best Sales Automation Tools for Small Business
How Can I Create a B2B Sales Process?
Here we discuss the stages of a sales process:
Identify Stage –

Evaluate whether a lead matches your buyer persona to minimize wasted efforts

Connect Stage –

In the initial outreach stage, you start talking to people and learn about their pain points and goals

Explore Stage –

Sales representatives connect with prospects to further understand their challenges, goals, and resources

Advise Stage –

During this stage, you send a formal submission of a proposal or quote to make a deal

Closed Won or Lost Stage –

The stage starts with sending a contract to a customer and ends when the negotiation succeeds or fails

Delight Stage –

Lastly, after closing the deal, you look for opportunities to foster organic and long-term relationships with the business
Tips for Successful B2B Sales
Effective B2B selling requires in-depth research, extensive planning, and interaction with multiple stakeholders.
Thus, it's essential to learn the best B2B sales techniques to create a more successful sales process and build trust with prospects effectively.
Related article: How to Find and Connect With Future Customers
Here we discuss the top seven tips to ensure successful B2B sales:
Create Your Ideal Buyer Persona
A successful B2B sales process requires a well-designed buyer persona. So, brainstorm your ideal buyer persona and identify what companies fit in it.
During this process, you must consider what your prospects sell or offer. Try to seek additional contextual information about their business' progression.
Let's discuss questions that will help you learn more about the company:
Did the company recently launch a new product/service?

Has the company noticed significant leadership changes in the past six months?

For startups, you can ask yourself whether they recently closed fundraising
Answering these questions can help you determine whether your target company will invest in your offerings.
Listen First
Understanding and actively listening to your customers' pain points and needs is critical for success in B2B sales.
Your sales rep should focus on speaking for 30% of the time, i.e., you steer the conversation and let the buyer continue. It ensures your prospect feels valued.
Moreover, avoid asking obvious questions like what their company does and how long they have been in business. Instead, ask questions that show you're interested in closing a deal and have done your homework.
Map Out the Buyer's Journey
After discovering your target audience, it's time to map out how your customer will make a purchase.
Creating a successful buyer's journey requires you to walk through the steps a potential customer might take to reach your page.
Let's discuss the different stages typical prospective customers go through:
Awareness –

Your customer identifies their pain point and that it needs a solution

Consideration –

The buyer starts researching for other products/services to solve their problem

Decision –

The customer compares available options to make the perfect final decision
Your sales should know how to identify and track prospects in different stages of the sales journey. This way, you can leverage the right strategies to meet customers where they are.
Prepare for Cold Calling
While most B2B marketers dread cold calling, it is essential to secure sales deals.
Businesses that require the product or services you sell will likely respond well to a marketing call. But before cold calling, ensure you conduct profound research. If you can bring relevant information to the table, you'll be more likely to present tangible solutions.
Remember to prepare yourself for cold-calling strangers mentally. Why? Because successfully closing deals requires you to be bold.
Share Customer Success Stories
Request referrals from clients you helped reach success and share them with prospects. Customers are more likely to believe your claims if you show proof of your work.
Go Beyond Selling
Successful selling requires your B2B team to go beyond being sellers. Your business-to-business marketers need to take on the role of educators.
Often, the customer cannot identify the root of their problems. A good sales representative will help customers understand their issues and find the perfect solution.
Qualify Your Leads
Sales qualified leads are leads ready to receive your direct sales pitch. Not every prospect you come across will turn into a qualified lead.
Here's how you can determine whether your B2B prospect is a qualified lead:
What Problem Are You Trying to Fix –

Answering this question helps you identify which product or service you should recommend to your prospect

Has Your Sales Team Tried to Solve This Problem Before? And Why Didn't it Work Before? –

Asking yourself this will offer you the context necessary to identify what will and won't work for solving a customer's pain point. In addition, you can determine which buyer problems you should discuss

Who Will Make the Final Purchasing Decision? –

In business-to-business selling, you have to work with several contact points before closing a deal. Identifying the people involved in making the final decision, the process, and its budget can help you shape the perfect sales strategy
Examples of B2B Sales
B2B companies sell various goods and services to other business clients. Let's discuss the different offerings a business-to-business sales team might offer:
Digital Software –

B2B businesses may offer CRM and content management software to clients, thus offering them efficient and trustworthy reporting and

automation service
Related article: The Ultimate Sales Automation Guide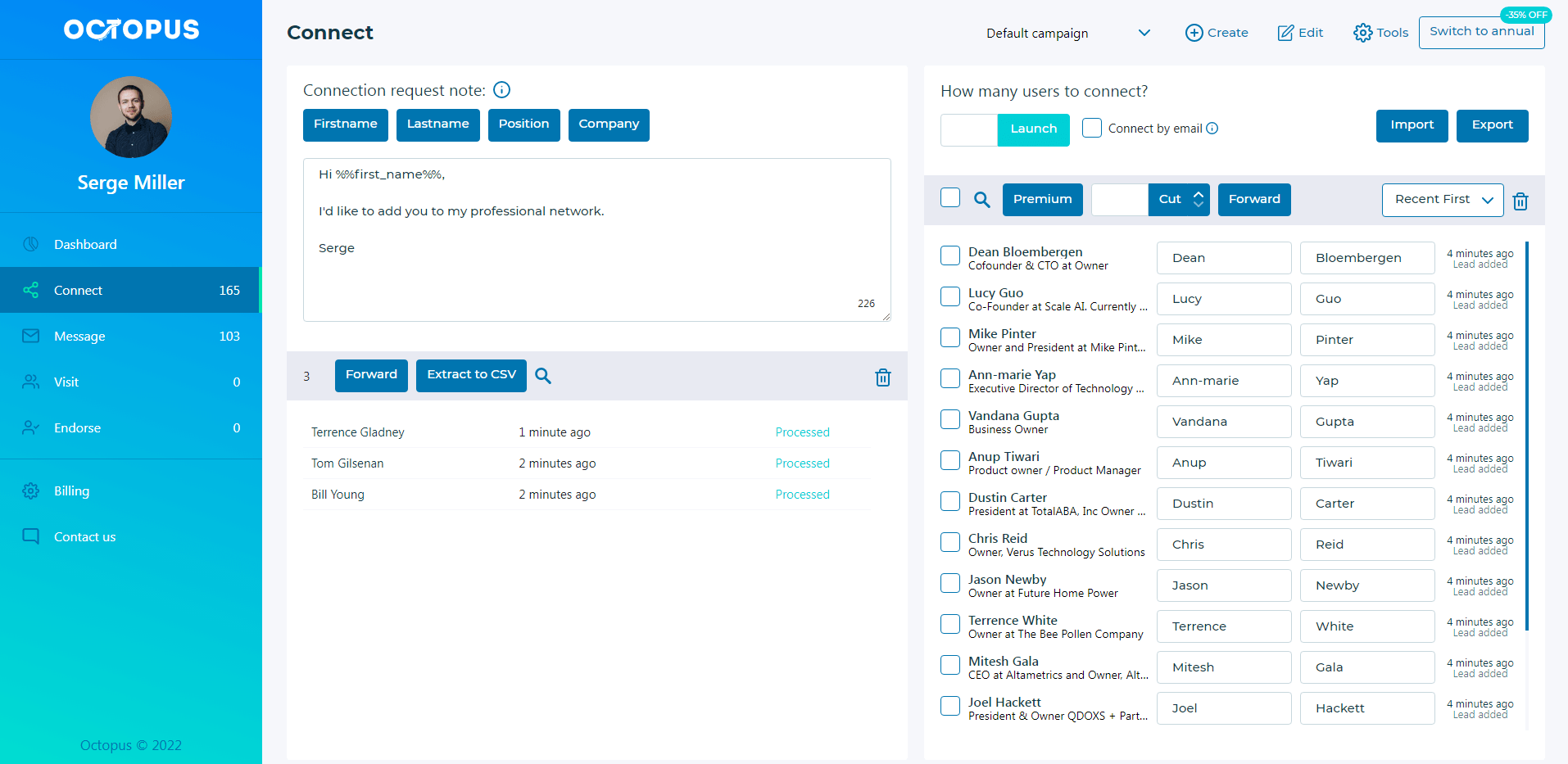 Professional Service –

Most B2B sales pipelines include professional services like insurance, accounting, corporate consulting, real estate management, market research, etc.

Products for a Company's Employee –

Businesses often outsource products and services to cater to the needs of their employees. Hence, a B2B business may offer rental equipment, commercial real estate, or catering services

Raw Goods –

B2B companies in industrial and manufacturing sectors may offer business clients raw materials like cement, plastic, lumber, etc.
Let's discuss some examples of B2B businesses:
Alibaba
Alibaba is among the top B2B e-commerce companies known for selling goods in 40+ industries across 240 countries and territories.
The Chinese multinational technology connects sellers to buyers across the globe while earning money from ads and commissions.
Kippie
Most B2B clients prefer a quick guest checkout over time-consuming and long forms.
Kippie is an innovative Dutch company that solves customer pain points while improving cart abandonment rates.
With Kippie, you can finish the buying process without having to enter all company information.
What is a B2B Sales Funnel?
The B2B sales funnel intentionally guides prospective buyers from introduction to the sale.
The business-to-business sales funnel helps sales reps visualize the likelihood of a customer purchasing by analyzing their cognitive and emotional phases.
The B2B sales funnel is a valuable tool for improving your sales, retaining customers, and boosting overall revenue.
How Does the B2B Sales Funnel Work?
The B2B sales funnel starts with identifying your buyer personas and creating compelling marketing campaigns to captivate customers.
Understanding your buyer's pain points and creating targeted content to attract them toward your product/services ensures more conversions for your business.
So, a sales funnel helps you break the complex buying process into smaller parts, with each designed in a way to captivate a customer.
How Do You Create a B2B Sales Funnel?
A well-designed and structured B2B sales funnel can help you generate qualified leads, improve the sales process, attract more customers, and boost sales.
Let's discuss how you can build the perfect B2B sales funnel:
Understand Your Customers Needs –

Start by performing in-depth research about your target audience to determine where they click, what sites they prefer, and how much time they spend on a specific page

Capture Your Audience's Attention –

Direct potential customers to the wide end of your funnel while tracking them throughout the evaluation and buying process

Nurture Relationships with Customers –

Foster communication with your customer either:
Person-to-person between the buyer and the sales team

Content marketing provides buyers with the necessary information

Unbiased reviews from previous customers
Prepare for the Meeting –

Be flexible and creative to make a lasting impression on your customers. Building an established sales process can help you streamline the process while allowing sales reps to focus on building relationships

Follow-Up –

The follow-up process can play a critical role in optimizing your sales funnel. Focus on customers that reply or ask to connect later and remove those that have gone silent

Close the Deal –

The goal of a sales funnel is to direct customers to make a final purchase. Align your priorities and foster a deep relationship to secure an excellent deal
Related article: Why You Need Octopus CRM for Lead Generation?
What is the Difference between B2B Sales Funnel and B2B Sales Process?
A B2B sales process outlines the theoretical journey from discovering your products or services to buying. In contrast, a B2B sales funnel represents prospects who travel through the different stages of your sales pipeline.
A well-structured sales process comprises predetermined and sequenced steps to convert qualified leads into loyal customers. On the other hand, the sales funnel is customer-focused and tracks the whole customer journey.
What Does a B2B Sales Funnel Look Like?
A traditional B2B sales funnel involves the following steps:
Awareness

Discovery

Intent

Evaluation

Purchase

Loyalty
What Does a B2B Sales Process Look Like?
Typically, a B2B sales process consists of the following steps:
Prospect

Prepare

Approach

Present

Handle Objectives

Close

Follow-up
Best B2B Sales Strategies
Learning the best, most effective B2B sales strategies can help you become more effective at fostering trust and closing deals. Here we discuss the top six sales strategies you need to remember:
Focus on Results
Businesses don't have the time to compare different products and services.
They're not going to surf through your website to determine if your product/services offer them value. They need to get down to the brass tacks.
Training your sales team to focus on results and outcomes by asking the right questions can help save time and retain more customers.
Create a Killer Sales Pitch
It's no secret: a concise, clear, and compelling sales pitch is a marketer's most effective tool.
While writing your sales pitch, remember to write attention-grabbing, informative, and concise sentences. Moreover, remember to be confident and bold.
Practice your sales pitch a few times before you start cold-calling prospects.
Learn More About the Company Before Reaching Out
Ensure you do your research and learn more about your prospect before reaching out.
Focus on learning the challenges and pain points of your prospect so that you can portray your products/services as the perfect solution.
Moreover, consider subscribing to your prospect's newsletter or marketing campaigns to understand how they operate.
Prepare for Long Sales Cycles
B2B sales cycles typically require more internal touchpoints than a business-to-consume sales cycle.
Some business clients only make purchasing decisions at specific points throughout the year. You must be patient when closing a business deal successfully.
Stay Connected
Since B2B sales cycles are longer than B2C, you must take the time to nurture your leads.
Develop proven and practical strategies to stay connected with potential customers. Set up marketing collateral to captivate qualified leads during each step of the sales cycle.
This way, you can improve sales by maximizing conversion rates.
Identify Your Competitors
Long-term B2B sale success starts by creating your USP and standing out from your competition.
Learn about your competitors, understand how to position yourself to differentiate yourself, and work hard always to stay two steps ahead.
How to Generate Leads for B2B Sales
Insightful research by Hubspot reveals that 61% of marketers rank lead generation as the top marketing challenge. Despite this, most marketers focus on lead generation to boost revenue.
Here we discuss the top six ways you can generate quality leads for B2B sales:
Curate Targeted Lists of Business Contacts
Generating a high-quality and targeted list of B2B leads allows you to position your offering in front of a massive audience through cold emails.
But successfully generating leads through targeted lists requires you to access a database that does not contain:
Outdated and incorrect information

Buyers that don't match your company size, industry, or job titles

Leads that are already customers or in your CRM
Instead, leverage a state-of-the-art B2B lead generation software with an extensive database. Most innovative lead generation software allows you to filter by:
Already Engaged Buyers

Company Size

Funding or Revenue

Industry

Job Title

Location

Technology

And more!
Run A/B Tests on Key Pages
Running A/B tests on crucial pages like your landing page or homepage can play a critical role in improving the number of leads generated.
For instance, WallMonkeys used an innovative heat map to determine where visitors' eyes landed after clicking on their homepage.
WallMonkeys made a few adjustments to its homepage to increase B2B leads with its results. After putting its strategy to the test, the company noticed an incredible 550% conversion boost.
In addition, a project management software called WorkZone switched its testimonial bar from colored to black and white to enjoy a 34% increase in sign-ups.
Find Qualified Leads by Cold-Calling
While the sales and marketing methodologies constantly evolve, cold calling has remained influential.
While some marketers believe cold calling is dead, research reveals otherwise. According to a RAIN Group report, more than 51% of customers want businesses to contact them by phone.
Here are a few tips for cold-calling that can help you generate more leads:
Rehearse for Your Cold Call –

Do your research about your prospects to identify the best way to position your services. Consider preparing a script beforehand and rehearsing

Pick the Right Timing –

Show your prospective that you respect their time and needs. Avoid calling your potential customers in the middle of the day between Monday to Thursday

Don't be too Persistent –

Don't be too formal. Instead, talk in a friendly tone, follow up with emails and thank them for their time
Personalize Cold Emails
Personalizing and customizing cold emails with merge tags and signatures can help boost leads significantly.
A merge tag allows you to replace the first name/company name in each email, offering it a personalized look.
A targeted and personalized email is more likely to evoke responses from prospects.
Set Up a Chatbot
Research shows that you must respond to a new lead within five minutes. Unfortunately, only 10% of B2B companies achieve this feat.
Chatbots are an underused yet effective way of converting cold leads into warm ones. It also ensures your visitors enjoy a personalized response in less than five minutes.
Buyers want quick answers, and AI-powered technology provides you with an easy yet fast way of interacting with target audiences.
While setting up a chatbot, consider the following points:

Which website page experiences the highest conversion rates?

Which tone of voice best corresponds with your company?

Which updates and features are valuable for my brand?
List Your Company on Directories
Listing your B2B company in an online software directory can help drive leads. Here are a few guides you can sign up to attract businesses looking for similar products or services:
Capterra

G2Crowd

CabinetM

SaaS Genius

Software Advice
What are the B2B Sales Challenges?
According to research, 40% of salespeople agree that prospecting is the most challenging part of the sales process.
Let's discuss the top five B2B sales challenges and how you can solve them to make prospecting a much easier task:
Challenge # 1: Undefined Sales Process
A well-designed B2B sales process is critical for ensuring success. An undefined and clunky sales process or funnel will remain ineffective and diminish your other efforts.
Your sales team must combine their skills, expertise, and experience to create and follow a proven process.
An aligned and simplified B2B sales process includes:
Identifying and qualifying leads

Understanding the needs, requirements, and challenges of prospects

Presenting a solution

Closing sales deals successfully

Uncovering further business opportunities within the account
Polishing your sales process while coaching your sales team motivates them to sell more effectively. Ensure you create a well-structured sales process to reinforce any other sales effort you present.
Challenge # 2: Standing Out in the Crowd
Cutting through the noise in today's competitive and constantly evolving sales environment can be challenging. And there are stats to confirm this:
According to research,

businesses sent and received 319.6

billion emails within a year

And prospects

open only 21.5% of sales

emails

Lastly, it takes an

average of 18 calls to connect

with a prospect
It's challenging to communicate with a lead and even harder to make them respond.
The value you offer your buyers is the best weapon in your arsenal.
Offering value to your prospects through a high-quality and personalized experience helps you convert leads and foster meaningful relationships.
Challenge # 3: Selling to the Wrong People
Making a hundred calls and writing the best quality emails will be meaningless if you keep targeting the wrong prospect. If you are offering a high-value proposition, you won't be able to close any deals.
Instead of wasting time captivating unqualified buyers, try to find prospects who are more likely to invest in your services or products.
You can achieve it by developing an Ideal Customer Profile boasting a combination of firmographic and behavioral characteristics of your target audience. Plus, using an ICP can help sales reps develop practical outreach strategies that convert.
Challenge # 4: Leaks in the Sales Pipeline
Most B2B sellers spend time on non-core and administrative tasks, which lessens engagement and selling opportunities.
According to Hubspot, sales reps spend most of their time in the following activities:
21% of the time, writing emails 

17% of the time, updating data

17% of the time doing research 

12% of the time, scheduling client calls

12% of the time attending meetings
And spending only 34% of the time selling their products or services
Sticking with a single sales process can cost you qualified leads and revenue. Instead of playing by the book, be flexible, and change your sales process accordingly to a customer's buying journey.
You may even consider tweaking your ICP, fixing lead generation strategies, and improving qualification processes to eliminate potential leaks in your sales pipeline
Challenge # 5: Data Overload
One challenge most B2B salespeople run into is overcomplicating their sales pitch. Too much data on a sales pitch can cause wasted time and money.
Although adding compelling stats to your content marketing strategy can capture interest, decision-makers may become too overwhelmed to make a purchase.                                                                    
With a sales pitch that talks about the level of technology buyers must learn, the number of competitors you have, and how you can transform their numbers, your prospect will likely experience analysis paralysis and close their tab.
That means your sales cycle comes to a stop. Solve this problem by simplifying your sales pitch. Combine your value proposition with several repeated benefits to avoid overcomplicating information. Ensure your sales leader listens to a buyer's specific pain points and offers solutions accordingly.
How to Measure Your B2B Sales KPIs?
It can be arduous to stand out in a B2B sales market with high competition, convoluted processes, and a rigorous audience.
Thus, B2B salespeople must track their performance to survive and succeed in this market. Identifying the right B2B sales, KPIs can help businesses spot vital areas, pinpoint weak spots, and learn where they need to improve.
Let's review the top B2B sales KPIs you need to measure to improve your performance:
How Do You Select the Best KPIs?
To select the correct KPIs for your business, you must understand your company's goals, mission, and vision. For this, you need to take a step back and ask yourself what you and your business want to achieve within this year.
After answering that question, you can narrow down your primary KPIs. Most B2B companies focus on:
Gaining more customers

Boosting yearly revenue

Increasing conversion rates
After identifying two to three primary KPIs, you can start choosing your secondary KPIs.
Which
Which KPIs Should I Measure?
Here are the top three KPIs your company, should keep tracking:
a) Sales from New Business Ventures
Keeping track of new business ventures and product launches can help you decide whether you should invest more money and time.
b) Sales Volume by Location
Measuring sales volume depending on a location can help determine where demand for a service/product is high and low.
Information from this KPI can enable your sales team to customize strategies according to the increase in demand.
c) Opportunities Created
Track the number of opportunities created per year to identify the number of active prospective salespeople pushed into the funnel.
With this KPI, you can forecast future sales and identify qualified prospects.
d) Monthly Calls Per Sales Rep
Consider tracking the number of calls per sales rep and how many of those convert into prospects.
Ultimately, this KPI can help you identify whether you should invest in a specific outbound technique is worth.
B2B sales vs. B2C Sales
The primary difference between a B2B and B2C business is their target customer.
While a B2B company sells its products and services to other businesses, a B2C serves the end consumer directly.
Examples of B2B Companies
B2B companies are companies that sell products and services to similar organizations. Here are some examples of B2B businesses:
Takata and Autoliv who serve other automakers like Audi and Ford

Salesforce offers CRM solutions or AI-powered technology to the marketing team
Examples of B2C Companies
B2C companies typically directly reach out and sell to buyers. Examples include:
Apple

Macys

Target

Zappos
Why is LinkedIn the Best for B2B Marketing?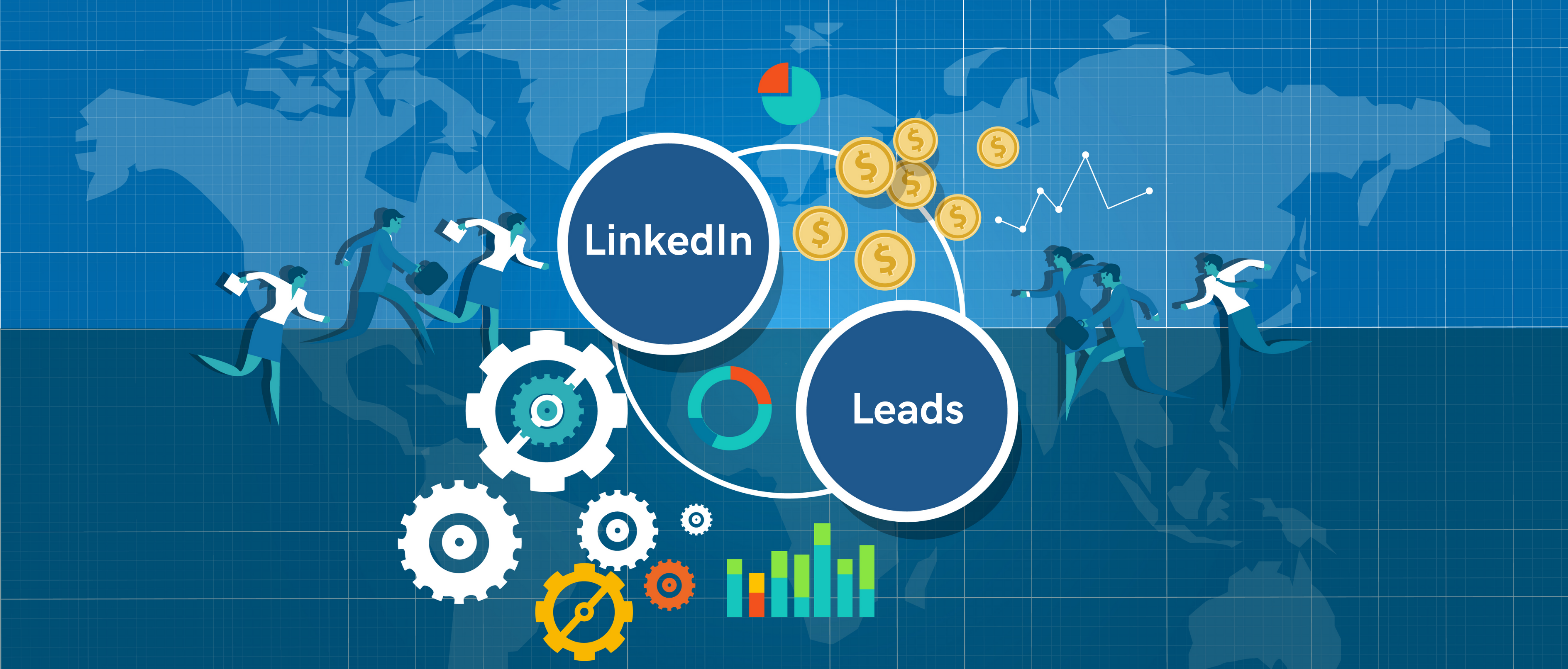 LinkedIn is a popular social media platform to connect with business buyers and professionals. It is also a critical B2B social media and content marketing platform. LinkedIn allows its users to establish thought leadership, build relationships, gain insights, generate leads, conduct market research, build online communities, and improve their reputation.
Although B2B social media is not easy as it may seem, LinkedIn has become a popular social media platform for business-related gains. It offers numerous ways to connect with business buyers, making it easier for users to communicate with professionals. LinkedIn has become a profitable platform for B2B marketers with its increased demand in content marketing.
Moreover, it enables the users to look for new opportunities, build meaningful relationships, and establish well-oriented campaigns. Today, businesses constantly use LinkedIn to conduct research, gain leads, connect with customers, and improve relationships with buyers.
How effective is LinkedIn for B2B Marketing?
According to LinkedIn, over 500 million members, 40 million decision-makers, and 61 million senior influencers with active profiles on the platform. The platform boosts the number of users, but the users are high-level executives and influential that businesses mainly target for their B2B marketing campaigns. Undoubtedly, LinkedIn is the right place to reach these decision-makers when introducing a product or service.
LinkedIn users earn high incomes as it is the most used social media platform. Unlike any other social media site, LI is a strictly professional website for businesses that offer social and marketing elements to its users.
Reasons to Use LinkedIn for B2B Marketing
LinkedIn is perfect for lead generation. LinkedIn allows users to build meaningful connections. Therefore, users prefer LinkedIn to look for job opportunities, connect with professionals, or introduce their products to potential customers. Since LinkedIn is the most reliable platform to communicate with customers and other users, it has become immensely popular with time. Here, we discuss some essential benefits of using LinkedIn.
Create awareness
LinkedIn is the perfect platform to increase your online presence. With professionals signing up their LinkedIn accounts every second, businesses have more significant opportunities to connect with them to expand their network and increase the number of contacts.
Improve reputation
LinkedIn is the right platform to improve a company's reputation. Using different features on LinkedIn, businesses, and people representing them can improve their visibility and credibility.
Thought leadership
Several LinkedIn features enable users to position themselves as leaders in specific domains. It allows users to provide high-quality content, improve their profile, and participate in LinkedIn groups and communities to answer questions. LinkedIn is the perfect place for thought and practice leaders who aim to become trusted advisors. Moreover, the main aim of LinkedIn is networking. Therefore, it allows users to identify and engage other influencers.
Generating Leads and Increasing Sales
LinkedIn is the best platform to generate leads. With traditional techniques such as sharing valuable content for LinkedIn users to attract them to download or drive traffic to your course, LinkedIn also offers personal ways to identify potential leads, engage them and turn them into loyal customers.
Businesses can quickly achieve it by listening, participating, networking, analyzing, sharing, and responding. Networking with potential customers and marketing to them using LinkedIn increases opportunities for better sales.
Social CRM
LinkedIn is perfect in the social CRM context. It offers a better view of customers and other contacts. Users can easily integrate a simple Social CRM application and connectors, such as Outlook. Even though most social CRM solutions provide integration with LinkedIn, you can also set up an essential integration of your contact because LinkedIn supports Google contacts.
Another benefit of the social CRM tool is that it allows users to see what their contacts are doing on LinkedIn in real-time while offering valuable information on their preferences and behavior. When users target a connection, LinkedIn allows them to see this information in its environment.
Traffic building
LinkedIn's strength is its power in traffic driving and link building. Like other social media networks, LinkedIn offers a social sharing button that allows users to share content in their status updates and LinkedIn groups they have joined. It works well for business-related content and has viral effects. Users often share business content more through LinkedIn than on Facebook.
How Can You Use LinkedIn for B2B Marketing?
LinkedIn is the fastest-growing network and a powerful platform for B2B marketing. It builds a solid professional network that businesses seek and has become an inevitable part of digital marketing. Moreover, 46% of social media traffic to B2B websites is through LinkedIn. Here, we discuss some ways to use LinkedIn for B2B marketing.
Optimize Your Company Page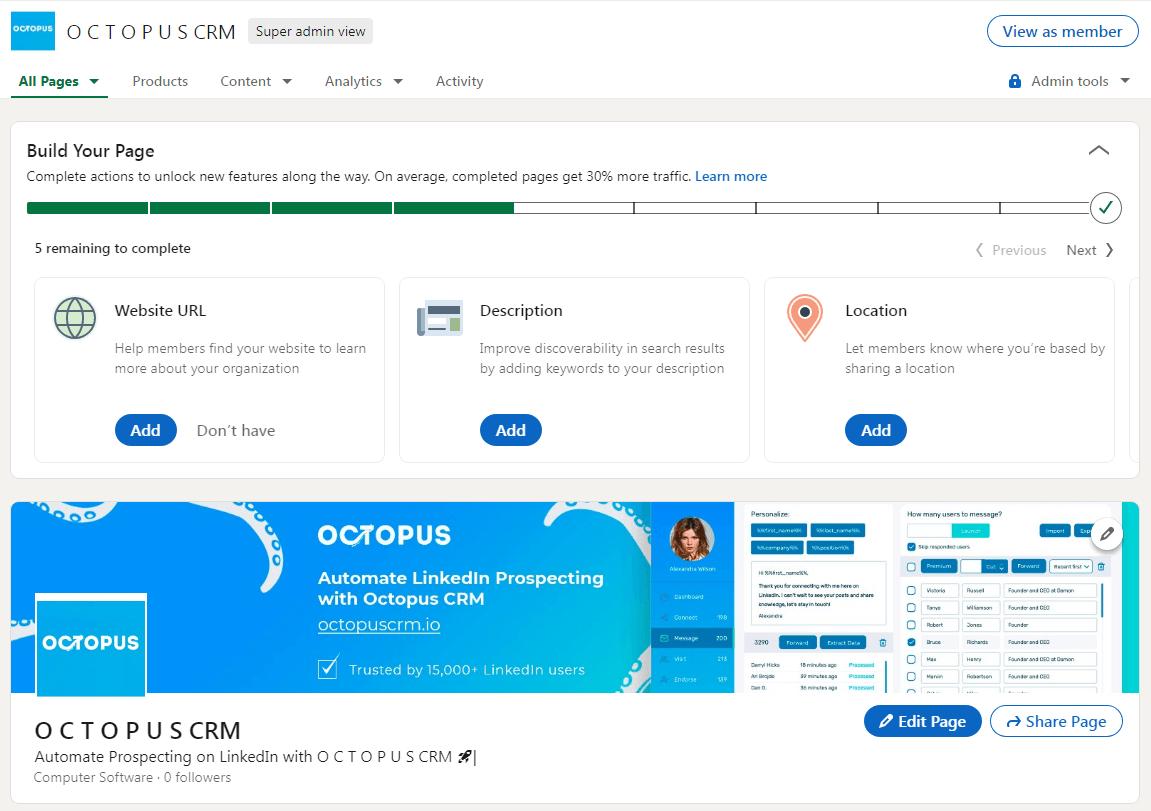 While using LinkedIn for B2B marketing, it is essential to SEO optimize the company page. Prospect clients who come across different brands often browse Company pages to find more about the company and its products and services. They scanthe company page to gather information about the business and the advantages of connecting with it.
Therefore, businesses must make certain adjustments to improve their overall performance. You can write a summary about your company describing what it is about and how their products would benefit the customers. It is essential to use specific keywords to target the audience and make your page more discoverable.
A study from Edelman and LinkedIn shared in 2020 revealed that sharing valuable content related to the industry is one of the most effective ways for companies to stand out and differentiate themselves from their competitors. It leads to more sales.
Moreover, the study revealed that 89% of decision-makers positively perceive partner organizations by sharing thought leadership, such as opinion posts, presentations, webinars, research reports, etc. Since many decision-makers are active on LinkedIn, it is an ideal platform to reach decision-makers through thought leadership.

Organic growth on all social media platforms is challenging, and LinkedIn is no exception. While using LinkedIn for B2B marketing, it is crucial to allocate your marketing budget to paid ads that can expand your reach. LinkedIn ads are effective ways of increasing views; spending a few dollars can do wonders to your business. Users can view sponsored ads on their LinkedIn feeds, which shows that these ads reach them when they are most engaged.
Moreover, LinkedIn Ads play a significant role in boosting the company's online presence. It has numerous benefits to businesses that can utilize LinkedIn Ads according to their needs. Whether a company wishes to reach a target audience or generate B2B leads, LinkedIn Ads are the perfect way of achieving their online goal.
Use LinkedIn's Search Features to Boost Sales
Your LinkedIn B2B marketing would provide better results if you are marketing to high-quality prospects – who would benefit from your services. Luckily, LinkedIn makes it easier for businesses to look for these prospects through its search function. Users with a free personal account can also search for members from specific locations or industries by inserting relevant keywords.
Conclusion
LinkedIn plays a vital role in helping users connect with other LinkedIn users. With numerous features available on the platform, it has become easier to connect to profiles and make strong connections.
Moreover, it is the best platform for B2B sales and lead generation strategies. The fact is that generating high-quality leads and prospecting is every B2B marketer's priority.
While there are endless techniques marketers can use to generate quality leads and convert them into buyers, it is essential to stay up-to-date with the latest trends to improve past performance.
Look at the techniques discussed above and identify those that best meet your business needs. Implement the strategies that fit your company to improve sales success.
Consider leveraging LinkedIn to improve lead generation and prospecting performance.
Get 50+ Motivational Sales Quotes You Can Use For Inspiration