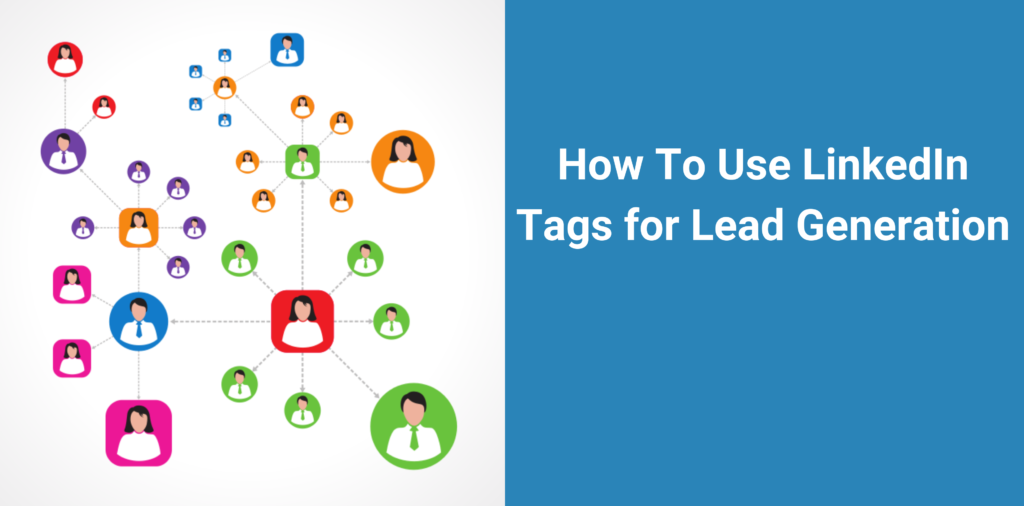 How To Use LinkedIn Tags for Lead Generation
When it comes to generating new leads, LinkedIn has many tools and features that can be used to improve your efficiency and make your processes smoother.
One of these features is LinkedIn tags.
If you haven't used LinkedIn tags before, they can be a great way of streamlining your sales cycle.
They can help you to organize your network, make it clearer and easier to utilize and help you to send different types of messages to different groups without all the hassle.
When used as part of your LinkedIn lead generation strategy, it can increase the chances of you sparking up conversations with potential clients, generate more referrals, and find new customers.
So, how exactly does LinkedIn tags work? And how can you use it to your advantage?
Here's everything you need to know about using tags on LinkedIn:
What Are LinkedIn Tags?
LinkedIn tags are a great way of organizing and categorizing your contacts. It makes it easier to split your connections into segments, even if the information you're using isn't available on their profile.
For example, LinkedIn lets you start out with a few generic options, like members of certain groups, colleagues from a particular job, close friends, and some others.
Then, you are able to create up to two hundred of your own custom tags. These can be accessed via the "relationship" tab on their LinkedIn profile.
Basically, if you're using LinkedIn as part of your lead strategy, you can easily access particular groups of people, making it much easier when you're targeting them in sales campaigns.
However, LinkedIn has removed an ability to add tags for free LinkedIn users, therefore you'll need to have a paid LinkedIn account to do that.
How LinkedIn Tags Work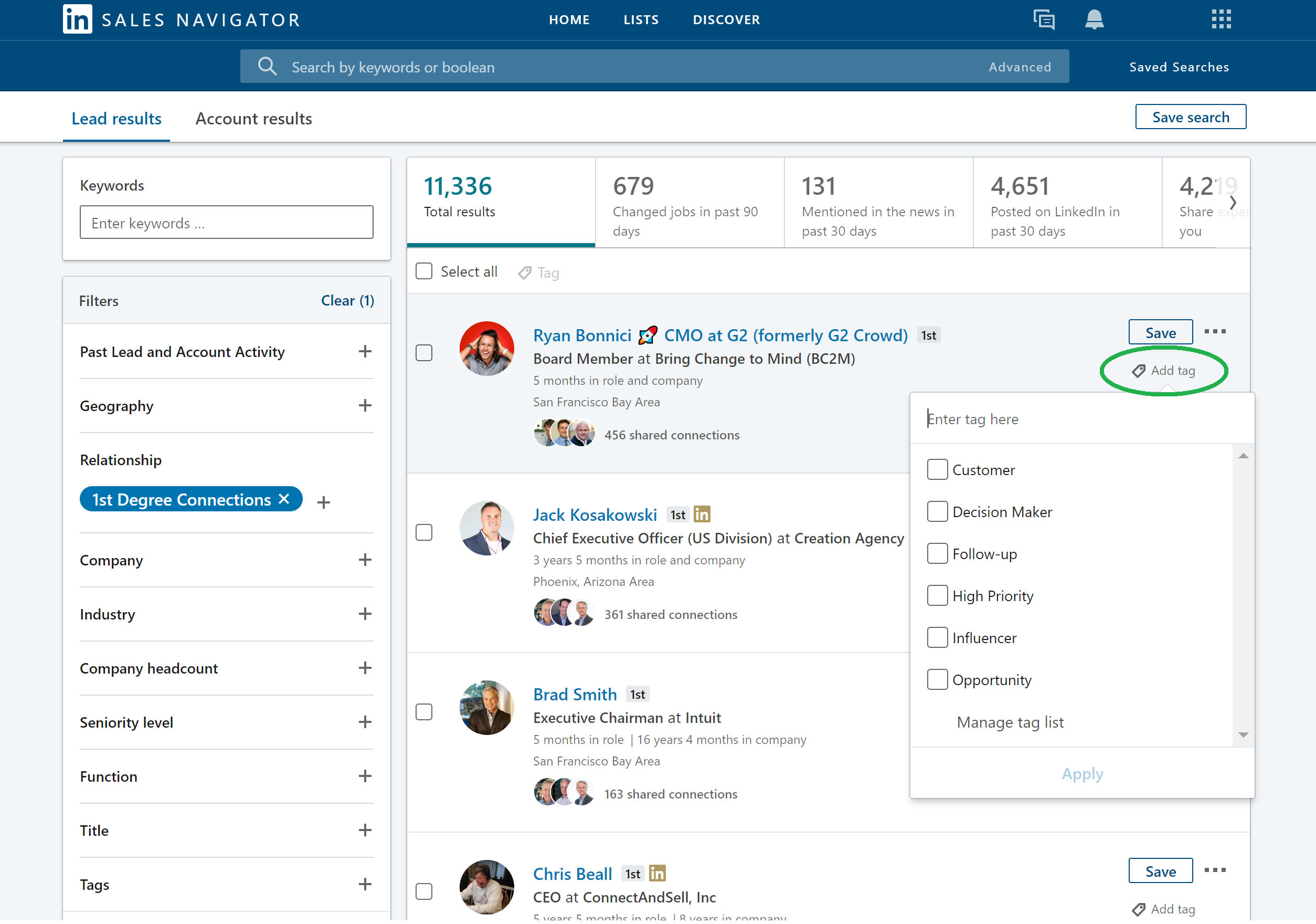 As you can see, using LinkedIn tags to organize your connections can make your life a great deal easier.
But how do they work?
Well, in order to use them most effectively, you would start off by tagging your 1st-degree connections. These are the people you're already connected to on LinkedIn, and it's a great place to start.
To do this, go to you LinkedIn Sales Navigator page and go to the search panel. Then click on "filter", and choose the "connections only" option.
Once you're on your list on connections, you will be able to add an existing tag to some specific profiles or create a new one by simply entering the tag name.
You can use this to find the contact you're looking for, and then you can assign a specific tag to each person. Then simply use the "Tags" filter at the left toolbar of Sales Navigator, select the needed one and LinkedIn will show you all the profiles tagged by you.
Which tags you choose to create will depend on numerous factors. For instance, think about what your business goals are. What difference audiences do you need to target? By determining this, you will be able to create tags that will help you to achieve your goals.
In addition, if you want to sell different services or products to different groups, you are able to create different tags for each group.
If you have a larger audience, you will also be able to split them further – by location, for example. This can help you work more efficiently and keep track of your connections with ease.
Ways To Use LinkedIn Tags
 Choosing to use LinkedIn tags can help you to manage your connections. But, how can this tool be best utilized in order to get the maximum benefits?
There are many ways that tags can be used to help your lead generation process run smoothly.
Some of the ways you can use LinkedIn tags include:
Types of clients or customers
Your clients and customers should be your number one priority when you're building leads. After all, they are your most important asset and being able to manage your relationships with them is the key to success.
Using tags to sort and keep track of your clients can be hugely beneficial, especially if you have a long list.
Tags will allow you to send the most appropriate messages to each group, and to tailor your campaigns according to their individual needs.
Whether you're running a local, national, or international business, chances are you will, at some point, need to target clients in a particular area or region.
You may also need to tailor your campaigns to suit different regions.
Using location-based tags can help you to organize your contacts so that you are able to do this without going through your list every time. Everyone in each region will be available to you in just a few clicks.
If you have lots of prospects, you might want to put them into segments based on what type of content you want to send out to them.
And having all of your hottest prospects on one list can help you to reach out to them with tailor-made content on a regular basis.
This can be very helpful, especially if you want to send high-value content to multiple connections at the same time.
Top tip: always remember to personalize your messages, as this will help you to increase the chances of getting a response. You want your message to be seen as high value.
As well as being a useful tool for building relationships with long-term clients, LinkedIn tags can also be used to help you manage your short-term needs.
An example of this would be key contacts for specific events or clients that could potentially be interested in sponsoring or planning an event.
Streamlining your sales process
Last but not least, LinkedIn tags can be used to streamline your sales process.
To do this, start by breaking your sales cycle into steps. Then, identify where each potential clients is in this cycle, and categorize them accordingly.
For example, you could have:
Potential future clients
Message for influencers
Introduction message
Thank you message
Relationship building message
Arrange phone call message
Arrange meeting message
Invite to event
By doing this, you can keep track of your leads, where they are in your sales process, and ensure that you don't miss anyone.
Final thoughts
As you can see, LinkedIn tags are an extremely useful and versatile tool that can be used to manage, organize, and streamline your sales lead process. Our Octopus CRM users love LinkedIn tags since they allow to assign a specific tag to their 1st level connections based on the sales process their prospects are in, then create corresponding campaigns in the CRM of our LinkedIn tool and transfer each audience to a separate campaign to perform automation actions.
LinkedIn tags are great and when used well, it can help you to achieve more success, build new relationships, and reach more potential clients much more easily.