Tagging companies on LinkedIn helps increase its visibility and improves your outreach. Wondering how you can tag someone on LinkedIn?
In this article, we'll discuss how you can tag a company on LinkedIn and the benefits of tagging:
5 Steps to Tagging a Company on LinkedIn
Boost your exposure and impressions by following this step-by-step guide:
Step # 1: Find a Post or Article You Want to Share
Start by choosing the article, image, or video you want to post on LinkedIn. Click the "Start a Post" button to create your post.

After that, select the "Camera," "Video," or "Document" icon to find the item you want to post.
Step # 2: Create a Compelling Caption
Type an attention-grabbing caption that hooks your readers and matches your LinkedIn post.
Step # 3: Find the Company You Want to Tag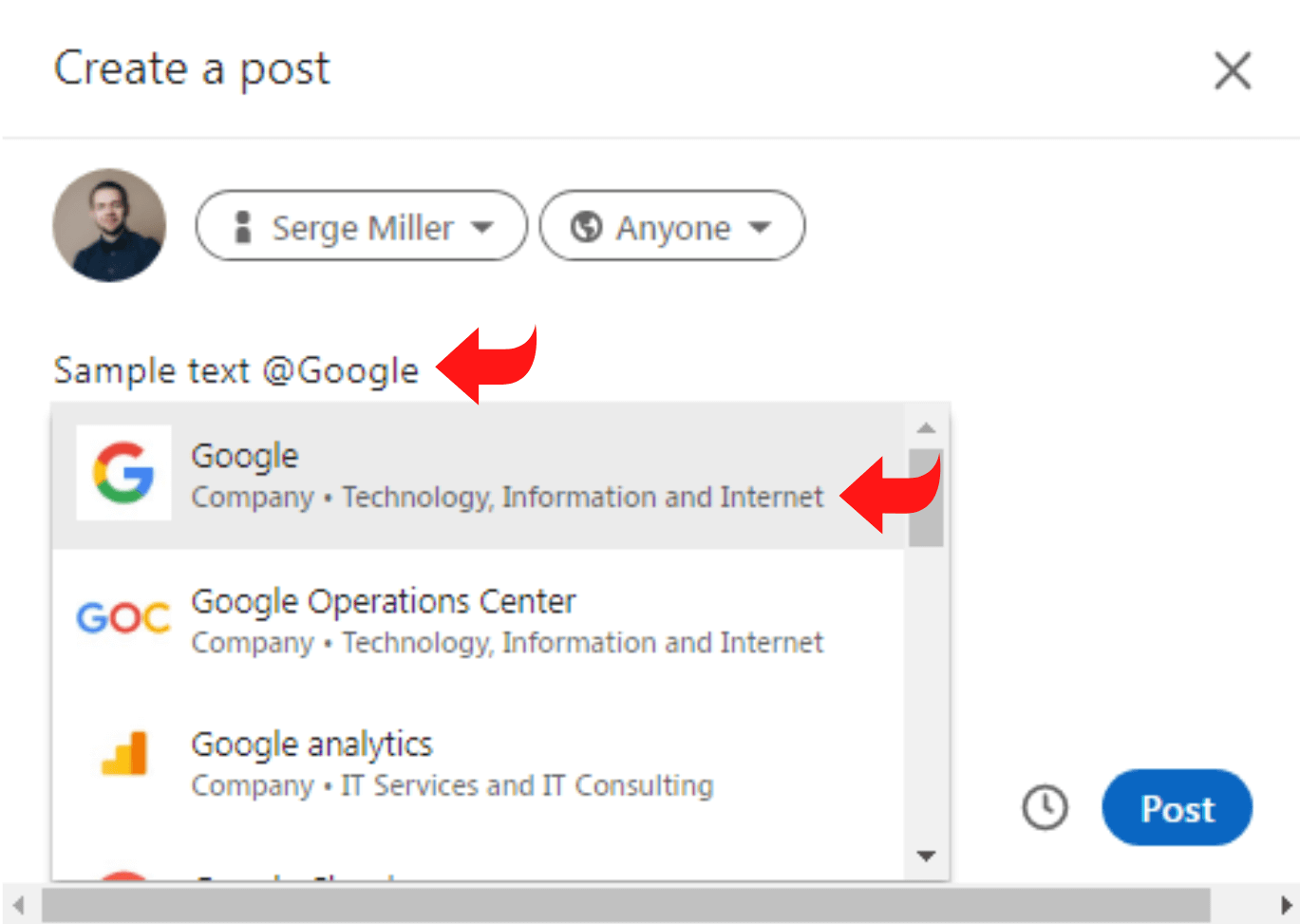 Next, click the "@" button on your keyboard and write the company/person's name to tag them. Ensure you don't add a gap between the title and @ symbol.
Once you find the person or company, click on them. 
Step # 4: Verify If You've Tagged the Company
Ensure the process works by checking if the name you mentioned turned bold. You can repeat this process to tag as many people as you need.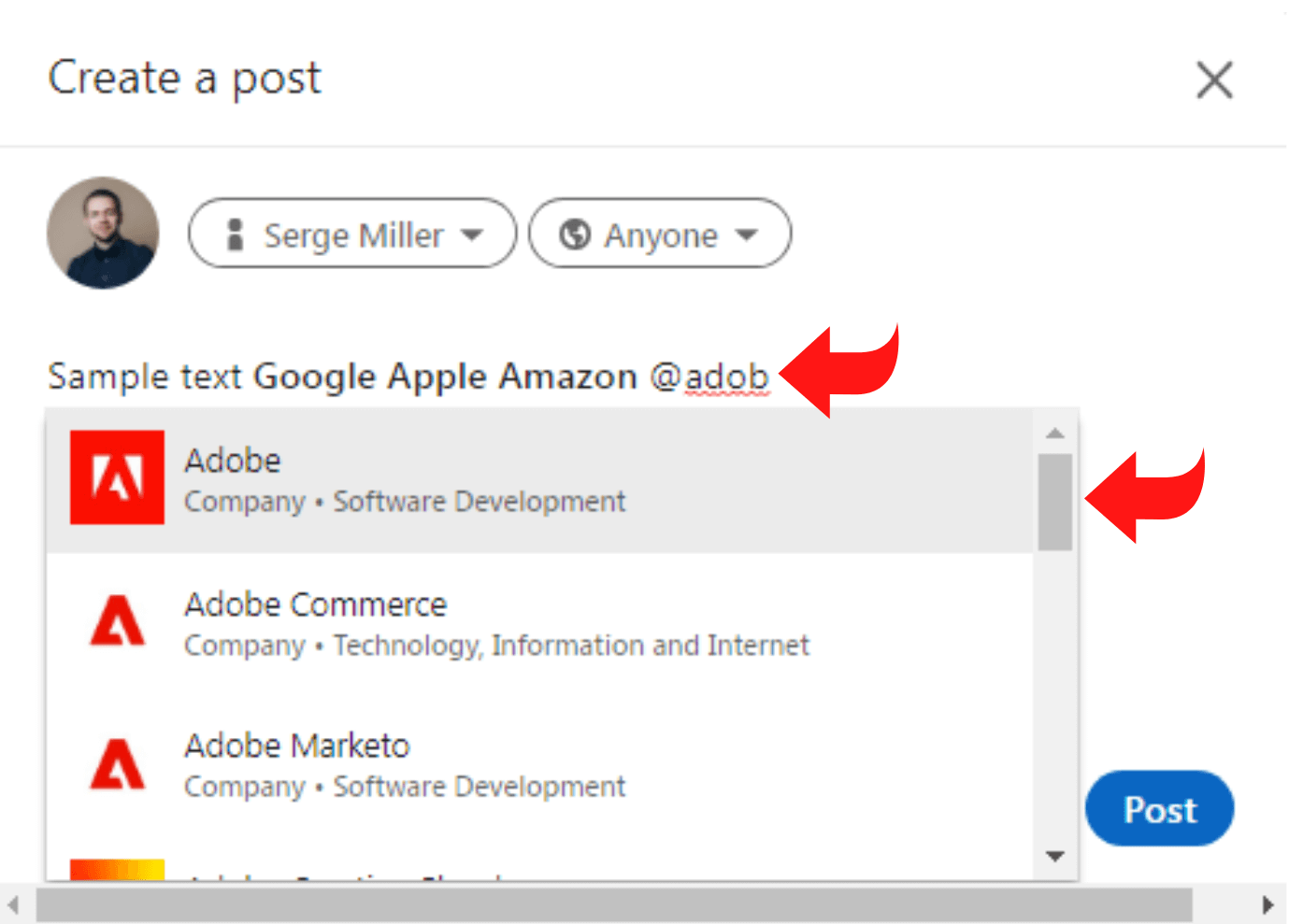 Step # 5: Make Your Post Public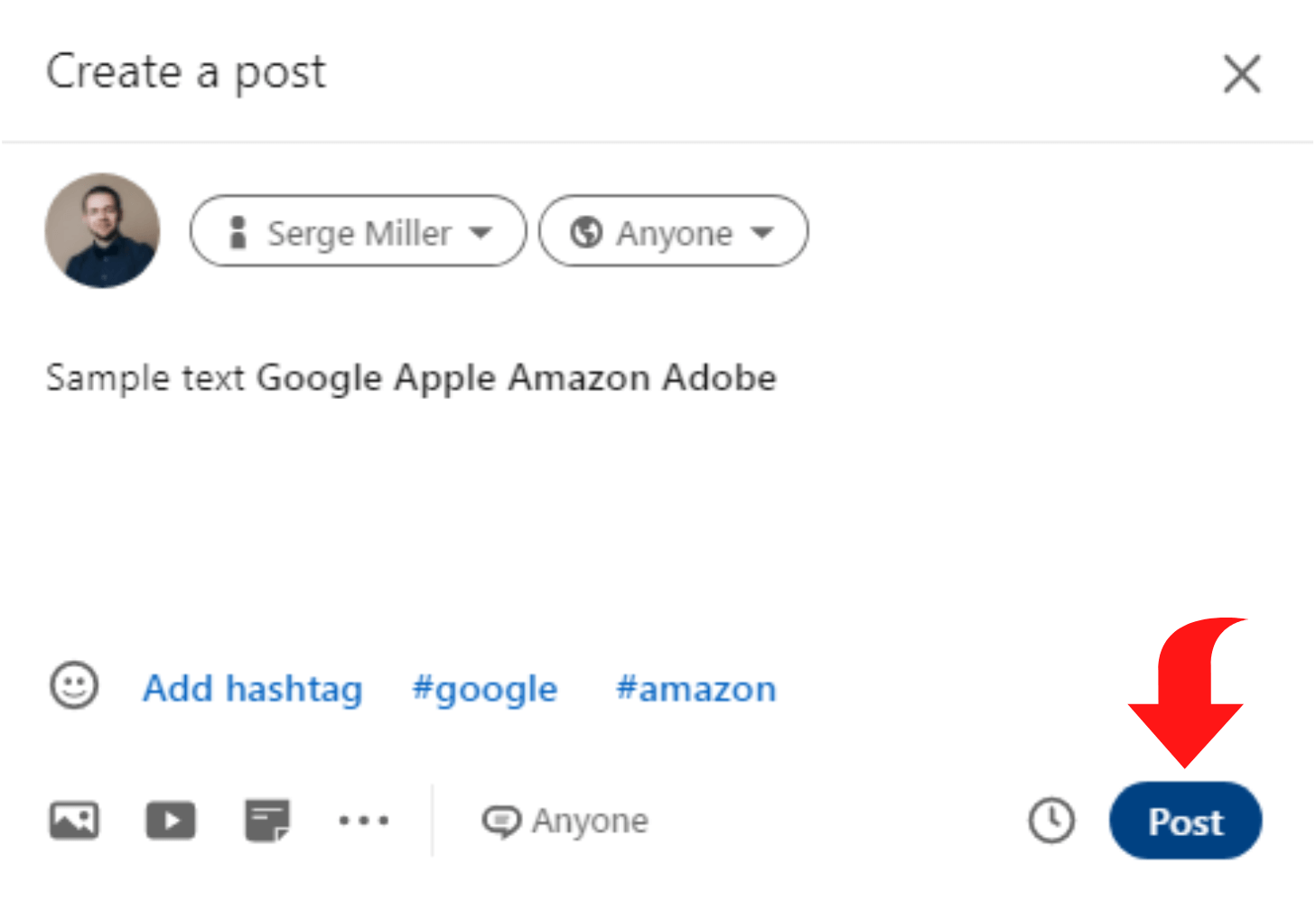 Now, it's time to make your post public! Click the "Post" button to share the article or video with your network and highlight the companies you've tagged.
Note that people and places you tag will receive a notification.
How to Tag a Company on the Mobile App?
If you're using LinkedIn on your mobile, you can follow these steps to tag a company page:
Launch LinkedIn's mobile app and visit the Homepage

Click the text box showing "

Share an article, photo, video, or idea."

Click the relevant option to share your post and create an attention-grabbing caption

Next, tag different

company pages

by adding the

"@"

symbol followed by the name

A list of people/companies will appear in a drop-down menu. Select the ones you want to tag and verify by checking if it turns bold

Select the

"Post"

button to share it on your LinkedIn profile
Tips to Remember when Tagging on LinkedIn
Here are several bonus tips to keep in mind when tagging companies on LinkedIn:
You Can Tag Old Posts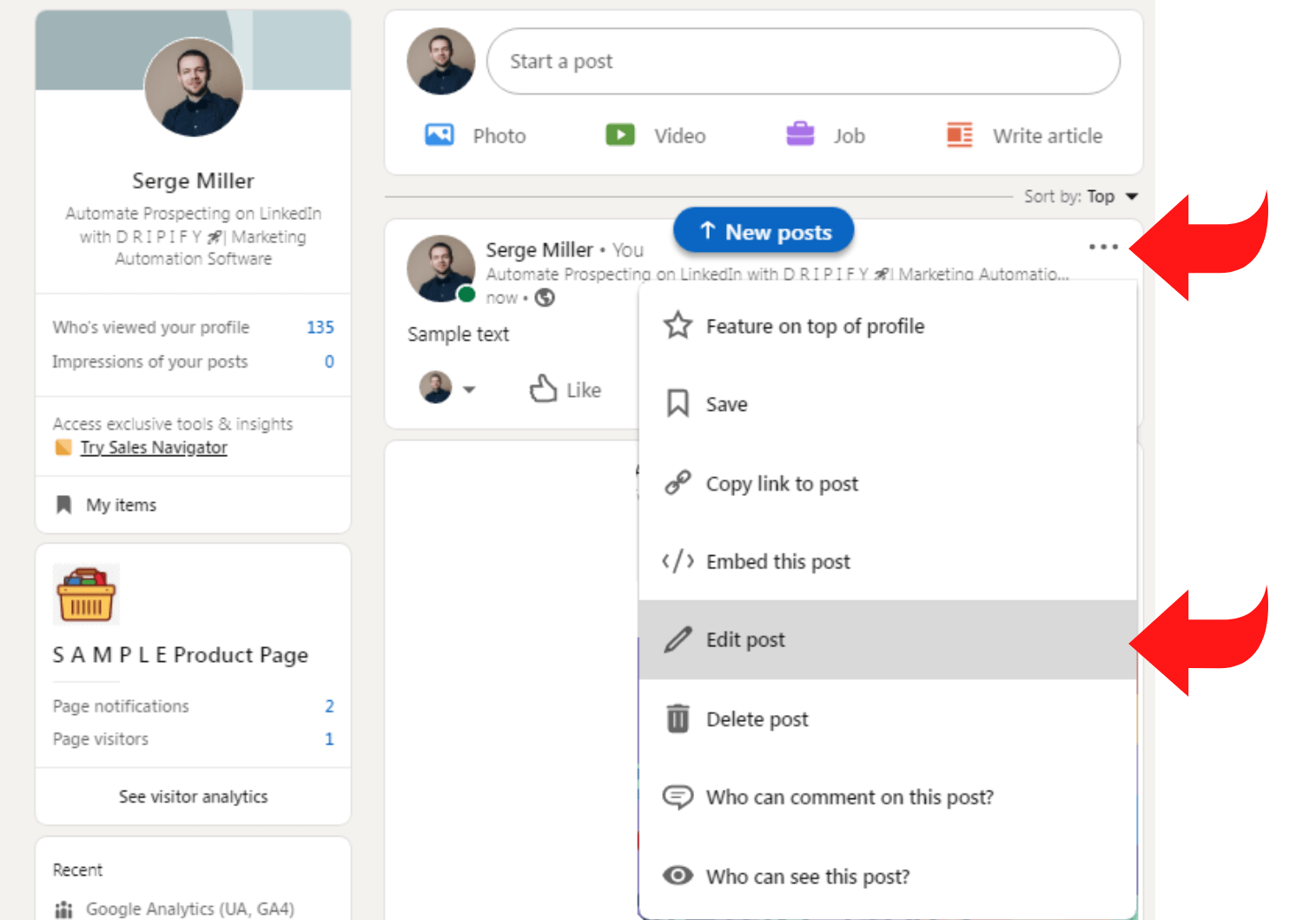 LinkedIn allows you to tag people and companies after you've created a post. Click on the "Edit" button to tag the company page.
You can also edit comments to add a tag to them.
You Don't Need to
"Expose"
Anyone
LinkedIn is a professional website for networking and growing brands. Ensure you're not hurting someone's brand image or integrity by tagging them.
For instance, if a colleague is looking for a new job while currently working at a company, you can't tag them in a post like, "Hey @name, how's your job search going?"
Benefits of Tagging Companies on LinkedIn
At a glance, tagging companies on LinkedIn offers the following four primary benefits:
Improves your reach by allowing you to tap into a new consumer base

Boosts visibility and increases your prospects

Improves your engagement rate
Now, let's discuss its countless benefits in-depth:
Amplifies Your Reach
Tagging companies in your post helps you boost content reach. Besides this, collaboration encourages the tagged brand's audience to check your profile!
Ensures Companies Will Engage with You
A company is more likely to interact with you if you tag it in LinkedIn posts. If you tag someone at a corporation, they will look you up. They will probably like, comment on, or share your piece if they find it interesting or valuable.
But make good use of the tagging chance. Ensure you only tag businesses or potential clients on postings pertinent to them while tagging them.
Don't unnecessarily tag people in a photo of your son's birthday that you upload. Use the tagging tool and your content as pillars to expand your network by being wise about it.
Increases Interactive Opportunities
With tagging, you can easily find opportunities to connect with different companies. Moreover, tagging will help you reach out to the company you have always wanted to work with.
Companies Will Know About You
When you mention a firm, an email notification is sent to that company. If you tag them, there's a good chance they'll want to check you out. The most significant advantage of including a company's name in an article is that it will catch their attention.
You will develop a meaningful relationship with someone if you post something meaningful to them.
Diversifies Your LinkedIn Network
Tagging allows you to connect with different companies and grow your network. Therefore, it is an excellent opportunity to diversify your network and establish meaningful connections with various organizations.
Establish Yourself as Brand Authority
When you tag companies, you are allowing them to view your social media profile. Since LinkedIn profiles work as resumes, you indirectly allow the companies to check your resume. Furthermore, this feature will enable you to establish yourself as a brand and prove your abilities to the companies you are tagging.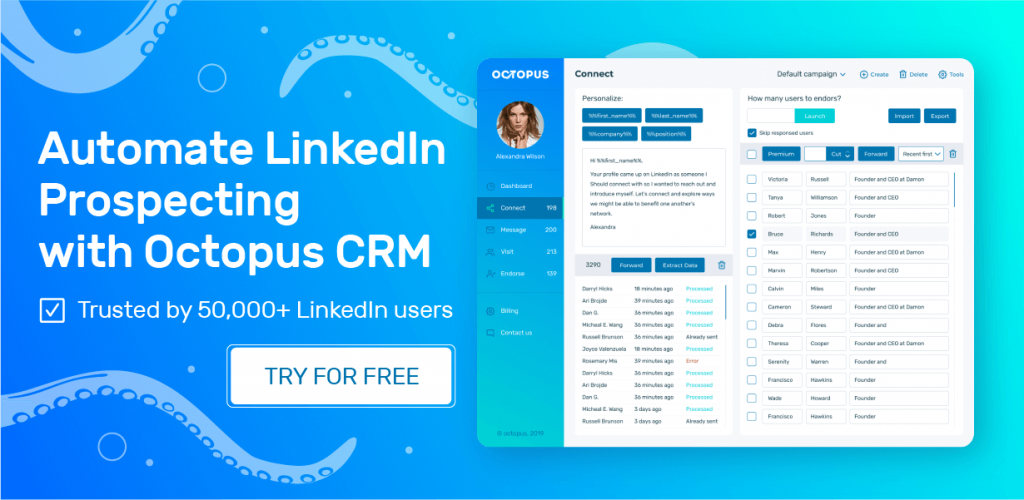 Why Tag Companies on LinkedIn?
There is no denying that, if done correctly, labeling businesses and LinkedIn users can be valuable. It paves the way for new opportunities to build strong relationships with tagging companies.
An excellent approach to express gratitude to a company is to tag it. If a business has assisted you in finding a solution, mention it in a new post with a tag on the industry's page. They'll be grateful that you took the effort to thank them in front of a large audience.
By tagging the appropriate businesses, you can expand your reach on LinkedIn. When someone is tagged, the company's employees and ardent followers receive an alert. This broadens your influence within the business and among its customers.
Simply put, it draws more attention to your post. Your LinkedIn contacts will link you to a firm if you tag it and interact with it. It will appear that you are close to them. Possible prospects for collaboration could result from this.
If you mention the company you want to work for in an original post, you might also succeed in getting hired. For instance, if you're a graphic designer looking for work, you can choose the employer.
Create a portfolio that reflects the body of work done by your target organization. Post your portfolio online and tag people. When a position opens up, there's a strong chance they'll think of you and get in touch with you.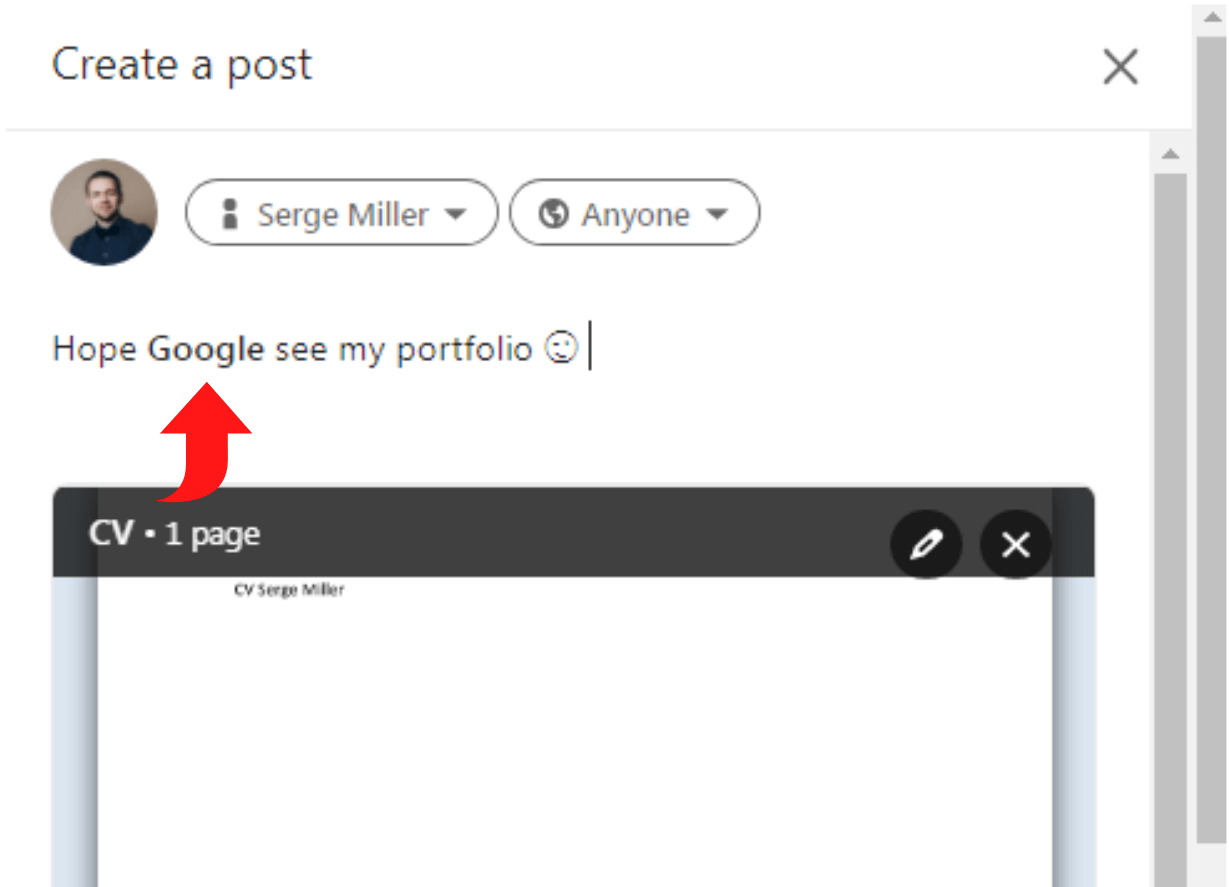 One word of caution: do not unfairly exploit this capability. LinkedIn can view your attempts as spam if you make them frequently.
LinkedIn takes spam content much more seriously than other platforms, as you probably already know. If they flag your content, they can permanently remove you from their platform.
Why Is It Difficult to Tag Someone in a LinkedIn Post?
The tagging may occasionally not function. If the company you want to tag is not a first-level connection, you might need to be a 1st level connection or share other relationships. Furthermore, you try a few attempts before the name appears. If it fails the first time, don't give up.
Why Is It Sometimes Hard to Tag a Company Page in a LinkedIn Post?
If the company has tagged in not in your first-level connection, you may find it challenging to tag them. Therefore, you have to be a first-level connection or share other relationships. If the name doesn't appear immediately, you might need to try again.
Furthermore, businesses occasionally untag themselves if they prefer not to be identified. Other times, companies would want to be tagged but cannot do so if they are specific financial services organizations due to FINRA regulations and social media compliance. A financial company might have a system enabling them to untag itself automatically.
Conclusion
LinkedIn offers numerous useful features for users and businesses. Tagging companies and people are among the countless features LinkedIn has introduced over the years. With multiple benefits, you will now understand the significance of tagging companies and people on LinkedIn. Therefore, you can now tag companies and wait for them to engage with you.
Similar to tagging someone on a Facebook page, you can tag someone on LinkedIn. On LinkedIn, you may tag any location in addition to companies. Therefore, if you can use the feature, it's a terrific tool.