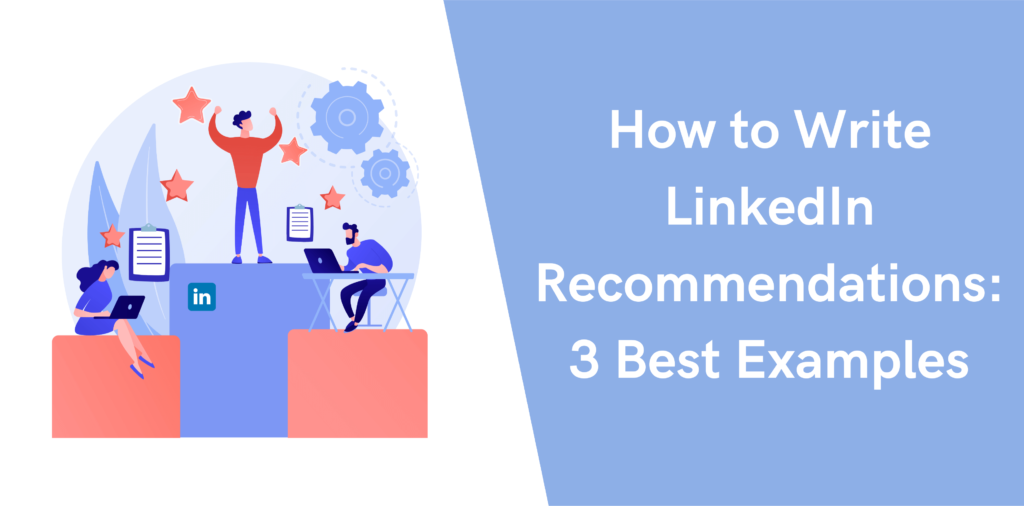 How to Write LinkedIn Recommendations: 3 Best Examples
With virtually 700 million active members, LinkedIn has become the leading networking site for professionals as well as a platform for B2B business development. Similar to your social media profiles, which have more to do with your personal life, LinkedIn is your digital platform for professional socialization. And just like you ask your friends to like and review, for example, your Facebook page, you can ask for LinkedIn recommendations from your colleagues or employers. This way, your prospective employers or sales prospects will get the perspective of your past employers, colleagues, subordinates, or managers about your work ethic and skills. 
Similarly, you can leave recommendations on LinkedIn profiles of people you've worked with. During your career, you might have worked with people you'd like to recommend to others in a heartbeat. While you can't approach all their future employers to let them know that they'd be the right choice, you can recommend them on LinkedIn.
But the hard part is writing a LinkedIn recommendation. If you were to be asked verbally, this might not seem like a difficult task, but when putting something in writing on the internet, you want to make sure that people who come across it will be compelled to read it – especially if they don't have to, in the first place. After all, what's the purpose of a recommendation if it doesn't do its job, i.e., to convince someone that something – or in this case, someone – is a good option?
How to Leave LinkedIn Recommendations
The process of actually leaving a recommendation is an easy one. There are multiple ways you can leave a recommendation for someone: either they can request a recommendation from you, or you can opt to do so at your own volition.
Responding to Recommendation Requests
If you receive a request for a recommendation, this will come through your messages inbox. All you have to do is click on the link you receive, and you'll be redirected to where you can write the recommendation. You can also choose to ignore requests for recommendations if you want.
Recommending Someone From Their Profile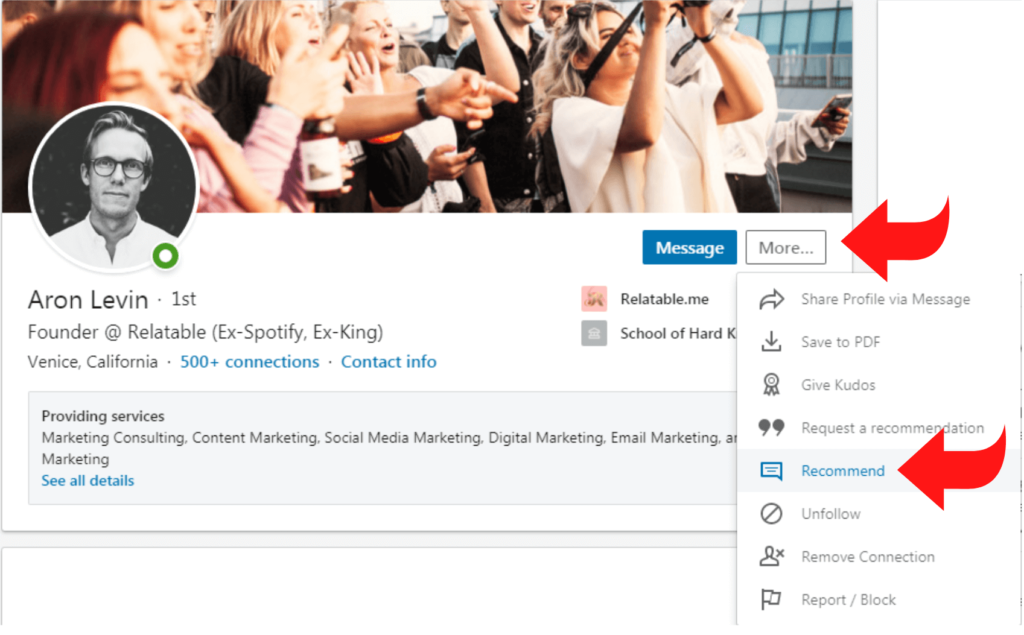 If you want to recommend one of your first-level connections, you will have to go through their profile, where you will see a button that says 'more' in the introduction card. Click on 'recommend' and fill out the form that pops up to ask for your relationship with the user you are recommending. From here, you'll be redirected to the box where you can write the recommendation, and click send. LinkedIn allows you to edit or delete a recommendation you wrote at any time. Also, the recipient gets the options to display or hide the recommendation on their profile.
Tips to Write LinkedIn Recommendations
While sending a recommendation isn't difficult, the writing part must be done carefully. After all, the recommendation you leave on a person's profile can significantly impact their career. You want it to be genuine, and not sound like a templated message you leave on everyone's profile. 
So what do you do?
Start With An Attention Grabber
Like any other piece of writing, you must start with a line that grabs your audience's attention. Particularly on the internet, where people are quick to dismiss large amounts of text, you want to show that you have something of value to read and make them want to read more. Ideally, this line should show the value of the person you're recommending, without it sounding too generic like 'one of the best employees.' 
The point here isn't to make your recipient sound like the ultimate choice, because people are rarely that perfect, but to highlight their strong points naturally. Use a strong phrase that pinpoints a person's specific trait, such as 'few people are as efficient as Mike when it comes to-,' without making them sound overqualified. 
Describe Your Relationship
Now you want to describe what kind of relationship you have with your recipient. The person reading the recommendation doesn't want to hear about efficiency from someone who barely knows the person, because that would naturally not be very accurate. Mention what kind of relationship you had in terms of reports, the kind of work you did together, how long you worked together, etc. You don't have to go into a whole lot of detail if you don't want to, but it should be enough for the reader to know that you are qualified to be making the recommendation and that your working relationship with the recipient was a positive one.
Share a Trait That Stands Out
If you're recommending someone, it should already be pretty obvious to any reader that you think the person is talented, great to work with, smart, etc. So when writing the recommendation, you don't have to go out of the way to state the obvious. Remember, you want your recommendation to be compelling to read as well. 
Instead of summarizing all their good points, pick out a couple of things that you think the person does best. Maybe they're very good at handling conflict or helping teams get through a crisis. These traits are specific and not generic, so they're likely to catch the reader's attention. 
It is also a good idea to ask the recipient if there's anything they'd like you to talk about. For example, if they're applying to a management role, they'd want you to highlight skills and talents relevant to the position to show that they're a good fit.
Add Some Personality
While it's great to point out how well a person does their job, working with people also involves their personality. How was your experience working with the recipient? Can they get their job done well, or are they also pleasant to be around? Add this to your recommendation to give the reader insight into the personality of the individual you're recommending. Make sure to know your audience, though. You don't want to say someone makes the office environment 'fun' when the workplace is a serious one.
End With a Solid Thumbs-Up
Finally, add a finishing line that makes it clear that you are firmly in favor of the person you are recommending. It doesn't have to be too dramatic, something as simple as 'Ellen would be a great asset to any team' will suffice. Here, you can get a bit generic.
LinkedIn Recommendation Templates You Can Start Using Today
While you want your recommendation to sound genuine, there's nothing wrong with using a LinkedIn recommendation template to give it direction. Depending on the kind of working relationship you have with the recommendation recipient, you'd want to take a different approach to endorse them. Let's look at some of the best LinkedIn recommendations examples.
For Your Manager
[Name] was an excellent manager. In the [X] years I worked with them, they always managed to keep the team motivated through exemplary leading and shared knowledge. With their highly developed people-management skills and ability to manage crises, they were always able to come up with a way to achieve results and managed to inspire their team members. Working with and learning from [name] was an excellent chance that I am grateful to have gotten.
For Your Subordinate
One can't talk about [name] without thinking of their excellent ability to [add skill]. Organized and diligent, they are a quick learner, all of which were essential attributes when it came to working on [describe project], during which they reached out to many people and quickly understood the way things worked to help lead the project to succeed without many bumps in the road. Working with [name] was a pleasure.
For Your Colleagues
No one is better suited to [insert role] than [name]. A dedicated professional, they were always willing to go the extra mile to help you out when you needed it, and always executed all their responsibilities flawlessly. Their expertise when it came to [skill] was a considerable and notable part of working together on [insert project] that led to its success and was always a valuable resource when it came to coming up with efficient solutions on various projects. I highly recommend [name] for [insert role] and would love to work with them again.
Final Thoughts
With most people now using LinkedIn for professional connections, the recommendations on a user's profile hold more value than the individual recommendations the same user might bring because of the platform's relevance. A good LinkedIn recommendation can increase the value of a person's profile. 
Leaving a recommendation for someone also increases the chances of the recipient returning the favor, so make sure to use the templates provided above to write excellent recommendations on LinkedIn. Of course, you can change a LinkedIn recommendation example to better fit the kind of recommendation you'd like to give, as well as your relationship with the recipient.