Social media marketing (SMM) is an excellent way to create brand awareness, drive traffic to your website, generate leads, and increase sales. In a nutshell, SMM is a powerful and modern way to grow your business because it allows you to tap into a massive market of more than 4 billion active social media users worldwide. 
Social media platforms assist you in attracting targeted clients and disseminating your marketing message to the right people at the right time. Plus, they allow you to showcase your product or brand to potential customers, besides interacting with potential and existing customers. In fact, effective use of social media marketing can help your company achieve extraordinary success by developing loyal brand supporters and increasing sales.
According to research done by Hootsuite, 93% of marketers say social media marketing makes a crucial part of their marketing strategies. But it's not always easy to know where to start or how to effectively use social media to the advantage of your business. That's why we created this handy guide on using social media to grow your business.
Without further ado, let's talk about how social media marketing can help your business.
What is B2B Social Marketing?
Social media works just as well for B2B as in any other industry. Business-to-business (B2B) social media marketing is the practice of promoting your products or services to other businesses via social media networks. 
B2B social media marketing makes for a key strategy for any organization to supercharge business growth. Many B2B marketers have already realized the significance of SMM and integrated it into their strategic growth strategies. 
Most companies in the B2B sector use SMM strategies to find prospects, generate leads, boost sales, and nurture long-term relationships with clients. And with more than 740 million users globally, LinkedIn is the top platform for B2B marketing on social media.
What are the 6 Types of Social Media Marketing?
There are dozens of social media marketing types available today, but not all offer the same benefits to marketers. With so many avenues available, it's essential to figure out which one is the best for your business. 
Let's look at the six types of social media marketing and how they should be used for marketing purposes.
1. Social Networks 
A social networking site or social media channel is an online platform that connects people from similar backgrounds or common interests. As of now, Facebook, LinkedIn, and Instagram are the top three social media networks. When it comes to B2B marketing, LinkedIn marketing takes the lead!
2. Social News
Social news sites allow users to upload news links to other websites so that users can vote on the contributions, affecting their total visibility. The links having the most votes then get promoted. Reddit is an excellent example of a social news site.
3. Microblogging
Microblogging is yet another form of social media marketing wherein users submit brief written posts on blogging sites like Twitter. These can include links to goods and services pages or links to other social networking networks.
4. Bookmarking
Bookmarking is a type of SMM that allows you to collect and organize valuable links from online resources and websites. Users can categorize the collected links on these sites, making it easier to distribute to specific groups of followers. Pinterest is the number 1 bookmarking site in the world.
5. Media Sharing
Users can share different digital content on media-sharing services, such as photos and videos. For example, YouTube is a leading media sharing site that allows you to promote your products or services through videos or ads within videos of other users. 
6. Community Blogs
Community blogging sites like Medium allow businesses to do content marketing without essentially maintaining a self-hosted site. This makes it effortless for companies to reach their target audiences with minimum effort.
The Importance of Social Media Marketing for Business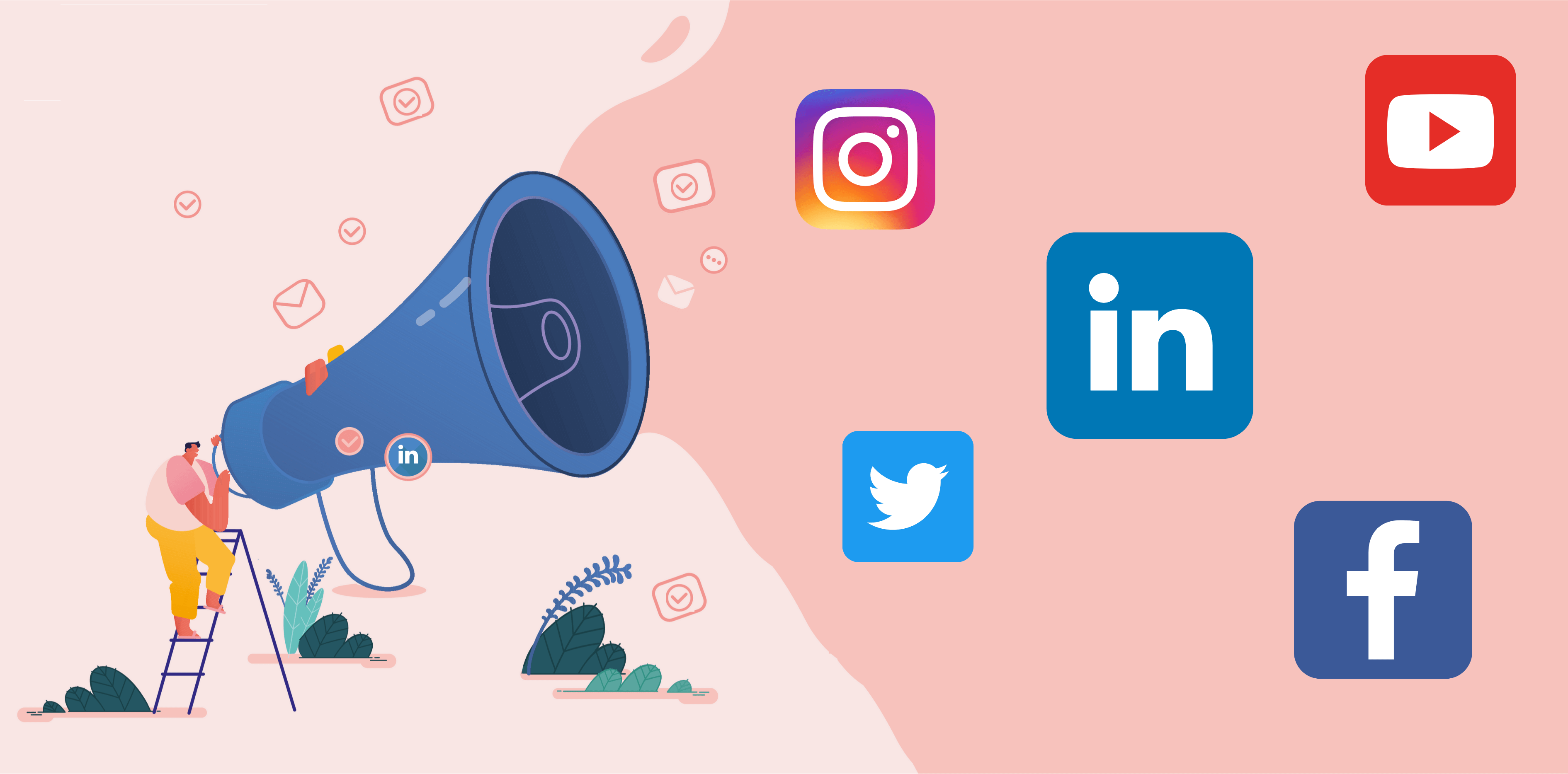 As much as people use social media for socializing, it has emerged as a defining digital space for promoting and growing your business or brand. 
What makes a social media channel a highly effective marketing platform is its ability to make your presence, content, profiles, or ads visible to many users. Plus, social media marketing is a  cost-effective and quick way to reach your target audience.
With around 6 billion active internet users worldwide, who wouldn't want to capitalize on this great opportunity? 
Benefits of Social Media Marketing for Business
Here's a quick look at the benefits of integrating SMM into your marketing strategy.
Social media is a powerful tool for businesses to increase visitors to their websites.

SMM offers a fantastic opportunity to create brand recognition and generate leads.

Compared to other marketing methods, social media marketing allows you to generate more leads and sales at a fraction of the expense of mainstream or electronic media.

For online success, trust is essential, and social media allows you to build a trusting, long-term relationship with your customers. It allows you to directly communicate, interact, and engage with your clients.

Increased social media involvement translates into huge follower growth, which leads to more sales and brand awareness.
Building B2B Social Media Marketing Strategy
Your company's social media marketing strategy is the backbone of your entire online marketing campaign. With a cohesive strategy in place, you can rest assured it will keep your B2B social media marketing efforts focused on your company's mission and goals.
You can take many different approaches to design your social media marketing strategy. But there are some key factors to consider before starting. Let's have a look at six steps that will help you pull off a solid and results-oriented B2B social media marketing strategy for your business. 
Step 1: Survey Social Media
First things first, it is crucial to research which platforms your target customers use. Plus, you must know the behavioral variables of your customers on social media. A social media survey will help you collect the data crucial to creating a coherent marketing strategy. These include tapping into analytics, studying customer behavior, audience reach, and more. Plus, it is good to investigate how your competitors are using social media marketing. 
Step 2: Set & Follow Goals
Without coherent goals for B2B marketing, you'll get lost in the social media clutter like most other businesses or brands. SMART goals are the way to make the best use of social media for your business. Be sure to determine what you want to achieve with SMM, set goals, and create KPIs, such as conversion rate, engagement rate, and sales, to measure your success.
Step 3: Know Your Target Audience
Without knowing your audience, you can't expect to run a successful marketing campaign on social media. It is a good idea to research the psychographic, demographic, and geographic elements of who you want to target. With this information in hand, you'll be in a better position to choose the right platform(s), create personalized content, and craft a solid outreach strategy. 
Remember that using the right platforms with tailored content is critical — you shouldn't be running a campaign on Twitter if your target audience uses Instagram or LinkedIn. 
Step 4: Platform Selection
As stated above, there are many social media platforms out there, and it is crucial to pick the ones your target customers use. Using the wrong platforms will render your effort, content, ads, and profiles useless. 
Step 5: A Sound Strategy
It is good to write down your strategy and always refer to it as a guideline during your B2B social media marketing journey. Doing so will keep you focused on your goals and overcome any challenging situations that may come along. 
Step 6: Content Calendar
As you may know, content is king, whether it is B2B or B2C social media marketing. Besides creating high-quality, engaging content, it is crucial to create a content calendar and follow it religiously. Make sure to provide your target customers with what they love to see, and at times, they're active on social media. 
Step 7: Execute Your Strategy
Finally, it's time to implement your B2B social media marketing strategy. You'll have to allocate resources (time, money, human resources) to bring your plan into action. Plus, you'll need to create your accounts and develop your profiles on your chosen social media platforms before you launch your campaigns or post content. 
10 Tips to Grow Your Business
Here're some crucial tips for growing your business with social media marketing.
1. Set SMART goals
A social media strategy has to be grounded in concrete goals, just like any other marketing strategy. Specific, measurable, achievable, realistic, and time-bound objectives will keep you focused on your goals. Plus, measurable KPIs will help you evaluate your SMM success.
2. Keep a close watch on your competitors
Keeping an eye on your competitors' SMM strategies will help you steer through the social media landscape more effectively. It will also help you make changes and adjustments to your tactics and get a competitive edge. 
3. Share original content
Sure, social media is a big part of your marketing strategy. But are you creating and posting enough original content? Many brands rely on curated content to maintain their social media presence. While it may sound basic, original content can help grow your brand's following by giving followers more of what they want. It allows you to build loyalty with followers and create engagement. 
4. Make use of multimedia
It is a great idea to integrate multimedia promotion in your SMM campaign to get your message across, drive engagement, and boost website traffic. For example, depending on which platform you want to use, you could capitalize on Instagram Reels, Twitter polls, and LinkedIn documents to create more engagement.  
5. Show your staff works behind the scene
Content showing your staff working behind the scene helps establish and improve your brand. It is a great way to give your audience a sneak peek into what is happening at your company, such as your workplace culture, work ethic, management, and daily operations. 
6. Create a distinct brand voice
Your customers should know your brand voice in the same way that they remember your logo. Having a distinct brand voice also allows you to stand out in a competitive field.
7. Provide assistance
Even if you don't have the resources to build a specialized support Twitter account, listening to and addressing your customers' concerns or questions is always a good idea. This will help improve your reputation and gain customer loyalty. 
8. Consistency is important
Make sure to invest your time into crafting useful material that contributes to your audience's feeds if you're just getting started. And as you scale your business, you'll want to post more consistently to keep your target audience engaged. 
9. Experiment with content and posting times
Playing around with different types of content is effective as it helps you find an approach that delivers better results. Plus, you can experiment with different posting times to find a time when user engagement is at its peak. 
10. Interact with your audience
Interaction is the essence of social media. In fact, social media platforms were developed for people to converse with each other. As such, it makes sense for brands and businesses to connect with and interact with their followers. 
Tools for B2B Social Media Marketing 
B2B companies should use social media marketing because it is a powerful way to promote your business and generate leads. But it can be overwhelming, though, when you need to do it for yourself – or for multiple clients. That's where social media management tools come in handy. 
Let's look at some of the top B2B SMM management tools:
1. Octopus CRM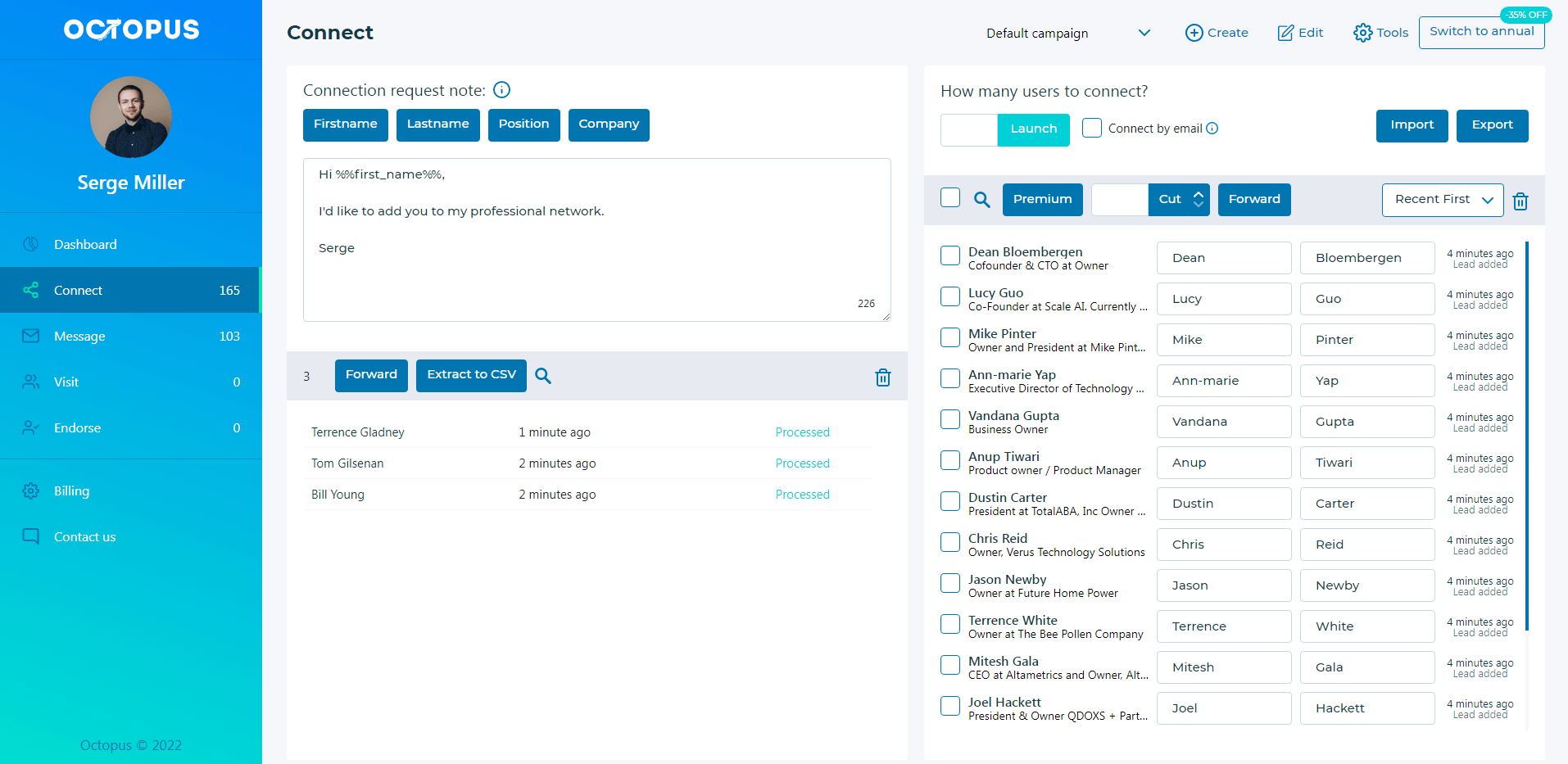 Octopus CRM is an all-in-one LinkedIn marketing automation software that allows you to manage your prospecting and lead generation outreach campaigns on LinkedIn. It is used by businesses of all sizes and types to automate time-consuming, repetitive tasks on LinkedIn. 
2. Hootsuite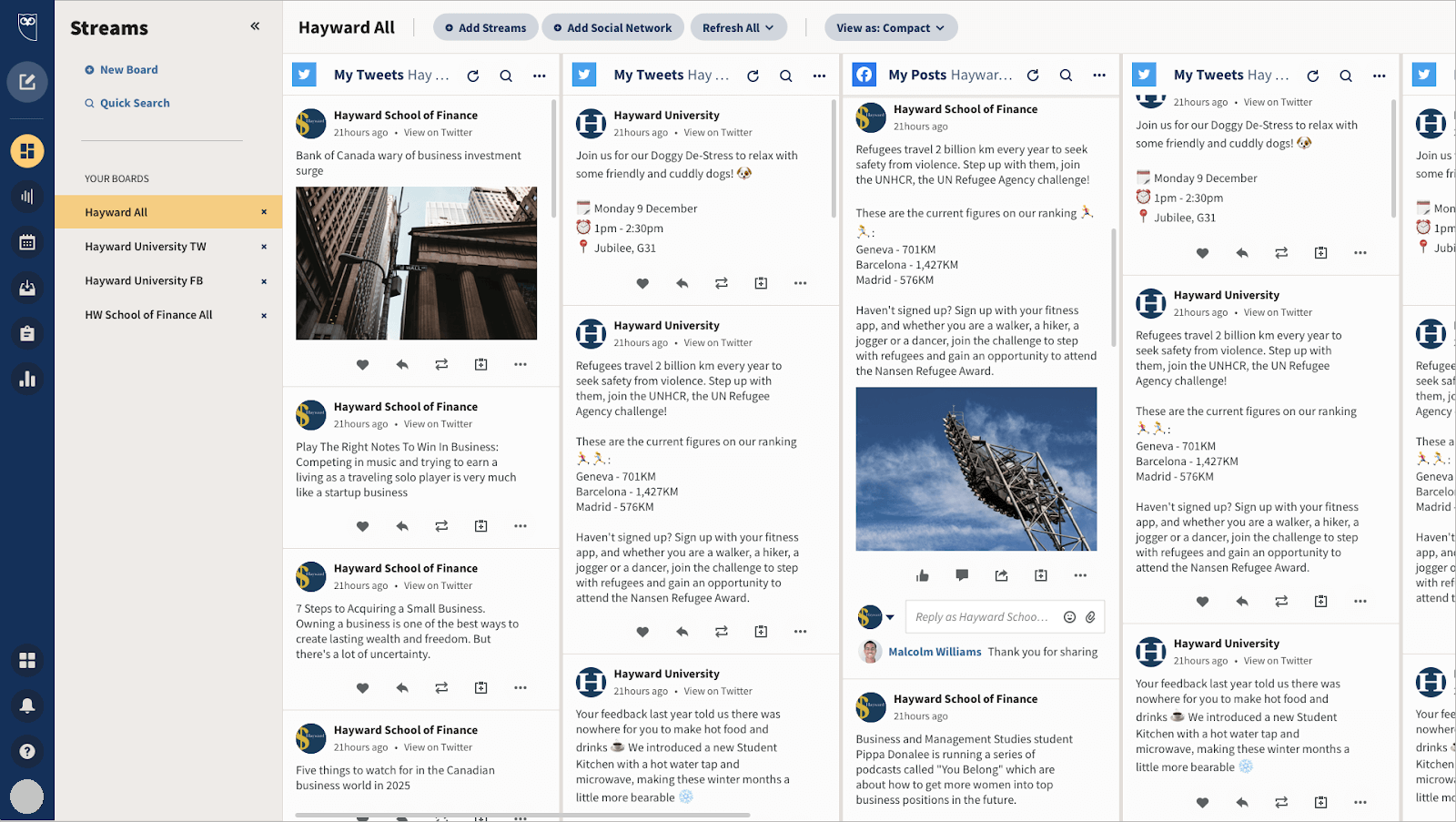 Using Hootsuite, you can manage and schedule content, track dialogues, and evaluate campaign success.
3. Oktopost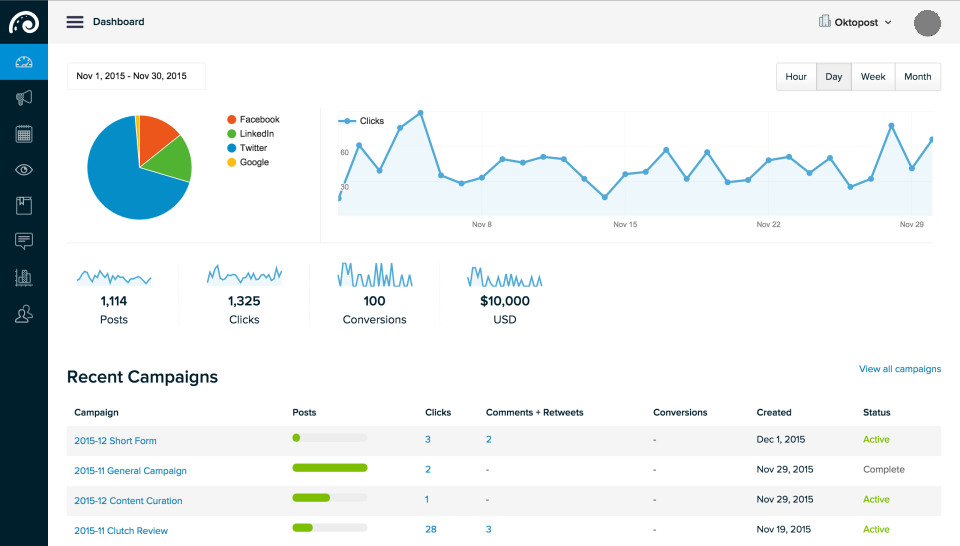 This automation tool focuses on content management. It also comes with other features like report generation, analytics, and more. 
4. Buffer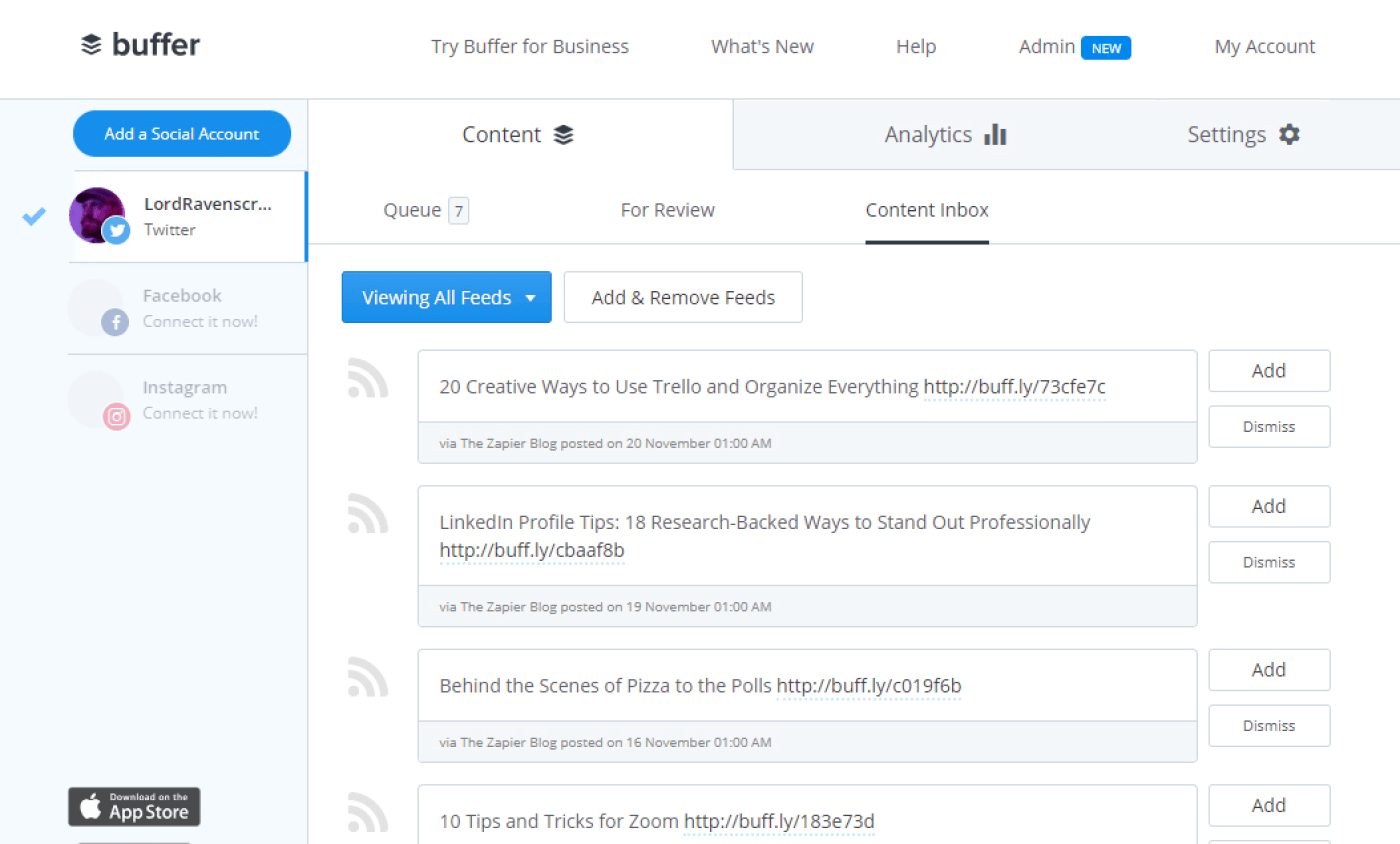 Buffer's interface offers a lot of scheduling flexibility. It allows you to maintain a regular social media schedule without having to micromanage posting schedules. 
5. Sprout Social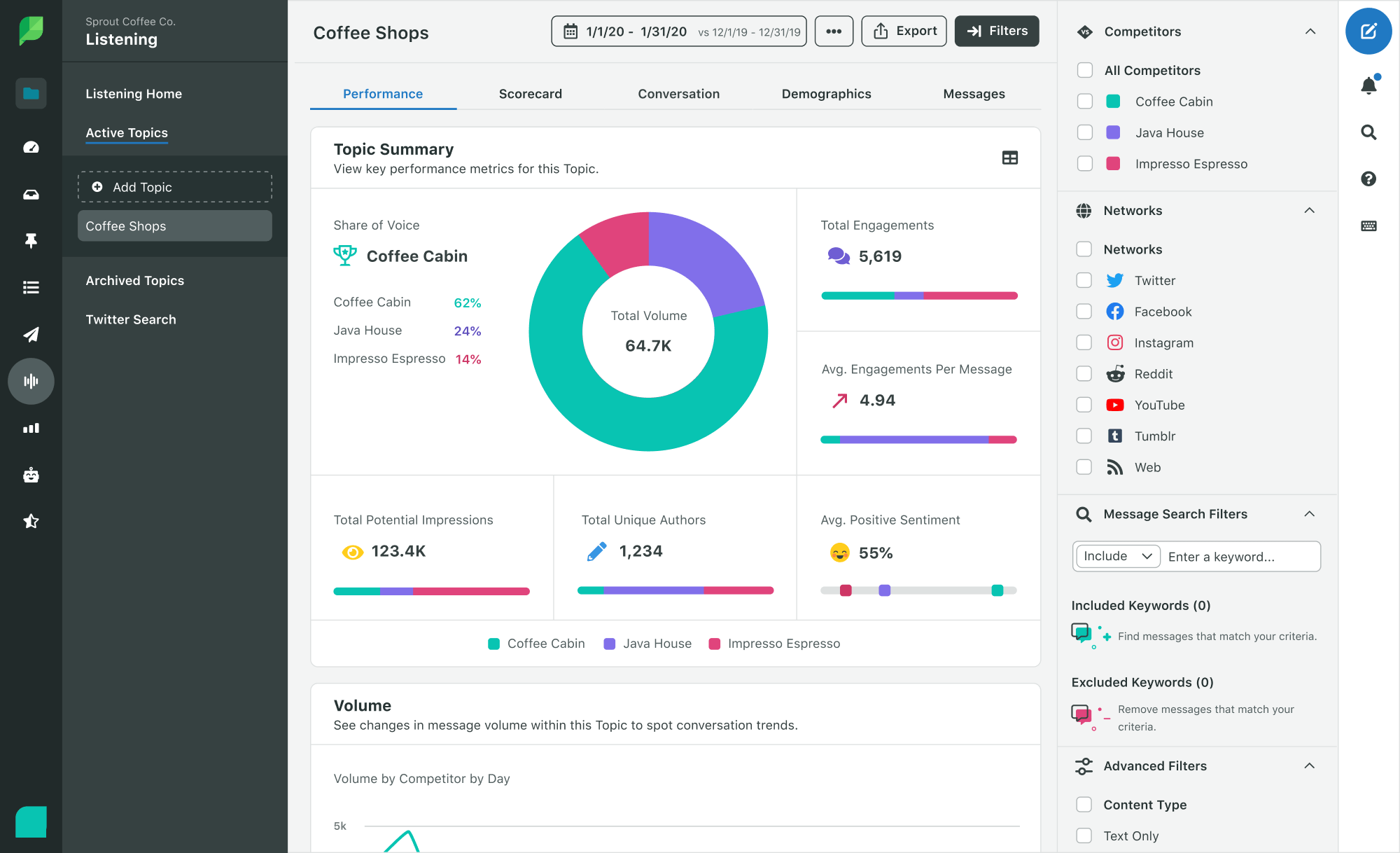 This tool unifies your social media activities in one place. It also offers workflow management features. 
6. Agorapulse
Agorapulse is a consolidated social media management toolkit with real-time tracking, workflow creation, and other useful CRM features.
Let's look at a few more of the best social media automation tools.