The world is evolving fast, and humans are becoming more productive with the help of technology. If you're not Gen Z, you must be familiar with post offices and how they work. You had to wait for days to get your mail delivered. But now, thanks to the internet, we have email, which can be sent with a single click. A long time ago, you had to wait for months to see your loved ones, but now you can FaceTime on your iPhone.
Just like that, the world of business has evolved too. Many companies are spending millions of dollars on marketing, and most of the money goes into social media marketing. According to sources, an average person spends 2 to 6 hours daily on social media because of the pocket availability of cell phones. Not to mention, everybody has social media accounts, including Facebook, Twitter, and Instagram.
While social media has revolutionized the way we do business, marketers have to spend a considerable amount of time scanning profiles, networking with clients, creating content, and measuring campaign results. Doing these repetitive tasks manually is not only time-consuming but also tiresome. So, is there a way to automate your social media activities, you ask!
The good news is that many social media automation tools out there make it super easy to create and run your campaigns. Many of these tools allow you to automate repetitive tasks so that you can focus on more important things like strategy and customer interactions. 
Some social media automation tools are free, and some require investments. But remember that not all automation tools are created equal. You must do your research and choose your social media automation tool carefully to achieve your objectives without any problem.
What is a Social Media Automation Tool?
Social media marketing automation tools use different software and AI to complete tasks with little or no human involvement. For example, LinkedIn automation tools allow B2B sales professionals to put tasks like profile visits, messaging, connection requests, and skill endorsements on autopilot. As such, you don't have to spend many hours every day doing these tasks manually. Instead, you can sit back and relax while the software does all the work for you.
Why Should You Automate Your Social Media Campaigns?
Social media automation comes with countless benefits. We have explained the most important ones below:
Responsiveness
Every customer wants responsiveness and a tailored experience. Last year, the competition between businesses skyrocketed, and – right now – there are probably many brands that are in direct competition with you. 
If a customer sends you a DM (direct message) and you don't reply in time, chances are that they will not revisit your website. But when you have a social media automation tool, you can rest assured your leads and customers will get timely responses. 
The social media automation tools in 2022 give you the facility of 24/7 customer support. Customers usually ask questions like:
What are your services?
What hours are you available?
Do you have this product?
Do you have any coupons available?
What are the delivery charges?
You can set automatic answers for these questions with the help of social media automation tools.
Social Monitoring and Listening
Social monitoring and listening can be made possible using social media automation tools. You will learn what customers are talking about and what kind of expectations they have. Plus, you can analyze your customers and bridge the gap between you and your audience. Social monitoring is like the best friend who always protects you behind your back. 
Scheduling and Publishing
As mentioned earlier, there is massive competition in the business world, and if you're not doing your best, your customer can shift to buying from your competitor. Creating posts and publishing them on every platform takes a lot of time and effort. Social marketing automation allows you to schedule your content for publishing at given times, even if you're not online at that time.
So, what are the best social media automation tools out there? Let's have a look. 
Top 6 Social Media Automation Tools
Social media automation tools come with many different features, technologies, and options. It is an excellent idea to do your research and choose a tool that helps you achieve your goals in business. 
Plus, remember that some tools allow you to automate many different social media accounts from a single dashboard. But if you're looking for more powerful features, it is good to pick a specialized tool for the specific social networking account you want to automate. 
Let's look at some of the best social media automation tools of 2022:
OctopusCRM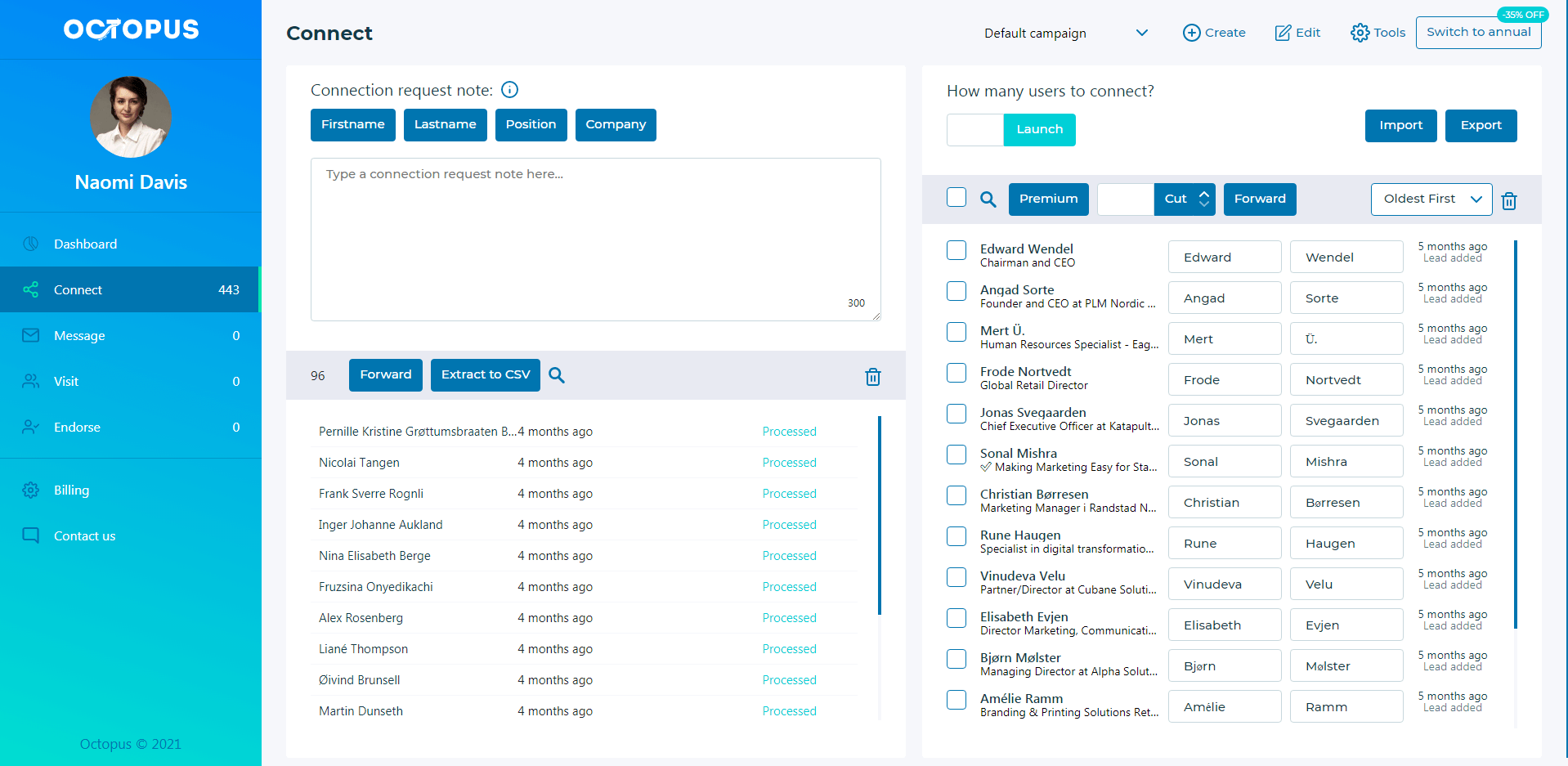 OctopusCRM is a leading automation tool for LinkedIn. Whether you're a B2B sales professional or recruiter, this tool allows you to automate many repetitive tasks on the professional networking site. 
OctopusCRM for LinkedIn allows you to send automated yet personalized connection requests. It is also excellent for visiting profiles and picking target profiles for your campaigns. Not to mention, this LinkedIn automation tool lets you automate sending and responding to messages.
OctopusCRM LinkedIn automation tool also allows you to access and analyze your performance with the help of statistics. Besides evaluating your campaign performances, you can easily analyze your profile view or social selling index.
SocialBee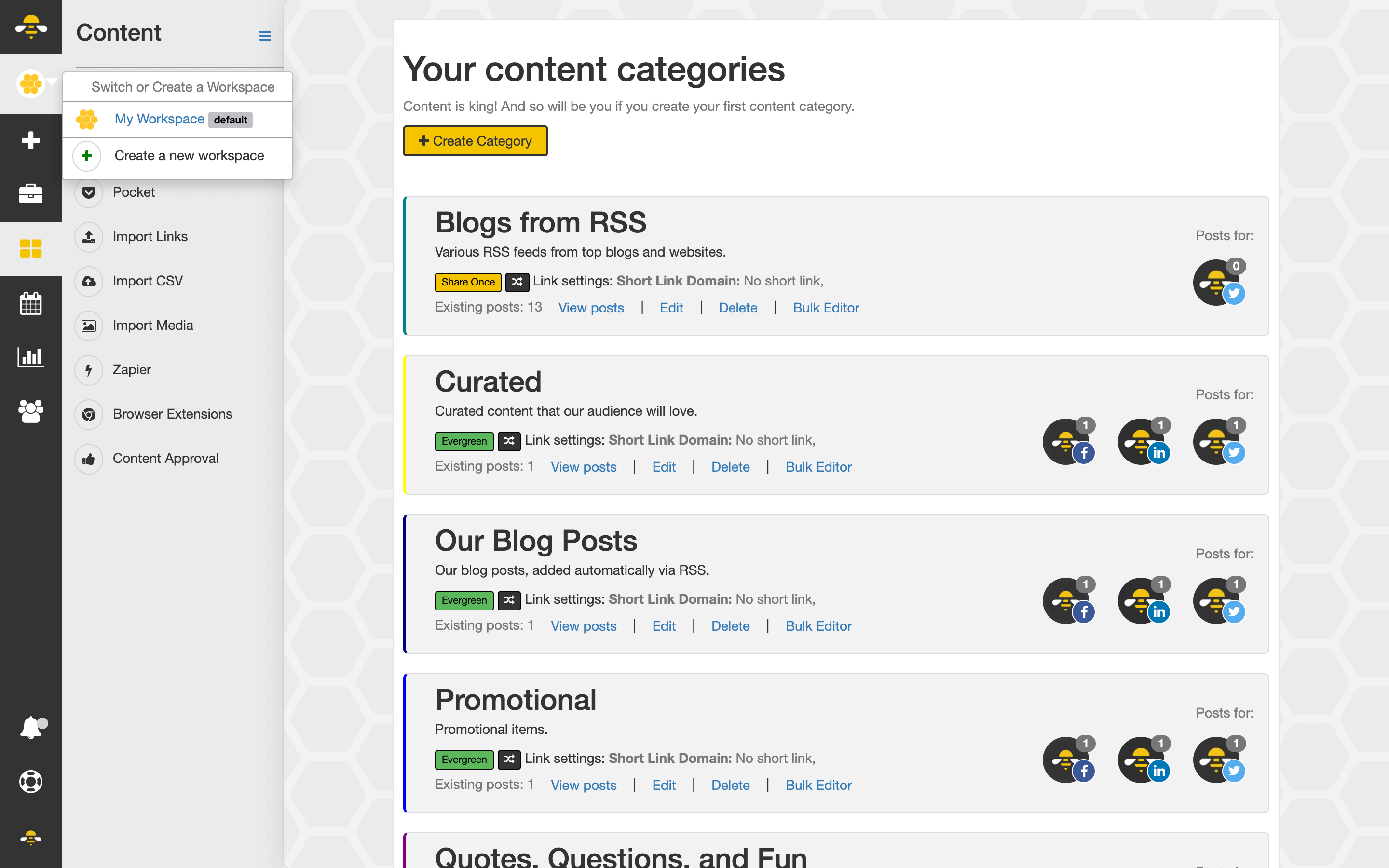 SocialBee is one of the best tools for scheduling and planning your social media content. Many businesses are using these scheduling tools for multiple social media platforms. 
It allows you to merge campaigns on social media platforms like Facebook, Instagram, and Twitter. SocialBee also provides the facility of a hashtag generator and manager, which allows you to analyze your content and gather more audience. 
Agorapulse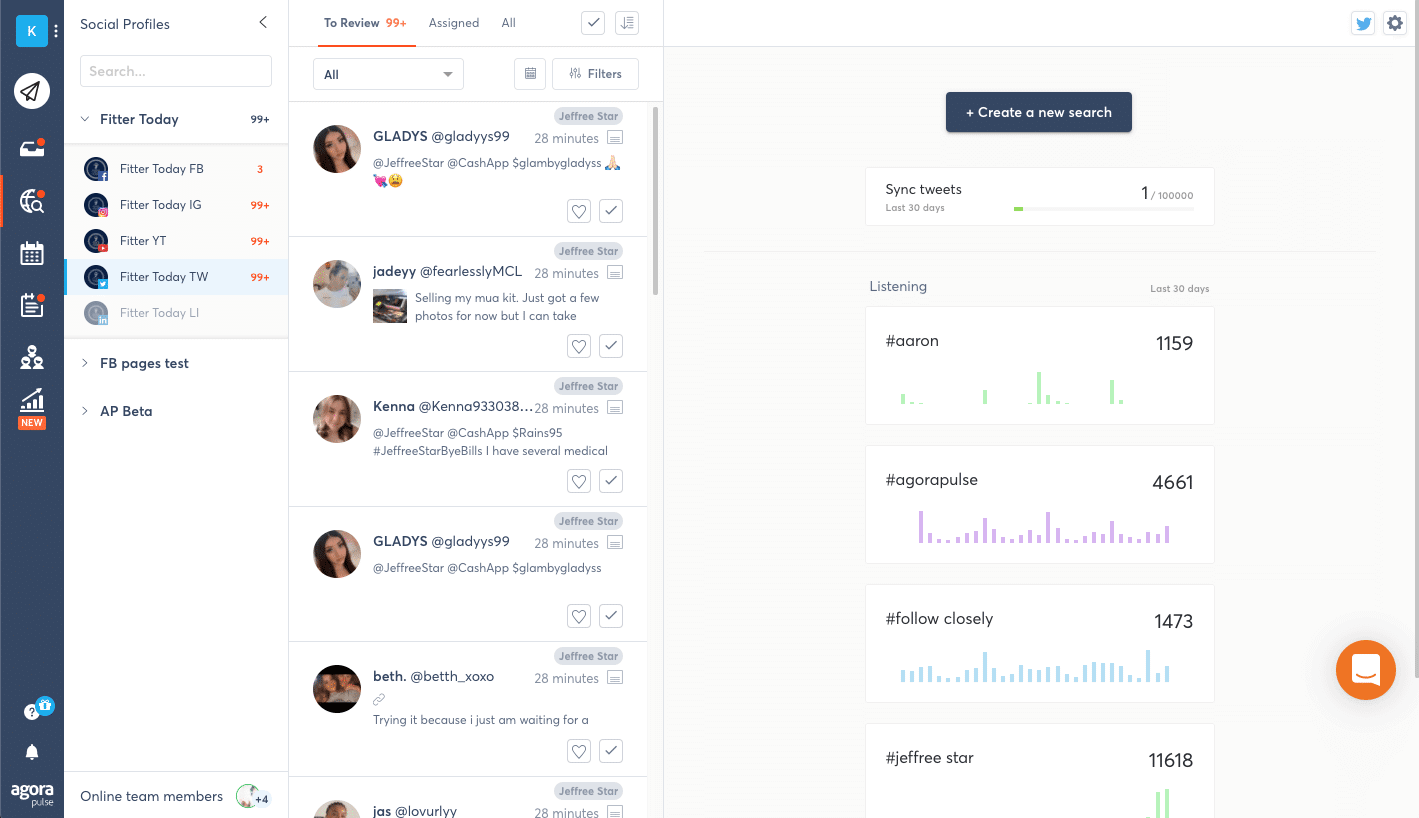 Agorapulse is like a complete package for social media platforms. It allows you to access, monitor, and create content on social media applications. Its unique features include sending automated DMs, social media reporting tools, and social media publishing tools.
PromoRepublic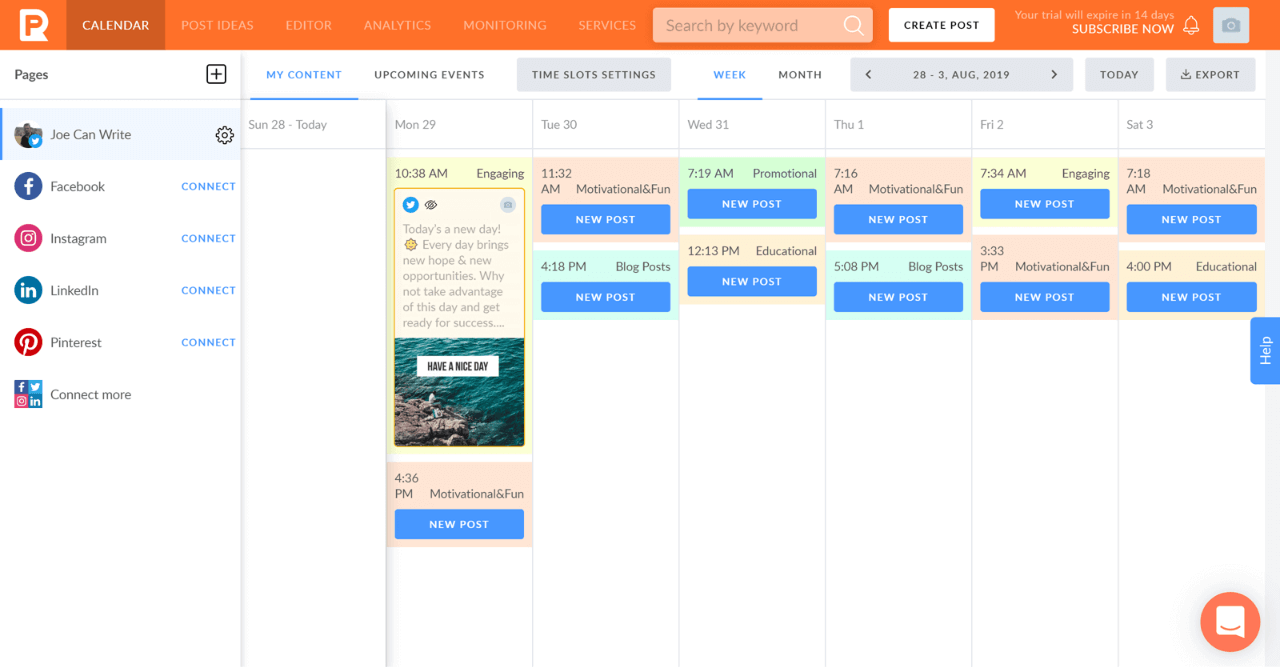 PromoRepublic is mainly used by medium and large enterprises. This social media automation tool can manage thousands of social media pages. PromoRepublic allows you to automatically repost content, create content approval workflows, and more.
One of the best features of this tool is that it provides small businesses with content that is already generated. Companies that don't want to go through the hustle of content creation from scratch may go for this tool.
Pallyy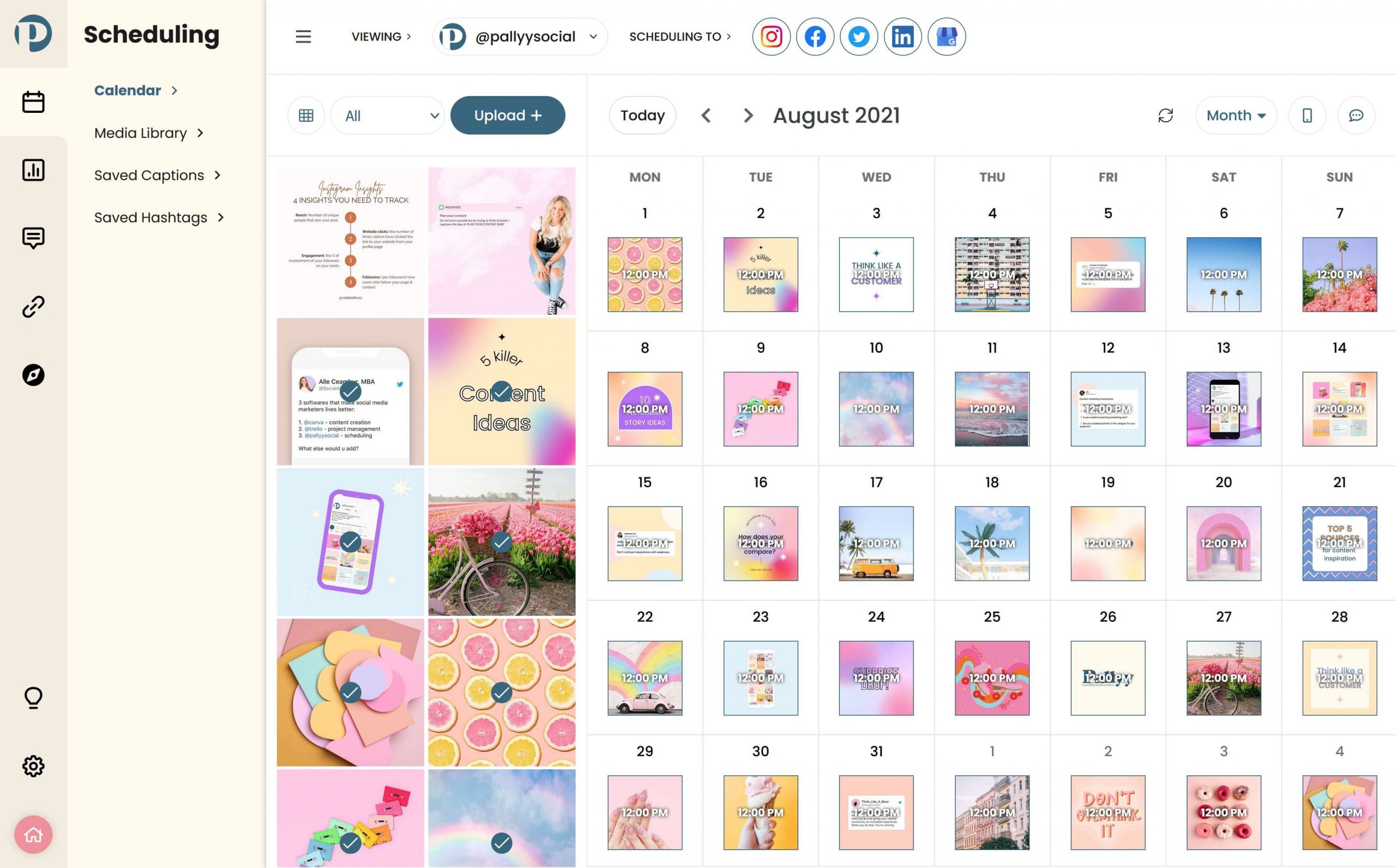 Pallyy is one of the most authentic and most used social media automation tool. This tool provides content creation, bulk posting, and visual analysis services. It also allows you to schedule posts and promote user-generated content.
One of the best features of Pally is that it's available on mobile phones as well. People who're busy and cannot take their laptops everywhere can use Pally to monitor their social media platforms.
Buffer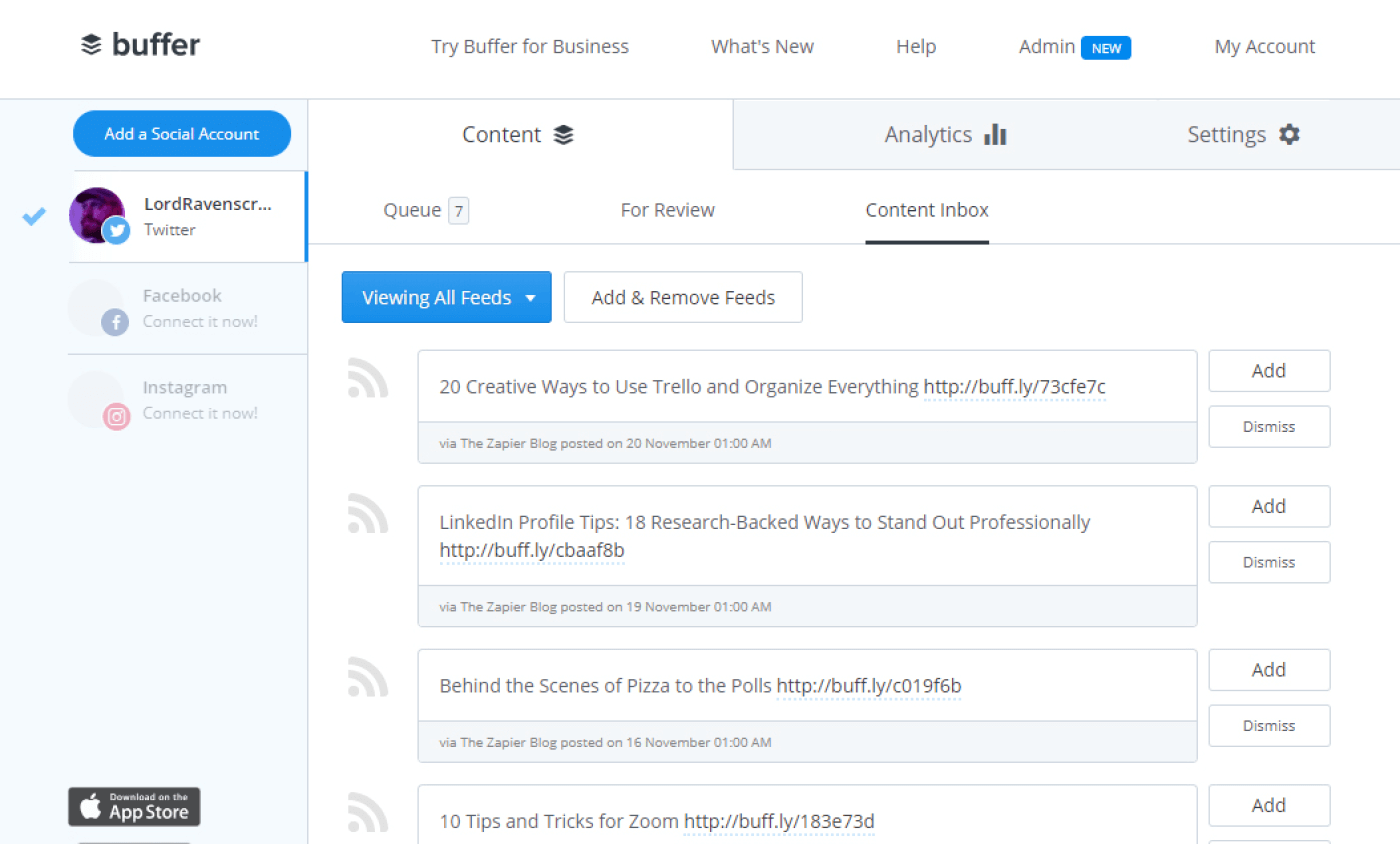 Buffer is a social media automation tool many businesses use globally, primarily for its scheduling functionality. It covers platforms like Facebook, Instagram, Twitter, and LinkedIn. If you have the pro version of Buffer, you can also avail the Pinterest feature. 
Buffer is available on iOS and Android, so you don't need to worry about the Android or iOS sync issue.
Choosing the Best Social Automation Tool for Your Business
There are plenty of automation tools to choose from, so you need to consider certain factors while selecting the best social automation for your business.
Firstly, you need to study and understand your business and audience thoroughly. Every business works differently, and so does the audience. You can use the free social media automation tools to have a kick start. Many tools allow you to try their free version to determine if it fulfills your requirements before switching to a premium version.
Plus, it is good to evaluate a social media automation tool on criteria like pricing, performance, rating, complexity, and user experience. 
We suggest using the social media automation tools described above in 2022.