Building your brand on LinkedIn starts with growing your consumer base and learning to engage them effectively. To achieve that, you must make LinkedIn's algorithm work for you, not against you.
If you're new to LinkedIn, you might struggle to learn how the algorithm works and changes over time. In this blog post, we'll explain everything you need to know about LinkedIn's algorithm, including:
What is LinkedIn's algorithm?

An in-depth guide on how it works

Tips and tricks to dominate LinkedIn's algorithm

LinkedIn SEO secrets to take advantage of its algorithm
Let's get started!
What is the LinkedIn Algorithm?
LinkedIn has a particular algorithm, like other social networks, that helps users connect with others, find relevant content, and discover job/internship opportunities.
The LinkedIn algorithm determines what your daily feed will look like, including the types of posts you receive. It operates on a large scale, affecting billions of daily posts.
LinkedIn's algorithm aims to make your newsfeed attractive, fun, and user-friendly. If you learn to make your content appease the algorithm, LinkedIn marketing won't be a big deal for you.
How Does the LinkedIn Algorithm Work?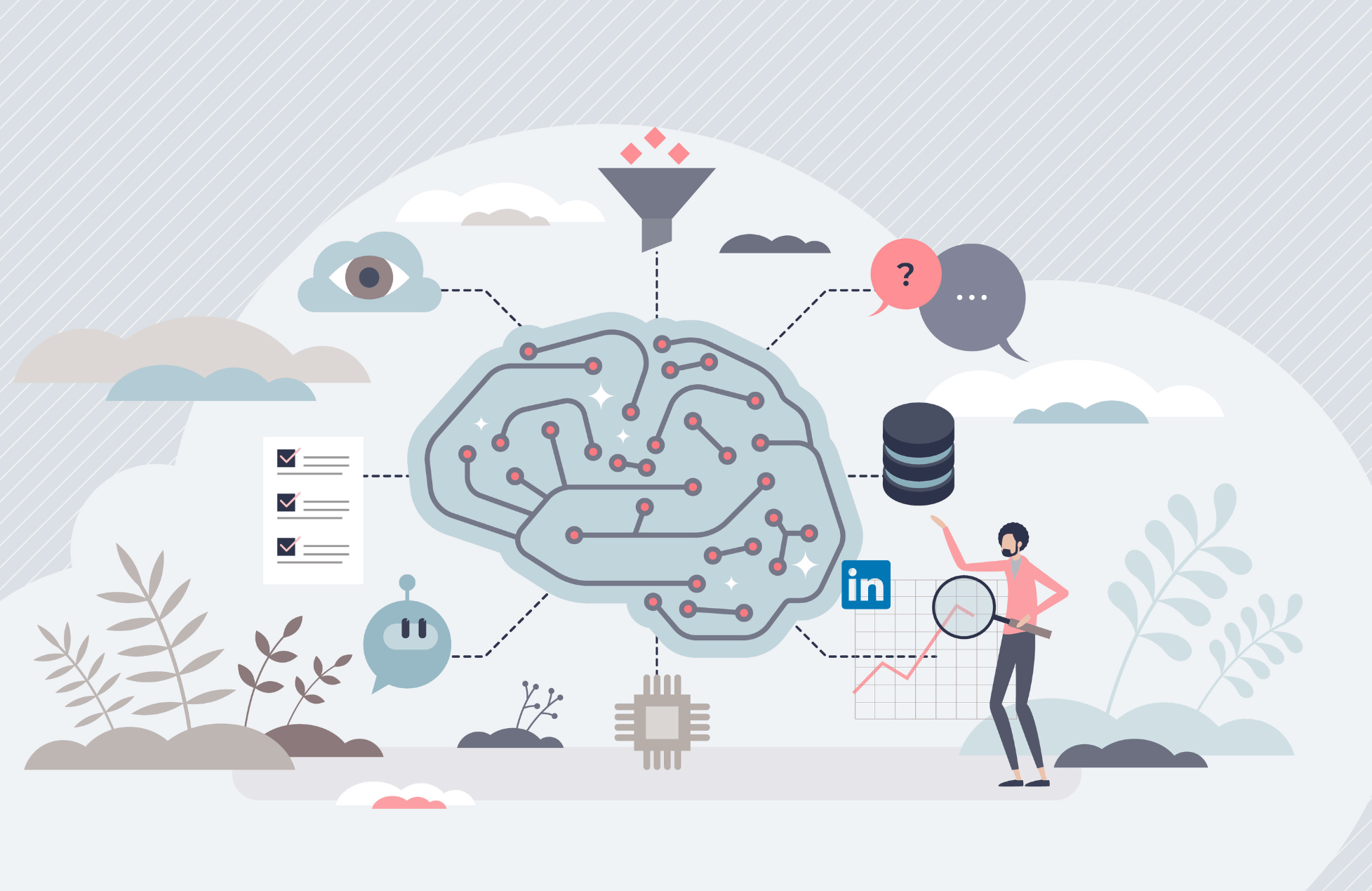 LinkedIn's algorithm measures various factors to determine how relevant and valuable your post might be to your target audience. Here's a look at how it works:
It Determines If Your Content is Spam or Genuine
Once you upload your post on LinkedIn, a bot will place your content in the following categories: spam, low-quality, or high-quality. Here's how it determines where your post belongs:
Spam –

LinkedIn might flag you as spam if your post includes multiple links and poor grammar. Additionally, aim to post three to five times per week and avoid tagging too many people (not more than five).

Low-Quality –

While LinkedIn won't consider your post as spam, you won't enjoy the best engagement either. So, remember to craft high-quality and attractive posts

High-Quality –

LinkedIn ranks you as "high-quality" if you follow all of its recommendations, including:
o   Easy-to-read content
o   Encourages engagement with questions
o   Includes less than three hashtags
o   Boasts strong keywords
o   Tags people who might respond
It Tests Your Post
The second step in ranking your LinkedIn post is testing your audience. Once the bots categorize your post, they'll push it to your followers to see how popular the content is.
LinkedIn's algorithm pushes it to a broader group of people if you experience lots of engagement immediately. At this stage, if your audience doesn't mark your post as "Report as Spam" or "Hide" it from their feeds, LinkedIn won't share it further.
So, remember to make the most of your test time by:
Scheduling your posts to go live when your followers are most active

Promptly responding to comments

Encouraging engagement by asking questions

You post high-quality and informative content frequently
It Prioritizes Relevant Content
LinkedIn's algorithm favors relevancy over recency. It aims to show users content that captures their attention and meets their taste
The platform uses three ranking signals to determine who gets to see your posts:
How Closely You're Connected –

Depending on how closely you know a follower, the more likely it is they will see your content. For instance, people you've worked with or went to school with might see your posts right away

Interest in the Content's Topic –

LinkedIn's algorithm will determine how valuable your post is to a follower by checking the groups, pages, hashtags, and people they follow

Likelihood of Engagement –

LinkedIn will determine the probability of a follower engaging with your posts by assessing their past behavior and the amount of engagement the post receives in general
LinkedIn Ranking Signals to Lookout For
LinkedIn employs a range of "ranking signals" to discover what content and how often your content gets displayed and to what audience.
Learning these ranking signals and taking advantage of them can help you reach your audience, land better jobs, and expand your network. Here's how it works:
Connections –

LinkedIn checks the degree of a connection (first, second, or third) when determining how relevant your content is to them

Content Relevance –

The platform will go through the user's interests to assess whether your matches their taste

Engagement –

LinkedIn will interpret the likes, shares, comments, connection requests, and other engagement requests to determine how much it should push your post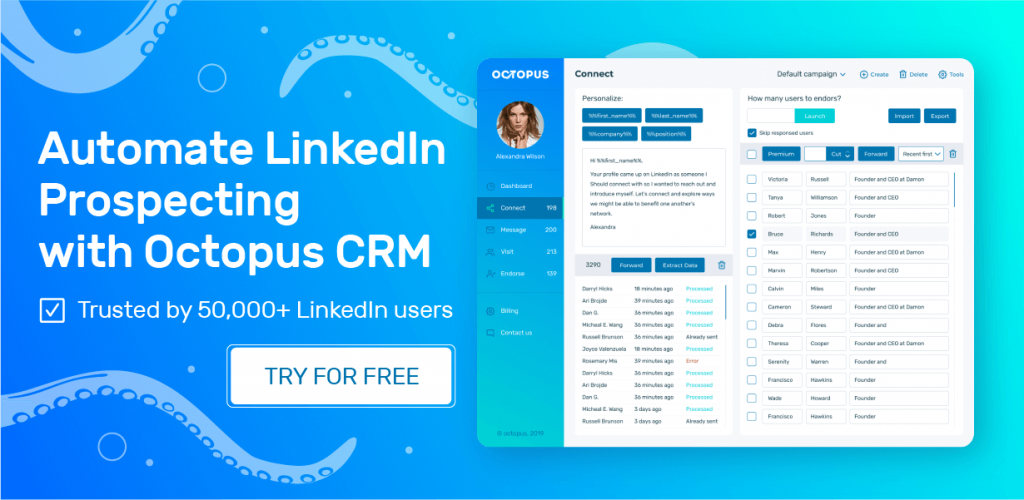 Tips and Tricks to Master LinkedIn's Algorithm
Here's the good news: LinkedIn's algorithm is not complicated to master. You can easily beat its algorithm by trying these 12 tips:
Create Relevant and Compelling Content
Aim to create content that's relevant to your target audience. How? There are a few rules you can achieve this:
Know Your Audience –

Step number one is conducting in-depth research on your target market. Utilize analytics and intel from multiple platforms to determine your audience's pain points, likes, dislikes, and pleasures. You can leverage your competitor's audience to build your ideal customer persona.

Use a Clear and Relevant Format –

Not only the type of content, but you should also focus on the relevance of your format. LinkedIn will push content rich with high-quality media. In fact, posts with vibrant images

enjoy 2x the comments,

and videos

receive 5x better engagement
Choose the Best Time to Post on LinkedIn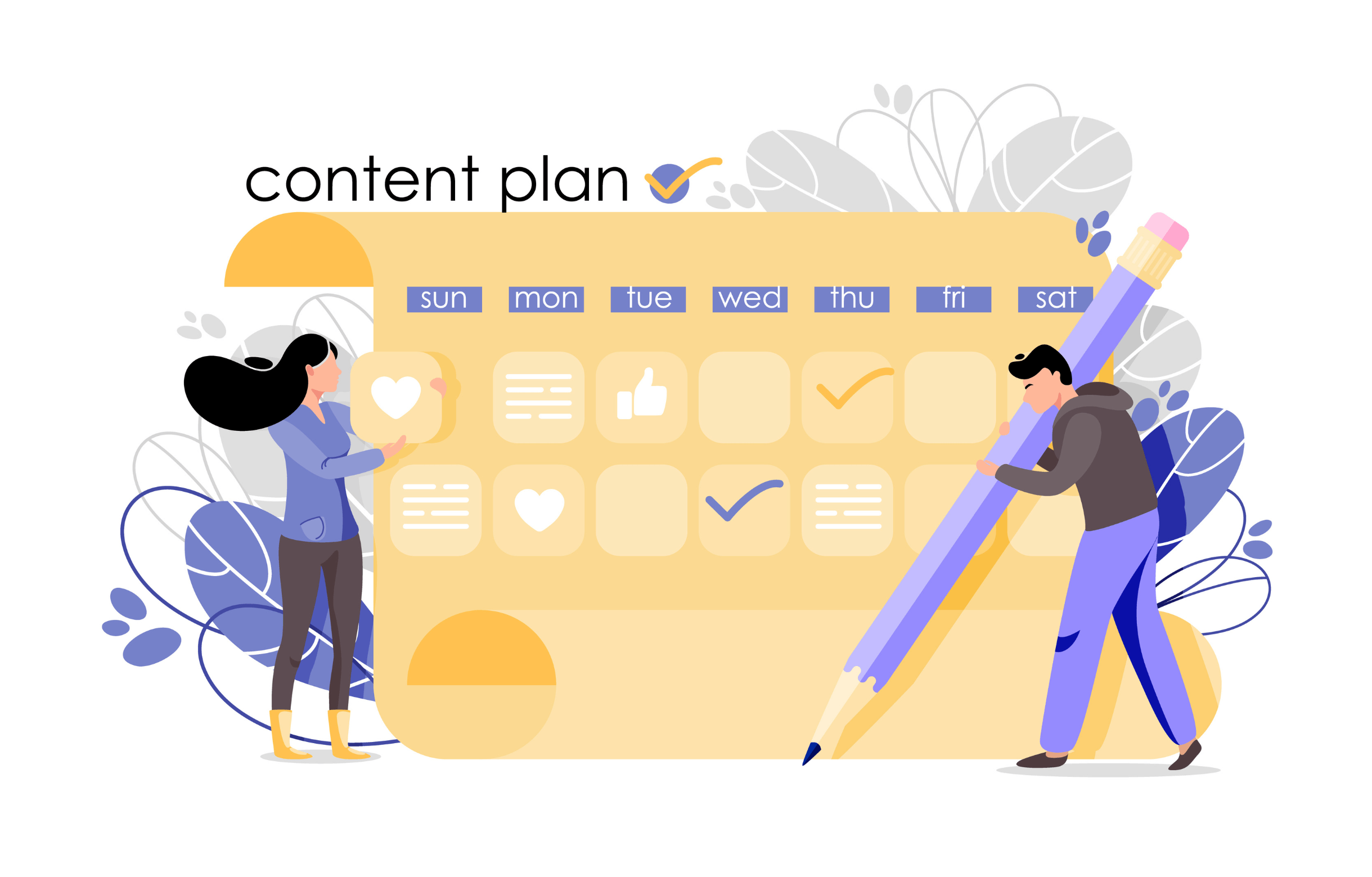 The key to getting good engagement is to determine the perfect timing to make a post. You won't accumulate many comments and shares if you post at 2 a.m. when your audience is asleep. 
It's no big news that LinkedIn is a business-oriented platform. But it means most people are active from 9 a.m. to 5 p.m. The best way to choose the right time to post on LinkedIn is by conducting a few tests. By discovering your audience's location, time zones, and daily habits, you can find the ideal time to post.
Promote Your Content On and Off LinkedIn
Another excellent way of driving engagement on your LinkedIn posts is increasing the number of people who come across them. How? You can achieve this by using these tactics:
Start tagging relevant individuals and companies

Hunt relevant keywords and use them strategically

Integrate relevant hashtags to gain traction
Here's a bonus tip: try adding branded hashtags. LinkedIn will send your post to relevant followers if you create a trendy hashtag worth following.
Avoid Adding Outbound Links
LinkedIn doesn't want active users to go anywhere else. Therefore, it's no surprise that the algorithm does not prioritize posts that contain multiple outbound links.
According to Hootsuite's test, posts without outbound links outperform other posts. If you want to share a link to another website or platform, add it in the comments!
Use the LinkedIn Publisher Tool
LinkedIn enjoys pushing posts created from its Publisher tool. Individual authors who create posts on LinkedIn Pulse (integrated with the homepage feed) can expect LinkedIn to share it throughout the network.
According to LinkedIn's Editor-in-Chief, your Publisher posts will appear in your connections and followers' feeds based on time. So, by using this tool and posting at the best time, you can tap into a broader network.
Conduct In-depth Keyword Research
While there are numerous tools for conducting Google keyword research, you won't find as many resources for LinkedIn. Luckily, LinkedIn SEO research becomes straightforward once you know where to look.
Let's assume you're trying to rank for the term "SEO content writer" but aren't sure how to optimize for it. In that case, searching for "SEO content writer" in LinkedIn's search bar will provide you with different results, indicating what terms other profiles are using.
In addition, you can click on the "See All People Results" button to determine how many people are ranking for this term. As a result, you can discover the competition level on a specific keyword.
But you shouldn't stop your keyword research there. Instead, try variations of your initial term, such as "SEO writer" or "web content writer," etc., to determine which terms LinkedIn's algorithm prioritizes.
Optimize Your Profile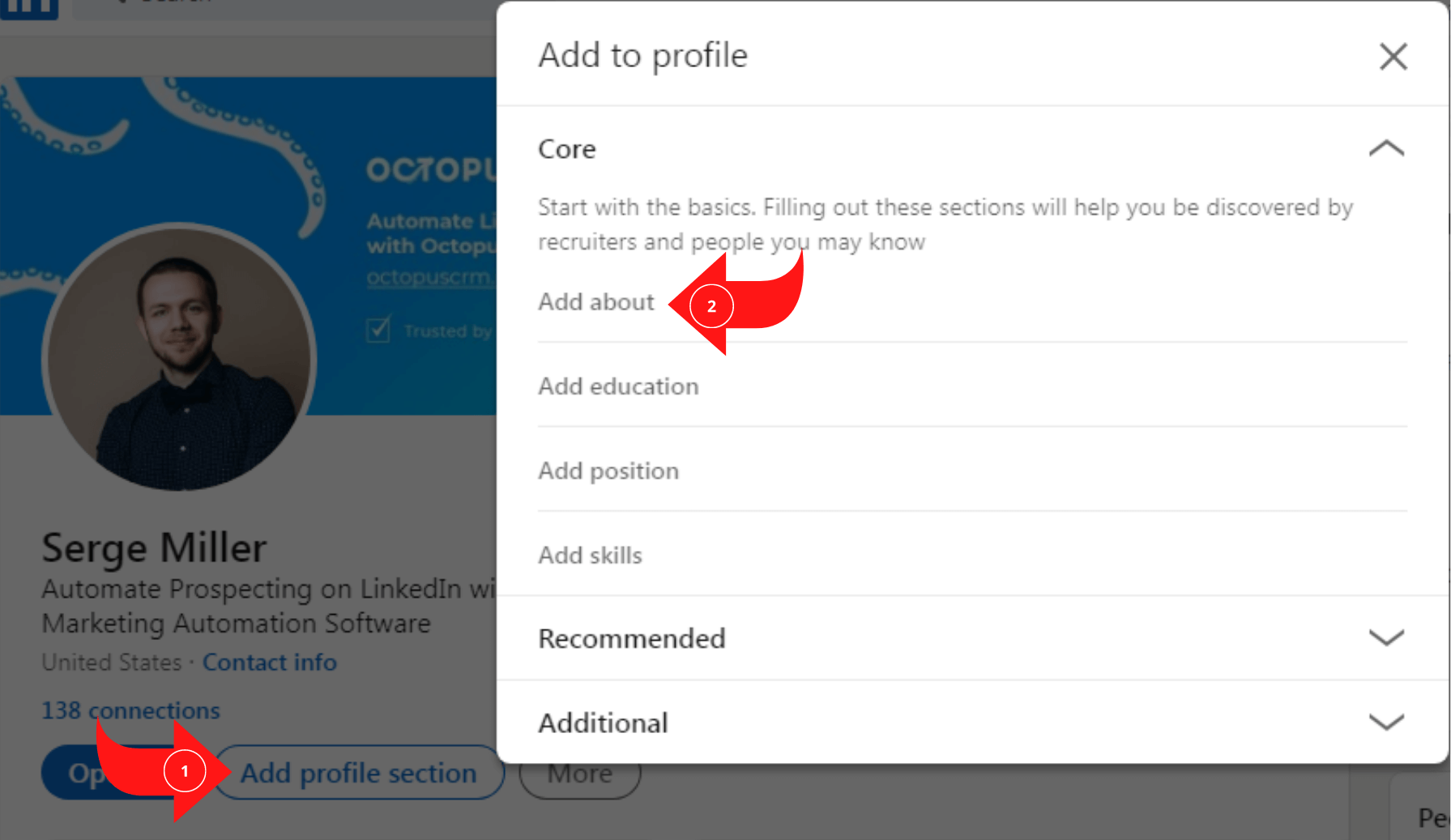 After conducting keyword research, it's time to optimize your profile to improve your ranking and drive more traffic.
Your "About" section, headline, and experience section are areas where you should include your target keywords. Focus on creating compelling content and integrating relevant keywords without making it sound awkward.
 Here are several tips to remember when optimizing your profile:
Include a professional headshot to make a fantastic first impression

Add a compelling and descriptive cover photo

Integrate a link to your website/blog to attract click-through rates

Include additional media like videos and blog articles

Request past employers or colleagues for relevant recommendations

Add your top skills to showcase your proficiency and expertise
Related article: How to Improve LinkedIn Profile
Encourage Engagement
By now, it's evident that LinkedIn's algorithm rewards engagement. So, spark conversations in your posts by including compelling questions.
Consider asking your audience to share their opinions, offer their insights, or tell their stories. Posing the right questions will position you as a thought leader. It'll also allow you to learn more about your audience's interests.
Utilize the Right Hashtags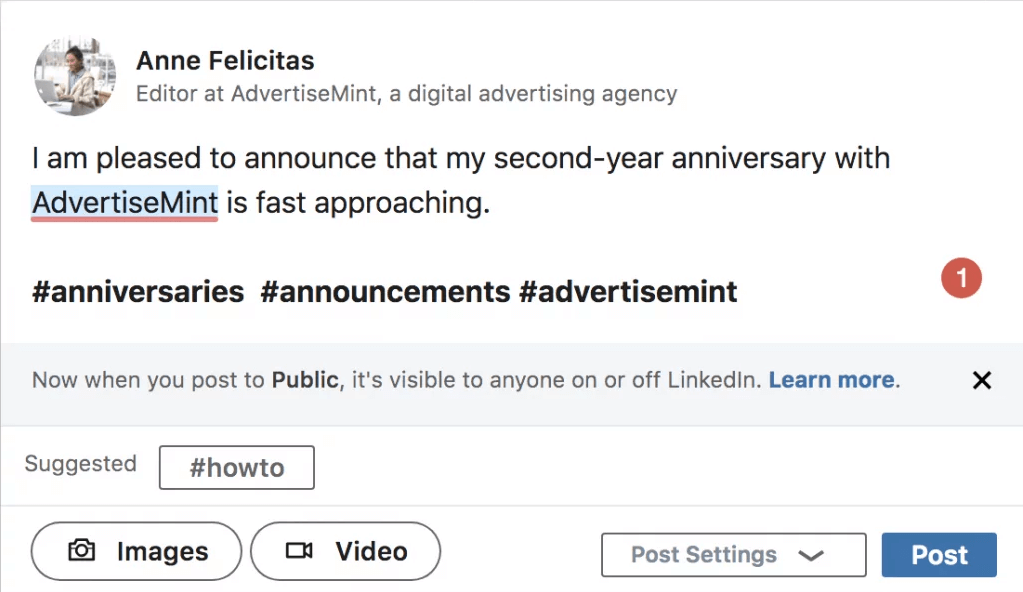 Hashtags are another excellent way of driving traffic to your LinkedIn posts. The more relevant your hashtags, the better the platform will categorize your content.
Furthermore, hashtags not only increase your reach, but they'll also make it easy for you to discover similar content. LinkedIn lets you pin your favorite and industry-relevant hashtags to stay up-to-date with the latest trends.
Build a Strategic Network
Connections + relevance = mastering LinkedIn's algorithm.
Simply put: growing a healthy and active network can help you grow your engagement rate. Whether you have a personal profile or LinkedIn page, remember to:
Fill in personal information entirely and keep them updated

Add connections who you know or think would find your content interesting

Encourage employees to show they work at your company

Integrate your corporate hashtag in your posts and updates

Follow people in your industry and attract followers

Engage in relevant LinkedIn Groups or create your own

Give and receive recommendations

Ensure your profile is public to make your profile easy to find

Join conversations and stay active on the network

Cross-promote your LinkedIn page on your website and social media platforms
Take Advantage of LinkedIn Messaging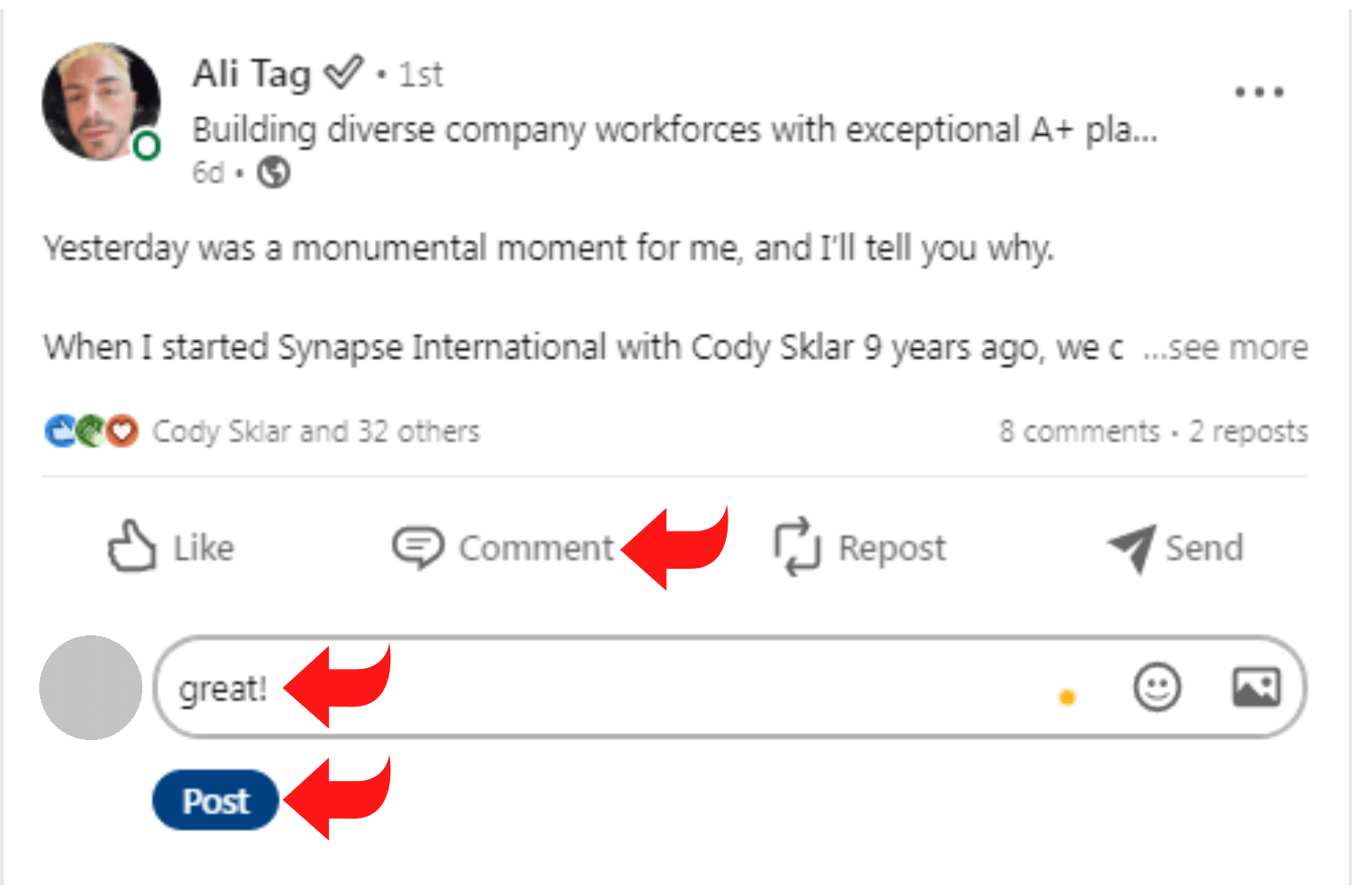 Another straightforward yet effective way of driving attention to your LinkedIn posts is by taking advantage of the Messaging tool. You can engage with your audience by commenting on their updates.
Consider adding a comment or sharing an article if you find an interesting conversation.
Use Reactions and Comments Wisely
Here's the thing: the first 60 minutes after creating a posting are critical for your content marketing success. It's essentially the "Golden Hour" for your LinkedIn posts.
If no one engages with your post within an hour of posting, it won't perform well. Thus, your post's engagement velocity depends on your average views, reactions, shares, and reach. So, aim to get at least 20+ engagements during this period.
Bonus: What Mistakes Should You Avoid In Order Not to Be Blacklisted from LinkedIn's Algorithm?
LinkedIn's algorithm will restrict you if it notices the following activities:
A vast number of page views

The name in your account's profile violates LinkedIn's User Agreement

The platform detects inappropriate or illegal activity on your account

A history of repetitive, abusive behavior on your account

Your account appears hacked or compromised
How to Avoid Spam Filters?
As we discussed above, your post's initial engagement determines whether it passes the spam filter or not. LinkedIn will not push your post to your target audience if it doesn't.
Avoid getting flagged by considering the following questions:
Are you posting too frequently?

Does your post sound offensive to any person or entity?

Will your consumer base find your content valuable?

How is your news/update relevant?

Is the content relevant to your industry/profession?
What Can You Do to Use the LinkedIn Algorithm to Your Advantage?
LinkedIn is a valuable tool to drive more users to your profile, especially once you learn to use its algorithm to your advantage. After that, you can hit your LinkedIn goals, whether winning clients, growing an audience, or landing a job.
These helpful tips  can help you win over LinkedIn's algorithm:
What are Some Features I Can Try to Dominate LinkedIn's Algorithm?
LinkedIn is continuously evolving to help marketers expand their reach and grow their brands. In 2022-2023, you can use the following new features to boost your outreach:
Carousel Images in Organic Posts

Edit Messages After Sending

Event Tab to Create Events

Highlight Featured Posts on Profile

LinkedIn Polls

LinkedIn Stories

Live Videos

Name Pronunciations

Reactions

Video Meetings

'View Page Followers' Tab

Notify Employees About Your Post

'My Items' to Save Posts

Use

#OpentoWork and #Hiring

photo frames

Connect your personal account with the company page

AI analytics to improve the process of hiring
Tips and Tricks to Use LinkedIn's Algorithm to Your Advantage
Maximize your brand's exposure to your target audience by trying these tips:
Post Between Five to Twenty Times a Month –

LinkedIn's algorithm rewards consistent users, so remember to post frequently

Schedule Your Posts between 7 a.m and 10 a.m. –

LinkedIn prefers creators who post in the morning. That way, your audience can start their day with fresh content

Initial Reaction Are Everything –

The first thirty to sixty minutes after the posting will determine the success of your post. If you attract little to no engagement, LinkedIn will not push your post
Leveraging Octopus CRM to Master LinkedIn's Algorithm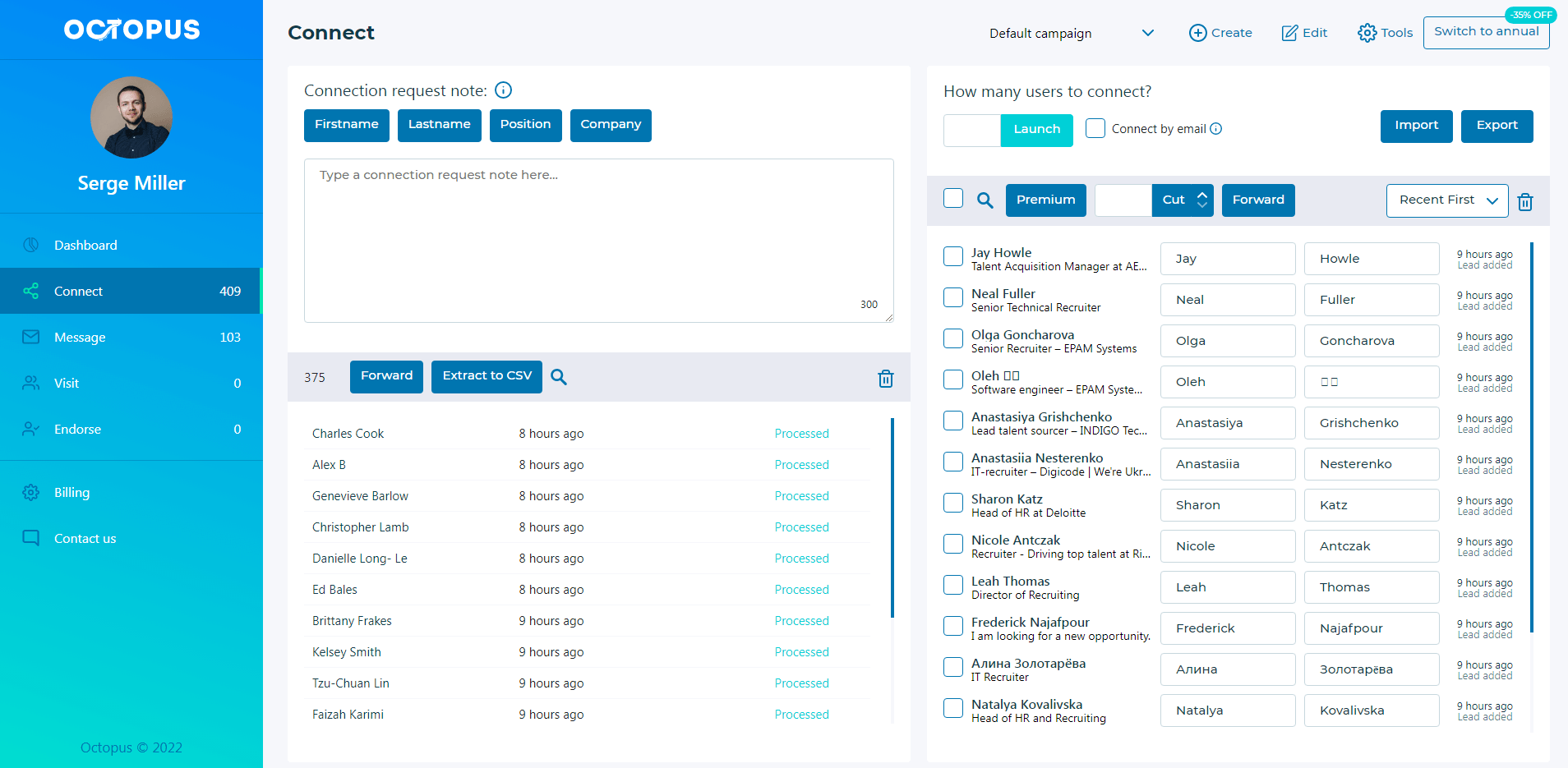 Octopus CRM is a great LinkedIn lead generation tool, it improves lead generation and automates manual chores.
It makes sense to put your time, money, and efforts into developing a LinkedIn marketing and sales plan, given that over 84% of salespeople actively use the social media platform. You can save time on mundane chores and increase productivity by automating lead creation and follow-up with Octopus CRM.
You can streamline your sales and prospecting efforts with the help of cutting-edge LinkedIn automation tools. As a result, you may grow your company and attract more clients.
LinkedIn users can find high-quality leads with Octopus CRM while gaining productivity and saving time. It, in turn, expands your network and enhances your online visibility.
Contact Octopus CRM to assist you in:
Increase profile views

Grow and expand your network

Encourage engagement

Boost conversion rates

Send automated messages

Promote your content
If you want to optimize your LinkedIn profile and be consistent with the LinkedIn algorithm use LinkedIn profile writing service – Octopus CRM team will help you immediately!
Conclusion
LinkedIn is an excellent resource that has aided thousands of users. Its extensive network links users and enables them to widen their reach. Additionally, LinkedIn provides its members with numerous appealing services. Introducing new tools and features to improve the user experience has always benefited LinkedIn users.
Understanding the LinkedIn algorithm makes expanding your reach and optimizing your profile to attract leads easier. Furthermore, the LinkedIn algorithm also helps promote content and conducts keyword research to help users include them better.