There are over 900 million professional profiles on LinkedIn. As a result, you can reach out to an almost limitless number of networking contacts. You can connect with potential career prospects. This platform enables you to look for a new job, optimize your profiles, generate leads, and more.
If you know this, you must have decided it's time to use and improve your LinkedIn profile. But it is time-consuming to keep your LinkedIn active with an updated profile.
Since it is free, LinkedIn is the perfect platform to use ChatGPT + Octopus CRM automation tools. Therefore, you can use ChatGPT professionally to create engaging content. The LinkedIn algorithm allows you to use AI-generated content creatively, moreover LinkedIn launches AI-powered features that helps you to reduce the time spent on profile optimization.
What Is ChatGPT?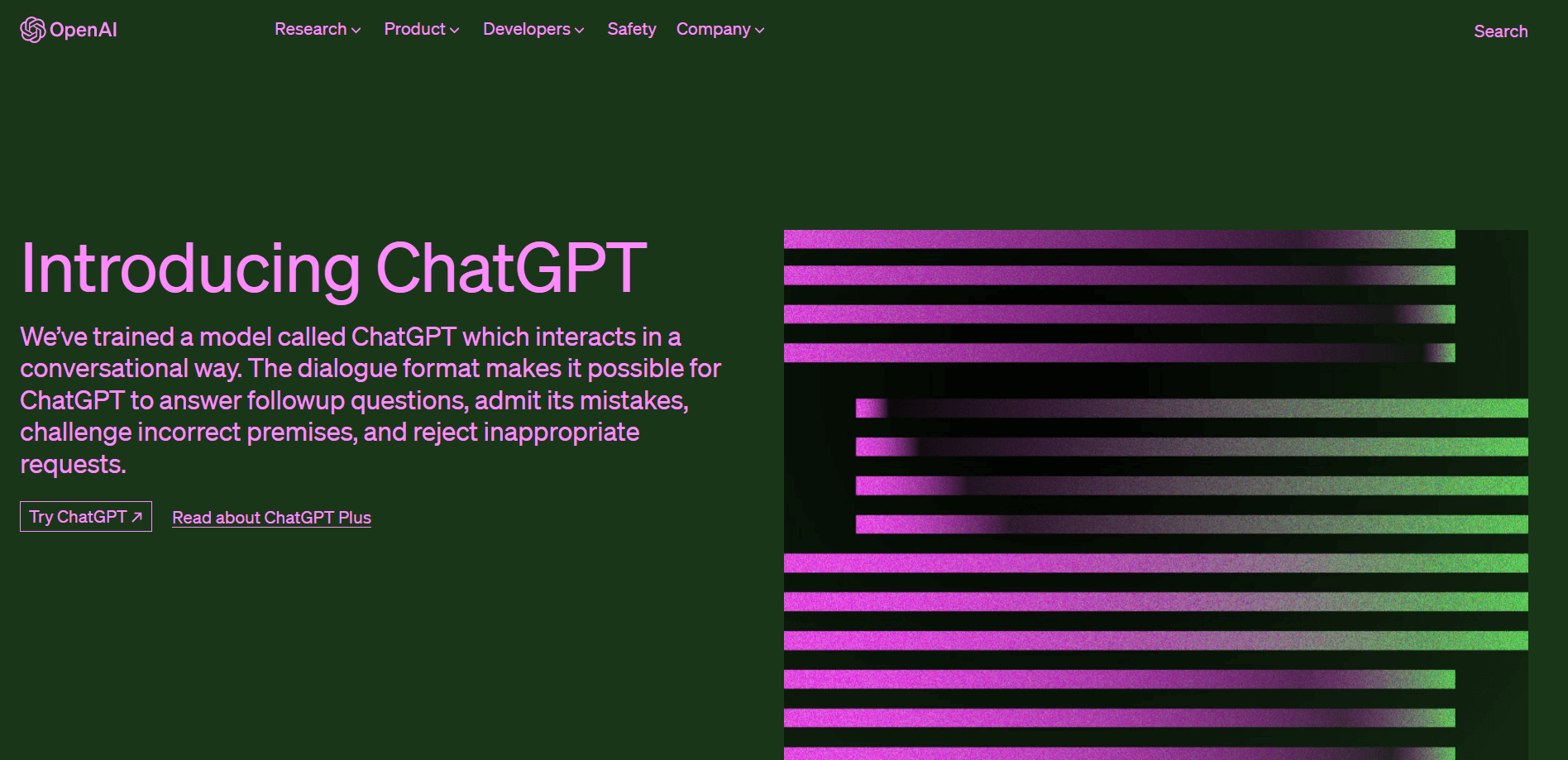 ChatGPT uses NLP or natural language processing to produce texts from your discussions. It can quickly and automatically create compelling descriptions without human editing. Use commands like "highlight my experience" or "summarize my resume" to optimize content
This online tool makes things more accessible and practical. Therefore, the produced content accurately reflects your goals and accomplishments. The AI-written content is niched, customized, and easy to understand.
Using ChatGPT for your LI profile lets you write a unique description. This way, you will be able to stand out from the competition.
How Does ChatGPT Work?
One of its main goals is to assist people in establishing stronger connections with potential prospects. You may increase your chances of capturing leads by using ChatGPT. It can predict upcoming conversations to gain insightful information about users' interests.
Furthermore, its OpenAI interface can assist you in strengthening your customer service abilities. You will get to know your consumers better and understand their pain points. Besides, you can even identify issues hindering the sales journey.
Resolving these problems and helping customers during the sales cycle improves brand reputation. It can even devise innovative support techniques to meet your customers' unique needs.
Expectantly, this will develop stronger relationships with your consumers. This way, your brand will gain more clients and experience sales growth. As a result, you can maximize your return on investment and increase your organization's efficiency.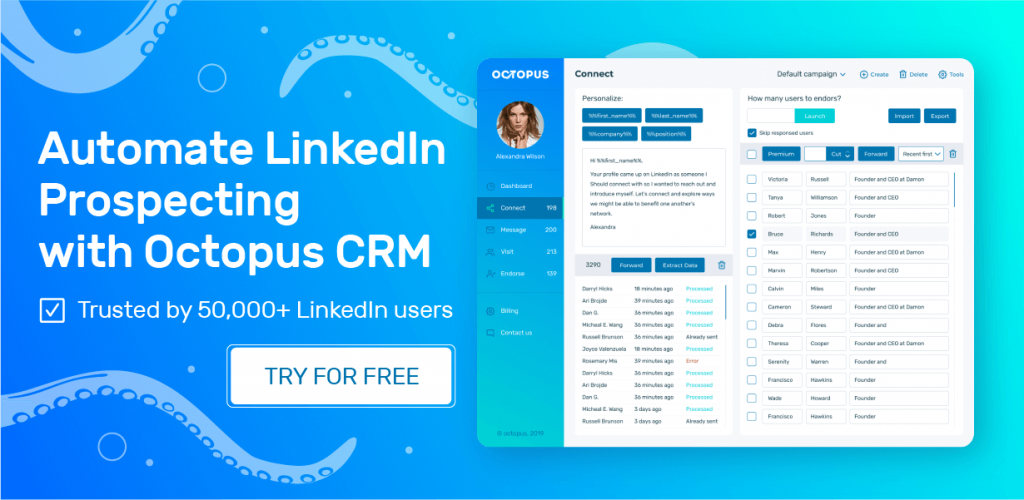 Ways to Use ChatGPT to Optimize Your LinkedIn Profile
Being the largest professional networking site, LinkedIn allows you to connect, network, and build brands. Companies hoping to hire a new team or individual can find top talent. Individuals can find lucrative career opportunities and network with industry experts.
Standing out among millions of users may be challenging, but OpenAI ChatGPT for LinkedIn is here to help you. 
Here is how you can optimize your LinkedIn Profiles using ChatGPT:
Improve Your Summary and Headline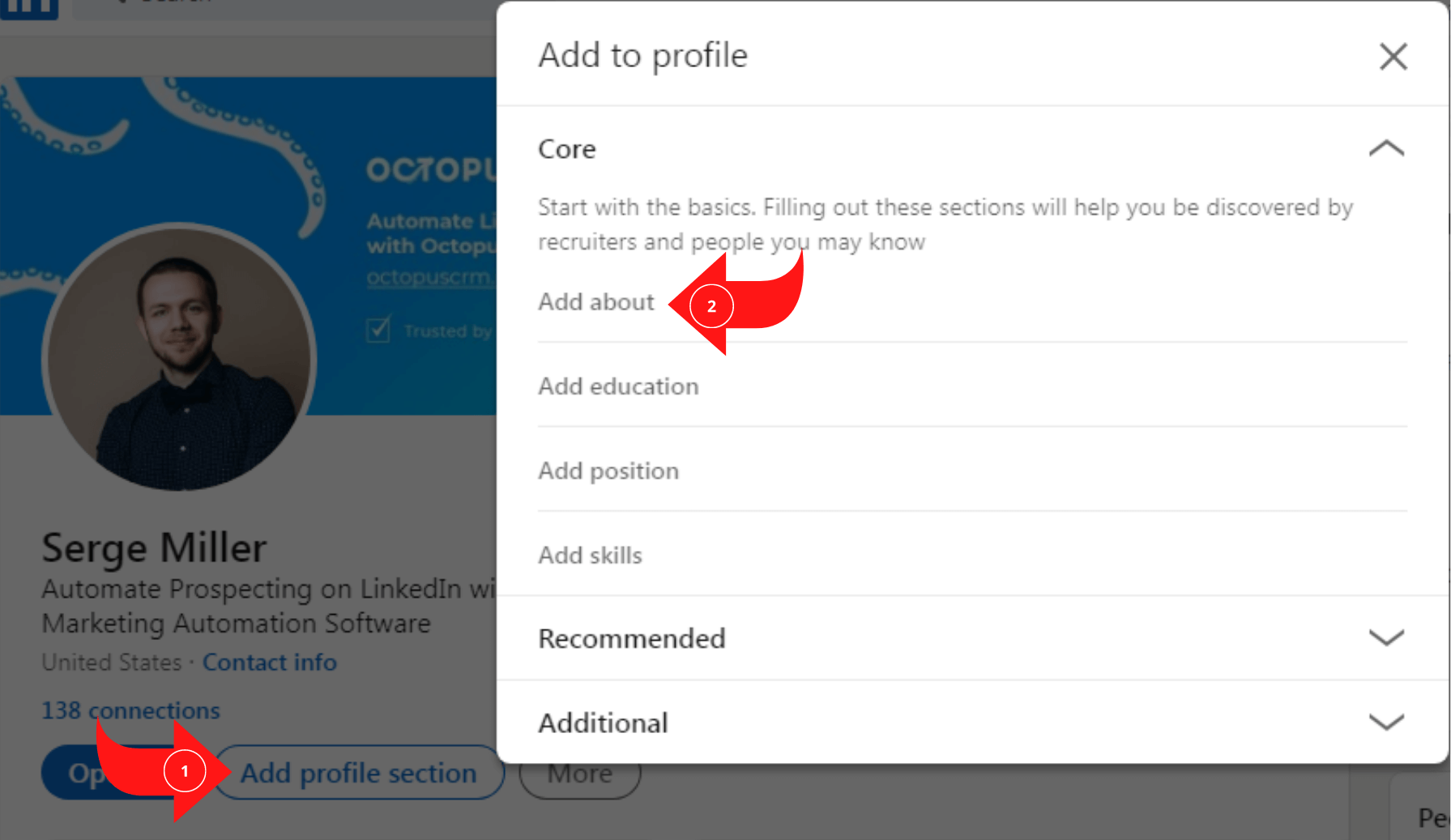 Your LinkedIn headline and profile's summary are two of its most essential elements. They can significantly affect your chances of being noticed because they're the first thing visitors view when they see your page.
You can work with ChatGPT to develop a LinkedIn summary and catchy headline to attract leads and potential users. All you need to do is enter your objectives, skills, and career details. The tool will generate unique text to make you stand out among the other candidates.
Use SEO For LinkedIn
Use LinkedIn SEO tactics for finding and adding relevant keywords to your profile and posts. Keywords are essential to show your profile in a LinkedIn search. Employing the proper keywords may improve your visibility and draw more profile views.
ChatGPT can help you select relevant keywords to add to your profile and optimize your LinkedIn profile. It evaluates industry experts and job opportunities within your industry for niche-related keywords.
Optimize Your Job Descriptions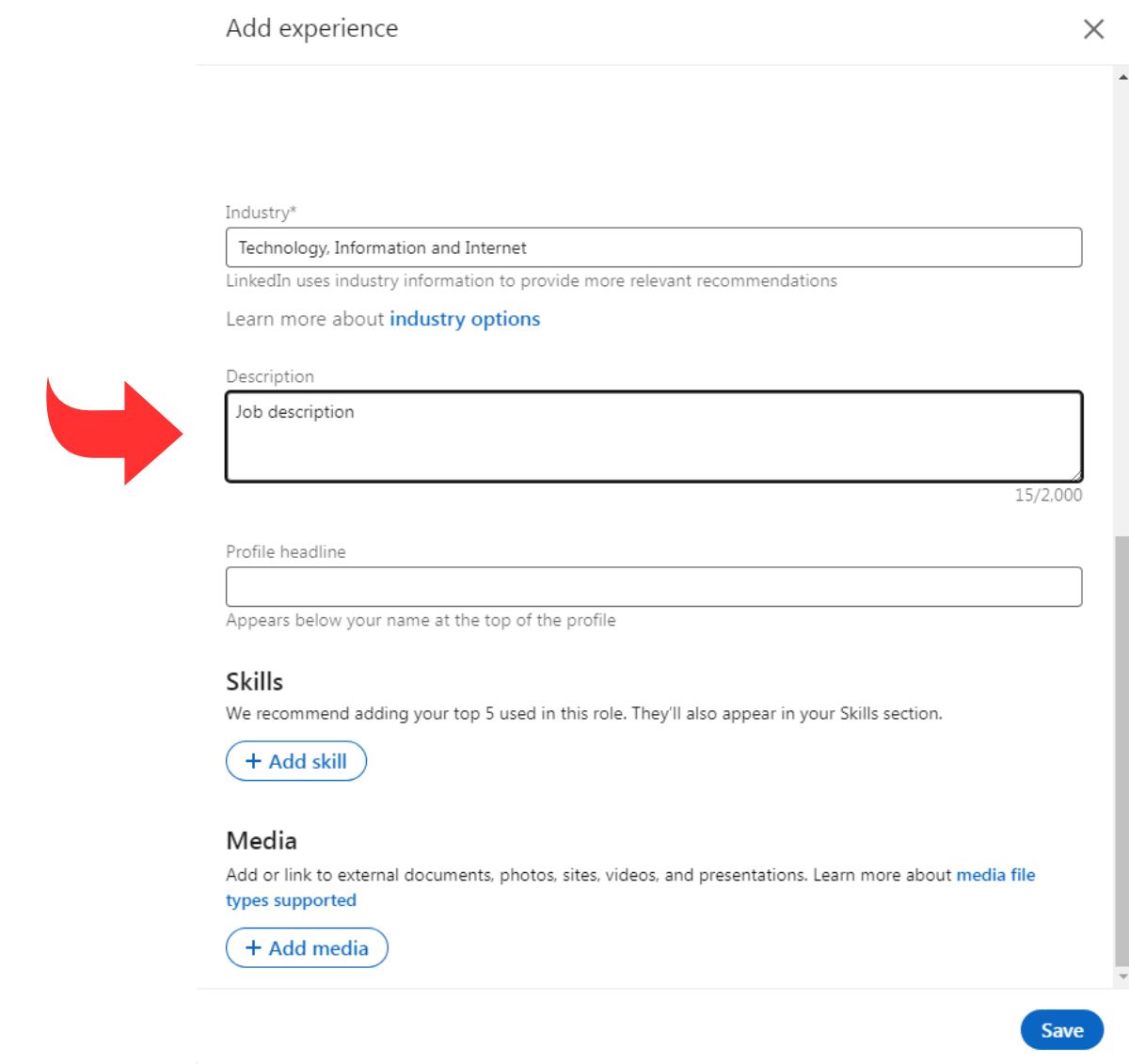 Your job descriptions contain helpful details regarding your qualifications and experience. However, they might not be as successful as they could be if not used properly. Using AI technologies such as ChatGPT may assist you in optimizing your job descriptions.
It can even recommend sector-specific keywords, highlight your successes, and offer content suggestions. This will help make your descriptions more interesting.
Network Effectively
A systematic approach to networking is necessary to make the most out of LinkedIn. Based on your profession, location, and hobbies, ChatGPT can find new contacts. Furthermore, it can help you create tailored messages to increase response rates.
How to Use ChatGPT for LinkedIn Content
ChatGPT is an excellent automation tool that helps you generate engaging content. You can use this chatbot for the following purposes:
Brainstorm Content Ideas
What keeps you awake during the night is a popular query among marketers and sales executives. You can develop unique content ideas as ChatGPT highlights customer queries and pain points.
For example, what concerns might you face as the CEO of a B2B SaaS company when getting ready for a round of funding?
You could ask ChatGPT for relevant topics as a subject-matter authority. Posting valuable content on LinkedIn will help captivate more followers. As a result, you will directly reach out to your target customer.
Related article: Create a Good LinkedIn Content Strategy
Please concentrate on innovative approaches that will increase engagement. You can even ask ChatGPT about concerns your customers may have regarding your offerings.
Aside from describing your ideal client and the kind of solution you have, you can talk about your specific USPs. This is a fantastic place to begin a FAQ!
Related article: How to Create an Effective FAQ Page
In addition, you can get a list of reasons for that particular consumer type. Furthermore, you can ask about how to respond to those objections.
You'll be familiar with the majority of the responses that ChatGPT offers. But, there will undoubtedly be a few things that you haven't considered.
Produce Interesting Content
Creating engaging content is one of the finest methods to stand out on LinkedIn. The trick is creating content that connects with your target audience, whether sharing business news, producing thought leadership essays, or publishing educational videos. ChatGPT can assist you with idea generation and make material for you. ChatGPT can create concepts for blog posts, social media updates, and more by being given details about your target audience, industry, and goals.
Make Blogging Simpler
As a subject-matter expert in [your specialty], name ten blog subjects that [your target customer] who has [the problem you tackle] will find fascinating.
Consider asking for ideas that are a little uncommon, technical, or industry-specific. Request catchy headings for your blog articles from ChatGPT once you've created a list of topics.
Continue tweaking to acquire greater diversity. You can use the following words and phrases:
Make the headings funnier and more precise;

Make use of technical terms;
Then proceed to the hook. Request an opening paragraph from ChatGPT that will grasp the readers' attention and encourage them to read the rest of the post.
You can ask about hooks because ChatGPT is aware of them. Alternatively, ask, "What are ten interesting facts on [this topic]?" You may also ask, "What are ten unusual quotations on this subject?" Moreover, you can draw a summary or an article's outline using ChatGPT.
How to Use ChatGPT for LinkedIn Posts

One of its key advantages is the ability to generate social media postings utilizing Chat GPT quickly. With Chat GPT, you can develop several social media post concepts. It might be beneficial if you have a deadline and are hurrying to brainstorm ideas for a marketing campaign.
Creating more exciting material is another advantage of using Chat GPT. You can create relevant posts on LinkedIn targeting your audience. This way, you will be providing them with the necessary information. What are the quick and easy ways to produce interesting social media posts using Chat GPT? 
Read also: How Can Social Media Marketing Help Your Business?
Here are some pointers:
Begin by generating concepts for your social media strategy. It could include details like the objectives of your campaign, your target market, and your powerful messages.

Depending on your idea creation, decide on topics for social media postings using ChatGPT. You may accomplish this by giving the model your notes from your brainstorming sessions and asking it to generate post ideas on those notes.

Examine and modify the post concepts suggested by the ChatGPT. The model is effective at producing ideas, and examining and editing the generated materials is crucial. It will ensure the AI-generated content complements your brand's tone and language.

Using the selected concepts, use ChatGPT to create accurate social media postings. If you do this instead of writing the blogs yourself, you can save a lot more time.

Check and tweak the AI-generated posts to ensure they are of a good standard and ready for social media sharing.

Utilize ChatGPT to create hashtags for your postings. As a result, your content will have a wider readership and be easier for your

target audience

to find.

Use a tool like Buffer or Hootsuite to schedule your posts on social media. It lets you plan your postings and ensure that people continuously share your information on social media.
Read also: Social Media Hacks to Grow Your Brand
A quick and efficient approach to producing exciting material for your brand on social media is to use ChatGPT. These pointers can help you use ChatGPT to quickly and efficiently make social media updates.
How to Use ChatGPT for LinkedIn Messages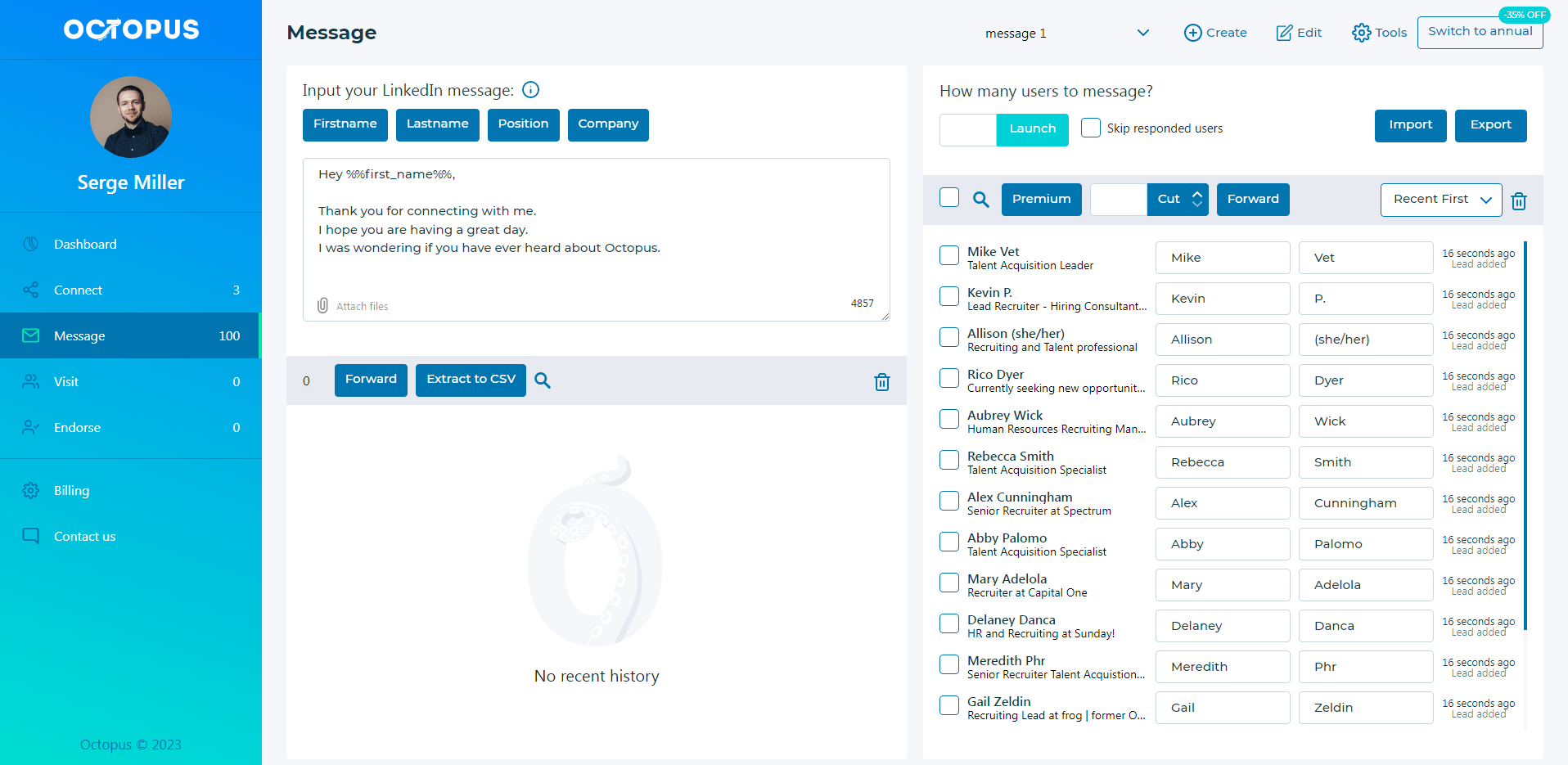 Networking on LinkedIn with coworkers may increase your visibility in the professional circle. It will also enhance your career as you discover fresh opportunities.
How can you increase the number of LinkedIn messages? ChatGPT + Octopus CRM is the answer.
You may send more messages on LinkedIn by using Octopus CRM and ChatGPT together. It streamlines the process of generating new templates and offers to send a mass message on LinkedIn faster than ever before.
With ChatGPT AI capability and Octopus CRM LinkedIn automation software, you can automate your messages and increase the sent rate. Using the best LinkedIn automation tools to reach out to prospects can help establish relationships that might lead to greater business.
Related article: Using Automation Safely on LinkedIn
Conclusion
ChatGPT has taken the industry by storm. It offers numerous benefits for content creation, streamlining processes, and more. With the help of ChatGPT in connection with Octopus CRM, you can significantly enhance your LinkedIn outreach game. You can develop your networking abilities and boost your chances of receiving a response by using the features of ChatGPT.