Octopus CRM is one of the best LinkedIn automation tools used by newbies and veterans worldwide. But is it the best? 
Here we'll discuss why marketing agencies need to use Octopus CRM and why it's the ideal tool for you:
What is LinkedIn Automation?
LinkedIn automation tools are software that helps eliminate redundant marketing tasks by sending connection requests, cold messages for prospects, follow-up messages, and other LinkedIn activities.
With these platforms, marketing agencies can generate leads, build their professional network, and convert prospects into revenue-generating customers.
Types of LinkedIn Automation Tools
LinkedIn automation tools are primarily of two types:
Browser-Based LinkedIn Automation Tools
You can use browser-based LinkedIn automation tools by installing its extension. After that, you can use the software to grow your leads and boost sales.
The downside is you can't use browser-based tools 24/7, and they are typically easy to catch, which puts your account at risk of being banned. 
Cloud-Based LinkedIn Automation Tools
Cloud-based LinkedIn automation tools allow you to log into your LinkedIn account and determine the activities you want to automate. This software is safer as it integrates with your LinkedIn account and features dedicated IP addresses. 
Furthermore, cloud-based LinkedIn automation platforms offer you access to advanced tools that ensure convenience, safety, and improved marketing results.  
Importance of LinkedIn Automation for Marketing Agencies
LinkedIn automation tools are an underused yet excellent way of growing your conversion rate and attracting new customers. With the help of LinkedIn automation platforms, marketing agencies can:
Build a professional network to foster deep relations with customers, thus allowing you to grow conversions. Furthermore, it enables you to analyze your target audience and create content that resonates with them. 

Tap into a massive pool of leads quickly and efficiently. LinkedIn automation tools make visiting prospect profiles, sending connection requests, curating personalized messages, and following up a breeze!

Creates brand awareness and loyalty by allowing you to expand your professional network 
But that's not all! Let's take an in-depth dive into the importance of LinkedIn automation for marketing and sales agencies:
Automate Time-Consuming Tasks 
LinkedIn automation tools help you reduce redundant tasks, such as sending connection requests, invitations to join a group, or customized InMails. 
As a result, you'll have more time to make smart business decisions and complete creative tasks, including developing a deep relationship with prospects, closing sales, etc. 
Create Successful Campaigns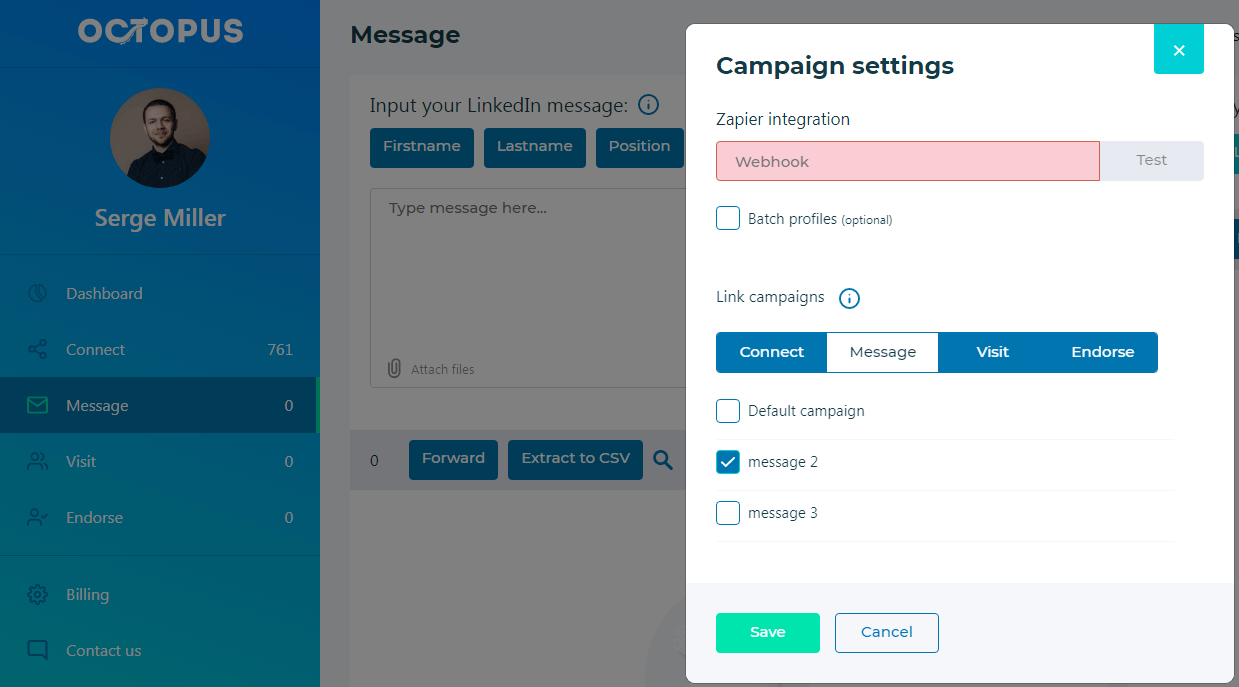 Another excellent advantage of using LinkedIn automation tools is that it allows you to launch an automation campaign and leave it to run itself. 
Consequently, you can complete other tasks while the tool takes care of your campaign. You can also measure your performance by pulling out in-depth data reviews. 
Warm Up Your LinkedIn Profile
Here's the truth: sometimes spamming is the solution to expanding your outreach. 
The problem? LinkedIn will suspend or ban your account if it notices any spamming. That's also why the platform limits the number of connection requests you can send daily. 
LinkedIn automation tools adhere to LinkedIn's rules and help you exceed them to grow your platform. 
Build a Robust Network
LinkedIn is the perfect tool for expanding your connections and network. A LinkedIn automation tool can help you grow brand awareness and customer outreach while encouraging brand loyalty. 
Furthermore, quality automation platforms enable you to improve the quality and reach of your content. Here are the various contents you can use to maximize your engagement rates: 
Long-form articles

Posts

Headlines

Direct messages

Commenting on Posts

Profile summaries 
Precise Targeting 
Finding an endless list of accounts on LinkedIn isn't challenging, but researching through them to determine your ideal buyer can be tricky. However, with LinkedIn automation tools, you can laser focus on your target market to find qualified leads quickly and effectively. 
Tools like Octopus CRM offer advanced filters and search options to narrow your prospects.
Save Money  
Using LinkedIn automation tools helps speed up attracting, engaging, and converting people quickly and effectively. Therefore, it helps cut down your budget for lead generation. 
Additionally, it eliminates the need to hire a team or an expert who focuses on finding leads from LinkedIn. 
Tracking Analytics 
LinkedIn's analytics and statistics dashboard are helpful until you need in-depth data to make informed decisions. So, it can limit your network's expansion and growth significantly. 
On the contrary, investing in a LinkedIn automation tool empowers you with advanced analytics to help you make data-driven decisions. It also provides a detailed overview of your past activities and performance to help you improve productivity. 
What is the Octopus CRM LinkedIn Automation Tool Used For?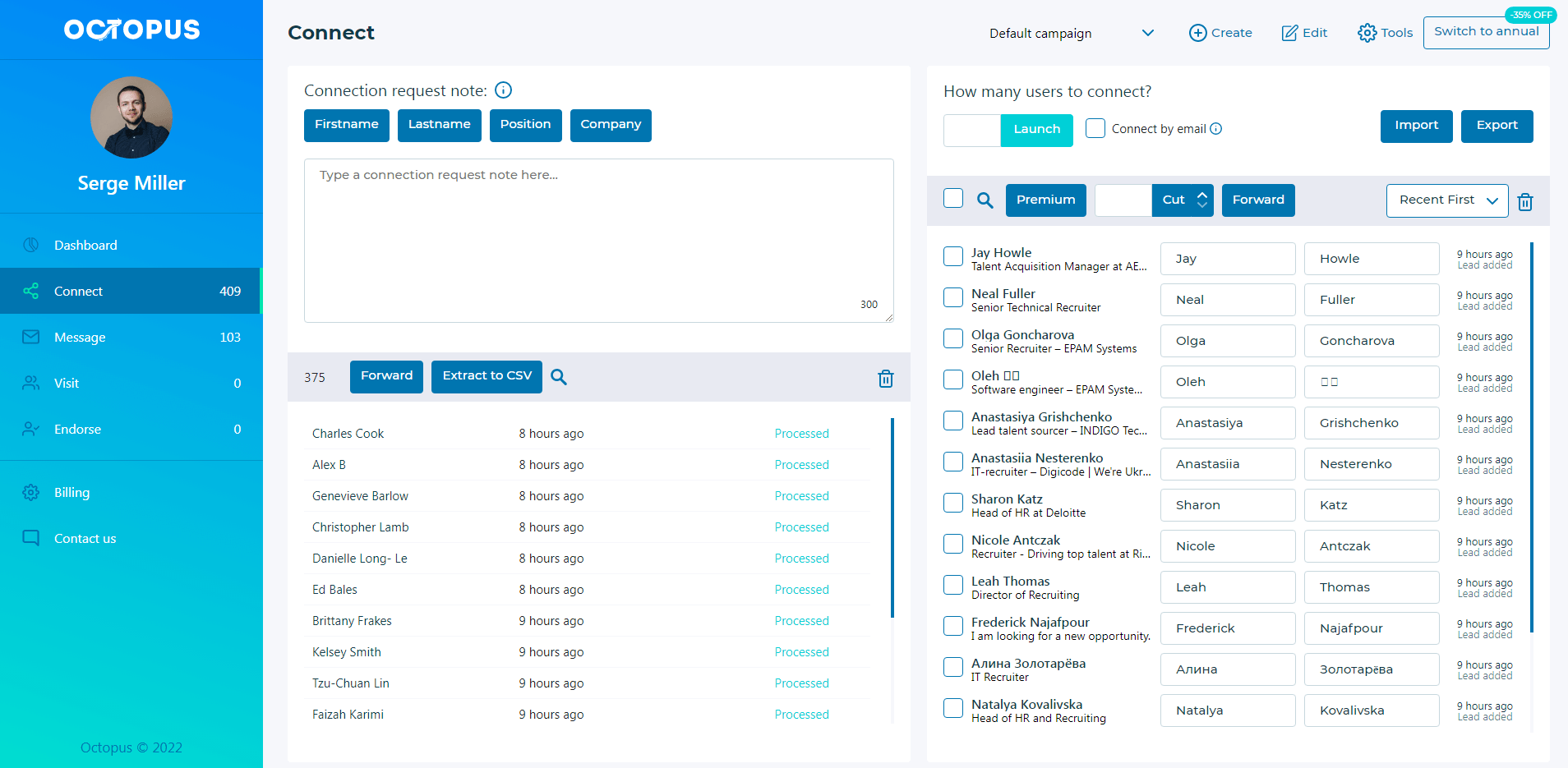 Octopus CRM is a robust LinkedIn automation software specializing in prospecting on LinkedIn. 
The tool boasts numerous LinkedIn features, including automation endorsements, sending connection requests, automatic profiles, bulk messaging, and much more! Let's take a closer look:
A Quick Glance at Octopus CRM
Octopus CRM is an all-in-one automation tool for optimizing your LinkedIn prospecting and lead generation efforts. The powerful yet easy-to-use software automates redundant tasks and offers the following key features:
Filter and import prospects' profiles on LinkedIn 

Manage connection requests

Send automated messages

Curate personalized messages 

Withdraw pending connection requests
Automating Your LinkedIn Tasks
Octopus CRM goes beyond automating your LinkedIn connection requests by:
Helping you send email connection requests that bypass LinkedIn's weekly invite limit 

Allowing you to message 100+ 1

st

-level links in bulk

Aiding you in endorsing up to seven skills on your LinkedIn contacts' profiles

Providing you with the ability to visit hundreds of profiles automatically 
LinkedIn Prospecting and Lead Generation 
According to research, B2B marketers find up to 80% of their leads on LinkedIn. If you use the right automation tools, you can double your prospecting and lead generation efforts.
As a result, you'll grow your conversion rate and yield a positive ROI.  
Related article: Why You Need Octopus CRM for Lead Generation
The Benefits of Using Octopus CRM LinkedIn Automation Tool for Marketing Agency
Not sure whether you want to use Octopus CRM to optimize your LinkedIn prospecting and lead generation strategy? Here we'll discuss the many benefits of our LinkedIn automation tool to help you make a better decision:
Key Features
Personalized automated direct messages

Automatic skill endorsements 

Customized LinkedIn marketing funnels 

Direct contact transfer from LinkedIn 

HubSpot and Zapier integration 

Automation connection requests and profile prospecting

Ability to link campaigns

Advanced analytics and user interface

Easy to download the lead's data (including email address and phone number)

Ability to withdraw pending connection requests

Free trial 
Now that we've discussed its key features, let's get down to business: 
Helps Streamline Your LinkedIn Operations
Octopus CRM is a powerful and effective LinkedIn automation tool that allows you to automate your prospecting and lead-generation efforts. The platform helps send highly personalized connection requests to profiles that fit your ICP. 
Furthermore, Octopus CRM allows you to send tailored bulk messages to 1st degree-connections. It also lets you endorse LinkedIn profiles without any manual work! Therefore, the tool helps you streamline your LinkedIn workflow while improving productivity. 
Boosts Your Marketing Efforts
Picture this: you're on top of your marketing tasks, you've sent personalized and catchy messages to prospects, you endorsed a prospect's talent to warm up, and you're finally converting qualified traffic. Sounds like a dream come true?
With Octopus CRM, you can design a customized B2B lead generation funnel to meet your marketing and sales needs. Start by adding, deleting, and combining different features to start generating fantastic results.
Curates Personalized Messages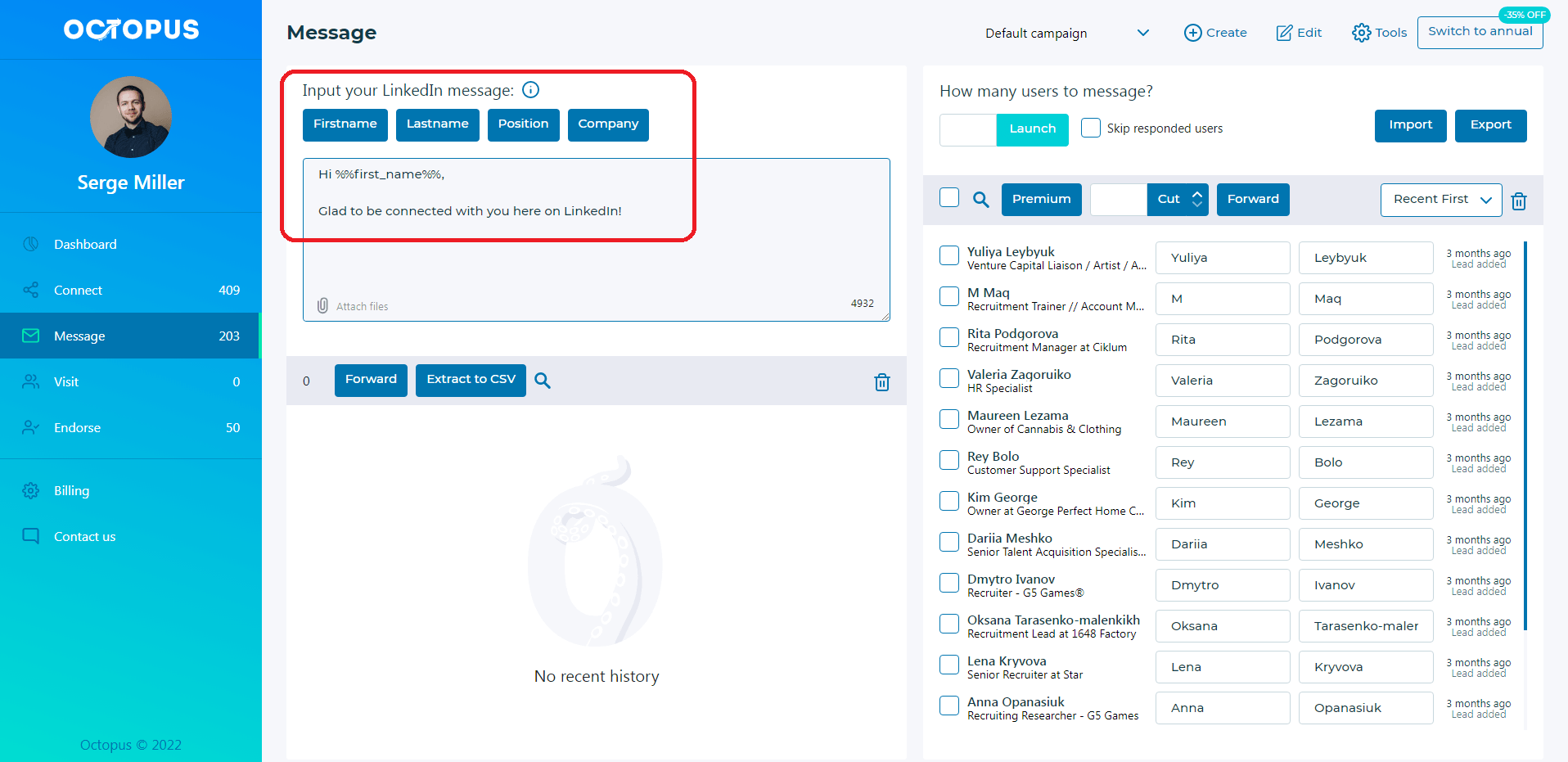 We've all been there: struggling to create a message with the perfect amount of personalization and professionalism. 
Octopus CRM saves you the trouble of staring at your computer screen for hours while you hope the message will write itself. This automation tool can customize your message to send genuine and catchy messages without being too salesy.
Creates a Robust LinkedIn Sales Funnel
Customize a seamless sales funnel on LinkedIn by using Octopus CRM. Our software enables you to automate follow-up messages after a connection accepts your requests. 
Additionally, the tool allows you to personalize these messages to ensure they match your brand tone and resonate with your target audience. The best part? Octopus CRM enables you to optimize your functionalities to convert prospects into high-profit-generating customers.
Provides a Google Chrome Extension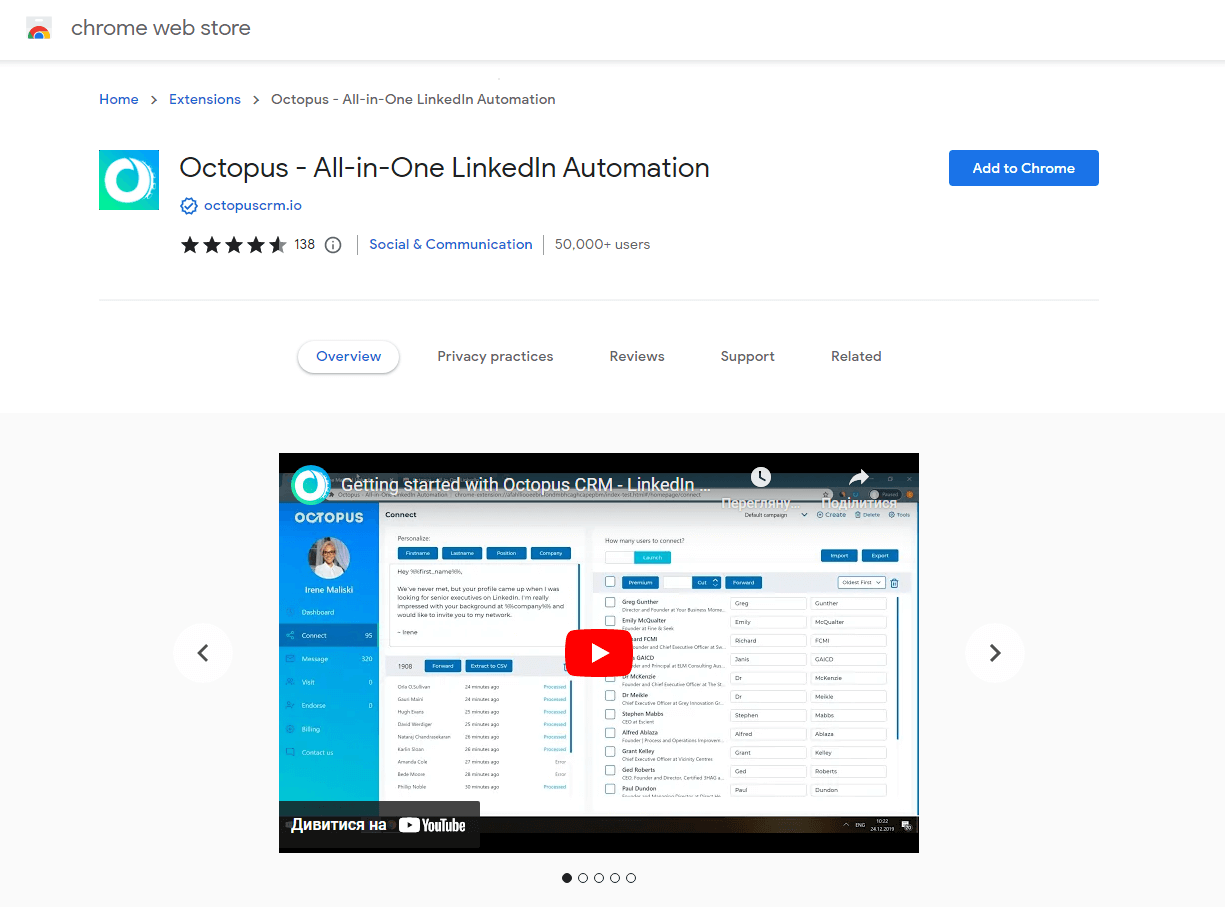 Octopus CRM allows users to install its Google Chrome extension, thus easing the task of connecting your LinkedIn account. 
After launching its extension, you'll notice its icon on the top-right corner of Google Chrome. So, you must perform your daily LinkedIn activities and transfer information to the tool's database.
Offers In-depth Statistics and Reporting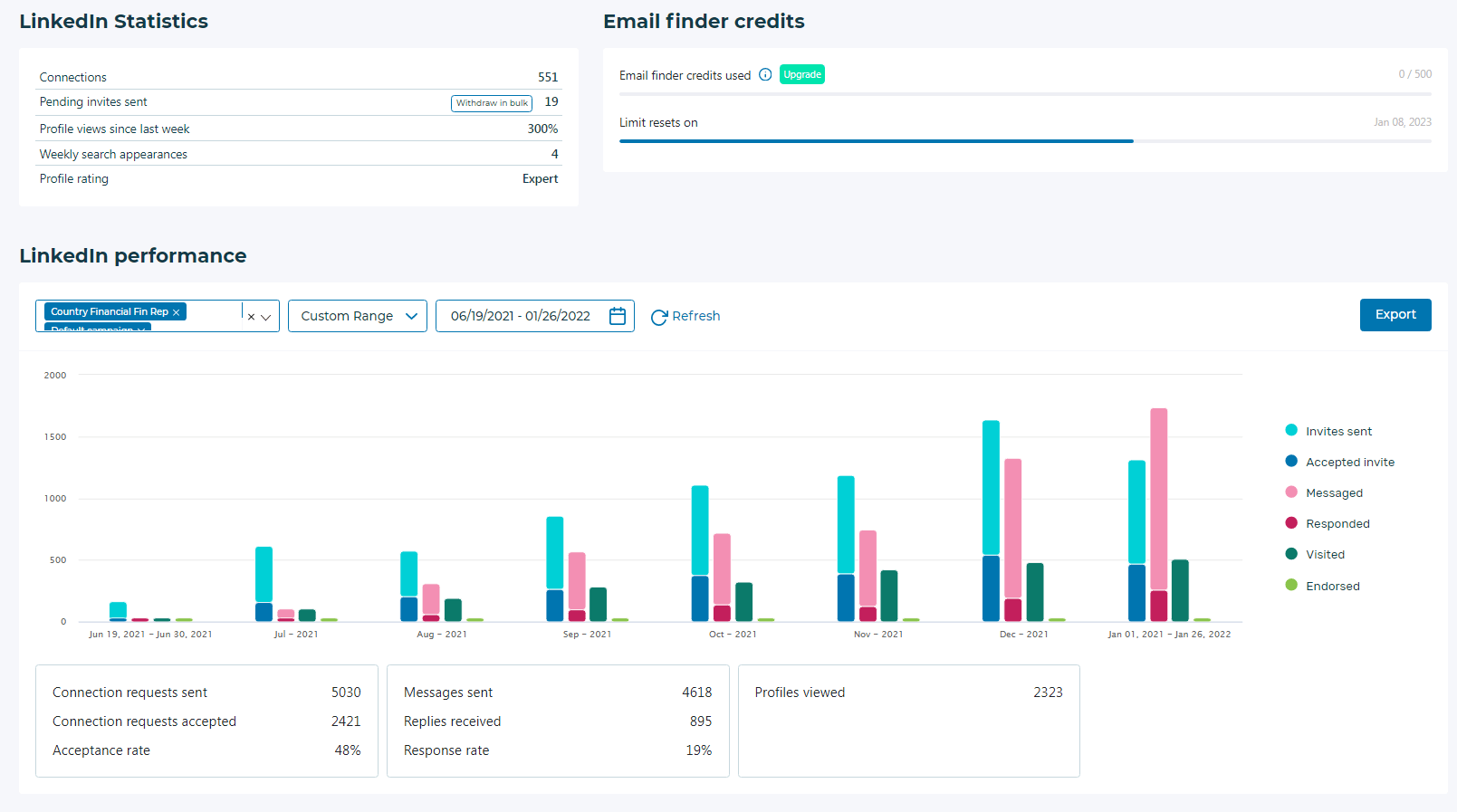 Octopus CRM helps you monitor and evaluate your marketing efforts with its interactive dashboard. Here, you'll find relevant and necessary statistics concerning your LinkedIn profile, such as:
Number of sent and accepted connection requests

Number of sent and responded messages

Number of profile views

Number of endorsed skills
Number of pending invites

Prospecting campaign performance 

Appearance rate in search results 

Acceptance rate
Response rate
Implements Other Tools 
Octopus CRM enables you to integrate with over 1000 third-party software solutions. Therefore, you can send your saved contacts to HubSpot or track connections in Google Sheets.
Furthermore, Octopus CRM allows you to import data to other software in various types of files.
Exports and Imports Data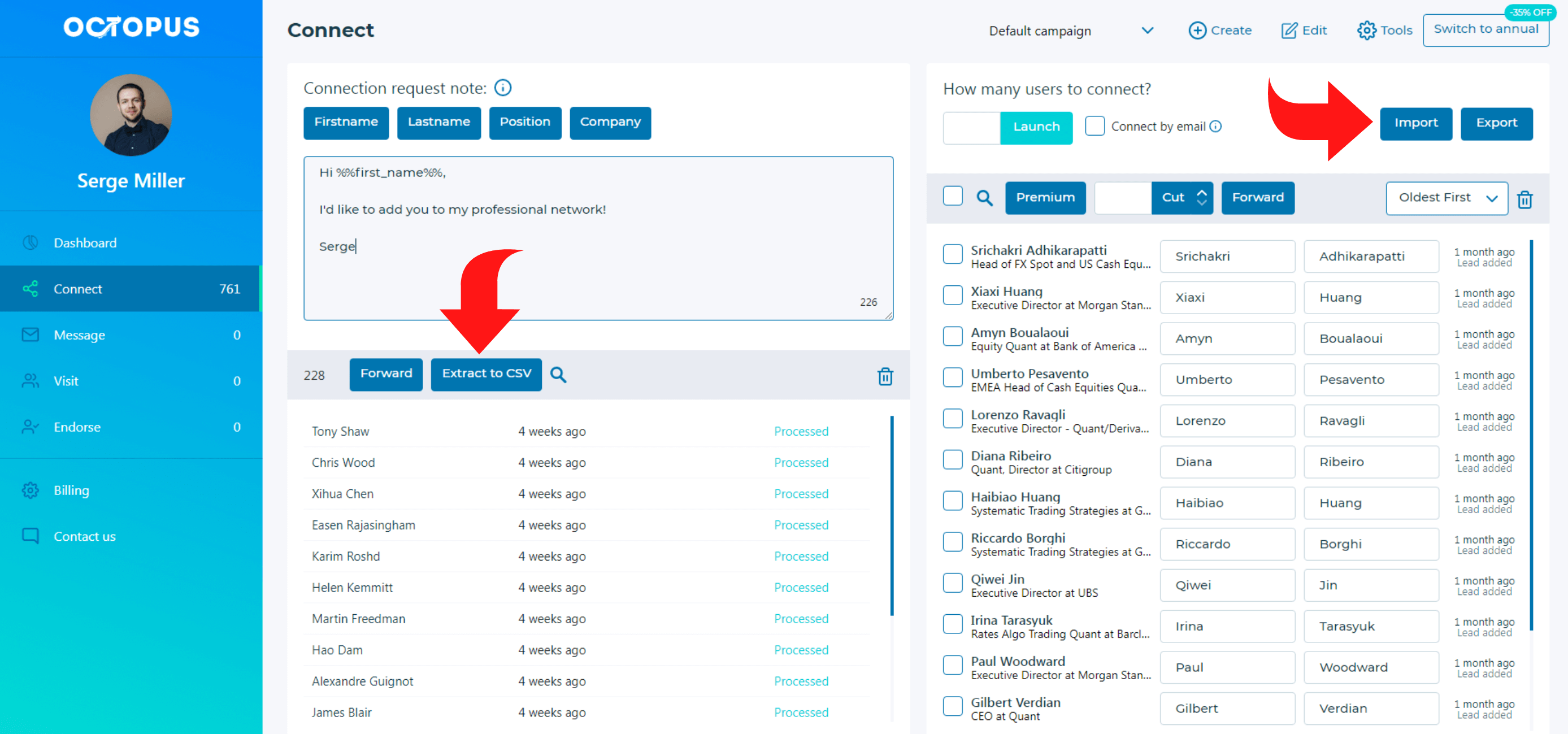 Octopus CRM helps you maximize the use of data from LinkedIn by allowing you to export it to a file. Additionally, it enables you to upload lists of LinkedIn profiles from your device or third-party tools.
Sends Activity Alerts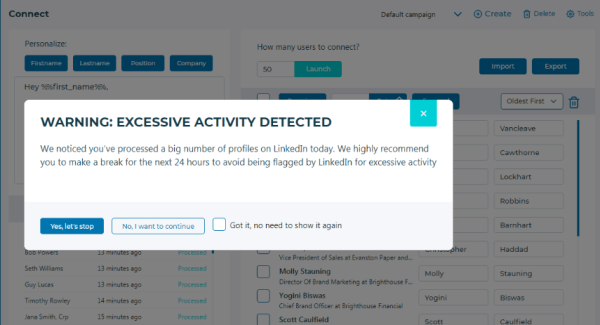 The last thing LinkedIn marketers want when building a network is to be blocked or banned by the tool. 
Ensure you use LinkedIn automation tools without bypassing its rules and regulations by receiving notifications for excessive activity.
Different Types of LinkedIn Automation Tools
LinkedIn automation tools are of various types depending on their features and use. Let's take a deeper look:
Automated Publishing and Analytics Tool –

These tools help you create and schedule content for publishing. Furthermore, it provides you with real-time analytics on your content's performance

Automated Connections Tool –

It entails tools that help you filter profiles, send customized connection requests, and send follow-up messages to build your network

Automated Extractor Tool –

Using a data extraction tool sets you up to make data-driven decisions 

Automated Lead Generation Tool –

LinkedIn Automated lead generation tools can help you automate the sales development process to generate better leads

Automated Activity Tools –

These tools will take care of daily activities like posting content, commenting, sending requests, etc. 
Why You Should Pick Octopus CRM LinkedIn Automation Tool for Marketing Agency
Choosing the perfect LinkedIn automation tool can be challenging. But with Octopus CRM in front of you, the answer is pretty straightforward!
Here are several reasons marketing agencies like you should pick Octopus CRM:
All-in-One Automation Platform 
Octopus CRM is an all-in-one LinkedIn automation tool that enables you to automate your marketing efforts and streamline workflow. The tool helps you send automatic messages and connection requests to build your marketing strategy.
Furthermore, the tool helps you create a customizable marketing funnel,  integrate with third-party tools, and connect with an email to grow your network and enhance results. 
Simplified Operation 
Say goodbye to difficult-to-use automation tools and say hello to revolutionary software that solves your problems with a single click! 
Octopus CRM helps you simplify the lead prospecting and generation process by helping you filter profiles, add leads to specific campaigns, and launch to help you improve your sales and growth.
Ease-of-Handling 
Octopus CRM is an easy-to-learn and easy-to-navigate tool. We provide users with tutorial videos and in-depth article guides to understand the features and operation of the software. 
Furthermore, its intuitive Google Chrome extension simplifies setting up a prospecting campaign.
Allows Third-Party Integration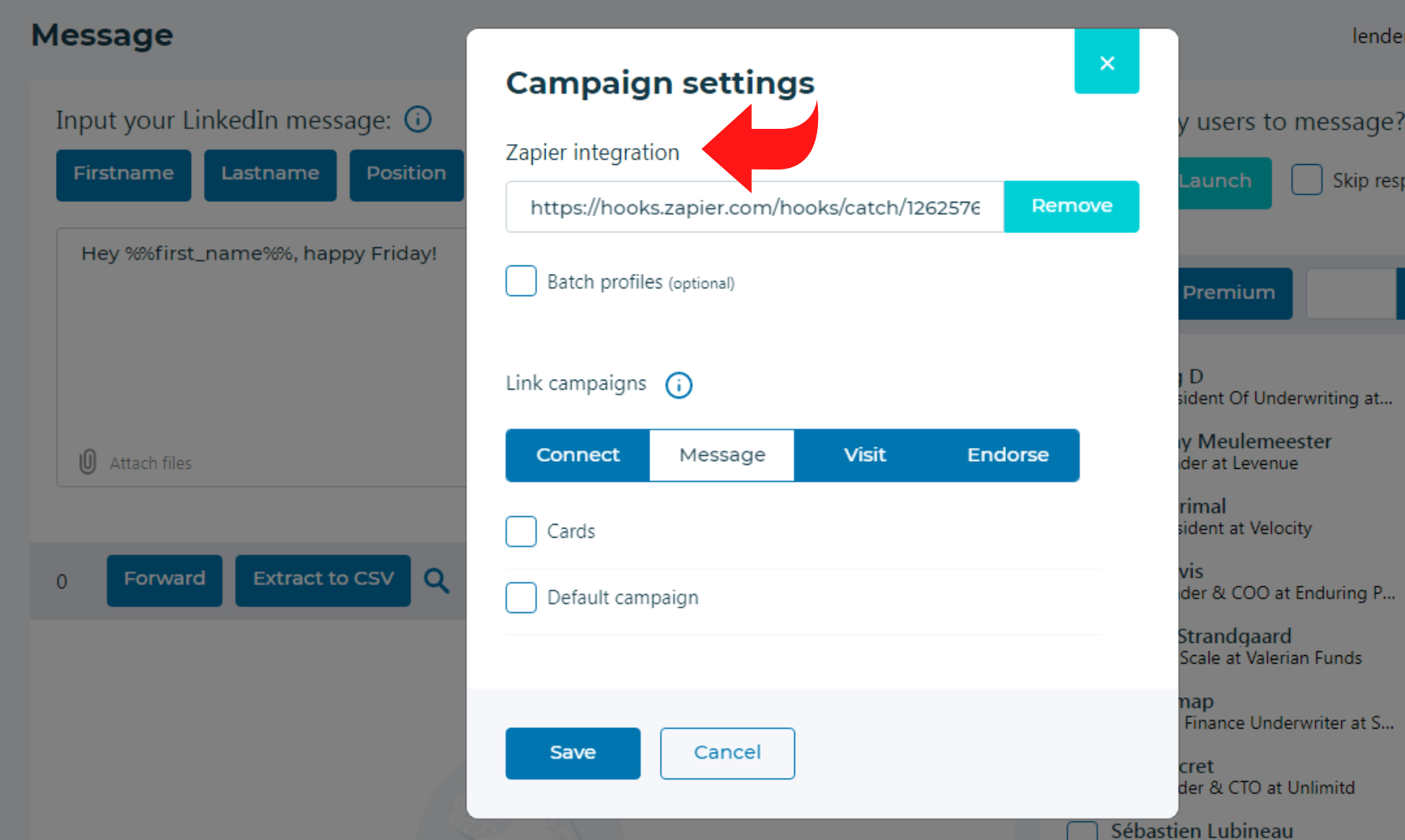 Enhance your leading and prospecting strategies using Octopus CRM in collaboration with other software. This way, you can exploit the information gathered on LinkedIn on qualified third-party integrations like Zapier, Google Docs, or HubSpot.
Offers Flexible Payment Options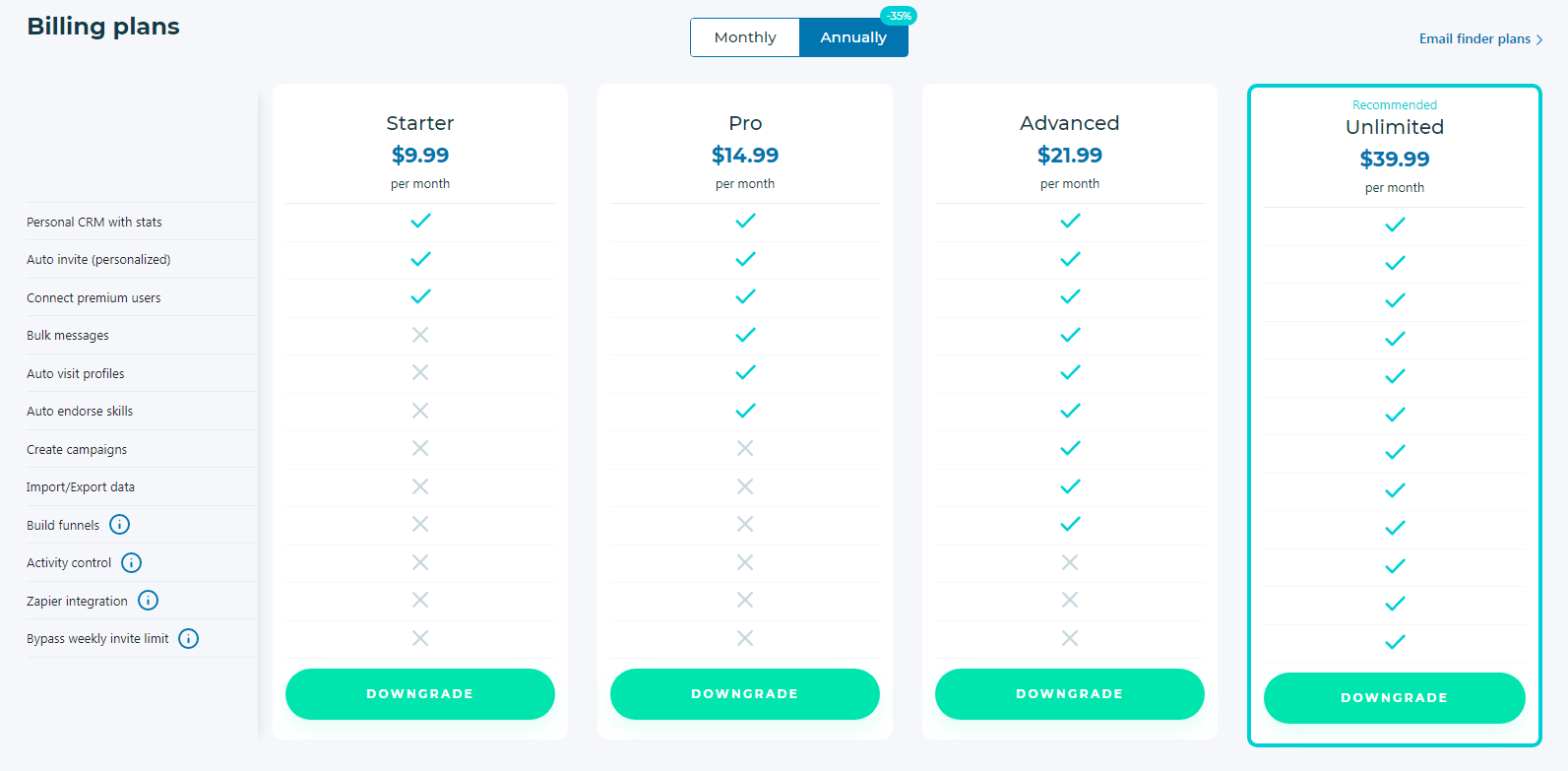 Octopus CRM makes it easy to find a pricing plan that matches your needs and budget. We provide four different options with varying amounts of features available.
Our starter plan starts at a low price of $6.99, whereas the pro one costs $9.99. If you're a robust marketing agency, you might prefer our advanced or unlimited plan, available at $14.99 and $24.99, respectively. 
Did we mention it? You can enjoy a 7-day free trial to decide whether our service matches your marketing needs! And you don't even need to add your credit card number.  
Offers Around-the-Clock Customer Support 
Octopus CRM offers excellent customer service, answering all your queries and helping you troubleshoot your problems.
You can find a helpful "Frequently Asked Questions" page to answer your questions. If you have a technical issue, you can send us an email.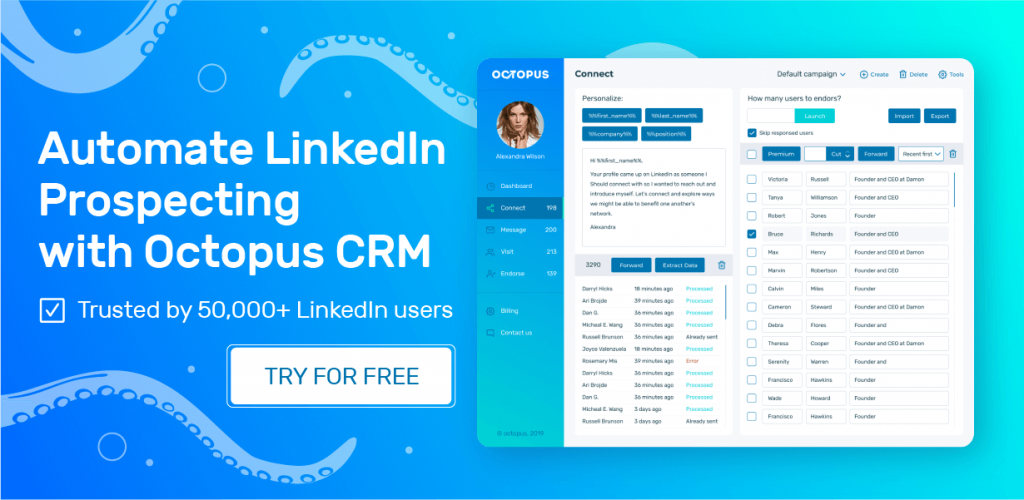 Related article: How to Scale Your Agency
Conclusion
Supercharge your marketing and sales strategies with Octopus CRM. Empower yourself to make better, data-informed decisions on LinkedIn by using our tool to access analytics, third-party integrations, and other fantastic features. 
Get started by trying Octopus CRM's free trial today!