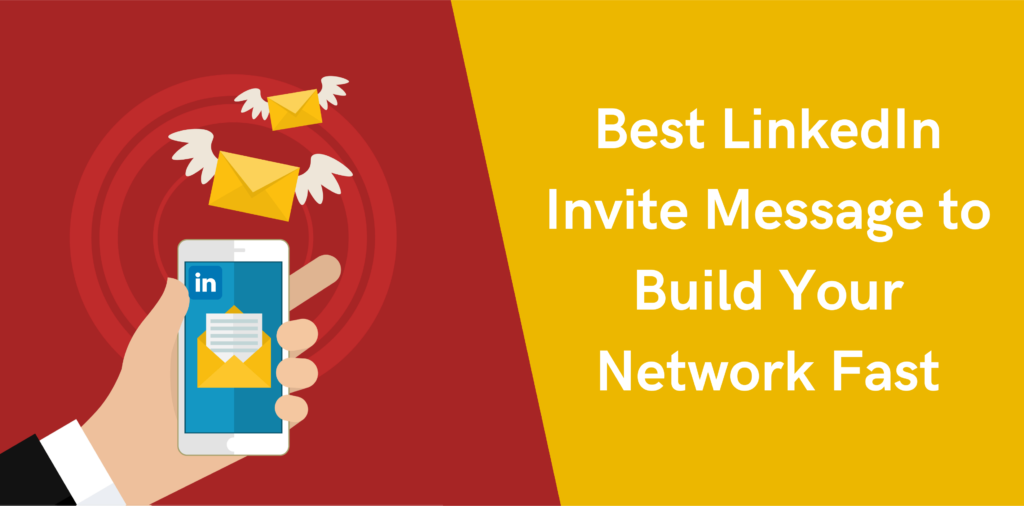 Best LinkedIn Invite Message to Build Your Network Fast
LinkedIn is all about building connections. And with the platform having over half a billion users around the world, it's the leading professional networking site – especially for B2B marketers. 
But, growing your LinkedIn network can often take a lot of time. And it's hard to know where to start, particularly if you're new to the platform. 
So, how can you speed this process up without sending boring, repetitive messages?
Here's everything you need to know about using LinkedIn, building a network, and getting new, valuable connections. 
The Psychology of a Cold LinkedIn Invite Message
Cold outreach is difficult to master. Cold messages have a famously low response rate – a lot of these messages are simply ignored or deleted. 
However, LinkedIn is proven to be an effective tool for outreach. It's more effective than email and great for generating leads. But the message still needs to be cleverly crafted if you want to get a response. 
So, how can you create effective cold LinkedIn invite messages? 
Here are some of the most important characteristics of cold messages: 
Clear and concise

Encourages connection 

Positive and interesting 

Narrow target audience 
If you want a response, it's crucial that your messages are highly personal and show interest. Also, it needs to be clear. Try not to write long, rambling messages and ensure your intentions are obvious. Let them know what you can do for them and how you plan to do it. 
Sending Invites to People You Know 
On LinkedIn, you may have to send cold messages. But they don't all need to be. Starting off by connecting with people you know is a great way to start. 
Think about it – there are probably already loads of people you know on LinkedIn. You can find them by looking through LinkedIn's "Add Connections" page. You can import contacts from your email account, and then you'll get more suggestions on people you may know.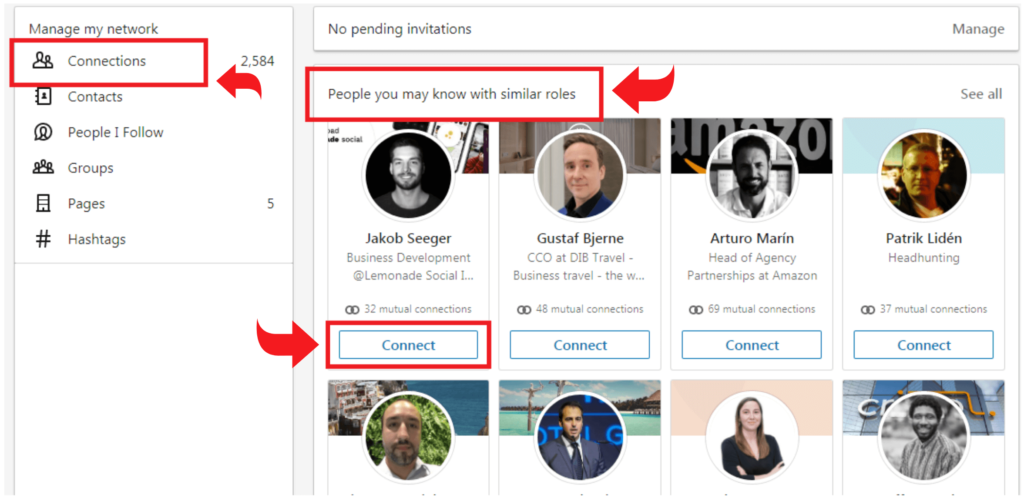 You might be surprised by how many contacts you have, but haven't connected with yet! 
But, before you go through the list and add connections, make sure you add a personalized message. 
Why should you do this? 
Simply, if you don't LinkedIn will send the default invitation message. And it's so boring! Plus, if you don't know them that well, they might ignore or delete it. 
Sending Cold Invitations to Your Target Prospects
Sending loads of generic requests by repeatedly clicking "connect" is something that's surprisingly common. It's something a lot of people do as an outreach strategy. 
But, it's a huge mistake!
Why? 
This is one of the worst ways to prospect. And, the reason it's dangerous is that, if enough people mark you as spam, your account could end up being suspended – or even banned. 
Networking and building genuine connections is time consuming. It can also be nerve-wracking for some people. However, it's a very effective marketing tool. 
If you want your connection requests to be accepted, always personalize your requests. Write a simple message that gets to the point, and make sure it's polite and professional. Just a couple of sentences including a personal, thoughtful detail, or explaining why you want to connect. 
Get People to Send Connection Requests to You
What if you didn't have to worry about your LinkedIn invite being declined or ignored? Or marked as spam? Or, what if you didn't need to send a request at all? 
One of our favourite strategies for rapid network growth is to get people to send you requests. 
The first essential step in this is to make sure your LinkedIn profile is visible. It should also be optimized using the methods we mentioned earlier. It should clearly show who you are and what you do – as well as how you can add value for others! 
You need to convince your prospects that you're a valuable addition to their network. 
There are a couple of tricks you can use to gain more requests. One is by emailing anyone that signs up to your mailing list and inviting them to connect on LinkedIn. 
Or, another way you can do this is by viewing lots of profiles. When someone sees you've viewed their profile, some of them will view yours in return out of curiosity. This can lead to more requests to connect. 
Save Time with Automation
LinkedIn can be one of the most effective platforms for outreach. But, following the above tips can take up a lot of time. 
If you're looking for a quicker option without compromising on quality or results, automation is a great choice. 
Octopus CRM can help you do this. By taking a lot of the hard work out of the process, you have more time to focus on other areas of your business.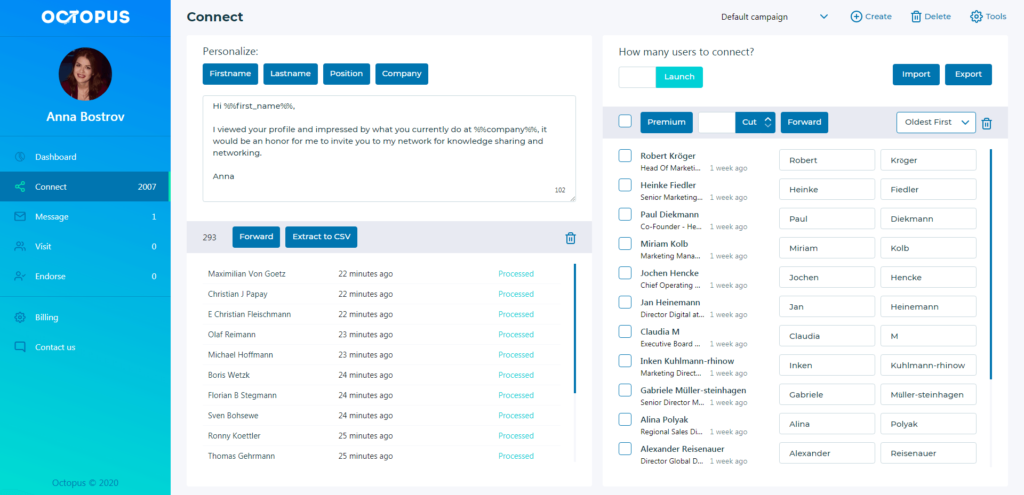 Our tool can send automated, personalized connection requests to potential clients, as well as follow-ups and thank you messages. In fat, you can automate your funnel so it's suited to your business model. 
Octopus can sweep through thousands of profiles at once and send requests to 2nd and 3rd degree connections. 
Plus, it can auto view profiles and endorse your connections' skills in bulk, making it much easier to adopt the strategy we've just mentioned. 
By automating this process, you can quickly see improvements in your results on LinkedIn. You can transform your lead generation funnel whilst staying fully in control of your account. 
Conclusion
If you want to find new contacts and connect on LinkedIn, this can sometimes be a lengthy process. But, it doesn't need to be! 
Finding people on LinkedIn is much easier with the right tools. And, you can hugely improve your chances of your requests being accepted. 
Octopus CRM gives you everything you need to build your network and build professional relationships using the techniques in this article – and more!