LinkedIn is an excellent social network that empowers people when seeking jobs. The business-oriented social media app helps you discover your alumni using its LinkedIn Alumni Search tool.
Below we've created an in-depth guide to finding alumni on LinkedIn utilizing the LinkedIn Alumni tool:
What Are the LinkedIn Alumni?
LinkedIn Alumni Tool is a robust LinkedIn tool for users that helps you discover over 23,000 colleges and universities to find alumni by connecting with them and growing your network.
But that's not all! The LinkedIn Alumni tool helps you filter profiles based on the following features: 
Their location 

Their workplace

Their job

Their major 

Their skillset 

Their connection
With the LinkedIn Alumni tool, you can create an optimized profile and explore contacts who graduated from your university and high school. You can also discover alumni to connect with individuals who match your ICP.
How Can I Locate the LinkedIn Alumni Tool?
There are two ways you can find the LinkedIn Alumni tool, including:
Using the Address Bar
Here's how you can find the LinkedIn Alumni tool:
Type

"LinkedIn/com/Alumni"

into the address bar of your search engine

LinkedIn will redirect to your school/university page (if you are signed in to your profile)
Clicking on the Alumni Tab
Another way to find the LinkedIn Alumni tool is by following these steps:
Enter your LinkedIn username and password

Click on the

"Alumni"

button on the left-side navigation 

Select the

"Three Lines"

next to the people button to filter your search

Leverage filters, such as

"Past Company"

and

"Current Company,"

to discover your alumni 
After that, you can assess what alumni in your field/industry have accomplished and new job opportunities.
How to Use the LinkedIn Alumni Tool to Make New Connections 
The LinkedIn Alumni tool allows you to create new connections and build a robust network. Based on what you're looking for, the feature will enable you to find alumni in the following ways:
Discover People From Your Alma Mater
LinkedIn makes it super easy to discover alumni from your school or university. Start typing "LinkedIn.com/Alumni," and the tool will recognize your educational institution from your profile.  
For example, if you go to MIT, log into your LinkedIn profile, and enter "LinkedIn.com/alumni," the website will redirect you to MIT's alumni page.
Find People from Other Schools and Universities 
Building your network requires connecting with people you might not already know. So, if you're looking for individuals who studied at another university, you can efficiently utilize the LinkedIn alumni tool to grow your network. 
Related article: How to Network on LinkedIn
Here's how you can find individuals from other universities:
Visit LinkedIn and click on the

"School"

button

Type the college or university you're searching  

Click on the College/School's

"Alumni"

tab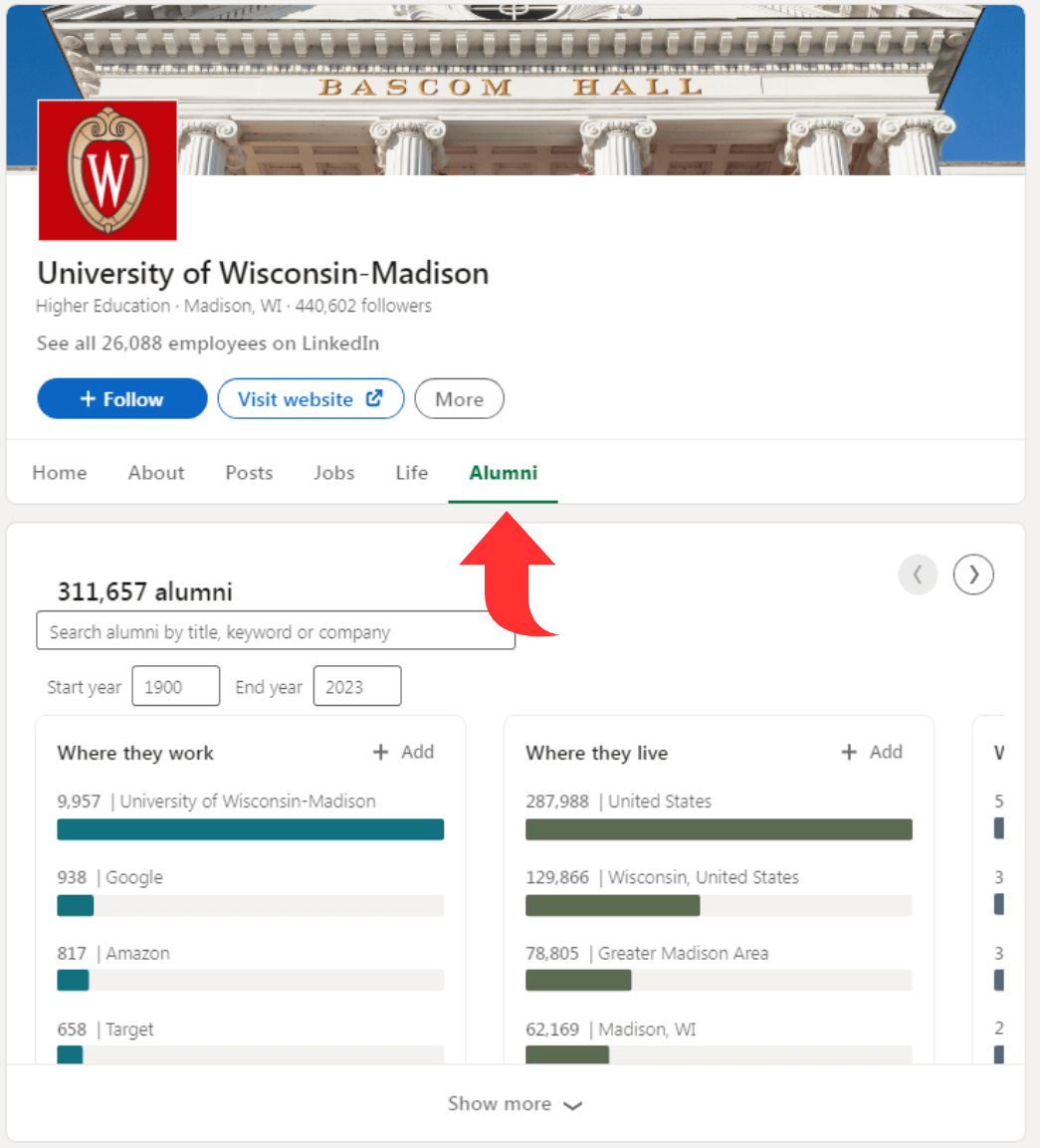 Hunt for New Jobs 
The Alumni tool is a fantastic strategy for hunting new jobs. You can discover new job positions by using this feature to find graduates of your school or university who work in your desired workplace. 
If your company isn't in the top five list, you must select the field of work to narrow alumni. 
Related article: Create an Attractive LinkedIn Job Search Post
Pinpoint New Graduate Programs 
Pursuing a new graduate degree or MBA is an excellent way of enhancing your skill set and knowledge. The LinkedIn Alumni tool can help you find schools and universities with careers that align with your professional goals.
Start by searching for a school and narrowing the field of studies that match your desired needs. 
Search People with the Same Major
Expand your network and establish yourself as a brand authority by sparking conversations in areas of your expertise. You can utilize the LinkedIn Alumni tool to search for people who studied the same major or are currently graduating. As a result, you can connect with friends or graduates with similar interests and expertise.
Combine with LinkedIn X-ray Search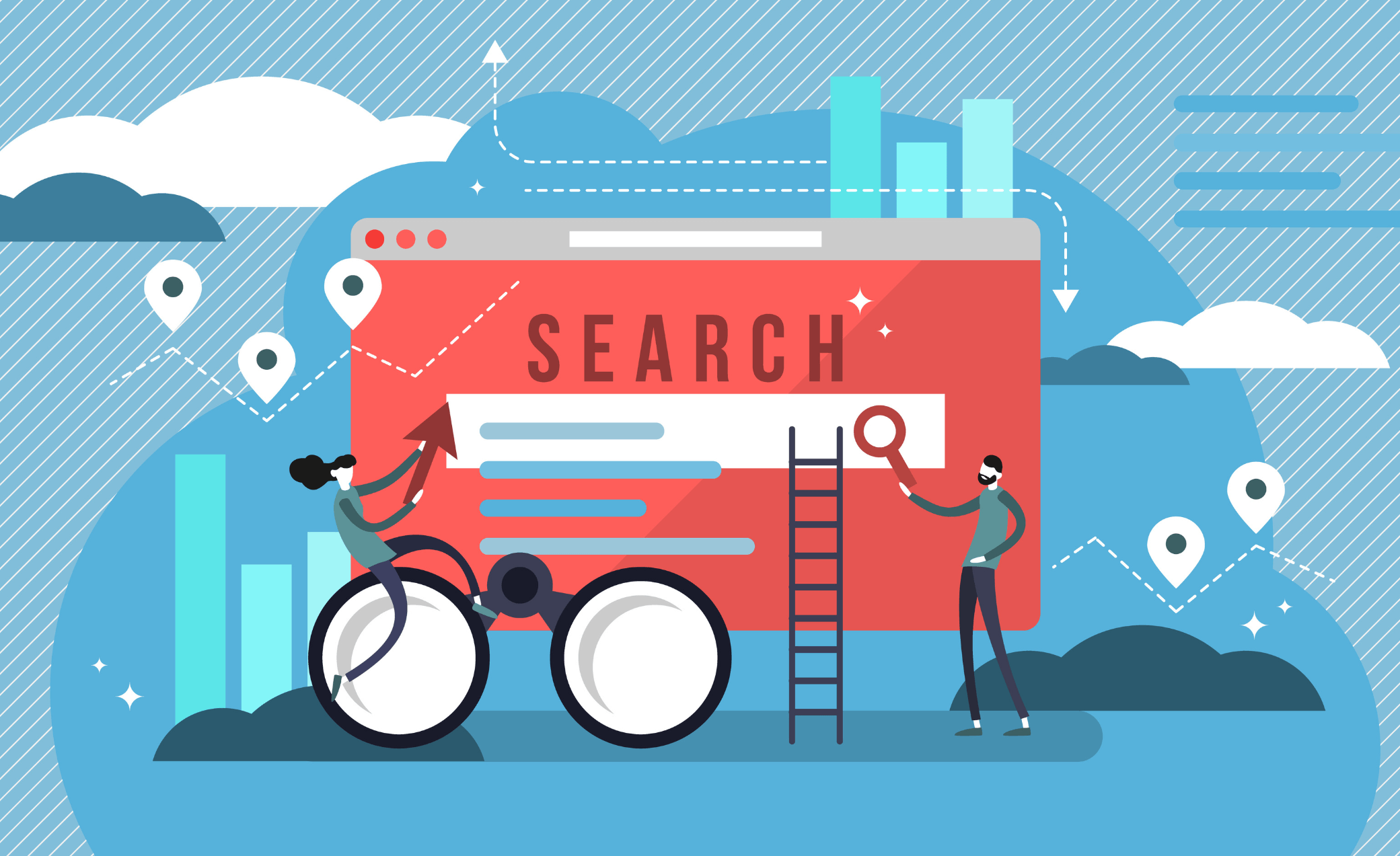 Like the Alumni tool, the LinkedIn X Ray search allows you to connect with recruiters. The feature lets you filter alumni based on their roles, locations, or work experiences. That way, you can discover like-minded professionals and grow your network. 
Alumni Email Template 1
Writing a friendly and personalized invite is critical to captivating alumni and growing your network. 
Here's a high-value template you can use in your emails:
Subject: Greetings from Fellow [School] Alum
Hi XYZ,
My name is [Your Name], and I'm an [School] alum with a deep interest in [Career Goal]. I discovered your profile while seeking [Insert Profession], and your experience caught my eye. I noticed we both went to [School]!  
I'm excited to learn more about your experience at [Company] if you can chat via email or LinkedIn. I'd be thankful!
That said, I know this sounds like a lot from someone you've just met, so I understand if you can't respond immediately. Either way, enjoy your day!
Best,
[Your Name]
Alumni Email Template 2
Subject: Good day! A quick question from a fellow alum 
Hey there, [First Name], I graduated from [College/University] with a degree in [Your Major] in [Graduation Year]. I noticed your contributions and experience in [Industry] and was wondering if you could expand over a phone call at your convenience.
I want to learn more about your job role and your advice on getting into this career. Any assistance is much appreciated!
Thanks,
[Your Name]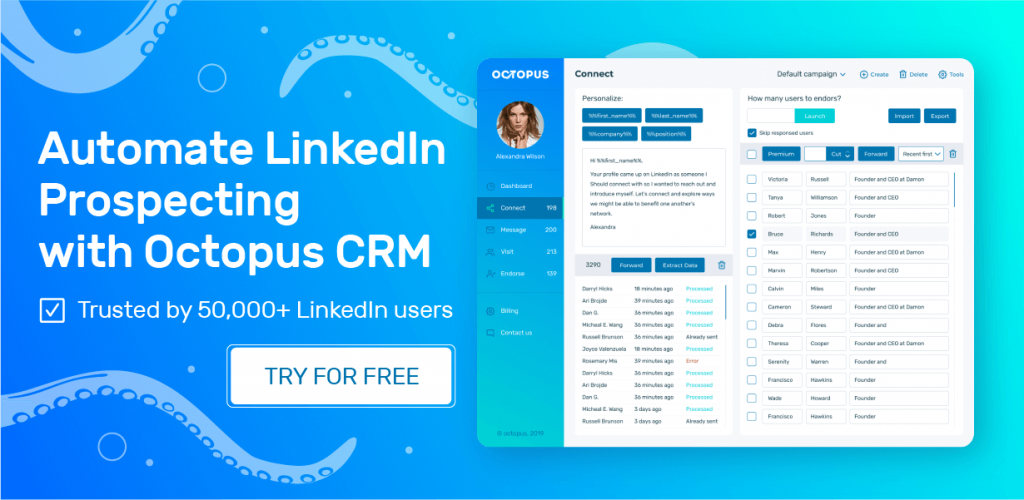 Other Ways LinkedIn Alumni Tool Can Help You
The LinkedIn Alumni tool not only helps you find alumni and like-minded professionals, but it can also aid you in the following ways:
Unlock Insights into How to Access Jobs in Fields Different from Your Job/Major
If you're aiming to switch career paths, you can use filters like "What they Studied" and "What they Do" to seek alumni working in your desired niche with similar degrees. After that, you can set up informational interviews to discover how they landed your desired jobs. 
Verify Whether Going Back to University is Worth It
Do you want to land a new job but are unsure if you meet the requirements? Utilize the "What they Studied" filters to narrow people working in job positions with the degree you want to achieve. Next, assess the impact of a new degree in gaining the desired job title.
Grow Your Professional Network while Moving
If you're traveling to a new city or country, consider using the "Where do they Live" filter to pinpoint alumni who work there. As a result, you can expand your network and connect with alumni before arriving in a new city!
Contact Top-performers in Your Industry 
Are you seeking advice or professional information from someone further in your career? You can use LinkedIn's "What They Do" filter to narrow people in your major or industry to find people with leadership and strategic planning skills.
How Can You Reach Out to Alumni on LinkedIn? 
LinkedIn eases the process of connecting and networking with alumni. You can start by following these five strategies:
Create Your Alumni LinkedIn Group
Ignite conversations by gathering the alumni of your school, university, or company in a LinkedIn group. You can encourage people to join by sending them a highly personalized invitation message introducing you and your goal. Most alumni will see value in the group since LinkedIn is about expanding your network.
Join an Existing Alumni Community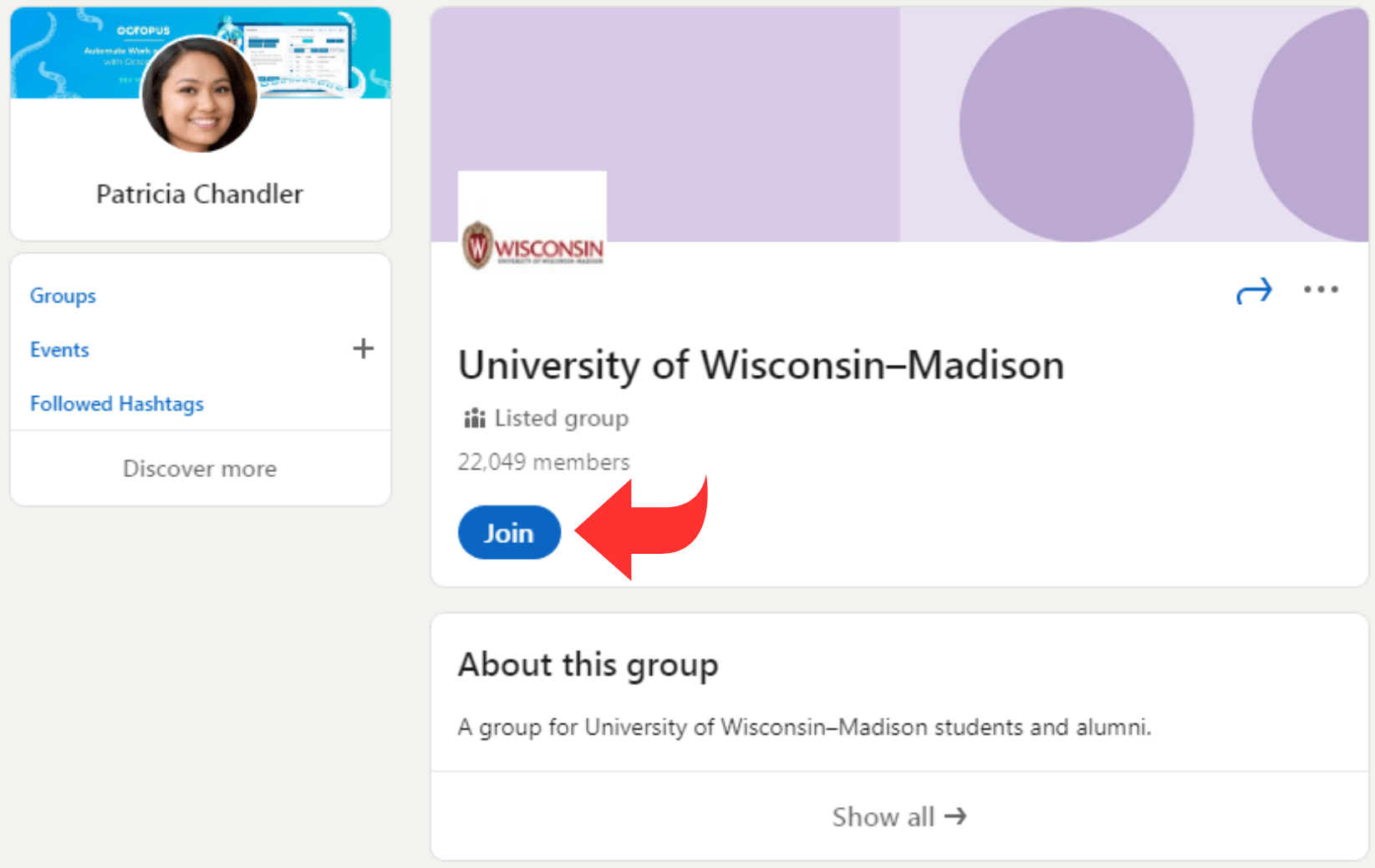 Most colleges and universities have a LinkedIn group where current students and graduates engage. You can visit LinkedIn's Groups Directory and search your educational institutions to find relevant groups. Next, you can join the ones that speak to you.
Once you become a member, you can engage in discussions, create attractive posts that start conversations, and introduce yourself to the group.
Hold Alumni Events to Grow Lasting Relations
Another excellent way to create organic relations is organizing a physical or digital event for your alumni. You can craft a LinkedIn event and share the link with fellow alumni.
Ask to Catch-up with Fellow Alumni
Most alumni may turn away from your proposition if you're unwilling to create a LinkedIn group or set up an event. However, you can ask to catch up or mention a similar interest to catch their attention.
Request Them to Review Your Resume or Cover Letter
If you're planning to switch career paths or enter a company where an alumnus works, you can request them to review your resume or cover letter.
However, put yourself in the alum's shoes and imagine how they would feel: who is this person? Why are they contacting me?
Ensure you introduce yourself and acknowledge that you're asking for a favor.
Utilize LinkedIn Automation Tool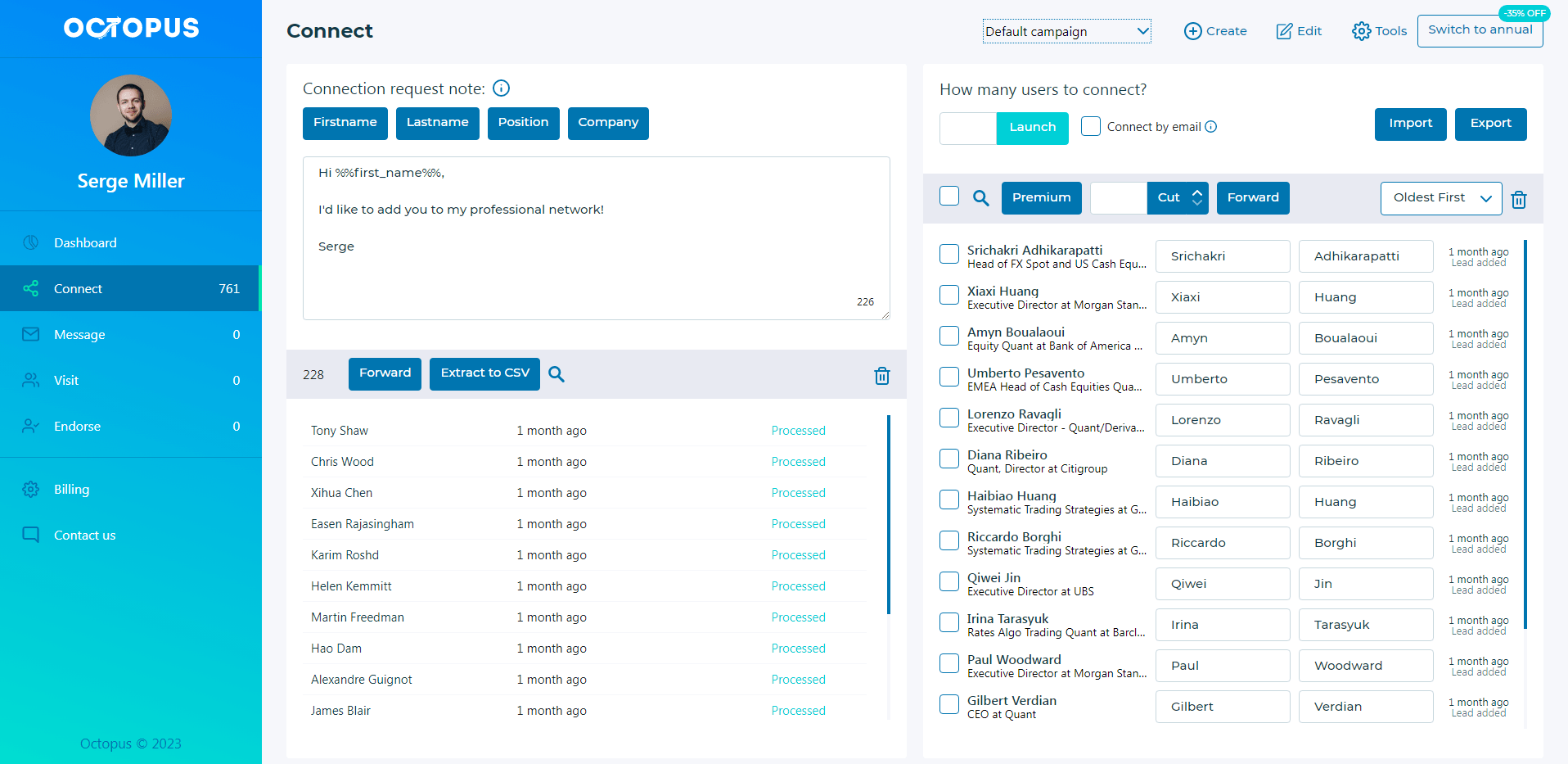 LinkedIn has limits on how many invitations monthly you can send. However, the best LinkedIn automation tools provide a way around the LinkedIn search limit.
Octopus CRM LinkedIn automation software allows you to overcome these limits and send bulk personalized messages to grow your network. 
Follow-Up, Follow-Up, Follow-Up
Always send a follow-up email to thank the alum for their time. Remember to add your appreciation and encourage them to stay in touch. Before wrapping up your text, ensure you mention your eagerness for inclusion in future projects and internships.
Conclusion
The LinkedIn Alumni Tool is an excellent and easy-to-use resource to help you connect with people with similar degrees, majors, and skills to expand your professional network.
With this feature, you can discover people at your dream company, get insights into how to land a high-value job in a new field, and build a robust network in a new city or country.
Furthermore, you can ease the process by leveraging professional LinkedIn tools. That way, you can overcome LinkedIn's weekly limits, send personalized messages, and enhance your network to grow successfully!