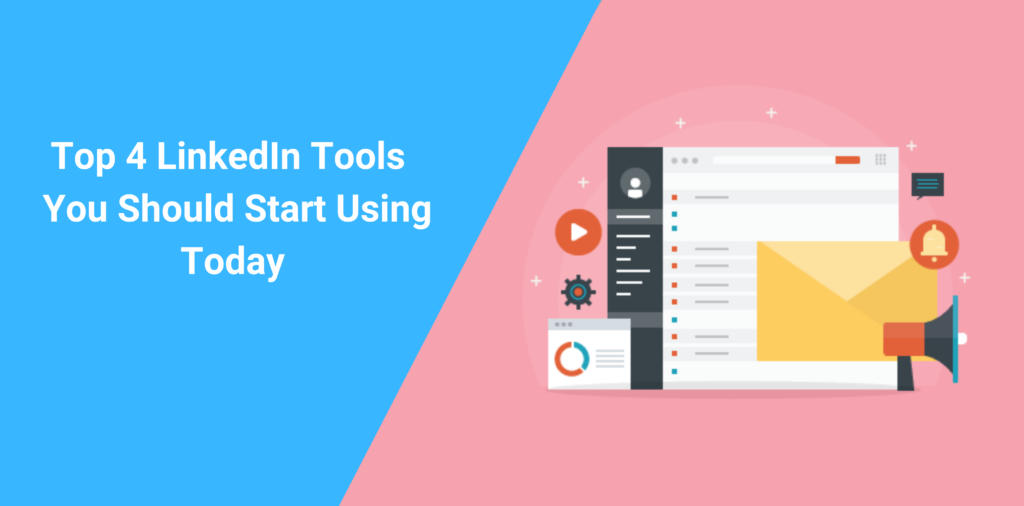 Top LinkedIn Tools for Business You Should Start Using Today
LinkedIn has many benefits for businesses, especially if you're trying to generate new leads and boost growth.
Well, LinkedIn is one of the most popular professional networking platforms used by millions of users all over the globe.
It can help you to build connections with other business owners, professionals, and influencers; and it can also help you to find new clients and sales leads.
In addition to this, there are plenty of LinkedIn tools available to help you to make sure that you're using the service to its fullest potential. And all types of users can benefit from this.
In order to help you to use these tools effectively, we've put together this guide to show you some of the best LinkedIn tools around, and how you can use them to grow your business.
How can LinkedIn Marketing Tools Help Small Businesses?
If you want to build a successful business, developing a social media strategy that works can help you to reach your highest potential.
The rising popularity of the internet means that you simply can't afford to.
For business use, LinkedIn is the leading platform, especially for B2B lead generation. It's currently used by millions of businesses globally, and research shows that it's one of the most powerful ways of generating leads, growing databases, and finding new clients.
Here are a few examples of just how effective LinkedIn can be:
It's estimated that there are now 260 million LinkedIn users
Of these, around 40% are active on the site every month
In addition to this, there are now over 30 million LinkedIn Business profiles
Around 80% of all B2B social media leads originate from LinkedIn
Surveys show that around 94% of B2B marketers use LinkedIn
Whether you're using a Company Page or a Showcase Page, LinkedIn has tools that can help you build more leads and reach your business goals.
LinkedIn Sales Navigator: What is It?
To start, let's take a look at LinkedIn Sales Navigator.
This premium tool has a range of functions to help you with your sales prospecting.
Some of the key benefits of it are:
It gives you unlimited commercial use
You get an unlimited number of connection requests and searches
There are additional key features, such as "team accounts" and "save as lead"
It's easier to find your target audience as the filtering algorithm is more advanced
Sales Navigator allows you to connect with 3rd level connections
Sales Navigator gives you more key features than you would get using a free account. These can to enhance your experience of LinkedIn and make it more functional.
Some of these features are:
Lead Builder – this feature gives you additional filters, such as groups, years, of experience, and company headcount, making it easier to find your target audience.
Save As Lead – this allows you to save leads from previous searches.
Sales Navigator Team – if you have a sales team, this function makes it easier to share information and for all of your team members to work together effectively.
InMails – Sales Navigator gives you additional free InMails to use each month, which can be used to contact potential clients and to generate new leads.
The Benefits of Using LinkedIn Plugins
Whatever your goals and purpose, LinkedIn Plugins have many functions to help you to save time, automate your marketing processes, and make your life easier.
In fact, most users now make use of some type of third-party plugin or chrome extension to complement their marketing efforts.
If you're trying to find the right plugin, you'll quickly begin to realize that there are plenty of options to choose from. And to help you find the right one, here are four of our favorites:
Octopus CRM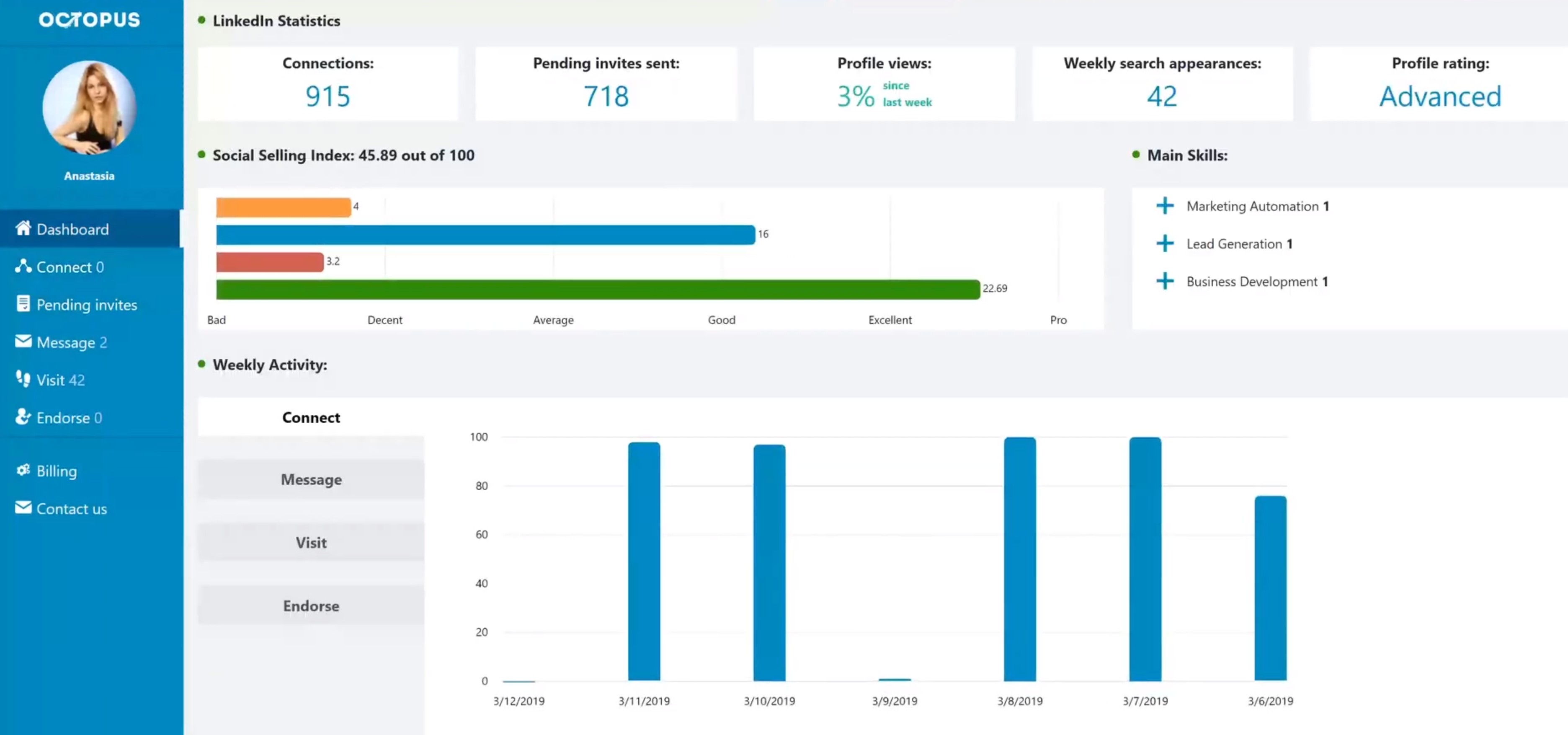 Octopus CRM can be used by business owners and marketers, as well as other types of LinkedIn users like job seekers and recruiters, to automate and streamline processes.
The key features include:
Automated profile visiting and endorsing skills for 1st level connections
Auto send personalized connection requests to 2nd and 3rd level connections
Send out personalized bulk messages to 1st level connections
Analyze LinkedIn performance observing stats and analytics
Build a custom lead generation funnel on LinkedIn (the most important feature!)
Overall, Octopus CRM is definitely worth trying. It's low cost, with prices starting at $9.99 a month and has an impressive array of features. There's also a free trial available.
Prospect Maximizer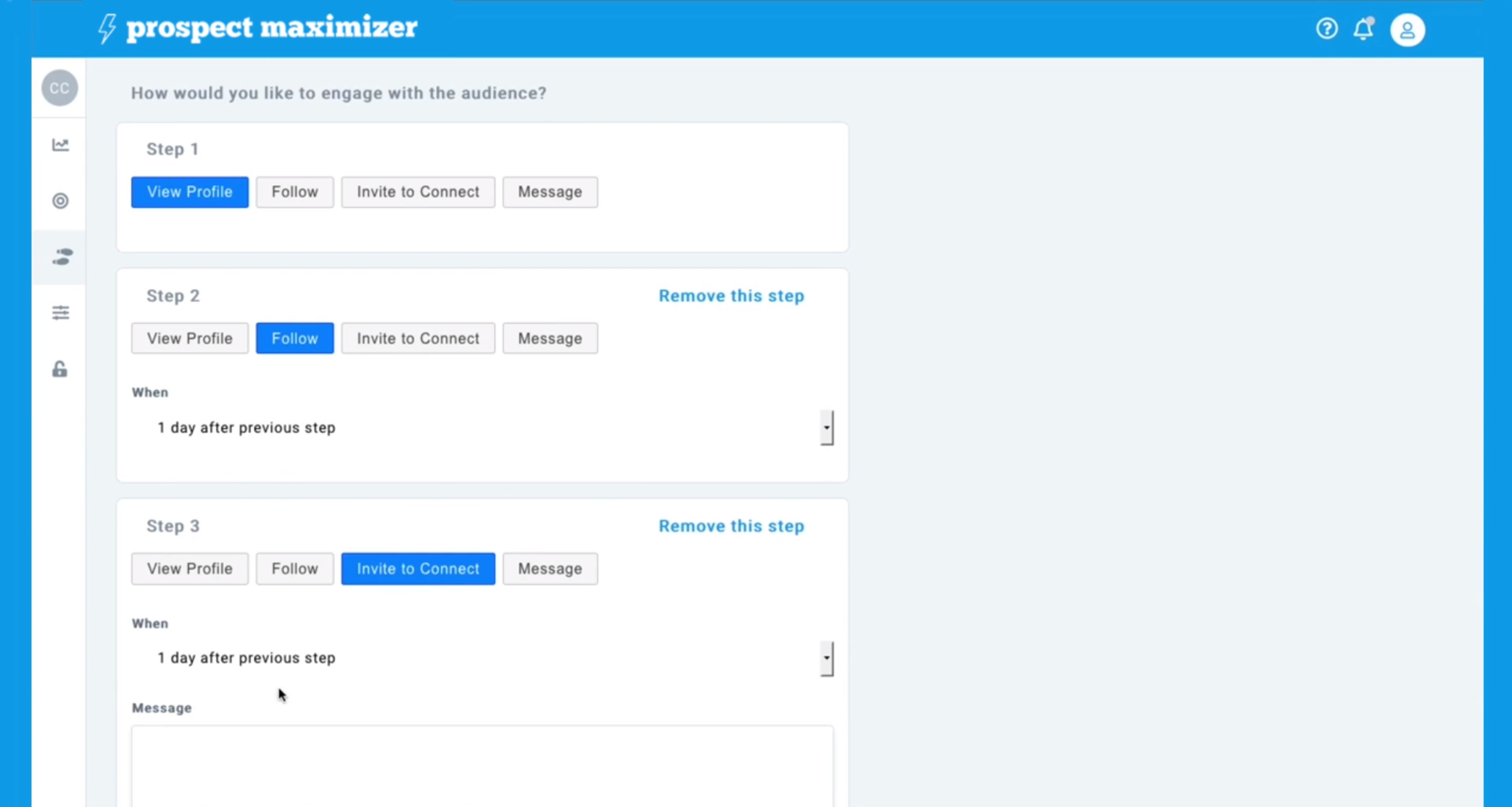 Next on our list is Prospect Maximizer. This cloud-based automation tool for LinkedIn allows business owners and marketers to manage their campaigns on a single platform.
Some of its features are:
Create automated campaign sequences in cloud
Gives you professional, customizable email templates
Tracks return using an ROI calculator
Tracks customer behavior, leads, and engagement levels
Each user has their own unique IP address for the safety
This is a great solution for business owners. However, it's quite expensive, with prices starting at $199 a month, so it might not be suitable for smaller companies.
Skrapp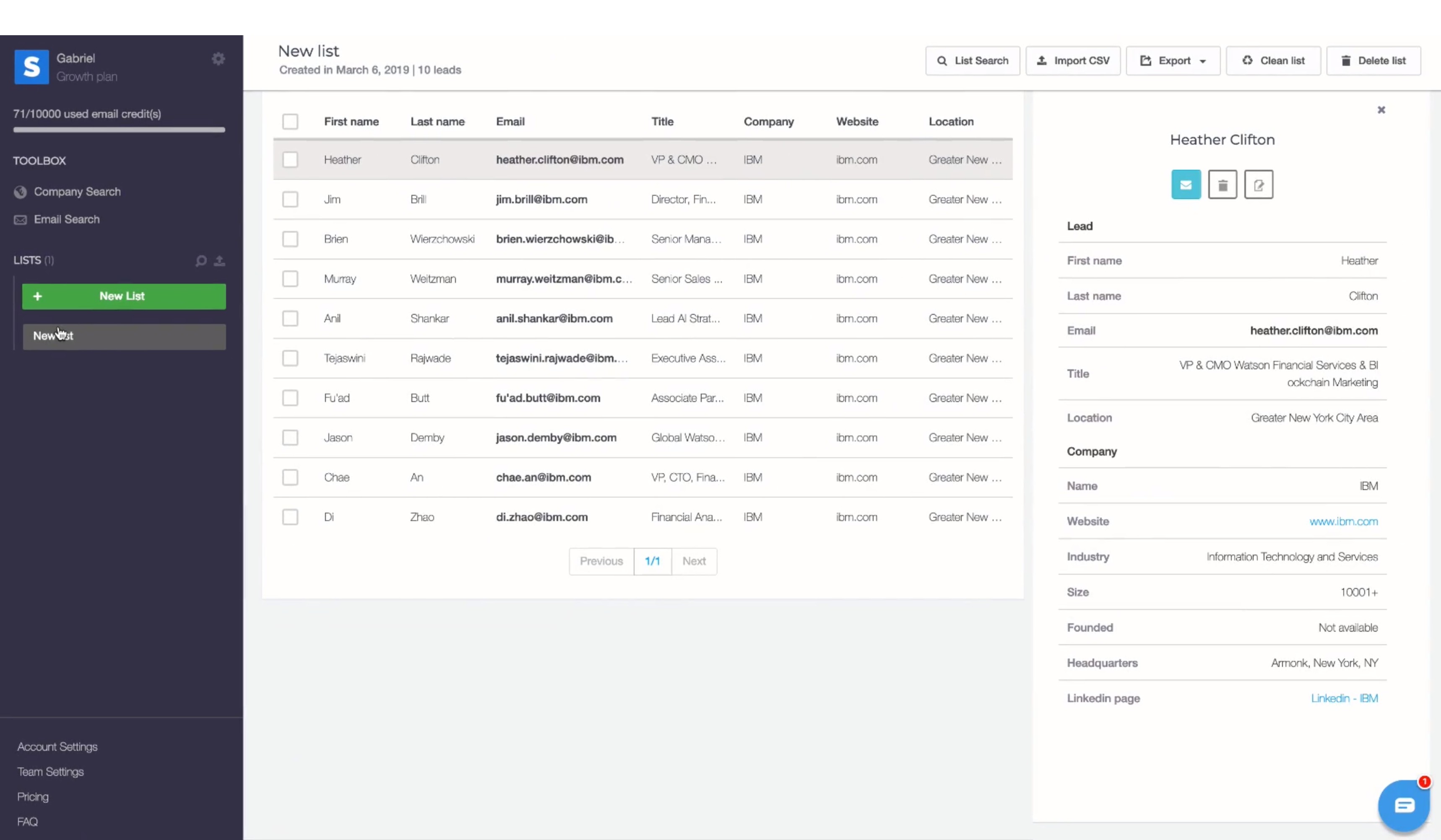 This is a cost-effective option, which is purposely designed to scrape and collect data from LinkedIn in order to improve your lead generation processes.
Some of its key features include:
Collect data on potential clients, including 2nd and 3rd level connections
The company search feature to find email addresses by organization
Can import a CSV file with profile URLs to extract email addresses
Export data to spreadsheet or CSV document
This is a very helpful tool for finding email addresses and contact information. The pricing starts at $49 per month for 1000 emails. There's a free trial available.
e-Link Pro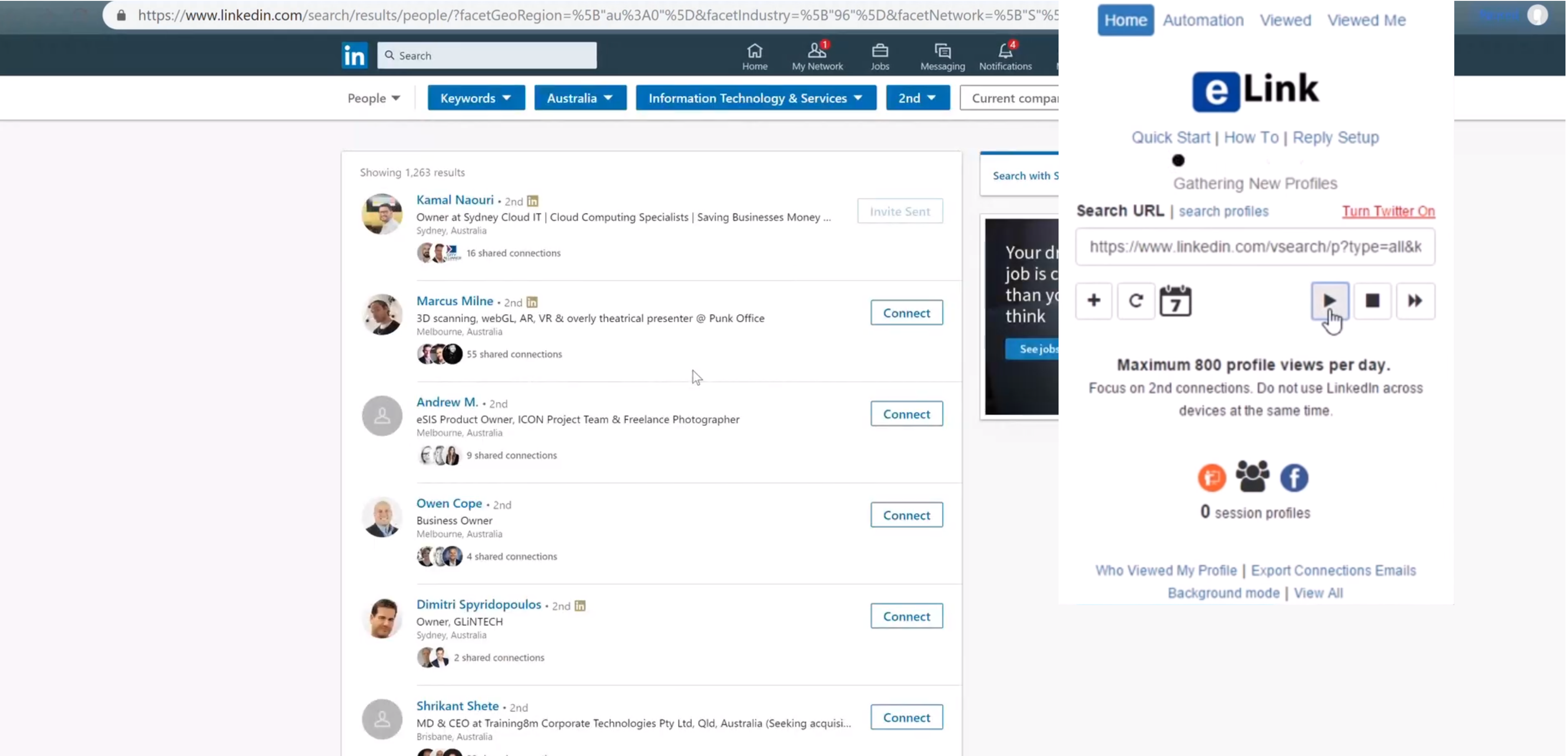 This particular tool works on the view backs principle on LinkedIn. So, by filtering profiles and launching the software, it allows you to visit each profile, boosting your engagement levels.
It features include:
Can visit up to 800 profiles per day
Download information on prospects and save into excel format
"Drip marketing" feature posts to your newsfeed to drive traffic
Although Prospect Maximizer and Octopus CRM have these features too, this can be helpful as a separate tool. The price starts at $29 a month and there's a free 5-day trial available.
Final thoughts
Without a doubt, LinkedIn is a very powerful platform that, when used well, can help your business to grow immensely.
And with the rise in automation and artificial intelligence, it's more important than ever to make the most of these solutions to save time and streamline your marketing efforts.