LinkedIn recently introduced the LinkedIn Live tool that enables you to talk about current events and connect with influences worldwide.
If you haven't heard about this tool yet, we're here to help you learn everything about it, including:
What is LinkedIn Live?

How do I go live on LinkedIn?

Why should I host LinkedIn Live events?

How can I receive approval for LinkedIn Live?

What are the best practices to keep in mind when live streaming on LinkedIn?

And lastly, how can I promote my LinkedIn Live?
Let's get started!
What is LinkedIn Live?
LinkedIn Live is an innovative and exclusive tool for streaming videos on LinkedIn. Unlike other streaming platforms, this business-oriented social media channel requires you to apply for access.
The LinkedIn Live tool helps businesses connect with other collaborators, grow their audience, and garner support.
Where is LinkedIn Live?
LinkedIn Live enables approved businesses and members to broadcast live video content to a LinkedIn Page, Event, or profile.
Here's how you can find the LinkedIn Live tool to start streaming:
Log in to your LinkedIn Profile

Visit the custom stream page:

https://www.linkedin.com/video/golive/now/

Navigate the 'New Stream' button and click on the 'Go Live Now' option

Under the 'Create a Post' option, locate the LinkedIn Page or Profile you wish to stream to:
o   When streaming to a profile, you can define the level of visibility you want
o   Draft the associated post copy, add hashtags, and tag members/pages
Locate the 'Your Stream Details' button and create a title for your stream

Under the 'Stream Settings' tab, select a region and then choose the 'Get URL' button

After receiving a URL and stream key, copy-paste them into your broadcast software

You'll notice a preview of your live video on the custom stream page. If it matches your style, tap on the 'Go Live' button located in the upper right

After going live, LinkedIn Live allows you to:
o   Track your stream by employing the 'Stream Health' button and the 'Analytics' option
o   Monitor comments and commentators by using the 'Comments' section
o   Receive the link to your stream by selecting the 'Copy Link to Video' button
o   End your live stream by clicking on the 'End Stream' button located in the upper-right
Who Can Use LinkedIn Live?
Here's the thing: LinkedIn Live is an exclusive feature that requires you to create an application and get approved.
You can apply for LinkedIn Live if you meet the following criteria:
Have over 150 LinkedIn followers or connections

Have shared original content, such as posts, photos, updates, etc.

Have not run into problems with the Professional Community Policies

Have not created your page based in China
Keep in mind that LinkedIn does not approve every application.
What are the Benefits of Going Live on LinkedIn?
Live streaming events on LinkedIn is different than other social media platforms. Why? Because the exclusivity of using the LinkedIn Live tool brings more value to your brand.
Let's look at the numbers:
LinkedIn live streams enjoy 24 times more comments than traditional videos

LinkedIn streams experience seven times more reactions than native videos

73% of B2B marketers report that using live stream videos positively impacts their marketing strategy and ROI
Now that we've covered the importance of LinkedIn Live, let's discuss its benefits:
Showcase Your Expertise
Here's the thing: establishing yourself as a brand authority is critical to success in your industry.
LinkedIn Live offers you the ideal opportunity to put your skills in the spotlight.
LinkedIn's live-streaming tool lets you establish yourself as a thought leader. To do this, share tips and tricks relevant to your industry and brainstorm how-to topics sure to captivate your audience. 
We recommend repurposing old content like YouTube videos or blog posts if you can't find new ideas.
Host Virtual Events
LinkedIn Live enables you to host virtual events that allow you to meet your audience where they are, anytime.
Moreover, hosting virtual events helps you attract a professional audience. You can also share your events with business page followers or send invitations to first-degree profile connections.
Instead of recording virtual conferences and posting them on LinkedIn, the LinkedIn Live tool lets you engage with your target audience.
Announce a New Product/Service
Since LinkedIn is a social media platform for professionals, it's the ideal platform for announcing new products or partnerships.
Thus, LinkedIn Live presents the perfect opportunity to ask your company or partner company representatives to discuss new partnerships or products.
It's also an excellent opportunity to educate and interact with your audience. Moreover, launching a product or service during LinkedIn Live can help you receive immediate feedback, answer queries, and conduct a demonstration.
How to Create a LinkedIn Live?
Creating a LinkedIn Live video can be tricky, but it's not impossible. To help you out, we've created a step-by-step guide:
Step # 1: Apply for Access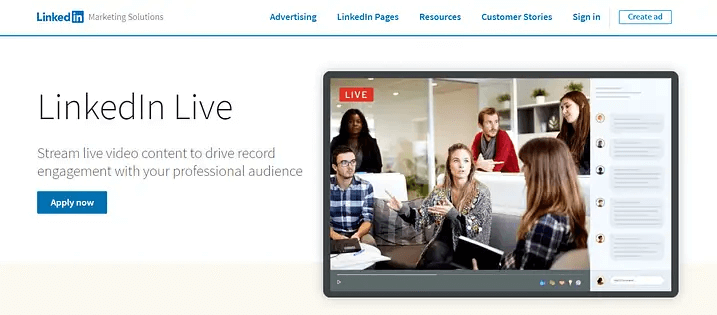 Above, we discussed that LinkedIn Live is available to users that apply. Since the tool is in the beta phase, offering access to selected members helps maintain quality.
You can apply to go live on LinkedIn by visiting its application page and submitting your information. Wait until you gain approval before heading to step number two.
Step # 2: Choose  a Live Streaming Tool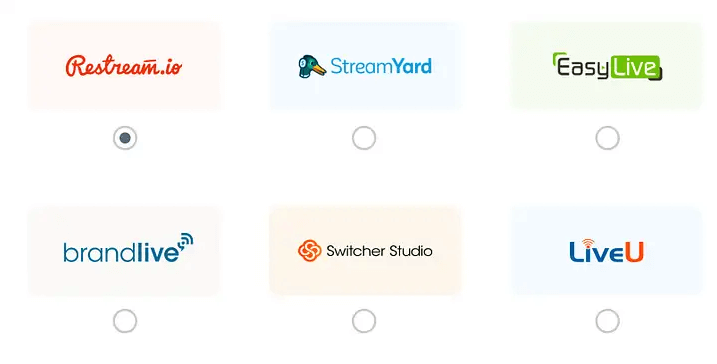 Broadcasting live on LinkedIn requires you to use a third-party tool. You can also choose a custom stream (RTMP) depending on your expertise level.
When choosing a third-party live streaming tool, consider its pricing, features, and customer support levels to ensure you make the right choice.
Step # 3: Make Sure You Have Two Streaming Devices
Before you start live streaming on LinkedIn, ensure you have two streaming devices:
One for live streaming your video

Another for monitoring and responding to live comments
Step # 4: Authenticate Your LinkedIn Account Using the Tool
Ensure you authentic your LinkedIn account with your third-party tool before live streaming.
Moreover, sync your account to the phone, tablet, laptop, or device you wish to stream from.
Step # 5: Test Your Internet Connection
LinkedIn requires you to boast an upload of 3 Mbps or more to ensure a high-quality stream.
We recommend using a tool or software like speedtest.net to check your internet connection speed. Or, you can use an ethernet cable.
Step # 6: Get Support
It's challenging to keep track of live comments while you're talking. Thus, consider asking a colleague or friend to monitor your stream.
Your teammate will receive a notification when you start streaming or access it from the recent activity tab.
After that, they can like and reply to comments on your behalf. Or, you can ask them to note down the best questions and send them to you.
This way, you can reply to your audience's queries later on.
Step # 7: Go Live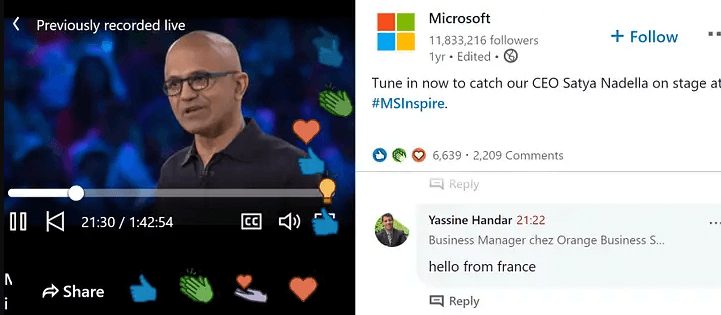 Now it's time to go live! When going live on LinkedIn, remember to optimize your set-up by following these steps:
Lightning –

Sit under bright, natural light to illuminate your set-up

Camera Position and Quality –

Use a tripod and get close. Remember to use a high-quality camera

Audio –

Ensure your voice is audible and your audience can hear you clearly by conducting a sound check before going live

Body Language –

Look straight into the camera, smile, and stay relaxed

Background –

Ensure your surroundings are professional and clutter-free. We recommend adding some subtle branding to the environment, such as a mug with your logo
Step # 8: Troubleshoot Issues
If you run into errors during your LinkedIn live stream, visit LinkedIn's Resource Hub to troubleshoot.
Which LinkedIn Live Stream Is Best?
The best part of using LinkedIn Live stream is hosting various streams. Get creative and go beyond a long, boring stream and try these formats:
Special Events –

Foster real-time conversations with your audience by hosting virtual events

Guest Interviews –

Garner interest and educate your target viewers by inviting industry experts to share valuable information

Product Demos –

Unveil a new product or highlight a partnership with another leading brand to showcase your innovation and expertise

Behind the Scenes –

Create BTS videos to offer your viewers a sneak peek at your company's operations and culture

Q/A or Ask me Anything –

Allow your views to ask questions about you, your industry/brand, and offer to boost engagement and reach

A Day in the Life –

Interview an influence or collaborator to captivate viewers and learn more about their day-to-day schedule

Tips and Tricks –

Increase interactivity and outreach by creating how-to or tips and tricks videos

Fireside Chat –

Generate leads and grow your network by conducting fireside chats, informal presentations, and fun conversations

Conference –

The apparent use of LinkedIn Live is to host a conference, workshop, or present a talk

Holiday and Seasonal Trends –

The following holiday and seasonal trends help humanize your LinkedIn presence. Moreover, it makes it easier for people to relate to you
Which Streaming Software Should You Choose for a LinkedIn Live
Choosing the ideal third-party streaming tool can be a time-consuming and arduous task. Lucky for you, we've created a list of the top streaming software that help you create high-quality streams:
Brandlive –

Boasting an excellent UX, this state-of-the-art streaming software is ideal for multinational and big businesses. The software costs between $3,500 to $60,000 per year, depending on your desired plan

Easylive –

Another popular streaming software, it costs $1188 and features a decent UX

Live U –

Ideal for LinkedIn users that want to create high-quality events, the price of this streaming service varies depending on your desired features

Mevo –

Costing $999, Mevo is an innovative Webcam pack that encourages high-quality streams

Swichboard –

Another excellent streaming software, this tool costs between $29 and $99 and offers incredible value for money

Wowza –

Costing between $85 and $175, this innovative software features an easy-to-navigate user interface. You may have to pay an additional fee for technical support

VMix –

Offering an incredible sixty days free trial, VMAX is a lifetime license that costs between $60 and $1200
When Will LinkedIn Live be Available?
After submitting your application, choosing your streaming partner, and filling out its form, LinkedIn responds to you within ten business days.
Once you receive your approval, you can start creating a LinkedIn Live. Wait to receive your broadcast link and key, copy it to your streaming service, and then host your event.
Tips to Remember when Creating a LinkedIn Live
Getting the heads-up by LinkedIn to create a Live is the perfect opportunity to maximize your impact and boost your reach.
Improve your digital marketing strategy and brand awareness by keeping these tips and tricks in mind when conducting a LinkedIn live stream:
Understand Your Audience
If you cannot identify your target audience, you'll be unlikely to create a lasting impact on them.
Maximize your impact by investing time to develop data-back archetypes of your target buyers. Identify their demographics, time they're most active, interests, etc.
Your goal is to grow your reach and improve engagement, so make efforts to learn more about your audience and create content that they can relate to.
Write a Stellar Description
Before going live, navigate the button that says 'Go Live' or 'Start Streaming.' Here, write an attention-grabbing and informative title and description. 
Ensure your description accurately represents what's going on in the video, what you'll discuss, and what viewers can expect.
This way, you can capture your audience's interest and keep them engaged during the live stream.
Submit Your LinkedIn Live Application to Get Approved
After meeting LinkedIn's stringent criteria to start live streaming, you'll have to apply.
Here are the top best practices to remember when applying to get approval from LinkedIn:
Ensure you switch the 'Article' and 'Activity' sections of your LinkedIn profile to 'Public.'

Make sure all your posts, photos, etc. are professional and friendly

Enable two-factor authentication
LinkedIn typically updates your application status within three to four business days.
Reintroduce Your Topic while Speaking
Live viewers tend to join throughout the stream, which means it's essential you reintroduce the topic frequently. 
Moreover, remember to reintroduce yourself and guest speakers you may have to ensure all viewers are up-to-date.
Configure Broadcaster Settings
When creating your live stream, LinkedIn requires you to configure broadcaster settings.
You might find it challenging to configure them by yourself. Instead of making errors, visit LinkedIn's Resource Hub.
Schedule it Well
When it comes to creating a significant impact on LinkedIn, consistent live streams are a must.
Picture this: you create a LinkedIn live stream, the audience loves it, the information you shared was engaging, and the viewers want more.
But you haven't created a new stream in weeks.
That translates to disappointed and angry viewers, a poor brand perception, and fewer conversions.
Avoid this by creating a schedule and following it. We recommend making a monthly schedule, picking a specified time and day, and keeping your audience informed about the upcoming broadcast.
Mind the Duration
It takes time for viewers to settle into Live streams.
Viewers may take three to five minutes to join in, and it's wise to break the ice and create a relaxed environment before sharing information.
So, it's best to create a 15 to 20 minutes long live stream to connect and engage with viewers.
Test Ahead of Time
Practicing beforehand minimizes the risks of on-air mishaps, slipups, and technical errors.
So, consider testing ahead of time to ensure a smooth broadcast. Check the audio, lighting, video, and internet connection.
Include a CTA
Remember not to go overboard when adding a CTA in your live stream or description.
The goal of using LinkedIn Live is to expand your network and foster personal and professional connections, not hard-sell.
But do subtly introduce a CTA into the stream, be it a sign-up request, subscribing to a newsletter, downloading an eBook, or promoting your podcast.
How to Promote Your Live on LinkedIn?
Now that we've discussed how you can create a live stream on LinkedIn, let's see the different ways you can promote your LinkedIn Live:
Create excitement about your upcoming live event by sharing key announcements on social media

Post images and videos combined with stellar content to promote your events

Promote your event by inviting your

first-degree connections

Connect with speakers and sponsors and request them to post and prepare content to promote your events
Let's discuss the seven best you can promote your live streams on LinkedIn:
Become a Live LinkedIn Broadcaster
The first step to becoming a LinkedIn broadcaster is ensuring you meet the criteria and have a large audience:
You have at least 1000 followers/connections if you are a LinkedIn member or 500 followers if you are a

Company Page

You post original and professional content

You abide by LinkedIn's Professional Community Policies
After this, fill out LinkedIn's form, select a third-party broadcasting tool, and create buzz around your upcoming live event.
Leverage LinkedIn Ads
A powerful way of promoting your live events is by launching an Event Ad Campaign.
Previously, LinkedIn allowed you to promote your live events through Single Image Ads- however, now, you have to use a dedicated ad format.
Since LinkedIn Ads are designed for live events, they add value to your post and live streams.
Send Personalized and Attention-Grabbing Messages
Here's the fact: LinkedIn is the number one networking site worldwide. That means sending personalized, and attention-grabbing messages is a surefire way of experiencing high engagement rates.
Your primary goal is to invite people to register for your event. After they sign up, they'll continue to receive reminders for upcoming or missed events.
You can promote your live events via messages in the following three ways:
Using the Paid Version –

Investing in LinkedIn's sponsored message enables you to expand your reach. But we recommend not using it since it's similar to advertising in a mailbox

Manually Sending Messages –

Manually sending messages to your target audience enables you to personalize it according to the reader. But here's the thing: it's pretty time-consuming and near impossible if you have a massive following

Leveraging an Automating Tool –

Enjoy the convenience and incredible results by using an automation tool that sends your marketing messages on time and personalizes it
Use Octopus CRM LinkedIn Automating Tool
Sending highly personalized messages to your entire network can be time-consuming and tiring. Luckily, there's an easier, much better way of inviting first-degree connections to your live events: automating tools.
Octopus CRM LinkedIn outreach automation tool enables you to streamline communication and attract more viewers. The platform ensures your first-degree connections receive customized and attention-grabbing messages that speak to them.
That way, we help you grow your network, enjoy better engagement and views on your live streams, and foster lead generations.
Moreover, you can create a customized list of connections or followers you wish to send invitations to. Or, you can send the details of your live event via informative and compelling emails.
Create a Strong Presence
Creating a strong LinkedIn presence is crucial for attracting qualified leads. Here are two incredible ways you can optimize your LinkedIn profile:
For LinkedIn Members –

Use a professional headshot, update your work experience, and create an eye-catching and informative headline to grab your viewer's attention

For LinkedIn Company Pages –

Ensure you create a complete company profile page to attract more views and sprinkle in keywords to improve rankings
Make Important Announcements
Leverage your website, newsletter, and social media website to create a sense of urgency among your viewers.
Use attention-grabbing headlines or captions like 'Only Two Days Left Sign Up Today!' to encourage viewers to tune into your live streams.
Curate Posts and Videos
Create high-quality and relevant posts with bright visuals and a stellar copy. You can captivate your target audience's attention and encourage them to join your live events.
You can also edit ten to fifteen-second videos from your live stream and post them on Facebook, Instagram, LinkedIn, etc., to attract viewers.
Moreover, you can create posts appreciating the people that watched and engaged in your live stream.
Cross-Promote
Give yourself time to promote and create excitement before you go live.
Meet your audience where they are by leveraging multiple platforms, including Facebook, Instagram, Twitter, etc.
Create high-quality posts with attention-grabbing captions to entice your audience. You may also use your website and newsletter to encourage viewers to join your upcoming live stream.
Remember to tweak your voice, tone, and messaging according to the platform to ensure maximum results.
Hosting a Live on LinkedIn
You know that hosting a live stream on LinkedIn is among the most effective ways of growing your network and fostering professional connections.
But to enjoy these results, you have to host LinkedIn live streams the right way. Let's now discuss how you should host a LinkedIn Live:
Set Up Your Profile/Page on LinkedIn
Before you start streaming or even apply to get access to LinkedIn Live, you have to create a LinkedIn account.
LinkedIn offers you two choices:
Personal Profile –

If you wish to create your brand and stream personal live streams, you can set up a personal profile. LinkedIn provides instructions to add necessary information and get started

LinkedIn Page –

If you want to create a company page, you'll have to visit the 'Work' page in the top-right corner of your desktop. After that, select the 'Create a Company Page' button where LinkedIn prompts you to enter various information
Review the Live Video Access Criteria
After creating your account, apply for LinkedIn Live.
Before applying, ensure you meet the criteria for streaming. The qualification list includes rules relevant to your audience base, content sharing, etc.
Let's review them:
Audience Base –

To get access to LinkedIn Live, users must have over 150 followers (or connections)

Recent Shares of Any Original Content –

LinkedIn offers profiles access to LinkedIn Live if they have experience creating original and quality content, such as posts with images, videos, articles, etc.

History of Abiding by LinkedIn's Professional Community Policies –

To gauge whether you're fit for LinkedIn Live, the social media platform checks whether you have a good relationship with the members, pages, and admins

Geography –

Since this tool is not available in mainland China, users based in that country cannot access LinkedIn Live
Choose a Relevant Topic
Recognizing your target audience enables you to choose relevant and engaging topics. Your goal is to create content that performs well on LinkedIn, relates to your brand, and helps you stand out.
Since understanding your audience is key to creating relatable content, follow these tips to learn more about them:
Track Your LinkedIn Page Analytics –

Identify your audience demographics, location, and the content that garners the most engagement

Use Content Suggestion Tools –

Employ an innovative content suggestion tool where you filter your target audience by industry, location, age, etc. to figure out which topics are trending

Leverage the Communities Hashtag Feed –

Choose two to three hashtags that fit within your industry and niche and scroll through the content feed to identify trends
Select a Unique Topic
In addition to selecting a relevant topic, you must also choose something unique.
Posting a live stream is an excellent idea on Instagram and Facebook, but not so much on this business-oriented social media platform.
Instead of creating a long LinkedIn Live, try different formats, such as Q&As, partner announcements, HR hiring initiatives, insight reports, etc.
You can also attract viewers by creating a behind-the-scenes video or live Q&As with leadership or business partners.
Choose a Streaming Solution
Before creating a LinkedIn live stream, you need to prepare your streaming setup.
LinkedIn Live requires a robust streaming solution with adequate RTMP ingest. So, start by finding a live streaming platform that offers you the features you need.
We recommend choosing a holistic live streaming solution instead of streaming with a custom RTMP server.
Create a Weekly or Monthly Schedule
Consistency is critical to hitting your marketing goals. Consider creating a weekly or monthly planner for the date and time you want to stream.
Moreover, post it online so that your followers know when to expect your next LinkedIn Live stream.
Choose the Right Format
There are endless formats that streamers can choose.
Selecting the perfect format can mean the difference between a boring live stream and an engaging one. So, ensure you read this list carefully:
A Partnership Between Two Brands –

If your goal is to expand outreach, boost visibility, and attract new customers; this format is perfect for you

Conference –

Engage your viewers by streaming a webinar that resembles a real-time discussion and helps you establish brand authority

Journalism-Style Webinar –

Show off your expertise and professionalism in your field of work by creating a unique journalism-style live stream

Question and Answer –

Create an interactive LinkedIn live stream where you allow viewers to ask questions and respond to eliminate doubts about your expertise, confusion regarding a product/service, and spot hot prospects

Giveaways –

Boost brand visibility and image by captivating audiences through giveaway events

Sales Video or Product Tutorial –

Invite qualified prospects and convert them into lawyer customers by curating a product tutorial
Start Streaming
After getting approved, choosing a topic, and selecting a format, you're ready to start a LinkedIn Live stream.
Your first live stream video will be nerve-wracking, but you'll find it fun. Keep in mind that your audience feeds off your energy, so you must stay positive and passionate.
Most importantly, stay in the moment, be confident, and enjoy the experience.
Don't Focus Too Much on Body Language
While it's essential to have the correct body language during your live streams, it's not wise to put all your brain energy into it.
If you hyper-focus on your posture, hair, smile, etc., you'll forget your main topic. Going 'Did I stutter again?' in your brain will cause you to lose focus on your LinkedIn Live, the content, and the audience.
Be confident in yourself and focus on the content, not yourself.
Know How to Argue
If you're planning to collaborate with influencers or your audience, they will have questions that you have to answer.
Moreover, you will have to answer clearly to avoid doubts about your expertise or presentation quality.
Before learning to argue well, you must understand the types of arguments:
Logical Argument –

It appears from the creator's speech, such as a case study

Value Argument –

It includes your way of expressing yourself and emotions. Moreover, it refers to moral rules, well-being at work, ethics, your company's values, etc.

The Argument of Authority –

We all know it as the truth and, thus, needs to explanation

Experience Argument –

Based on facts and testimonies, experience argument remains concrete and helps demonstrate your skill set
Now, let' discuss several tips to succeed at arguments and establish yourself as a thought-leader:
Show Off Proof of Success –

Refer to analytics, charts, and valuable numbers to support your stance

Use a Calm and Friendly Tone –

Instead of getting confused or angry, focusing on staying calm and talking politely

Listen Carefully –

Remember to listen carefully to your collaborator and avoid ignoring their question by hyper-focusing on your argument
How to Analyze the Performance of Your LinkedIn Live?
Analyzing your LinkedIn Live helps you identify weak areas.
Armed with that knowledge, you can enhance your live streams to capture more viewers, generate better leads, and garner greater engagement.
Let's discuss how you can analyze your LinkedIn Live performance:
Review Your LinkedIn Live Analytics
LinkedIn Live boasts its self-generated analytics that helps marketers evaluate their performance. Here's how you can access your LinkedIn Live analytics:
Log in to your LinkedIn account and sign in to your Page Admin View

Select the 'Analytics' drop-down menu

Choose the 'Updates' button

Locate the 'Update Engagement' section and find the live stream you recently posted

Tap on the video view numbers to trigger a list of video stats, such as:
o Live Stream Performance – It includes peak number of concurrent viewers, total minutes watched, the total number of viewers, and viewers of live and replay versions
o   Engagement Highlights – It refers to the number of reactions, comments, and shares
o   Audience Firmographics – It includes top pages, location watched from, titles, etc.
Identify Your Objective
Analyzing your LinkedIn Live requires identifying the objectives or KPIs that matter to you. Here's what you need to do:
Choose Your Objective –

It includes generating leads, building brand awareness, and driving engagement

Identify Your Key Metrics –

Choose key metrics like clicks, conversions, average engagement, impressions, etc. to secure success
Learn to Self-Analyze
Not knowing how to self-analyze can set you back and cause your live streams to become uninteresting.
So, after every live stream, ask yourself:
Did I communicate well with my audience?

Should I target a wider audience next time?

Was my topic exciting and relevant to my viewers?
While it's not easy, it's critical to the success of your LinkedIn live streams.
Evaluate on the Spot
Run an internal checkup and ask yourself whether you lived up to your target audience's expectations. Ask yourself if:
You feel satisfied

You feel stressed

You feel uncomfortable

You feel like you failed to make something clear
Write your feelings and thoughts without analyzing them. Moreover, wait for a day or two before revisiting and brainstorming ways to improve.
Differences between LinkedIn Events and LinkedIn Live
People often confuse LinkedIn Live with LinkedIn Events. However, the two are pretty different:
LinkedIn Live –

Only certain people get access to this tool. It enables LinkedIn users to create live streams where they invite collaborators, influencers, or the audience to interact, learn, and discuss topics

LinkedIn Events –

The perfect place to engage with users before and after a live stream, LinkedIn Events helps you grow and build your community
Conclusion
Now that we've discussed how you can apply for and use LinkedIn Live, it's time to give it a try!
Identify your objectives and ideal format before you start live streaming. Keep the best practices mentioned above in mind while creating a live video on LinkedIn.
That way, you can attract your target audience, generate qualified leads, and boost brand visibility.