LinkedIn is one of the biggest professional networking sites. Its host of automation tools helps businesses build a strong brand voice and connect with their audience. B2B organizations can significantly benefit from the prospects of LinkedIn.
However, business owners need consistent, well-planned, and strategized content to maximize its potential. It will help them highlight their business and stay connected. These tasks could become mundane when done repeatedly.
Therefore, you can use AI-driven automation tools to streamline work processes and networking. With a consistent flow of leads, your business can prosper and survive in today's cutthroat industry. Thanks to automation tools, you can locate and reach out to new leads with a press of a button.
Although numerous AI-powered lead generation systems are available, not all are equal. For this reason, we've listed the top LinkedIn lead generation software.
Read also: 5 Steps to Build a Prospecting Plan
What Is LinkedIn Lead Generation?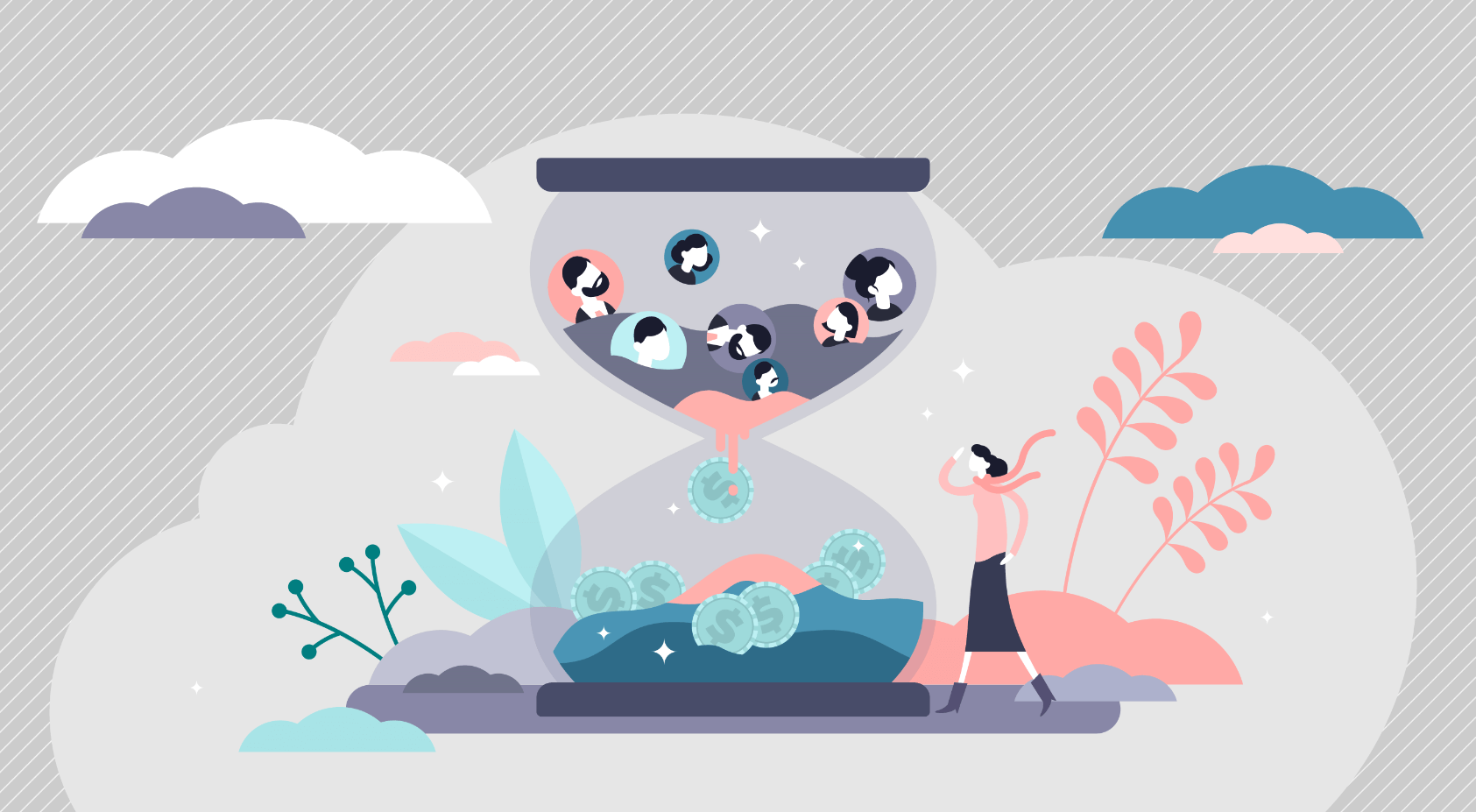 It is the process of finding and cultivating leads for new clients. Businesses use several marketing and sales techniques to connect with prospects. Therefore, they need clearly defined procedures in place.
B2B lead generation is more explicitly focused than B2C lead generation. It has become significantly challenging due to competition and saturated markets. Those who reliably produce high-quality leads get a definite competitive edge.
How Significant are Leads?
Leads drive your business's sales pipeline. But the conversion rates vary, and only a few result in actual sales. Seeing a favorable ROI from lead generation activities might be challenging when the conversion rate is too low.
Therefore, you need to balance quality and quantity when generating leads on LinkedIn. Theoretically, more leads equate to more sales. This won't hold true if you convert only a tiny percentage. Creating ten hot leads with a strong chance of conversion is more time and money efficient than creating fifty cold ones.
Related article: Sales Prospecting Comprehensive Guide
Why Do You Need Tools for Lead Generation?
Reaching out to hundreds of leads and sending the same message is redundant and less productive. This is where lead generation tools come into play! They scrape out contact details of people interested in a company's goods or services.
By automatically finding and connecting with future customers on LinkedIn, it lets you concentrate on other aspects of your organization. Typically, you will need to provide lead magnets in return for an email ID.
Therefore, you must invest in a reliable LinkedIn lead generation tool. Manually finding and generating leads can be a hassle.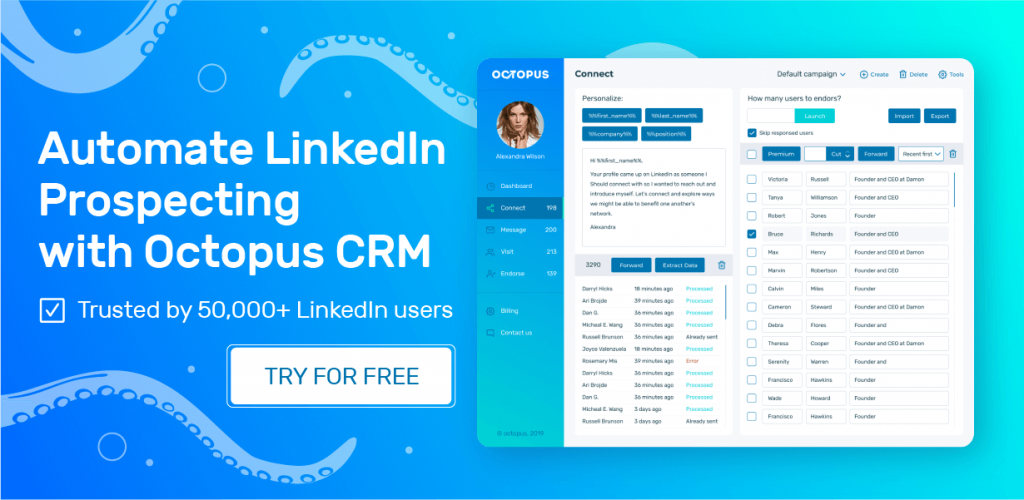 What Are the Benefits of Using LinkedIn Lead Generation Software?
In this section, we will explore the advantages of using LinkedIn lead-generation tools:
Connects With Experts
LinkedIn allows its users and businesses to find experts through their profile images and field of expertise. It benefits B2B companies as they can easily connect with potential customers and stakeholders.
Read also: Why Use LinkedIn For B2B Marketing?
Saves Time
Automating tedious operations like sending follow-up messages and connection requests can save time. It also helps you focus on other crucial duties that need your attention. Moreover, it gives you time to create exciting content for your audience.
Cuts Costs
Engaging with potential leads is one of the most important aspects of lead generation. But it can take a lot of time. This is where you can cut costs.
You may ensure the success of your initiatives by using automated LinkedIn outreach solutions. For instance, you can complete this work more quickly and accurately.
Around 40% of new leads who receive a LinkedIn invitation accept it. But the typical reply rates fluctuate between 5% and 15%. With these tools, you can create high-conversion messages to meet your LinkedIn outreach goals.
Improves Your Efforts
You do not want to send out unnecessary messages, not even while using automation tools for messaging. Using AI-driven tools helps you set parameters that generate bulk and accurate results. This is why you can connect to large groups of audiences that meet your requirements.
Speeds Up Networking Processes
Automation speeds up time-consuming tasks, such as sending connection requests. You can send invitations to a large number of people with a click of a button. Besides, they also help personalize the message for better outreach. Therefore, it helps you reach out to prospects and connect with them in less time.
Boosts Conversion Rate
By automating routine operations, LinkedIn automation solutions can improve lead conversion rates. When applied correctly, automation technologies can enhance your entire LinkedIn sales process. But conversion requires consistent communication. You can find leads, communicate with prospects, and send follow-ups on autopilot.
AI tools send targeted follow-up messages on autopilot to pursue the leads throughout the sales cycle. You can send targeted and optimized messages periodically to every prospect. It should enable you to convert them from initial contact to customer.
Monitors KPIs
Reflecting on how a campaign performs after launching is critical. You can gather and save this information using fully functional LinkedIn automation tools.
Additionally, the software must present it in ways that help quick consumption or conversation. It enables you to distribute data faster throughout your firm. This information would be inaccessible or too challenging to gather and analyze otherwise.
Enhances Sales Growth
When done efficiently, lead generation can greatly increase the number of prospects your brand can reach. This requires using the appropriate language and information to capture the customers' attention.
You'll find it easy to draw in qualified leads, thus increasing your lead conversion rate. As a result, the chances of successful sales grow significantly.
Builds Social Media Campaign
A successful social media outreach plan will help you generate leads. You don't want to post every social media message yourself while operating it. This is particularly true if it involves overtime because you must stay online after office hours.
Instead, you may use a messaging system with LinkedIn automation. You can upload messages, and the system will post them at specified intervals. It can occur again during the day, a week, or even several months.
Stores Data
In addition to importing campaign data, exporting data might also be advantageous. You can do this by creating backup copies to protect your data from loss due to malfunctioning.
By exporting campaign data, you can use it to boast about your marketing goals, success rates, and marketing journey. Besides, the data is very helpful when preparing internal audit reports of your marketing campaign.
Improves Strategies
Using the information you gather about your lead generation activities is crucial to plan your next moves. You might want to look back at the data and make little adjustments. Moreover, you might want to determine why a particular plan didn't work.
In either case, you can begin deciding after carefully examining statistics. Your findings may indicate that you did not narrow your specialized target. Moreover, the results may also show that the audience did not understand the intended message. Use the knowledge to adjust your strategy to increase your connections.
Upgrades Lead Quality
You may generate traffic by producing content and publishing it on the internet. But your efforts will be in vain if your visitors aren't turning into leads.
You are creating content with a specific audience in mind when using lead generation. You must address these target audiences in your blog posts, emails, and online copy.
Developing themes and ideas that appeal to each group is pretty straightforward. Also, doing this will increase lead quality, conversions, and revenue.
Gathers Online Interactions
Every automation solution for LinkedIn can extract information from your interactions. It could involve saving comments, keeping track of remarks, or noting responses. It is not necessary to go into detail. It may only be data suggesting that such an exchange took place.
It will increase the accuracy of the statistics you are tracking. You can compare specific types of data. For example, consider the feedback you receive regarding developing your social media activity.
23 Best LinkedIn Lead Generation Tools
LinkedIn automation assists you in automating your activity and in generating leads for your company. It enables you to schedule messages, track responses, and import connections into a system. They help in expanding your network within your sector. You can distribute your information to others you believe will find it interesting.
Selecting one of the many LinkedIn CRM products available can be challenging. So, here we will discuss top LinkedIn tools for lead generation and their features.
Octopus CRM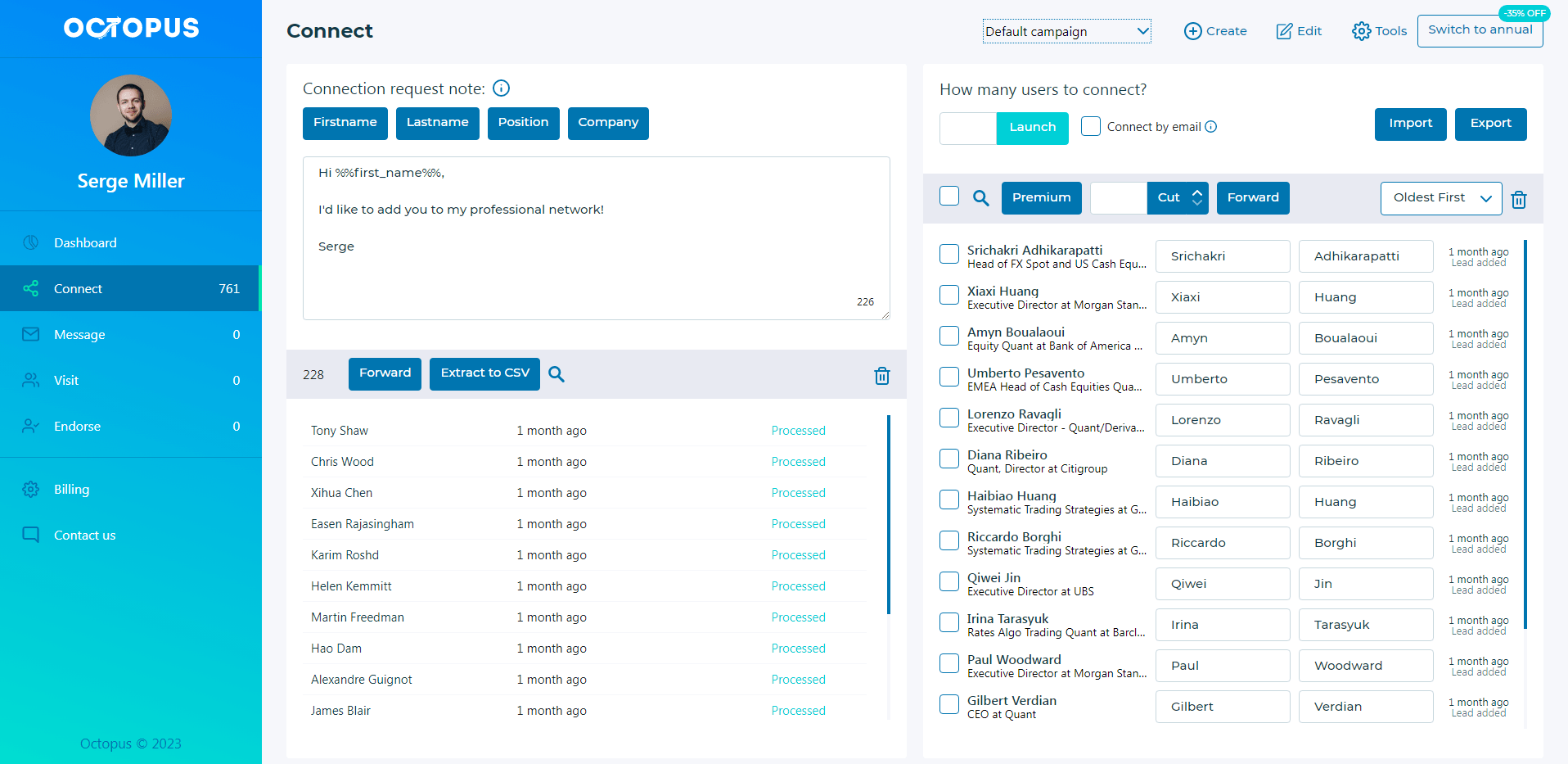 Octopus CRM streamlines your outreach efforts, effectively manages your leads, and saves time. It simplifies reaching prospective leads and widening your network. It helps you automate connection requests, profile visits, and messaging.
Octopus CRM's powerful lead management features are among its most important advantages. You can track your prospects, tag them according to their interest level, and handle your follow-up tasks efficiently. Octopus CRM organizes your outreach efforts by priority and concentrates on high-potential leads. That is why you need Octopus CRM for lead generation.
Features
Octopus CRM allows users to benefit from the following features:
LinkedIn automation

Campaign analytics

Advanced search filters

Email verification

Personalization

Integration with CRM

Bulk messaging

Tracks profile visits
Read also: Why You Need Octopus CRM for Your Business
Dripify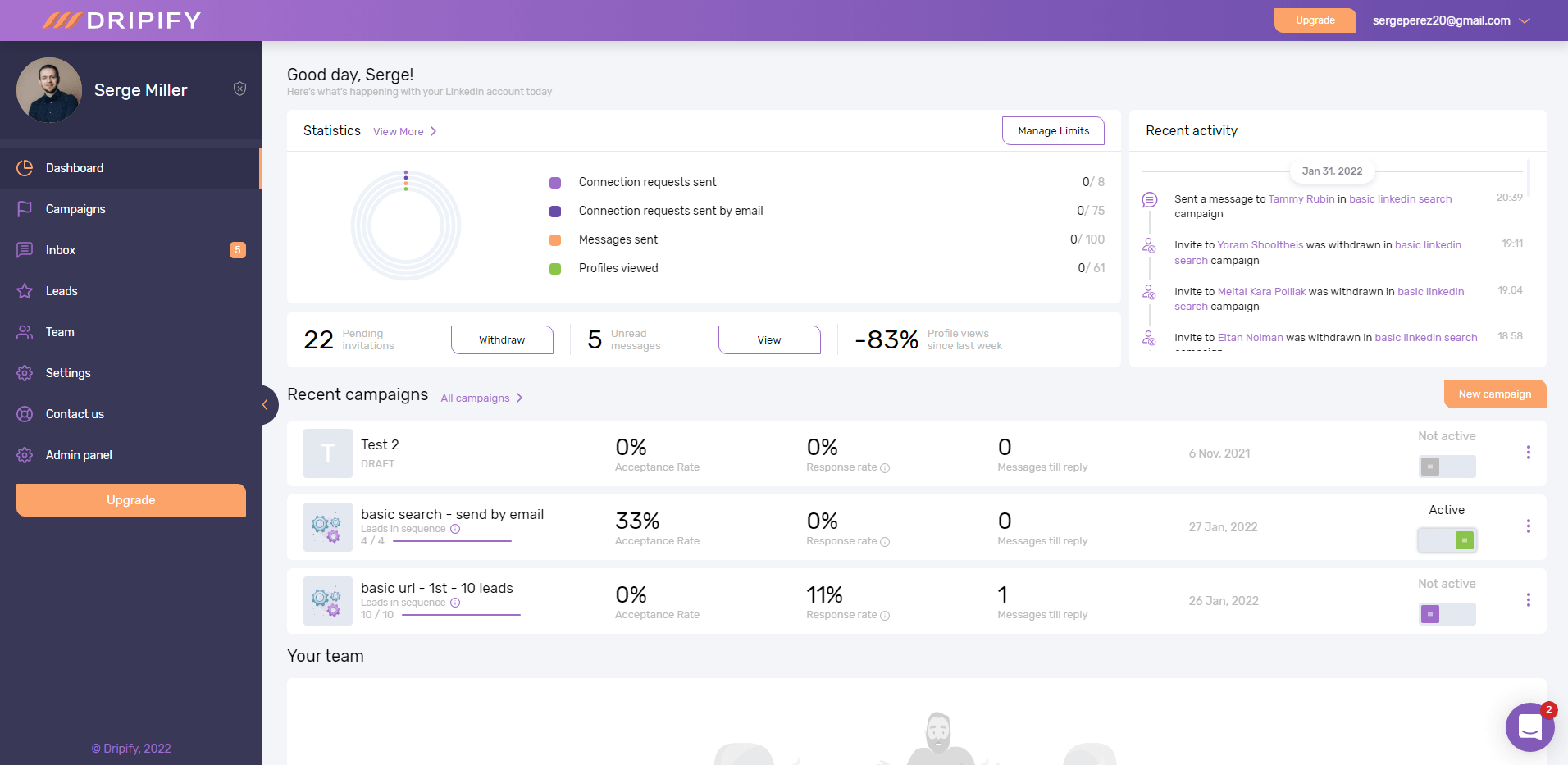 Dripify is an excellent LinkedIn automation solution for producing quality leads. You can quickly establish your sales funnel using this tool. Dripify offers a variety of capabilities to help with outreach and your sales funnel.
You may automate specific LinkedIn behaviors to develop various drip campaigns as a crucial growth hack. Dripify's UI and easy-to-use design make it simple for amateurs to use this sales automation tool.
You can use a one-week free trial to test the product's restricted features. Choose from these price options to make the most of Dripify:
Basic – $59 per month

Pro – $79 monthly

Advanced – $99 each month
Dripify is an excellent place to start if you are unsure how to automate LinkedIn. It efficiently manages drip campaigns and LinkedIn automation due to its user-friendly interface.
Key Features
Dripify offers these features to automate tedious tasks:
Marketing automation

Team management

Analyzing LinkedIn activity

Generation leads

Campaign management

Elaborate dashboard

Sends automated messages

Advanced safety algorithm
LinkedIn Sales Navigator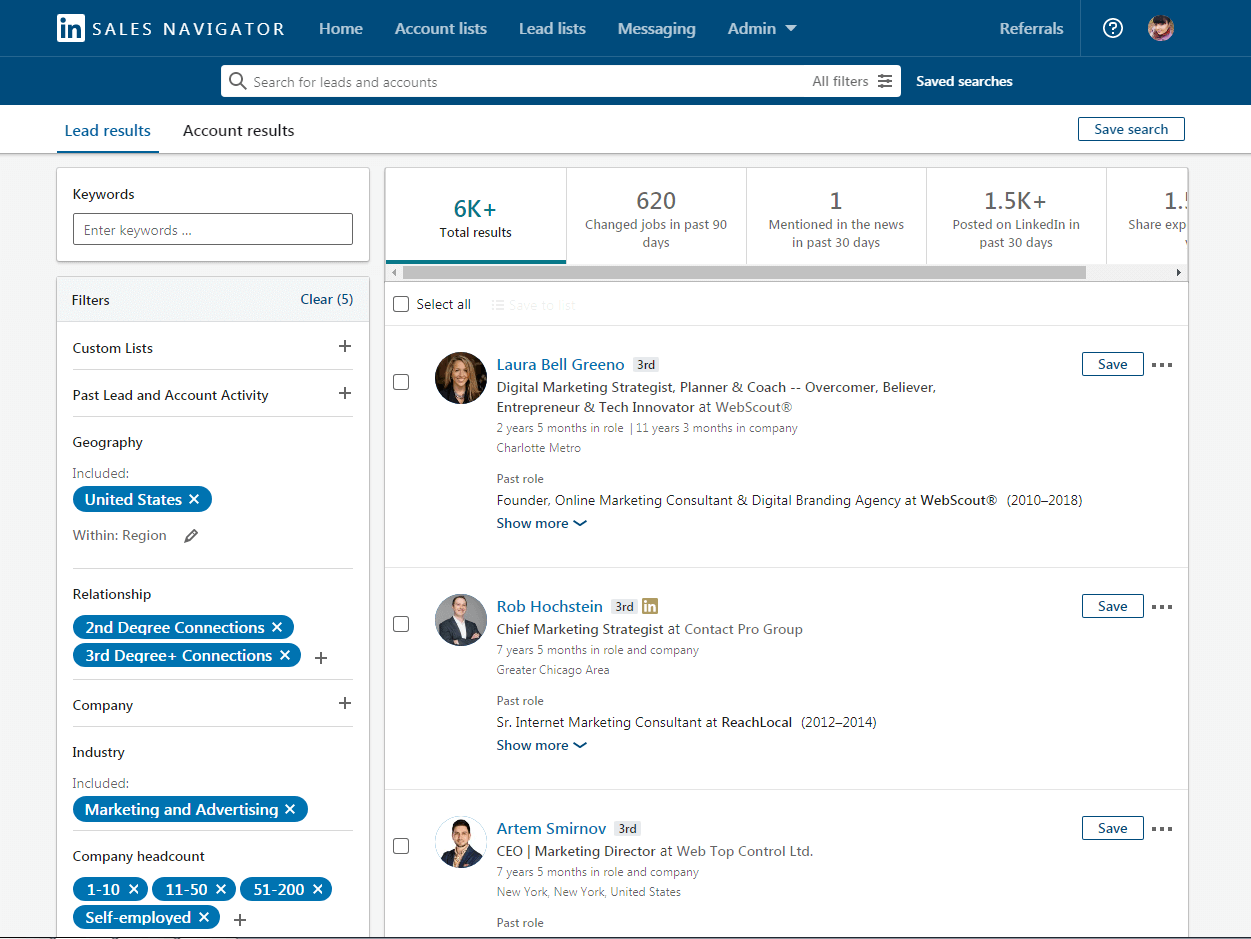 LinkedIn Sales Navigator is ideal for professionals that want to improve sales. Wondering how?
The official LinkedIn automation tool extracts qualified leads by improving searchability. It personalizes algorithms to improve visibility and connects users with decision-makers. That way, you can increase conversions and foster organic relationships!
Besides, LinkedIn Sales Navigator allows you to discover look-alike audiences. It also lets you save leads, create custom leads, and access a learning center. The best part is you can unlock a month-long free trial!
Features
Using LinkedIn Sales Navigator helps users to enjoy the following:
It uses a personalized algorithm to discover the best prospects

Access to powerful insights to make the right business decisions

Unmatched search functionality with many filters

Offers InMail credits to streamline lead generation
Linked Helper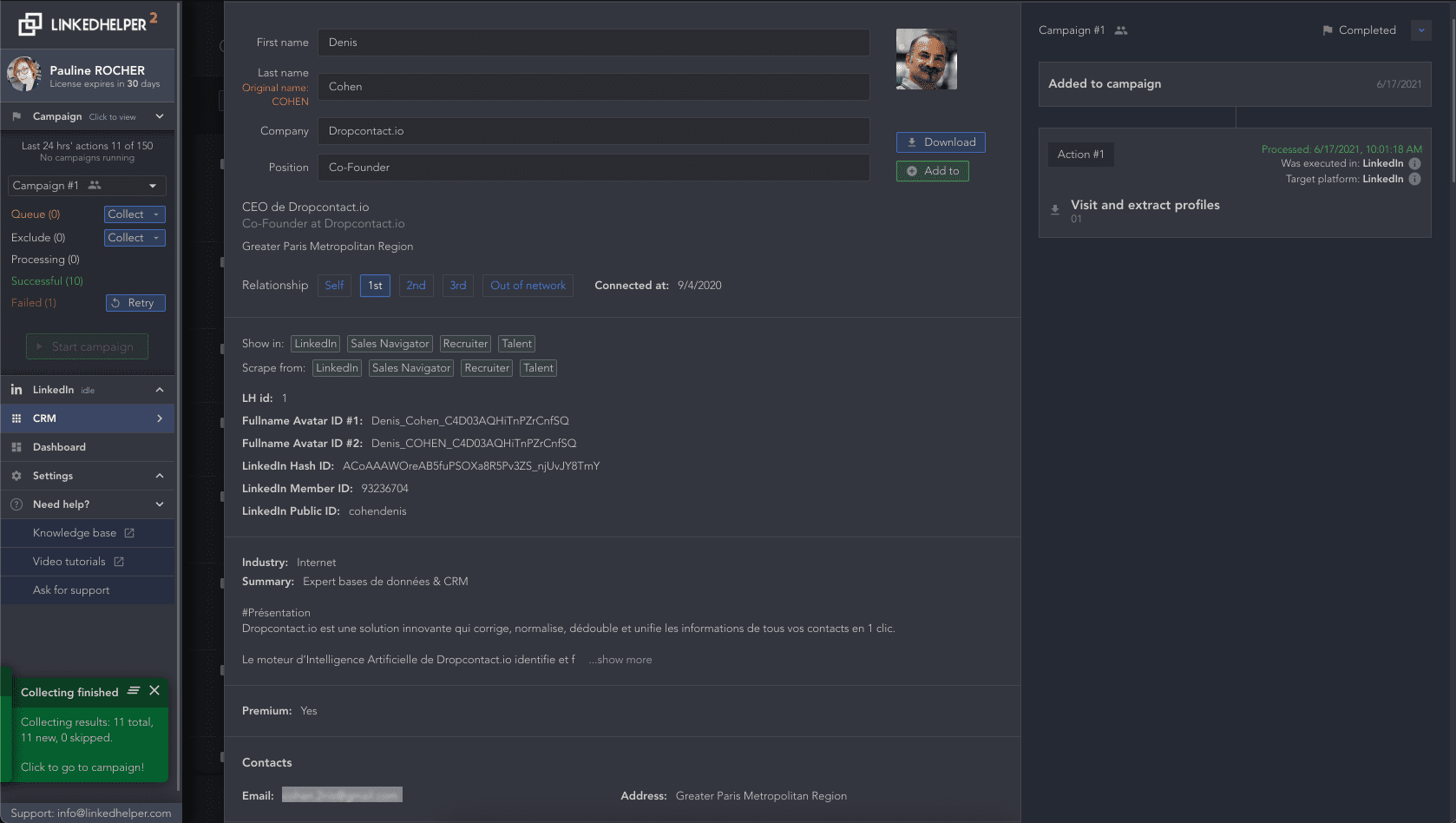 Linked Helper automates actions like connection requests, profile visits, and follow-ups. It simplifies getting in touch with new prospects and growing your network. Also, you can track your campaigns and send targeted messages to your relationships.
The ability to visit and promote profiles is another crucial aspect of Linked Helper. You may boost your visibility and increase traffic to your profile by viewing the profiles of possible leads. By approving their abilities, you can expand your contacts and improve your referral chances.
It is a fantastic tool for anyone trying to expand their brand on LinkedIn because of its simple UI and strong automated features.
Features
Linked Helper has the following features:
Data Scraping

Auto-replies

Automated endorsements

Data export and CRM integration

Automated profile visits

Built-in email finding tool

Profile Following

Endorsing skills

Integration with Zapier, WebHooks
Skrapp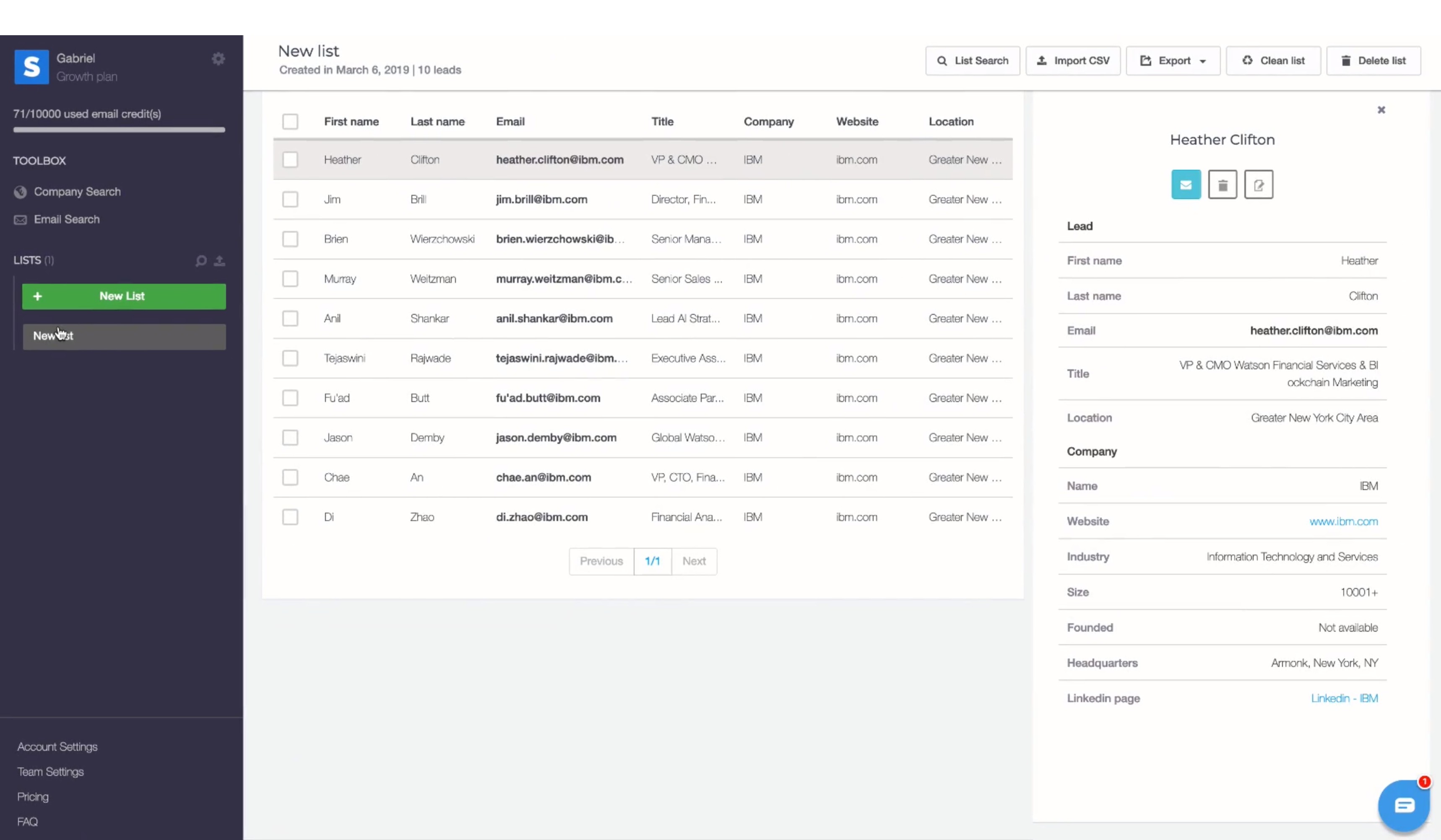 For sales teams seeking efficient LinkedIn tools, Skrapp is the perfect option. The platform offers a robust email finder feature to enhance lead generation.
With Skrapp, you can extract and verify prospects' email addresses. The tool allows you to scrape data from LinkedIn profiles and company pages. As a result, you can save time and invest it in building a long-lasting connection.
But that's not all! Skrapp features an intuitive interface, third-party integrations, and personalized email templates.
Using this tool, you can improve your lead generation and nurturing processes. You can also save time and focus on the creatives of your business.
Features
Use Skrapp to enjoy the following features:
Integrates with CRMS, including HubSpot and

Offers customizable email outreach templates

It boasts a powerful email finder

Scrapes and verifies emails across LinkedIn
Lusha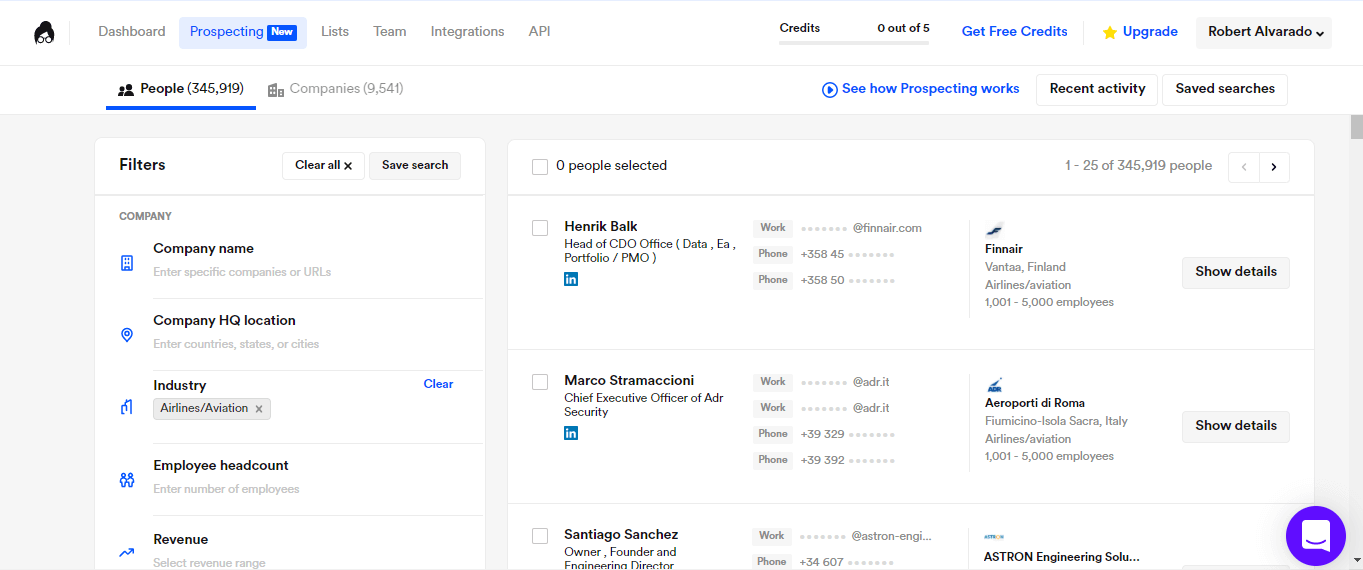 Lusha is famous for helping you connect with the correct decision-makers. It gives accurate contact information for prospects.
The setup and navigation of Lusha are simple and basic, making it simple to use. You may start without technical knowledge and get the required data to interact with prospects quickly.
Lusha delivers exceptional customer service in addition to accuracy and simplicity of use. The professional support staff at Lush will help you if you encounter any problems or concerns about the platform.
Features
Lusha offers the following features to its users:
Advanced algorithms

Great customer support

Highly accurate data

Intuitive

Regular updates

User-friendly interface
Hunter.io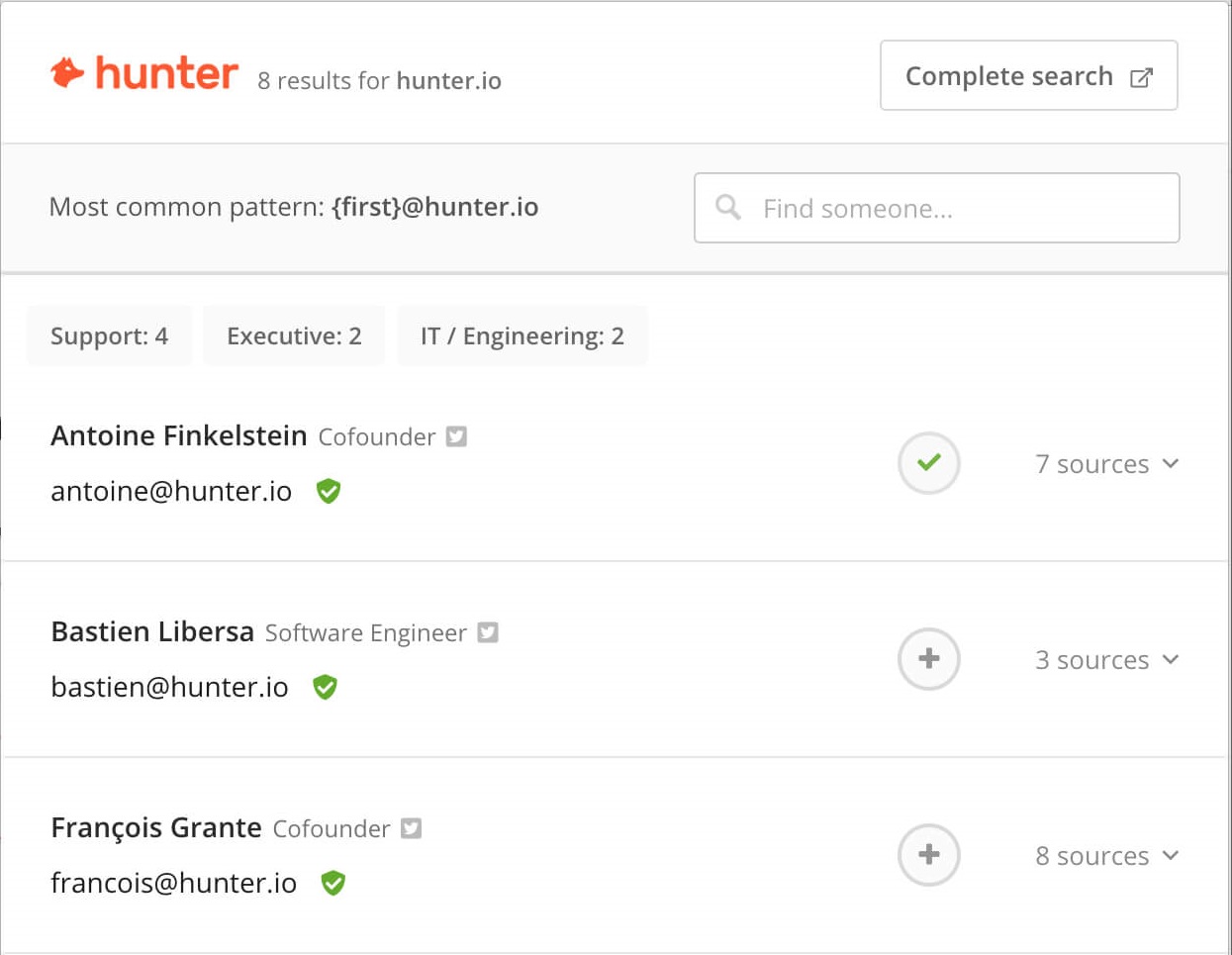 Hunter.io is a well-known email discovery application. It enables you to locate and validate the email addresses of individuals working for various businesses. The tool is simple to use and won't take much of your time.
Simply insert the URL of the business you wish to target. Then, Hunter.io will give you a list of email addresses associated with that domain. The program also validates the emails, ensuring you won't waste time with invalid or out-of-date email addresses.
Almost 2 million people, including startups and small and big businesses, trust Hunter.io. It has become trendy because of its accuracy and dependability. Moreover, it integrates with several other platforms, such as Hubspot, Pipedrive, and Salesforce.
Furthermore, Hunter.io offers a free subscription with restricted functionality. Therefore, it is a cost-effective choice for companies of all sizes.
Features
Use Hunter.io to enjoy the following features:
Easy integrations

Accurate data

Easy-to-use functions

Email verification

Domain scrape

Offers a free plan
Phantombuster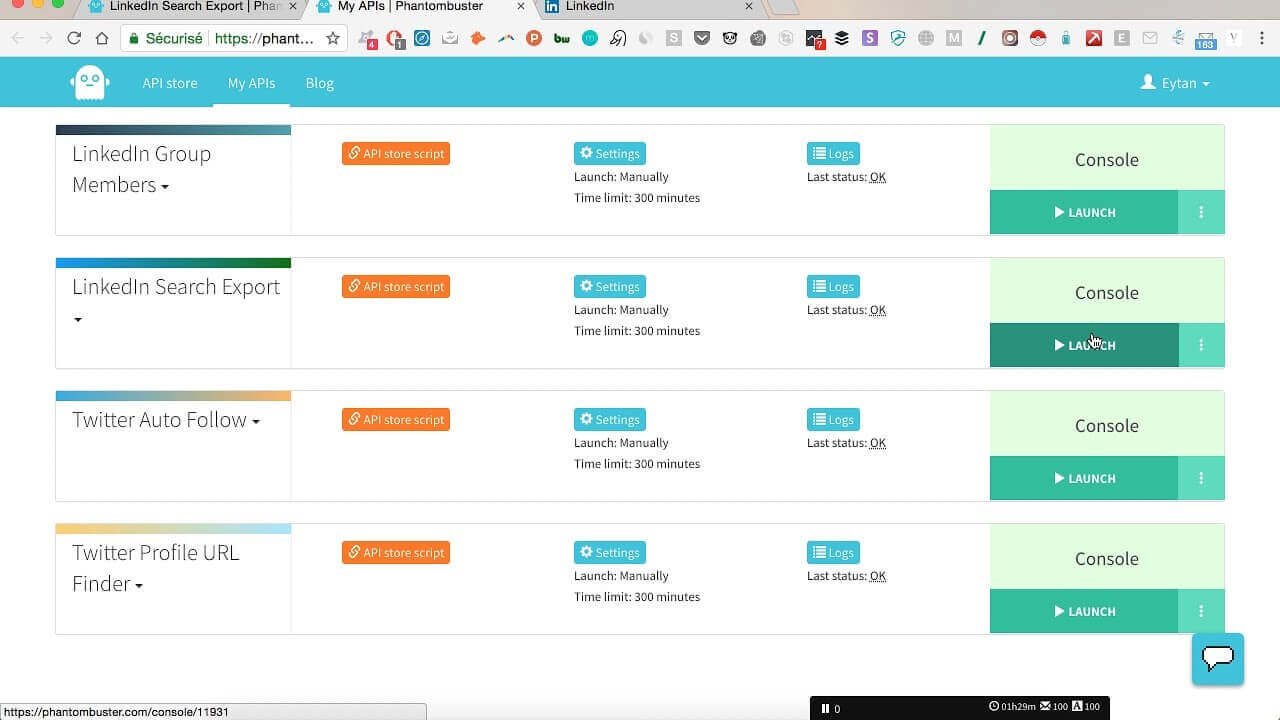 Phantombuster is a detailed growth hacking platform with many features for automating growth. You may automate several activities using this automation tool. These include gathering online information, engaging in social media engagements, and email marketing.
Phantombuster is an automated data extraction and automation solution. It assists companies in lead generation, audience scraping, and growth automation. With the extension, you may plan tasks, chain automation, and automate most web-based chores.
Currently, it only supports Sales Navigator, LinkedIn, Google, Instagram, and Twitter. But here we are, focusing on LinkedIn. So, let us see how this tool benefits LinkedIn users.
Features
Phantombuster allows users to enjoy the features mentioned below:
Automated social media

Easily integrates with Slack, Zapier, and Google Sheets

Data Scraping

Automated email outreach

Wide range of tools
LeadConnect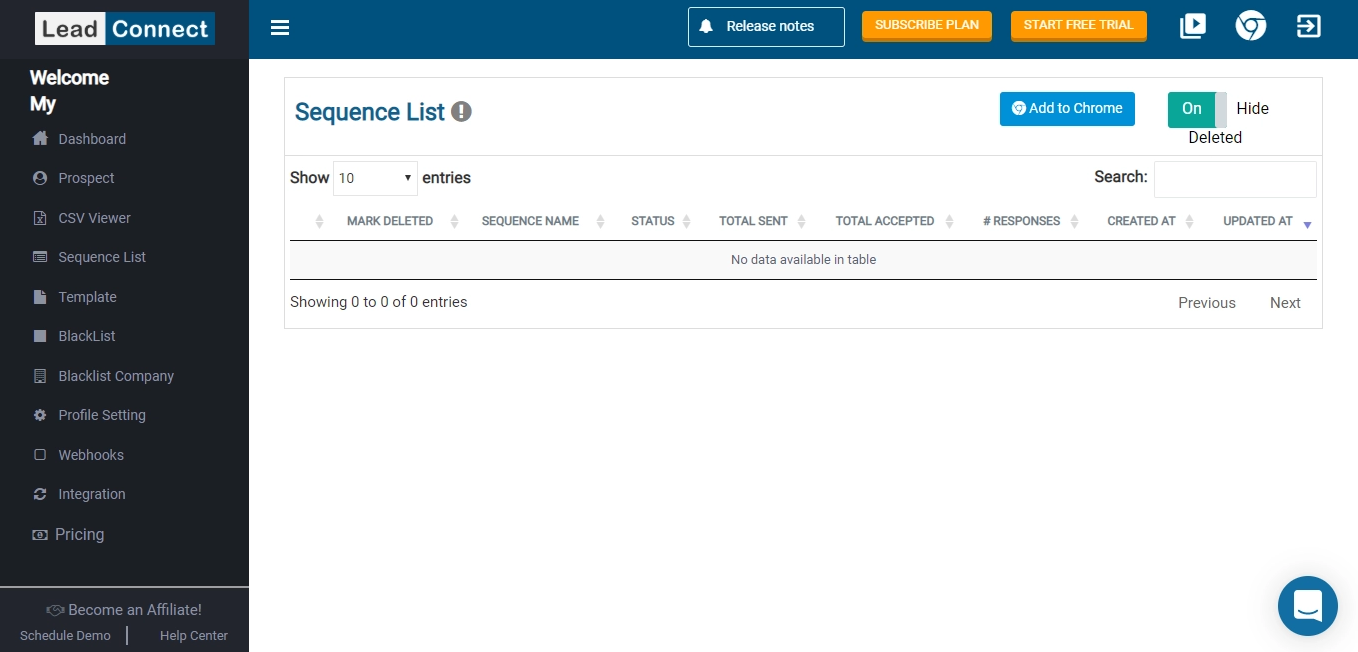 LeadConnect is another robust LinkedIn tool dedicated to making lead generation easier. The platform offers to stand out various features, including extracting data.
With LeadConnect, you can craft well-defined target audiences. That way, you can automate personalized invites and responses. Besides this, you can send up to 100 customized messages to potential customers!
What's more? LeadConnect mimics a human-like tone to ensure seamless communication. It also makes it impossible for prospects to recognize the use of an automated tool.
Features
LeadConnect offers the following features:
Offers attention-grabbing outreach templates

Creates an easy-to-access contact database

Syncs prospect's profiles across various CRMs to enhance lead nurturing

Automates LinkedIn-related changes

Tracks prospect's responses
GrowthLead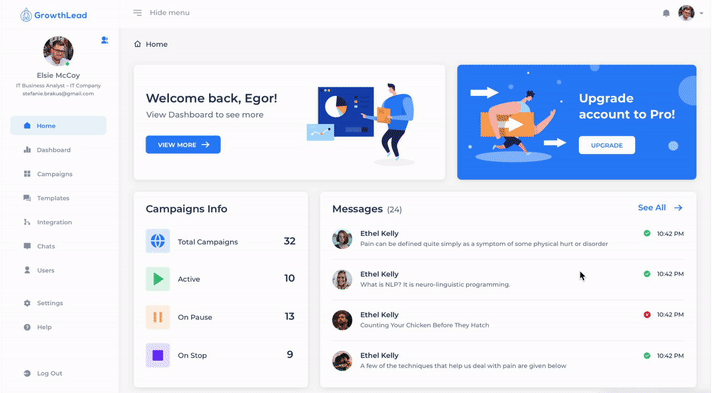 GrowthLead enables you to locate high-quality leads using data from various sources. Additionally, a built-in email outreach feature lets you contact those leads from the site.
Due to its distinctive strategy for lead generation, GrowthLead stands out from the rest. It enables you to locate high-quality leads. Using GrowthLead, you can gather information from directories, company websites, and search engines.
Growthleadlets you quickly locate leads, resulting in more effective outreach efforts. Its simple and intuitive user interface are two more noteworthy aspects. Besides, it is simple to use, making it ideal for beginners. All you need to do is set up your search parameters and search for leads.
Features
This automation tool offers the following features:
Built-in email outreach tool

Intuitive interface

Various data sources

User-friendly automation

Data Import/Export

Lead Nurturing
SalesLoft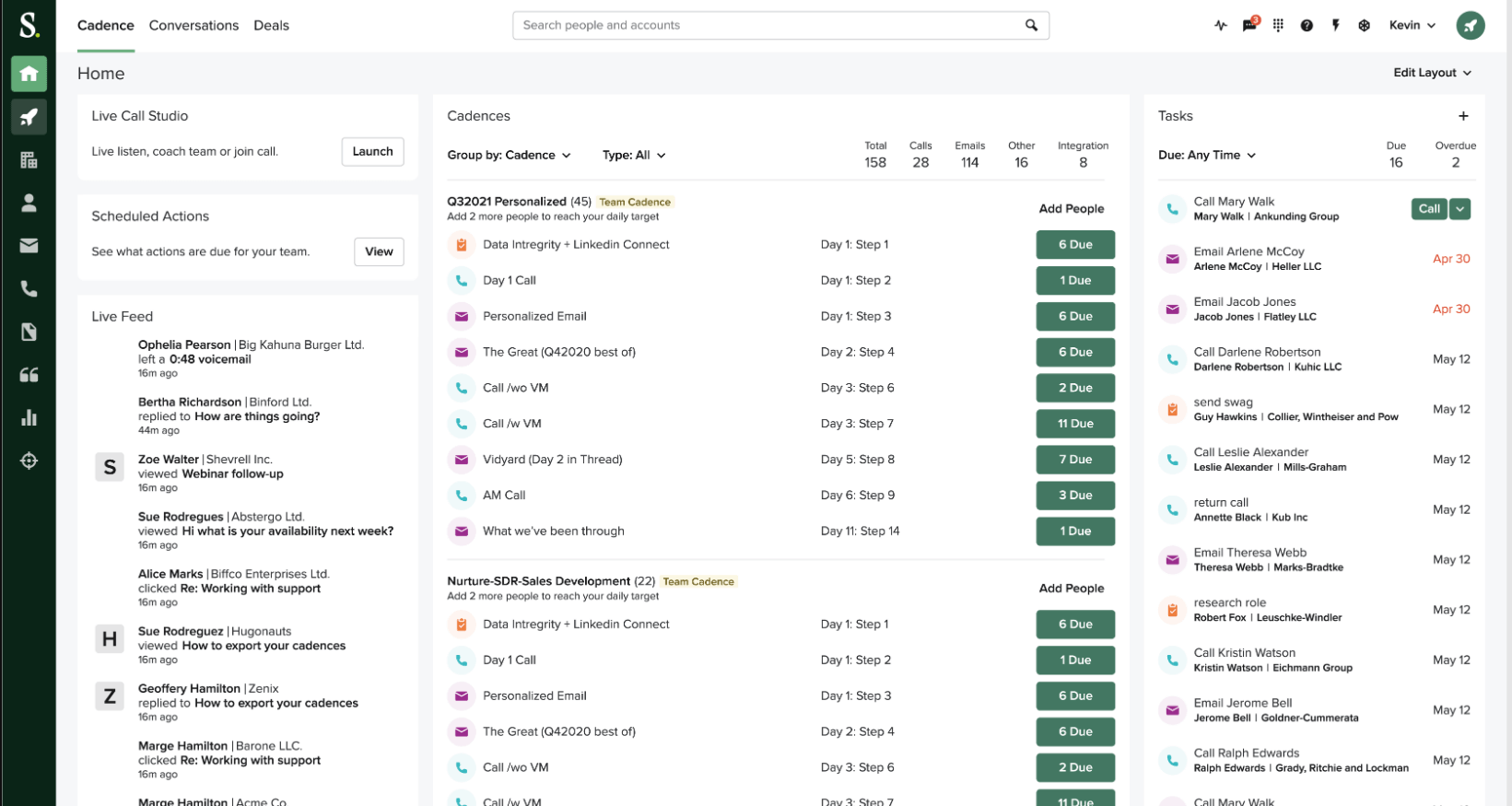 SalesLoft is an enterprise-grade LinkedIn automation tool. The platform lets you track news about your organization, prospects, and recommended leads.
Additionally, SalesLoft provides a suite of powerful tools to engage prospects. So, you can meet customers on every level to close deals.
Furthermore, the platform's Cadence feature lets you create and manage sales processes. You can track progress, increase sales productivity, and hit revenue goals.
Features
SalesLoft offers the following:
Offers real-time insights into your target market and contacts

Empowers you to make informed lead-generation decisions

Provides robust sales coaching tools to train your sales team

It helps you track analytics to improve sales progress

Creates in-depth reports to identify areas of improvements
AeroLeads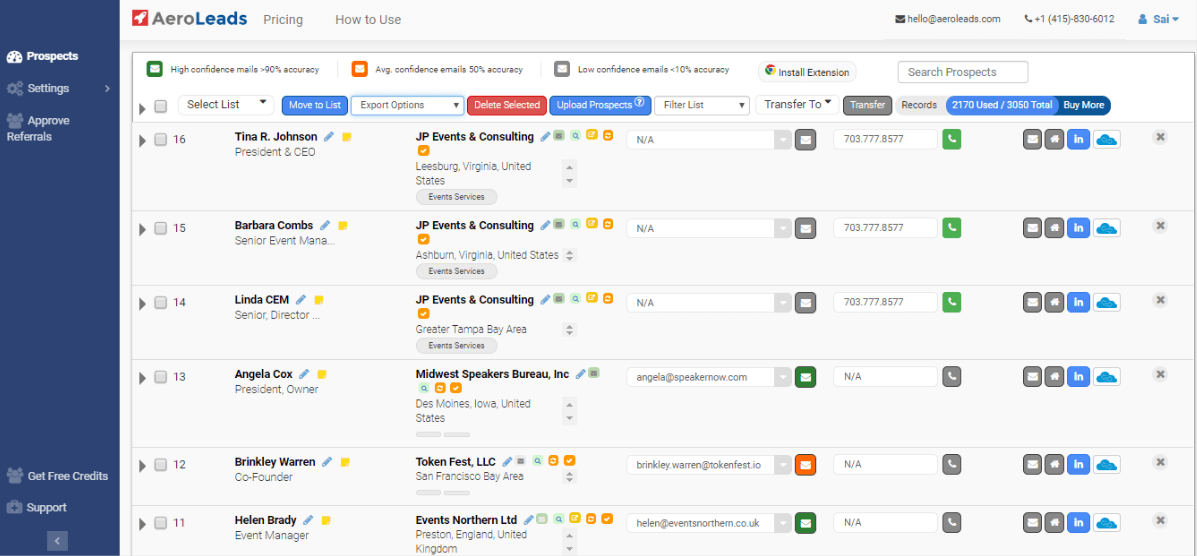 You may search other business websites, such as LinkedIn, for sales leads using AeroLeads' Google Chrome plugin. Add a name and business to your AeroLeads account. Afterward, the tool will locate their corporate emails and other personal details. You can contact these leads immediately because AeroLeads will add them to your email campaign lists.
AeroLeads' Chrome extension is another characteristic that sets it apart from the competition. Its plugin allows you to locate and validate contact information. With less time wasted looking for contacts, you may more easily create targeted lists of leads and get in touch with them.
AeroLeads also features a user-friendly interface to manage your lead generation campaigns easily. You may analyze analytics, monitor your development, and export data to a CSV file for simple analysis. AeroLeads is a versatile lead-generation platform. It enables you to organize your outreach activities and expand your business.
Features
Using AreoLeads allows users to enjoy the following features:
Generate leads from multiple sources

Team collaboration

Manage lead gen campaigns

Build targeted lists

Analytics

Track progress

Prospect generation

Product detail exporting
Meet Alfred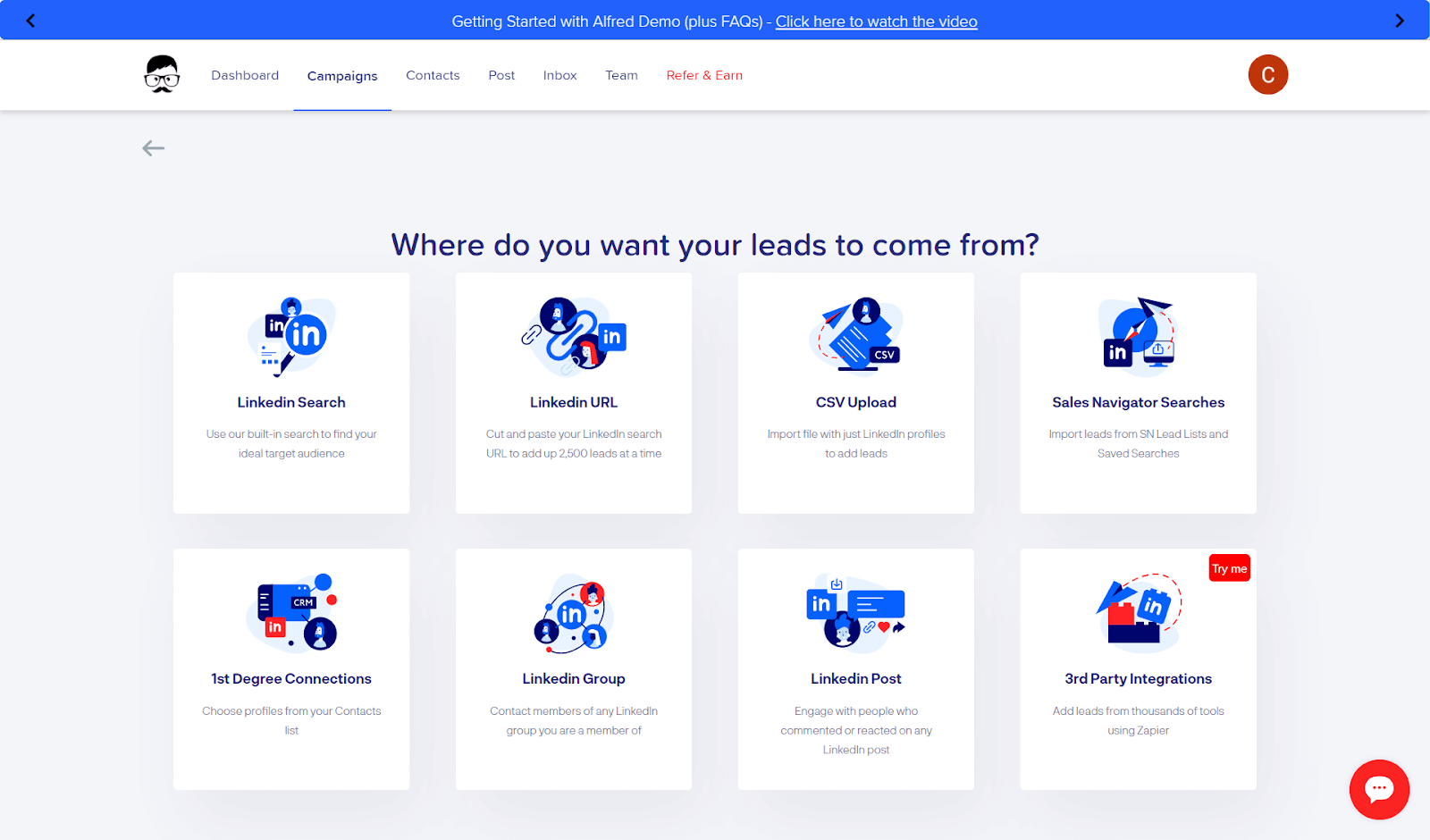 MeetAlfred, formerly Leonard, is a capable all-around LinkedIn automation solution. It focuses primarily on end-to-end social selling campaigns. Alfred assists in creating LinkedIn campaigns, automating outreach sequences, and improving team management.
MeetAlfred provides various options for LinkedIn automation. Yet, Alfred best manages conversions by utilizing its integrated CRM to increase engagement.
You can send many connection requests and mass messages with this LinkedIn automation tool. But, if you decide to use LinkedIn automation, you should always abide by a few of the most important safety guidelines.
It has a good jack-of-all-trades approach. Moreover, it offers elements required for automated lead creation.
Features
It has the following features:
LinkedIn automation

Integration with CRM

Campaign analytics

Multi-account support

Automated follow-ups

Connect requests

Multi messaging sequences
Lempod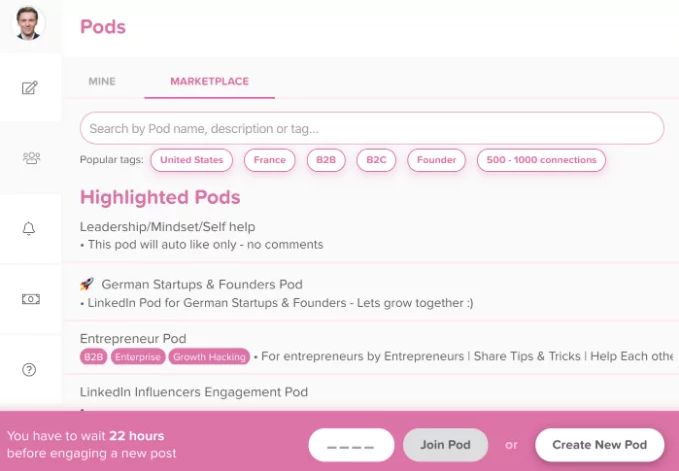 Lempod is a popular browser-based LinkedIn automation application. Top specialists developed this tool to enhance LinkedIn engagement promotion.
Users see the most popular LinkedIn posts first. Lempod assists its clients in getting the best engagement possible.
The tool locates and connects several pods inside your sector to accomplish this. After you submit something, it receives automated likes and comments from every person in the chosen pod. However, it has other strengths in addition to increasing engagement. Let's examine a few of them.
Features:
Lempod is a solution for increasing interaction that focuses on automated LinkedIn updates. These are some crucial elements the tool includes to aid clients in boosting post-engagement:
Multi-User Collaboration

Company Pod Creator

Brand Tracking

Content Management

Social Media Tracking

Customer Engagement
TexAu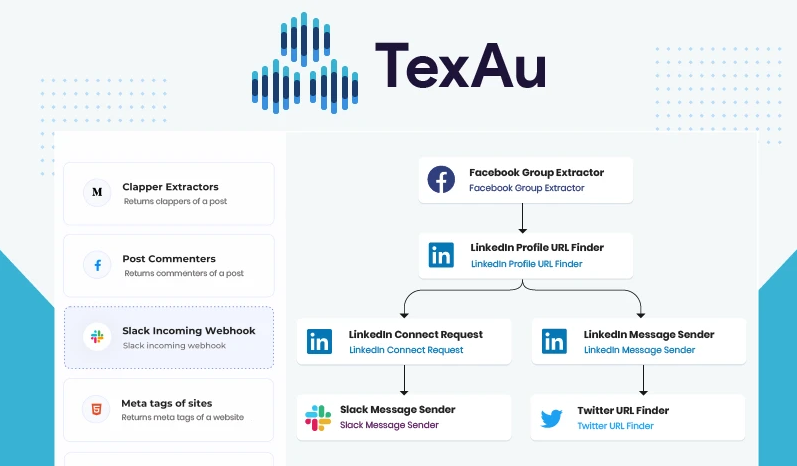 TexAu is an amalgamation of 'text' and 'automation,' which is its perfect description. The lead generation tool is a robust growth automation platform for scaling businesses.
With TexAu, you can extract high-quality data and automate repetitive tasks. You can also use it to scrape data and verify emails. As a result, you can remove time-consuming tasks while improving efficiency.
Besides, the tool provides automation for many websites. It includes Facebook, Twitter, Quora, Instagram, and more!
Features
Try TexAu to enjoy the following features:
Extract leads from Sales Navigator

Scrape emails using LinkedIn profiles

Extract data from LinkedIn group members

Auto endorse, message, comment, and like
Zopto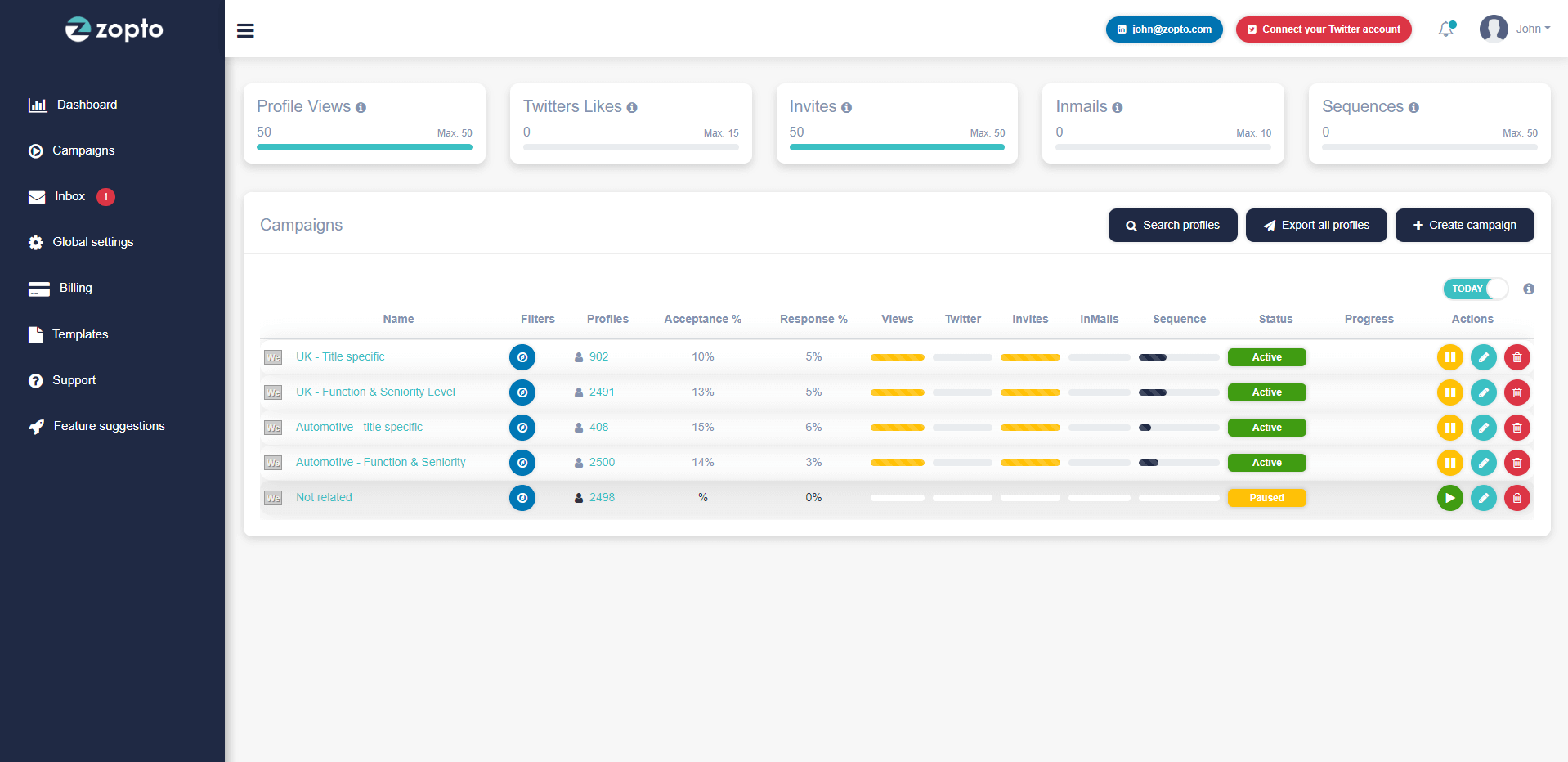 Seeking a cloud-based LinkedIn automation to generate leads? Then Zopto is the perfect tool for you!
The robust LinkedIn tool helps automate the lead generation process. Consequently, you can discover new audiences and markets. The cloud-based solution eliminates downloads, allowing you to start within seconds.
Moreover, Zopto has contact and company filtering that allows you to customize features. It includes data-driven leads management, engagement levels, and more. The tool is ideal for startups and clients starting their LinkedIn growth journey.
Features
Zopto offers the following:
Allows you to automate LinkedIn lead generation efforts

Boasts A/B test functionality and reporting capabilities

Provides auto scale-up and intervals

Manages multi-user LinkedIn profiles 

Gives access to team performance analytics

Live dashboard for tracking campaigns 
Reply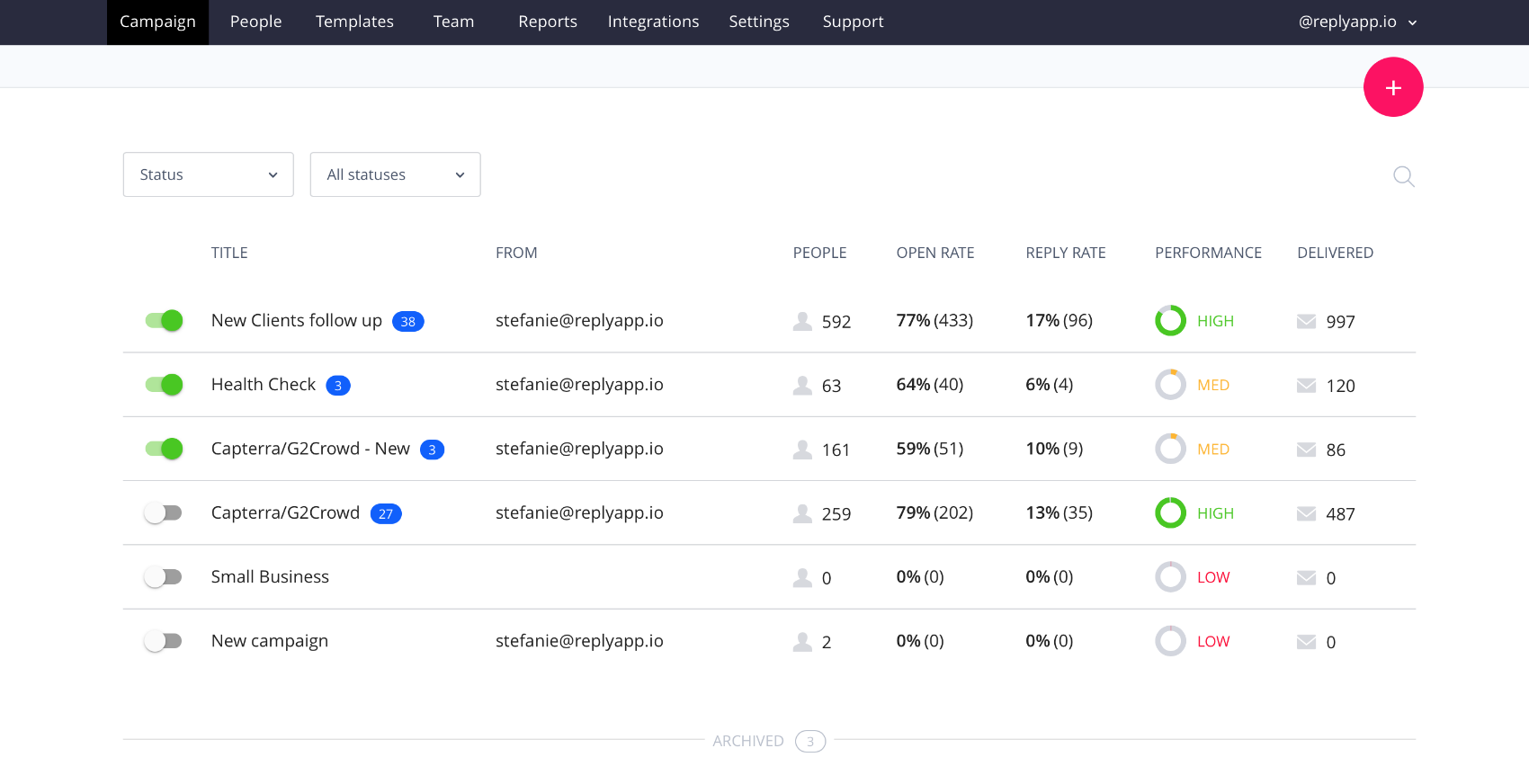 Reply is an easy-to-use yet powerful LinkedIn automation tool. As the name suggests, the platform streamlines communication with prospects.
With Reply, you can establish a direct communication line with potential clients. The tool uses state-of-the-art inbound and outbound messaging technologies to ensure efficiency.
Furthermore, Reply allows you to handle communication manually or automatically. You can use automatic messengers, live chatbots, and more. The best part of using this tool is its versatility in messaging!
Features
The following features help Reply users:
Track LinkedIn automation results from a live dashboard

Extracts data on prospects' emails

Allows you to receive messages via SMS and WhatsApp

Offers an AI assistant that sends customized messages

Creates a collaborative work environment
Waalaxy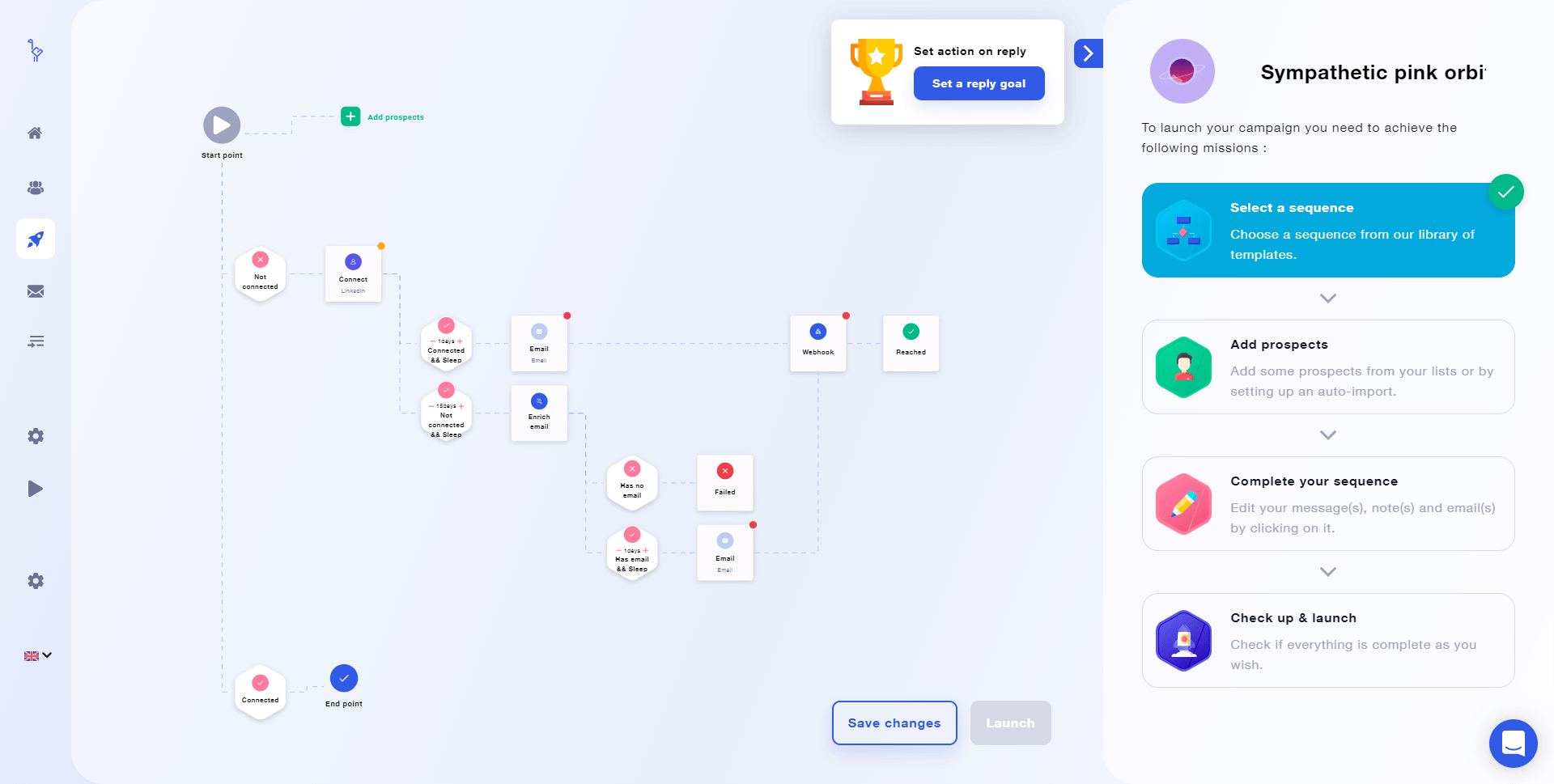 Waalaxy is another excellent LinkedIn tool to automate lead generation. The platform allows you to extract and verify emails. So you can send personalized outreach messages.
Besides, Waalaxy lets users import LinkedIn leads. After which, you can automate customized invitations to contact 500 people! The tool also enables you to send personalized cold emails.
Waalaxy stands out because of its GDPR compliance and ability to track requests. That way, you can identify who accepts and cancels invitations. The tool helps you scale your business by enhancing lead generation.
Features
Use Waalaxy to enjoy the following features:
Allows you to reach ideal customers

Track campaign analytics to envision success and efficiency

Create drip campaigns to trigger invitation requests and follow-ups

Offers multi-channel marketing strategies to nurture leads
SalesLoft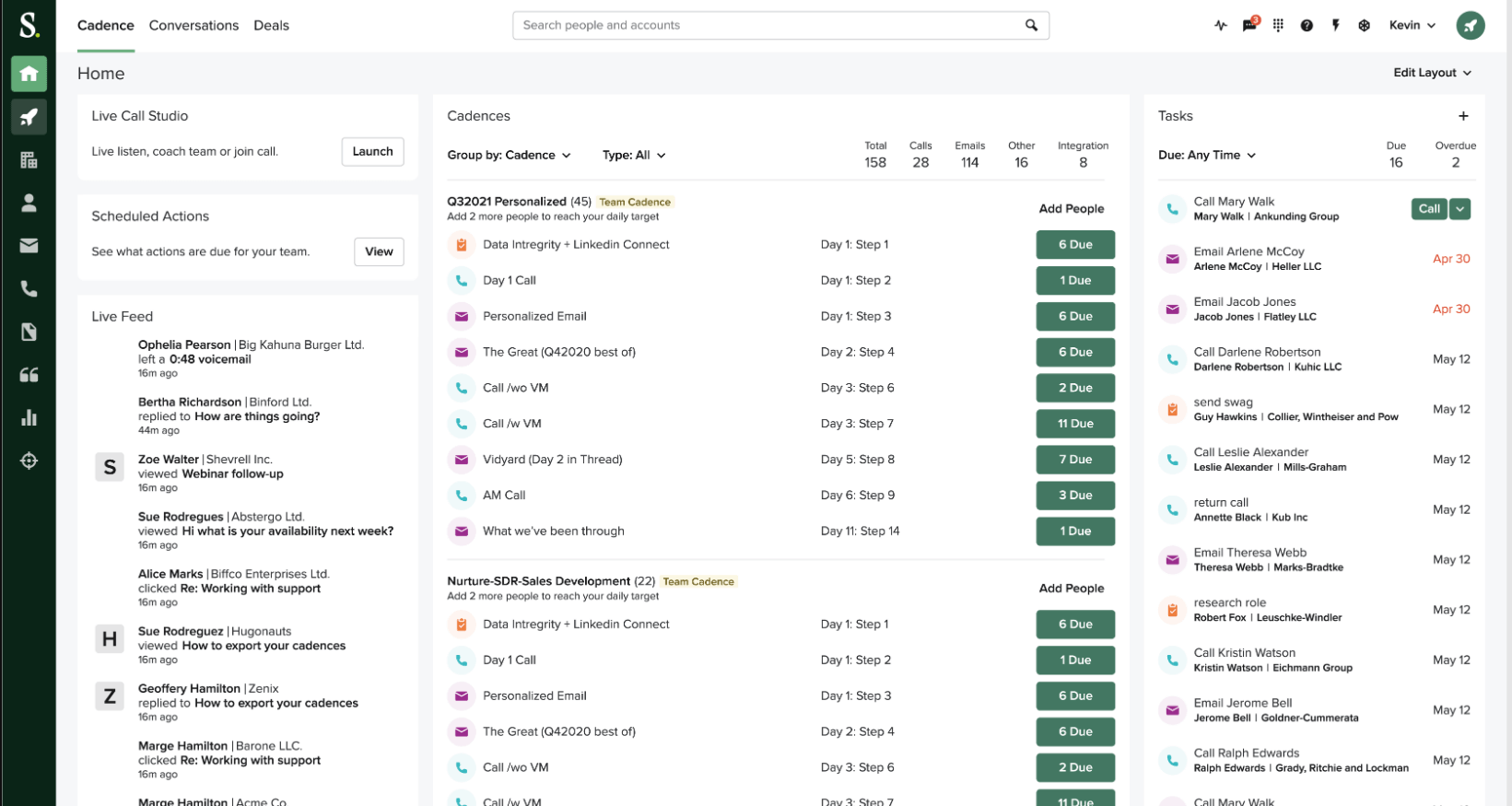 SalesLoft is an enterprise-grade LinkedIn automation tool. The platform lets you track news about your organization, prospects, and recommended leads.
Additionally, SalesLoft provides a suite of powerful tools to engage prospects. So, you can meet customers on every level to close deals.
Furthermore, the platform's Cadence feature lets you create and manage sales processes. You can track progress, increase sales productivity, and hit revenue goals.
Features
SalesLoft offers the following:
Offers real-time insights into your target market and contacts

Empowers you to make informed lead-generation decisions

Provides robust sales coaching tools to train your sales team

It helps you track analytics to improve sales progress

Creates in-depth reports to identify areas of improvements
Skylead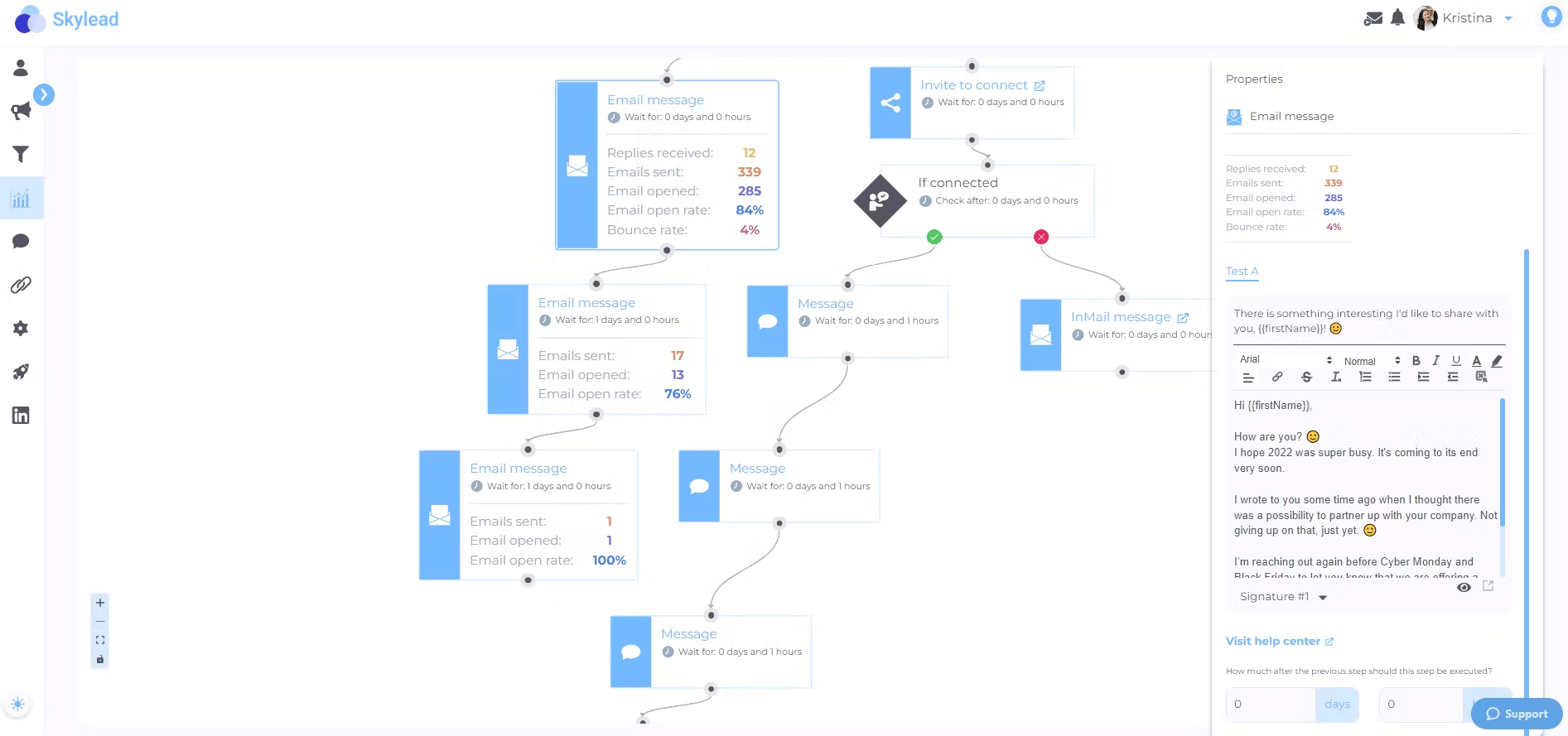 Skylead is an intuitive LinkedIn automation tool that helps create robust sequences. The platform allows businesses to track and convert qualified leads.
Moreover, SkyLead helps users send up to 500 hyper-personalized invites weekly. You can also connect with prospects using its boost mode.
Another unique feature of Skylead is its customizable LinkedIn email outreach templates. The tool automates scraping and verifying emails to reduce bounces. Furthermore, you can integrate with LinkedIn smart inbox and sales navigator.
What's more? Skylead provides real-time insights into your LinkedIn activities. As a result, you can detect areas of improvement and increase efficiency.
Features
Try SkyLead to make the most of the following features:
Create sequences using three-degree connections using personalized invites

Auto-stops sending messages once a prospect replies

Offers powerful analytics of campaign performance

Provides a live dashboard showcasing LinkedIn activities

It boasts a cloud-based system involving your unique IP address
Cleverly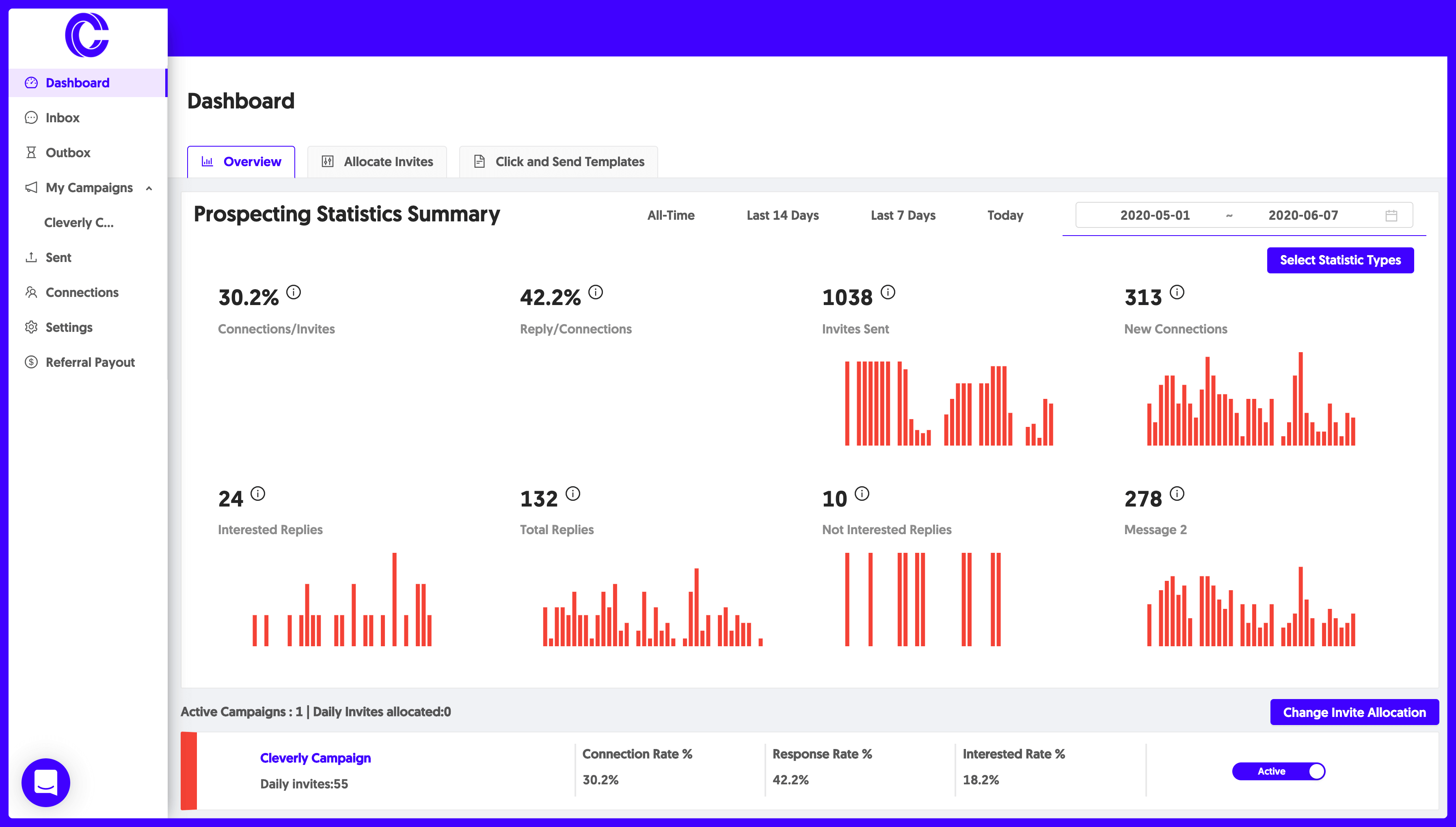 Cleverly is a unique LinkedIn message automation tool. The platform connects with prospects to encourage seamless communication.
What's more? The platform allows you to discover and target clients using filters. It includes title, location, age, seniority, and preferences.
Besides this, Cleverly helps you engage prospects by joining relevant pods. The tool stands out because of its excellent tracking capabilities. You can access engagement reports and timelines using this tool.
Features
Cleverly allows users to enjoy the following features:
Offers LinkedIn automation and automated prospecting to improve sales

Provides complete control of your community

Allows users to filter prospects based on seniority, job, and more

Helps you customize the lead-generation process
Wiza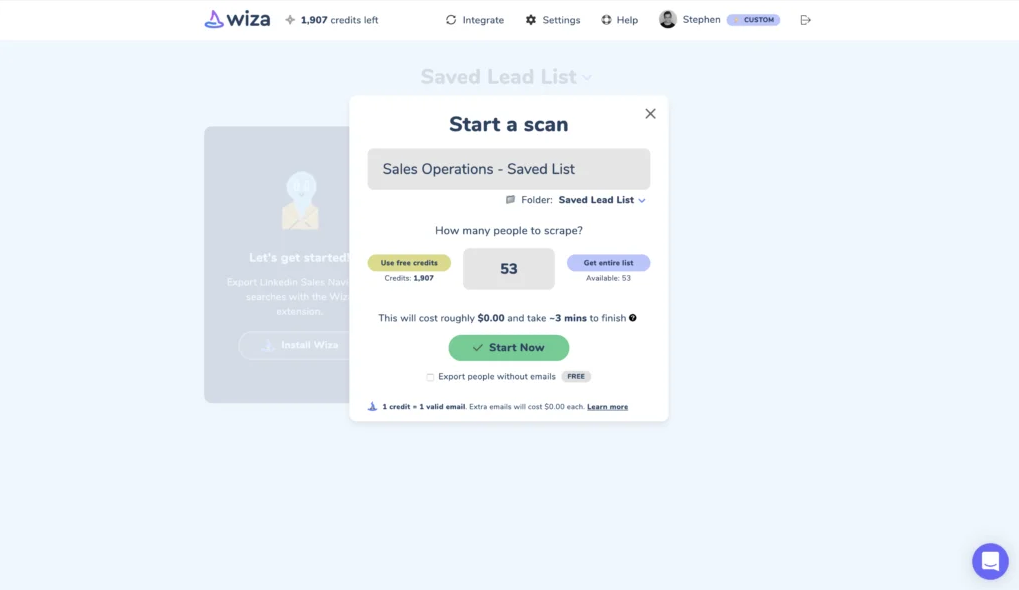 Wiza is the perfect lead generation tool for the sales team seeking verified leads. The user-friendly tool connects to your Sales Navigator and integrates with your browser. That means you can start prospecting in seconds!
Additionally, Wiza uses innovative technology to provide you with up-to-date contact information. The tool can export over 2500 contacts per scrape and 30 data points. But that's not all!
Wiza benefits the sales team by integrating with multiple CRM platforms. You can connect, share, and track data in one place without worrying about any task!
Features
Following are some features that Wiza offers:
Offers real-time email verification

Allows you to scrape 2500+ contacts per scrape

Provides cloud-based scraping to save time

Includes an easy-to-install and efficient Chrome extension

It can export leads to other CRMs
Dux-Soup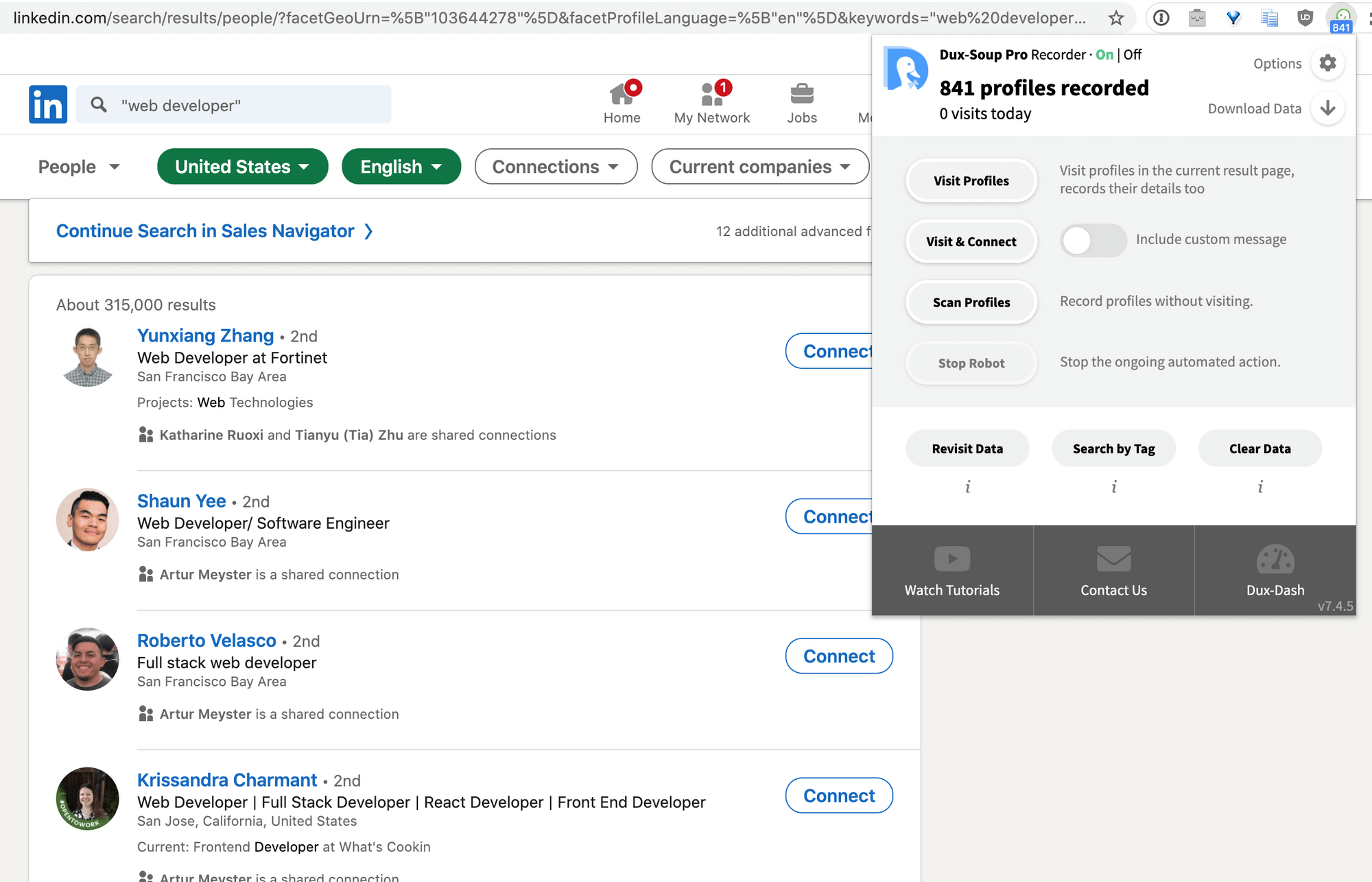 Dux-Soup is another fantastic LinkedIn automation tool for engaging with prospects. The highly intuitive and easy-to-use platform boasts a revolutionary software algorithm.
Using its advanced features, Dux-Soup automatically follows and endorses your LinkedIn prospects. In addition, the tool helps create and send personalized invites!
What's more? Dux-Soup allows you to automate sending messages based on filters. It includes job titles, industry, location, number of connections, and more.
Features
Try Dux-Soup to enjoy these features:
Engages with your LinkedIn prospects

Engages with your LinkedIn prospects

Allows you to personalize outreach and follow-up messages

Safe and effective tool for beginners

Integrates with various CRMs and automation tools
Expandi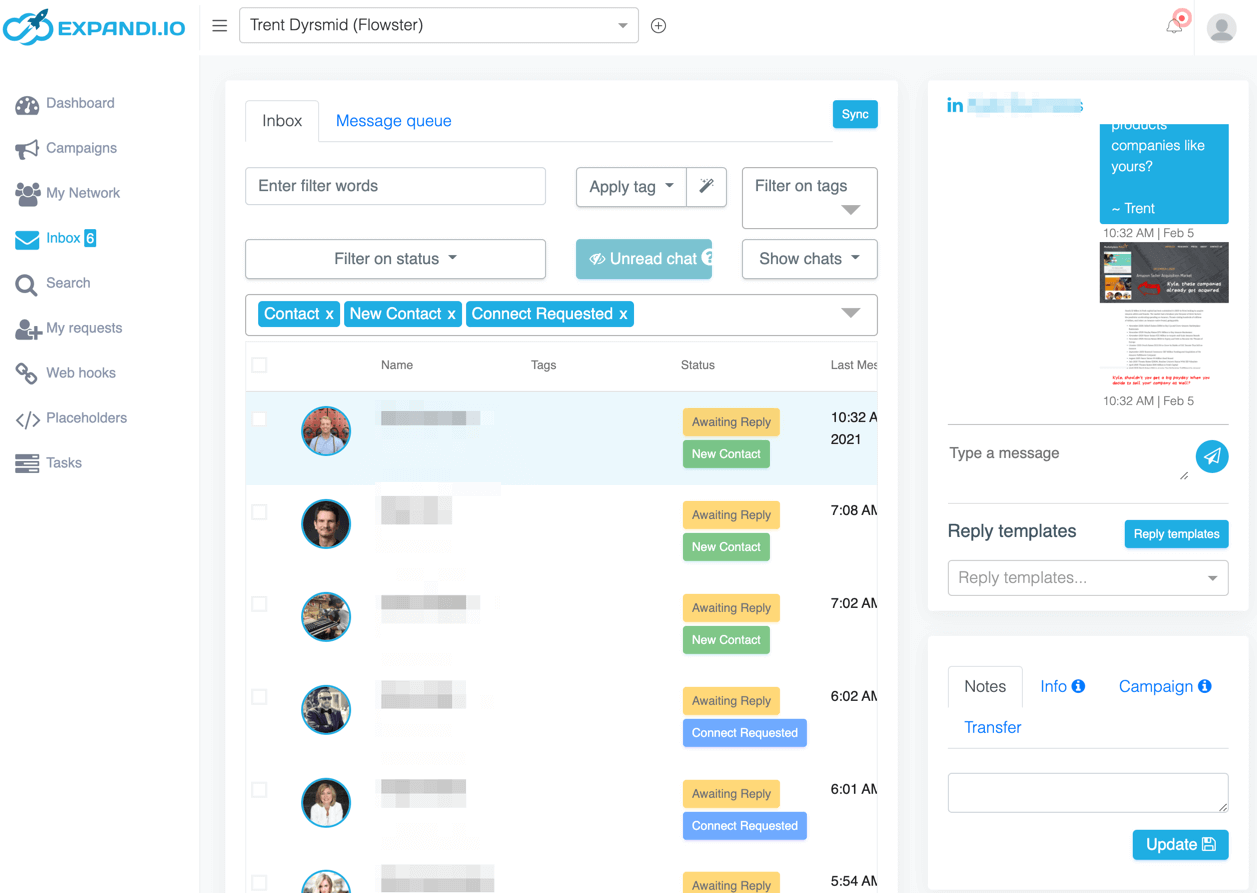 Expandi is a robust and safe LinkedIn automation software. The cloud-based platform helps you discover LinkedIn, Twitter, and Facebook profiles. The tool aids in improving lead generation by creating connector campaigns.
Moreover, Expandi boosts conversions by offering advanced targeting features. You can also unlock built-growth hacks to scale your brand. Plus, the platform helps create and automate personalized messages.
Besides this, you can integrate Expandi with various CRM tools. As a result, you can enhance your outreach efforts and attract qualified leads!
Features
Expandi offers the following:
Searches results to discover target audiences

Creates multiple outreach campaigns to grow leads

Automates personalized messages, InMails, and connection requests

Offers in-depth analytics and reports

Allows you to create scenarios based on customer behavior
How to Choose the Best LinkedIn Lead Generation Tool?
Selecting the ideal LinkedIn lead generation software can be tricky. But it doesn't have to be! You only need to consider several features to make the right decision. These include the following:
Identifying your needs and goals from the automation tool

Determining what your automation tool can say and its impact on prospects

Checking the timing and frequency of LinkedIn activity updates

Determining ways to monitor and track the automation tool
Let's discuss in-depth how you can find the perfect LinkedIn automation tool:
Ability to Target Audiences
Select a LinkedIn automation tool that helps you target audiences based on filters. These include job title, industry, seniority level, company size, and other relevant parameters.
In addition, many tools offer advanced search capabilities to generate leads. They can also help create custom audiences to empower campaigns. So, when selecting a lead generation tool, look for one that aligns with your needs.
Data Accuracy
LinkedIn lead generation tools collect up-to-date contact information to engage leads. You should seek software with robust data validation processes.
The best LinkedIn automation tools offer data enrichment services. That way, it helps enrich prospect data like phone numbers and social media. So, your desired software must gather and validate data effectively.
Read also: Best Data Enrichment Tools
Automation and Customization
Another benefit of using LinkedIn lead generation tools is its automation capabilities.
Seek a LinkedIn automation tool that automates repetitive tasks like invitation requests. Many platforms also offer automated lead nurturing and conversion tools.
So, we recommend looking for tools with customization options. Your software should offer personalized messages and campaigns.
Third-Party Integration
Your LinkedIn automation tool should integrate with CRM, automation software, and sales automation. So, seek platforms with built-in integrations or open APIs.
Additionally, check your desired tools' data syncing and mapping capabilities. Your LinkedIn automation software should integrate across your tech stack.
Cost
LinkedIn lead generation tools vary from pricey to free of cost!
Before investing in a LinkedIn automation tool, identify the value it provides. We also recommend looking for hidden prices or overage charges.
Choose Octopus CRM Lead Generation Tool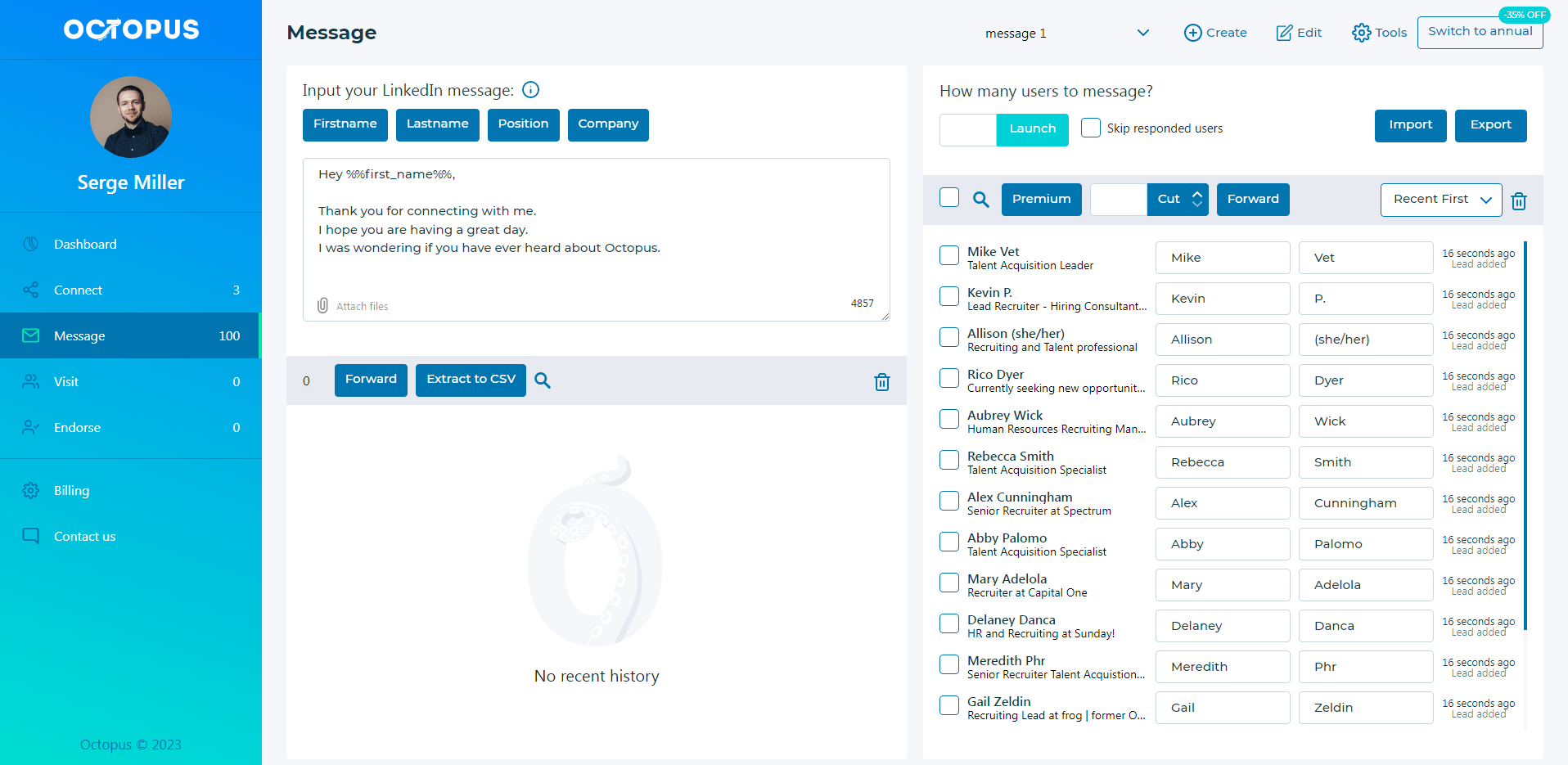 Octopus CRM is an all-in-one LinkedIn automation tool for streamlining your lead-generation process. The powerful software helps manage leads and outreach campaigns to increase efficiency.
With Octopus CRM, you can automate repetitive tasks. These include connection requests, InMail, and messages to connect with potential leads. You can also automate connection requests to grow outreach.
Another benefit of this LinkedIn lead generation tool is its lead management features. Octopus CRM can help you track leads, tag them based on filters, and manage tasks. That way, you can enhance outreach efforts and capture qualified leads.
Furthermore, the tool automates routine lead-generation tasks to nurture leads. Octopus CRM also auto endorses up to seven skills on prospects' profiles. You can even bypass LinkedIn's weekly invite to capture more leads!
Why Octopus CRM Stands Out?
Octopus CRM's unique features make it ideal for LinkedIn users. With this tool, you can save time and increase efficiency! The platform automates invitation requests and helps bypass LinkedIn's limits. It also lets you customize and personalize campaigns and messages!
So, are you ready to supercharge your LinkedIn automation journey? Ready to supercharge your LinkedIn automation journey? Get started by leveraging Octopus CRM today!