Searching for LinkedIn profiles for potential clients and businesses is a tiresome job. But with LinkedIn scraping tools, all the worries have vanished. Scraping LinkedIn profiles has become relatively easy with the best LinkedIn automation tools.
LinkedIn Scraping tool gathers and extracts valuable data from LinkedIn. It makes searching for profiles and reaching potential clients quickly. But how do you choose the perfect scraping tool when many options are available? Do not worry! 
In this article, we will discuss top LinkedIn scraping tools to help you to choose the best. LinkedIn scraping tool will benefit you whether you work as a recruiter or a salesperson.  
But before we dive into these fantastic tools, let us discuss the basics. 
Read also: Best Recruitment Automation Tools
What Is a LinkedIn Scraper?
Finding and gathering the right leads to target is the most challenging task. It is a time-consuming task and requires in-depth research work. If you are an amateur, you will need some time to master it. 
Luckily, LinkedIn scraping tools can complete this tedious and time-consuming task within minutes. It helps you find potential clients on LinkedIn, thus making the process simpler. It automatically skims through your targets' LinkedIn profiles and extracts the contact information. This information includes:
Name

Phone Number

Email

Position, 

Company etc.
Most businesses use this crucial information in B2B marketing activities. They use this data to personalize their outreach and close deals. If you work as a salesperson, you know how impossible it is to collect this information manually. The cost-benefit ratio is exceptionally high, with declining conversion rates.
How Does LinkedIn Scraper Work?
LinkedIn scraping is similar to other web scraping tools. It involves extracting and structuring data automatically. Then, you can export the information into an excel file through smart cookies.
LinkedIn scraping will save you time and effort. Let us take an example of a recruiter with a list of forty candidates. The person uses the scraping tool and plugs in LinkedIn profile URLs. The best LinkedIn data extraction tool forms an excel sheet that includes crucial information. The data in the excel sheet consists of the full name, company, email address, headline, and location.
But you must be careful when using scraping tools on LinkedIn. The platform constantly checks if there are any suspicious activities. So, you must scrap data ethically. People with standard accounts can scrape 80 profiles a day. Do not exceed 100 pages in search results extraction, post-extraction, and article extraction. If you follow the advice above, you will keep your account safe from bans. 
Does LinkedIn Allow Scraping Personal Information?
LinkedIn forbids the unlawful scraping of its platform's data. It includes
automatic LinkedIn profile viewing

scraping data from LinkedIn members using bots

False account creation for data scraping at various stages
Scraping accessible data from LinkedIn for your marketing activities is not unethical. LinkedIn job scrapers streamline the task and compile the results into usable formats.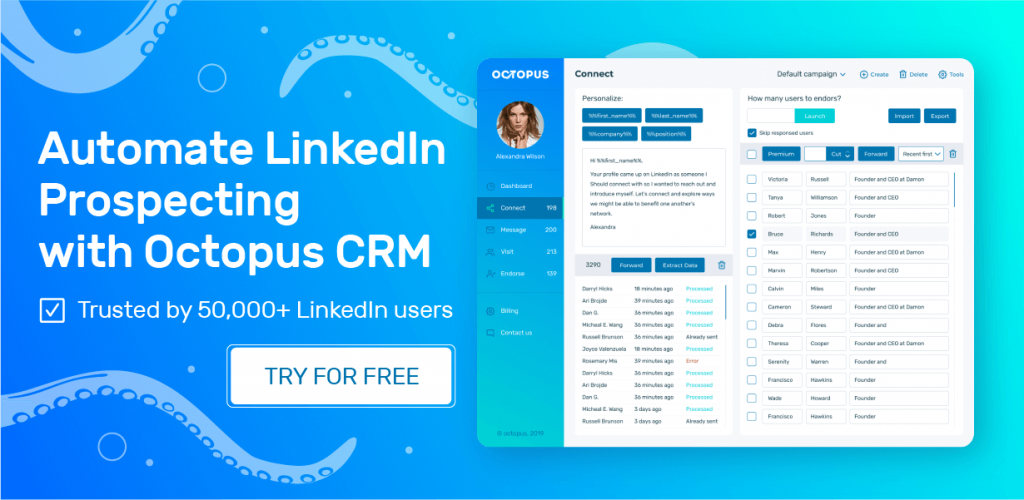 LinkedIn Scrapers Benefits
You cannot manually scrape LinkedIn search results since it would take too long. That is why LinkedIn users use LinkedIn email scrapers. Using tools for scraping LinkedIn has a lot of advantages. Here, we've listed the advantages of a LinkedIn scraping tool. These benefits will show how LinkedIn scrapers API is supporting your business growth.
Read also: Ultimate Sales Automation Guide
Improve Email Marketing
A LinkedIn scraping tool helps companies to enhance their email marketing strategy. You can collect the data you need to segment your mailing lists. This data will help develop targeted ads by scraping information from LinkedIn profiles.
Sending tailored and relevant emails to your users will enhance your open and click-through rates because of the scraped data. LinkedIn data scraping increases the number of high-quality, up-to-date, and relevant leads on your email lists.
Read also: Best Email Marketing Automation Tools
Ease Data Collection from LinkedIn
Since businesses need contact information, it is crucial to use a simple method to scrape and extract data from profiles. Not everyone can learn to code to extract data from LinkedIn profiles. Salespeople can use LinkedIn scraping tools to find, extract, organize, and export data into an excel file. 
The LinkedIn data extractor tool is a fantastic starting point for quickly extracting bulk data. Generally, using LinkedIn data scraping tools will increase in the upcoming years.
Study Your Competitors
Scraping data from LinkedIn can be an effective tool for keeping an eye on your competitors. Scraping competitors' data will help you understand their target market and the kinds of material that engage them. Also, you'll learn who works for your competitors' businesses.
Following that, you may use the data gathered to improve your LinkedIn marketing techniques and beat out the competition. You can research the content types and levels of interaction shared by your competitors using a LinkedIn post scraper. With this knowledge, you can enhance the quality and usefulness of your content.
Brand Monitoring
Clients can engage with your brand through your LinkedIn page and related groups. Both appreciation and criticism will enhance your offering and develop robust outreach initiatives.
LinkedIn Data Analysis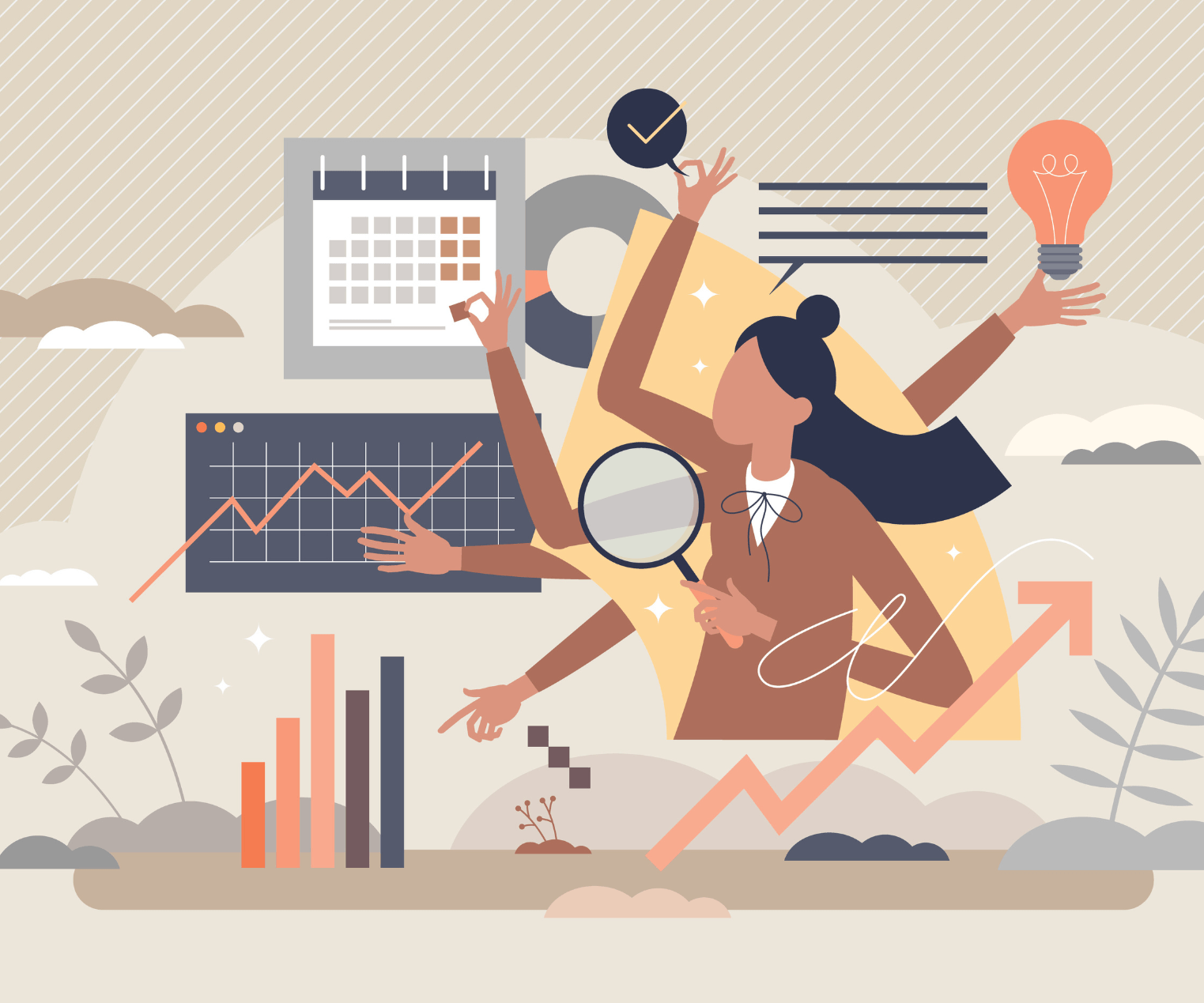 The best LinkedIn scraping tools can extract data from LinkedIn accounts. The tool can extract job titles, business names, and educational backgrounds. Then, by analyzing this data, you may learn more about your LinkedIn target market.
For instance, you can use the data to assess the sectors, job titles, and employers of your target audience. You can use this data to customize your outreach and marketing messaging.
Lead Generation
The marketing plan of every business heavily relies on leads. You can use the LinkedIn lead generation tool to gather hundreds of leads daily for your marketing strategy. One of the significant benefits of using LinkedIn scraping tools is that it allows users to extract crucial information. This information can be the account holder's name, contact information, job description, URL to the profile, and more. Users can use this information to connect with prospective clients for marketing or sales purposes.
Create an Effective Database
LinkedIn URL scrapers allow users to create a detailed database of leads with the information they have retrieved. The gathered information helps salespeople to send customized messages and LinkedIn outreach campaigns.
When HR and marketing agencies use reliable data extraction tools, they can quickly collect a huge amount of data. This helps them create a reliable database within minutes. Using extraction tools saves time and energy that is otherwise spent manually collecting data. 
Read also: Why You Need Octopus CRM for Marketing Agency and Why You Need Octopus CRM for Recruiters
Customer Behavior and Shopping Trends
LinkedIn scraping tools help create effective marketing campaigns for promoting services and goods. Moreover, it provides insights into the customers' demands to understand their needs and expectations from your products. Data scraping LinkedIn comments and reviews will have significant importance in the future. 
Automate the Outreach Process
Combining the LinkedIn scrapers with other applications will automate the outreach process.  For example, a LinkedIn scraper can extract information from LinkedIn profiles. Then, import the data into a CRM tool. It will help you send customized email campaigns automatically to contacts on your LinkedIn account. Also, you can save time and maintain contact with your network.
Marketing Efforts
Generating leads will soon use LinkedIn crawling as a critical tool. LinkedIn automation software can find specific products and services targeting particular sectors. With these tools, you can contact specific clients and gather focused data from LinkedIn for marketing efforts. LinkedIn crawling technologies can further strengthen your marketing initiatives. Don't forget to use LinkedIn automation safely to avoid spam filters.
Read also: How to Automate LinkedIn to Help You Save Time
Conduct Focused Searches
LinkedIn company scrapers can do focused searches based on particular requirements. For instance, you can look for experts in a specific field, region, or position. By doing this, you can expand your network on LinkedIn by connecting with the appropriate people.
Top 14 LinkedIn Scraping Tools
Here we will discuss the fourteen best LinkedIn Scraping tools to automate your prospecting: 
Octopus CRM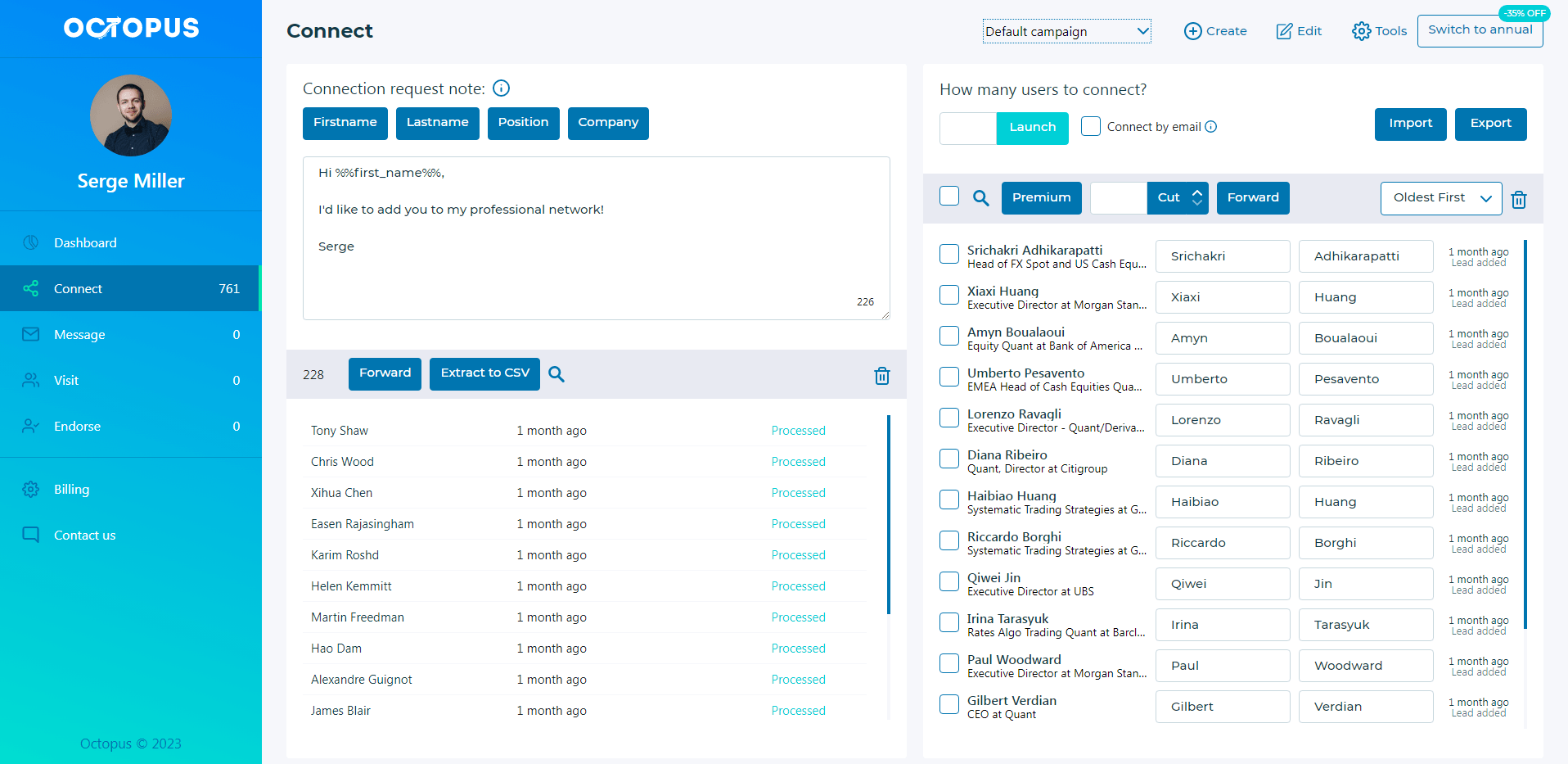 Octopus CRM is an excellent LinkedIn scraping tool. It enables you to extract information from LinkedIn profiles. Moreover, it streamlines sales outreach, lead generation, and marketing campaign-related tasks. 
It can extract crucial data from company pages and LinkedIn profiles, including name, email address, job title, and company name. It is an easy-to-use solution that automates your LinkedIn outreach activities. Furthermore, it effectively manages your sales pipeline and lead generation. 
You can instantly gather the most up-to-date information on your prospects with a LinkedIn profile scraper. Octopus CRM makes it simpler to interact with them and win their business. It enables you to sort and filter the retrieved data. Moreover, it makes dividing your target audience into groups simple. You can segment the audience according to job title, industry, geography, etc.
Octopus CRM has cutting-edge features. These include automated LinkedIn messages, connection requests, and data scraping. You may use this tool to connect with new prospects, send personalized messages, and manage your LinkedIn outreach efforts.
Additionally, Octopus CRM provides analytics and reporting capabilities. It lets you track your campaign's success and gradually improves your outreach efforts.
Dripify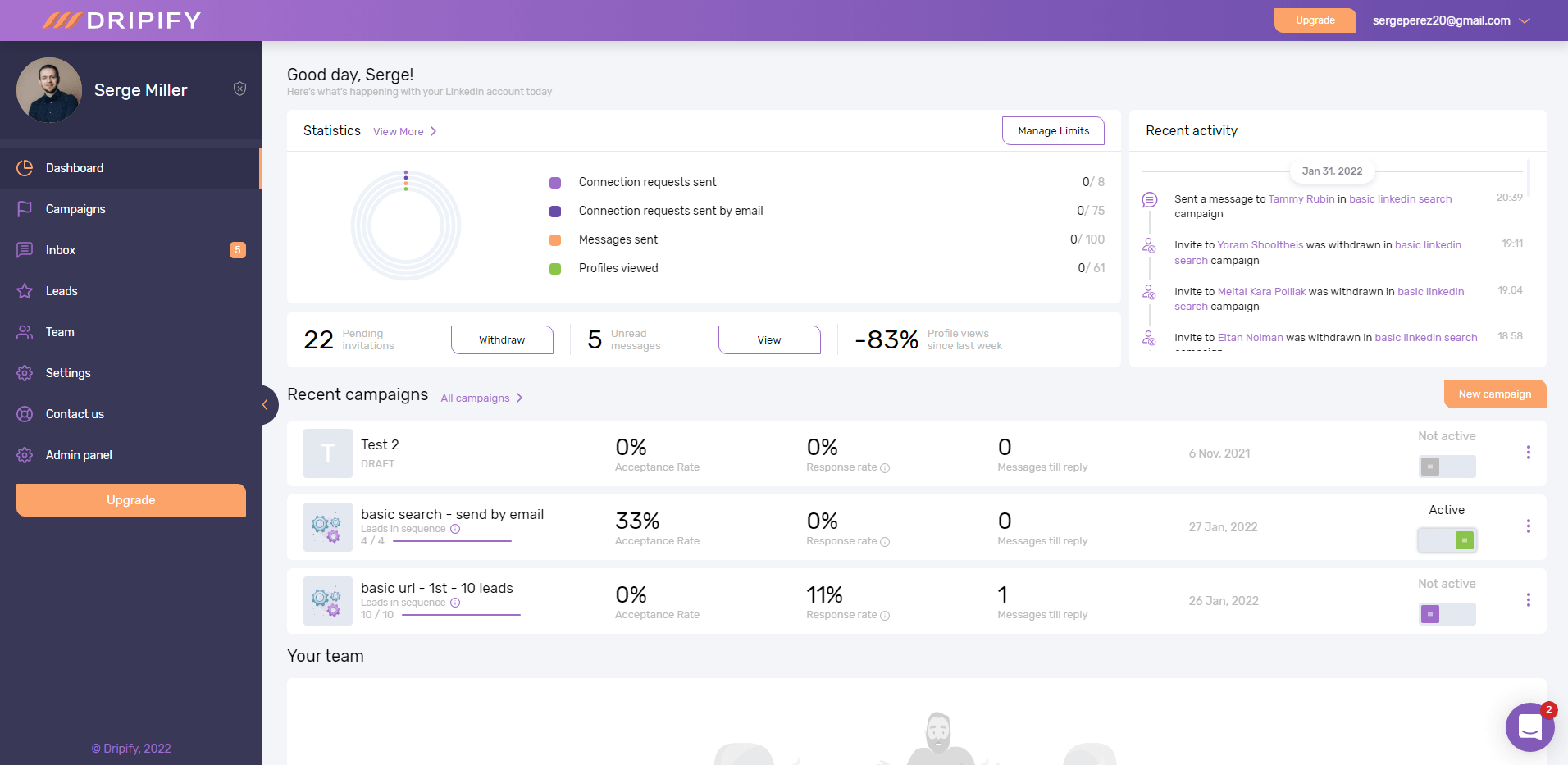 It is an effective LinkedIn scraper that enables users to gather information and insights from LinkedIn. With Dripify, automating the retrieval of data from LinkedIn is simple. It helps you save time while getting the crucial information you need.
Users may easily set up scraping operations using a user-friendly LinkedIn email scraper. It lets you easily scrape LinkedIn searches and export the data in CSV format.
Dripify can collect data from LinkedIn profiles at scale. It is one of its main advantages when used as a scraper for LinkedIn. It lets you gather crucial information by extracting data from many LinkedIn accounts.
It lets you extract essential information about your target audiences. It may include top skills, colleges or universities, mutual organizations, and profile types. It filters and sorts out retrieved data to implement and analyze it for numerous applications.
Dripify allows you to design drip campaigns. It also automates connection requests, messages, and robust data extraction capabilities. That is why it broadens your network and connects you with potential customers, partners, or candidates.
Linked Helper 2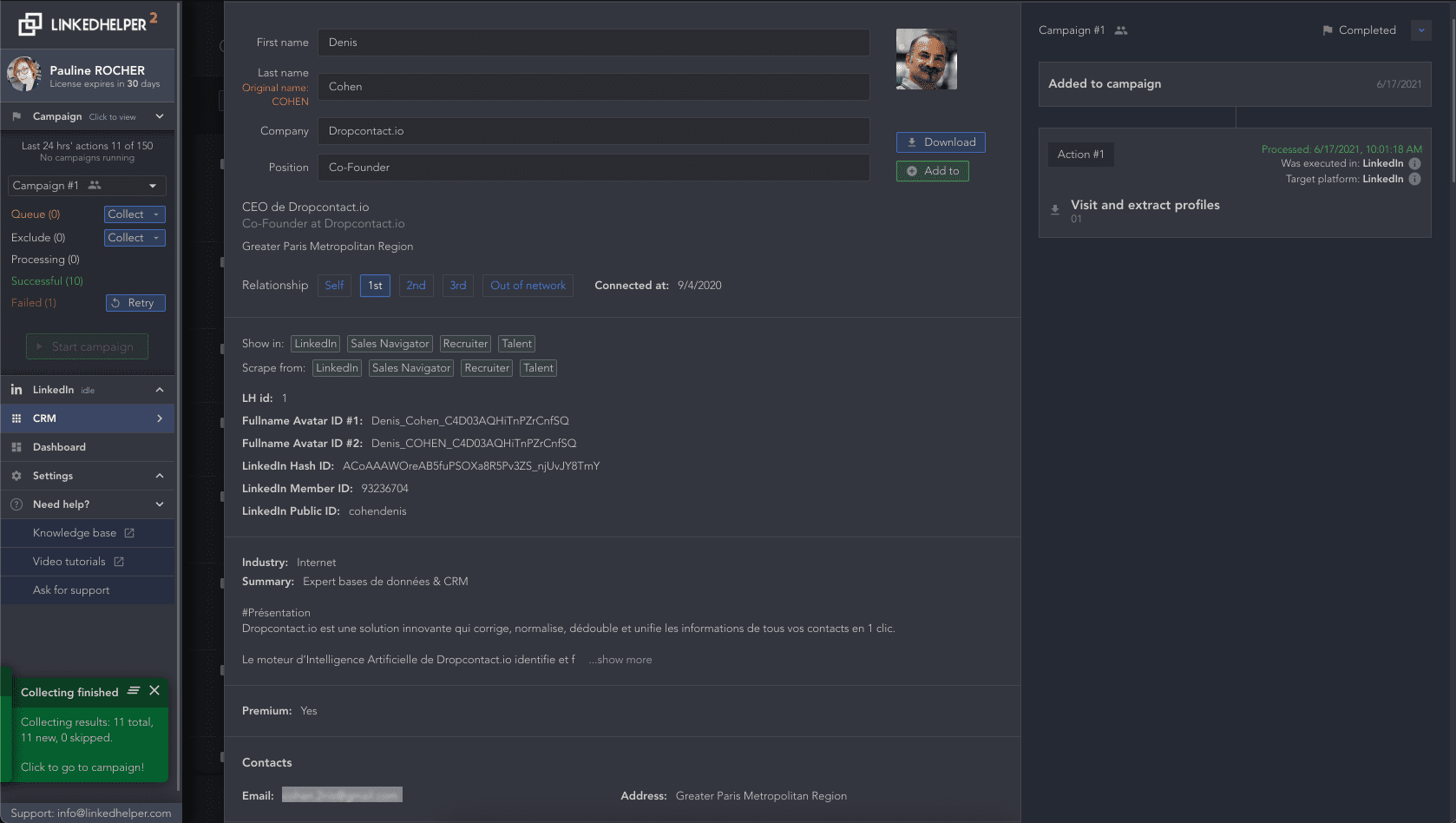 Linked helper 2, a LinkedIn automation application, has a practical data-scraping feature. It assists both people and companies in automating their lead generation and outreach procedures.
Using this application, you can take information from LinkedIn profiles, such as email addresses and names. Later, you can send it directly to Zapier or your CRM to nurture and improve the information. You can use the gathered data to build customized lists of potential customers. This will help you in lead generation and outreach campaigns.
You will enjoy using this automation tool, especially if your focus is prospecting on LinkedIn. It is a feature-rich tool that is simple to use. You can save time and increase the effectiveness of your LinkedIn outreach effort.
Proxycurl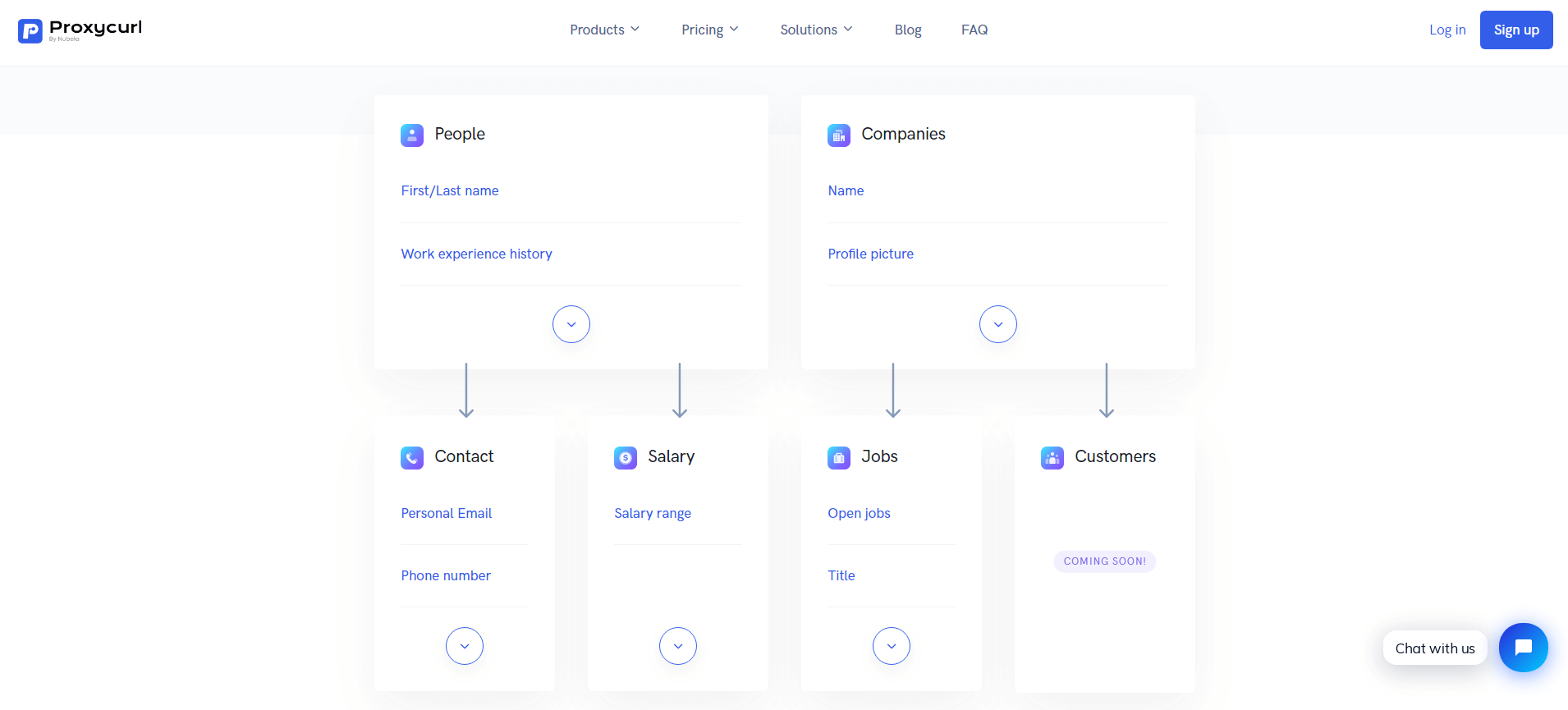 An API called Proxycurl allows for mass LinkedIn profile extraction. Proxycurl, a LinkedIn API, has a daily scrape capacity of 1 million LinkedIn profiles. It doesn't just scrape user data but also company and employment profiles.
Proxycurl can provide your business with valuable data you can apply most effectively. It enables quick and effective data extraction from LinkedIn profiles. Moreover, it processes and organizes the data to make it worthwhile.
People who value cost and time effectiveness will find the crawling service ideal. It can surpass most rate-limiting mechanisms used by complicated websites like LinkedIn. Proxycurl can bypass Recaptchas and Bot Detection, crawling up to a staggering 1 million pages in real time each day.
Yet it only scrapes public profiles since it respects LinkedIn profiles' privacy settings. It indicates that the information Proxycurl can scrape similar information that Google can scrape and display to users in the EU.
Dux-Soup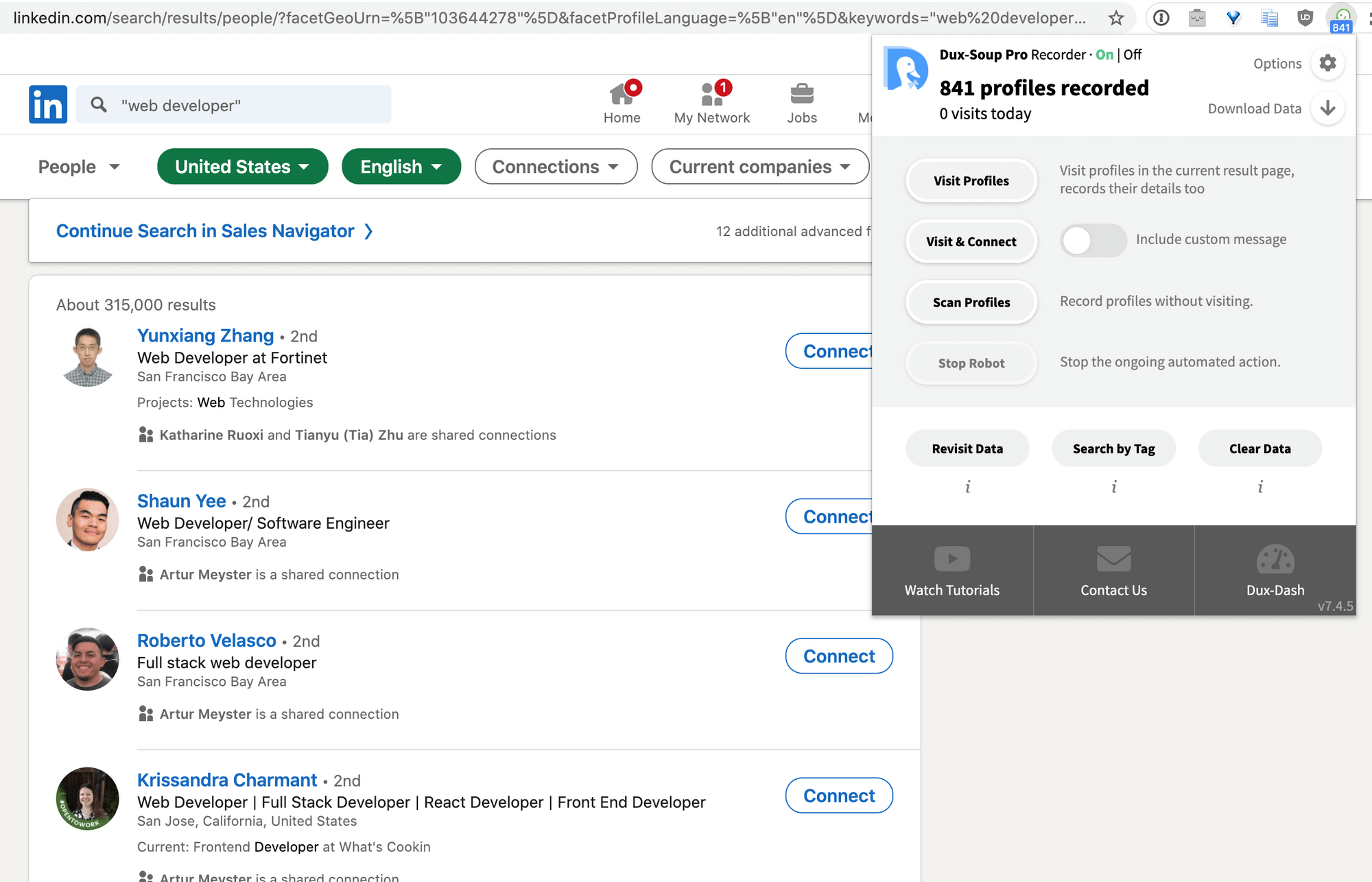 Offering a Chrome extension, Dux-Soup is another top-notch scraper tool. Therefore, there is no need to download this tool onto your computers. Users can use the Chrome extension to scrape the necessary data into excel files. 
Dux-Soup instantly connects with your LinkedIn profiles. Furthermore, this automation tool can scrape other users' contact information from their LinkedIn profiles to connect you with clients and prospects. 
It also offers an add-on to help users manage their LinkedIn accounts easily. Spending a minimum of $9.92 could help you start lead-generation strategies for your LinkedIn profiles. Since the automation tool imitates human behavior, you will not face any ban or suspension from LinkedIn. If you want to learn more about the automation tool, you can use its trial version. This offer allows users to understand the key features and functions it performs to decide if it is a perfect choice. 
Phantombuster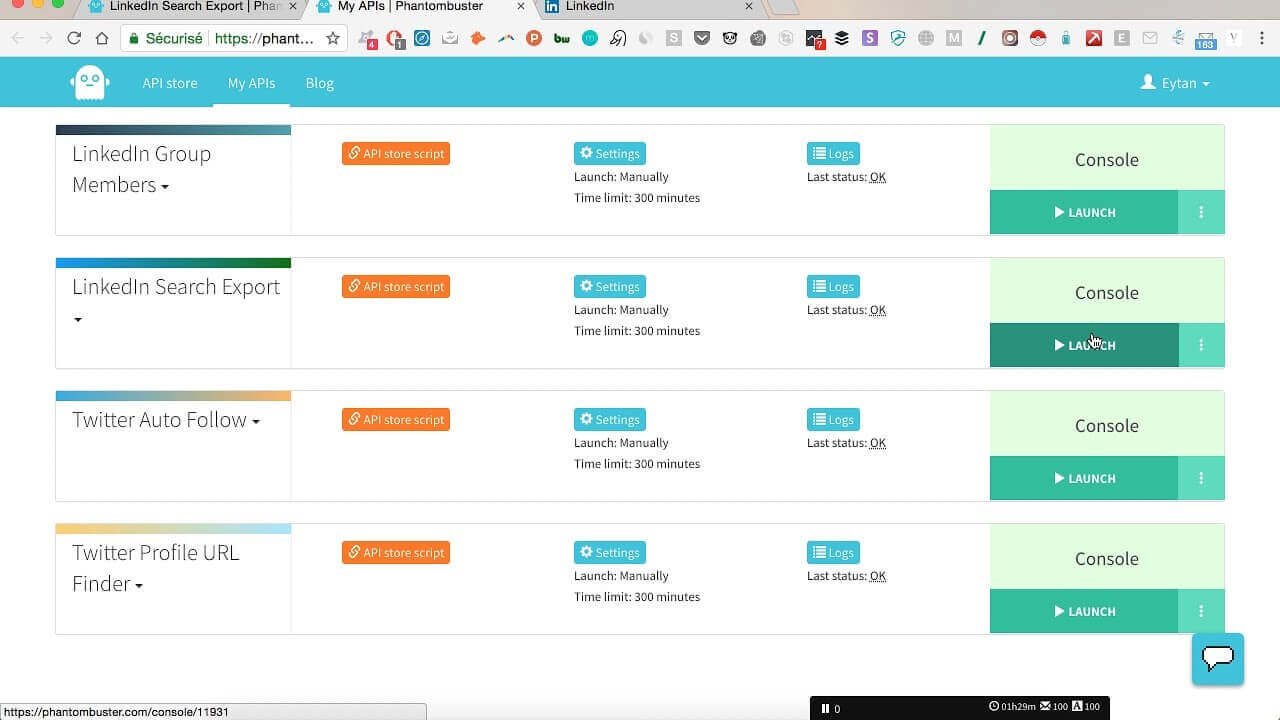 Phantombuster is among the best LinkedIn scraping and prospecting tools. You can easily enjoy over 50 automation processes using this fantastic tool. However, you need to submit your login information to automate the process of scraping data.
PhantomBuster is practical for quick scraping of LinkedIn for individual use. It is effective for an account executive. It is an excellent option if you're trying to scrape your connections from LinkedIn as part of an automated cold email campaign.
Along with committing to ethical scraping, PhantomBuster safeguards your profile from LinkedIn bans. It only permits users to scrape publicly available data. The built-in proxy capability offers an extra layer of protection. PhantomBuster also provides a collection of phantoms for other platforms, such as social media giants.
It enables you to get the following information from LinkedIn profiles:
A simple LinkedIn URL

comments on a post

likes on a post; 

a LinkedIn Sales Navigator search

LinkedIn groups

the number of followers on their company page.
Derrick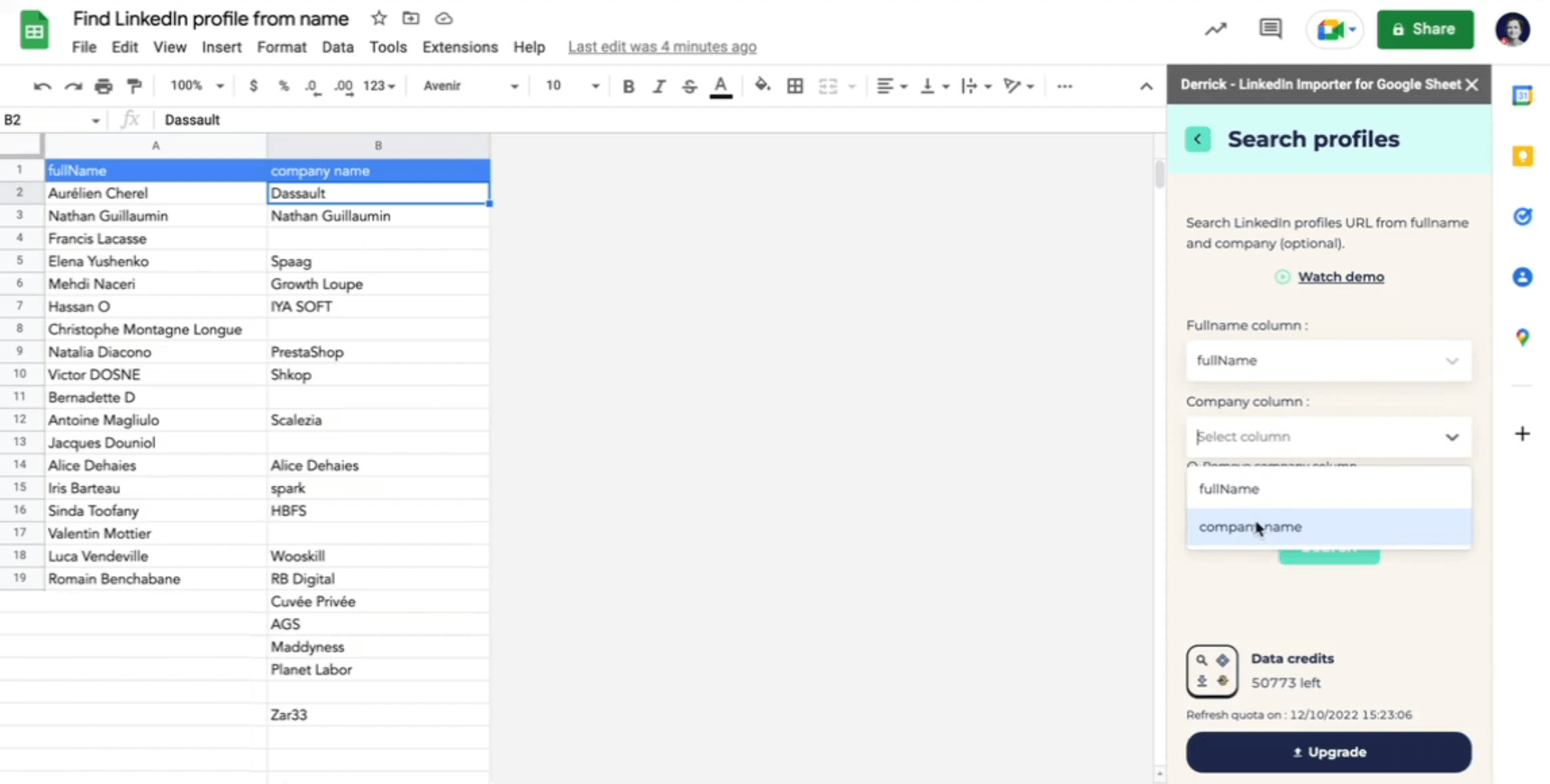 Derrick is a powerful data extraction tool. It streamlines tedious tasks and helps salespersons retrieve crucial information. 
You can use Derrick's vital data-scraping tools, including the LinkedIn data-scraping capability. It integrates with Google Sheets while offering functionality for processing and enriching data.
The tools assist companies and organizations in generating new lead lists without expertise. Derrick extracts data from LinkedIn Sales Navigator to create a more modern and targeted database. 
The innovative software uses cutting-edge algorithms to extract helpful information from LinkedIn. It further exports it to internal platforms like HubSpot or Zapier. Its straightforward UI makes retrieving data from LinkedIn accounts easy.
The customization possibilities help you focus your searches and reach particular target audiences. You may be sure that Derrick is gathering the appropriate data so you can make wise decisions and expand your company.
CoreSignal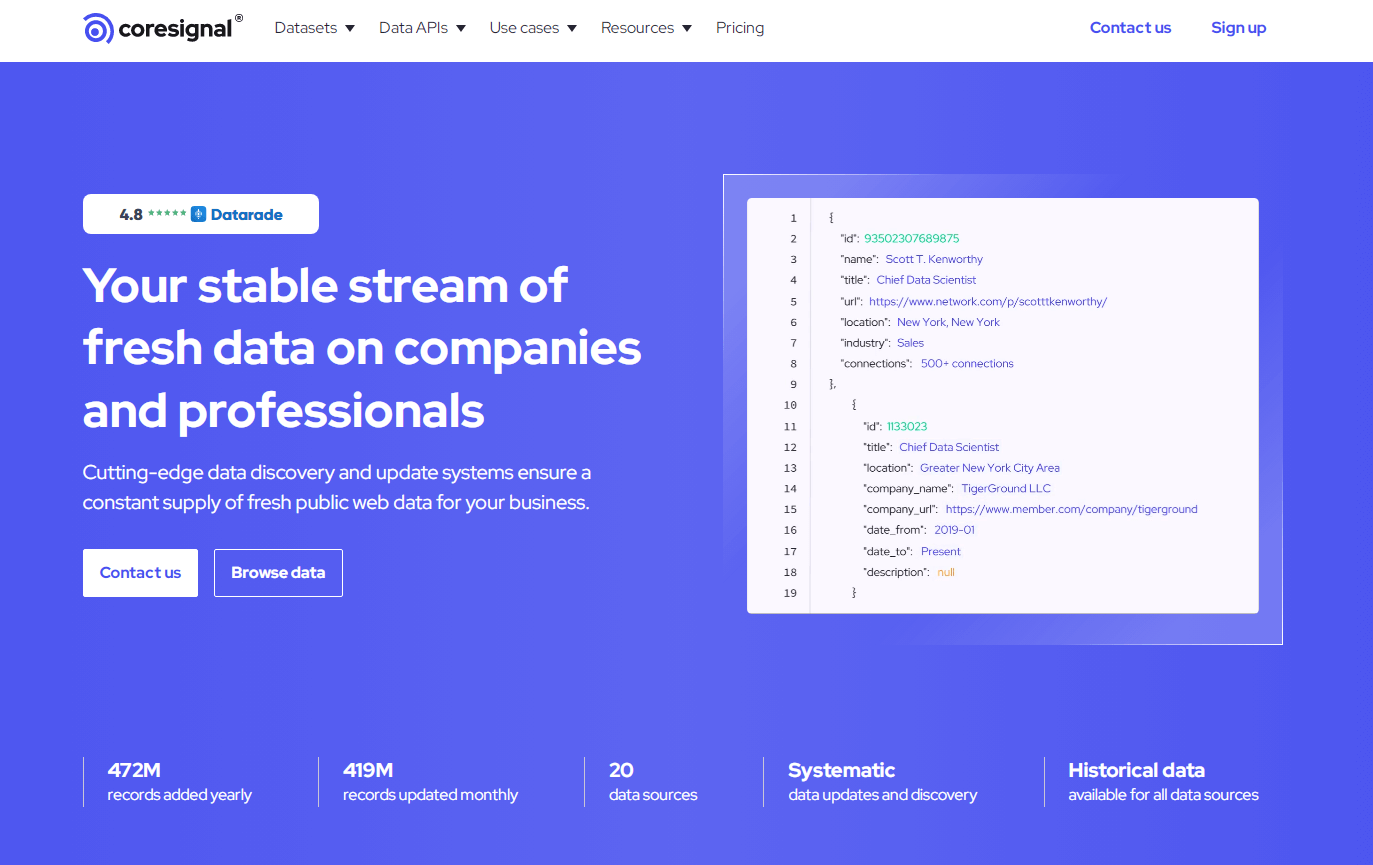 CoreSignal is a powerful data-scraping technology that makes new data accessible to any business or person. It enables you to locate and scrape information from publicly accessible profiles.
You can use it to scrape LinkedIn profiles using various filters, including company names, job titles, and industries.
Once you have extracted the data, you can export the file in JSON or CSV formats or send the gathered information to your preferred storage.
The program uses cutting-edge methods to extract data from LinkedIn accounts. Also, it allows you to view and download data samples, customize them, and generate new data dictionaries.
This automation tool is a flexible tool for data analysis and extraction. Coresignal is perfect for extracting insights and valuable data from LinkedIn profiles.
PeopleDataLabs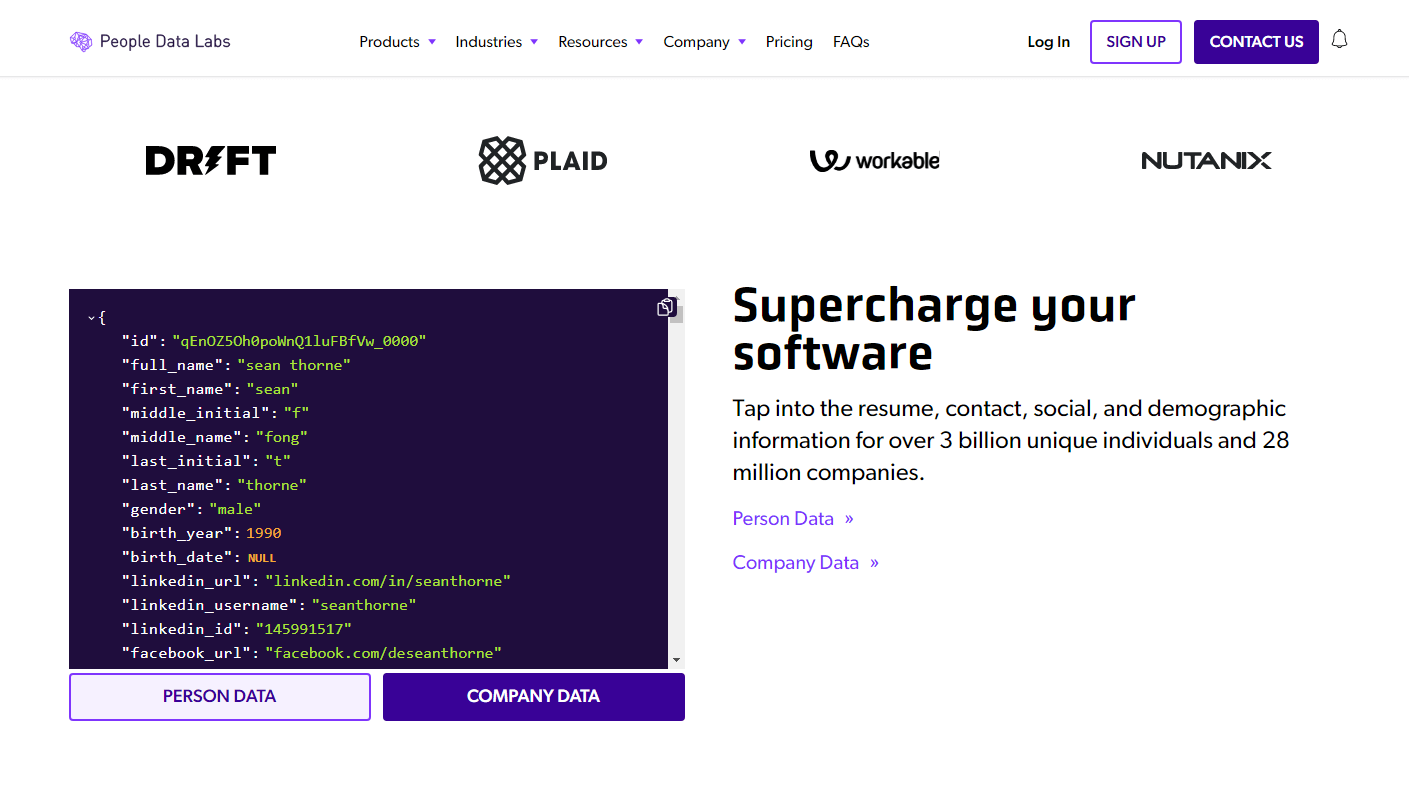 HR and marketing departments can make data-driven, informed choices with PeopleDataLabs' LinkedIn scraper. Using this scraping tool, you can collect information about possible prospects and leads from LinkedIn.
Its cutting-edge algorithms help retrieve relevant information from websites, including LinkedIn. You can quickly establish tailored marketing efforts. Accessing relevant data also lets you easily interact with prospective customers. 
The reliable information provided by PeopleDataLabs is its main benefit. The tool's high level of accuracy in data extraction from LinkedIn profiles ensures that the data you gather is accurate and updated. It is crucial for companies that depend on precise data to decide what marketing tactics to employ.
You can be confident that the information gathered with PeopleDataLabs is accurate. Furthermore, this data will help your marketing efforts succeed. The technology also makes it simple to export data to other platforms, such as CRM programs, making it a more practical option.
Meet Alfred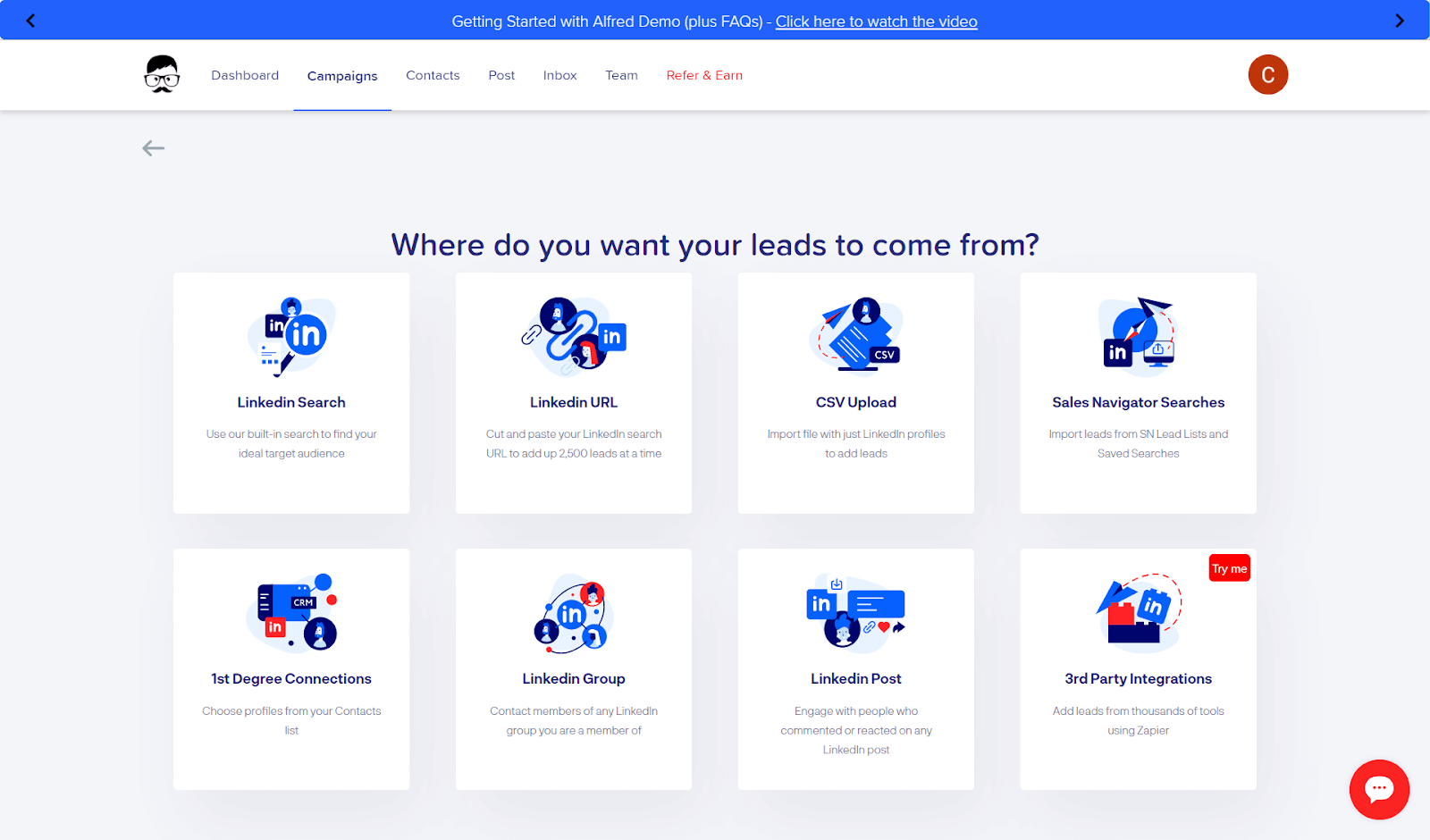 Meet Alfred is an exceptionally helpful LinkedIn scraper for CRM sync. It lets you gather crucial data to connect with important company leads. Moreover, you can also quickly export this data to CRM.
They provide a two-week free trial to determine whether they are the best scraper for you. They may also assist you in managing your LinkedIn relationships and leads so that you don't lose any data or become overburdened with the task.
Instead of scraping anything that crosses their path, they only collect LinkedIn data that will genuinely help your brand. They believe in their ability to create and maintain effective LinkedIn networks. They offer a chat box, so you may speak with them before you begin.
La Growth Machine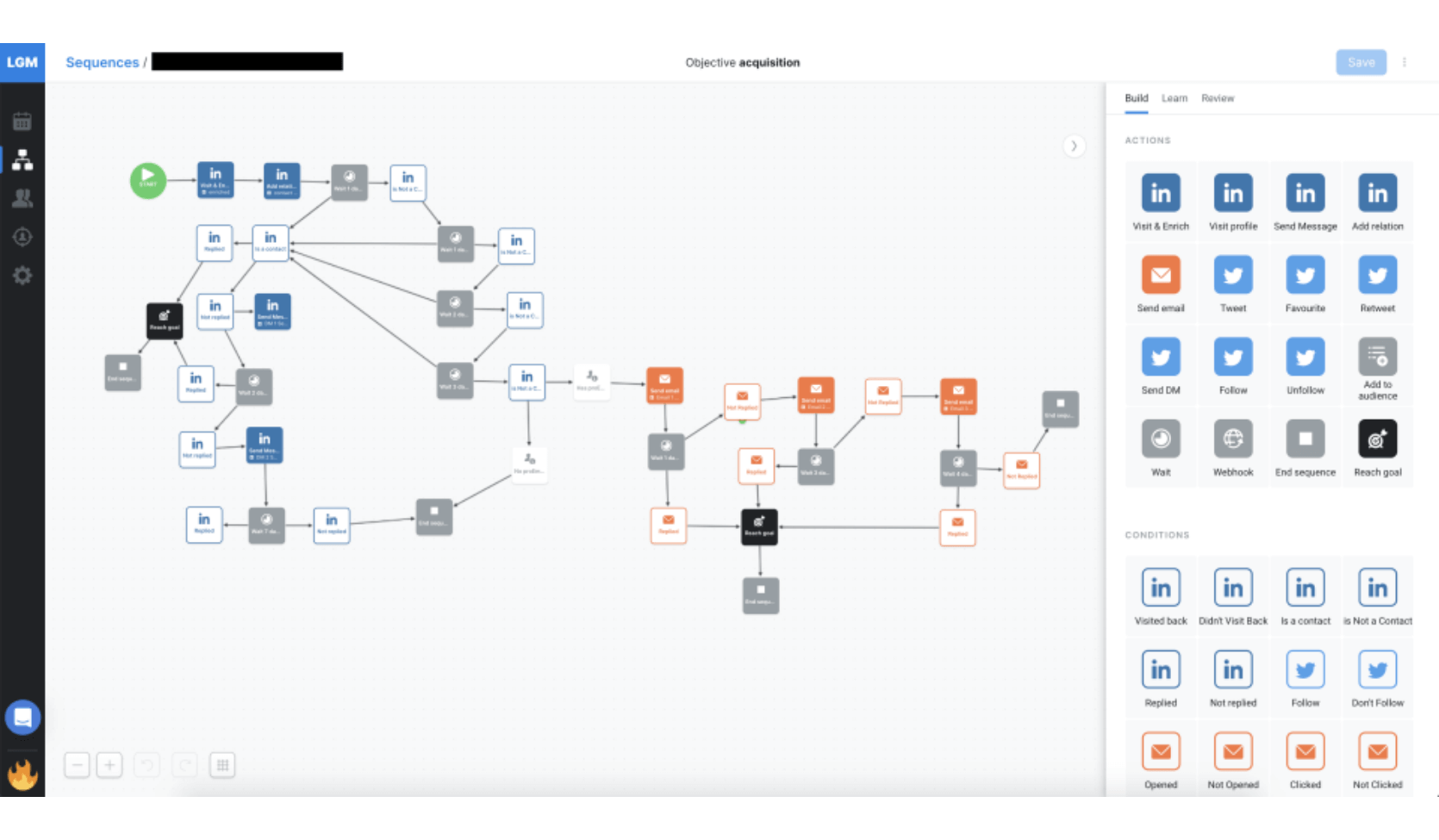 La Growth Machine is a solution for automated multi-channel prospecting. It lets you gather information about prospective leads from LinkedIn, Twitter, and others. You can use it to scrape LinkedIn, collect your prospects' information, and fully tailor your recruiting process.
Using it as a LinkedIn URL scraper, you'll also gain actionable information and connect with your leads at the ideal time and location. That's because the technology extracts data from LinkedIn accounts. Then, it analyzes and dives into the information gathered. It lets you learn more about your target market's demands and interests.
You can create qualified leads using La Growth Machine and send targeted messages. You can develop tailored marketing efforts for your target market with such comprehensive data. The technology also makes it simple to export data to other platforms, such as CRM programs, making it a more practical option.
ProspectIn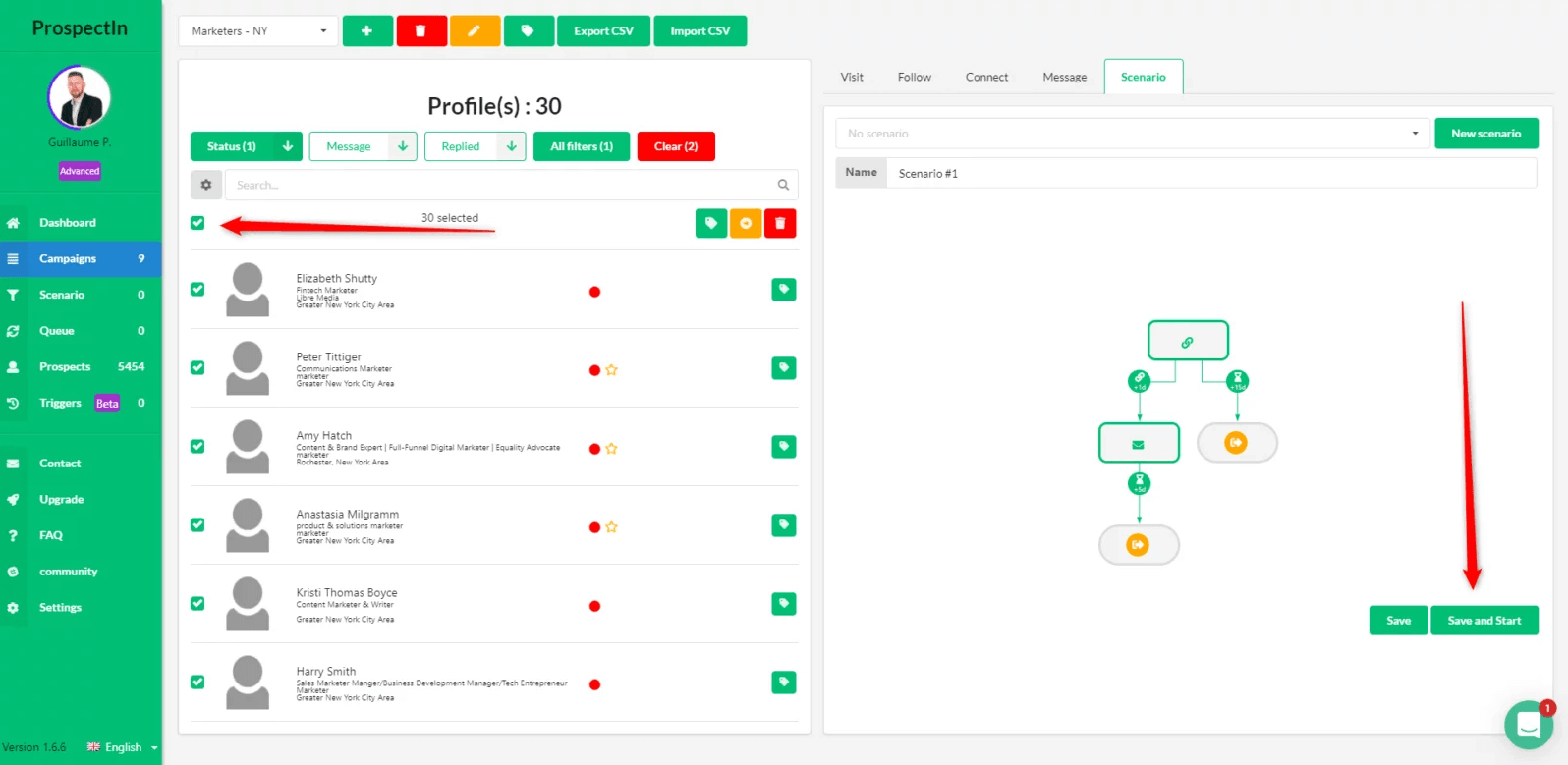 ProspectIn is a potent data extraction tool. You can automate your LinkedIn outreach tasks with ProspectIn. It allows you to streamline profile visits, messaging, skill endorsements, follow-ups, and more. One of its main benefits is its ability to scrape LinkedIn profiles and sites for data, which lets you obtain information from them.
Then, you may use the data you scraped to develop targeted outreach strategies and increase the number of leads coming to your company. To extract data, you can use variables like job title, region, and industry. ProspectIn also enables you to target particular LinkedIn accounts. It makes locating and interacting with possible prospects simple.
There are strict limitations on how many messages, connections, and profile visits a person can make on LinkedIn daily. LinkedIn may suspend or even delete your account if you go over these restrictions. You can limit your daily activity using ProspectIn's "Safe mode" function to ensure you don't exceed LinkedIn's limits. 
It enables users to automate their outreach and lead-generation campaigns securely. Besides, it mitigates the risk of suspending or terminating their LinkedIn accounts due to automation.
Lemlist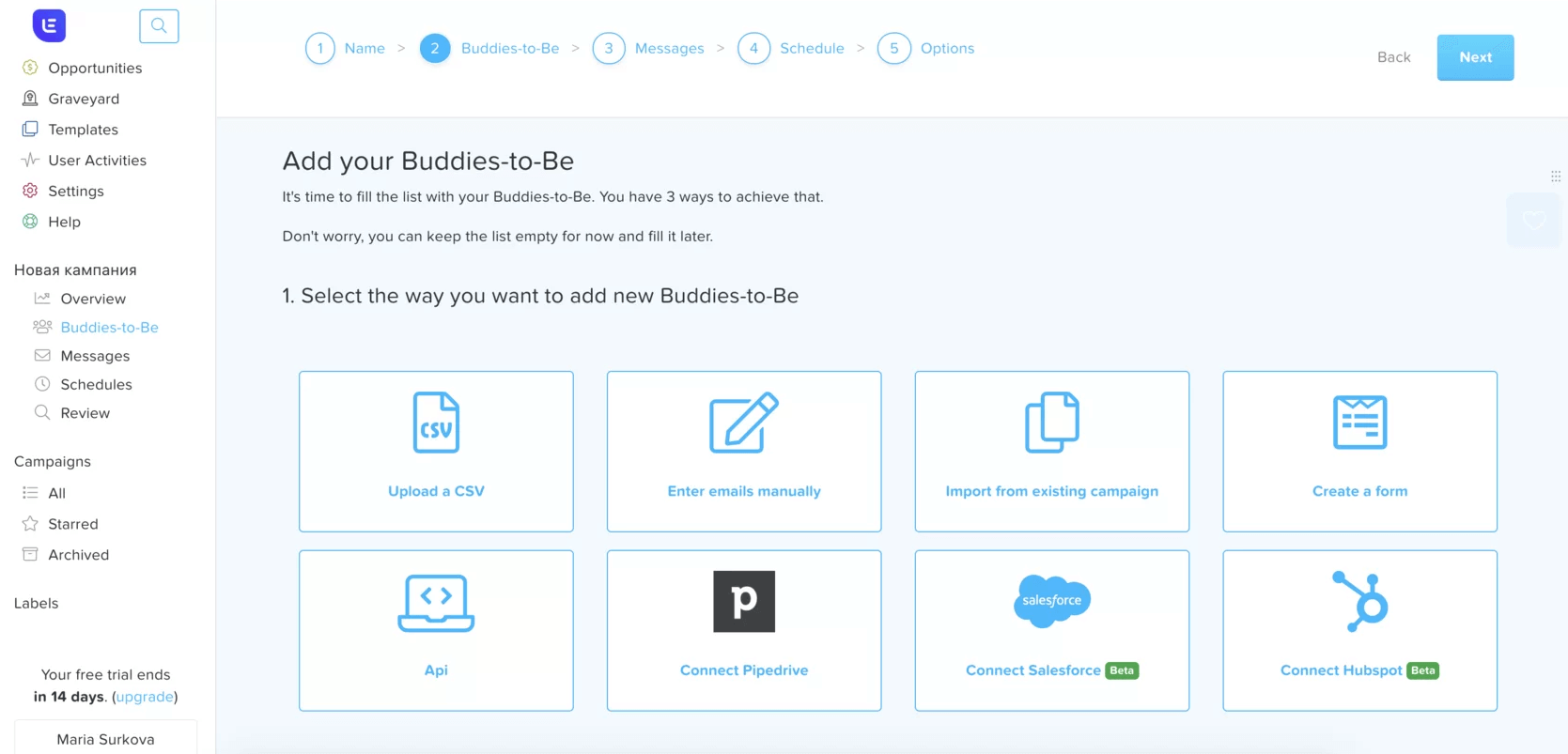 Lemlist automates sales outreach and sales engagement while increasing reaction rates. It extracts information from LinkedIn profiles. Lemlist, a powerful data extraction tool, uses various filters, such as keywords, geography, industry, etc., to retrieve information. As a result, it is a beneficial tool for companies trying to generate leads, create focused email lists, or carry out market research.
Lemlist's user-friendly interface is one of its main benefits when used as a scraping tool for LinkedIn. Even data extraction or web scraping users will find the tool easily. Lemlist is also very flexible, allowing you to adjust the scraping parameters to suit your requirements.
Helium Scraper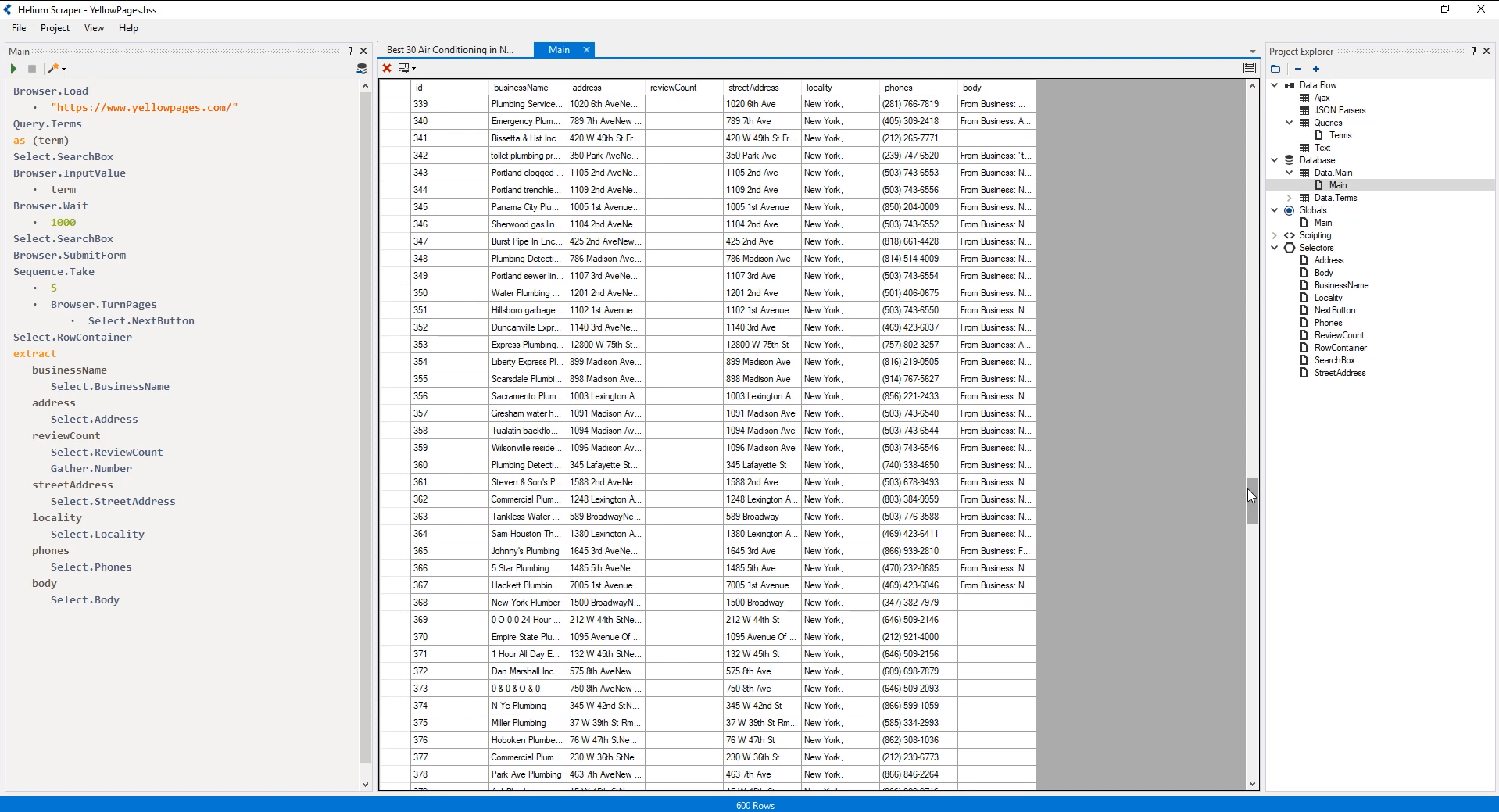 You can scrape anything with Helium Scraper because of its simple interface. You can scrape information from user profiles, company profiles, and job postings. The Point-and-click interface makes Helium Scraper simple to use.
Helium Scraper's user-friendly interface makes it simple to retrieve data from LinkedIn. Helium Scraper makes it quick and straightforward to capture complex data. Due to SQLite's maximum storage capacity being 140 terabytes, Helium Scraper can collect data at large.
Helium Scraper offers a simple process and assures quick extraction while obtaining complex data. It can extract a sizable volume of data at once. Excel, CSV, JSON, SQLite, and XML are some data output formats that the automation tool offers. The price for a single-user license begins at $99. A free 10-day trial period is also available, and it is highly functional. The program works with desktop platforms.
Conclusion
Both marketing and salespeople are using LinkedIn scrapers more and more frequently. By extracting information from LinkedIn profiles, you may make a specific list of prospective leads who might end up as clients.
You may retrieve data from LinkedIn without writing any code. Moreover, using the mentioned above LinkedIn scrapers will streamline your extraction process.
Thus, a LinkedIn scraping tool can be ideal if you seek a quick solution to gather data about possible leads.