LinkedIn boasts the world's largest professional network. So, you can use LinkedIn to search for qualified leads, strengthen professional relationships, and grow your network. 
One incredible way of growing your LinkedIn network is by launching an email campaign. To secure success, you'll need to extract and verify email addresses. Unfortunately, going over an extensive list of emails can be time-consuming and exhausting.
That's where LinkedIn email extractor tools come into the picture. Here's what we're going to teach you about LinkedIn email extractor tools:
What are the different ways you can use the LinkedIn email extractor tool

Why do you need to use email extractor tools

The top LinkedIn email extractor tools

How to choose the best email extractor tool
Let's get started!
What is a LinkedIn Email Extractor?
A Linked Email Extractor tool, also known as LinkedIn Email Scraper or LinkedIn Email Finder, is a software tool available as a browser extension or web app.
This tool will help you extract emails from professionals from LinkedIn profiles. It analyzes the data of any specific LinkedIn account and uses it to extract the email addresses of the account. Using a suitable LinkedIn email extractor, you can:
Build a quality email list for your marketing campaigns

Find prospects and qualify them
How Can I Use the LinkedIn Email Extractor Tool?
When using the LinkedIn Email extractor, you need to enter the first name, last name, and the company the person works at to extract their email. Once you input all the relevant information, LinkedIn email extraction will look through its extensive database and develop email addresses that match the account. 
Why Do You Need LinkedIn Email Extractor Tool?
LinkedIn Email Extractor will allow users to obtain the account's contact information within seconds. Users do not have to go through any hassle of looking up email addresses; the tool helps them look for contact information through an extensive database before developing matching email addresses.
Choosing the best Email Extractor will ease the process of searching email addresses and streamline the process as it searches through a wide range of email addresses. Moreover, it lets you add the email addresses of the accounts without asking you to add them manually. Consequently, it saves time and effort and allows you to run your marketing campaigns and look for leads.
Related article: How to Export LinkedIn Contacts With Emails
The Benefits of the LinkedIn Email Extractor Tool
Maintaining a target email list is crucial in recruiting, email marketing, and business promotion. If email marketers, recruiters, or business owners can build a target email list of their audience for targeted industries, they can sell their products anywhere in the world. Moreover, maintaining a targeted email list helps recruiters hire potential candidates and allow business owners to grow their business.
However, an automation tool can streamline processes to release oneself from repetitive tasks. Therefore, LinkedIn Email Extractor is an excellent way to streamline processes and help email marketers, recruiters, or business owners look for relevant email lists to boost their business. It offers numerous benefits for business owners, recruiters, and email marketers. Some of these benefits are as follows:
Finding Quality Leads
Every business requires qualified leads to convert into customers — automation tools help companies streamline business processes and focus on marketing campaigns.
Similarly, LinkedIn Email Extractor is also an excellent tool that helps business owners, recruiters, and marketers look for LinkedIn users' email addresses from their accounts to send them personalized messages.
Since this tool can look for email addresses from accounts, users can look up for email addresses of their leads. Moreover, it helps them send messages and increases their chances of building a personal rapport with them. 
Grow Your Professional Network
It gives users easy access to the email addresses of the people belonging to their industry. Furthermore, it enables them to create a healthy email list to connect with prospects, increase their networking chances, and pave new paths to grow their business.
Save Time
LinkedIn Email Extractor can reduce manual work and help users look for email addresses effortlessly. Moreover, it saves users time and allows them to concentrate on more crucial things to help their business expand, such as innovation and marketing.
Extract Valuable Data in Less Time
LinkedIn Email extractor tools will build an email address list based on the targeted keywords quicker because it speeds up the search process through LinkedIn and gathers URLs that match the keywords. Moreover, the LinkedIn Email extractor software tool visits each LinkedIn profile. It collects email addresses that it searches up along with the owner's titles and other relevant contact details and saves the information to your computer.
Ensure Accuracy
Not every tool ensures accuracy, leading to errors and disappointing customers. However, with LinkedIn Email Extractor, you can complete scraping tasks and lead generation in minutes. Also, it ensures 100% accuracy, making it a reliable tool for business owners, recruiters, and email marketers.
Boosts content marketing
It allows you to reach out to authors and websites to promote your blogs, articles, and infographics to increase your customer base. In addition, using LinkedIn Email Extractor, you can email high domain authority web pages and pitch them for guest posts to create credibility within the industry and gain quality backlinks.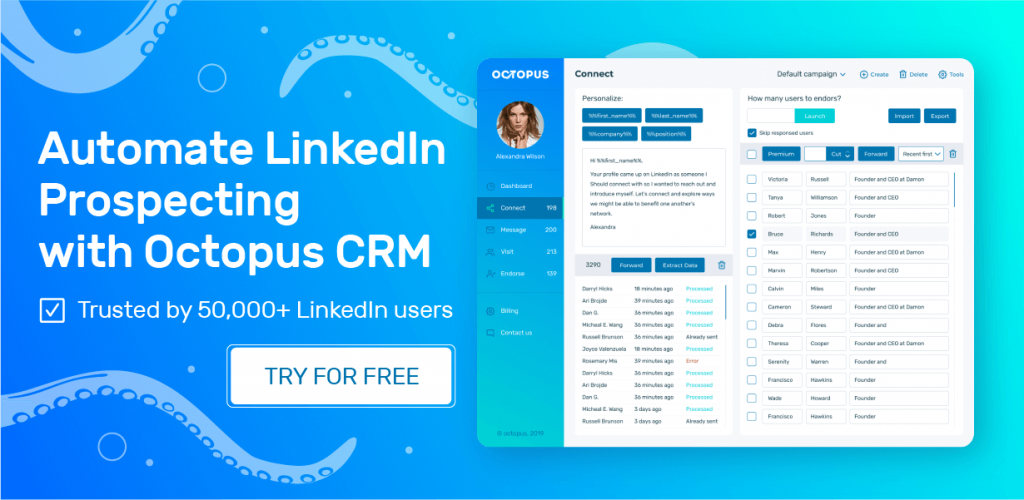 Top 13 LinkedIn Email Extractors
Let's now discuss the top LinkedIn Email Extractor tools to boost sales:
Octopus CRM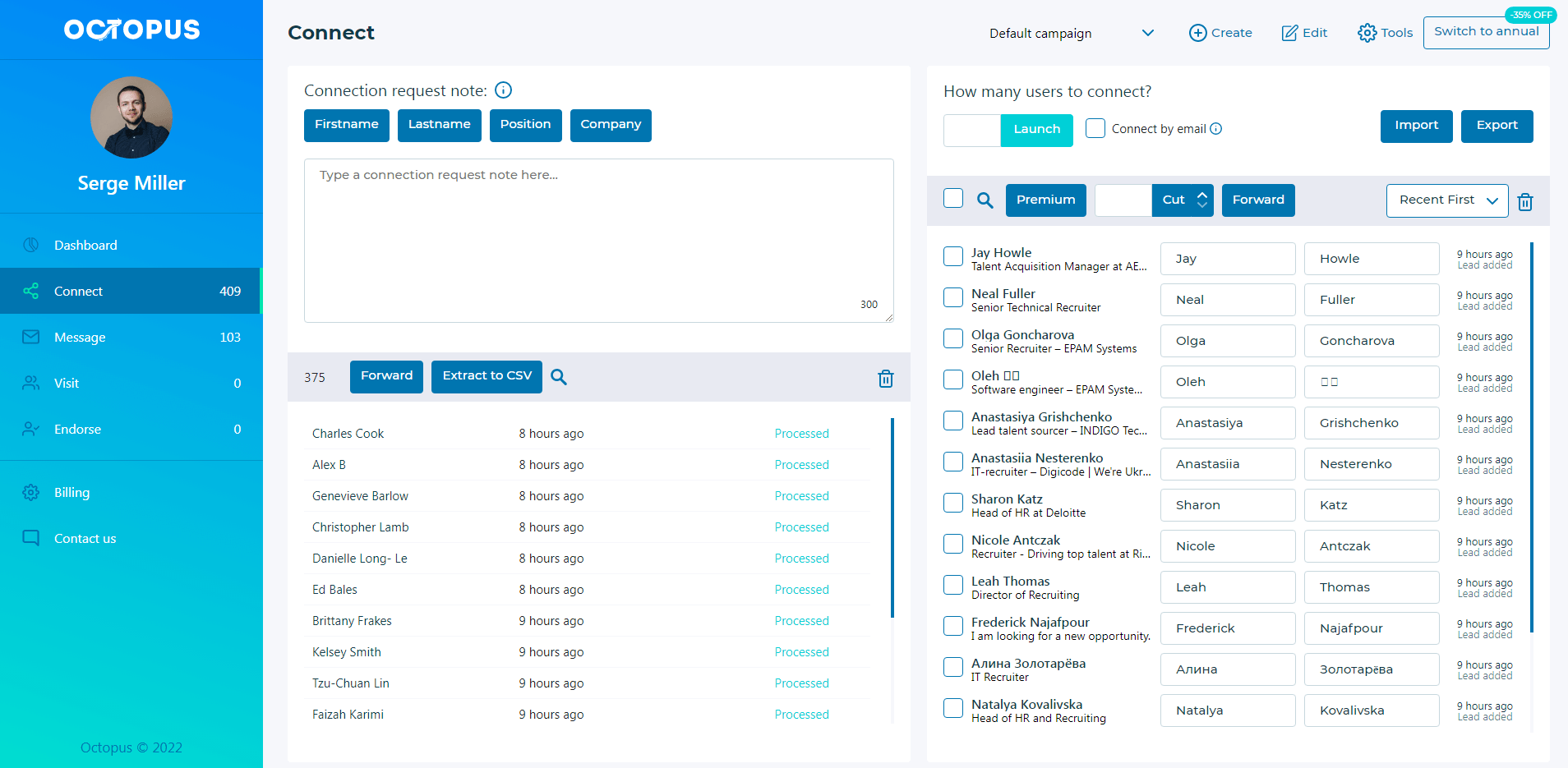 Supercharge your LinkedIn email marketing strategy with the help of Octopus CRM. The all-in-one LinkedIn automation tool helps you simplify prospecting, scrape emails, and grow your business successfully.
Octopus CRM helps LinkedIn users find quality leads while saving time and boosting productivity with its email scraping and data exporting capabilities. This tool can export bulk LinkedIn contacts to CSV and automate sending personalized cold messages. Consequently, you can grow your network and improve your online presence.
In addition, Octopus CRM offers users additional features, like tracking the number of profile views, search appearance numbers, and the performance of your campaigns.
Pros
Easy-to-use interface

Allows you to bypass LinkedIn's email and message limits safely

Budget-friendly
Cons
Comparatively, fewer personalization features
Pricing
Octopus CRM's basic plan starts at $6.99, and its unlimited plan costs $24.99 monthly.
Dripify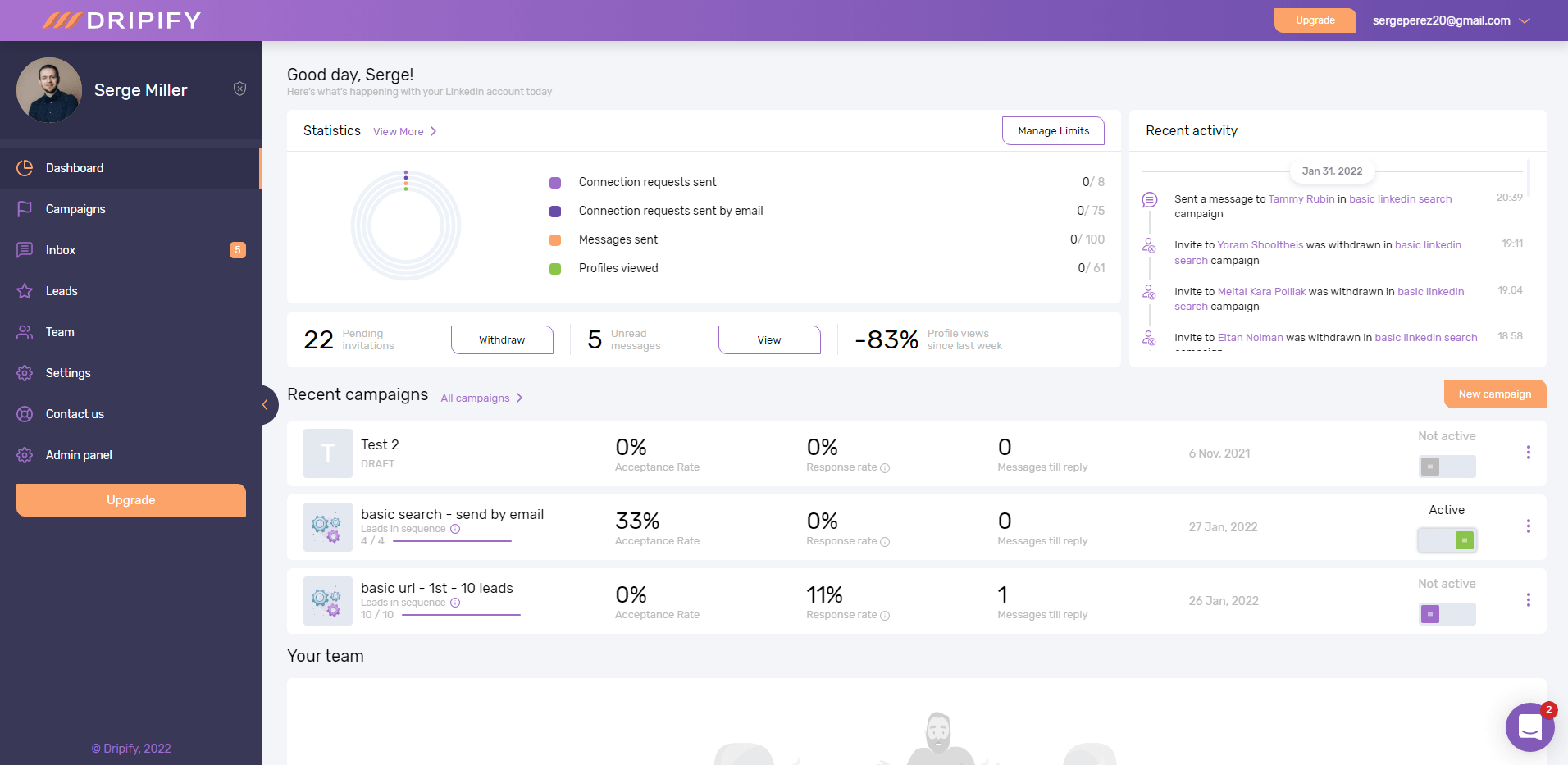 Grow your business with Dripify's LinkedIn Scraper tool by exporting contacts to CSV files. The platform offers you access to valuable data, such as email address, phone number, number of connections, job position, and more!
There's more! Dripify also allows you to onboard teams with a simple click of a button, thus facilitating real-time collaboration. The tool also helps you analyze your daily performance and key metrics to make tangible improvements.
Lastly, you can also create high-quality drip campaigns that ensure success. Upload leads from your CSV file to build a stunning personal sales funnel that helps you attract prospects.
Pros
Easy to set up and use

Excellent funnel building structure

Fun personalization options
Cons
Pricing
Dripify offers a basic plan at $39, a pro plan at $59, and an advanced one at $79.
Skrapp.io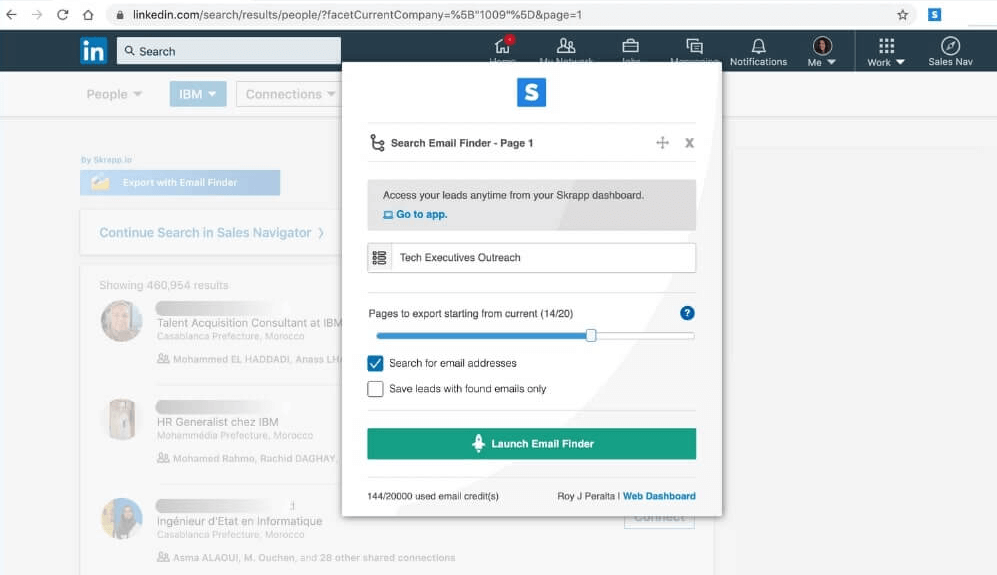 It helps users look for B2B email addresses of people from company websites, LinkedIn, or through built-in features. Skrapp.io has web extensions that integrate with Sales Navigator or LinkedIn to look for verified email addresses of your prospects.
Moreover, it works with Firefox and Chrome. Skrapp.io is full of unique features. For example, it allows you to use domain search to retrieve email addresses for specific domains by entering location, title, and company website address.
Pros
Easy-to-use interface

150 free emails

Offers free option before switching to a paid package.

Offers a knowledge base

Offers video tutorials to help you start.
Cons
Pricing
It offers a free version. However, the basic plan starts from $49 monthly for two users and 1000 emails.
Wiza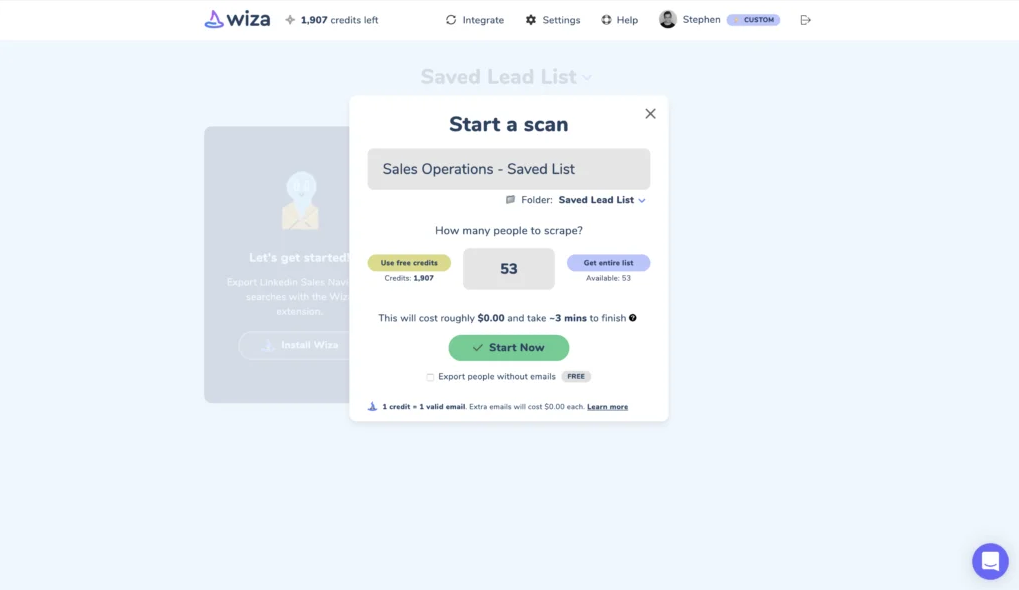 It is an excellent email extractor tool that retrieves emails from LinkedIn Sales Navigator and allows businesses to automate lead creation. Wiza, an email extractor tool, will enable users to use artificial intelligence (AI) to export customer searches and find lead email and lead data.
Moreover, it converts LinkedIn Sales Navigator searches to verified email addresses for outreach. It also offers a forever-free feature, unlike many others. However, the free plan has limited features but is an excellent alternative for small businesses.
Pros
Simple and efficient

Simple user interface

Quick customer service

Free data scanning with no emails
Cons
Result quality can be improved
Pricing
The basic plan starts from $50monthly for 300 verified emails.
Adapt.io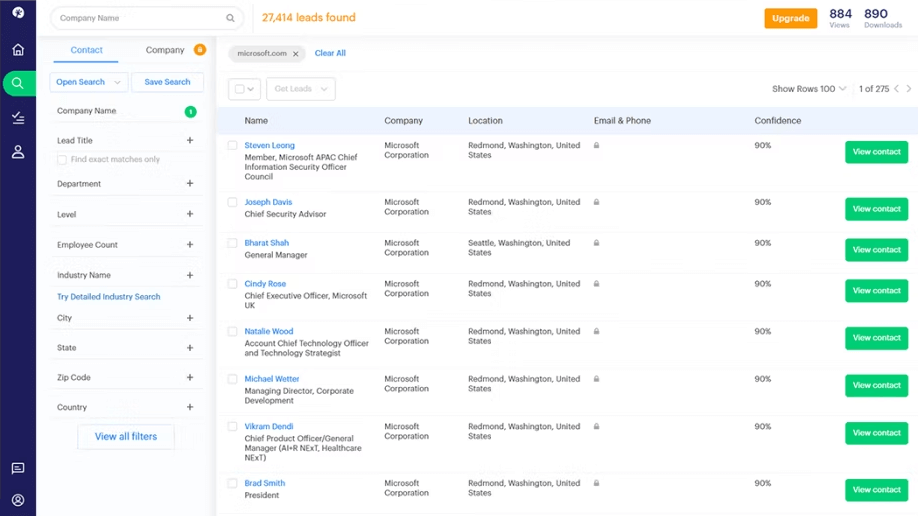 Adapt.io is another excellent lead builder and prospector tool with over 100 million corporation contacts and a continuously growing customer base. The brand's Prospector tool helps you extract the email address of targeted LinkedIn users. 
In addition, the tool offers a high-quality B2B database that you can filter to a granular level. You can also integrate the tool with CRM platforms to streamline your workflow.
Adapt.io is available as a chrome extension and Web App and helps users build complex prospect profiles while saving time and costs.
Pros
Easy-to-use interface

It offers a free plan

It provides access to comprehensive tutorials
Cons
Past user says the LinkedIn algorithm blocks it occasionally

The email tracking function requires improvements
Pricing
Adapt.io offers a free plan with over 100 credits per month. You can upgrade to its paid plan costing $49 per month for 500 credits.
Apollo.io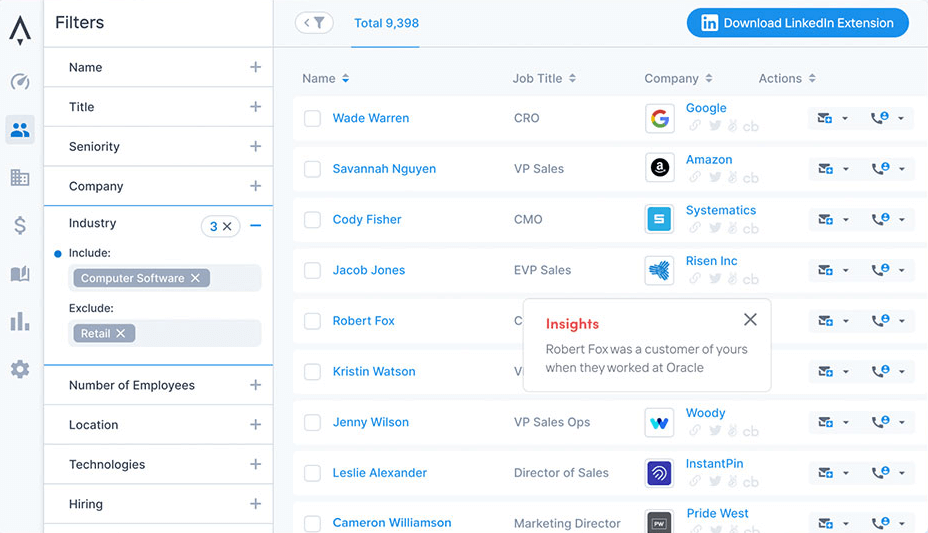 Apollo LinkedIn Email Extractor is an effective and reliable B2B lead generation tool. The high-quality site helps you extract phone numbers and email addresses from LinkedIn profiles.
Apollo.io boasts an extensive database of 30 million companies and 220 million contacts to help you find the ideal customers and connections. Furthermore, the robust tool enables you to connect with leading companies in your region quickly and accurately. In addition, you can filter your search by hiring, technology, funding, etc.
The best part? Apollo LinkedIn Email Extractor offers a 100% free starter plan to help you boost sales without any investments! Also, you get access to third-party integrations to encourage a seamless workflow and increased productivity.
Pros
Excellent contact validity and reliability

Easy to use, quick, and effective

Supports third-party integrations and filters
Cons
Advanced features come at a hefty cost
Pricing
Apollo.io offers a free plan; however, you can upgrade to its paid basic or professional plan costing $49 and $99, respectively.
Lead Leaper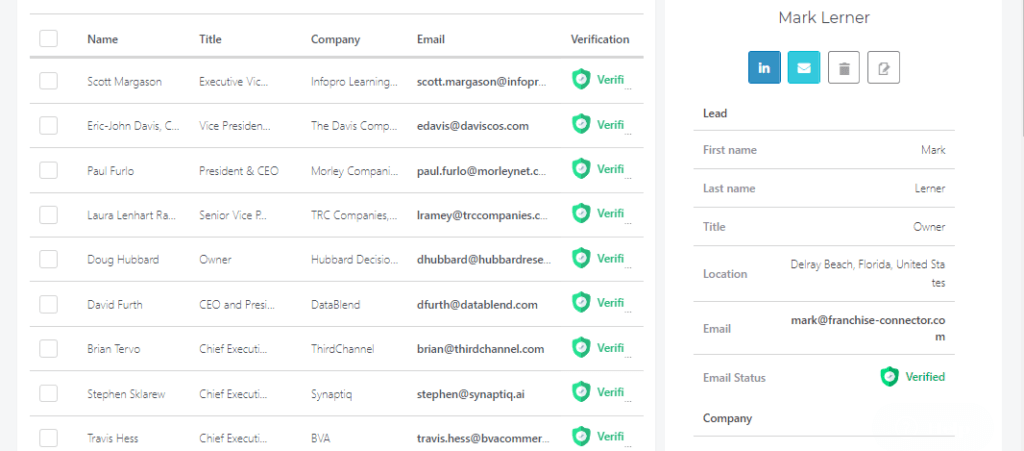 Lead Leaper is an affordable yet excellent lead generation and networking tool. The Chrome Extension helps you perform LinkedIn searches and scrapes LinkedIn email addresses.
Further, Lead Leaper validates each email on the go. If they meet your needs, the tool adds them to your listing. That way, you can quickly check the email addresses of your target audience in your Lead Leaper account.
Pros
Scrapes data quickly and accurately

Intuitive and easy to use

Affordable
Cons
It lacks advanced features
Pricing
Lead Leaper offers a free plan, but you can also request a quote to upgrade to a paid plan.
Emailsearch.io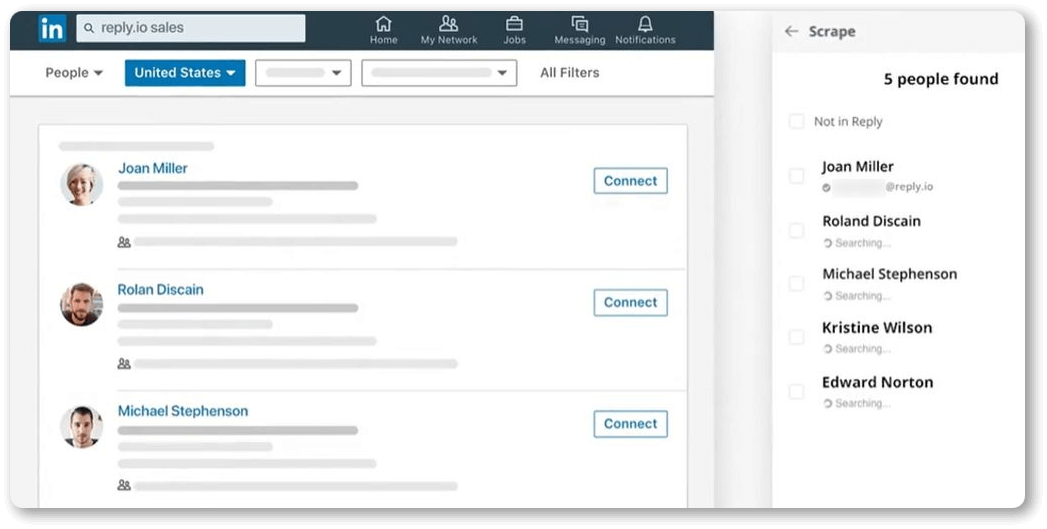 It is a reliable email extraction tool that helps users to find emails for lead generation. It does an excellent job of extracting personal and professional email addresses from LinkedIn and ensures 81% accuracy.
This platform is a safe email search engine that provides the opportunity to send drip campaigns and email enrichment. It is an easy-to-use software tool that allows users to search email addresses by LinkedIn profile, domain, and organization. Emailsearch.io also provides an API option for mass searches. It will enable users to quickly upload their paper and have it augmented with contact details.
Pros
Support for LinkedIn Sales Navigator

Reasonable pricing

Searching for Personal Emails

API and email automation/tracking
Cons
The credit balance resets every month.
Pricing
Emailsearch.io offers a 7-day free trial. However, the basic paid plan costs $29/month for 1,000 credits.
Voila Norbert
It is an excellent email extraction tool with a Chrome extension that easily integrates with LinkedIn. Voila Norbert is a famous email scraper because it produces accurate results. From August 2021, it has added the capability of looking for anyone's email address from their LinkedIn profile, which made this tool one of the most popular email extraction tools for bulk and individual email extraction.
Pros
Team account option available;

Chrome extension available;

Prospect list export

Easily integratable API

Abundant integrations
Cons
Not 100% accurate

Chrome extension unexpectedly closes
Pricing
The monthly paid plan starts from $49 or $39 on a yearly plan.
Aero leads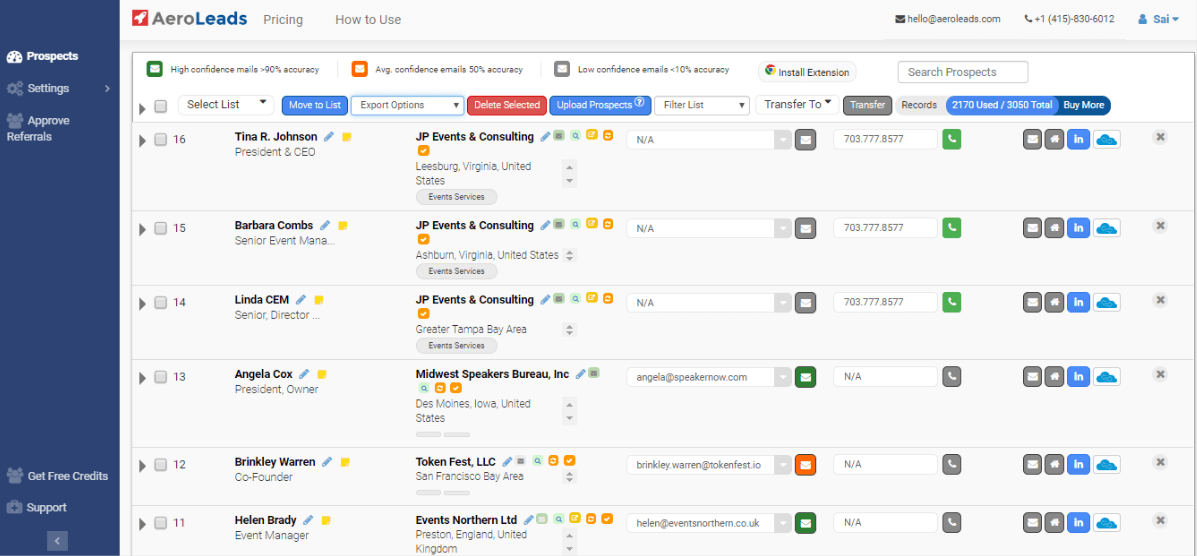 Aero Leads is a fantastic email finder tool that helps users to look for verified emails behind business profiles. It is a lead generation tool to look for phone numbers and email addresses of individuals and businesses and also creates strong email lists without any hassle. Furthermore, AeroLeads allows users to export data as CSV and transfer it to other CRM and marketing software. The Chrome extension includes email validation and list filtering/sorting/exporting.
Pros
Positive customer support

Pre-existing email templates

Easy to use

Find emails and phone numbers from LinkedIn
Cons
Inability to organize leads in the list

Costly

Sometimes lags

Takes a long time to process
Pricing
The starting plan is $49monthly for one user and 1000 credits.
Get Prospect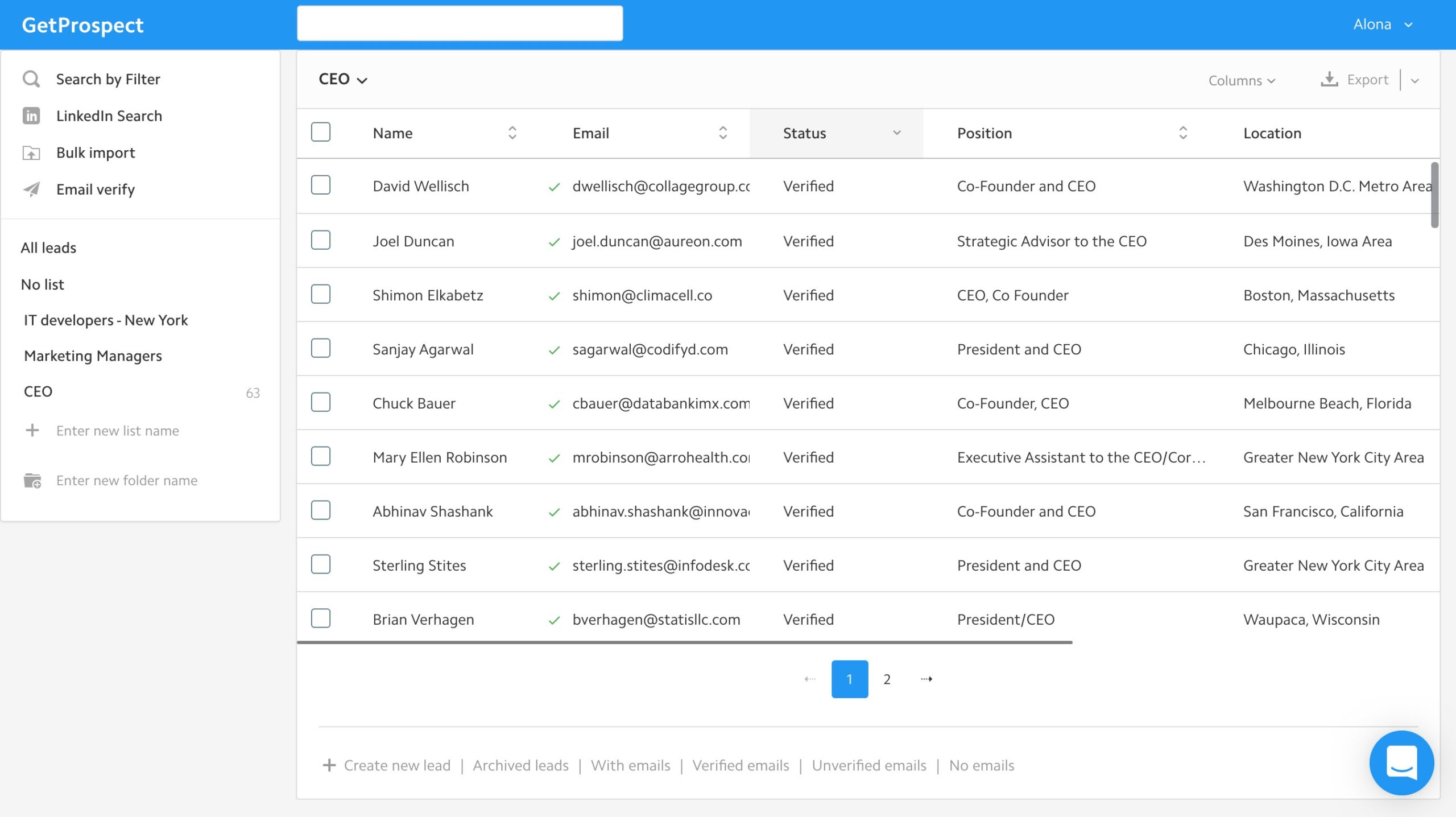 It is an easy-to-use email finder with CRM features. It helps lead generation, search for relevant job candidates, prospecting, and prepare cold email sequences. Get Prospect is a direct marketing software tool that includes an email finder. Users can access complete leads lists with names, company email addresses, website information, LinkedIn profiles, and industry classifications.
Furthermore, it allows users to import a CSV with names and companies collected from different sources. The automated email finder adds confirmed email addresses and contact details to your database.
Pros
The free plan includes 100 found emails each month.

Free Email verification

Automatic download of contacts
Cons
Inability to quickly archive
Pricing
Get Prospect offers a free plan. However, the starting price of the paid plan is $49 per month.
Overloop
Overloop is a LinkedIn email extractor with CRM. It is a multichannel sales automation platform that helps users to organize sales from top to bottom, outreach, automate lead generation, and deal and lead management.
Pros
Works with Gmail and Outlook.

Offers integrations with Salesforce and HubSpot CRM.

Has a chrome extension
Cons
No free plan

Creating drip campaigns can be complicated.
Pricing
The basic plan starts at $39 per month for 250 credits.
LeadGibbon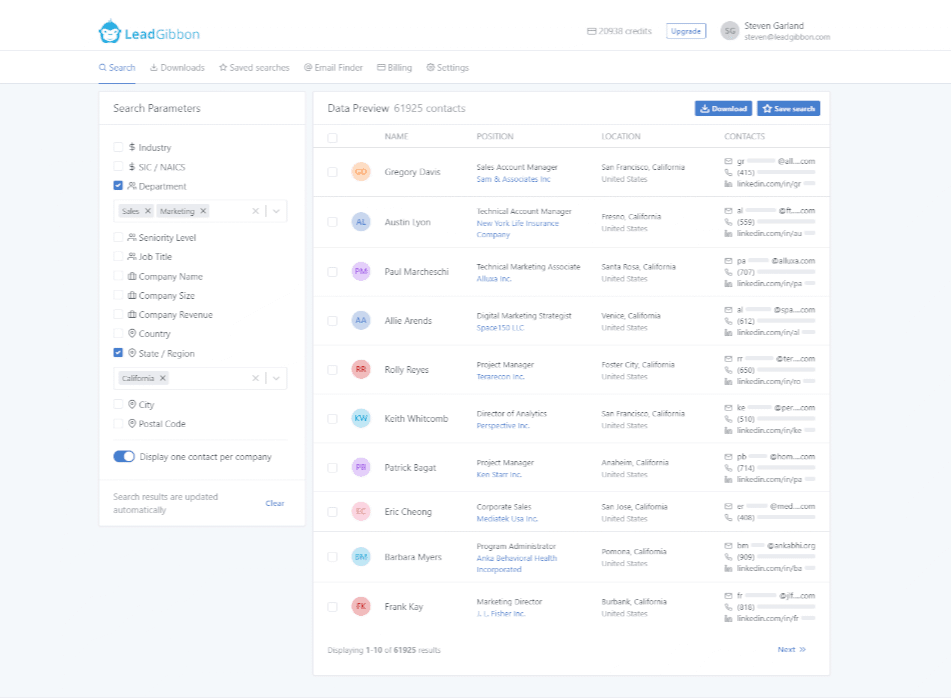 It is an email scraper with a LinkedIn extension. Lead Gibbon is an all-in-one B2B lead intelligence platform that allows users to enrich prospect lists with verified emails and have a deeper view of future customers to understand if they are the best match for your business.
Pros
Search by target location

Quick and simple interface

Unlimited saved searches
Cons
Pricing
Lead Gibbon's paid plan starts from $49monthly for 1000 monthly email credits.
Choosing the Right LinkedIn Email Extractor for Your Business
Now that we've discussed the top LinkedIn Email Extractors, you're likely wondering how to make the right choice.
Fortunately, finding the perfect LinkedIn Email Extractor for your business is super simple. Like Octopus CRM, many will help you with prospecting as you collect emails and send personalized messages for lead conversion. Below, we discuss four factors you should focus on to spot the best fit for your needs:
Price
The first step to choosing a LinkedIn Email Extractor is creating a budget. Next, we recommend selecting tools that offer a free or free trial to understand their functionality better. After that, you can upgrade to paid plans.
The paid plan varies depending on the provider; some services offer email finding tools, and others comprise LinkedIn Email Extractor and advanced features. 
Features
Ask yourself, 'What features of a LinkedIn Email Extractor are on your priority list?' Your goal should be to select a tool that scrapes for individual and bulk email addresses.
Typically, Chrome extension tools get the job done. But we recommend finding a web app since they offer special tools, like finding LinkedIn Emails based on URLs.
Verification
Most Email Extractor providers offer an email verification tool, but not all of them will verify emails on the go. And while you do have the option of finding additional tools for verification, it will cost a lot of time and effort.
Therefore, it's best to focus on LinkedIn Email Extractors that facilitate email finding activities through email validation.
Advanced Features
While it's nice to get the basic features at an affordable price, the fact is that the business needs are directly proportional to company growth.
So, when choosing an Email Extractor tool, consider your final goal. Ask yourself the right questions, such as 'Will I reach out to my prospects with cold emails?' 'Do you need a service that aids with lead management?' Answering these questions will help you make the right choice.
Many LinkedIn Email Extractor tools combine advanced features to streamline your workflow and save you the trouble of choosing five different platforms.
Is LinkedIn an Effective Tool for My Email Marketing Strategy?
Used the right way, LinkedIn can prove to be an effective marketing tool for your digital and email strategies. Here are several tips to remember when using LinkedIn to supercharge your email marketing strategy:
Focus on your ideal customers and connections

Stay on customer's radar

Use sponsored updates

Grow your email marketing list

Post high-quality and compelling content
What LinkedIn Tools Should I Use?
Here are several tools you should use to boost your online presence on LinkedIn:
Octopus CRM –

Automate your LinkedIn tasks to generate leads and grow your business

Dripify –

Advanced tool to supercharge your lead generation and prospecting strategy

SocialPilot –

To schedule, develop, and publish on LinkedIn effectively

LinkedIn Small Business –

To track sales and build trust

LinkedIn Sales Navigator –

To connect LinkedIn users with buyers and sellers
Does LinkedIn Sell Email Addresses?
No, LinkedIn does not sell email addresses.
Conclusion
Hopefully, you've learned the benefits of using an Email Extractor tool by now. Scraping emails is a worthwhile practice that opens you up to new business opportunities. You can ensure success by using a high-quality Email Extract tool that delivers fast and accurate results at an affordable price.