With nearly 800 million users in more than 200 countries, LinkedIn is the leading social network for professionals and businesses worldwide. It's a great way to stay in touch with your network outside of email and phone calls. 
LinkedIn improves your networking experience with different features from time to time. The LinkedIn newsletter is one such feature that allows you to stay up-to-date on industry happenings and developments. 
Using the newsletter feature, you can catalyze the growth of your brand through LinkedIn. It provides you with tips, advice, connections, and more from different industry leaders.
This blog post explores why the LinkedIn newsletter matters, how to create one, and how you can use it to your advantage.
What are Newsletters on LinkedIn?
A Linkedin newsletter is a set of regularly published articles, typically written under a unique topic of interest. When you create a newsletter, people in your network are invited to subscribe to it to get regular updates. People outside your network could also discover your article in their feeds when it gets shared or commented on by your LinkedIn contacts. 
Upon subscribing to your newsletter, the users receive a push, in-app, and email notification every time you publish an article within that newsletter. While everyone in the Linkedin community is free to discover, read, and share a newsletter, not everyone can create it currently. 
The good news is that the creator tool access is gradually being rolled out and will soon allow every member to create their newsletters. 
Why Create a LinkedIn Newsletter
If you can conveniently publish a random article or a bunch of quick posts, why commit to creating a series of articles on a particular topic? 
For one, a newsletter serves as a great way to keep your audiences hooked. Suppose the topic is captivating and the articles well-planned. In that case, you could trigger FOMO in your audiences for the next lined-up article. They would want to keep coming back for more valuable content.
Here're more benefits of creating a LinkedIn newsletter.
1. Improves Engagement
Newsletters help filter out people who are sure shot about their interest in your content. And it makes sense considering they consciously subscribe to your newsletter. It's like having your separate fanbase whom you can trust the most in terms of engagement and recognition. Your audience may share, comment on, or like your newsletter content, boosting your engagement rates, reach, and visibility on the network. 
2. Increases Lead Generation
When it comes to getting B2B lead generation, LinkedIn is 277% more effective than Twitter and Facebook. One great way to amplify this figure is by adding newsletters to your LinkedIn strategy. Newsletters, if planned rigorously, make for a reliable way to keep getting a constant flow of leads. 
3. Builds Trust 
By crafting valuable content and that too of your audience's interest, you actually establish trust, authority, and credibility. Readers would soon start considering you as the go-to source in the industry.
This trust, in turn, leads you to brand authority. This means when your audience seeks products and services that your business offers, chances are you'd be their first choice.  
4. Creates Brand Awareness
By regularly publishing articles under a newsletter, you create brand awareness. As a result, you get to communicate:
Your brand personality

Unique solutions you offer against the pain points of your target audience
Tips on How to Create and Grow Your LinkedIn Newsletter
Creating a LinkedIn newsletter is not as complex as it might sound. Here's how to make a LinkedIn newsletter in a few easy steps:
Click on

Write an Article

on your homepage and choose

Write Newsletter.

Write a compelling headline and unique description for your newsletter. Plus, add a logo for your newsletter and hit Done.

Now you're all set to write your newsletter content. You can publish one article every 24 hours under your newsletter.

After writing your article, hit the

Publish button, and you're good to go!
While you can create LinkedIn newsletters in these easy steps, your newsletter's content will largely determine your success. 
The following tips will ensure the long-term success of your LinkedIn newsletter. 
Know Your Audience
Before starting a newsletter, it is essential to identify and understand your target audience. You'd need to do basic research to:
Identify the major pain points of your audiences

Determine how your newsletter will provide solutions to those pain points
Plus, make sure to write better articles and avoid information overload. It is always a good idea to write simple, entertaining, and valuable content. 
Choose a Captivating Title
The title is the first thing your audience will see when they visit your newsletter. That provides you with the opportunity to make a solid first impression. While choosing a title, make sure it:
Clearly communicates the theme of your newsletter

Is easy to remember

Sparks curiosity in the readers and entice them into subscribing to your newsletter
Write a Powerful Description
Once you get your audience's attention through a powerful title, it's time to write a description that keeps the readers hooked. For example, you could start by explaining what the newsletter is about and what types of content readers should expect from time to time.
An effective description:
Sounds exclusive and comprehensive 

Provides a sneak peek into what type of content readers can expect

Is always concise — no wall of text but crips and to the point information
Create a Distinctive Logo and Cover Photo
Did you know that 42% of Americans believe that a logo reflects a brand's personality? A logo is a visual representation of your LinkedIn newsletter. For starters, it should resonate with your newsletter's theme and your brand image. 
Plus, keep in mind that the logo must complement your newsletter's cover photo. Be sure to choose a cover photo that not only conveys the message effectively but is also crisp and clear in terms of appearance.
Craft a Compelling Headline
Since LinkedIn notifies users about your newsletter through a headline, it should be compelling enough for them to open. Here's how you can create a powerful newsletter headline:
Use highly-searched and relevant keywords

Stir urgency by using words that trigger FOMO and compel them to drop everything and click the headline

Include a hint that the newsletter addresses the pain points of your audience
Include Call-to-Actions
Lastly, you could add something to your newsletter that triggers the readers to take action. This could be a question, a suggestion, or take a specific action to learn more. 
Apart from encouraging comments, the CTAs could prompt readers to share a newsletter or read a separate Linkedin article. 
Top 4 LinkedIn Newsletters to Sign Up For
The best way to put the tips mentioned above into practice is by checking out the best Linkedin newsletters for inspiration. 
Here're the top 4 newsletters you should consider subscribing to:
1. Roberta's Talent Maximizer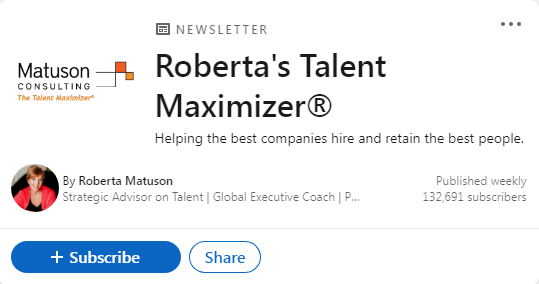 The author of this newsletter, Roberta Matuson, is a strategic advisor, a global executive coach, a public speaker, and an author. 
Roberta's Talent Maximizer talks about how businesses could hire and retain the best employees for their organizations. This way, they could avoid losing millions of dollars due to high employee turnover. 
2. Joshua B. Lee – Your Weekly Dopamine Dose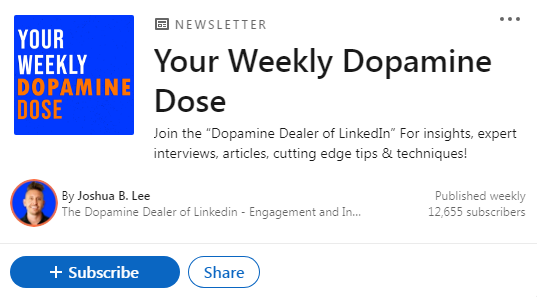 In this newsletter, Joshua B. Lee shares all the tips, techniques, and insights required for staying at the forefront in the online world. 
The author of the newsletter, who is the CEO and founder of Standout Authority, writes actively on marketing and self-development topics. This newsletter provides you with an excellent opportunity to improve yourself and know more about your target audience. 
4. Rachel B. Lee – WERK Your Brand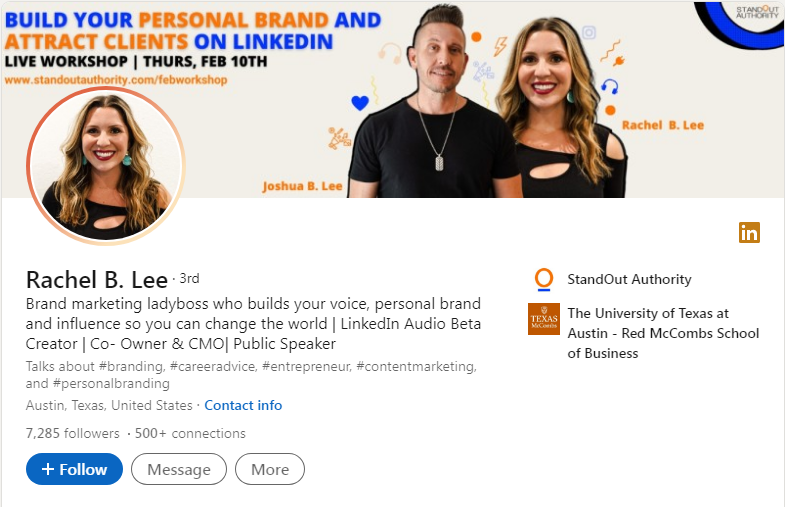 If you want to build a brand and create an audience, this is the best newsletter to subscribe to.  
WERK Your Brand by Rachel B. Lee talks about the proper ways to build a personal brand and increase its growth with the latest marketing and social media strategies. 
4. Bob Glazer: #Elevate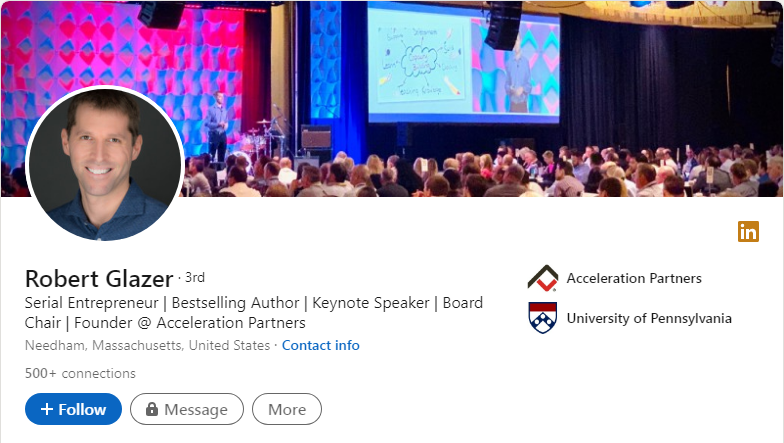 Making it to the Forbes' 10 LinkedIn Newsletters Every Professional Needs to Read, #Elevate by Bob Glazer is one the most popular newsletters on LinkedIn. 
#Elevate centers around capacity building, leadership, and maximizing business potential. Coming from a serial entrepreneur, bestselling author, and founder of Acceleration Partners, this newsletter could play a significant role in elevating your business growth. 
Is it Worth Creating Your Own LinkedIn Newsletter
Whether or not you should create a LinkedIn newsletter depends on your brand, the type of content you publish, and your goals. 
LinkedIn newsletters work great if you don't have an email newsletter or have a strong LinkedIn network with no contact information of those individuals. Creating a newsletter on LinkedIn would be a great way to widen your network and build strong relationships with your audience. 
With that said, if you don't have a large following yet, LinkedIn newsletters might not be as useful. In this case, it is recommended that you start with regular articles and posts and expand your network. And once you establish a substantial network, take it up a notch by creating newsletters.